Best Mattress of 2021: Reviews & Buyer's Guide
Updated on: March 02, 2021

Mattress Guides
If you're mattress shopping, learning about the best mattresses of 2021 is an excellent way to make sure you choose a good one. It's also helpful to know which ones don't fare so well in order to avoid the duds.
New mattress models come out every year from a growing number of retailers and manufacturers. For those who are not familiar with the terminology, materials, and sales tactics, we're often told buying a mattress can be very confusing. There are many different beds out there, and it can be challenging to cut through the marketing and identify the best mattresses for your money.
Best Mattress of 2021: 30 Second Summary
Amerisleep AS3 — The Editors at Sleep Junkie recommend Amerisleep's AS3 as the best mattress of 2021. The AS3 features plant-based memory foam and state-of-the-art zoned support technology to deliver healthier, more restorative sleep. Plus, they offer one of the most generous warranties in the industry, protecting your mattress from damage for 20 years. Add in over 6,500 reviews—it makes sense why the AS3 is our top recommendation of 2021.
Zoma Mattress – We like the Zoma Mattress because it's engineered to help athletes sleep deeper, recover faster, and perform better. It's great for those who live an active lifestyle, but Zoma can help anybody wake up feeling better and more refreshed. If you suffer from aches and pains, this bed is great for you, too.
Best Mattress Reviews of 2021 Overview
The most popular mattress types are innerspring and memory foam mattresses. These are the two mattresses you'll see most often in the market, whether you shop in stores or online. Memory foam tends to receive higher ratings in mattress reviews compared to their spring-filled counterparts, though innersprings are more commonly available. In terms of pricing, the two categories are fairly similar, making it a matter of personal preference above all.
In this review, we've taken much of the work out of the process for you. Using data from consumer reviews and independent reviewers, plus research data about what consumers say is most important to them in choosing a mattress, we examined the best-rated mattresses of the year and ranked them accordingly.
Best Mattresses of 2021
| | Mattress | Highlights | Price |
| --- | --- | --- | --- |
| | Amerisleep AS3 | The most comfortable & affordable mattress with the best reviews. | |
| | Zoma Mattress | Designed to help athletes sleeper better and recover quicker; features state-of-the-art sleep-enhancing technologies. | |
| | Amerisleep AS5 Hybrid | Same soft feel as the classic AS5 mattress, with some added bounce from its pocketed coils. | |
| | Vaya | Budget-friendly mattress option fit to suit all sleep needs. | |
| | Organica | Natural, durable mattress with cushioning Joma wool and contouring Talalay latex. | |
The Amerisleep AS3 is our recommendation for the best bed of the year, both in the memory foam category and overall. Thanks to its pressure-relieving foam and targeted support technology, it's one of the most comfortable beds we've found.
Amerisleep features state-of-the-art materials in each of their beds to promote healthy sleep positions and help you get a more restful night's sleep. Let's look at its construction.
Inside the mattress is three revolutionary foams.
The first layer of every Amerisleep mattress is Bio-Pur®, a plant-based memory foam. Amerisleep designs Bio-Pur® to be breathable and cushioning, so it'll mold to your body and relieve pressure as traditional memory foam would, but it doesn't retain heat. Their Bio-Pur® is also more responsive than traditional memory foam, making it easier to switch sleeping positions and get in and out of bed. Their Bio-Pur® shouldn't cause you to feel "stuck" in the bed.
Next, is a layer of HIVE® technology—a zoned support system. This layer is designed to offer healthy spinal support. HIVE® contains five comfort and support zones. In your shoulders and hips, these zones are softer and allow for further compression in the mattress; this helps prevent pressure points. These zones feel firmer around your neck, torso, and feet to maintain your spine's natural alignment.
The base of the AS3 is Amerisleep's Bio-Core®, a supportive poly-foam. This layer gives the bed shape and structural support.
We're fans of Amerisleep for making comfortable mattresses, but also appreciate their eco-friendly manufacturing processes. When making their foam, they replace as much petroleum as they can with plant-based materials—making their beds healthier for you and the environment.
Every Amerisleep mattress comes with a 100-night sleep trial and a lengthy 20-year warranty, protecting your investment for the next two decades.
AMERISLEEP AS3
Features plant-based memory foam, making it great for eco-friendly shoppers
Adapts to most body types to be a comfortable option for back, side, and combination sleepers
HIVE® technology promotes healthy sleep positions and prevents pains
2. Best Memory Foam Mattress: Zoma Mattress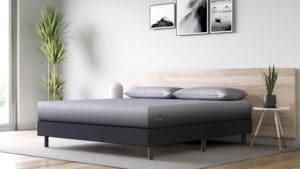 Next up is the Zoma Mattress, one of the best beds for athletes. Designed to help you sleep deeper, recover faster, and perform better, this bed is engineered to help you get a good night's sleep every night so you can feel your best every day.
Even if you don't lead an active lifestyle, the Zoma can upgrade your sleep and help you wake up refreshed morning after morning.
The first layer of the Zoma is 2 inches of gel-infused memory foam with Triangulex™ technology. When you lay down on the bed, this layer will mold to your body and offer instant cushioning comfort. The gel inside combats body heat to keep you sleeping cool and comfortable.
The Triangulex™ technology within this layer offers dynamic support to nurture a healthy spine and prevent pain points. Around your midsection, this layer feels firmer to offer enhanced lumbar support and prevent uncomfortable sinkage. Near your shoulders and hips, this layer contains triangle-shaped cutouts that allow for deeper compression and better pressure relief. Triangulex™ makes it the best mattress for side sleepers who need extra give around those major joints, but this technology also fosters proper posture in the back sleeping position, too.
The next layer is Zoma's Reactiv™ foam, a latex-like poly-foam. Designed to be more responsive, Reactiv™ boosts the Zoma's bounciness and creates a more "on the bed" feel for the sleeper. Reactiv™'s responsiveness makes it easier to shift sleeping positions while you snooze and prevents you from ever feeling "stuck" in the mattress— a common concern with memory foam beds. Primarily, the Reactiv™ layer functions as a barrier between the cushioning memory foam above and the dense base layer below.
The third and final layer of the Zoma is Support+, a durable poly-foam. Support+ reinforces the two layers above and prevents sagging and deterioration.
Zoma backs each of their mattresses with a 10-year warranty. Plus, their beds come with a 100-night sleep trial.
ZOMA MATTRESS
Best suited for back and side sleepers
Features Triangulex™ technology to offer zoned support and promote a healthy spine
Gel-infused memory foam combats body heat and prevents heat retention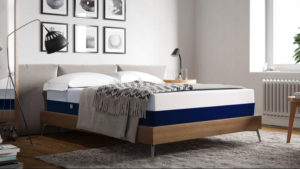 The first hybrid on our list is the bouncy counterpart to Amerisleep's popular AS3 mattress. The AS3 Hybrid has the same medium firmness as the classic memory foam mattress.
Because the AS3 Hybrid blends high-quality material together, it can cost a little bit more than the original AS3 mattress. However, many customers find the price point fair because they're getting a mattress that balances bouncy support with eco-friendly, pressure-relieving cushion.
If we were to open up the AS3 Hybrid, we would see that the bed has three layers.
The top layer is 3 inches of Bio-Pur® foam. We've discussed how this material is a more breathable, responsive, and eco-friendly material than traditional memory foam. The AS3 Hybrid's layer is thick enough to provide a blend of softness and support for side and combination sleepers.
Underneath the Bio-Pur® foam are 8 inches of pocketed coils. Amerisleep not only wraps its coils for reduced motion transfer, but also arranges the coils for targeted support. The coils provide firmer support under your back and increase cushioning under your head, shoulders, and legs.
The base of the mattress is an inch of supportive foam. The foam's sturdy surface helps the bed retain its structure.
As with all Amerisleep mattresses, the AS3 Hybrid includes a 100-night trial and a 20-year warranty.
AMERISLEEP AS3 HYBRID
Eco-friendly, breathable, and responsive Bio-Pur® foam
Balance of support and cushion that's well suited for side, back, and combination sleepers
Coils have three support zones, so the bed is firm under your back and softer under shoulders and hips
4. Best Memory Foam Mattress for Side Sleepers: Amerisleep AS5
The Amerisleep AS5 is the most luxurious mattress on our list and also one of the softest. But the reason we like the AS5 is that it's a soft mattress that still offers excellent support. The AS5, like all Amerisleep mattresses, uses pressure-relieving, open-cell, plant-based memory foam in its top layer. But beneath the three inches of Bio-Pur® foam, the AS5 uses a unique layer that offers plenty of bounce and responsiveness.
One of the tallest mattresses on our list, the Amerisleep AS5 measures 14 inches of height. Generally, the softer the mattress, the thicker it is, so this makes sense. The height works well here as it's not too tall (some mattresses which are 15, 16, or 17 inches high can be a pain to get in and out of in the morning).
The AS5 has four layers: Bio-Pur® foam, the Active Flex layer, Affinity layer with HIVE® technology, and Bio-Core® foam.
As we talked about, the three inches of Bio-Pur® foam is pressure-relieving memory foam with open-celled technology. By being open-celled memory foam made with partially plant-based materials, the Amerisleep AS5 is a breathable mattress that won't cause you to sleep hot through the night.
The second layer is two inches of Active Flex. Active Flex is a "latex-like" foam that is very bouncy. By putting the Active Flex layer beneath the Bio-Pur®, Amerisleep makes sure you won't feel "sunken in" in this soft, luxurious mattress.
Beneath the Active Flex layer, Amerisleep puts two inches of the Affinity layer with HIVE® technology. As we talked about above, the HIVE® technology layer is a back support layer which featured zoned support.
The AS5, like every Amerisleep mattress, comes with a risk-free 100-night sleep trial and a 20-year warranty.
AMERISLEEP AS5
Soft and luxurious mattress
Pressure-relieving memory foam with plant-based materials
"Latex-like" Active Flex layer that is bouncy and responsive
5. Best Hybrid Mattress for Side Sleepers: Amerisleep AS5 Hybrid
The Amerisleep AS5 Hybrid has a different construction than its memory foam counterpart, but features the same luxurious softness. Let's look at the bed's four layers, including a zoned spring layer for extra back support.
The bed's top layer is 3 inches of breathable and bouncy Bio-Pur® foam. As a reminder, Bio-Pur® conforms to you for full-body pressure relief and support, while remaining cool throughout the night.
Next is 2 inches of Active Flex material. We mentioned how the responsiveness of Active Flex limits sinkage, which is a problem many soft mattress owners encounter. Without measures to prevent sinkage, you risk spinal misalignment.
The bed's support is 8 inches of pocketed coils. As with the AS3 Hybrid, the AS5 Hybrid's coils are arranged to offer more support under your back and more pressure relief in the mattress's head and foot. The coils rest on an inch-thick foam base.
The AS5 Hybrid comes with a 100-night sleep trial and a 20-year warranty.
AMERISLEEP AS5 HYBRID
Thick top layer of breathable and adaptable Bio-Pur® foam
Springy Active Flex layer prevents sinkage and spinal misalignment
Responsive coils offer targeted back support and increase pressure relief
6. Best Cooling Mattress: Zoma Hybrid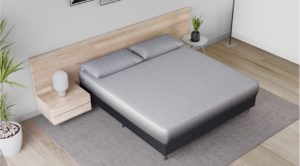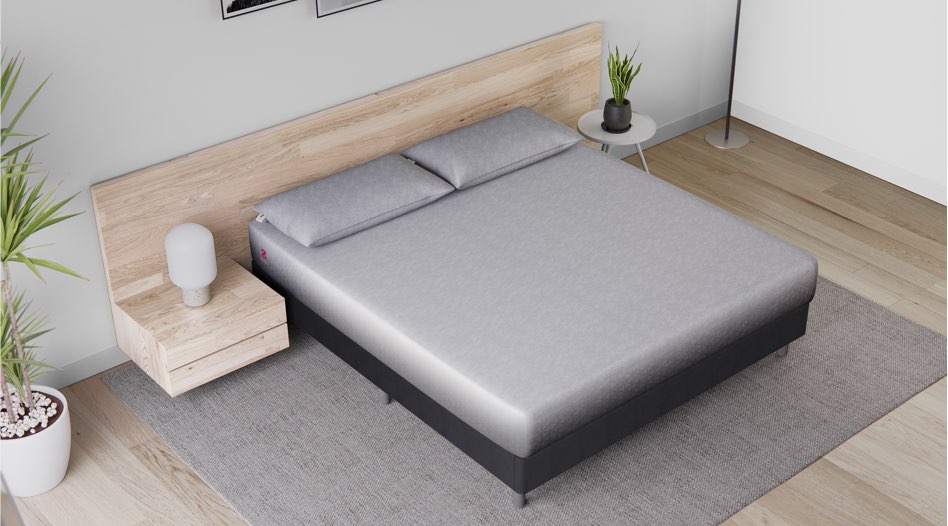 If you're searching for a cooling mattress that will keep you from waking in a sweat, you might want to try the Zoma Hybrid. The mattress design promotes recovery just like the original Zoma Mattress, with four layers making up a Zoma Hybrid.
The top layer is 2 inches of gel memory foam with zoned support. Triangular cutouts across the surface of this foam increase flexibility, letting the mattress provide more pressure relief to your shoulders and legs. The cutouts also double as air channels, making it easier for heat to dissipate.
The second layer is 2 inches of Reactiv™, a springy material that adapts to your movements. Because of Reactiv™ foam, you'll never feel trapped in a mattress that's slow to respond to your movements.
The third layer is 7 inches of pocketed coils. The coils feature springy support, with fabric packets encasing every coil to limit motion transfer, which is a common drawback of a bouncy mattress.
The coils rest on the fourth and final layer, a 1-inch thick foam base.
A Zoma Hybrid includes a 100-night sleep trial and a 10-year warranty.
ZOMA HYBRID
Breathable coils and gel foam for a cool sleep surface
Increased pressure relief and even weight distribution
Pocketed coils reduce motion transfer and mattress noises
The Vaya Mattress is another top-rated mattress, and we love this bed because it's budget-friendly and designed to feel comfortable for the majority of sleep styles and body types—so it's an affordable sleep solution for most people! Plus, this mattress is hypoallergenic and CertiPUR-US® certified, so it's free of harmful chemicals and safe for all sleepers.
Vaya Sleep is an online mattress brand appealing to a large majority of shoppers because they use an innovative foam to support comfortable sleep for side, back, and combination sleepers. Plus, their mattress is medium in firmness, so it offers a good balance of cushioning comfort and firm support.
The Vaya Mattress stands 12 inches tall and has two layers: a 3-inch comfort layer and a 9-inch support core. The first layer of the mattress is plush Vaya Comfort Foam to contour to your curves, distribute body weight, and alleviate pressure points.  The core of the mattress keeps you lifted upright and prevents uncomfortable sinkage or sagging.
Despite its low price, the Vaya is made with long-lasting, high-quality materials, and they even back their mattress with a 10-year warranty protecting you from manufacturing defects and sagging as minimal as 3/4-inch deep.
Like most other online mattress brands, Vaya Sleep offers a risk-free sleep trial with their mattress. Once it arrives at your doorstep, you have 100 nights to test the Vaya out and decide if it works for you. If it's not a comfortable fit after breaking it in, returns are easy and free.
VAYA MATTRESS
Budget-friendly, costing only $595 for a queen
Built for universal comfort
Hypoallergenic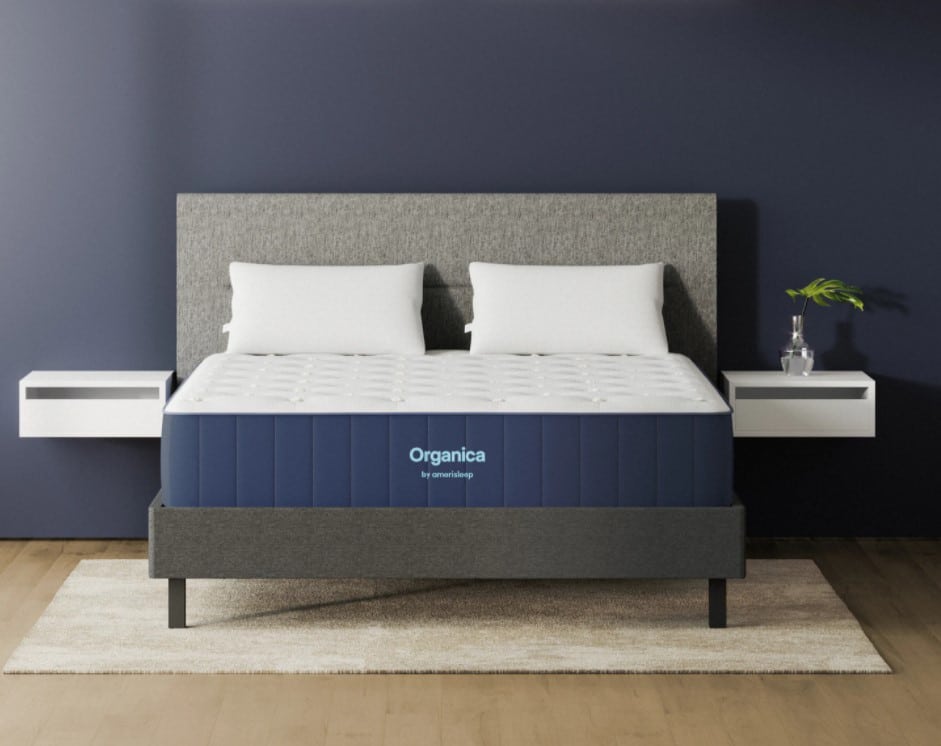 Our last Amerisleep recommendation is the company's new latex hybrid, the Amerisleep Organica. While Amerisleep strives to provide eco-friendly memory foam mattresses, their Organica mattress includes more natural materials than any of their other mattresses.
Plus, almost anyone can comfortably sleep on the Organica. The mattress has a medium feel perfect for side, back, and combination sleepers.
The Organica is 13 inches tall and has four layers in a cotton fabric cover. The yarns making up the cotton cover are certified by the Global Organic Textile Standard (GOTS), an independent organization that checks the entire textile process.
First is a layer of cushioning Joma wool, a plush material that stays cool when its hot and warm when its cold. The Joma wool is certified by the OEKO-TEX Standard 100, meaning the wool was tested for numerous harmful chemicals.
Next is Talalay latex, a contouring material that relieves pressure and prevents morning aches and pains. The latex is certified by the OEKO-TEX Standard 100, too! It's also certified by the Rainforest Alliance and eco-INSTITUT, which check for sustainable production and low VOC emissions respectively.
The pocketed coil support layer reacts to movements without carrying them across the surface, so you won't disturb a partner's rest. The coils are also arranged to provide edge support, making it easier to slip in and out of bed. A thin layer of Dunlop latex serves as the bed's foundation.
As with their other mattresses, Amerisleep includes free shipping, a 100-night sleep trial and a 20-year warranty with every Organica mattress purchase.
AMERISLEEP ORGANICA
GOTS-certified cotton cover
Talalay latex certified by Rainforest Alliance, eco-INSTITUT, and OEKO-TEX Standard 100
Bouncy surface from pocketed coils and responsive latex
Other Top Rated Mattresses
| | Mattress | Highlights | Price |
| --- | --- | --- | --- |
| | Avocado Green | Top-rated latex hybrid with all-natural latex & bouncy innerspring coils. | $1189 |
| | Tuft & Needle | Cushioning but bouncy feel and our recommended budget-friendly mattress. | $595 |
| | Nolah | Features innovative Nolah AirFoam, designed to relieve pressure 4x better. | $1019 |
| | Bear | Designed to help athletes sleep better & recover quicker. | $840 |
| | Original Purple | "No-Pressure" mattress featuring Purple's innovative Smart Comfort Grid™ to offer exceptional pain relief. | $999 |
| | Alexander Signature Hybrid | Features a plush pillow top and copper-infused foams for cool comfort. | $1299 |
| | Aviya® | Eco-friendly, hand-crafted innerspring mattress built to last. | $1099 |
9. Avocado
The Avocado mattress is not only an excellent latex mattress but a great eco-friendly mattress option.
Combining 100% GOLS (Global Organic Latex Standard) organic certified latex, GOTS organic certified cotton and wool, and a pocketed support system, this bed is one of the healthiest sleeping options. Plus, they even offer a Vegan version of their mattress made without wool!
When you buy the Avocado, you have the option to choose between their standard model or add a pillow-top to your bed. If you prefer a plusher mattress, we recommend opting for the additional pillow-top layer.
Let's touch on why we chose the Avocado for the best latex bed.
First and foremost, their bed has been awarded some of the highest certifications for quality and purity. The all-natural Dunlop latex used in their beds is cushioning but has a noticeable bounce, so it gives the sleeper a more "lifted," "on the mattress" feel.
Avocado doesn't overlook the importance of zoned support, either; their pocketed coil system contains five comfort and support zones strategically placed to nurture a healthy spine and promote proper sleep positions.
When you buy an Avocado mattress online, it comes with a 100-night sleep trial, free shipping, free returns, and a 25-year warranty— one of the more generous warranties offered in the mattress and bedding industry.
AVOCADO MATTRESS
Features only eco-friendly materials, and even sells a Vegan bed
Compatible with side, back, and stomach sleepers
Comes with a lengthy 25-year warranty
10. Tuft & Needle
If you're in the market for a new bed but working with a limited budget, check out the Tuft & Needle Mattress (T&N). At only $595 for a Queen, the T&N bed is, in our opinion, the best mattress you can buy for around $500.
Plus, because Tuft & Needle frequently discounts their bed, you can sometimes score this mattress for even less than $500. Additionally, it's backed by a 10-year warranty, covering your investment for the next decade.
The original Tuft & Needle mattress is an all-foam option and has a fairly simple design, featuring only two layers. The first layer is 3 inches of poly-foam designed to be cushioning but responsive, meaning, it should be easy to shift on this mattress and get in and out of bed.
Next, is 7 inches of firmer poly-foam in place to act as a base, giving the bed shape and support. All in all, the T&N stands 10 inches tall. Though this bed may not sound overly exciting, we're confident in our recommendation of it because since it debuted only a few years ago, it received over 130,000 reviews and has a 4.9-star rating on Google.
A few years ago, Serta Simmons Bedding bought out Tuft & Needle. Now, you can find the T&N beds at retailers who carry Serta Simmons. Alternatively, you can buy their mattress online on their website or through Amazon. After you buy and it is delivered to your doorstep, you have 100 nights to test it out risk-free and determine if it's a fit.
TUFT & NEEDLE MATTRESS
Most budget-friendly option featured
Best for side and back sleepers
Has over 130,000 reviews & a 4.9-star rating
11. Nolah 10″
If you're looking for the best mattress for side sleepers, the Nolah 10″ is worth considering. We're fans of this brand because they use their innovative Nolah AirFoam™ instead of memory or latex foam in their beds.
Nolah's AirFoam™ is designed to be more breathable memory foam, it cradles and contours to your body when you lay down, but it also is supposed to keep you cool and prevent you from waking up too hot. This foam is also designed to be four times more pressure relieving than memory foam, so it's great for side sleepers because it prevents pressure from building up in the shoulders and hips and helps you get pain-free sleep.
The Nolah 10″ is rated a 5 or 6 out of 10 on the firmness scale, meaning, it has a medium feel, another reason why it is ideal for side sleepers. At only 10 inches tall, this bed only contains three layers. Let's break down its construction.
The first layer is 2 inches of Nolah's AirFoam™. As we mentioned, this layer will mold to your body like memory foam and offer an instant cushion. Next, is a 1-inch layer of responsive poly-foam to give the bed a bit of bounce and keep you lifted in the mattress. The base of the mattress is 7 inches of dense poly-foam in place to give the bed shape and support.
Nolah mattresses are sold exclusively on their website, so you have to buy online. However, they come with a 120-night sleep trial to test out your new mattress. After the sleep trial, it's protected against defects by a 15-year warranty.
NOLAH MATTRESS
Features proprietary pressure-relieving foam for pain sufferers
Designed for side sleepers
Breathable design to keep hot sleepers cool
12. Bear
We recommend the Bear Mattress to stomach sleepers because it is designed to help you get healthier sleep, but it's also rated 6.4 out of 10 on the firmness scale, so it should be firm enough to support a stomach sleeper. In fact, it says right on their website they design their bed to be compatible with stomach sleepers, as it is supposed to keep your belly lifted and maintain your spine's natural curvature.
Let's talk about how the Bear can actually help you get healthier sleep.
To promote more restful sleep, Bear utilizes Celliant® in its cover. Celliant® recycles the body heat you emit naturally while you sleep to infrared energy; your body reabsorbs this infrared energy, which helps you get better sleep because it:
Promotes local blood flow
Increases circulation
Helps you wake up feeling more rejuvenated and rested
Inside the mattress are three layers of foam, the top layer is graphite-infused memory foam. It contours to your body and graphite works in conjunction with the Celliant® cover to keep your temperature regulated while you rest.
Next, is a layer of transition foam for extra pressure relief; this transition foam is designed to be bouncy and responsive, which is what keeps you lifted in the mattress and prevents your midsection from sinking. The last layer is a 6.5-inch dense base layer, which is in place to give the bed structural support.
Bear sells their mattresses online only, so they offer a 100-night sleep trial, free shipping, and free returns with each of their beds. Plus, their beds are backed by a 10-year warranty.
BEAR MATTRESS
Designed to help athletes get better sleep
Best for side and back sleepers
Graphite-infused gel helps keep you cool and comfortable
13. Purple Mattress
Purple is an innovative bed-in-a-box mattress company specializing in making the world's first No-Pressure mattress. The founders of Purple set out to create a truly unique bed to offer consumers a whole new sleep experience.
When they first launched, they sold only one mattress designed for universal comfort. However, after they received feedback from customers, they expanded their line to give customers more options. Now, they sell their original Purple mattress as well as three hybrid versions of it: Purple.2, Purple.3, and Purple.4. Plus, they sell an assortment of bedding accessories, too.
In each of their beds, they feature their Smart Comfort Grid™. Their proprietary Smart Comfort Grid™ is made with patented hyper-elastic polymer, a rubber-like material. This grid promotes airflow through the mattress, contributing to temperature regulation. Additionally, it's non-toxic, allergen-resistant, and durable. However, the most significant sleep-promoting benefit this grid brings is its ability to relieve pressure points.
When you lay on the Purple, this grid will collapse beneath you ever so slightly to offer instant comfort and ease stress but maintains its shape enough to stay supportive. Purple's Smart Comfort Grid™ is designed to offer both spinal support and cushioning comfort. It also isolates motion quite well, which makes it great for those who share a bed with somebody who tosses and turns.
When shopping with Purple, we recommend choosing their flagship model, as it's designed for the majority of sleepers and has over 18,000 reviews.
The Original Purple mattress has only three layers: the Smart Comfort Grid™, a transition layer of cushioning poly-foam, and a base layer of supportive poly-foam.
You can find Purple mattresses online and at Mattress Firms across the nation. Every Purple bed comes with a 100-night sleep trial and a 10-year warranty.
PURPLE MATTRESS
Pressure-relieving Smart Comfort Grid™
Built for universal comfort, so it's an option for all sleep styles
Hyper-elastic polymer gives the bed a unique feel and responsiveness
14. Nest Bedding Alexander Signature Hybrid
Nest Bedding specializes in selling luxury mattresses at affordable prices. To cut costs, Nest eliminates the middleman and sells to consumers online and in their showrooms throughout the country.
Nest carries eight beds— six standard mattresses, a crib mattress, and a bed called BKB, your little one's first "Big Kids Bed." Given their variety, Nest Bedding has you covered through all stages of life.
Nest's best seller is their Alexander Signature Hybrid, and it's our favorite, too, because it combines copper-infused foams and springy, supportive coils. It stands at a comfortable 13.5 inches tall and has five layers.
Let's talk about the construction of this high-quality hybrid.
Nest uses a blend of soft-to-the-touch cotton and polyester in their cover to increase breathability. Within their breathable cover, they include 1.5 inches of gel memory foam to offer instant cushioning comfort. When you lay on this bed, their plush pillow top contours to your body and relieves pressure while the gel inside combats body heat.
The first layer of the Alexander Signature Hybrid is 1.5 inches of convoluted foam to offer extra pressure relief. Its egg-crate design increases airflow through the bed and prevents heat retention.
Next is 1.5 inches of Energex™ Foam, a latex-like polyurethane foam designed to be bouncier than memory foam. This foam offers deep contouring while still holding you on top of the mattress, preventing you from ever feeling "stuck" in the bed.
Below the Energex™ foam layer is a 1-inch layer of poly-foam serving as a transition between the Energex Foam above and the sturdy pocketed coil system underneath.
At the base of the bed is an 8-inch pocketed coil system. These springs give the bed a lot of bounce, so if you're a fan of traditional innerspring mattresses, you should love Nest's Alexander Hybrid. In addition to increasing responsiveness, these coils offer zoned support, too. Plus, because the coils are individually wrapped, they isolate motion pretty well.
Nest carries their Alexander Signature Hybrid in plush, medium, and luxury firm, so they have an option for every sleeper. Each of their beds comes with a 100-night sleep trial and a Lifetime Warranty.
NEST BEDDING ALEXANDER SIGNATURE HYBRID
Suitable for all sleepers
Copper-infused foam combats body heat and fights germs
Plush pillow top offers you immediate soft comfort
15. Aviya®
The last bed on our list is the Aviya®, marketed as "the most affordable innerspring mattress for your best night's sleep." If you're looking for a traditional innerspring mattress with a bit of bounce, this could be perfect for you.
Aviya is an online-only mattress brand that makes and sells one mattress— their namesake coil bed. It's hand-crafted in the United States and built with eco-friendly, CertiPUR-US® certified materials, so its free from harmful chemicals.
Let's go over this bed's make-up.
Starting with the quilted pillow top, the Aviya bed's cotton cover contains a 1-inch layer of cooling poly-foam underneath to offer immediate comfort and regulate your temperature. Inside the mattress, Aviya includes two thin layers of foam to offer pressure-relief, lumbar support, and prevent sagging.
Below the foam lies this bed's innerspring core. Containing pocketed coils, this layer reduces motion transfer and provides zoned support. The coils below your torso are modified to feel firmer and prevent your midsection from sinking uncomfortably into the bed, making the Aviya® a suitable option for those with back pain.
Aviya® includes a thin layer of foam below their pocketed coil system to help with weight distribution and increase durability. They then encase all of these layers in a sturdy 3-inch thick foam reinforcement to prevent you from sliding off the sides of your bed.
The Aviya® mattress comes in plush, luxury firm, or firm, so there's something for every sleeper. Every bed comes with a 100-night sleep trial and a 10-year warranty.
AVIYA® MATTRESS
Increased lumbar support to alleviate and prevent pains
Hand-crafted with eco-friendly materials
Budget-friendly innerspring
What to Consider Before Purchasing a New Bed
Before you can confidently choose your next mattress, there are a handful of things to take into account so you're best prepared.
The most important factor being your own personal preferences, including how you like to sleep and how firm or soft you want your bed to be. If you're somebody who craves the feeling of sleeping on a cloud and you know that ahead of time, you've already narrowed down your search drastically.
Sleeping Positions
Sleep style is nothing to overlook, though, as it's critical you buy a bed that's compatible with how you sleep.
Side Sleepers
Side sleepers are most comfortable on medium or soft mattresses. When you sleep on your side, it's important your bed is soft enough to allow your hips and shoulders to compress in the mattress. Firmer beds can create pressure points and pains for side sleepers.
Back Sleepers
The best mattress for back sleepers is anywhere in the medium to firm range. For back sleepers, it's important to look for a bed that nurtures the spine's natural alignment and keeps you lifted in the mattress. Anything too soft can cause your torso to sink too far in the mattress, creating pain.
Stomach Sleepers
Stomach sleeping is considered to be the unhealthiest sleep style for a number of reasons— the most significant is the strain it puts on your back. When you sleep on your stomach, your center of gravity shifts to your torso. This can cause your midsection to sink into the mattress, overextending your spine. It's not uncommon for stomach sleepers to experience chronic lower back pain. If you do sleep on your stomach, choose a firm mattress to offer you the necessary support.
Remember, body type is the most significant factor in the perception of firmness; so, you need to take into consideration your build. If you're smaller or more petite, most beds will feel firmer to you; but if you're a heavier individual, you're going to need to look for a bed with more support to help promote healthy sleep positions.
Ultimately, the most important thing here is finding a mattress that will nurture a healthy spine, foster healthy sleep styles, and prevent aches and pains— finding the support necessary to achieve that is the main goal.
Mattress Types
As we mentioned, there are a variety of mattress types to choose from in your search for a new bed, including, memory foam, latex, hybrid, and innerspring beds. Like anything in life, each material has its pros and cons. In this section, we'll highlight the benefits and downfalls of each material so you can assess what meets your needs.
Pros of Memory Foam
Memory foam is considered to be one of the best mattress materials for pressure relief. If you're somebody who suffers from aches and stiffness, memory foam could be your solution for pain-free sleep.
Memory foam contours and cradles your body unlike any other material, so it helps evenly distribute your weight across the mattress, relieve tension in your joints, and prevent pressure points.
Athletes sleep on memory foam because it helps them recover more quickly by alleviating pressure points and leading to a deeper night's rest. Plus, memory foam is superb at isolating motion. If you share your mattress with a partner who tosses and turns, memory foam can help you get undisturbed sleep.
Cons of Memory Foam
There are a few major concerns people have with memory foam, and fortunately, many companies have taken strides to modify how they make their memory foam to reduce the risk of their customers experiencing any issues with their beds; however, if you buy a cheap memory foam mattress, you're likely to experience some of these side effects.
First, because a combination of chemicals is required to produce memory foam, these beds are prone to off-gassing. Off-gassing refers to the chemical-like "new mattress smell" that comes with a lot of foam beds. Even high-quality beds are likely to off-gas slightly when you first open them, but with inexpensive foam, the smell sometimes doesn't dissipate.
Another downfall to using memory foam is its likelihood of trapping heat. Because some memory foams are dense and don't have a lot of air pockets, they can retain the body heat you naturally emit while you sleep and cause you to overheat. Plant-based memory foams and open-cell foams are the solution to this problem, but for hot sleepers, these beds can still cause discomfort.
Last, because memory foam has a cradling feel, it can sometimes create a "sinking" feeling in the mattress and make it difficult to move around or get in and out of bed.
Pros of Latex
Many people prefer latex mattresses because they're an eco-friendly, all-natural sleep solution— that is only if you make sure to buy 100% natural latex. Latex is hypoallergenic and resistant to dust mites, mold, and bacteria, so it contributes to germ-free sleep.
Though latex beds are usually on the pricier side, latex is one of the most durable mattress materials, so it's likely to last longer than any other material. The average lifespan of a latex bed is 15 years, where memory foam is likely to last 10 years, and other beds usually hold up anywhere between 5 to 8 years.
Latex is a breathable material, so it does pretty well in regards to temperature regulation, too. Lastly, like memory foam, latex is great at molding to your body and relieving pressure points, which helps you get more restful sleep to wake up feeling rejuvenated.
Cons of Latex
Latex is one of the best materials to buy if you're looking for an eco-friendly or hypoallergenic bed, but they're often the most expensive mattresses you can buy. Latex is also markedly heavy and difficult to move or rotate, so if your latex bed requires any periodic rotation, it won't be an easy feat.
Like memory foam, there's also a risk of latex retaining heat, too, so it could be hit or miss for a hot sleeper. Lastly, there is a chance of off-gassing with latex, as well.
Pros of Hybrid
Hybrid mattresses offer the best of both worlds, combining a pocketed coil system with layers of foam— whether it be latex, memory, or poly-foam— gives the sleepers a bouncy but cushioning bed. The bounce of hybrid beds makes it easier to get in and out of bed and prevents the "stuck in the mattress" feeling other materials can create.
If you're somebody who prefers a little bounce from your mattress, you'll likely want to invest in a hybrid bed; that said, hybrids aren't the best at isolating motion. Because hybrid beds contain a pocketed coil system, there is good airflow throughout the mattress, ensuring no hot air gets trapped in the bed— if you're a hot sleeper, this is especially important.
Cons of Hybrid
Hybrids bring a lot of good to the table, so it is not much of a surprise they're quite pricey. There are budget-friendly hybrids on the market, but usually a high-quality, long-lasting hybrid is going to be relatively expensive.
Most hybrid beds require you to periodically rotate them so they last longer, but hybrids are often heavy, so they're not the easiest to maintain, either. If hybrids are poorly constructed, they'll likely lack in their ability to isolate motion, too, because they contain a coil system.
Pros of Innerspring
Innerspring beds were the first kind of mattress invented and used, so they've been around for quite some time! The biggest advantage of buying an innerspring bed is the airflow throughout. Having essentially nothing but a pocketed coil system inside, there's plenty of room for air to flow in and out of the mattress.
Innerspring beds are also relatively budget-friendly and more affordable than other mattress types; so if you're looking to buy a bed for a guest room or camper and don't want to spend too much, innersprings are the way to go. Also, like hybrids, innersprings have a bouncy feel to them, so they're more responsive to movement and offer a more "on the bed" feel.
Cons of Innerspring
Innerspring beds receive one of the lowest owner satisfaction ratings, according to SleepLiketheDead.com with only 64% of consumers rating their beds positively. On average, these beds have the shortest lifespan, too— with 25% of owners reporting sags in their bed within only three years.
Unlike memory foam or latex foam, innerspring beds cannot contour to your body, which means they aren't the best at pain relief or prevention. Additionally, because they're primarily composed of springs, they don't isolate motion well. If you share a mattress with a restless sleeper or are just looking for the best bed for couples, these aren't the way to go.
Pros of Waterbeds
As their name implies, waterbeds are simply beds full of water. These mattresses were more popular about twenty years back, but they're still a comfortable sleep solution for anyone who wants excellent contouring. Waterbeds are ideal for even weight distribution and pressure relief, making them great options for those with chronic pains or arthritis.
Because these beds are full of water, they shouldn't aggravate allergies like other mattresses can, so they're great for allergy or asthma sufferers. Plus, they're usually cheaper than other mattress types, making them a budget-friendly choice.
Cons of Waterbeds
While water is pressure-relieving, it is not motion isolating. Any movement on the mattress results in waves, making it difficult to settle in and get comfy. While there are waveless water beds on the market, they're often expensive.
Waterbeds aren't known for their durability and often fall victim to punctures and leaks. These beds also require close care— their water levels should remain consistent and water conditioner needs to be added regularly.
These beds are some of the hardest to set up and heaviest to move, so they're far from hassle-free. As you can probably imagine, waterbeds require quite a bit of water to fill— they can weigh over 1,000 pounds when filled! Setting up and maintaining a waterbed requires considerable time and effort.
Pros of Airbeds
We're not talking about the blow-up mattresses used for guest sleepovers or camping trips. Airbeds are highly customizable, filled with air, and can be inflated or deflated to adjust the support and comfort levels, respectively. These mattresses are great for couples because they allow for separate adjustments on each side of the bed, too.
Airbeds usually last 30% longer than most mattress types. If other mattress types develop a defect, the whole bed needs replaced; whereas airbeds have electrical parts that can be fixed by the manufacturer, so you're only left addressing what specifically needs repairing.
Airbeds have a 78% owner satisfaction rating, according to reviews on Sleep Like the Dead.
Cons of Airbeds
Though airbeds are customizable and long-lasting, they can be quite expensive, with some models costing over $4,000. Plus, though they're durable, about 25% of owners report having to replace or repair a defective part within the first ten years of ownership. Repeatedly repairing mattress parts can add up quickly.
While adjustability is a perk to buying a waterbed, it also raises a new challenge— finding your ideal comfort level. Adjusting your bed to be most comfortable for your specific needs can take time and experimentation, and, unfortunately, about 10% of airbed owners report never finding that perfect balance.
Owners of airbeds also report the bed's fluctuating comfort levels. Meaning, once they think they've found a suitable setting, it feels different than it did the night prior. This fluctuation can be attributed to temperature, barometric pressure, weight, and sleeping position.
If you're looking for a bed you can just fall into after a long day, an airbed isn't for you.
Organic Materials
If you are an eco-friendly shopper or suffer from different allergies or skin sensitivities, chances are you'll want an organic mattress.
When looking for an eco-friendly bed, you'll want something made with 100% natural latex or plant-based foams as well as organic flame retardants. All-natural beds often have a number of third-party certifications proving they're free from harmful chemicals and synthetic materials. During your search, keep an eye out for these certifications and read more about them.
Some of the top-notch organic certifications to look for include:
CertiPUR-US®
GreenGuard Gold
OEKO-TEX Standard 100
GOLS & GOTS
Bed in a Box Brands
If you're shopping on a tighter budget, consider buying from bed in a box brands. We're fans of these online mattress retailers because they eliminate the middleman and sell their high-quality beds for a fraction of the price. This means you no longer need to drop thousands to get a comfortable, long-lasting mattress.
Shopping with online bed-in-a-box brands makes the buying experience much more convenient. Instead of visiting numerous retailers, you can browse from the comfort of your couch and have the bed delivered to your doorstep. Online retailers also offer sleep trials with each of their beds, letting you test your bed at home for a certain trial period.
While it may seem tricky to buy online and choose a bed without feeling it first, risk-free sleep trials allow you to shop with confidence. Plus, having the chance to try your new bed at home for a few months beats an in-store test run any day.
Bunk Beds
If you're shopping for a bunk bed mattress, you'll need to keep its thickness, size, and firmness in mind. Mattresses for bunk beds differ from those for standard bed frames because they need to be thin without feeling too firm or bottoming out.
When shopping for a new mattress for any standard bed frame, most review sites will tell you to steer clear of overly-thin mattresses. But when it comes to bunk beds, a thin bed is exactly what you need.
As a general rule of thumb, look for a bed between 8 to 10 inches for a bunk bed.
When choosing your thin mattress, look for one with only two or three layers since fewer, thicker layers contribute to plushness better than multiple thinner ones. Don't forget to choose a compatible firmness for whoever will be sleeping on this new bed. More often than not, mattresses are carried in multiple firmness levels to give you options.
Futon Mattresses
Futon mattresses are perfect for guests and usually more comfortable than plastic blow-up air mattresses. These beds are also perfect space savers for those with a smaller living space.
You want to look for a futon that's comfortable for both sleeping and sitting. If your futon is in a part of your living space where it runs the risk of becoming an eyesore, make sure you buy one that looks great, too.
A high-quality futon mattress should cushion you from the sturdy frame underneath and feel comfortable for the majority of sleeping positions.
Sleeper Sofas
Sleeper sofas work as both a couch and a bed, so they're perfect for lounging after a long day or hosting guests for a sleepover. A sleeper sofa has a mattress within its frame that can be unfolded for easy use.
Sleeper sofas are available in different styles, colors, and materials, so you'll want to find one that works well with your current decor. Don't forget to pick one with a sturdy frame to ensure it'll last for years.
RV Mattresses
Whether you're a frequent road tripper or living a mobile lifestyle, finding a comfortable RV or camper mattress can be hard. You need something lightweight and compact that's still comfortable and supportive.
As you might expect, RV mattresses are designed to be more lightweight than standard mattress types. They're sold in different sizes than standard beds, too. Often, RV mattresses are a few inches shorter or narrower than their standard counterparts. They also have curved edges or modified shapes to help them fit through doorways easily.
Most major mattress brands don't carry RV mattresses, so to find one you'll have to shop with a specialty retailer. Like bunk bed mattresses, you'll want to find a bed with a few cushioning layers for the best overall comfort.
Smart Mattresses
Like most everything in life, technology has made its way into mattresses and can influence your entire sleep experience. If you're looking for the most high-tech mattress to upgrade your night's rest, you have a slew of different options.
Smart beds are made with a variety of different technologies— some are in place to keep your temperature cool while others track your quality of sleep and pinpoint areas for improvement. You can even sync some beds with Amazon's Alexa, letting you get the coffee brewing before even rolling out of bed.
Customizable Options
If you've tried a number of mattresses and have yet to find a comfortable option or you share your bed with a partner who has vastly different sleep needs, a customizable bed may be the solution to your restless nights.
There are two main types of customizable beds— those with mix-and-match layers and those built for your body type. If you've struggled to find a comfortable mattress, you're a good fit for either of the two.
If you buy a bed with adjustable layers, you can arrange and rearrange the layers until you've found your most comfortable combination. On the other hand, if you decide to shop with a brand that'll customize your bed for you, they modify the mattress based on your body type and sleeping styles to set you up for sound sleep.
When it comes to couples, we recommend split-king sizes, which allows you to customize the comfort and firmness of each side of the bed. Split-kings are really just two twin XL mattresses placed side by side. They're often used on adjustable bases to allow each side to move independently, they can also be the perfect compromise for couples with different preferences.
Brands that carry their beds in different firmness options usually offer split-king sizes, so customers could potentially buy two beds with different firmness levels. This allows couples to choose what's most comfortable for their side of the bed.
Budget
The last thing to consider before browsing online or heading to your local retailer is your budget. Everybody knows a new mattress isn't necessarily cheap, so it's critical you determine what you can realistically spend on a new bed and stick within your means. Besides, nobody can sleep soundly on a new bed or even appreciate their new mattress if they know in the back of their mind they've spent far too much money on it.
With the popularity of online mattress brands, there are plenty of high-quality, budget mattresses you can find priced around $1,000. Also, many mattress brands offer promotions on their beds around holidays, and waiting for a mattress sale can save you hundreds.
Mattresses for Specific Needs
Different beds can ease sleep troubles. Whether you're sleeping too hot or waking up too often throughout the night, there's a mattress to help.
Cooling
It's not uncommon to hear people complaining of sleeping hot. You can kick off all your bedding and crank the AC down, but even those efforts may not be enough— because your mattress could be causing you to overheat.
Certain mattress materials retain body heat more than others, and traditional memory foam tends to be the worst of them. In an effort to combat complaints of heat retention, many brands have begun to use plant-based and gel-infused foams in their beds. But for particularly hot sleepers, this may not be enough.
If you find yourself waking up uncomfortably warm most nights, you may need a latex or hybrid bed, as they're some of the best for preventing heat retention due to their increased breathability and airflow. However, you can find cooling memory foam mattresses, too.
Couples
Finding a comfortable mattress for one person is hard enough, but shopping for a good mattress for couples is even more difficult— especially if you have completely different preferences than your partner.
Couples can greatly benefit from split-beds and customizable mattresses because they allow each sleeper to choose what's most comfortable for their side of the bed. However, if you're not looking to spend a lot of money for a split-king, choosing a medium mattress is your safest bet because they're adaptable to the majority of sleeping positions.
To get sound sleep, couples should look for a mattress that limits motion transfer and noise, so if you share a bed with someone who tosses and turns, their movement won't ruin your night's rest.
Heavy Sleepers
Plus-size sleepers require more support from a mattress to ensure it'll last for its expected lifespan. If you're over 250 pounds, you should avoid all beds thinner than 10 inches thick, as they may break down and sag after only a few years.
Heavy sleepers should look for a thick, firm mattress to support their weight for years to come. It also doesn't hurt to look for beds with edge support and cooling technologies to get the most comfortable, undisturbed sleep.
We recommend heavy sleepers stick to all-foam or hybrid beds, as they offer more cushioning and healthy support than most innerspring alternatives.
Adjustable Beds
If your night's sleep needs an upgrade, consider an adjustable bed frame. Whether you need to get better rest, change sleeping positions, or just want something to make watching TV before bed more enjoyable, these high-tech bed frames fit the bill.
Equipped with head and foot articulation, adjustable beds let you find the best angle to doze off. Many people love them because they promote better spinal alignment and offer exceptional pain relief. Plus, many bed frames feature a "snore" button elevating you to the perfect angle for peaceful, quiet shut-eye.
Adjustable beds used to be reserved for hospital rooms and the elderly, but now, people of all ages are taking advantage of their sleep-enhancing benefits. There are hundreds of different adjustable frames sold— some feature just the basic head and foot articulation while others are decked out in a number of fun features.
Depending on your needs and budget restrictions, you're sure to find one to better your night's sleep.
Athletes
If you lead an active lifestyle, you need a bed that'll promote sound, reparative sleep so you can perform your best every day. The National Sleep Foundation recommends athletes get an extra hour or two of rest each night, but they also suggest investing in a bed to facilitate deeper, more restorative shut-eye so you can make the most of your time spent sleeping.
Athletes should look for a mattress designed to boost recovery times and performance. While many brands market their beds for athletes, look for beds with specific things to ensure your bed is really the best to support your rigorous lifestyle.
We also recommend athletes stick with all-foam beds, preferably memory foam, due to their ability to foster a healthy spine, relieve pressure points, and prevent future pains from forming. Hybrid beds are a great option too, as they contain foam layers to offer these benefits, but athletes should avoid innerspring beds whenever possible.
Soft Beds
Soft beds aren't for everybody. Even if you may think you like the feeling of sleeping on a cloud, if your bed doesn't support you right, you'll end up plagued with aches and pains.
Soft mattresses are best suited for side sleepers, and even some back sleepers can snooze soundly on a softer mattress. However, stomach sleepers should avoid soft mattresses at all costs, as they are not equipped to support sleeping face down. Stomach sleepers need a firm bed to prevent their torso from sinking and back pains from forming.
While you may be thinking solely of comfort when looking for a soft bed, don't overlook support. Zoned support is crucial for nurturing proper posture and sleeping positions. A bed without support can lead to discomfort down the road.
Firm Beds
Unlike soft beds, firm beds can be an option for all sleepers. It's just important side sleepers don't choose something too firm, as it can lead to pressure build-up under the shoulders and hips and result in pain and discomfort.
Firm beds are great for maintaining neutral spine alignment and preventing unhealthy sinkage. If you've bought something too firm and need additional comfort, mattress toppers are an easy way to customize your bed.
Light Sleepers
Motion isolation could not be any more important for light sleepers. If you share the bed with a partner, or even have a pet who periodically snoozes with you at night, their motion can jostle you awake and prevent you from entering deeper stages of sleep.
Look for an all-foam bed or a hybrid mattress with pocketed coils for the least motion transfer. Light sleepers can also benefit from additional edge support, as it provides a better surface to sprawl out on and snooze undisturbed.
Best Beds for Different Medical Conditions
If you're buying a bed to address a certain medical condition, you'll need to know the best materials and firmness for your needs. Choosing something at random, or with misguided information, can lead to restless nights and even more discomfort.
In this section, we talk about the best types of mattresses to offer relief for varying health conditions. Before investing in a new bed, we recommend discussing your health concerns with your doctor, as well.
Back Pain
If you frequently experience back pain, you're not alone. Back pain affects nearly 80% of adults and is the leading cause of missed work. Luckily, a high-quality mattress can ease your discomfort.
The best mattress for back pain relief offers both cushioning, comfort, and targeted support to alleviate pressure points while still maintaining proper alignment. When searching for your next bed, look specifically at its support technologies and how it's built to foster a healthy spine.
While many believe firm beds are the best for spinal alignment, that's not necessarily the case. Instead, choose a firmness based on how you sleep and then compare support technologies to find your best fit.
Hip Pain
Hip pain is tricky. It can be a result of sinking too far in the bed, but it can also stem from not sinking far enough in your mattress. Determining which applies to you depends on how you sleep.
For side sleepers with hip pain, this likely results from sleeping on a bed that's too firm. Choosing a medium or even medium-firm mattress allows for better pressure relief and fewer pains.
For back or stomach sleepers, hip pain may result from sinking too low in the mattress. To avoid this, look for a bed with additional lumbar support under your midsection. Many brands modify the center of their bed to feel firmer and prevent uncomfortable sinkage.
We recommend those with hip pain choose an all-foam bed as they allow for better comfort and pressure relief under your joints, including your hips. Hybrids are a suitable option too, but innersprings aren't the best for people with chronic pain.
Neck Pain
If you're waking up every morning with neck pain, consider the pillow you're using. A high-quality pillow should hold your neck in line between your shoulders and facilitate neutral alignment.
In addition to your pillow, your mattress may be contributing to your pain, too. You can prevent neck pain altogether by choosing a compatible pillow for your sleep style and investing in a mattress to hold your spine in alignment.
Neck pain can also be a result of stomach sleeping. If you sleep on your stomach and experience these pains, change your position to the side or back.
Arthritis and Fibromyalgia
Arthritis and fibromyalgia are two conditions characterized by joint pain and inflammation. While arthritis may only impact specific joints, fibromyalgia is defined as widespread musculoskeletal pain accompanied by severe fatigue; both of these make it hard to get good sleep.
For relief from your discomfort, invest in a cushioning all-foam bed. Don't choose something too soft though, as the bed still needs to offer healthy back support.
A cushioning bed for arthritis provides a soft, comfortable surface for your joints to rest. It also contours to your curves for further pressure and tension relief.
Sleep Apnea
Sleep apnea is a common sleep disorder impacting over 22 million people. Sleep apnea occurs when your breathing repeatedly starts and stops; this disrupts rest and makes it impossible to enter into deeper, more restorative stages of sleep.
While a mattress cannot cure your sleep apnea, beds built to hold your spine in proper alignment can alleviate some of your symptoms. We also recommend those with sleep apnea invest in an adjustable bed. These elevate your head to the best angle to keep your airways open all night.
If you suspect you have sleep apnea, talk to your doctor about your symptoms.
Snoring
Snoring is not only annoying, but it can be an indicator of a more serious condition, such as sleep apnea. Even if your snoring doesn't bother you, it should still be addressed.
Unfortunately, a mattress itself cannot cure snoring. However, a mattress combined with an adjustable bed, or even a wedge pillow, can do the trick. These two sleep accessories elevate your head to open your airways and prevent loud snores.
Allergies and Asthma
1 in 13 people have asthma; and your bed can be a breeding ground for mold, dirt, dust mites, and other irritants. That's why it's important for those with asthma or even allergies to invest in a hypoallergenic or eco-friendly bed.
Eco-friendly mattresses, or those with third-party organic certifications, are free from harmful chemicals and usually infused with antimicrobial materials to prevent allergic reactions.
You can also reduce the risk of your mattress causing an asthma attack by covering it in a protector. High-quality mattress protectors prevent dirt, dead skin cells, dust, and more from accumulating on your bed's surface.
Lastly, we recommend those with asthma stay away from innerspring beds, as dust can build up between the coils and cause persistent irritation.
Osteoporosis
Osteoporosis is defined by the breakdown of your bones. This condition is quite uncomfortable to begin with, but as your bones become more porous and fragile, pain increases.
Pressure points can be extremely painful for those with osteoporosis, so you'll need a mattress to offer comfort and alleviate tension. Memory foam mattresses are the best at contouring to your body, relieving pains, and preventing new ones from forming.
However, you'll want to ensure your memory foam mattress doesn't cause you to sink too far, as that can lead to discomfort climbing in and out of bed or changing positions while you sleep.
Restless Legs Syndrome
Restless Legs Syndrome is defined by the uncontrollable urge to move your legs because of an uncomfortable sensation. Those with RLS define the discomfort in their legs as feeling like pins and needles or a "deep bone itch." The continual urge to move your legs makes it difficult to drift off and stay asleep.
While there's no cure for RLS, and there's no one mattress that's best for eliminating discomfort, a contouring, memory foam bed, can offer some relief. Look for a bed with plush comfort layers to mold to your body, but don't overlook zoned support. Maintaining healthy alignment is crucial to feeling your best everyday.
In addition to investing in a new bed, improving sleep hygiene and getting a better night's sleep can mitigate the symptoms of RLS.
Recommendations by Age Group
Your sleep preferences change as you age; babies have different needs than elderly folks. To find what's best for you and get the most for your money, consider where you're at in life.
Babies
Even the healthiest of babies are at risk of Sudden Infant Death Syndrome, otherwise known as SIDS, during their first year of life. SIDS usually occurs when your baby is at rest, so it's critical to set your little one up with a healthy sleeping environment.
Babies are best sleeping in cribs or cots, and not in the same bed as their parents. While co-sleeping and sharing a bed may be convenient for night-time feedings, it puts your baby's life at risk.
Soft mattresses and soft surfaces increase your baby's risk of SIDS, too. When choosing a crib mattress, make sure it's firm. Don't keep any blankets, pillows, or loose bedding in the crib with your baby, either, as it poses a suffocation risk.
We also recommend choosing an organic, or at least eco-friendly, mattress for your little one. In the process of making foams and other mattress materials, harsh chemicals are needed. While these chemicals aren't necessarily "unsafe," your baby is better off in a sleeping environment where he or she isn't exposed to chemical off-gassing.
Toddlers and Kids
It can be hard to gauge the best bed for a growing child. When your child is ready to move up from a crib, you want to find something that can keep up with their changing bodies. But you also don't want to go overboard and buy a giant bed for a little kid. So how do you find the perfect balance?
We recommend twin, twin XL, and full mattresses for toddlers and kids. A lot of people will recommend starting with a twin, but we believe you're better off jumping straight to a twin XL because they're five inches longer and may buy you a few extra years of use.
Should your child hit a growth spurt, the twin XL's extra few inches of legroom will prevent you from having to replace their bed after only a few years.
If you want something bigger than a twin, Full beds are great for young children, too. However, many people find fulls to be best suited for preteens and teenagers rather than kids below the age of 10.
Beyond size, look for a bed to foster healthy spinal support. If your child spends their nights snoozing out of alignment, it can lead to aches, pains, and impact healthy growth.
Teenagers
Once you hit your teenage years, sleep is even more critical. During this time, you're growing rapidly and with that, sleeping quite a bit. Proper spinal support is crucial during this time to ensure healthy development and prevent disorders such as scoliosis.
We recommend twin XL, full, and queen-size mattresses for teens. The most important thing is to get them a bed with advanced support technology to nurture a healthy spine.
Seniors
Seniors are no strangers to back aches and joint pain, which is why it's so important to find a pressure and pain-relieving bed for people over the age of 55. We recommend memory foam and hybrid beds for seniors, as they're usually the best for mitigating and preventing pain points.
To avoid discomfort, it's necessary to find a bed compatible with your sleeping position, too. If you buy a memory foam mattress that's too firm or too soft for your needs, you won't be any better off than if you were sleeping on a stiff innerspring bed.
Before buying a new mattress consider where your pains are located and how you sleep at night— this should steer you closer to your next bed. For the most part, we recommend seniors choose medium or medium-firm mattresses because they're adaptable to most body types.
Mattress Size Comparisons
If you're replacing your current mattress, you may not think twice about your bed's size. However, if you're upgrading, downgrading, or investing in a whole new bed set, the size of your new mattress is pretty important.
Twin and Twin XL
38 inches by 75 inches and 38 inches by 80 inches
Twin and twin XL mattresses are usually the first "big kid" your little one tries when they graduate from a crib. Twin mattresses are a great first bed for your child, but they're a bit short, so if your kiddo hits a growth spurt, they may grow out of a twin rather quickly.
For that reason, we recommend choosing a twin XL if your budget and bedroom can accommodate it. Twin XL mattresses are five inches longer than a standard twin, so they're great for young children, preteens, and even college students.
Nine times out of ten, college students are sporting twin XL mattresses in their dorm rooms and apartments because they allow the perfect amount of space to sleep comfortably. Twin and twin XL mattresses are used for bunk beds, too.
Full and Full XL
54 inches by 75 inches and 54 inches by 80 inches
Full and full XL mattresses are perfect for those who need a little bit more room than a twin or twin XL provides but are still working with limited space. Full mattresses are 16 inches wider than twin beds, so they give you an extra 8 inches on either side to sprawl out and get comfy.
Like twin mattresses, full beds are ideal for children or single sleepers because they provide adequate room. Couples, on the other hand, will likely find queen-size beds more accommodating. That said, many couples still sleep soundly on a full.
Full beds are often referred to as "double beds."
Queen
60 inches by 80 inches
Queen beds are popular amongst couples or those who share a mattress because they provide more sleeping room than a full and are able to fit in most bedrooms. Queens can comfortably fit two sleepers— when you split one down the middle, you've got 30 inches of sleepable surface on either side of the bed.
Queen size mattresses are also great for single sleepers who like a lot of room to sprawl out or even those who share their bed with their pets. Queen beds only offer 6 extra inches of wiggle room in comparison to fulls, so they're a minor upgrade, but an upgrade at that.
King
76 inches by 80 inches
Unless you're ordering an oversized mattress, king beds are the biggest you can buy. A standard king mattress is equivalent to two twin XL mattresses placed side by side, so they're more than capable of comfortably accommodating two sleepers.
King beds are ideal for couples, couples who share their bed with a pet, or even sleepers who share the bed with a restless partner. More often than not, single sleepers find a king bed to be unnecessary, but if you cherish your space, you may want to invest in a king bed for just yourself.
One of the biggest problems with king beds is room space. While many people may want a king and have the budget to accommodate one, many bedrooms are too small to fit a king size mattress. Or, if they can fit one, it just barely fits, and you're left with no room for other furniture.
The minimum room size to fit a king bed is 12 feet by 10 feet. If you've got a smaller set-up, you're better off choosing a queen.
California King
72 inches by 84 inches
California kings have the reputation of being "bigger and better" than the standard king bed. However, both beds offer the same amount of sleepable surface area. The difference is length.
California kings are four inches longer than a traditional king, but they're also four inches narrower. If you're a taller individual, you likely want a California king over a standard king. Alternatively, if you value wiggle room, you'll likely want the standard king with 76 inches of surface space for sprawling out.
California king mattresses are often the same price as standard king beds, so you're not getting any more for your money by choosing one over the other— it all comes down to personal preference.
Top Ten Worst Mattress Types
Independent mattress review sites such as Sleep Like The Dead and a few others accumulate data from consumers. There is a lot of information out there on our sleep preferences, and what people tend to find good and bad in beds from reviews.
While we are all a bit different and comfort is subjective, there are some places we seem to agree. When you're looking for the right mattress, these are the different factors research and statistics suggest you might want to avoid.
1. Super Cheap Beds
Avoid cheap mattresses since you spend about a third of your life in bed
While this may seem obvious, it needs to be stated. You may think you're getting a steal on a very cheap bed at a discount retailer or during a big sale, but the retailer may have the last laugh.
Mattresses sold for $450-$550 or less for a queen tend to receive the lowest customer ratings overall. You may want to look in the average to mid-price range ($800-$1500 or so usually nets beds in the average to great satisfaction range).
Reviews of these beds can be deceiving. Customers may give the mattress a glowing review after only a few days or weeks of using it. Cheap beds overwhelmingly have problems with longevity and durability, however. While initially comfort can be just fine, cheaper materials break down quicker, and will need to be replaced considerably sooner. Research has also found cheaper beds are linked with more back pain.
Try to see what customers say about early sagging or impressions and consider the length of time they have been using it. A reviewer who has used a bed for several months will have a better idea of the quality.
2. Promotional Mattresses
Promotional mattresses are often advertised as "doorbusters" or with other marketing terms used to get customers interested. As with all very cheap options, the quality is often not what customers are looking for, even if the price may be a steal. You may find these beds have little to no warranty or return policies as well, so if you're shopping during as sale, be sure to do your research. Pay close attention to the upcoming mattress sales to get the best deal.
That's not to say there is no use for these types of beds, as they can be great for guest bedrooms or temporary situations. Make sure you know the limitations of the bed you're buying, though. If you need a bed to last a long time with regular use, you may need to spend a bit more.
3. Motion Transferring Innersprings
If you've ever tried to sleep on a bed with poor motion isolation while your partner or pet tosses and turns, you understand the problem of motion transfer. Innerspring mattresses without individually-pocketed coils usually have the most issues with this.
If you are a light sleeper, a bed that transfers motion too much can be a nightmare. Memory foam and latex beds are rated as the best for motion isolation, with pocket coils and hybrid spring beds also performing reasonably well.
4. Hot Memory Foam
Around 9% of memory foam owners say they sleep hot. Manufacturers have tried to combat this in several ways. Gel was introduced in order to make memory foam feel cooler. It often does make the foam more cool to the touch, but roughly the same amount of gel memory foam owners report problems with heat retention, likely because the gel eventually acclimates to the sleeper's body temperature.
Plant-based memory foam has a more open foam structure which allows for more breathability, as described in a study by Cargill. Air moves through the foam more freely so you sleep cooler than traditional options, which can trap heat.
Overall, memory foam beds have a fairly high rate of heat complaints compared to springs and other non-foam mattress types, but significant differences are present across different brands and types of memory foam. For traditional temperature-sensitive memory foam, complaint rates tend to be around 8-12%, with higher density beds sleeping hotter.

Gel infused memory foam feels cooler initially, but these mattresses tend to have heat complaint rates of about 6-8%. Plant-based memory foam can sleep up to 25% cooler than other types according to some studies, and plant based mattresses have lower heat complaint rates from 2-6%. As a whole, memory foam mattresses have an owner satisfaction rating of about 81%."–from SleepJunkie.com.
5. Thin Mattress
The thinner the mattress, the lower the comfort ratings, typically. A bed has to have some substance to it in order to provide both support and cushion for your body. Heavier people and side sleepers need a bit more padding, too. Laying on your side causes you to sink in more, as does being heavier, which means thicker comfort layers are typically needed to avoid pressure points.
People between 250-300 pounds shouldn't buy a mattress thinner than 10 inches, according to research by Sleep Like The Dead. People over 300 pounds may find their ideal mattress in terms of comfort is closer to 14 inches thick.
6. Low Density Foams
Avoid low-density foams as they provide poor support
Mattresses with lower density foams tend to receive lower satisfaction rates over time. Support foam layers and regular poly-foam should generally be over 1.5 lbs to be considered decent quality. Memory foams should be denser than their poly-foam counterparts. Look for memory foam layers over 3.5 pounds
Lower density foams are typically found in cheaper mattresses, however, sometimes even very expensive brands still use poor-quality materials. Low-density foams are less dense, essentially because there is less material and more air in them. As a result, they are more likely to develop impressions quickly, and they also provide less support and cushioning. Try to find medium to high-density foams if you are looking for bed to last a long while.
7. Brands with No Return/Exchange Policy
A great return policy doesn't necessarily mean the mattress is going to be a great match, but it is a good sign of quality and the retailer's confidence. Knowing you can easily exchange or return a product gives you some peace of mind. You don't want to be stuck with something you can't use, after all.
The showroom experience can be misleading, too, which is what makes return policies important. A study showed people are essentially left to chance when selecting a bed in a showroom. Make sure you have some time to sleep on the mattress in the comfort of your own home to see if it is a good fit. You should have at least 30 days in your return policy no matter where you purchase it.
8. Brands with Little or No Warranty
Just as a good return policy is indicative of a decent product, so it goes with warranties. A company should have no problem standing behind a quality product. A middle-range mattress should have a full-coverage warranty of around ten years against defects and deep impressions.
You have no idea if your new bed will last 10 years when you purchase it. But, a warranty will ensure you are protected in case it doesn't. If a brand offers less than 10 years of full coverage or no warranty, it may be an indication of the quality and longevity you can expect.
9. Overpriced Beds
It's the oldest trick in the retailer's book. Take the price of a product and inflate it, then offer enticing discounts. One of the most common complaints from consumers is related to overpaying. Price is intimately related to product satisfaction. A mattress can be perfect, but if you pay too much for it, it makes those dreams a little less sweet. Misleading discounts can also be used to pressure you into a sale before you've had time to shop sufficiently.
Be wary of companies using mediocre materials, but spending millions on advertising. These costs have to be passed on to customers. You can find quality mattresses from places that spend much less on advertising and more on their materials. As always, do some research on what's inside and make sure it measures up to the price compared to other options.
10. Overly Firm or Soft Mattresses
Try mattresses of varying firmnesses and see what you like.
The showroom is an awful place to pick a mattress for a couple of reasons – one, it's often uncomfortable to lay on beds in a store; two, the selection is fairly limited; and three, you don't know how long the beds have been in use and how "broken in" they are.
People often report receiving beds that are firmer or softer than the one they tried at the store, a common source of complaints in reviews. Make sure you have time to try the actual model at home to ensure it is the proper firmness. Many companies have lengthy return policies for just this reason.
Get to know your preferences if you are uncertain. Try mattresses of varying firmnesses and see what you like. Medium-firm tends to be the most popular and will suit most people well. However, descriptions of firmness are subjective – one person or one brand's medium could be another's soft or firm. If you can find ratings describing IFD/ILD, it is a more objective way to gauge and compare firmness (lower ILDs are soft, higher are firmer).
Frequently Asked Questions
What is the most comfortable mattress in the world?
It's nearly impossible to say there's one most comfortable mattress in the world since we all sleep differently. Side sleepers will find beds made for stomach sleeping uncomfortable, and vice versa. The real question to ask is, "What is the most comfortable mattress for me?"
You can find a comfortable mattress by merely considering your unique sleep needs and comparing mattresses until you land on one that seems like a compatible option. Risk-free sleep trials make shopping for a new mattress easier than ever, allowing customers a couple of months to test their bed out while deciding if they want to keep it.
What type of mattress is used in five-star hotels?
Most luxury hotels have innersprings with pillow tops because they're cushioning and comfortable but inexpensive and easy to replace. That said, many hotel chains are transitioning to all-foam beds because they offer better comfort and are long-lasting.
Are memory foam or spring mattresses better?
It all depends on personal preference. Those who prefer a cloud-like, cushioning mattress will prefer foam mattresses. On the other hand, those who like a cooler mattress or want a bed with some bounce will better enjoy a bed with springs.
What mattress is the best for back pain?
The majority of those with back pain agree medium-firm foam mattresses are the best for alleviating pain and preventing future discomforts. For years, sleep specialists insisted firm mattresses were the best for back pain. But after a little research, studies found medium-firm beds are better because they offer enough comfort to relieve pressure and allow for some cushioning.
Are expensive mattresses worth it?
Starting your search for a new mattress with a budget in mind is definitely helpful. That said, limiting yourself early on may leave you sacrificing quality sleep to save a buck. You don't need to spend an arm and a leg on a new bed, but you should spend enough to know you're getting a quality mattress that'll last you for years to come. Usually, most people wind up spending around $1000 to $2000 on a new queen size mattress.
Did You Find Your Next Bed?
Take your time and find the perfect mattress for you and your needs. In the end, the "best" or "worst" mattress is entirely decided by the individual. You're more likely to end up satisfied if you get to know your preferences and thoroughly compare what is available.
Ask the questions you need to in order to feel good about your purchase. Find out what it is made from and compare it to similar brands and beds. A good mattress should last you a decade or more, so do a little research — it's worth your time.
If you feel pressured by a salesperson, walk away. There will still be mattresses for sale if you decide to return. You can avoid high-pressure sales situations by shopping online as well. At the very least, take a look at what online stores have to offer. Online mattress retailers typically have a wider selection, less overhead, and longer return policies, and may be a better resource for specialty beds like memory foam and latex than local showrooms.
And if you are still looking for more information on how to find the best bed, take a look at our other mattress review guides.