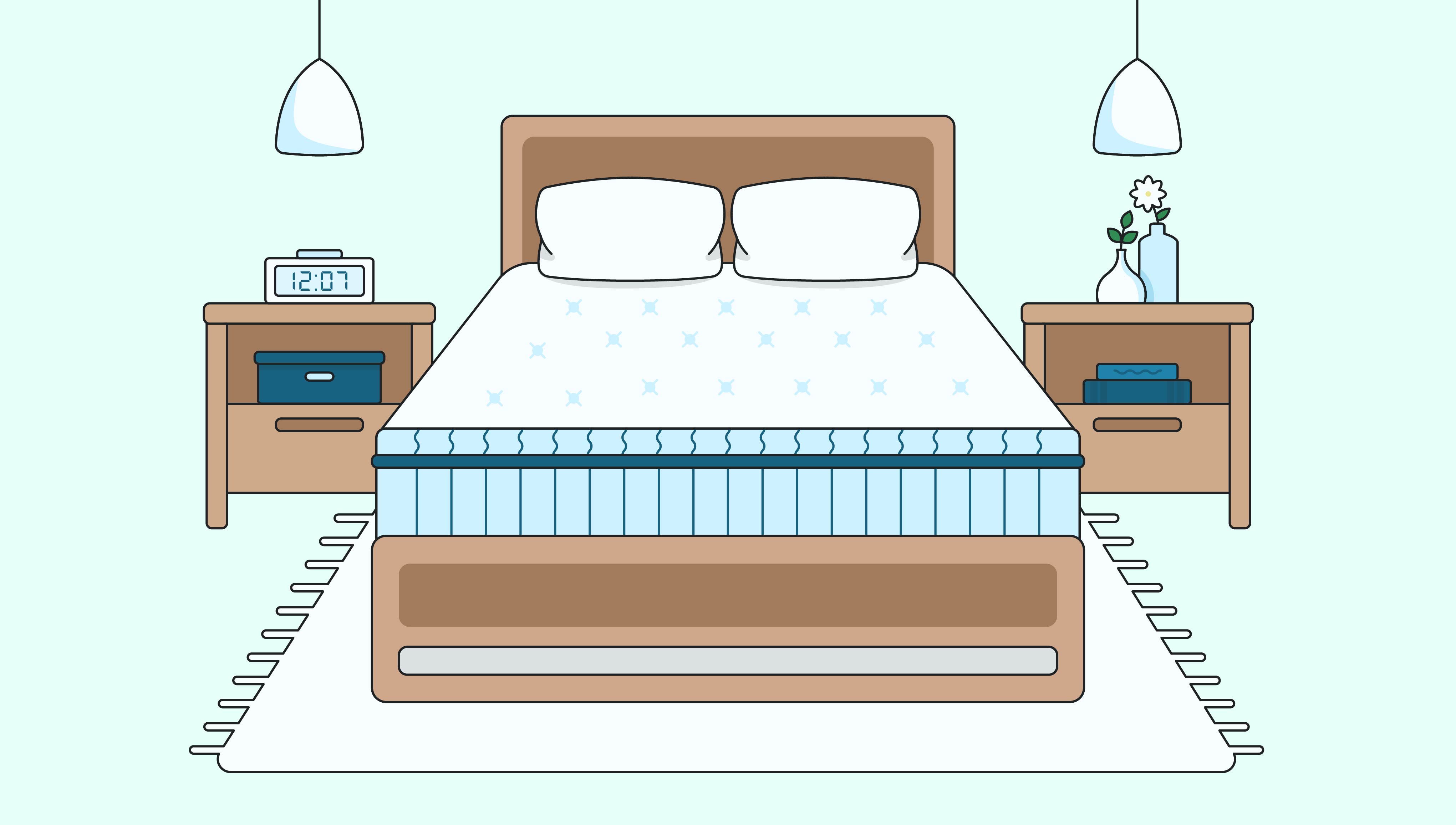 Best Mattress for Guest Room: Reviews and Buyer's Guide
Updated November 22, 2023

Mattress Guides
When you have guests, you want them to have a comfortable place to sleep. Finding the best mattress for guest room visitors doesn't have to be a stressful experience— many brands offer excellent models made from quality materials, and unlike a regular bed, guest beds last longer because they aren't used as often.
In our article, we share our favorite guest room mattresses and include a guide on how to choose the best mattress for guest room visitors.
30 Second Summary: Best Mattress for Guest Room
Amerisleep AS3 — The Amerisleep AS3 mattress is our favorite choice. The combination of breathable, eco-friendly foams conform to the body to relieve pressure points while providing consistent support without the risk of sagging.
Zoma Mattress — We like the Zoma Mattress for guest rooms because it's designed to be comfortable for most sleeping positions. Plus, it contains Triangulex™ technology to maintain healthy spinal alignment and promote better rest.
Best Mattresses for Guest Room
The Amerisleep AS3 is our favorite for guest room visitors, and due to its adapability, its our recommended best mattress of the year. As one of their most popular models, the AS3 is 12 inches tall and contains 3 inches of Bio-Pur®, 2 inches of Affinity, and 7 inches of Bio-Core®.
Bio-Pur® is a plant-based memory foam—part of the petroleum is replaced with castor oil during the manufacturing process, resulting in little to no off-gassing odor. Plus, Bio-Pur® is more breathable than traditional memory foam. This cool and comfortable memory foam conforms to the body, relieving pressure points and aligning the spine.
Affinity uses HIVE® technology, a 5-zone support system with firmer support to the head, back, and legs and softer support to the shoulders and hips. The Affinity layer evenly distributes weight and has a cloud-like sensation your guests may enjoy.
Bio-Core® is a high-density support foam made using eco-friendly methods. The durability of Bio-Core® reinforces the Bio-Pur® and Affinity layers and won't sag over time.
The medium feel of the Amerisleep AS3 mattress is an excellent option for all body types, and perfect for combination and side sleepers. Its exceptional motion isolation ensures couples sleep soundly.
The Amerisleep AS3 is available in twin, twin XL, full, queen, king, split king, and California king sizes. The mattress comes with a 100-night sleep trial and a 20-year warranty.
AMERISLEEP AS3
Eco-friendly memory foam for comfort
Comfortable for side, back, and combination sleeping
5-zone support system through HIVE® technology
Next on our list is the Zoma Mattress, a memory foam mattress designed to help athletes sleep deeper, recover faster, and wake up feeling more rejuvenated. We like the Zoma as a good mattress for a guest room because it's medium firmness and comfortable for the majority of sleep styles.
The Zoma Mattress has three layers and stands 11 inches tall, so it fits easily within most bed frames. It has a stretchy, breathable cover to prevent body heat from being trapped within the mattress.
The first layer of the Zoma Mattress is gel-infused memory foam. The memory foam in this layer contours to your body to relieve pressure while the gel within combats body heat to keep you sleeping at a comfortable temperature. Within this layer, Zoma integrates Triangulex™ technology to facilitate proper sleeping positions. Triangulex™ technology is firmer under your midsection and softer under your shoulders and hips to keep your spine in healthy alignment while alleviating pressure and pain points.
Below the layer of memory foam is a layer of Reactiv™, a latex-like poly-foam. Reactiv™ is responsive and gives the bed a bit of bounce. Due to its responsiveness, it prevents you from sinking too far or feeling "stuck" in the mattress.
The last layer of the Zoma Mattress is Support+, a durable poly-foam. Support+ reinforces the two layers above and prevents sagging and indentations. Beyond using a sturdy base foam, Zoma backs each of their mattresses with a 10-year warranty so you can get the most for your money.
The Zoma Mattress can be bought online-only and comes with a 100-night sleep trial.
ZOMA MATTRESS
Contains gel-infused foam for extra cooling
Features zoned technologies to eliminate aches and pains
Medium firmness is comfortable for most sleepers
If you're a fan of coil mattresses, you'll love Amerisleep's AS3 Hybrid. Amerisleep combines its pressure-relieving foam layers with a zoned pocketed coil system to deliver sleepers a responsive mix of comfort and support. Like the all-foam AS3, the AS3 Hybrid is medium in firmness and best suited for side, back, and combination sleepers.
Let's talk about the construction of the AS3 Hybrid and how it differs from the all-foam AS3.
Amerisleep's AS3 Hybrid starts with 3 inches of pressure-relieving Bio-Pur®. Remember, that's Amerisleep's plant-based memory foam, so it offers a cooler, more comfortable night's sleep. Directly below the comfort layer is an 8-inch pocketed coil system. Amerisleep designs this coil system to offer targeted spinal support, but it also allows for better pressure relief under the shoulders and hips. At the base of the mattress, is a 1-inch slab of poly-foam to give the bed and coils above extra support.
We love Amerisleep's hybrid mattresses because they isolate motion very well despite their bounciness. Plus, they're ultra-breathable because they contain porous Bio-Pur® and an open coil system. Regardless of your guests' needs, the AS3 and AS3 Hybrid mattress can fit the bill and provide sound sleep.
AMERISLEEP AS3 HYBRID
Designed with a zoned pocketed coil system
Pain-relieving Bio-Pur® cushions the entire body
Extra breathable and bouncy
If you don't plan on hosting guests too often but still need a mattress for your guest room, consider the budget-friendly Vaya Mattress by Vaya Sleep.  We suggest the Vaya because it's affordable, long-lasting, and highly versatile.
Made with two proprietary Vaya foams, the Vaya has a simple design and feels medium in firmness, so it's suitable for most body types and sleep styles.
The Vaya stands 12 inches tall, featuring 3 inches of contouring Vaya Foam and 9 inches of sturdy base foam.
The top comfort layer is contouring like memory foam but breathable and responsive like latex, so you'll never feel hot or "trapped" in the Vaya. And as you might expect, the core of the Vaya is study and durable to resist wear and tear for years to come.
The Vaya is sold online-only so Vaya Sleep offers a 100-night sleep trial and free shipping with every purchase. If you decide the Vaya isn't for you after a couple of months and you'd like to return it, it comes with free returns, as well. Plus, this bed is backed by a 10-year warranty like all top-rated mattresses—something we don't commonly see among budget beds.
VAYA MATTRESS
Affordable and versatile option
Comfortable for the majority of sleepers
Cool and breathable
The Avocado Green mattress is 11 inches tall and contains 2 inches of Dunlop latex, 8 inches of pocketed coils, and 1 inch of Dunlop latex. The GOTS® certified organic cotton cover includes a layer of natural wool as a flame retardant.
Dunlop latex contours to the body to relieve pressure points and regulate temperature through its natural cooling properties. Dunlop latex has a sponge-like feel, similar to memory foam, but with a more responsive bounce.
Individually-wrapped, recycled steel coils offer excellent support to your guests, with good edge support and better air circulation. Unlike traditional coils, pocketed coils minimize motion transfer, so guests are less likely to wake from a sleep partner's movement.
The medium-firm feel of the Avocado mattress makes it an excellent choice for all body types and back and stomach sleepers. If you feel you want a softer option, Avocado will add a 2-inch Dunlop latex pillow top for an extra fee to alter the mattress to a medium feel.
The Avocado mattress is available in twin, twin XL, full, queen, king and California king sizes. The mattress comes with a 365-night sleep trial and a 25-year warranty.
AVOCADO GREEN
Eco-friendly, luxury option
Natural Dunlop latex cools and relieves pressure
Pocket coils minimize motion transfer
Softer mattresses are often associated with greater comfort. And while that is not entirely the case, because the most comfortable firmness depends on your sleeping styles, many hosts may want to offer their guests that softer experience. When it comes to soft-but-not-too-soft mattresses, one of our favorite affordable options is the Tulo mattress.
The Tulo mattress is 10 inches tall and contains two foam layers, all wrapped in a breathable bamboo cover. The first layer is 3 inches of memory foam infused with green tea, a material designed to increase coolness and prevent microbes from settling inside the mattress. Next is 7 inches of base foam, designed to take on body weight and resist sagging for a more durable mattress.
The Tulo mattress is medium-plush, excellent for hosts who want to provide their guests with a soft and luxurious experience at an affordable price. This softer feel primarily suits side sleepers and petite sleepers.
The Tulo mattress is available in twin, twin XL, full, queen, king, and California king sizes. The mattress includes a 120-night sleep trial and a 10-year warranty.
TULO
Bamboo cover and green tea infusion improves airflow
Pressure-relieving, all-foam mattress
Medium-plush suits side sleepers perfectly
The DynastyMattress Cool Breeze mattress is 12 inches tall and contains 3 inches of gel foam, two layers of 2-inch Cool Airflow foam, and 5 inches of high-density foam. The removable, machine-washable stretch knit polyester cover includes brown suede sides.
Gel foam absorbs and evenly disperses body heat, while the convoluted design of the Cool Airflow foam layers allows for better air circulation within the mattress for additional cooling. The high-density foam gives consistent support to guests without risk of sagging for a cool and comfortable guest bed.
The medium-firm feel of the DynastyMattress Cool Breeze mattress makes it perfect for all sleepers. The low price tag is great for those on a budget, plus the mattress comes with two free gel memory foam pillows.
The DynastyMattress Cool Breeze mattress is available in twin, twin XL, full, full XL, short queen, king, short king, split king, California king, and split California king sizes. The mattress comes with a 120-night sleep trial and a 30-year warranty.
DYNASTYMATTRESS COOL BREEZE
Budget-friendly option
Gel memory foam absorbs body heat
Removable, washable cover
The Voila mattress is 11 inches tall and contains 1 inch of gel memory foam, 2 inches of memory foam, 0.75 inches of gel latex foam, 0.5 inches of support foam, and 6.75 inches of pocketed coils. The stretch polyester cover includes breathable mesh sides for better airflow.
Three different types of memory foam relieve pressure points, absorb body heat, and offer a responsive bounce. The support foam includes an insulator pad to maximize air circulation, reinforce the bed's structure, and hold the pocket coils in place.
The pocketed coil layer includes a 5-zone support system for excellent support to heavier sections of the body— the shoulders and hips— while keeping the spine in neutral alignment. High-Density foam surrounds the mattress for exceptional edge support.
The Voila mattress is available in three firmness options—plush, medium, and firm. We recommend choosing the medium for a guest bed. The medium feel of the Voila mattress is perfect for all sleeping positions and body types.
The Voila mattress comes in twin, twin XL, full, queen, king, and California king sizes. The mattress includes a 100-night sleep trial and a 10-year warranty.
VOILA
5-zone support system
Responsive bounce
Breathable mesh sides
The Original Tuft & Needle mattress is 10 inches tall and contains 2 inches of T&N Adaptive® foam and 7 inches of high-density poly-foam. The polyester polyamide blend cover offers a plush, breathable sleep surface for guests.
T&N Adaptive® foam is infused with graphite and gel to pull heat away from the body before evenly dispersing it and wicking away moisture for excellent temperature regulation. T&N Adaptive® foam relieves pressure points and provides a responsive bounce, making it easier for your guests to move around at night. The high-density poly-foam is a durable, supportive base with little risk of sagging.
The medium-firm feel of the Original Tuft & Needle mattress is great for all types of sleepers. Guests receive the right amount of support and comfort for a good night's sleep.
The Original Tuft & Needle mattress is available in twin, twin XL, full, queen, king, and California king sizes. The mattress comes with a 100-night sleep trial and a 10-year warranty.
ORIGINAL TUFT & NEEDLE
T&N Adaptive® foam regulates body temperature
Responsive bounce for easy movement
Even support and comfort level
What to Consider in a Guest Bed
Before shopping for a guest bed consider a few factors first: one of the most important factors will be how often the guest bed will be used and the price.
You don't need to pay a ton of money for a mattress that may be used five days out of the year. Other factors to consider are firmness level, size, mattress type, and what kind of sleep trial, warranty, and return policy is offered.
Amount of Use
In looking for a guest bed, keep in mind how often you have guests. A quality mattress lasts between 7 to 10 years, but you may not need to spend the extra money for a high-end mattress.
If guests frequently stay at your place during the year, then it might be better to pay a little more for one of the most comfortable mattresses to last longer. But, if you rarely have guests over, then a low-cost option might be better— it will still last for several years, especially if hardly used.
Price
Price varies, depending on the mattress type, size, and quality— it can also depend on special features, but you most likely won't need those for a guest mattress. The average price for a good-quality, queen-size mattress is $1,000.
Price may also vary depending on where you purchase your guest bed. Mattress in a box brands provide better deals by cutting out the middleman. As a result, an online mattress offers higher quality materials for a lower cost and extended sleep trials.
Firmness
How firm a mattress feels can affect the quality of your guests' sleep. The best type of firmness for a guest bed is between a medium to medium-firm feel— it's best for all types of sleepers and most body types thanks to its balanced support and comfort.
Size
Think about your available living space and the types of guests you can expect in your home. Mattress sizes include twin, twin XL, full, queen, king, and California king. Many customers tend to choose a full size or queen-size mattress, since these types are best for single people and couples.
If space is really tight, you may want to consider investing in a futon. Futons double up as both a bed and a couch, perfect in accommodating guests for a studio or 1-bedroom apartment.
Mattress Type
Each mattress type contains different materials, each with its own benefits and drawbacks. It's important to know the differences to better narrow down what you want in a guest bed. For example, an innerspring may not be a good option if you have guests prone to allergies— the open structure of the coil layer can accumulate dust mites and other bacteria over time.
Memory Foam
A memory foam mattress contours to the body to relieve pressure points and align the spine. Memory foam mattresses are great for all types of sleepers, though they may run the risk of retaining heat. To prevent this from happening to your guests, look for a memory foam mattress with cooling features, like plant-based memory foam, open-cell technology, and infusions such as gel, copper, and graphite. A basic memory foam mattress has a comfort layer of memory foam and a high-density poly-foam support layer.
Innerspring
An innerspring mattress is also known as the traditional bed. Growing up, you most likely slept on this type of bed. Innerspring mattresses are still present today, offering sleepers a good bounce and great air circulation through their open coil bases, though they might have less pressure relief compared to other mattress types. An innerspring mattress has a thin comfort layer of foam on top and coils or pocketed coils in the base.
Latex
Latex is similar to memory foam, but is naturally cool and has a responsive bounce. There are two types of latex— synthetic and natural. Synthetic latex is created through a chemical process, while natural latex is made from sap extracted from rubber trees.
Natural latex comes in two forms— Dunlop and Talalay. Dunlop is denser and more durable, while Talalay has zoned support through strategically-placed holes in its surface.
Latex mattresses contain a latex comfort layer and either a high-density poly-foam or latex layer as the base.
Hybrid
A hybrid mattress combines the best features of memory foam and innersprings into one perfect mattress. Hybrid mattresses contain  pressure relief and motion isolation from the memory foam and cooling from innersprings; however, hybrids still have drawbacks, including less pressure relief, motion transfer, and risk of overheating.
A hybrid mattress contains memory foam in the comfort layer and pocketed coils in the support layer. A true hybrid must have a 2-inch thick comfort layer and a coiled support. Because of the high amount of materials, hybrids can be expensive.
See our open coil vs pocket spring guide for an in-depth comparison of the two support systems.
Airbed
An airbed or air mattress relies on air chambers for both comfort and support— some models might include a memory foam topper. Blow-up mattresses have come a long way since they were first introduced in 1889, with today's models mimicking the look and feel of a regular bed. Many air mattress models include a built-in electric pump for a faster, more convenient setup and takedown. Air beds are great for those with limited living space because of their portable design.
Keep in mind: an air mattress is meant for temporary use only— they're not designed for consistent use. If you're looking for a regular-use mattress and you have limited space (i.e. a studio apartment), a futon is a great option, doubling up as a couch.
Sleep Trial, Warranty, and Return Policy
Perks like sleep trials, warranties, and return policies assure the customer of a quality mattress purchase. Mattresses are big investments, and warranties that protect your investment are crucial to any mattress purchase.
Sleep Trial
A sleep trial allows customers to try out a new mattress within the comfort of their own home. Mattress companies offer sleep trials that last between 90 to 120 nights— some companies require customers to keep the mattress for at least 30 days to allow the body to adjust to the new mattress. If the customer doesn't like the mattress, the company will usually issue a full refund.
Warranty
Warranties protect a new mattress investment against manufacturing defects and sagging greater than 1 inch, though the amount of covered sagging depends on the brand. Most mattresses include a standard 10-year warranty. As the customer, it's crucial that you read the fine print before committing to a mattress purchase— know what to expect from the manufacturer and what the manufacturer expects of you.
Return Policy
If a sleep trial isn't offered, the next best thing is to look at is the return policy. A return policy lasts 30 days— the same amount of time it takes for a body to adjust to a new mattress. If the customer isn't happy with the mattress, the company will issue a full refund. Customers may receive a partial refund or no refund if a return occurs outside of the return policy.
Pillows
Chances are, your guests will need a pillow to go with their mattress; and finding the best pillow for all sleepers is relatively tricky. The right pillow for your needs depends greatly on how you prefer to sleep. While stomach sleepers need a very flat pillow, back sleepers and side sleepers are comfortable on something with a little more loft. To cover all bases, we recommend investing in an adjustable pillow.
As their name suggests, adjustable pillows are pillows that can be modified to fit varying sleep needs. You can remove or add filling inside of the pillow to make it softer, firmer, taller, or shorter. Many memory foam pillows are adjustable, but you can also find buckwheat and feather pillows with adjustable filling, too. Just make sure to give your pillows and pillowcases a thorough wash after each guest, as pillows can collect dead skin cells and other germs rather quickly.
Bedding Accessories
Bedding accessories, like mattress toppers and mattress protectors, can make a current guest bed more comfortable and may also extend the bed's lifespan.
Mattress Topper
Mattress toppers offer additional comfort to a new or existing guest bed. A mattress topper alters the feel of the bed's sleep surface, adding softness to a firm mattress and support to a soft mattress. If you have an existing guest bed that isn't worn out or sagging, a mattress topper is a cost-effective alternative to buying a brand new guest bed.
Mattress Protector
A mattress protector is an essential piece of bedding that helps to extend the life of an existing mattress and prevents a warranty from becoming voided. Mattress protectors shield a guest bed from stains and spills— clean up is easy by throwing the mattress protector in the wash. If a mattress is damaged from liquid, the warranty won't cover it.
Frequently Asked Questions
What size bed is best for a guest room?
That can depend on how many guests you want to accommodate and how large your guest room is. A queen mattress is an excellent choice for a guest room, since it's large enough for couples to sleep comfortably but small enough to fit in the average bedroom. If you lack the room or budget for a queen, a full size mattress can provide single sleepers with all the comfort they need.
How do I make my guest bedroom look cool?
If you want to create an inviting guest room, the first step is to make sure that the bed, pillows, and sheets are comfortable. And you may want store extra blankets nearby in case your guests get cold in the night.
Make sure there's room for guests to set their suitcases down and unpack, and don't go overboard with decorations. Less is often more, as you want to leave space for your guests to unpack their things. You can include simple amenities such as pen, paper, scissors, an alarm clock, and a hair dryer. If it's something you appreciate having at a hotel, feel free to include it.
What firmness mattresses do hotels use?
Hotels often have medium to medium-firm mattresses to best accommodate a wide range of sleepers. Medium feel mattresses are an excellent choice for side and combination sleepers, while a medium-firm mattress can keep a back or stomach sleeper's spine in neutral position. The majority of sleepers are side or combination sleepers, so if you're unsure what the best firmness would be try a medium feel mattress.
Which is better, a memory foam or spring mattress?
Both memory foam and spring mattresses have their advantages and disadvantages. Memory foam provides better pressure point relief and motion isolation, while many innerspring bed owners find that they may wake up in pain as their coils sag and lose support. But innerspring mattresses promote more airflow with their coil support systems, avoiding the heat retention that traditional memory foam mattresses are known for.
What is the most comfortable bedding?
Regular cotton sheets are a popular option because they're relatively inexpensive and breathable. If you want to offer your guests a more upscale experience, you might consider a set of Egyptian cotton sheets. Just be careful, since brands have mislabeled ordinary cotton sheets as Egyptian cotton.
Did You Find Your Mattress for Guest Room?
Mattress shopping for a guest bed doesn't have to be stressful— a great mattress with a 10-year warranty from a reputable company at a fair price-point is all you need.
We hope this article helps you choose the best mattress for guest room visitors.