Best Hypoallergenic Pillows: Reviews and Buyer's Guide

Bedding Guides
From a stuffy nose to respiratory swelling, allergies can damage your quality of life. Sleeping with allergen-ridden bedding can worsen you symptoms. Thankfully, switching out your bedding for hypoallergenic alternatives can help.
A barrier of sorts is required to protect your pillow from filling up with allergens and grime. Hypoallergenic pillows use materials naturally resistant to foreign particles.
While hypoallergenic pillows aren't a cure-all to sensitive noses and throats, they will help you sleep better by not acting as a sponge to debris.
In this article, we will go over our top 5 hypoallergenic pillow recommendations, the most common hypoallergenic pillow materials, and how to identify a good quality hypoallergenic pillow.
30 Second Summary: Best Hypoallergenic Pillows
Amerisleep's Comfort Classic — Memory foam is a great material for hypoallergenic pillows. Amerisleep's Comfort Classic uses a high-quality foam core for pressure-relief and support. Plus, the foam core has ventilated airways which help keep you cool.
Zoma Pillow – Like the Comfort Classic, the Zoma Pillow uses hypoallergenic foam. The Zoma Perfromance Pillow contains hundreds of MicroCushions™ which promote airflow and breathability. These MicroCushions™ also all the loft the pillow to be adjusted, for customized comfort.
Best Hypoallergenic Pillow
Amerisleep's Comfort Classic pillow uses a soft, lightweight cover wrapped over a high-quality memory foam core.
The Bio-Pur® foam the Comfort Classic uses is great for providing pressure relief. Amerisleep also uses ventilated holes in their pillow to promote breathability. It is a great pillow for side sleepers and back sleepers but may be too thick (it has a 6-inch loft) for stomach sleeping.
The Bio-Pur® foam is CertiPUR-US® certified, so you know the foam isn't going to contain harmful VOCs or other questionable materials.
Another great thing about this pillow? It is backed with a 10-year warranty.
For our overall best pillow recommendations, check out our comprehensive guide of the leading pillows on the market.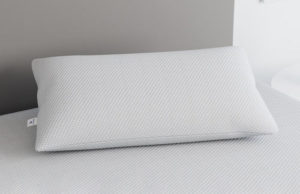 Amerisleep's Flex Pillow is slightly different from the Comfort Classic because it has a unique customizable foam filling. Inside this pillow are hundreds of MicroFlex cushions that contour to head the neck to keep the spine neutral, so you wake with fewer aches and pains.  The versatility of the foam makes it suitable for most sleep positions.
Both cover and the foam are hypoallergenic and back by a CertiPUR-US® certification, guaranteeing it is free of any harmful chemicals or flame retardants. Plus, the MicroFlex foam cushions don't retain heat and moisture the way most foam pillows do.
The Amerisleep Flex Pillow comes with a 6-inch loft and is available in either queen or king size. The soft, airy cover is also removable and washable for easy cleaning.
Amerisleep backs the quality and comfort of this pillow with a 10-year warranty.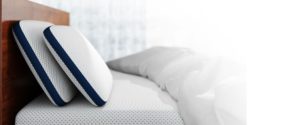 Like the Comfort Classic Pillow, Amerisleep's Dual Comfort Pillow is made with their unique Bio-Core® memory foam. By replacing a portion of the petroleum oils in the foam and replacing them with plant-based oils, Amerisleep is able to create a material that is non-toxic, eco-friendly, responsive, and doesn't retain heat the way traditional memory foams do.
Since this material is so dense, allergens are less likely to collect in the material, making this pillow perfect for allergy sufferers. 
The Dual Comfort Pillow has two different comfort levels—one side is firm while the other is soft. The soft side is ideal for back sleepers because it is soft enough to mold to the head without causing the head to fall below the shoulders, which can force the spine out of alignment. The firm side works well for side sleepers since these individuals need more lift to keep the head in alignment with the neck and shoulders. 
Like all Amerisleep pillows, the Dual Comfort Pillow comes with a 10-year warranty.
The Vaya Pillow is an affordable, hypoallergenic pillow that is available in two different lofts—a 5-inch loft and a 6-inch loft. This pillow has a soft, stretch-knit cover that wicks away heat and moisture to keep you cool and relaxed throughout the night. 
The Vaya's foam provides a nice balance of compression and support. It is soft enough to cradle the head and neck with pressure-free support. However, it also has a slight bounce that keeps the head from sagging and forcing the spine out of alignment.
The Vaya Pillow comes with a 10-warranty. It is also available in both a queen and king size.
Zoma is a brand dedicated to helping athletes or those with an active lifestyle, sleep better.
Their pillow is no exception. It is customizable, cool, and comfortable.
It makes our list because it uses high-quality CertiPUR-US® certified foam and it is hypoallergenic.
The Zoma Pillow is full of what the company calls MicroCushions™. MicroCushions™ can be removed or shifted to create the ideal comfort for your sleeping position.
The Zoma pillow comes with a  10-year warranty, covering "workmanship and structural defects."
Filled to the brim with microfiber and memory foam, the Coop Home Goods Original Pillow boasts a breathable, lofty cushion. The filling is supportive and comfortable, giving your back enough structure to stay upright and soft enough to contour to your body. The foam has even been CertiPUR-US® and GREENGUARD Gold certified to put your mind at ease as well as your body.
The adjustable loft makes spinal support easy. Each pillow comes with a zipper in the inner shell, allowing the user to take out or add filling.
A stretchy, lightweight liner encases the foam and fiber filling and gives the pillow some shape. Meanwhile, the outer shell, or pillowcase, uses Lulltra™ fabric to protect the linen and filling from foreign particles. It's a smooth sleeping bamboo material, featuring breathability and cold performance technology.
The removable bamboo cover does well in a washing machine; however, it is advised you do not wash the filling at all. You can buy filling replacements from Coop Home Goods.
Reports from customer reviews report The Coop Home Goods Original pillow has alleviated their neck and back pain.
This soft pillow comes in a queen and a king size. It comes with a 5-year warranty and a 100-night sleep trial. The company has a longer option for those seeking hypoallergenic body pillows.
Sleep EZ's solid latex pillow has several great features, making them the ideal sleeping companion. They never flatten, they're always cool, they're supportive and, of course, they're hypoallergenic.
Latex is hypoallergenic— as long as the manufacturing processes exclude petrochemicals. Organic latex t has the ability to repel allergens and construct a safe sleep environment.
Sleep EZ strategically placed air passages through the pillow to cultivate cooling. This feature makes this pillow one of the coolest on the list. It's definitely the most supportive.
Sleep EZ provides a case-by-case warranty for manufacturing issues and poor product quality.
Side note: We strongly advise against those with latex allergies use this pillow as it can present a danger to their health.
Wirecutter (a New York Times company) rated the Xtreme Comforts Bamboo pillow as their #1 shredded memory foam pillow. It's filled with premium memory foam Xtreme Comforts claims never goes flat, so it should never need fluffing.
The adjustable loft delivers a pillow suitable for all sleeping styles. It's a good match for anyone needing knee support or maternity comfort, setting up the sleeper for a good night.
Made completely in the USA, the foam is CertiPUR-US® certified, indicating a lack of toxins and heavy metals.
The soft and rayon cover is soft and durable. Due to the bamboo fiber's nature, the fabric has both hypoallergenic and antibacterial properties, even resisting dust mites and bed bugs.
The cover is woven with KoolFlow® technology, which regulates the sleeper's temperature. The KoolFlow® cover is also washable.
This comfortable pillow comes in a standard, king, and queen size. Aside from competitive pricing, Xtreme Comforts offers a 100% satisfaction guarantee. If you don't like it, they'll take it back within 30 days of purchase.
For other top-rated bamboo pillow options, check out our other review guide.
While a good pillow can help you sleep better, they offer only a fraction of the benefits best adjustable bed bases can provide. Read our guide to learn more.
If you're looking for hotel room luxury and breathable hypoallergenic materials, the Beckham Hotel Collection Gel Pillows will win you over. As the most affordable pillow on our list, these gel pillows fall behind the more expensive competition.
That's right! We said pillows— plural. Beckham Hotel Collection sends this product in a pack of two.
Two pillows for the price of one isn't the only luxury you'll enjoy. Crafted with a plush gel fiberfill and a cover expertly tailored for comfort, Beckham Hotel pillows cater to all sleeping positions.
The pillow's cover has a no-shift construction. This means it won't slide out from underneath you during sleep. It also means you won't have to stuff your pillow back inside the pillowcase every morning.
This down alternative pillow does not contain chemicals. The materials naturally repel allergens— the perfect choice for those suffering from asthma.
Beckham's pillow comes in four sizes: euro (26 inches by 26 inches), standard, queen, and king. It does not come with a warranty or a home trial, but you have the option of returning the pillow within 30 days of purchase.
What is a Hypoallergenic Pillow?
More often than not, the construction for hypoallergenic pillows incorporates natural and man-made materials not commonly associated with allergies, like polyester or foam. Additionally, some of these materials prevent foreign debris from settling on the surface; meanwhile, others excel in breathability, which fosters an environment too dry for mold, mildew, and dust mites to flourish.
Factors To Consider: A Buyer's Guide
Hypoallergenic pillows come in all shapes and sizes. Everything from travel pillows to 80-inch body pillows can have hypoallergenic qualities. While pillow size largely determines comfort, so does the filling material.
Just because the brand's marketing says a pillow is hypoallergenic doesn't mean it is. One of the surefire ways to identify a well-made hypoallergenic pillow is by learning about the materials. You'll also want to be aware of your sleeping position, because that will affect how comfortable you feel on the pillow.
To get the most comfortable sleep and wake up every morning pain-free, read our guide on finding the best mattress for back support.
Sleep Position
Sleeping position has a dramatic impact on sleep quality. Good sleep posture requires an aligned spine, which cultivates healthy, restful sleep. A misaligned spine can lead to chronic pain and sleep disruption. Here is a quick rundown on sleeping positions and the best pillow for each sleeping style.
Stomach Sleepers
Stomach sleepers sleep with their bellies flush against the mattress and their faces turned to one side. In this position, your spine is forcibly straightened. Your back accumulates a ridiculous amount of stress— to alleviate the pressure, place a pillow under the hips.
This puts the natural curve back in your spine. We suggest not sleeping with a pillow under your head, but if you need a head pillow, make sure it is thin.
Side Sleepers
Side sleepers usually have a side they favor; however, we suggest sleeping on the left side to avoid putting extra stress and weight on your internal organs. As for pillows, this type of sleeper needs several: a lofty pillow under the head, a pillow to support your stomach or back, and another supportive pillow between the knees.
Using these three pillows will stop the spine from twisting awkwardly. You can use a body pillow to take the place of multiple pillows.
Back Sleepers
Back sleepers mostly only need one pillow. It doesn't need a lot of loft, but must allow your head to lie in a natural position.
A pillow with a flat surface and a rounded edge will help fit your body snugly. This will allow you to experience the full benefits of the pillows contouring abilities. For back sleepers who experience lower back pain, a wedge placed under the knees will help alleviate the tension.
Time to upgrade your entire bed set? Read our guide of the best bed to buy in 2019 to find your next mattresses.
Materials of Hypoallergenic Pillows
Some filling possesses more hypoallergenic properties than others. Always research pillow materials before making a decision. Below we'll talk about more allergen-resistant filling.
Natural Fibers
Common natural pillowcase materials are cotton and linen. These fabrics aren't subjected to grueling chemical processes before being woven into fabric. They're light and breathable, which means they foster a dry environment resistant to dust mites.
As for natural fillings, buckwheat and Kapok fibers are highly breathable and can establish one of the most comfortable pillows.
Buckwheat pillows, made from buckwheat shell casings, are absorbent and breathable. The shells move to conform to the head, neck, and shoulders, potentially alleviating pain. Buckwheat does provide a firm pillow.
Kapok filling comes from the seed pods of Ceiba trees. It's a naturally lofty material resistant to allergens, dust mites, mildew, and mold. This material is typically used in conjunction with memory foam to produce a resilient, hypoallergenic product with pain-relieving contouring.
Processed Materials
Processed materials are more eco-friendly than natural. Nature products aren't put through rigorous chemical processes; meanwhile, processed materials have to be broken down to be built into products.
These materials take natural resources, such as wood, and runs them through a chemical process. The wood pulp and fibers collected from the aftermath are spun into fabric, like Tencel® or bamboo.
Hypoallergenic pillows often use Tencel® and bamboo in their covers Both of these materials are antimicrobial and resistant to dust and pollen.
Latex comes from the sap of rubber trees. To make latex products, the material is run through several manufacturing methods. Some people have latex allergies, which means this normally hypoallergenic option could wreak havoc for their upper respiratory systems.
Man-Made Materials
Polyester is one of the more durable and lightweight man-made fabrics that deters allergens. The tightly woven resin fibers do not have as much breathability and may overheat some sleepers.
Polyester can be used in both the filling and the pillow cover, but as a filling, it needs to be fluffed frequently. Still, a polyester down alternative fill can offer the feel of down without the cost or allergens. Our down vs down alternative pillow guide discusses the details of each more thoroughly.
Memory foam creates a solid, conforming sleeping surface and a hypoallergenic environment. The dense material doesn't foster an environment where mites and dust can settle.
Other Hypoallergenic Bedding for Allergies
If you're looking at pillows for allergies, you'll likely want to pair them with a set of hypoallergenic sheets:
Frequently Asked Questions
What are hypoallergenic pillows?
Hypoallergenic products are those made to resist allergens, so they're good for people with asthma and of course, allergies. Hypoallergenic pillows and bedding can lead to deeper, better sleep because they prevent you from feeling congested, itchy, and sneezy.
Does washing pillows remove dust mites?
Washing your pillows and other bedding in hot water can eliminate dust mites quickly and easily. Most people wash their bedding bi-weekly, but we suggest those with allergies and other sensitivities wash their bedding in hot water once a week to get rid of any dirt or germs. (Ideally, bedding should be washed once a week, anyway.)
Can you be allergic to hypoallergenic pillows?
Yes, hypoallergenic pillows still can cause allergies and allergic reactions. It's important to remember, the term hypoallergenic means something is designed to resist allergens, or that it was made without materials likely to cause an allergic reaction. Neither of those definitions guarantees hypoallergenic pillows absolutely won't cause discomfort or allergies.
Are hypoallergenic pillows good?
If you don't have a need for hypoallergenic pillows, you might not think they're any better than any other pillow. However, for those with seasonal allergies, asthma, or eczema, these pillows can eliminate discomfort and facilitate a better night's sleep.
Are foam pillows hypoallergenic?
Foam pillows are naturally hypoallergenic because they're so dense that dust mites and other allergens are unable to penetrate the foam's surface and make a home inside. When looking at foam pillows, search for one with a CertiPUR-US® certification as well to ensure you're getting a product free from harmful chemicals and low in VOCs.
Did You Find Your Pillow?
Obtaining a pillow for its allergen resistant qualities may be the main reason you're buying, but don't sacrifice support and comfort in your search. A supportive pillow will help you sleep as much as a hygienic sleep environment.
If any pillow will do, check out our article about the best pillows available on the market today.