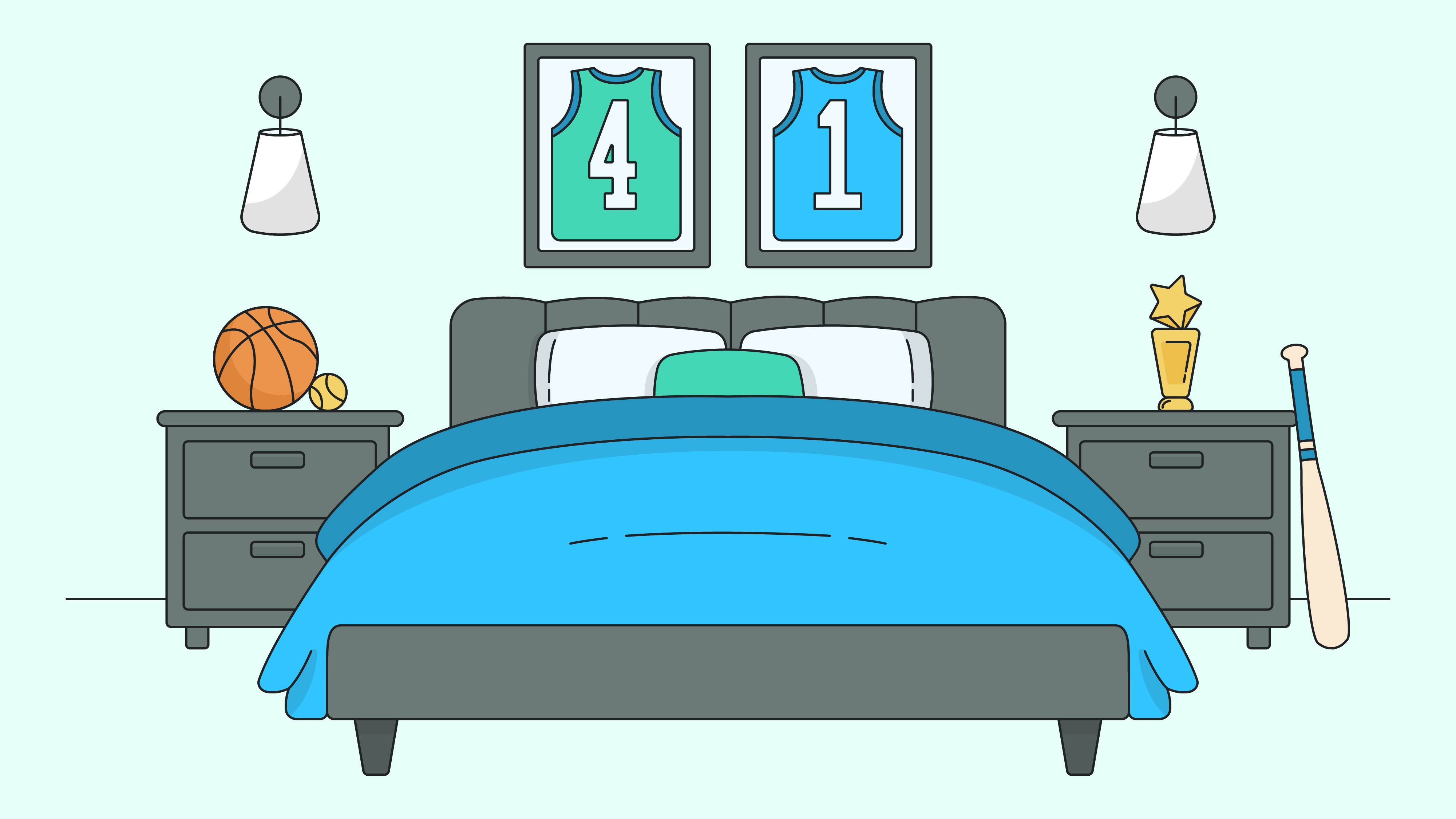 Best Mattress For Athletes: Reviews and Buyers Guide
Updated November 22, 2023

Mattress Guides
Everybody knows that getting good-quality sleep night after night is crucial to living a happy and healthy life. When it comes to athletes, however, sleep is even more important; as research has proven quality of sleep can have a significant impact on an athletes performance. Getting deep, reparative sleep is the best way to help your body recover quickly and healthily from the day prior.
For athletes, finding a mattress that'll promote deep, undisturbed sleep, is critical for helping their body ready itself for the next day of activites. In this guide, we'll be discussing the key things athletes should look for when buying a bed, as well as our Editors' recommended best mattress for athletes.
30 Second Summary: Best Mattress for Athletes
Zoma Mattress – The Zoma Mattress is geared towards athletes and designed to help you sleep deeper and recover faster. If you need a mattress to keep up with your active lifestyle, the Zoma is it. Engineered to promote muscle recovery and nurture a healthy spine, the Zoma helps you sleep better so you can perform your best.
Amerisleep AS3 — The Amerisleep AS3 is another excellent mattress for athletes because it adapts to the majority of sleeper positions. The plant-based Bio-Pur® foam uses an advanced open-cell structure that is more breathable and responsive than traditional memory foam.
What's the Best Mattress for Athletes?
| | Mattress | Highlights | Price |
| --- | --- | --- | --- |
| | Zoma Mattress | Designed to help athletes sleeper better and recover quicker; features state-of-the-art sleep-enhancing technologies. | |
| | Amerisleep AS3 | Features pressure-relieving, plant-based memory foam and advanced zoned support technologies to eliminate back pain. | |
| | Zoma Hybrid | Offers targeted back support, added pressure relief, and a responsive bounce. | |
| | Vaya Mattress | Affordable all-foam mattress that provides a plush and supportive sleep experience. | |
| | Bear Mattress | Features Celliant®'s FDA-determined technology to promote undisturbed sleep. | |
| | PerformaSleep Mattress | Features copper-infused memory foam to combat body heat and keep you sleeping soundly all night long. | |
| | Eight Sleep: The Pod | Has customized temperature controls for each side of the bed, allowing couples with different personal preferences to sleep comfortably. | |
Its recommended that athletes get 8 to 10 hours of restful sleep because their bodies need more time to recover. Skipping out on Zzz's can lead to decreased performance, slower reaction times, impaired cognitive functioning, amongst other things. To play your best, you have to get proper rest. In this next section, we'll be discussing our recommended mattresses for athletes.
Our Editors recommended mattress for athletes is the Zoma Mattress, a memory foam option. The Zoma is engineered to help athletes leverage their sleep to perform better during their waking hours.
Designed to offer an even balance of comfort and support, the Zoma facilitates faster muscle recovery and deeper sleep to help you feel refreshed and rejuvenated every morning. Even if you don't lead an active lifestyle, this mattress can upgrade your sleeping experience and help you say goodbye to daytime fatigue.
Let's talk about its construction.
The first layer is gel-infused memory foam with Triangulex™ technology. When you lay down on the Zoma, the memory foam molds to your body offering instant cushioning comfort and pressure relief. The cooling gels in the foam combat body heat to keep you sleeping comfortably. Triangulex™ technology offers dynamic zoned support to nurture a healthy spine and prevent future discomfort.
Triangulex™ technology offers firm support for your torso while still feeling soft enough to alleviate pressure on major joints. Triangulex™ is firmer around your midsection to prevent your hips from sinking uncomfortably far in the bed. Meanwhile, this technology features triangle-shaped cutouts near your shoulders and hips allowing for deeper compression and enhanced pressure point relief. This pain-relieving technology makes the bed great for people who suffer from chronic backaches or discomfort, too, as it can offer some comfort.
Next, is a layer of Reactiv™, a latex-like poly-foam. Reactiv™'s responsiveness increases this bed's overall bounce and prevents uncomfortable sinkage. You won't have to worry about feeling "stuck" in the Zoma, as the Reactiv™ layer makes it easy to change sleeping position or climb in and out of bed. Primarily, Reactiv™ functions as a barrier between the cushioning memory foam above and the solid base layer below.
The third and final layer of the Zoma is their Support+ foam. Acting as the core of the mattress, Support+ reinforces the two layers above and prevents sagging throughout the bed.
To help your investment last, Zoma backs each of their beds with 10 years of warranty coverage. Their mattresses also come with a 100-night sleep trial, too.
Zoma Mattress Highlights
Most comfortable for side and back sleepers
Features cooling gels to combat body heat and keep you comfortable
Triangulex™ technology promotes a healthy spine and prevents future pain points
The next mattress on our list is Amerisleep's AS3. Amerisleep is an online mattress company that designs and sells mattresses in five firmnesses. Each of their beds are recommended for specific sleep styles.
Recently, the company has launched three hybrid versions of their mattresses, including the AS3. We choose to focus on the memory foam model because it's the original mattress that consumers fell in love with.
The AS3 is Amerisleep's medium mattress that's compatible with side, back, and combination sleepers. Because it's medium firmness, it's probably too soft to properly support most stomach sleepers.
Amerisleep uses plant-based memory foam and state-of-the-art mattress technologies to help you recover faster and sleep sounder. Their beds promote healthy sleep styles and nurture your spine's natural alignment, too.
Let's break down the layers of this mattress.
Every Amerisleep mattress features a soft, breathable cover that encourages airflow so you sleep cool night after night.  It is also completely washable so your mattress will stay clean and in good condition for many years.
The first layer of the AS3 is 3 inches of Amerisleep's Bio-Pur® foam, a plant-based memory foam. Bio-Pur® is more breathable than traditional memory foam, so it helps push warm air out of the mattress and keep your temperature cool. When you lay on this bed, the Bio-Pur® will contour to your curves and alleviate tension in your pressure points and joints. This is especially important for athletes who need to feel their best every day.
Below the Bio-Pur® is a layer of HIVE® technology.HIVE® is designed to cushion your shoulders and hips, and offer extra support to your feet, torso, and neck— this is critical to fostering your spine's natural curvature and promoting healthy sleep positions.
The base layer of the AS3 is their high-density Bio-Core® foam; this improves the bed's longevity and gives the mattress shape and support.
Amerisleep sells their mattresses primarily online, with only a few showrooms across the United States, so they offer a 100-night sleep trial with each of their beds. We are also fans of this brand because they offer a lengthy 20-year warranty with their beds, too.
Amerisleep AS3 Mattress Highlights
Adapts to most body types in most sleep positions, making it compatible with the majority of sleepers
HIVE® technology promotes healthy sleep styles and alleviates pains
Plant-based memory foam makes their bed a great option for eco-friendly shoppers
The Zoma Hybrid is a bouncier variation of the classic Zoma Mattress. The makers combined their unique recovery foams with a pocketed coil support system for responsive mattress.
The hybrid version does have a higher price tag than the original Zoma Mattress. However, many owners find the cost worth it to sleep on a bed that balances pressure-relieving cushion with bouncy support.
We'll give a brief overview of the four layers that make up this 12-inch mattress.
The top layer is gel memory foam with zoned support. Zoma incorporates triangle-shaped segments into this layer so the bed feels more flexible, contouring to your head, shoulders, and legs better. The back area contains no cutouts, keeping the surface firm for more spine support.
Underneath it is Zoma's specialty Reactiv™ foam. Reactiv™ lifts you and prevents sinkage, which makes it easier to move across the top of the mattress. The material's responsive support also limits back pain, along with other aches and pain.
A Zoma Hybrid's support core consists of two layers, with a pocketed coil layer resting on top of a firm foam base. Zoma wraps its coils to increase motion isolation—when movement is carried across a mattress it can disturb your rest. These disturbances can limit the time you spend in the deeper stages of sleep and hinder your body's recovery.
Every Zoma Hybrid has a 100-night sleep trial and a 10-year warranty.
Zoma Hybrid Highlights
Targeted back support with increased pressure relief to sensitive areas
Responsive transition foam keep you from sinking and misaligning your spine
Cool and stable surface prevents sleep interruptions
Living on a budget shouldn't exclude you from sleeping on bed that boosts recovery. That's why the Vaya Mattress is one of our top recommendations for an affordable mattress. Though it has a basic two-layer design, the bed nonetheless provides an excellent mix of pressure relief, motion isolation, body support, and plush comfort.
The top layer is 3 inches of Vaya Comfort Foam. Vaya Comfort Foam is an airy foam that disperses heat better than traditional memory foam, while still providing pressure and pain relief across your body.
Nine inches of Vaya Base Foam supports the mattress. This material provides the even support needed for recovery and neutral spine alignment. No matter how much you move or what sleep position you prefer, Vaya Base Foam lifts you for easy movement and a healthy body.
Once you receive your Vaya Mattress, you have 100 days to try it out. If you choose to return your Vaya Mattress instead of keeping it after 60 nights, the company will offer a full refund. Every Vaya Mattress also comes with a 10-year warranty.
Vaya Mattress Highlights
Budget-friendly mattress choice
Lightweight top foam keeps cool with a breathable design
Base foam supports all sleeping styles and most body types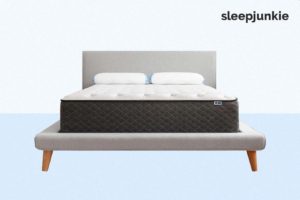 Bear sells two different mattresses, their memory foam flagship model and their newest hybrid model. Their hybrid bed is advertised as a "Luxury Hybrid Designed for Athletes," meant to ease pain and help you wake up refreshed every day.
When you buy a Bear bed, it comes with free shipping, a 100-night sleep trial, and a 20-year warranty. Plus, they use "green" materials in their beds, making them ideal to consumers looking to buy an eco-friendly mattress.
Below, we'll break down the layers of this mattress and explain how it's designed to foster better sleep for athletes:
The cover of the Bear is Celliant® fabric, which recycles your body heat to infrared energy to keep your temperature cool while you sleep. Quilted in this cover is gel-infused, plush poly-foam, giving the cover of this bed a luxurious feel. The gel in the foam works in conjunction with the Celliant® to keep you cool and prevent you from waking up uncomfortably warm.
The top layer of this bed is Bear's original Premium Comfort Foam, a poly-foam designed to have the same effects of memory foam. When you lay on this bed, this layer should mold and cradle your body, cushioning pressure points and relieving pain.
Next, is the pocketed coil system of this bed. The pocketed coils give the bed a bouncier feel and help suspend the sleeper on the surface of the mattress. As we mentioned with the Spartan, the pocketed coils of this layer will prevent motion from transferring through the bed— contributing to undisturbed sleep.
The last layer of the Bear Hybrid is a thin layer of high-density poly-foam in place to give the bed reinforced structural and edge support.
Bear Mattress Highlights
Great for eco-friendly shoppers
Compatible with side and back sleepers
Bouncy responsiveness for sleepers who want a bouncier bed
PerformaSleep is a relatively new brand to the mattress industry, having only launched in 2015. PerformaSleep designs mattresses specifically for athletes to help them get the most reparative sleep so they can achieve peak performance during their waking hours. In fact, their main focus isn't so much on "sleep" as it is "recovering."
PerformaSleep sells their mattresses on their website only, but they offer a 100-night risk-free sleep trial with each of their beds to test it out and decide if it really does bring you better sleep. It's relatively easy to shop with this brand because they only make and sell one mattress, making your choice simple. Their bed is designed for universal comfort, so it should offer proper support for all body types and sleep styles. Reviews of the mattress describe their bed as feeling medium to medium-firm, which is comfortable for most sleepers.
Overall, their mattress stands at 11 inches tall and contains three layers designed to enhance your sleep. Let's break down it's construction.
The cover of the mattress is woven with TENCEL™, a breathable, moisture-wicking fabric that helps keep your temperature regulated.
The first layer of the bed is PerformaSleep's CopperCool™ foam, a memory foam infused with copper. Copper brings a number of sleep-promoting benefits to the table— it's temperature regulating, supportive, and naturally antimicrobial. Copper is highly conductive, so it pulls heat away from you while you sleep. Plus, it helps you sleep germ-free.
When you lay on this layer, the memory foam molds to your body and creates a cradling feeling. Because copper is supportive, it helps keep you suspended in the memory foam and prevents against the quicksand feeling some memory foam mattresses cause. Memory foam is important for pressure point relief and pain prevention, which is necessary for athletes' recovery.
The second layer of the PerformaSleep is their Enersorb™ foam, a poly-foam that's been fashioned to feel like latex. This layer feels responsive and bouncy, so it keeps you lifted in the mattress and provides a more "on the bed" feel. The last layer of the mattress is a supportive core foam that reinforces the layers and sleeper above.
A Queen PerformaSleep costs $875, making it one of our more budget-friendly recommendations, too!
PerformaSleep Mattress Highlights
Puts an emphasis on recovery to help you improve their night's sleep
Compatible with side and back sleepers
Budget-Friendly
If you're interested in a more high-tech sleep experience, Eight Sleep is right up your alley, as their tagline is "The Only High-Tech Bed for Better Sleep." Eight Sleep's Pod bed was developed with the help of researchers from Stanford, Yale, UPenn, Harvard, and Mount Sinai, with their main focus on the science of getting better sleep.
The Pod tracks your sleep every night and gives you a report in the morning showing you your movement while you slept, how much REM sleep you got, and how much time you spent in other sleep cycles— this helps you understand the quality of sleep you're already getting and pinpoints areas for improvement. But that's not the only cool feature of the Pod.
One of the most innovative features of the Pod is it's temperature control. With your Eight Sleep smartphone app, you can adjust the temperature of each side of the bed, so you can fall asleep more easily and sleep soundly at your most comfortable temperature. It'll even adjust the temperature of the mattress based on your quality of sleep, helping you get undisturbed sleep. Then, when it's time to wake up, the Pod will adjust the temperature of the mattress to gradually wake you up without the use of an alarm clock. You can even connect your Pod mattress to any of your smart home devices, such as the Amazon Echo, Google Home, or Philips Hue to adjust your bed with even more convenience.
Though the Pod has some innovative features to enhance your sleep, they still put a large focus on building a comfortable mattress. Let's talk about the construction of this bed.
For starters, your mattress comes with a literal pod that's connected to your bed by a power hose, this is called the Hub. The Hub is what powers the technology of the Pod, so they go hand in hand. The mattress itself has a cotton and polyester cover, an Active Grid, and four layers of foam.
The Pod's Active Grid is what controls the temperature of the bed and tracks the quality of your sleep, so it's largely a functional feature and not so much added for comfort. They do mention on their website that the Active Grid is designed to relieve pressure points, too, though.
The first layer of the Pod is 2 inches of cushioning poly-foam to offer a bit of comfort. The layer below is 2 inches of memory foam. Memory foam molds to your body's curves and relieves tension and pains. Next, is a 2-inch layer of transition poly-foam that acts as a plush barrier between the memory foam layer and the core of the bed. The base of the mattress is 4 inches of supportive poly-foam.
Overall, the Pod has a medium firmness and is rated a 5 or 6 out of 10 on the firmness scale, so it should be comfortable for the majority of sleepers. You can only buy their innovative bed online, but when you do it comes with a 100-night risk-free sleep trial. Pod offers a 10-year warranty on their mattress, but it's important to note that their warranty covers the Hub and the technology of the mattress for only 2 years.
Eight Sleep Mattress Highlights
Comes with a state-of-the-art sleep tracking technology to monitor how well you sleep
Compatible with side, back, and stomach sleepers
Allows you to set each side of the mattress to a certain temperature, putting an end to too hot or too cold nights
What Should Athletes Look for in a Mattress?
When it comes time to replace your mattress, there are four major things you should consider during your search for a new bed: your sleep style, your body type, chronic aches and pains, and lastly, your personal preference for firmness. On top of these basics, athletes need to think about much more before purchasing their best bed.
Temperature Regulation & Sleep-Promoting Technologies: It's almost impossible to get a good night's sleep if you're consistently waking up hot. Cooling & temperature regulating technologies help combat heat and contribute to uninterrupted sleep.
Zoned Support & Pressure Relief: The top layers of the bed should conform to your body to create a mattress for pressure points and tension, while still maintaining healthy spinal alignment. Athletes should look for additional lumbar support from their bed, too, as it prevents your torso from sinking too far into the mattress.
High-Quality Materials: With any investment, it's important you're spending your money wisely. Buying a bed with high-quality materials may be more costly now, but it protects you later on down the line from having to replace a saggy mattress.
As always, we recommend taking note of the sleep trial and warranty before purchasing a bed. Sleep trials conveniently allow you the chance to try your new mattress in your home commitment-free; this gives you a more genuine experience of the bed's comfort to decide if it's the best fit for you.
Furthermore, warranties are in place to protect your investment for years to come. Be sure the bed you're buying comes with at least a 10-year warranty; the average lifespan of a mattress is around 7-10 years, so a 10-year warranty will have you covered for as long as the bed is expected to last. Before buying, read the warranty guidelines and have an understanding of what's covered and what you'd be responsible for in the event of a warranty claim.
1. Temperature Regulation & Sleep-Promoting Technologies
The time you spend asleep is the time your body has to recover both mentally and physically from the day's events. Athletes require certain amounts of both light and deep sleep, as each stage of sleep is responsible for a specific facet of healing. For example, light sleep is associated with cell division and regeneration, which directly links to speedy muscle recovery. Getting 8-9 hours of sleep after a workout can also help build your muscles, too. During deep sleep, on the other hand, hormones are secreted to help keep your body processes in sync.
To get restorative rest, it's imperative you spend an adequate amount of time asleep to go through each stage of sleep at least five times— this is where sleep-promoting technologies come into play. Technologies that keep you cool, and create a peaceful sleeping environment, are beneficial in helping you stay asleep.
Motion isolation, for example, helps prevent movement from transferring throughout the mattress; so if you move around, or share the bed with a restless sleeper, you shouldn't be disturbed by the bed shifting with the tossing and turning.
There are a wide variety of cooling technologies used in mattresses today to prevent you from overheating while you sleep; these include gel-infused foams and copper infusion. Let's take a closer look at those materials below:
Gel-Infused Foams: Cooling gel and gel beads draw heat away from your body and out of the mattress, keeping your temperature neutral. Unfortunately, cheaper gel foams can absorb the heat from your body and take on the temperature of the rest of the bed, doing almost the opposite of what it's designed to do, so be wary before choosing gel-infused foams.
Copper: Copper is a highly conductive material, which acts as a magnet for heat. Copper absorbs and dissipates body heat in the mattress to keep the bed feeling cool. Copper also reduces inflammation and eases sore joints— especially important for athletes. Plus, Copper is naturally antimicrobial and antibacterial, so you can sleep soundly knowing your bed is germ-free.
Lastly, technologies that ease aches and pains can contribute to undisturbed sleep. Far Infrared Rays technology, or FIR, is thought to be one of the most effective technologies for pain relief. Whether it's minor joint pain, stiffness, or chronic back pain, FIR can reduce, or even eliminate, recurring aches. It does this by penetrating deep in the skin and increasing oxygen flow & circulation throughout your whole body.
2. Zoned Support & Pressure Relief
Finding a mattress that will provide healthy support for your muscles to rest and recover is critical to athletes. Many mattresses today include a layer that has been specifically designed to offer targeted pressure relief and nurture a healthy spine. That said, there are plenty of beds that lack in this support layer, too. When doing research, look for information regarding how the mattress is tailored to maintain your spine's natural curvature and ease pressure and tension.
To properly support your body, a mattress should be firmer around your neck, torso, and feet, and softer in areas like your hips and shoulders; this fosters your body's natural alignment and diminishes aches and pains. Athletes should also look for a mattress with extra support in the middle of the mattress, too, because it prevents your torso from sinking in the bed.
3. Quality of Materials
A new mattress is an investment in better sleep— so when it comes time to drop a couple of hundred, or thousand, dollars on a bed, you want to make sure it'll last. Buying a well-made bed with high-quality materials is a sure way to know you're getting the best mattress for the money.
Most mattress brands will offer transparent information about how their beds are made and the materials inside of them. If you're struggling to find that information, ask. If a retailer shies away from disclosing this pertinent information, it's a reliable sign you should shop with a different brand.
Mattresses are made from a wide range of materials, when looking at foam beds, check the density of the top layer; when assessing latex, look at how it's made and if it's 100% natural, or a synthetic blend; for innerspring beds, look at what the steels coils are made from, are they steel or a cheap metal? Don't forget to consider the cover of the mattress as well and the fabrics in the cover, as they can play a big role in the overall comfort of the bed.
Other Things to Consider
Though it's important for athletes to look for bed with zoned support, quality materials, and temperature regulating technologies, it's also crucial to take different mattress types and your sleep style into account before choosing your next bed.
Different Types of Mattresses
Before you can narrow down your search for your best bed, it's important to have an understanding of different mattress types and what they bring to the table.
Memory Foam
Memory foam is one of the most popular mattress types, especially amongst mattress in a box brands. If you suffer from chronic pains, memory foam is for you. Memory foam is regarded as the best material for pain relief because of it's ability to contour to your body and relieve pressure. These beds feel more cradling and cushioning and help alleviate stress on your spine. Plus, memory foam beds are great at isolating motion. If you share the bed with a restless sleeper, it can be the solution to undisturbed sleep.
Latex
Another popular mattress type, latex, offers a variety of sleep-promoting benefits. Latex is a more breathable foam, so it helps prevent heat from being trapped in the mattress. Unlike memory foam that's more cradling, latex is more bouncy and responsive. Though it cushions you and feels comfortable, it doesn't allow you to sink in the mattress as much and instead holds you more on top of the bed. All-natural latex is hypoallergenic and free from chemicals, so it's great for children and eco-friendly shoppers, too.
Innerspring
Innerspring mattresses are becoming less and less popular as time goes on, but they're still a comfortable solution for better sleep. Innersprings are bouncy and offer a more "on top of the bed" feel. While innersprings can't cushion your body like memory foam or latex, they're very responsive and can promote a healthy spine by keeping you lifted on the mattress.
Hybrids
Hybrid beds combine a pocketed coil system with foam layers. Some hybrids feature memory foam, others have latex, and a few use both latex and memory foam to create the most comfortable sleep surface. Because hybrids combine a variety of high-quality materails, they're often the most expensive kind of mattresses sold.
Sleeping Positions
Your sleep style is the most important factor in determining how firm your next mattress should be. Before deciding on your next bed, take a step back and think about how you tend to sleep.
If you're a back sleeper, you're best suited for a firmer mattress because they keep you lifted and promote your spine's neutral alignment.
Side sleepers, on the other hand, are best suited for medium to medium-soft mattresses because they're supportive enough to foster a healthy spine, but soft enough to cushion the shoulders and hips. A common issue side sleepers experience is pressure points in the shoulders and hips, which are largely a result of sleeping on a mattress that is too firm. Medium and medium-soft mattresses allow your hips and shoulders to compress more, alleviating pressure.
Stomach sleeping is considered to be the unhealthiest sleep position. If you prefer to sleep on your stomach, we hate to be the bearers of bad news, but it can result in back pains later on down the line. If possible, we recommend switching to side or back sleeping to get the healthiest sleep.
If you do sleep on your stomach, you need a very firm mattress to do so. When you sleep on your stomach, your center of gravity shifts to your midsection. If your bed does not have the proper lumbar support or is not firm enough, this can cause your torso to sink in the mattress, overextending your spine. To prevent putting added stress on your spine, switch up how you sleep.
Frequently Asked Questions
What is the best mattress for side sleeping athletes?
Athletic side sleepers should look for a mattress that can ease pressure points in their hips and shoulders. The bed should also have enough cushion to let a sleeper sink in—otherwise their spine can be lifted out of neutral alignment. The best mattresses for side sleeping usually have a soft to medium feel.
How long will a mattress for athletes last?
The lifespan of a mattress depends on its materials. Usually, a memory foam mattress is more durable than an innerspring model. The coils of an innerspring mattress are likely to sag within five to six years, losing support from nightly use. The average memory foam mattress typically lasts seven to eight years, and some high-quality models remain comfortable after more than a decade.
Eco-conscious athletes may also want to consider the benefits of latex foam vs memory foam. Latex is usually more durable and can last up to 15 years.
What is the best mattress for athletes with back pain?
If you're experiencing a sore back when you wake up, the culprit is likely a bad mattress. As mattresses wear out, they lose support and can misalign a sleeper's spine.
Science suggests that a medium-firm bed is the best way to soothe back pain. Try a mattress with a top layer of memory foam or latex to experience the most pain relief.
Should athletes use a hybrid or memory foam mattress?
Hybrid and memory foam mattresses each have a set of pros and cons. Hybrid mattresses have added bounce and tend to keep cool better because of their coils. Memory foam mattresses tend to be slightly more durable because their base foam isn't as quick to sag as a hybrid's coils are. Both beds usually feature excellent pressure relief, helpful for any athlete feeling sore after working out.
How thick should a mattress for athletes be?
If you can afford it, always try to buy a mattress that's at least 10 inches thick. Thinner mattresses usually aren't as supportive or comfortable, meaning they can't help you recover well enough to achieve your peak performance. Plus, mattresses under 10 inches often lack the durability of a thicker mattress.
Did You Find Your Next Bed?
All of these mattresses are great options for athletes. Before you decide on one as the most comfortable mattress for you, however, do further research to look for the model most compatible with your sleep needs.
Don't forget to take advantage of sleep trials. Fortunately, sleep trials give you the chance to try your new bed in the comfort of your home, risk-free— helping you choose the best mattress for you.