Best Mattress for Arthritis and Joint Pain
Dr. Nayantara Santhi, PhD
Dr. Nayantara Santhi, PhD
Dr. Nayantara Santhi is an associate professor of psychology at Northumbria University in Newcastle. Santhi's body of work includes numerous articles on how circadian rhythms regulate an individual's sleep-wake cycle. Santhi's articles have also focused on related elements such as bright light exposure and melatonin production.
Updated November 22, 2023

Mattress Guides
Arthritis is a common medical condition affecting over 3 million Americans. The painful disease is defined as the swelling of the joints and can cause severe lower back, hip, and joint pain. Most often, it afflicts older individuals and worsens with age, eventually leading to an impaired range of motion and recurring stiffness.
There are more than 100 different types of arthritis, but rheumatoid arthritis, fibromyalgia, and osteoarthritis remain the most prevalent. Regardless of the type, this condition can impact every aspect of your day-to-day— including your night's sleep.
Apart from talking to your doctor about treatment options, buying a new, comfortable bed can alleviate your discomfort and help you get a good night's sleep. In this guide, we'll discuss five mattresses designed to ease arthritis pain.
30 Second Summary: Best Mattress for Arthritis
Amerisleep AS3 — AS3 is our Editors' recommended mattress for arthritis pain due to its exceptional pressure-relief. People living with arthritis should buy a bed that can alleviate achy joints, and the AS3 is designed to do just that. Plus, it comes with a 100-night sleep trial and a comprehensive 20-year warranty.
Zoma Mattress – The Zoma Mattress is engineered to help athletes sleep better and recover faster, so it's perfect to combat arthritis pain. It features pressure-relieving Triangulex™ technology to cushion your joints and prevent pressure build-up. It also contains a firmer midsection to nurture proper spinal alignment.
Research & Resources
In writing this article, we…
Researched the best ways arthritis sufferers can alleviate their chronic pain.
Compared the pressure-relieving materials and support technologies found in over 20 different beds.
Spent 15 hours writing and editing the article to deliver the most helpful information to our readers.
Best Mattresses for Arthritis Pain Relief
| | Mattress | Highlights | Price |
| --- | --- | --- | --- |
| | Amerisleep AS3 | Features pressure-relieving, plant-based memory foam to help you get comfortable, cool sleep. | |
| | Zoma Sports Mattress | Designed to help athletes sleeper better and recover quicker; features state-of-the-art sleep-enhancing technologies. | |
| | Purple Mattress | Contains innovative Smart Comfort Grid™ to relieve pressure points and prevent heat retention. | |
| | Tuft & Needle Mint™ | Features 30% more cooling technologies than their original model to combat body heat. | |
| | Avocado | Features all-natural, eco-friendly materials. | |
It's a common misconception that the best mattress to relieve arthritis pain is soft because it's more cushioning. However, our Editors recommend Amerisleep's medium mattress, AS3, as their favorite for pain relief.
The AS3 is designed to be a perfect mix of comfort and support— so while it feels cradling, it's also supportive. In this bed, Amerisleep uses proprietary high-quality materials to promote healthy sleeping positions and reduce discomfort.
For starters, the Amerisleep AS3 uses three inches of pressure-relieving Bio-Pur® memory foam, to give you comfort and support you need when dealing with something like arthritis.
Bio-Pur® is also more responsive than traditional memory foam, so it bounces back faster and makes it easier to get in and out of bed. For somebody with pain, this additional responsiveness can prevent the discomfort that may come with lifting yourself out of the mattress.
Plus, Bio-Pur® is five times more breathable than traditional memory foam. It helps regulate your temperature and keep you snoozing soundly all night long.
The next pain-relieving material Amerisleep integrates into the AS3 is two inches of the Affinity Layer with HIVE® technology. Containing five comfort and support zones, HIVE® offers targeted spinal support and clinically-proven reduction in pressure points.
Pressure-relief is arguably the most important thing arthritis patients should look for in a new mattress. Amerisleep uses two different technologies specifically designed to alleviate pain and ease discomfort. For that reason, the AS3 is our recommended mattress for arthritis-sufferers.
Every Amerisleep mattress comes with a 100-night sleep trial and a 20-year warranty. To buy one of these beds, visit their website.
AMERISLEEP AS3
Features pressure-relieving Bio-Pur® for enhanced pain relief
HIVE® technology promotes pain-free sleep
Best suited for side, combination, and back sleepers
We like the Zoma Mattress for those with arthritis because it's designed to alleviate pain points and prevent new ones from forming. Originally engineered for athletes to promote better recovery by limiting potential sleep disturbances, the Zoma can work as a great mattress to relieve arthritis pain.
The first layer of the Zoma is 2 inches of gel-infused memory foam; it's both contouring and cooling to help you sleep comfortably all night long. Within this layer lies Triangulex™ technology, a zoned support system. The foam around the center of this layer feels firmer to offer enhanced spinal support and prevent sinkage.
Then, around your shoulders and hips, this foam has more give to allow for deeper compression and pressure relief. When you lay down on this layer, the gel memory foam will offer instant comfort for pain points.
Next, is a layer of latex-like poly-foam to give this bed a bit of bounce. The 2 inches of Reactiv™ foam are more responsive than memory foam, so they offer a more "lifted" feel and make it easier to climb in and out of bed or switch sleeping positions. This is perfect for people with arthritis because it makes it easier to move in the mattress.
The third and final layer is a 7-inch base layer of Support+ foam, a durable poly-foam. The Support+ layer reinforces the layers above and prevents premature wear and tear.
Every Zoma Mattress comes with a 100-night sleep trial and a 10-year warranty.
ZOMA MATTRESS
Designed for various sleep styles
Features gel-infused memory foam to keep you cool and comfortable
Contains zoned support technology to nurture a healthy spine
While hybrid beds are an excellent choice for arthritis sufferers, they can get quite costly. The Vaya Hybrid piqued our interest for its high-end build and affordable prices. You don't have to spend thousands and thousands of dollars just to sleep comfortably.
The Vaya Hybrid is 12 inches thick and has a medium-soft feel. This works well for side sleepers and some combination sleepers. Inside the bed's knit cover is Vaya Comfort Foam, pocketed coils, and a durable base layer.
Vaya Comfort Foam is a latex-like material. It has lots of bounce and is very breathable. At the same time, Vaya Comfort Foam does a great job of soothing achy muscles and joints, helping you sleep comfortably all night long.
The coils inside the Vaya Hybrid are wrapped in fabric to reduce breakage, motion transfer, and squeaking. Vaya ensures you sleep safely by using extra-firm coils on the ends of the bed. This way, you don't risk falling out of bed while sleeping. Plus, getting in and out of bed will be easier on your body with the added edge support. The foam under the coils absorbs shock to prevent sagging and wear.
With the Vaya Hybrid, you get a 100-night sleep trial and a 10-year warranty. Shipping and returns are free, too!
VAYA HYBRID
Responsive Vaya Comfort Foam ensures you never feel "trapped"
Corner-to-corner edge support firms up the sides
Base foam structures the coils to promote durability
Best Cooling Mattress for Arthritis: Purple Mattress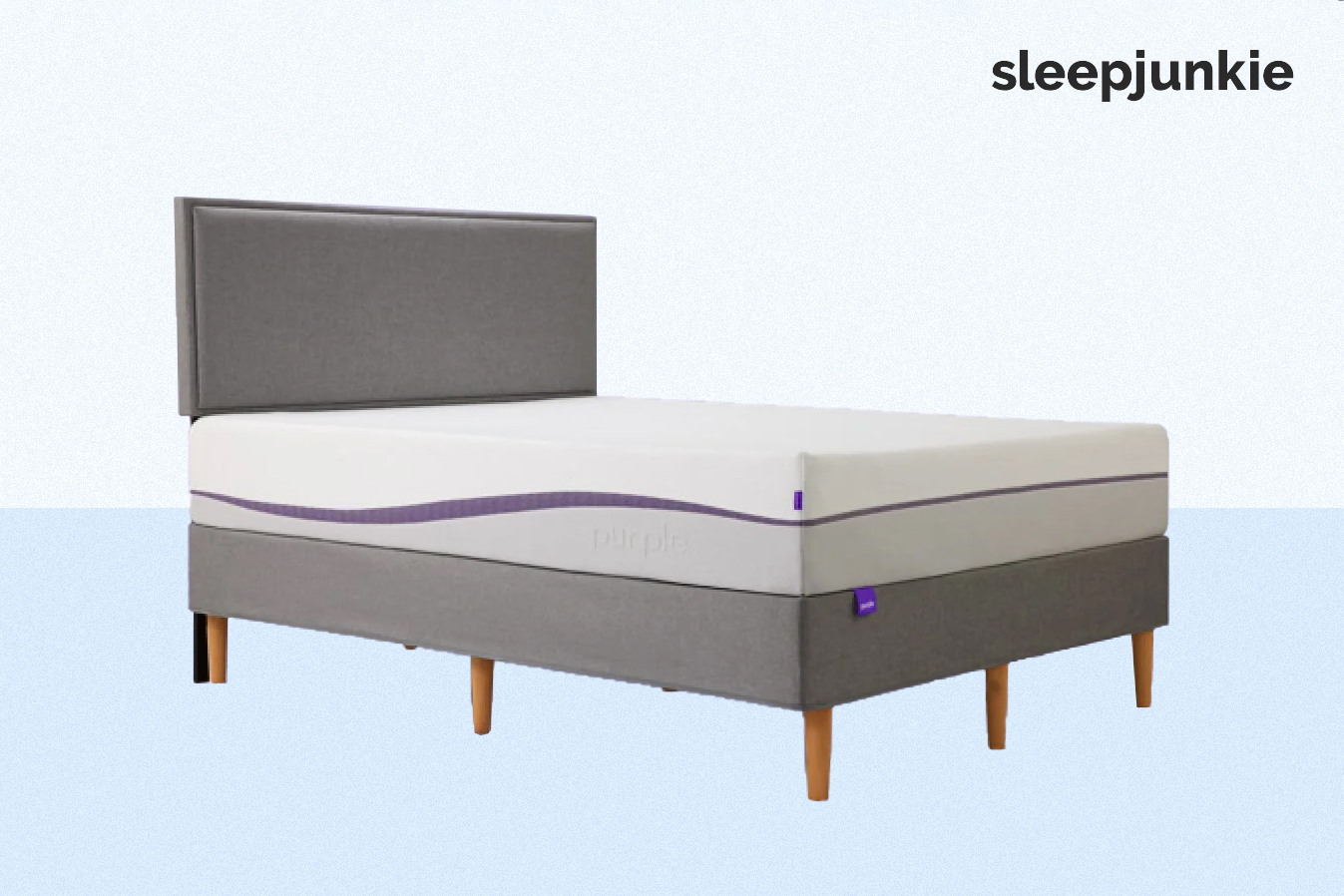 The next recommendation on our list is the innovative Purple mattress. As we mentioned, pressure-relief is critical to ease pains caused by arthritis, and Purple's bed was designed to be the first "No-Pressure" mattress.
When designing their pressure-reducing bed, the founders of Purple patented a new material to use as the comfort layer of each of their mattresses— hyper-elastic polymer. They use a large machine to fashion the hyper-elastic polymer into a grid-shaped layer, called their Smart Comfort Grid™, which acts as the primary comfort layer in the mattress.
This grid offers a variety of sleep-promoting benefits, from increased airflow to motion isolation, but for those with arthritis, the conformity and pressure-relief this bed offers are most important.
Every Purple mattress contains the Smart Comfort Grid™, but we recommend sticking to the flagship all-foam bed to get the most pain relief. This model features 2 inches of the Smart Comfort Layer™, 3.5 inches of poly-foam, and a 4-inch supportive core.
When you lay on this mattress, Purple's grid-shaped layer will conform to your curves and collapse under your body weight, acting as a cushion. Though this layer does compress, it doesn't cause you to sink. Instead, this layer offers sturdy support and lifts you on top of the mattress.
On their website, Purple is described as a medium-firm or a 6.5 out of 10 on the firmness scale. You can buy this mattress online or at select Mattress Firms across the nation. Regardless of how you buy, these beds come with a 100-night sleep trial and a 10-year warranty.
PURPLE MATTRESS
Grid relieves pressure around potentially arthritic parts of the body
Designed to give you a "weightless" feel as you lay on top of it
Suits numerous sleeping styles
Best Mattress for Side Sleepers with Arthitis: Tuft & Needle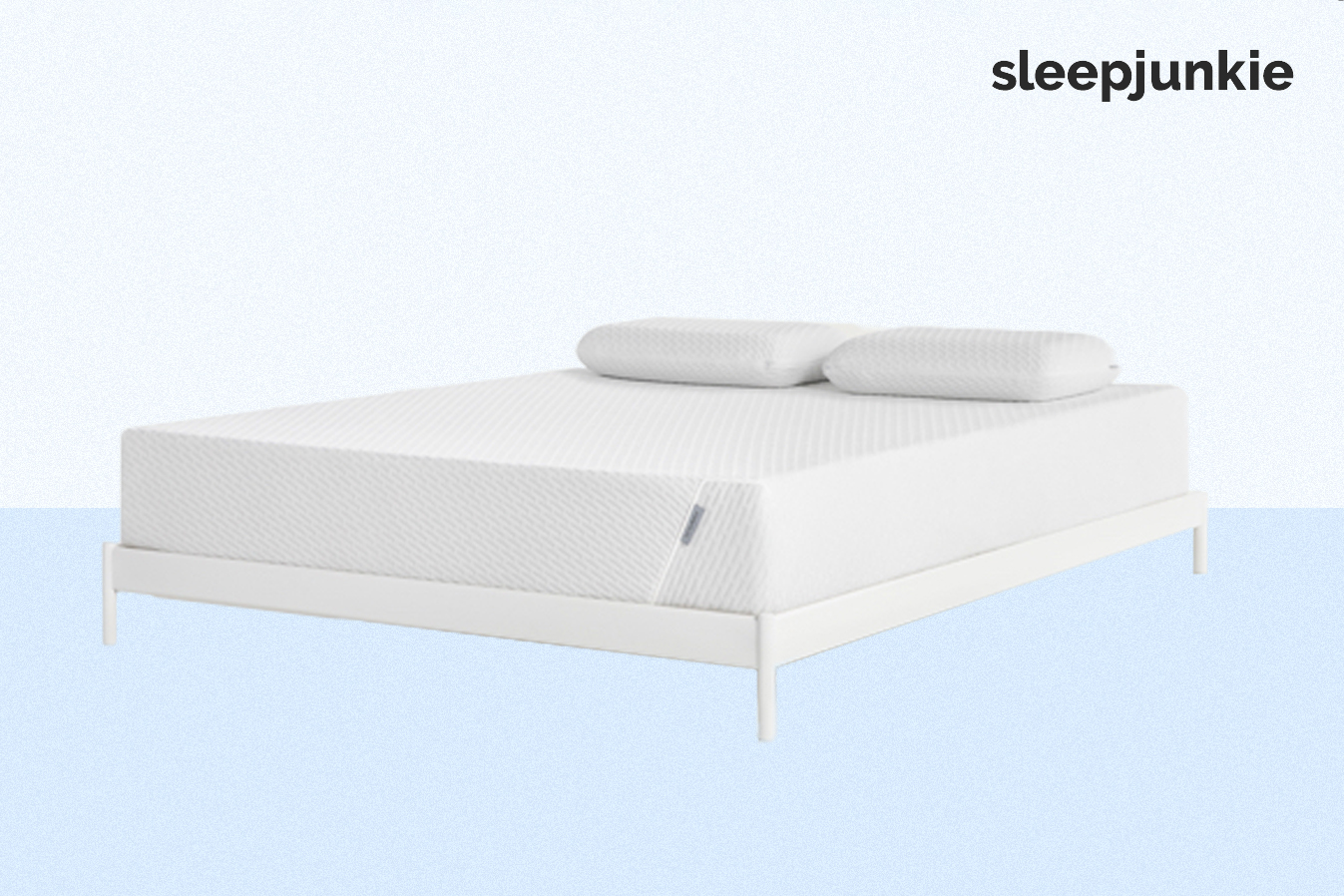 Tuft & Needle is another top-rated mattress brand, so it shouldn't be a surprise they offer a mattress to ease recurring pain. Currently, Tuft & Needle only sells two different mattress models— the original T&N bed and a softer version of it called Mint™, specially designed for hot sleepers. For those trying to fight arthritic pain, consider the Mint™.
Instead of using memory foam, Tuft & Needle uses their T&N Adaptive® foam as the comfort layer in each of their mattresses. This is why the mattress is the least expensive option on our list.
Adaptive® foam is designed to replace memory foam. When you lay on these beds, this layer contours to and cushions your body while evenly distributing your weight across the mattress; this should ease stress in your spine and reduce inflammation.
The Mint™ has 3 different layers: the top layer of T&N Adaptive foam, a transition layer of poly-foam, and a supportive foam base. To give this bed an edge over their original model, they infuse 30% more graphite gel into the top layer of foam to offer enhanced temperature regulation.
Every Tuft and Needle mattress comes with a 100-night trial period and a 10-year limited warranty.
TUFT & NEEDLE
Our budget-friendly recommendation
Features T&N Adaptive® foam for increased pain relief
Built for universal comfort and compatible with all sleeping positions
Best Latex Mattress for Arthritis: Avocado Green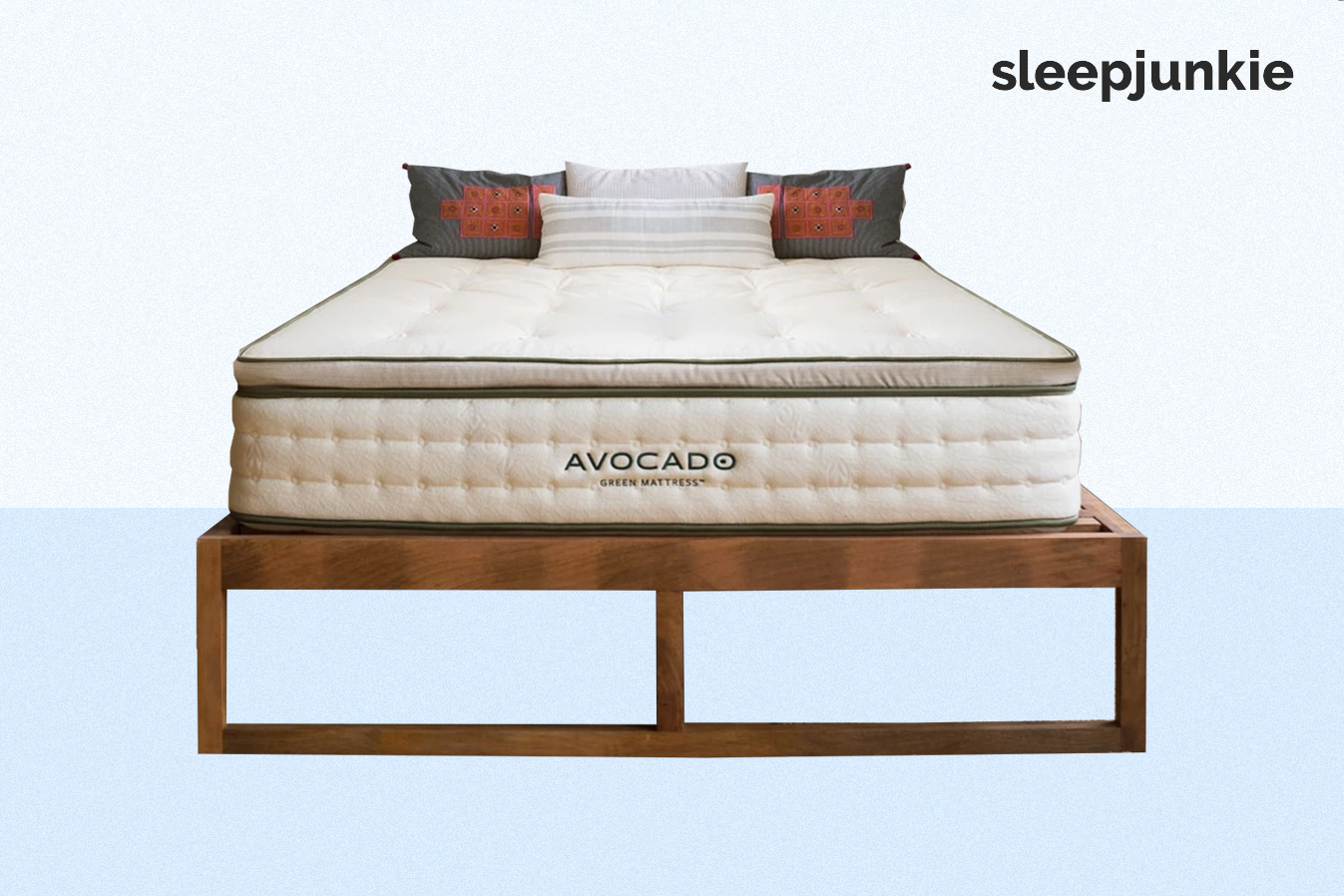 The last mattress on our list is the Avocado Green. If you prefer to shop eco-friendly, the Avocado Green is right up your alley. A hybrid, this bed contains 100% natural latex and a pocketed coil system.
Latex is similar to memory foam in the fact that it's cushioning and pressure-relieving, so it should alleviate some of the pain caused by arthritis. When you lay on this mattress, it'll offer immediate comfort for pain points. However, unlike memory foam, latex will keep you more lifted on the mattress rather than cradled in the bed.
Latex's enhanced responsiveness results in a bouncier feeling bed compared to its foam counterparts. If you prefer a bouncy, "on top of the bed," feel, choose a latex mattress.
Below the top layers of latex in this mattress lies Avocado's ergonomic pocketed coil system. Designed to offer targeted pressure point relief, this layer contains 1,414 individually wrapped coils arranged in five comfort zones. These coils offer more substantial support to promote neutral spinal alignment under your torso, neck, and feet. At the same time, these coils have more give to ease stress in major joints under your hips and shoulders.
Beyond targeted support, the coil system in this bed evenly distributes your weight across the mattress, preventing new pain points, and contours to your curves for all-over comfort. Plus, these coils reduce motion transfer and give the bed sturdy edge support.
The Avocado Green Mattress is sold in only one firmness, which many reviews describe as a medium to medium-firm— perfect for those with arthritis. It also comes with an optional organic cotton pillow-top layer for those who prefer a cloud-like sleep experience.
Like a few of the brands mentioned, Avocado sells their beds online-only. However, they offer one of the most generous sleep trials we've seen, giving you a whole year to test their mattress in your home. Additionally, the mattress is backed by an extensive 25-year warranty.
AVOCADO GREEN
Our recommended eco-friendly option for green shoppers
Compatible with many sleep styles
Ergonomic back support system promotes healthy sleeping positions
What Arthritis-Sufferers Should Consider Before Choosing Their Next Bed
While all of the mattresses we featured have received glowing reviews, deciding which one is best for you comes down to a few more subjective things: your sleep style, your recurring pain points, and your mattress type preference.
On top of those factors, arthritis-sufferers should choose a mattress that cushions joints, relieves pressure points, and supports a healthy spine.
Mattress Types
Before you get too far in your search for a new bed, stop to consider what type of mattress fits your sleep needs. There are four main types of mattresses to consider: memory foam, latex, hybrid, and innerspring.
For those with arthritis, we recommend sticking with a latex, memory foam, or hybrid mattress, as an innerspring mattress likely doesn't provide the cushion you need to alleviate pain points.
Innerspring beds traditionally contain an open coil system without any foam layers, so any cushioning comfort you receive from these beds comes from the cover or pillow-top. To relieve discomfort and prevent further inflammation, you'll need more cushioning materials in a mattress.
Hybrid mattresses give the bounciness an innerspring mattress provides while minimizing the drawbacks. Hybrids combine foam layers and a pocketed coil system to offer you the best of both worlds. When you lay on a hybrid, the foam layers on top cushion and contour to your body, while the pocketed coil system below evenly distributes your weight and keeps you lifted atop the bed.
We should note because hybrid mattresses utilize various high-quality materials, they're often quite pricey. Hybrid beds at a lower price point may contain cheap foams and flimsy coil systems and aren't usually worth the money. If you're shopping on a budget, a comfortable hybrid may not be within your price range.
Memory foam and latex mattresses are both great options for sleepers with arthritis. However, memory foam is a bit more pressure-relieving than latex. Foam beds contain comfort layers of either latex foam or memory foam, with additional support layers usually consisting of poly-foam.
The main difference between these two materials is their overall feel. Memory foam is known for its cradling, sometimes sinking feeling. Latex, on the other hand, doesn't allow for too much sink in the mattress, and instead keeps you lifted on the bed. Many reviews of latex mattresses mention them feeling firmer than memory foam, and that's due to this material's increased responsiveness.
Sleeping Positions & Firmness Levels
Your sleep style should play the most prominent role in determining how firm your next mattress should be.
Back and stomach sleepers should look for a mattress that will hold their spine in a neutral position, making firmer mattresses the best pick for these sleeping positions. Back sleepers can get away with sleeping on softer beds as they often contain zoned support systems, but stomach sleepers must choose a firm mattress.
Sleeping on your stomach is the unhealthiest way to catch some shut-eye due to the stress it puts on your spine. When you sleep on your stomach, your center of gravity shifts to your torso; this causes your midsection to sink into the mattress and your spine to arch unnaturally. Over time, this can lead to chronic lower back pain. To prevent recurring pains later on down the line, we recommend switching up your sleep style; however, if you must sleep on your stomach, choose a firm mattress.
Side sleepers need a mattress that'll cushion their shoulders and hips— because of this, they should sleep on medium and soft mattresses. Usually, firmer beds fail to offer adequate pressure relief for this sleeping position.
Pain Points
Arthritis pain can occur throughout your body, so take a moment to consider where your frequent pains are located. If you're commonly plagued with back pain, you should look for a mattress that puts more of an emphasis on spinal support and nurturing your body's natural curvature— such as the AS3 or the Avocado.
If most of your pain occurs in your hips and shoulders, choose a mattress that allows for deep compression and pressure-relief.
Healthy Spinal Alignment
Often, back or neck pain is a result of poor spinal alignment. You can nip the pain in the bud by choosing a mattress that contains spinal support technology. Fostering a healthy spine can reduce discomfort in other areas of your body, which is essential for arthritis-sufferers who may experience pain in multiple places.
Frequently Asked Questions
Is a firm mattress better for arthritis?
A firmer mattress doesn't necessarily offer more support than a softer bed. Arthritis pain is often the result of pressure points building up, so you'll want a mattress that's soft enough to conform to the body. A medium feel mattress can suit a mix of sleeping styles.
Is a firm or soft mattress better for a side sleeper?
A softer mattress is better suited for a side sleeper. Side sleepers require conforming pressure relief for a good night's sleep. Soft to medium feel mattresses are a good choice for side sleepers.
Firm mattresses still have their place, though, as back and stomach sleepers tend to enjoy them. See our firm vs soft mattresses for an in-depth dive into these firmnesses.
Why do I wake up with a sore lower back?
There are multiple reasons you could be waking up with back pain. If your mattress is old and unsupportive, your spine may shift out of its neutral alignment as you sleep. Sleeping position can also affect the stress you're putting on your lower back.
What mattress is best for back problems?
Many people think that a firm mattress is the best bed for back problems, but that's not entirely the case. According to a 2015 study, a medium-firm mattress is better than a soft or firm bed for "promoting sleep comfort, quality, and spinal alignment." Make sure to choose a mattress with a sleep trial so you can be sure it's the right bed for you.
What are the worst foods to eat if you have arthritis?
You'll want to cut down on processed and fried foods, sugary sweets, and maybe dairy products if you have arthritis. Avoiding fried and sugary foods can decrease inflammation, which reduces joint pain. And a protein in dairy products may irritate your joints, although the results of a 2017 study suggest that dairy may help with inflammation.
Did You Find Your Next Mattress?
We hope this guide has brought you one step closer to finding the right mattress to alleviate your arthritis pain. Don't forget to use online mattress guides and customer reviews to your advantage during your search,as they can usually tell you a lot more about a product than the brand's website. Plus, you can shop with confidence knowing most mattresses come with a generous commitment-free sleep trial.