Best Cotton Sheets of 2023: Reviews & Buyer's Guide
Updated November 22, 2023

Bedding Guides
The bedding you pair with your new mattress is one of the most important factors contributing to your overall comfort— this is especially true for your sheets. There are a variety of sheets sold by bedding brands today, but cotton remains the most popular choice. Because it is so common, it can be tough to pinpoint the best cotton sheets for you.
In this guide, we'll discuss what to look for when choosing a pair of cotton bed sheets as well as our recommended cotton sheet sets you can purchase today.
30 Second Summary: Best Cotton Sheets
Our Recommendation: Amerisleep Cotton Sheets — Amerisleep's Cotton Sheet Set is our recommended sheet set because it's 100% cotton, has a low-wrinkle design, and its thread count promotes cool air flow.
Best Cotton Sheet Sets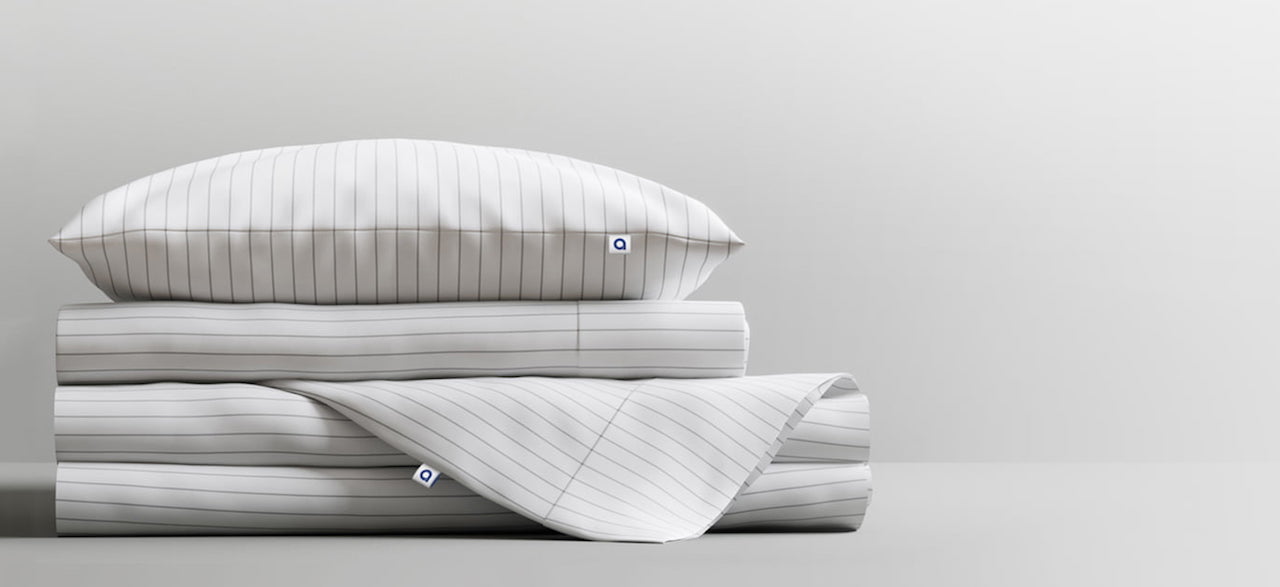 The Editors at Sleep Junkie recommend Amerisleep's Cotton Bed Sheets as the best cotton sheet set you can buy. We like these sheets because they're 100% combed cotton fabric with a percale weave. Because these sheets are combed, they should contain only long-staple or ELS strands, meaning they're exceptionally durable. Amerisleep also backs their sheets with a 1-year warranty, in the event your sheets do break down or show signs or poor craftsmanship, you can replace them free of charge.
A unique feature of their deep pocket sheets is that they have a low-wrinkle design. One of the biggest downfalls to cotton sheets is that they're prone to wrinkle, making them a tad harder to maintain. Generally, wrinkle-free cotton sheets contain a polyester blend, which is what gives the sheets it's wrinkle-free ability; we are fans of Amerisleep's sheets because they're less likely to wrinkle and don't incorporate other fabrics.
Amerisleep's sheet set has a 310 thread count and fits mattresses up to 18 inches thick. A Queen set of these sheets costs $140, and we believe you're getting your money's worth with these sheets because they're high-quality and backed by warranty coverage.
SEE ALSO: Amerisleep Mattress Reviews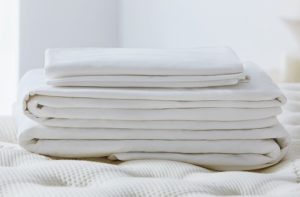 Organic cotton sheets are a luxurious option for anyone who wants breathable, natural and long-lasting comfort. When it comes to quality sheets with organic cotton fibers, the Saatva percale cotton sheets are one of our favorites.
Saatva makes their sheets with 100 percent GOTS-certified organic cotton. The pockets of these sheets are quite deep, sliding over mattresses up to 16 inches thick.
According to Saatva, the long-staple fibers of these sheets get softer with every washing. Laundering these sheets is relatively easy, as Saatva recommends tossing them in the wash with like colors and washing on cold, then tumble dry.
This set comes in three neutral colors, with shoppers able to choose white, ivory, or grey colored sheets. Saatva ships the sheets for free and includes a 45-day trial period and a 1-year warranty.
Our favorite budget-friendly sheet set is sold by the Mellanni brand, one of the more popular bedding brands featured on Amazon. For only $39, you can buy a Queen sheet set that includes one flat sheet, one fitted sheet, and two pillowcases. We like this brand because they offer a lifetime guarantee with each of their sheet sets, this allows you to return your sheets for your money back should you become unhappy with them.
These sheets are 100% cotton, so they contain Upland cotton, and are OEKO-TEX certified, which ensures there were no harsh, unsafe chemicals used in the production of your sheet set. Mellanni's cotton bed sheet has a 300 thread count and is compatible with mattresses up to 16 inches thick.
When it comes to Egyptian cotton sheets, we're fans of the Pure Parima brand and recommend their Yalda Sheet set, made with 100% ESL Giza Egyptian Cotton and sold in a variety of neutral colors. These sheets are Cotton Egypt Association™ certified, meaning the cotton they use was sourced from the Nile River Valley. Additionally, these sheets are OEKO-TEX™ certified.
The Yalda Sheet Set has a 400 thread count and sateen weave, so they feel silky and durable to the touch. These sheets are compatible with mattresses up to 18 inches tall and cost $230 for a Queen set. Every Queen set includes one flat sheet, one fitted sheet, and two pillowcases. When you buy this set, you have 100 nights to test it out and decide if it's right for you. Unfortunately, this brand does not offer a warranty on their sheets.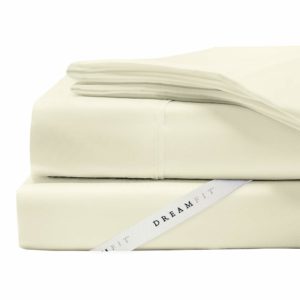 Our recommended Pima cotton bed sheet set is DreamFit's Degree 3 Pima Cotton Sheet Set, available on Amazon at $150 for a Queen size. These sheets are 100% ELS cotton with a sateen weave, so they feel soft to the touch; and because they have extra-long strands, should be durable.
DreamFit's sheet set has a 300 thread count and fits mattresses up to 22 inches thick. Because these sheets are sold on Amazon, they don't come with a sleep trial or warranty; but they do include free shipping.
If you prefer to shop eco-friendly, you should look for organic cotton sheets. Our favorite organic sheet set is sold by Whisper Organics and can be bought on Amazon for $71.99. These sheets are 100% long-staple organic cotton that is GOTS, or Global Organic Textile Standard, certified. When you buy with Whisper Organics, you receive a 90-night sleep trial to test your sheet set out.
The only downfall to these sheets is that they only fit mattresses up to 13.5 inches thick. Before buying this set, measure the height of your bed to make sure they're compatible.
If you tend to sleep hot, you want to find breathable sheets that will keep you cool all night long. For hot sleepers, we recommend choosing Pinzon's 300 TC percale sheet set, sold on Amazon for $46.34. Because these sheets have a percale weave, they're breathable and crisp, which helps keep your temperature comfortable at night.
These sheets are 100% Upland cotton and are OEKO-TEX Standard 100 certified, so they're safe even for children to use. A Queen sheet set contains one fitted sheet, one flat sheet, and two pillowcases. On Amazon, these sheets are listed as "Amazon's Choice" and receive glowing reviews.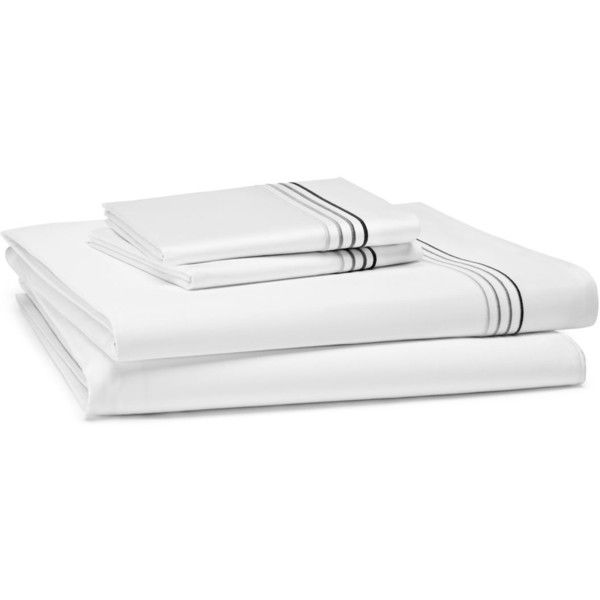 If you're looking for top-notch, five-star-hotel grade elegant sheets, look no further than the Frette brand, sold at department stores such as Saks Fifth Avenue. We recommend their Hotel Collection's Cruise California Sheet set, which will set you back $625 for a Queen. These sheets can be found in some of the most luxurious hotels around the world, and are considered to be some of the best sheets you can buy. Their Cruise California Sheet set has a sateen weave, so it feels silky soft and gets cozier with every wash.
Frette is an Italian brand that made its debut in the bedding industry back in 1860. Since then, they've had over a century to perfect their craft. Today, Frette still makes all of their sheets in Italy.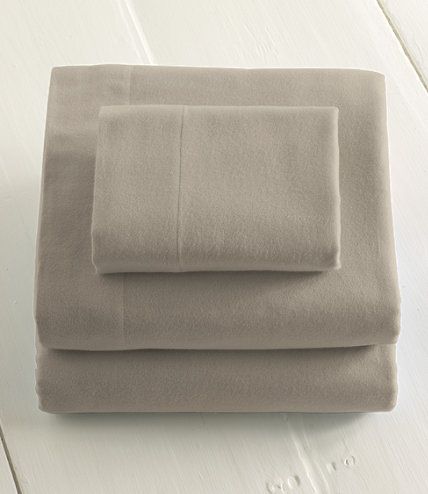 The last sheets on our list are L.L. Bean's Ultrasoft Comfort Flannel Sheet Set. If you like thicker, warmer sheets to get a good night's sleep, you can't go wrong with L.L. Bean. These sheets are designed to be suitable for year round use and get cozier with every wash. Plus, these sheets are resistant to shrinking, fading, and pilling, so they should be long-lasting.
These sheets have a velvety soft feel, receive glowing reviews, and are Standard 100 OEKO-TEX® certified. When you buy a set, it comes with a 365-night sleep trial.
Benefits of Cotton Sheets
Bed sheets are made from a variety of fabrics, including cotton, linen, silk, microfiber, and more. Each material brings something different to the table, having their pros and cons. For example, linen is great for people who live in hot, humid environments because it's exceptional at wicking away moisture and regulating temperature; however, they're challenging to wash and can easily wrinkle. On the other hand, flannel sheets are best for colder places and winter seasons, but are more likely to pill than other fabrics. When choosing what kind of sheets you should buy, consider how you sleep at night.
There is a multitude of benefits to using cotton sheets. For starters, cotton usually has a longer lifespan because it's a more durable fabric, so you won't be needing to replace your sheets as often. Additionally, cotton is naturally hypoallergenic, so it's ideal for allergy sufferers. Unlike other textiles, cotton only gets better with age; the more you wash it, the softer it gets. Plus, it's practically stain-resistant, so an accident doesn't have to result in replacing your entire sheet set.
We are fans of cotton because it's quite versatile, as it's able to help keep you fresh in the summer months and warm in the winter. How does it do this? Cotton is naturally moisture-wicking and airy, so it helps keep you at a comfortable temperature in every season and environment.
One of the most significant issues with finding good cotton bed sheets is the confusing advertising tactics implemented by bedding companies to illustrate their sheets as being better than they really are. It's not uncommon to see bedding sets labeled "Cotton Sheets," when they're a blend of cotton and another synthetic material. This seems to happen most often with Egyptian cotton sheets, so many people find themselves paying big bucks for what they think are luxurious sheets, only to find out that they aren't. Before splurging on a sheet set, there are a few key things to look for to make sure you're getting your money's worth.
How to Buy Cotton Sheets
Though choosing a bedding set may seem overwhelming at first— a simple search on Bed, Bath, and Beyond alone will bring hundreds of results— it's not all that complicated. When you break it down to material, weave, and thread count, you can quickly sort the bad from the good.
Thread Count
When it comes to judging the quality of sheets, most people think thread count is the go-to indicator. While that may be partly true, there are other things to look for, too. The thread count refers to the number of horizontal and vertical threads in one square inch of fabric.
A common misconception is that the higher the thread count, the better the sheet. When searching online or in-stores, you'll find sheet sets labeled anywhere between 100 thread count (TC) and 1,500 thread count. Naturally, you could expect the 1,500 thread count sheet to be of higher quality. However, thread count can be manipulated, and usually, anything over 400 TC is an inaccurate representation of a sheet's quality. Thread counts over 400 are an indicator that a brand is using multiple cheaper yarns as one strand, instead of using one high-quality, single-ply yarn.
If you're judging a sheet by its thread count, look for sets between 200-400 TC, as that's regarded as the best TC for cotton sheets.
Weave
There are two common weaves for cotton sheets, including sateen and percale. Choosing which weave is right for your needs comes down to a matter of personal preference. Let's talk about the differences between these weaves.
Sateen: Sateen is thought to be the most luxurious weave, so usually finer bed sheets are labeled with a sateen weave. Sateen sheets have a smooth, shiny finish and feel silky to the touch. We like sheets with a sateen finish because they're easy to care for and wrinkle-resistant. If you're somebody who wants a more elegant feel from their sheets, choose a sateen weave.
Percale: Percale is perfect for sleepers who often wake up hot in the night, as they have a crisper and more refreshing feel than Sateen sheets. Percale sheets have a matte look and feel velvety, rather than silky. Before buying a percale sheet set, make sure it is at least 200 TC, as anything below is likely to show signs of wear sooner.
Materials
There are three main varieties of cotton: Egyptian, Pima, and Upland Cotton. Egyptian and Pima cotton are more luxurious, and Upland Cotton accounts for approximately 90% of cotton bedding sets sold today. Genuine Egyptian cotton is sourced directly from Egypt and grown near the Nile River Valley; these sheets often come with a hefty price tag but are thought to be the softest sheets you can find. Pima cotton, otherwise known as Supima cotton, is a step down from Egyptian cotton but is still cozier and more durable than Upland cotton. If your sheet set says 100% cotton and does not specify whether or not it's Egyptian or Supima cotton, it's Upland.
In addition to looking at the type of cotton you're buying, look for long-staple, or even better, extra-long-staple (ELS), sheets. "Staple" refers to how long a strand of yarn is; short staple cotton has shorter cotton fibers throughout, which are more likely to pill and wear out. Long-staple and ELS sheets are characterized by longer strands that are resistant to pilling and likely to last much longer. Combed cotton sheets are almost always ELS because the combing process helps pull out all of the less durable, shorter strands within the fabric, leaving you with a high-quality sheet.
Never buy a cotton bed sheet set without reading the fine print about how it's made. As we mentioned, it's common to see sheets labeled as being "cotton" when they contain synthetic fibers, too. Always check the back of the packaging to make sure the sheet set you're buying is 100% cotton. Blended cotton sheets will be labeled as such, but only in the fine print, and will say something along the lines of "70% Cotton, 30% Synthetic Fibers."
How to Care for Cotton Sheets
After buying your new sheet set, it's vital to take proper care of them to make sure they last for years to come. As we said earlier, cotton gets better with age, so you shouldn't be afraid of washing them frequently. In fact, we recommend washing your cotton sheet set once a week. Even if your sheets don't feel dirty, dead skin, dirt, sweat, and germs can accumulate quickly; frequent sheet washes help you get the healthiest sleep.
Before tossing your sheets into the washer, check the care instructions tag to make sure your specific set of sheets does not require any extra, or more careful, care. If they do, follow the instructions on your care tag. However, if they don't specify any way to wash your sheet set, you're fine to throw them in the washer on a warm cycle— cold water works too, but always avoid washing them in hot water because it can cause the color to fade and size to shrink.
To dry your sheets, you can run them through the dryer on low heat. If they aren't fully dry by the end of one cycle, take them out and hang them to dry. To avoid any chance of your sheets shrinking, you should always hang-dry them instead of using the dryer; however, either way works.
Always avoid using chemical detergents, bleach, and fabric softeners when washing your sheets. Instead, choose an all-natural detergent that won't be as harsh on the cotton. Sometimes, bedding brands will sell their own detergent to compliment their sheets.
It's important to mention, you should always wash your sheets by themselves. Though you may have room to throw some other laundry in with your sheets, the friction of other clothing or towels in the washer with your bedding can cause the quality of the cotton to break down.
Frequently Asked Questions
What is the best type of cotton for sheets?
Egyptian is normally thought of as the most luxurious type of cotton, but Egyptian cotton sheets usually carry a high price tag. Pima cotton sheets are often considered the next best thing, as they're softer than basic cotton sheets but not as plush as Egyptian cotton.
You should also consider the "staple" or thread length in your sheets. Shorter staples are more likely to pill and wear down, while longer staples tend to have longer lifespans.
What kind of sheets do hotels use?
Sheets in a hotel room are often a blend of fabrics, such as cotton mixed with polyester. A hotel's sheets often have a thread count in the 200 to 400 range, though the sheets may feel more luxurious if they contain thicker yarns than the average sheet.
Why do hotels sheets feel so good? Part of it has to do with how often the sheets are washed. So when you lie down, you don't feel any of the dirt and grime in your bed that you might experience at home. And part of it is psychological—when we're sleeping on a hotel mattress, it's usually a way of relaxing and treating ourselves.
How often should you wash your bed sheets?
To keep your bed sheets feeling clean and fresh, you should wash them once a week. Cleaning your sheets weekly is the best way to cut down on allergens and keep your bed feeling tidy. Protectors should be washed once a month, and you schedule a through mattress cleaning every three to six months.
Why do clean sheets feel so good?
Humans are incredibly touch-sensitive. So when we lie down on freshly laundered sheets free of dirt, sweat, and other grime, our senses may take notice. Part of it may also be the rewarding feeling that comes from completing a productive task, even if it's something as simple as washing and changing your sheets. Plus, clean sheets often lie flatter than sheets that you've slept on a few times.
How can I make my bed feel like a luxury hotel?
The most important part is to make sure you're lying down on the best mattress for you. Some like a bed that feels soft yet supportive, while others prefer the sturdy feel of a firm bed. Once you've chosen your perfect mattress, you can dress it up with cloud-like pillows and a set of breathable bedding.
Research and Resources
In making this article, we:
Researched dozens of leading brands.
Referenced leading review sites for the most comprehensive information.
Spent 10 hours writing and revising the article to deliver the most value-driven, accurate content possible.
Did You Find Your Next Sheet Set?
We hope this guide has simplified your search for cotton sheets. Remember, look at the thread count, weave, and fabrics of your sheet set to determine whether or not it's the right set for you. Also, always consider your own sleep needs and what you are looking for in a sheet set. If you're not so sure cotton is the best kind of sheet for you, check out our other bedding guides to find your most comfortable sheet set.