Best Organic & Natural Mattresses: 2023 Reviews and Buyer's Guide
Updated November 22, 2023

Mattress Guides
In recent years, people have been making an effort to go green and buy healthier, organic products. Many people are becoming concerned with how products they buy affect the environment, and now even the bedroom is going green with eco-friendly mattress options.
In response, mattress companies have been following suit and releasing beds with all-natural organic materials and modifying manufacturing processes to reduce their carbon footprint.
However, finding the best organic eco-friendly mattress for your own sleep needs isn't always easy. Whether you're looking for a memory foam, latex, or hybrid mattress, we have a recommendation for you. In this post, we'll be talking about our three favorite eco-friendly beds on the market right now, breaking down the materials used in each bed and explaining why we chose them for this list.
30 Second Summary: Best Eco-Friendly Mattress of 2023
Our Recommendation: Amerisleep AS3 — The Amerisleep AS3 is our Editors' Choice as the best eco-friendly mattress because it contains plant-based memory foam and is CertiPUS-US® certified.
Best Eco-Friendly Mattresses
| | Mattress | Highlight | Price |
| --- | --- | --- | --- |
| | Amerisleep AS3 | Features plant-based memory foam and is CertiPUR-US® certified. | |
| | Amerisleep Organica | Features Talalay latex, wool, and yarn certified by Global Organic Textile Standard, the eco-INSTITUT, and the OEKO-TEX®. | |
| | Plushbeds Botanical Bliss® Organic | GOLS and USDA Organic certified, GreenGuard Gold certified, eco-INSTITUT certified, and Oeko-Tex Standard 100 certified. | |
| | Spindle | Features 100% Organic Latex | |
| | Happsy | Combines organic latex, organic wool, organic cotton, and pocketed coils for a bouncy yet contouring mattress. | |
| | Bear | Features CertiPUR-US® foams and water-soluble glue. | |
| | Avocado Green | GOTS and OEKO-TEX Standard 100 certified. | |
| | Essentia Stratami | Combines natural latex, grapefruit seed, coneflower essence, jasmine essence, and hydrolyzed corn to offer an almost-100% organic mattress. | |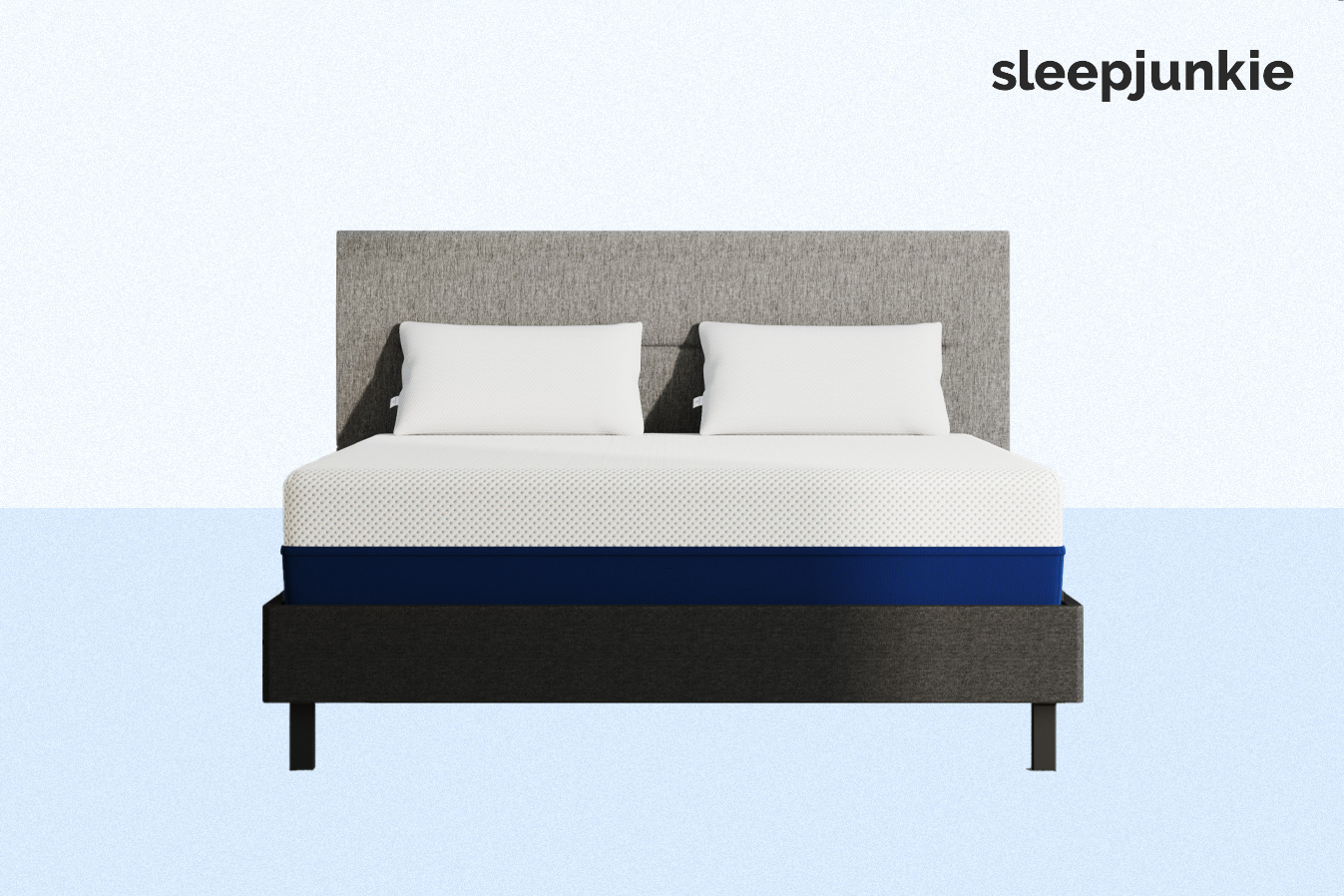 Our Editors recommend the Amerisleep AS3 as the best eco-friendly memory foam mattress.
We chose to feature Amerisleep in this article because they are one of the only memory foam mattress brands that use plant-based memory foam instead of traditional foams.
Plus, they meet all of our criteria when looking for a green company: they make their beds here in the US, they are CertiPUR-US® certified, they use environmentally-conscious packaging, and they offer transparent information about their manufacturing process on their website.
The first layer of every Amerisleep mattress is their proprietary Bio-Pur®, a plant-based memory foam. During the creation of this foam, Amerisleep replaces a large portion of petroleum oil (used to make traditional memory foam) with castor oil.
Doing this reduces the number of harsh petrochemicals needed to make foam, diminishes the chance of these beds off-gassing, and makes them healthier to sleep on each night. Bio-Pur® is five times more breathable than traditional memory foam, too— another perk to using an eco-friendly alternative.
Amerisleep also uses a GreenGuard certified fire sock in their beds to act as a flame barrier, eliminating the need to use chemical fireguards.
When shopping with them, consider their AS3 bed. The AS3 is their medium mattress, designed to contour to and support a variety of body types. Its adaptability makes it comfortable for a majority of sleepers. Plus, their beds come with a 100-night sleep trial and a 20-year warranty, allowing you to shop in confidence.
If you buy an Amerisleep bed and decide during your sleep trial it's not the best fit for you, they'll help you have your unwanted mattress donated in your local area, instead of asking you to return it back to them.
If you would prefer a natural latex mattress over a memory foam bed, Amerisleep's got you covered there, too! Their Organica mattress is our top recommendation for a latex bed because the design balances durable comfort and support with affordability. Its medium feel is also comfortable for most sleeping styles.
Amerisleep is transparent about the materials that make up the Organica mattress. The latex mattress has four layers, wrapped in a GOTS-certified cotton fabric cover. The cotton is breathable, staying cool and dry throughout the night, and organic cotton has a relatively minimal carbon footprint compared to non-organic cotton.
The first layer of the mattress is New Zealand Joma wool that has passed the OEKO-TEX Standard 100 test. The test ensures the material is free of harmful chemcials and safe for everyday health.
Next is Talalay latex that is OEKO-TEX Standard 100 certified, Rainforest Alliance certified, and eco-INSTITUT certified. The eco-INSTITUT tested the latex's VOC emissions while the Rainforest Alliance works to ensure farmers, forest communities, and companies are working sustainably.
Pocketed coils on top of a Dunlop latex base forms the mattress's support core. The coils are wrapped to isolate motion and feel firmer along the sides to create edge support for easier movement.
Like the classic AS3, the Amerisleep Organica comes with a 100-night sleep trial and a 20-year warranty. The warranty provides coverage for any sagging that exceeds 0.75 inches due to unfit materials.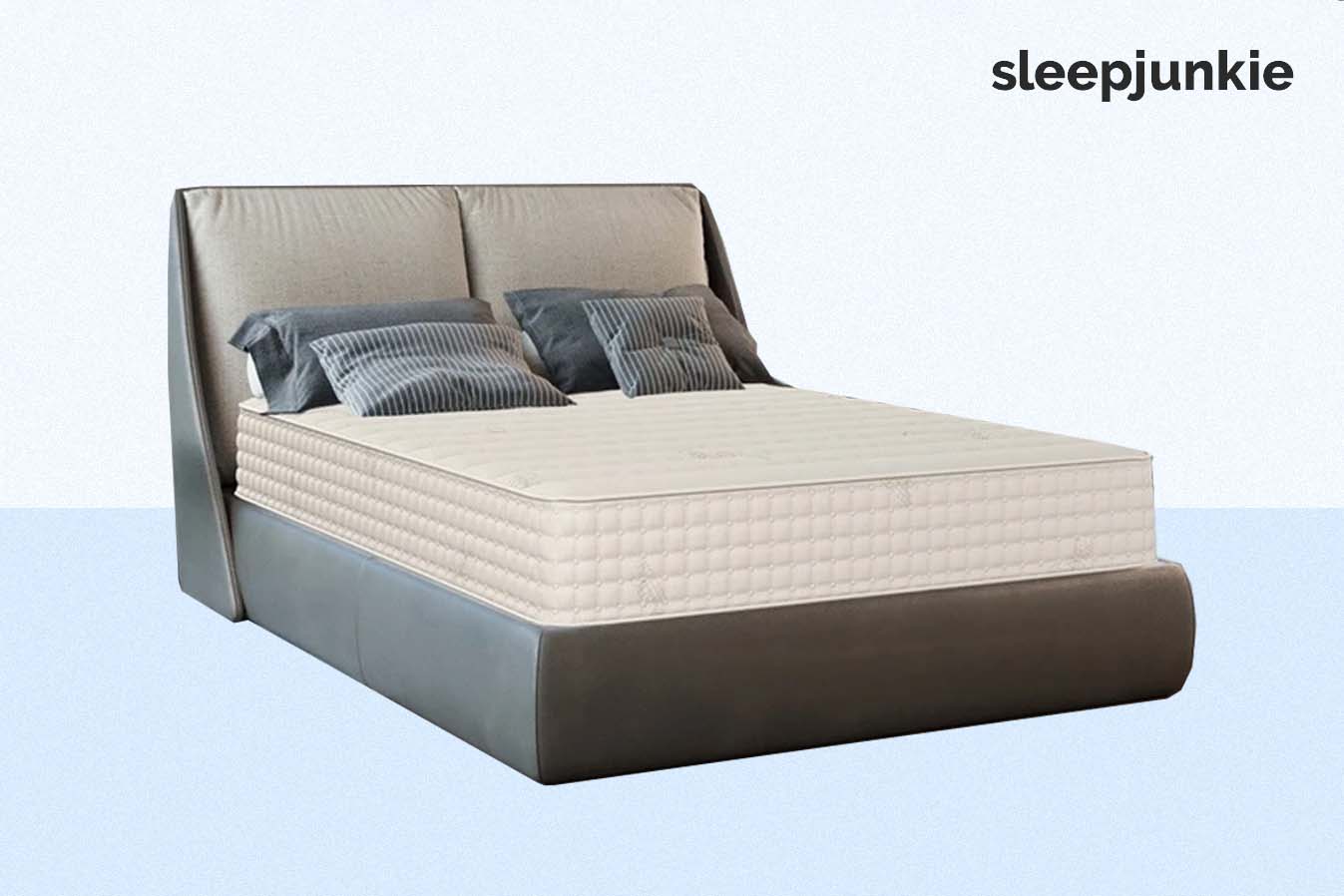 If you're looking for an eco-friendly latex mattress, look no further than Plushbeds' Botanical Bliss® bed. This 100% natural latex mattress has been awarded numerous certifications, guaranteeing its safe for even babies.
There are multiple benefits to sleeping on latex, including its anti-microbial, hypo-allergenic, dust mite resistant, toxin-free, and sleeps cooler than foam.
In their Botanical Bliss® mattress, Plushbeds uses three main materials: organic cotton, organic New Zealand wool, and Dunlop latex. Their bed is free from mercury, lead, heavy metals, chlorofluorocarbons, chloroform, cyanide, and PBDE flame retardants.
On their site, they mention the Botanical Bliss® has been recommended by both chiropractors and orthopedic specialists. Overall, it receives a 4.9-star rating from customer reviews. Below, we'll look at the materials in this bed and what specific certifications they've received.
The cover of this bed is GOTS and USDA Organic certified cotton, sourced from the USA. Next, is GOTS and USDA Organic New Zealand wool; this layer also acts as a natural fire barrier, eliminating the need to use other flame guards. Below is layers of latex, the number of layers depends on how tall your mattress is.
These layers of latex are GOLS and USDA Organic certified, GreenGuard Gold certified, eco-INSTITUT certified, and OEKO-TEX Standard 100 certified. Their latex is sourced from Arpico and is made to be the cleanest and purest.
This mattress is also Control Union and Forest Stewardship Council certified. Control Union Certification ensures Plushbeds only uses eco-friendly materials, while Forest Stewardship Council verifies they're sourcing their materials from sustainable forests.
When you buy Plushbeds' Botanical Bliss®, it comes with free shipping, a 100-night sleep trial, and a 25-year warranty. You have the option to choose between a Medium and Medium-Firm mattress; however, because Plushbeds' does not glue their latex layers together, you can unzip the cover and rearrange the layers to change how firm the bed feels.
If you end up deciding the Botanical Bliss® bed is not suitable for you, Plushbeds' also offers free returns, and will arrange for your mattress to be picked up from your home.
The Happsy Mattress mixes organic latex, organic wool, organic cotton, and pocketed coils to create a bouncy hybrid mattress. The mattress's materials are GOTS and GOLS certified, GreenGuard Gold certified, and verified as formaldehyde-free by Underwriters Laboratories. No adhesives or flame retardants are used in the mattress's construction.
The comfort layer contains 2 inches of organic latex topped with sewn-in organic wool battering. The bottom support layers have 8 inches of pocketed coils encased by organic cotton filling. Organic cotton fabric covers the mattress, with a zipper to allow you to adjust the latex layer inside.
Side sleepers can add a 2-inch pillow top, filled with organic latex, for a plusher mattress.
The Happsy Mattress costs $1,399 for a queen and comes with a 120-night sleep trial and a 20-year warranty. The mattress is ready to sleep on about 30 minutes after it's been opened, though it may take a few days for it to reach full expansion.
Bear carries three mattress models now, but the company started with the original 10-inch tall Bear Mattress. The medium-firm feel of this memory foam mattress is just right for most back sleepers.
To construct a Bear Mattress, the company uses only CertiPUR-US® certified foams and water-soluble glues. Every Bear mattress is made without formaldehyde, toxic fire retardants, prohibited phthalates, mercury, lead, and other heavy metals. Bear sources its materials and constructs its mattresses in the US, with the company headquarters located in Hoboken, New Jersey.
The Bear Mattress has three foam layers:
A 2-inch layer of memory foam infused with graphite gels. The graphite gels conduct heat away from the sleeper.
2 inches of responsive transition foam to limit sinkage.
6 inches of high-density support foam to give the bed structure and prevent sagging.
The original Bear Mattress is $840 for a queen, with free shipping, a 100-night sleep trial, and a 10-year warranty included. You can bundle the mattress with two pillows and a mattress protector for added savings.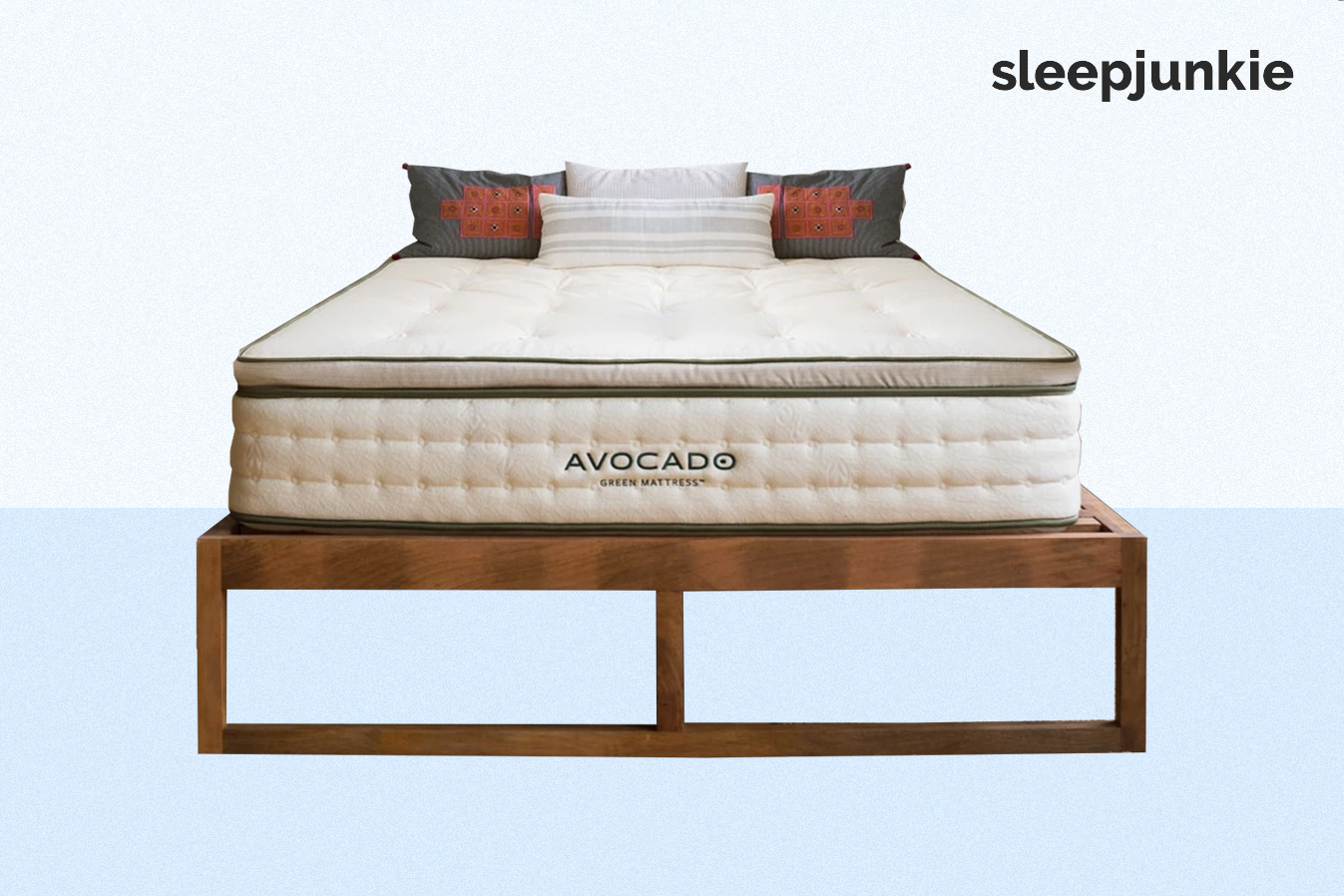 The Avocado Green mattress combines the perks of latex foam with the bouncy responsiveness of innerspring coils. We believe Avocado is one of the most transparent brands when it comes to disclosing exactly how their beds are made. They use 100% organic latex, wool, and cotton, as well as recycled steel coils in their support layer.
Their organic latex is sourced from Hevea Brasiliensis trees in Asia and manufactured via the Dunlop method. Meaning, liquid latex is poured into a mold, steamed and cleaned, creating a "green" material. Avocado's latex is GOLS and eco-INSTITUT certified, ensuring these beds are free of VOCs and unhealthy chemicals.
The wool and cotton used in these beds are both GOTS certified, safe, and non-toxic. Additionally, the wool is OEKO-TEX Standard 100 certified. Both the wool and the cotton in the Avocado Green wicks away moisture while you sleep, keeping you cool, and is also anti-microbial and dust mite resistant. Additionally, wool acts as a natural flame retardant.
The bottom layer of this bed is recycled-steel pocketed support coils, arranged in three zones to offer enhanced support to your back and torso. These coils also offer reinforced edge support to the rest of the layers and sleeper above. It's important to note these beds are also GreenGUARD Gold certified.
Every Avocado Green mattress is made in California and shipped free throughout the US. These beds also come with a 100-night sleep trial and a 25-year warranty. When shopping with Avocado, you can be confident your bed is made with state-of-the-art eco-friendly materials.
Essentia has nine mattress models, but we choose to focus on the Stratami for the unique dome design in its latex comfort layer. According to the Essentia website, this allows for plush softness without needing to use wool, cotton, or fiber batting.
Every Essentia product is made organically in a GOLS and GOTS certified factory outside of Montreal, Quebec. Essentia imports the white milky sap used in its foam from rubber plantations in Indonesia. By importing the raw materials and foaming the latex in North America, Essentia cuts down on shipping space and on the fuel consumption used in transportation.
To reach the proper foam consistency for its mattresses, Essentia uses organic essential oils such as grapefruit seed, coneflower essence, and jasmine essence and plant extracts such as hydrolyzed corn. These replace the manmade oils, petroleum, and other chemicals used in traditional memory foam production.
Breaking apart the Stratami mattress, we find a 3-inch top layer of contoured natural latex and a 5-inch base layer of supportive natural latex. A zippable Kevlar cover encases the latex layers, and an organic cotton cover can be easily removed for machine washing.
While most organic mattresses are hypoallergenic mattresses to some degree, the Stratami can be a good choice for sleepers sensitive not only to chemicals but to wool and fibers. Additionally, the latex used in Essentia mattresses does not contain the latex proteins that can trigger allergies.
The Stratami costs $2,999 for a queen size mattress. The price includes free shipping, a 120-night trial, and a 20-year warranty.
Benefits of Organic Mattresses
An organic mattress is biodegradable and sustainably made to reduce the impact we make on our ecosystem. However, buying an organic bed isn't just good for the environment, it can be good for your health as well.
An organic mattress is…
Free of harmful chemicals: Many are made without chemical fire retardants, polyurethane, glues, and other materials that can cause skin irritation or respiratory issues.
Hypoallergenic: People allergic or sensitive to chemical dyes, smells, and treatments can sleep well on an organic mattress for allergies.
Breathable: A mattress made with wool, cotton, latex, or innerspring coils can keep a sleeper cool by wicking away moisture and providing room for air to circulate
Customizable: Many organic mattresses are made to order, allowing the shopper to choose a mattress with split firmness levels or pick an optional add-on like a pillow top mattress.
Low on volatile organic compounds: Volatile organic compounds, commonly shortened to VOCs, are present in new mattresses. VOCs break down at room temperature and dissipate over time, but until they're gone your mattress may have a chemical smell to it. In rare cases, a sleeper might experience health issues such as headaches, nausea, breathing difficulties, and irritation in the eyes, nose, and throat.
Why Are Regular Beds Not Environmentally Friendly?
Traditional mattresses are created using a wide range of chemicals and glues which are bad for both your health and the environment. Synthetic foam was created at a time when latex was requisitioned for war purposes.
While synthetic foams are cheap and often more comfortable than an innerspring mattress, they use up natural non-renewable resources. The glues and chemicals in traditional foam mattresses leech contaminants into your home, and some have been linked with side effects ranging from respiratory discomfort and allergies to cancer and endocrine disruption.
Here are the top reasons traditional memory foam, synthetic latex, and innerspring mattresses are NOT environmentally friendly:
Glues/Chemicals
Synthetic Fabrics
Non-Recyclable, Non-Biodegradable
Uses Non-Renewable Resources
Manufacturing Pollutes Environment
Chemicals Pollute Indoor Air Quality
Long-Distance & Inefficient Shipping
How to Choose a Comfortable Eco-Friendly Mattress
Sleeping on a healthy mattress made of natural products and sustainable practices provide benefits not only to the sleeper but also the environment.
Anyone shopping for the best mattress knows just how many products, brands and claims there are to sift through— so how do you really know if a bed is good for the environment or not?
Here, we'll examine what factors make a mattress eco-friendly and the top options for green mattresses.
Organic Mattress Certifications
Mattress certifications ensure you're getting a truly eco-friendly, organic bed. If you're searching for the best organic mattress, look for these certifications, as they should ensure the product you're considering is safe for people of all ages.
CertiPUR-US®
To be CertiPUR-US® certified a bed must be made without ozone depleters, mercury, lead, heavy metals, formaldehyde, phthalates, PBDEs (or TDCPP and TCEP flame retardants), and low in volatile organic compounds (VOCs).
GreenGuard
There are different types of GreenGuard certifications, including GreenGuard Gold (which is considered to be the best). GreenGuard ensures products designed for indoor use are low in VOCs.
The guidelines for earning a GreenGuard Gold certification are stricter than the standard GreenGuard requirements, allowing even fewer VOCs.  Any mattress with one of these certifications is unlikely to off-gas or emit any chemical-like smell.
Global Organic Textile Standard (GOTS)
GOTS is the leading textile processing standard for organic fibers. When researching organic mattresses, you'll often find they contain GOTS-certified cotton or wool. The same applies to anyone shopping for organic bed sheets.
This standard covers the processing, manufacturing, packaging, labeling, trading, and distribution of fiber products, yarn, fabrics, clothes, and home textiles. The Global Organic Textile Standard requires these textiles to be made from at least 70% all-natural, organic fibers.
Global Organic Latex Standard (GOLS)
The GOLS certification applies to latex products, requiring the latex used in these items contains at least 95% of certified raw organic material. During the certification process, they test the latex for harmful substances, VOCs, and polymer/filler percentages. Taking it a step further, GOLS also certifies the rubber plantations and manufacturing facilities in which these products are made to ensure you're receiving a truly organic, eco-friendly product.
On their website, they state, "GOLS establishes a clear path and procedure on the route from field or farmer level to the certified organic latex product manufacturer. Among other factors, manufacturers that are given approval to produce organic products under the GOLS logo have to follow mandatory social and environmental regulations. This places indirect responsibility for social and environmental issues on the final consumer."
OEKO-TEX Standard 100
This certification applies to textiles. To be OEKO-TEX 100 certified, your product (including everything from the threads, buttons, and other accessories) is free from harmful substances and harmless in ecological terms. During the certification process, OEKO-TEX tests for both regulated and non-regulated substances that can pose a risk to human health, so products that have earned this certification are safe for all sleepers.
Type of Mattresses
While there is no specific definition of eco-friendly, most of us understand this to mean the product does not harm the environment or minimizes impact relative to an alternative product. When it comes to organic and natural mattresses, you would want to look for the following traits:
No VOCs
Zero-Emissions Manufacturing
Made of Renewable Resources
Natural and Organic Materials
Durable to Reduce Waste
Efficient Shipping Methods
Currently, there are a few eco-friendly mattress options on the market: 100% natural latex, plant-based memory foam and improved innersprings. There are several differences between the types in terms of cost, longevity, and price and we will examine these factors. The fabrics and other materials used in beds also have an impact, with naturally-derived textiles proving more desirable.
Natural Latex Mattresses
All-natural latex is derived from the  Hevea Brasiliensis tree and minimally treated to produce the foam material used in latex mattresses. This type of bed continues to be a favorite among green aficionados as manufacturers utilize renewable harvesting processes and low-impact manufacturing. Ideally, the latex liquid can be harvested for 25 years or so while the tree continues growing and benefiting the atmosphere. All the while, subsequent generations are growing and old trees become eco-friendly wood products. As long as the material is made in with no toxic additives and fillers, natural latex is very healthy, VOC free, highly durable and biodegradable. Latex can be a little more expensive then other types of beds, but the tradeoff is that this material holds its shape and can last 20 or more years. In addition to being healthy, latex also proves comfortable, ranking second behind memory foam with satisfaction averages around 80%.
Eco-Friendly Memory Foam Mattresses
Memory foam made from plant-based ingredients is our second choice for eco-friendly mattress options. While not made of 100% sustainable ingredients, plant-based memory foam qualifies as eco-friendly because it replaces a significant amount of oil-based products with sustainable plant-derived ingredients. For those who dislike the feel of latex or need a more affordable option, plant-based memory foam can be made without VOCs and with zero emissions to further reduce impact. These memory foam mattresses also last considerably longer than most types of beds, and their comfort advantages can encourage people on the fence about eco-friendly beds to make the switch.
Our Recommendation: For plant-based memory foam, we prefer Amerisleep's collection of mattresses made with BioPur, starting at $749. Their beds are made in the US and utilize a zero-emissions manufacturing process and are free of harmful VOCs. The mattresses also have covers made with highly sustainable bamboo and ship compressed to reduce fuel use.
Eco-Friendly Hybrid Mattresses
Hybrid mattresses combine layers of foam and innerspring coils to give sleepers a bouncy, yet cushioning mattress. Many mattresses are labeled as "hybrid" because they combine more than one type of mattress material; however, to be a true hybrid, a bed must contain at least 2 inches of foam.
To be considered eco-friendly, this foam must be plant-based, made with eco-conscious manufacturing, or all-natural, organic Dunlop or Talalay latex. Oftentimes these mattresses have organic wool or cotton covers, but they always have all-natural flame retardants.
Some eco-friendly hybrid mattresses will have recycled steel in their coil systems, but not always. When they do, it's often stated plainly on a brand's website or in a product's description. If you're unsure about the eco-friendliness of a hybrid bed, we suggest reaching out to the retailer and asking about the specific materials in question.
Eco-Friendly Innerspring Mattresses
Innerspring mattresses can be made more environmentally friendly by replacing the synthetic foams with latex or plant-based memory foam, and by replacing the fabrics and chemical fire barriers with natural materials. However, these beds are not biodegradable, cannot be compressed for shipping, and do not last as long as quality foam mattresses. Additionally, innerspring eco-friendly mattress options can be hard to find and somewhat expensive.
Mattress Fabrics
A variety of mattress covers are also available in these products which are sustainable and healthier than synthetics. In addition to not releasing chemicals, they also prove to be more breathable than synthetic products such as polyester and can wick away moisture while you are sleeping.
Natural or Organic Cotton: Organic cotton is perhaps one of the best fabrics for mattresses as it is highly breathable, hypoallergenic, and sustainable. Standard cotton can contain a host of toxic pesticides, so opt for certified organic when possible.
Bamboo: Bamboo is a rapidly growing, highly renewable plant-resource that makes luxurious fabrics.
Natural or Organic Wool: Natural wool offers excellent heat and moisture-wicking properties, and is also renewable since it comes from living sheep. Wool can also be used as a natural flame retardant in some mattresses.
When searching for an eco-friendly mattress, you want to look beyond the claims and see what's actually in the bed. Make sure the materials, manufacturing and shipping process minimize negative consequences to the earth, while still providing comfort and value. Depending on where you live, local options may be limited, but there are retailers online that specialize in eco-friendly mattresses and often offer better deals than big name brands. Choosing an eco-friendly mattress for your bedroom will offer you peace of mind without compromising values or comfort.
Natural Bedding for Eco-Friendly Mattresses
If you're green-minded, then you might want to consider shopping for bedding with natural fibers or organic certifications.
Sheets and Blankets
Pillows
Frequently Asked Questions
Are memory foam mattresses eco-friendly?
It depends on the memory foam mattress, but most memory foam mattresses are not eco-friendly—you'll have to do some special searching to find an eco-friendly foam bed. Memory foam mattresses made with plant-based foams are an eco-friendly alternative to traditional memory foam beds, and mattresses with a CertiPUR-US® certification means these beds are free from harmful chemicals and low in VOCs.
What mattresses are not toxic?
Mattresses with the proper non-toxic certifications are free from harmful chemicals. These certifications include GreenGuard, CertiPUR-US®, and OEKO-TEX Standard, to name a few. Looking for these third-party independent certifications is a good way to guarantee you're getting a non-toxic mattress.
Are there any mattresses that are 100% chemical-free?
No, all mattresses are made with some chemicals, even organic latex mattresses, as Talalay latex includes a small number of petrochemicals. You can't find a completely chemical-free bed, but you can find mattresses free from harmful chemicals.
Can off-gassing make you sick?
Not usually, but those who are more sensitive to harsh smells or have respiratory problems. Common symptoms people experience when exposed to off-gassing include headaches, nausea, dizziness, shortness of breath, and asthmatic reactions.
Are natural mattresses worth it?
Many feel natural mattresses are worth the investment because they are free from harmful chemicals and emit very little off-gassing odor. If you're somebody who needs an organic mattress, these are huge perks. We also suggest natural mattresses because they're usually long-lasting and durable, so they're a great value, too.
Final Thoughts
We hope this guide has helped you learn what to look for when shopping for the most suitable bed for your sleep needs. Remember to read the fine print about the materials and manufacturing processes of different beds, and ask questions when you can't find the information you're looking for. Having an understanding of the different eco-certifications can help you understand just how safe your potential new bed is.
Plus, choosing a mattress free from unhealthy chemicals is better for you in the short and long-term. Making the investment in better sleep now can pay off years down the line in good health and restful sleep.