Best Cooling Pillows
Updated November 22, 2023

Bedding Guides
Night sweats, overheating— these issues can turn what's supposed to be a good night's sleep into a restless one. The buildup of heat is never a comfortable experience, but you can prevent this from happening, starting with a cool pillow.
Choosing a pillow with some type of cooling effect can help you sleep better. Cooling properties include shredded memory foam, gel-infused foam, ventilated holes, and breathable pillow cover materials such as bamboo. Check out our top choices, then read on to learn more about cooling pillows, who should use them, and the benefits they offer.
30 Second Summary: Best Cooling Pillows of 2023
Amerisleep Comfort Classic — Our top pick is the Amerisleep Comfort Classic Pillow. Its open-cell structure keeps sleepers cool and comfortable, plus it uses ventilated holes in the foam to promote airflow.
2nd Place: Zoma Pillow — As a close second, this adjustable pillow offers the contouring support of memory foam with its Microcushion™ technology.
12 Best Cooling Pillows
The Amerisleep Comfort Classic pillow is our favorite for anyone who sleeps hot. The single-piece, eco-friendly Bio-Pur® is made exclusively by Amerisleep. Its open-cell structure maintains consistent airflow and shouldn't overheat the sleeper.
The pillow's cover is made from a highly breathable fabric. Bringing airflow through its surface, the cover helps to regulate body temperature, allowing a more cool and comfortable sleep. Plus, the cover is machine-washable so it is easy to keep your pillow clean and in good repair.
The Amerisleep Comfort Classic pillow is surprisingly lightweight and comfortable. It provides exceptional support for all sleeping positions. It comes with a 10-year warranty.
Not only is the Comfort Classic our favorite cooling pillow, but it's also one of our favorite top-rated pillows of the year. Read our comparing the best pillows of 2023 to learn more.
Amerisleep Comfort Classic Highlights
Open-cell, plant-based memory foam
Breathable cover
10-year warranty
Amerisleep's Flex Pillow is designed to mold to the curves of your head and neck for maximum comfort and support. No matter which position you sleep in, the MicroFlex cushions in this pillow respond to your shape and keep your head and neck aligned for a safe, neutral spine. This foam is also shredded, so warm air dissipates quickly, preventing night sweats and overheating. The Flex Pillow is so conforming it will feel as if it was custom made just for you.
The cover of the Flex Pillow features a ventilated fabric that encourages air circulation. As with all Amerisleep pillows, this cover is removable and washable, allowing sleepers to experience a cleaner night's sleep.
The Amerisleep Flex Pillow comes in two different sizes—queen and king. It also comes with a 10-year warranty. 
Amerisleep Comfort Classic Highlights
MicroFlex cushions mold to head and neck
Breathable cover
10-year warranty
Amerisleep's Dual Comfort Pillow features their unique Bio-Pur® memory foam—a plant-based foam that is eco-friendly, breathable, and highly responsive. With two different comfort levels—a firm side and a soft side—sleepers can choose the support that works best for their sleep position.
Side sleepers may perfect the firm side because it offers a slight bounce to keep the head lifted and in alignment with the neck and shoulders. Back sleepers will enjoy the softer side because it cradles the head and neck for comfort while also maintaining proper alignment. 
The Bio-Pur® foam in the Dual Comfort Pillow is embedded with air channels. This feature helps body heat escape the pillow quickly, so heat and moisture don't build-up in the pillow. The combination of Amerisleep's breathable foam, cooling air channels, and a soft, airy cover make this pillow perfect for those that sleep hot. 
Amerisleep Comfort Classic Highlights
Dual-side firmness offers sleepers a firm or soft feel
Available in both low and mid-loft
10-year warranty

The Zoma Pillow is another great pillow to consider. We like the Zoma pillow because it comes with adjustable MicroCushions™ that allow you to fluff the pillow to your desired shape and loft without having to remove or add extra pillow filling. While adjustable pillows are nice, the Zoma is a mess-free alternative that's easier to maintain.
The Zoma Pillow contains shredded memory foam with Microcushion™ technology and a breathable, soft cover. Microcushion™ technology allows you to adjust the super-fine shredded memory foam to your ideal comfort level. And because this pillow is adjustable, it's an option for every sleeper.
We also like the Zoma Pillow because it is CertiPUR-US® certified and comes with a 10-year warranty, which is one of the longest warranties we've seen offered with a pillow. At $75 for a Queen size, you can buy the Zoma Pillow on Zoma Sleep's website.
Zoma Pillow Highlights
Works for every sleeper
Features pressure-relieving memory foam
Comes with the lenghtiest warranty we've seen offered with a pillow
The Coop Home Goods Eden pillow is filled with gel-infused, shredded memory foam and comes encased in a bamboo/rayon-polyester cover. Since it's CertiPUR-US® Certified, it shouldn't contain any harmful chemicals. Furthermore, memory foam is naturally resistant to dust mites and hypoallergenic.
The shredded foam provides better air circulation within the pillow. Plus, the gel-infusion serves to pull heat away from the body. The cover may be a thick quilted design, but because the embedded bamboo material produces consistent airflow and moisture-wicking properties.
Another perk to this cooling pillow is the adjustable loft. When you purchase a Coop Home Goods Eden pillow, they include extra filling. Customers can easily unzip the removable cover and interior to add or remove the filling, adjusting the pillow to the perfect loft.
Coop Home Goods Eden Highlights
Hypoallergenic
Machine-washable
5-year warranty
The Classic Brands Reversible pillow has two sides— soft, porous memory foam and cool gel. The open-cell structure of the memory foam provides better airflow, while the cool gel side pulls heat away from the body. It comes encased in a knit cotton cover.
The two-sided design of this pillow makes it a great option for year-round use. The knit cover gives additional cooling through its breathable fabric and moisture-wicking properties. We're fans of this pillow for side sleepers and back sleepers because it has a comfortable 5-inch loft and offers excellent head and neck support. It tilts the head at the right angle as a back sleeper, and supports the head at the right height as a side sleeper. Having the head and neck at the right level helps align the spine.
Classic Brands Reversible Highlights
Reversible
Ideal for side and back sleepers
3-year warranty
Interested in the benefits of memory foam? Read our other guide on finding the best memory foam mattress for your sleep needs.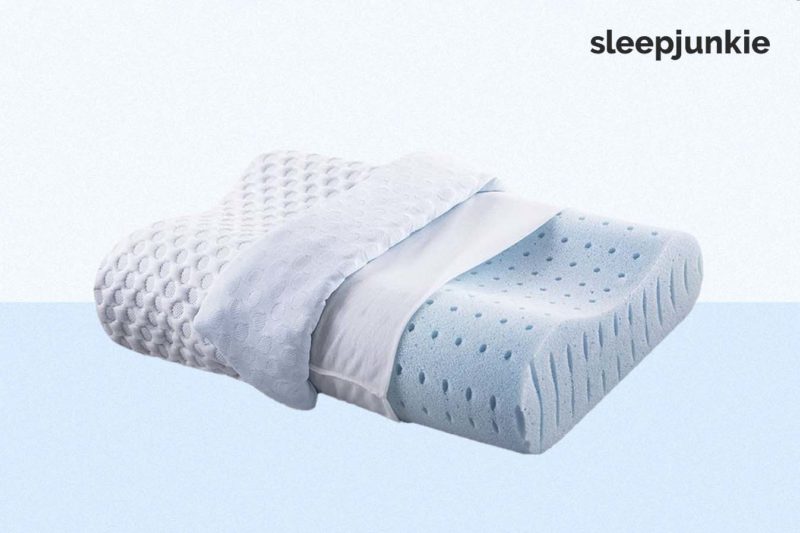 The Comfort and Relax Ventilated Memory Foam pillow contains a special AirCell memory foam for cooling. Gel-infusion and ventilated holes help pull heat away from the body while providing air circulation. It's also CertiPUR-US® Certified, meaning it's free from harmful chemicals such as lead and petroleum.
Because of its cooling abilities, customers won't need to flip this pillow to "the cooler side." The contouring design supports the head and neck, reducing pain and stiffness in the upper body. It includes a dual-sided, moisture-wicking cover— two different fabrics all rolled into one.
One side of the pillow, made of a polyester blend, has a light and silky feel that stays cool during the warmer months. The other side contains 65% polyester and 35% Tencel® for a slightly warmer, yet breathable option in winter.
Comfort and Relax Ventilated Memory Foam Highlights
Hypoallergenic
Ventilated holes
Ideal for side and back sleepers
The Malouf Z™ Shredded Gel memory foam pillow contains a special blend of Malouf's custom dough memory foam, shredded for air flow and sealed in a gel dough sleeve for consistent feel. The foam filling is infused with gel beads to absorb and evenly distribute body heat, preventing overheating.
A soft and breathable Tencel® cover encases the pillow for further cooling with moisture-wicking properties. The memory foam is dust mite resistant and hypoallergenic, making it a good option for those with allergies. It has a 6-7-inch loft, ideal for side and back sleepers and includes a 3-year warranty.
Malouf Z™ Shredded Gel Highlights
Gel-infused memory foam
Tencel® cover
3-year warranty
The Sleep Restoration Gel pillow is filled with gel-infused, polyester fiber and includes a cotton cover. The material offers a plush sleep surface without losing support. It's a great option for back and stomach sleepers because of its low loft.
The gel-infused polyester filling provides cooling in two ways— one, the fiber enables airflow inside the pillow, and two, the gel-infusion pulls heat away from the body. The filling is responsive and keeps its shape while under compression. The 100% cotton cover has a 240 thread count, which allows for excellent airflow.
The Sleep Restoration Gel pillow is made of hypoallergenic materials, plus it's stain and fade resistant. It's best to dry clean only to make it last, since machine washing may cause the materials to deteriorate faster. This pillow includes a 30-day trial period— if you're not satisfied within that time period, you can return for a full refund.
Sleep Restoration Gel Highlights
Gel-infused memory foam
Ideal for back and stomach sleepers
30-day trial period
The SlumberCloud Cirrus pillow is incredibly customizable. Customers can choose between two fillings— down or polyester fiberfill, and three firmness options— soft, medium, or firm. The down filling is an all-natural material that won't clump and easily bounces back to life, while the polyester fiberfill is a synthetic material designed to maintain loft and gives optimal neck support. Both materials provide good airflow within the pillow.
The pillow case uses Outlast® technology, which stores and releases heat to regulate body temperature, preventing overheating. The 300-thread count cover is made of 100% cotton for excellent breathability. The SlumberCloud Cirrus pillow is an ideal option for all sleepers, depending on the firmness you choose— soft for stomach sleepers, medium for back sleepers, and firm for side sleepers.
SlumberCloud Cirrus Highlights
Outlast® technology
Ideal for all sleep styles
60-day trial period
The TruContour Super Thin pillow stands at a 2.5-inch height. It contains a thin, single piece of gel-infused memory foam with a flat bottom and curved top to prevent shifting. All of this comes encased in a cotton-poly cover.
The gel-infused memory foam absorbs body heat and helps disperse it evenly for temperature regulation. The foam itself conforms to the head and neck, offering good support and healthy spine alignment. The cotton-poly cover is made of 40% certified organic cotton and 60% polyester. The double-knit material is designed to improve airflow and wick away moisture.
The TruContour Super Thin pillow is hypoallergenic and an ideal option for stomach sleepers. While the cover is machine washable, the pillow is spot-clean only. It comes with a 45-day money-back guarantee.
TruContour Super Thin Highlights
Ideal for stomach sleepers
Hypoallergenic
45-day money-back guarantee
To get the most comfortable sleep and wake up every morning pain-free, read our guide on finding the best mattress for back pain.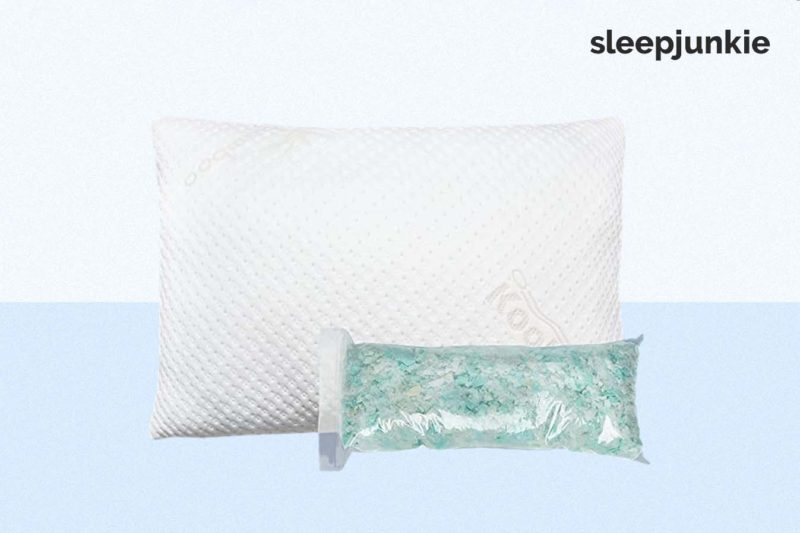 The Snuggle-Pedic Bamboo pillow is filled with a blend of Biogreen and CertiPUR-US® Certified shredded memory foam. The removable cover incorporates Kool-Flow® technology, which uses microvents to add airflow and wick away moisture.
The shredded memory foam is infused with gel to absorb and distribute body heat, maintaining an even body temperature. By shredding the memory foam, Snuggle-Pedic provides better air circulation inside the pillow compared to a single piece of foam. As a nice perk, the Snuggle-Pedic Bamboo pillow arrives already filled to a customized loft. Customers can then choose to remove or add filing, depending on their preference.
The Snuggle-Pedic Bamboo pillow is ideal for all sleepers, especially those with neck and shoulder pain. The conforming foam relieve pressure points and help muscles to relax. Hypoallergenic and machine-washable, it includes a 20-year warranty.
Snuggle-Pedic Bamboo Highlights
Bamboo cover
Adjustable loft
20-year warranty
The Viscosoft Cooling Gel Contour pillow includes 2 lbs of cooling gel — 30% more gel than other gel pillows. The wave-textured cooling gel absorbs and disperses body heat to prevent overheating.
The shape of this contour pillow makes it ideal for side and back sleepers— higher loft end for side and lower loft end for back. It offers excellent head and neck support, which is key to aligning the spine. In fact, many customers say this pillow is perfect for neck pain relief. It's a heavier option, weighing a little over 4 lbs., yet it's supportive and comfortable.
The Viscosoft Cooling Gel Contour pillow includes a removable, machine-washable cover. Made from COOLMAX fabric, it's a moisture-wicking, breathable material. The company doesn't give details on what this fabric is made of, only that it helps regulate body temperature. It includes a 60-day money-back guarantee and is backed by a 3-year warranty.
Viscosoft Cooling Gel Contour Highlights
2 lbs. of cooling gel
Moisture-wicking cover
3-year warranty
Time to upgrade your entire bed set? Read our guide of the best mattress of 2023 to find your next bed.
The Perfect Cloud Double Airflow pillow is made with a special type of CertiPUR-US® Certified memory foam. This foam is both infused with air and filled with ventilation holes for ultimate circulation and cooling.
The pillow comes with a stretch-knit, removable cover. This soft, quilted material wicks away moisture and includes a thick mesh trim along the sides for better airflow. Unfortunately, the company hasn't released the material specifics, but the cover is machine-washable, while the pillow is spot-clean only. The Perfect Cloud comes with a 30-day sleep trial and includes a 3-year warranty.
Perfect Cloud Double Airflow Highlights
Air-infused foam
Ventilation holes
3-year warranty
What is a Cooling Pillow?
A cooling pillow helps regulate body temperature by absorbing or dispersing heat, wicking away moisture, or through breathable materials such as bamboo. Because of their added cooling features, cooling pillows tend to be heavier than standard pillows, something to consider if you prefer to sleep with your arm under the pillow, or like to flip your pillow at night. The best cooling pillows should be comfy, cooling, and supportive.
Cooling pillows are a great option for anyone, but they can be especially beneficial to those who naturally sleep hot, those who sleep hot due to a medical condition, or those who live in a hot climate.
Why Temperature Matters
In preparing for sleep, our bodies naturally drop in temperature to help us sleep better and enable our bodies to recover from the day's activities. However, when we go to bed hot, it's harder for the body to naturally reduce its temperature, keeping us awake longer. Also, when we go to bed and start to overheat, we usually wake up sweaty a few times during the night.
Either way, heat has a way of disrupting our sleep. Our heads regulate our body's temperature by releasing heat and using the air around us to cool us off. Finding a memory foam pillow that promotes airflow is important, as foam is a denser material than most pillow fillers. If you get a poor quality foam pillow, chances are you'll experience hot and uncomfortable sleep.
Less sleep results in groggy mornings and daytime drowsiness, affecting our focus and energy. This is why if you tend to sleep hot, a cooling pillow can improve your sleep.
Cooling Materials to Look For
When looking for the best cooling pillow, pay attention to the filling type and cover material(s). These things will determine how cool the pillow is, enabling you to sleep comfortably and deeply without waking up sweaty.
Fill
The filling of a pillow should allow for good air circulation or cooling. Fillings can vary, but the following are the main types you can expect from a cooling pillow:
Memory foam: While notorious for sleeping hot because of its conformity and density, there are plenty of memory foam pillows to keep sleepers cool, such as shredded, open-cell, and plant-based.
Gel fiber: Gel helps regulate body temperature by absorbing heat and evenly dispersing it. Memory foam, latex, and synthetic fibers like polyester fiberfill can be infused with gel. Gel fiber can also come as a gel pad on the surface, or as an inner gel layer.
Buckwheat: Buckwheat is a breathable, all-natural material that doesn't retain heat. Buckwheat pillows are quite firm because buckwheat doesn't compress easily. Buckwheat pillows can also be an expensive option because buckwheat is all-natural.
Cover
The best cooling pillows should have covers made from breathable, moisture-wicking material. While some are made of naturally cool fabrics, like cotton, others may be infused with additional cooling materials such as copper.
Cotton: Soft and breathable, naturally cool. Egyptian, Pima, and all-natural cotton are the best types.
Bamboo: Synthetic material. Soft and naturally cool.
Phase Change Material (PCM): Absorbs body heat and stores it until the body starts to cool, then gradually releases heat to keep the temperature consistent.
Copper: Naturally heat-conducting, copper pulls heat away from the body and increases blood circulation.
Other Cooling Bedding to Consider
When it comes to staying as a hot sleeper or in a warmer climate, it's smart to look beyond just your pillow. Wrapping yourself up in the best sheets for hot sleepers with lightweight blankets or an all-season comforter can keep you from waking up sweaty and heat-flushed.
See also:
When it comes to cooling materials, natural fibers typically perform better than synthetic ones. We recommend the following materials:
Frequently Asked Questions
What is the best pillow that stays cool?
Our top recommendations for cooling pillows are the Comfort Classic and the Zoma Pillow. Both of these pillows have designs that promote airflow to reduce heat retention, with covers made from soft, breathable materials. If you're considering another pillow, make sure its materials allow air to circulate.
Do you put pillowcases on cooling pillows?
Yes, slipping a pillowcase over your cooling pillow is one of the best ways to extend its use. You will want a breathable pillowcase that allows air to slip through and wick away heat. Try a pillowcase with cotton or cooling fibers.
Can you wash cooling pillows?
Whether or not your pillow is machine washable will depend on what type of pillow it is. Pillows with an adjustable fill, such as shredded foam, down, or feather, can usually be laundered in a washing machine. Solid pillows, such as one-piece memory pillows, may break apart in a washer. You might want to check a pillow's care instructions with the company before you buy the pillow.
How do I make my pillows fluffy again?
If you have an adjustable pillow that's feeling a little flat, try fluffing it up by squeezing the ends together or giving it a few slaps or punches. You can also fluff up a pillow by running it through your dryer. Fluffing your pillows on a daily basis can promote air circulation for better loft, so you won't have to replace your pillow as quickly.
Do cooling pillows lose their cool?
It is possible for pillows with cooling materials such as latex or memory foam to lose their temperature regulating abilities over the years. If that happens, it may be time for a new pillow. Other signs that your pillow should be replaced include waking up with neck pain or headaches.
Have You Found Your Cooling Pillow?
The best pillow for you could be a cooling pillow, especially if you sleep hot or live in a hotter climate. Maybe you're looking to switch out your pillow for a summer one. We tried to list only the best cooling pillows this year has to offer, each made from high-quality materials designed to help you sleep better.
The best cooling pillows for hot sleepers should have breathable, cooling materials and fillings. This allows for better air circulation and temperature regulation. We hope this guide has helped open your eyes to the benefits of a cooling pillow. Cooler, comfortable sleep results in a good night's rest.