Best Mattress for Snoring: Reviews and Buyer's Guide
Dr. Jordan Burns, DC, MS
Dr. Jordan Burns, DC, MS
Dr. Burns is an established authority in sleep health, combining over a decade of hands-on experience in chiropractic care with a deeply rooted knowledge of sleep science. A holder of degrees in Kinesiology, Life Sciences, Sports Science and Rehabilitation, and Chiropractic, his interdisciplinary background uniquely positions him at the intersection of wellness, ergonomics, and sleep […]
Updated August 27, 2023

Mattress Guides
Snoring is a fairly common problem— currently, 90 million adults are affected by it and 37 million of those snore on a regular basis. It can cause sleepless nights for the snorer and anyone within listening range.
If you snore or share a bed with a snorer, consider updating to a new sleep solution mattress that diminishes the noise and discomfort. In this guide, we'll break down some of our mattress recommendations for snoring and discuss other tips to mitigate this common issue.
30 Second Summary: Best Mattress for Snoring
Amerisleep AS3— We recommend the AS3 because medium mattresses are typically the most universally-comfortable, making them excellent for those wanting a sturdy but soft support system. Amerisleep markets the AS3 as perfect for side and combination sleepers, and if you're trying to avoid snoring, sleeping on your side is an easy remedy.
Zoma Mattress— Snoring can be alleviated by sleeping on your side, which is why we like the Zoma Mattress. Its zoned support helps reduce tossing and turning, so you can sleep on your side throughout the night.
Best Mattresses for Snoring
| | Mattress | Highlights | Price (Queen) |
| --- | --- | --- | --- |
| | Amerisleep AS3 | CertiPUR-US® certified Bio-Pur® comfort layer is breathable, pressure-relieving, and responsive | |
| | Zoma Mattress | Two inches of gel-infused memory foam with zoned support. | |
| | Nolah 10" | Cooling Nolah AirFoam™ provides superior pressure relief | |
| | Purple | Purple Smart Comfort Grid™ adapts to your pressure points and prevents motion transfer | |
| | Original T&N | T&N Adaptive® Foam coupled with a sturdy foam base give you ample support | |
Your mattress can cause snoring if it's too soft, more than 5-7 years old, is starting to show signs of sagging or impressions, causes you pain or discomfort, or is simply designed without a good support system.
Those who snore should consider a mattress that keeps their head and neck properly elevated and their posture neutral— a skewed posture, especially in the neck, can disrupt your breathing, causing you to snore.
Lifestyle changes like losing weight can help with snoring, but choosing a good mattress is key to a blissful, quiet night of sleep. Let's break down each of our mattress recommendations and how they accommodate snorers.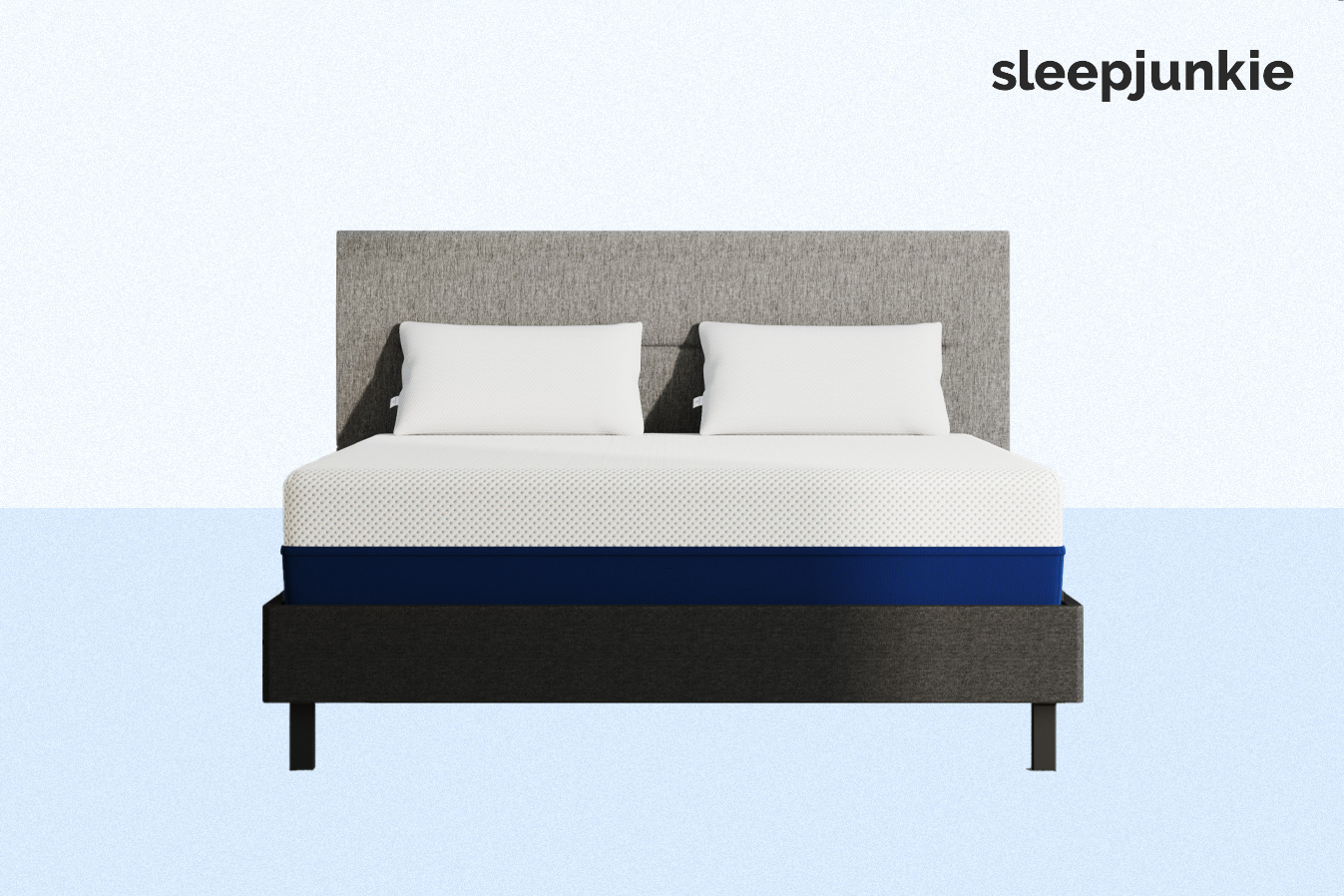 Like we mentioned earlier, the AS3 is a medium mattress, perfect for side and combo sleepers. The medium mattress offers equal parts support and cushioning, preventing you from sinking too far into the mattress. This lack of sinkage can help you stop snoring.
The AS3 uses Bio-Pur®, a plant-based foam that's 5 times more responsive than traditional foams— so you shouldn't feel "trapped" in your mattress.. The Bio-Core® support foam provides a strong foundation, so it should prevent motion transfer and sagging.
Snorers should be on the lookout for a bed with plenty of posture support. Which leads us to our next point— the AS3 integrates clinically proven HIVE® technology. The second layer of the AS3 is the Affinity transition layer with HIVE® technology. This relieves pressure around common inflammation "hotspots" while generously cushioning everywhere else. It also promotes healthy sleep positions, improving your posture and helping to prevent snoring.
"Studies have shown that memory foam mattresses, such as the Amerisleep AS3, provide support to maintain a neutral spinal alignment for side sleepers to help alleviate snoring," says Dr. Jordan Burns.
AMERISLEEP AS3
Versatile medium feel.
Eco-friendly Bio-Pur® offers responsive cushioning.
Fee shipping, free returns, and a 100-night trial to decide if it's right for you.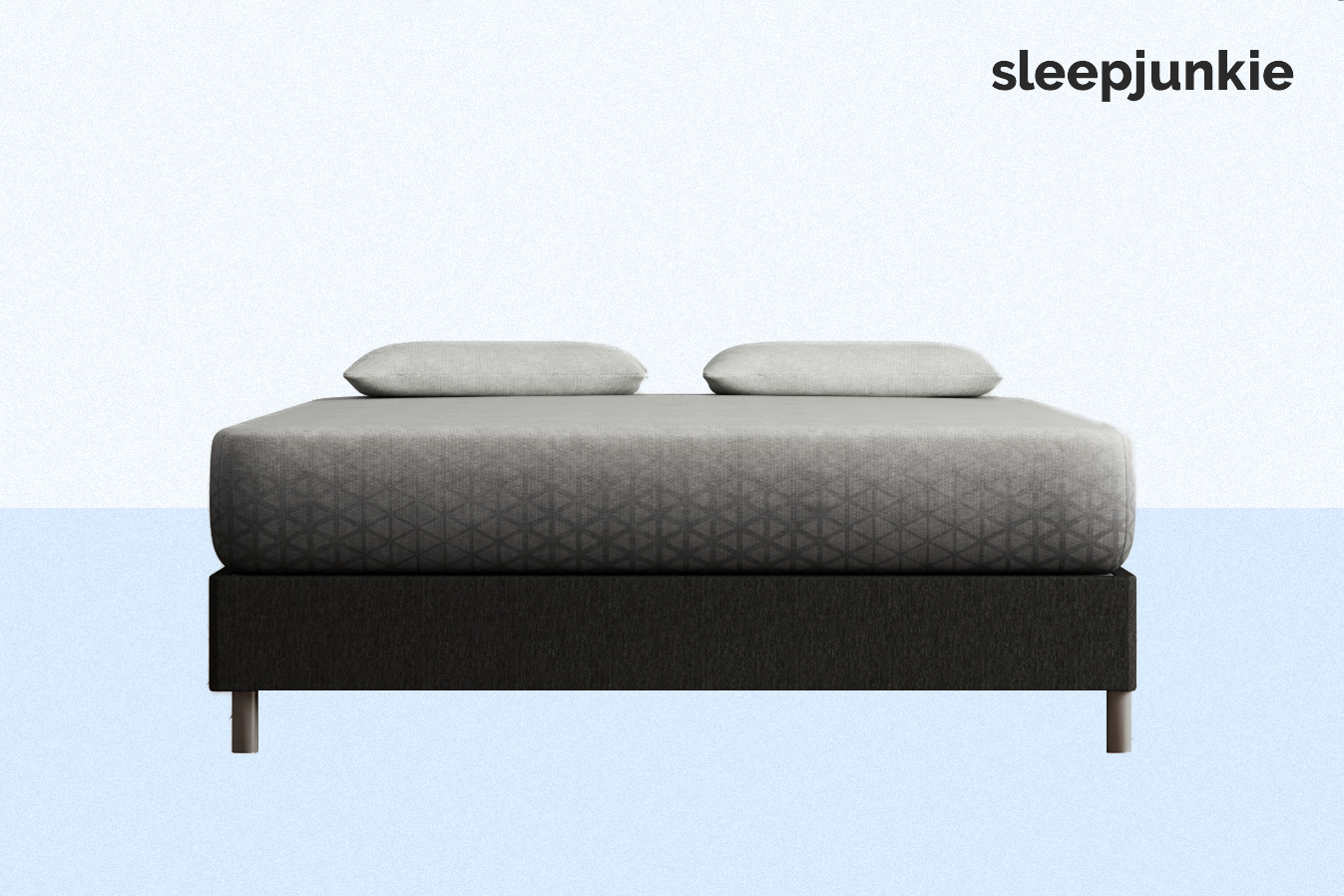 The Zoma Mattress is 12 inches tall, has 2 inches of pressure-relieving, gel-infused memory foam, and comes with a 100-night sleep trial and a 10-year warranty.
Zoma markets its mattress toward athletes or those who live an active lifestyle. The idea is that an active person needs to recover more. And sleep is your body's way of recovering. So Zoma focuses on getting you a good night's sleep.
To do this, it uses gel-infused memory foam and a support technology called Triangulex™. This technology uses triangle cut-outs to adapt and support your shoulders and legs. The midsection of the mattress is firmer, which gives your spine proper alignment.
"The Zoma Mattress has medium firmness and cooling gel features that provide an overall more comfortable sleeping surface to help alleviate snoring," says Dr. Burns. 
The Zoma mattress comes with free shipping, a 100-night trial, and a 20-year warranty.
ZOMA MATTRESS
Gel-infused memory foam.
Three zones of support in the top layer
A thick, 7-inch core for support.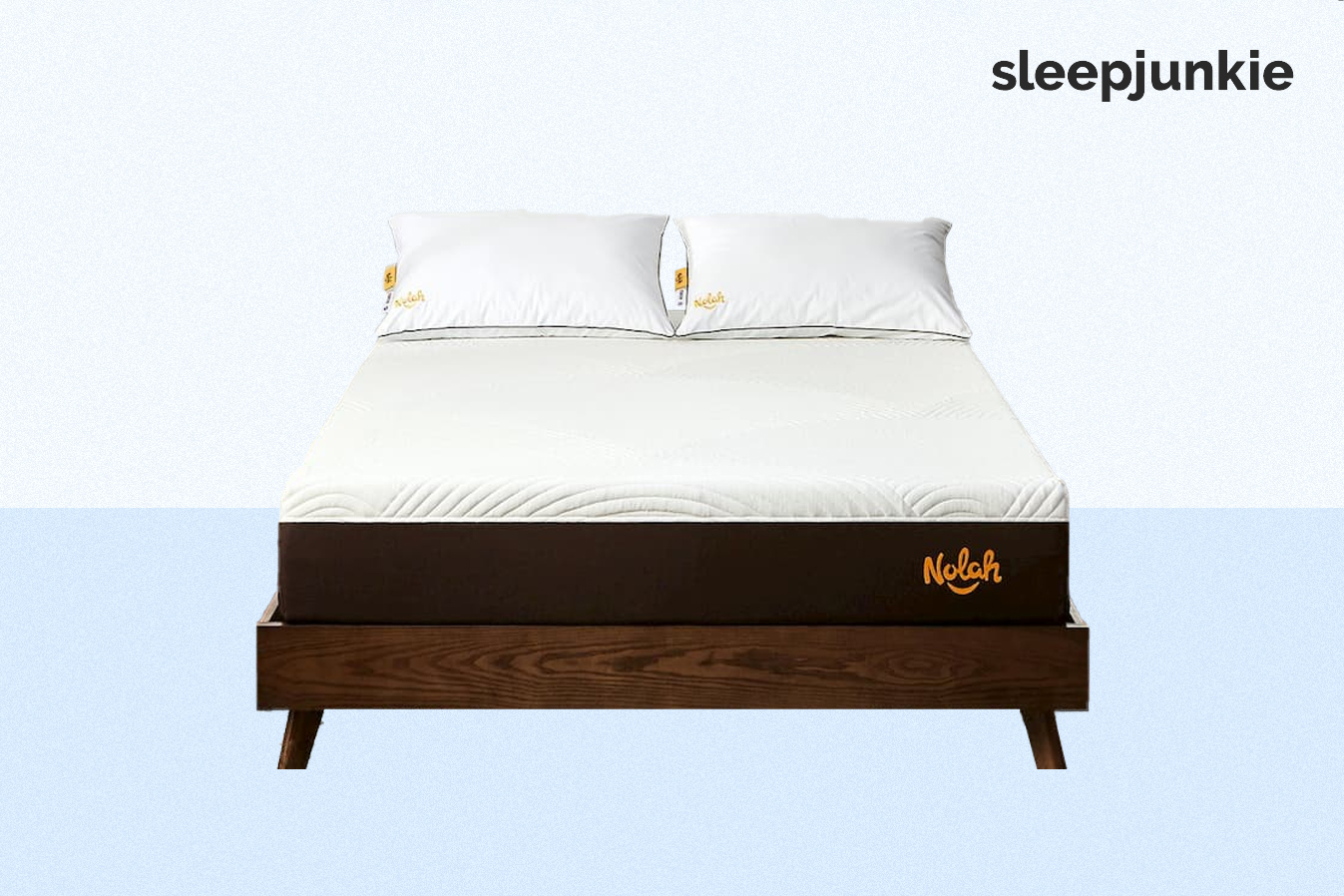 The Nolah Original 10 mattress is named after its 10-inch height, (10") and combines cooling comfort, pressure relief, and back support all in one foam bed.
The Nolah is known for its cooling properties— they've swapped out traditional foam with AirFoam™, a 100% temperature neutral material made without heat-trapping viscoelastic chemicals.
Snorers will be on the lookout for a mattress that relieves their pressure points, allowing them to sleep in a comfortable, healthy position. The Nolah is scientifically proven to provide 4x less peak pressure on your hips, shoulders, and back compared to traditional foam.
Nolah claims their supportive, high-resilience foam is more durable than latex. It's bouncy without being too soft, supporting your back and spine and keeping them from slipping out of alignment.
The 7" high-density foam base reinforces the other layers while maintaining the structural integrity of the bed. Meaning, no matter how much pressure or weight you put on the mattress, it should hold up for years to come.
NOLAH ORIGINAL 10
Cooling Nolah AirFoam™ and deep supportive foam layers regulate your temperature and offer soft, resilient support.
Breathable, high-density foam base keeps the bed from sagging.
Rates as a 5-6 on the firmness scale, so it's the perfect medium.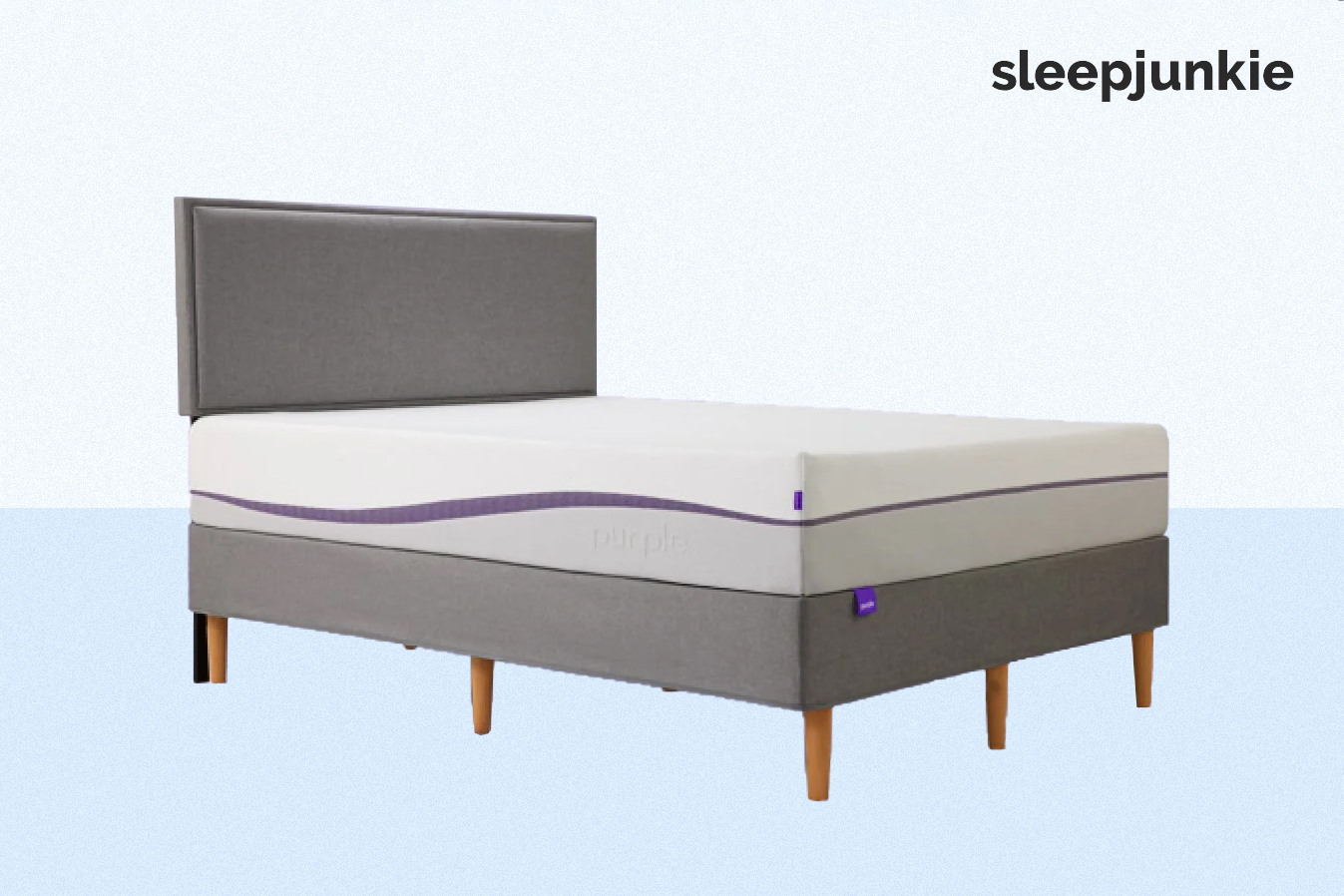 The Purple Mattress is rather new on the scene. Right now Purple makes a few mattresses, but we recommend The Original Purple bed for snorers. It's made with their Purple Smart Comfort Grid™ that relaxes pressure points and provides support everywhere else.
Under the Smart Comfort Grid™ layer is a layer of soft, high-density polyurethane foam meant to enhance the responsiveness of the grid layer.
The third layer consists of medium-firm foam which gives the bed structural support and the sleeper a soft, balanced surface to land on. Snorers don't need to worry about this bed sinking in, throwing off their posture, and causing their airways to constrict.
PURPLE ORIGINAL
Smart Comfort Grid™ balances pressure relief with soft support.
High-density foam in the base should keep the bed from sagging or dipping over time.
Designed to reduce motion transfer, so you can sleep soundly with or without a partner.
Tuft & Needle is a popular mattress-in-a-box brand thanks to their low prices. Currently, Tuft and Needle make two mattresses, but we recommend their flagship model for snorers.
The two layers of the Tuft and Needle consist of their T&N Adaptive® Foam and a higher-density support foam as the base. Their adaptive foam layer, relieves pressure while the bottom acts as reinforcement. Both layers ensure you sleep comfortably without compromising good posture.
TUFT & NEEDLE ORIGINAL
T&N Adaptive® Foam relieves pressure, allowing you to sleep comfortably and wake up without pains.
A supportive foam base layer keeps you on top of the mattress instead of sinking down into it.
Comes with a 100-night sleep trial, free returns, and a 10-year limited warranty.
Snoring Risk Factors and Causes
Snoring occurs when tissues in your throat become relaxed, close slightly, and then air begins to flow through them, causing vibrations as you breathe. Most people snore at least once in their lives, but for some it's a constant problem.
Snoring can be caused by a few different things:
Your mouth anatomy can determine whether or not you'll snore. If you have a low, soft palate this can narrow your airway and obstruct your breathing. If the fatty tissue hanging from the soft palate is elongated, this can also affect your breathing.
Nasal problems like congestion, allergies, or a deviated septum (crooked nostrils) can make snoring a bigger issue. When it comes to congestion, sometimes the snoring will go away on its own. For other problems like allergies, it might take more intervention for them to desist.
Sleep position has a huge effect on snoring— which we'll touch on t in the next section. Sleeping on your back is typically the worst position for snoring since it relaxes the neck and head too much. Side-sleeping is the best position to help alleviate snoring.
While most of us experience snoring at some point, some people are more prone to it than others. Common risk factors that precede snoring are as follows:
Gender: Men tend to snore more than women simply because their air passages are narrower than women's.
Being overweight: One of the most common solutions to snoring is to drop some weight. Leading a healthy lifestyle can not only positively impact your snoring, but also your sleep quality.
Family history of snoring or obstructive sleep apnea: Unfortunately, genetics do play a role in whether or not some people snore.
Health Problems Caused by Snoring
Snoring can bring other health issues to a head, so it's important to lessen or ideally prevent snoring by choosing a good mattress.
Some of the more common problems stemming from snoring can cause further, more life-threatening health issues.
GERD, or Acid Reflux
This occurs when the relaxed airways let stomach acid creep up into the esophagus. Acid reflux is especially common when a sleeper is lying flat on their back. An elevated bed or pillow can help alleviate this issue.
Obstructive Sleep Apnea (OSA)
Sleep apnea affects 20 million Americans, with 80% of cases still undiagnosed. OSA is one of 3 types of sleep apnea, and it occurs when the tongue collapses against the soft palate, which then collapses against the back of the throat— this essentially closes the airway and stops your breathing.
Sleep apnea, when untreated, can cause a host of other issues including sleep deprivation, high blood pressure, heart disease, and stroke. Beyond choosing a suitable mattress, talk to your doctor about other ways to treat your sleep apnea.
How Sleeping Position Affects Snoring
We mentioned earlier sleeping on your back isn't the best idea if you're trying to avoid snoring. Gravity works against you in this position and can cause snoring. If you prefer back sleeping or you have to sleep this way because of other issues, we recommend you keep your head elevated at least 4 inches to prevent snoring. You can achieve this by investing in a good pillow.
Side sleepers have the best chances of avoiding snoring because side-sleeping keeps gravity from pressing your head and neck downwards, which can narrow your airway.. If you're not used to sleeping on your side, try using a body pillow to maintain a sideways position.
Using an elevated pillow or an adjustable base can also keep the airways from becoming obstructed.
Stomach-sleepers may be less prone to snoring, but it's still the unhealthiest way to sleep. While it may reduce snoring, it can lead to chronic back pains later on down the line. . However, if you prefer stomach sleeping and you struggle with snoring, try using a pillow to keep your head and neck fairly straight instead of sunk down or arched unnaturally.
Best Mattress Types for Snorers
The best mattresses for snorers will have the same two things in common with the qualities of a top-rated bed: ample support (especially for your head, neck, and spine) and pressure relief.
Latex foam and memory foam mattresses have a similar feel and they are some of the more popular options you'll find today. Both foam and latex offer excellent pressure relief and support.
Latex is bouncier than foam, so if you prefer that feeling to the softer give of foam, check out some latex or latex hybrid mattresses.
Memory foam is quite responsive, like latex, but it's a bit softer and doesn't have as much bounce as latex.
"Overall, I would recommend a memory foam mattress for anyone looking to reduce snoring," says Dr. Burns. "Memory foam mattresses have been shown to help support the spine to keep it in a neutral position for side sleeping; which is one of the most effective ways to reduce snoring."
If you're considering a latex or memory foam bed, make sure it's constructed with ample supports in the base (usually in the form of a denser foam). All of the foam beds we've recommended in this article have a hefty support core of some kind.
Additionally, both memory foam and latex are hypoallergenic. Meaning, they won't further aggravate allergies, which can be another cause of snoring.
Innerspring mattresses are not our top recommendation for snorers, but many models today are quite comfortable thanks to their innovative design. If you prefer a bouncy mattress, try a spring bed like the Saatva, designed with extra back support and pressure-relieving foam padding.
Do Adjustable Beds Help With Snoring?
Earlier we mentioned that an adjustable bed can help with snoring along with a good mattress or pillow. Adjustable bases allow you to fine-tune your sleep position and potentially alleviate acid-reflux, increase circulation, and reduce or prevent snoring.
Resting your head on a slightly elevated surface while you sleep prevents your airways from becoming obstructed. Some adjustable beds come with a "snoring button," a feature on the remote that allows you to lift the head of your snoring partner while they sleep.
Evenly distributing body weight is another way adjustable beds can prevent snoring. Sometimes pressure builds up around your neck and back while you sleep, forcing you to adjust your sleeping position to your back or stomach, which can cause snoring. An adjustable bed keeps you in a healthy position all night.
Frequently Asked Questions
Do adjustable beds help snoring?
Yes, an adjustable bed can help with snoring. Adjustable beds can raise the head of the mattress, keeping gravity from pushing down on soft tissues at the back of your throat. If you share with a partner, you might want to consider a split king mattress so the two of you can customize your side of the bed.
Why does snoring not wake a snorer?
Actually, snorers may wake up if their snoring is loud enough. Though this type of sleep interruption usually only lasts a few seconds, so they're unlikely to recall it later.
Another explanation for how snorers may sleep through the noise is that their brains filter it out. The brain gives different noises different levels of attention, such as prioritizing the sound of your name over a random word. Noises coming from your body might be deemed unimportant, as opposed to environmental sounds.
How do you sleep with a snorer?
If your partner snores, there are a few tricks you can try:
Beat your partner to bed. If you fall asleep first, you might not even notice when the snoring starts.
Wear high-quality earplugs that cancel out noise and won't fall out.
Invest in an adjustable bed. Many beds have an anti-snore preset which raises a person's head to keep their airway clear.
Attach a tennis ball to the back of your partner's sleepwear. This will prevent your partner from rolling onto their backs, a position that can promote snoring.
Do skinny people snore?
Yes, they do. You might be more likely to snore if you're overweight, but it's not the only factor. If you have a narrower than average airway, enlarged tonsils, or a congested nose, you might snore. Back sleepers are also prone to snoring.
Can you snore loudly and not have sleep apnea?
Yes, snoring isn't necessarily a sign of sleep apnea. However, while most snorers don't have sleep apnea, most people with sleep apnea do snore. Ask yourself if you've noticed other signs of sleep apnea, such as waking up with a dry mouth.
Research & Resources
In making this article, we…
Scoured dozens of customer reviews to gain a complete perspective on each mattress.
Researched 20 leading brands comparing construction, sleep trials and warranties, and the best features for snorers.
Spent 10 hours writing and editing to create the highest quality content.
Did You Find Your Next Bed?
A pressure-relieving, supportive mattress is one of your first lines of defense in facing your snoring problems. However, there are a few other things you can try in addition to upgrading your bed set. For starters, invest in a high-quality pillow to keep your head elevated. If that's not enough, consider an adjustable base. No matter what you decide, we hope you find a new mattress to help you get a good night's sleep.