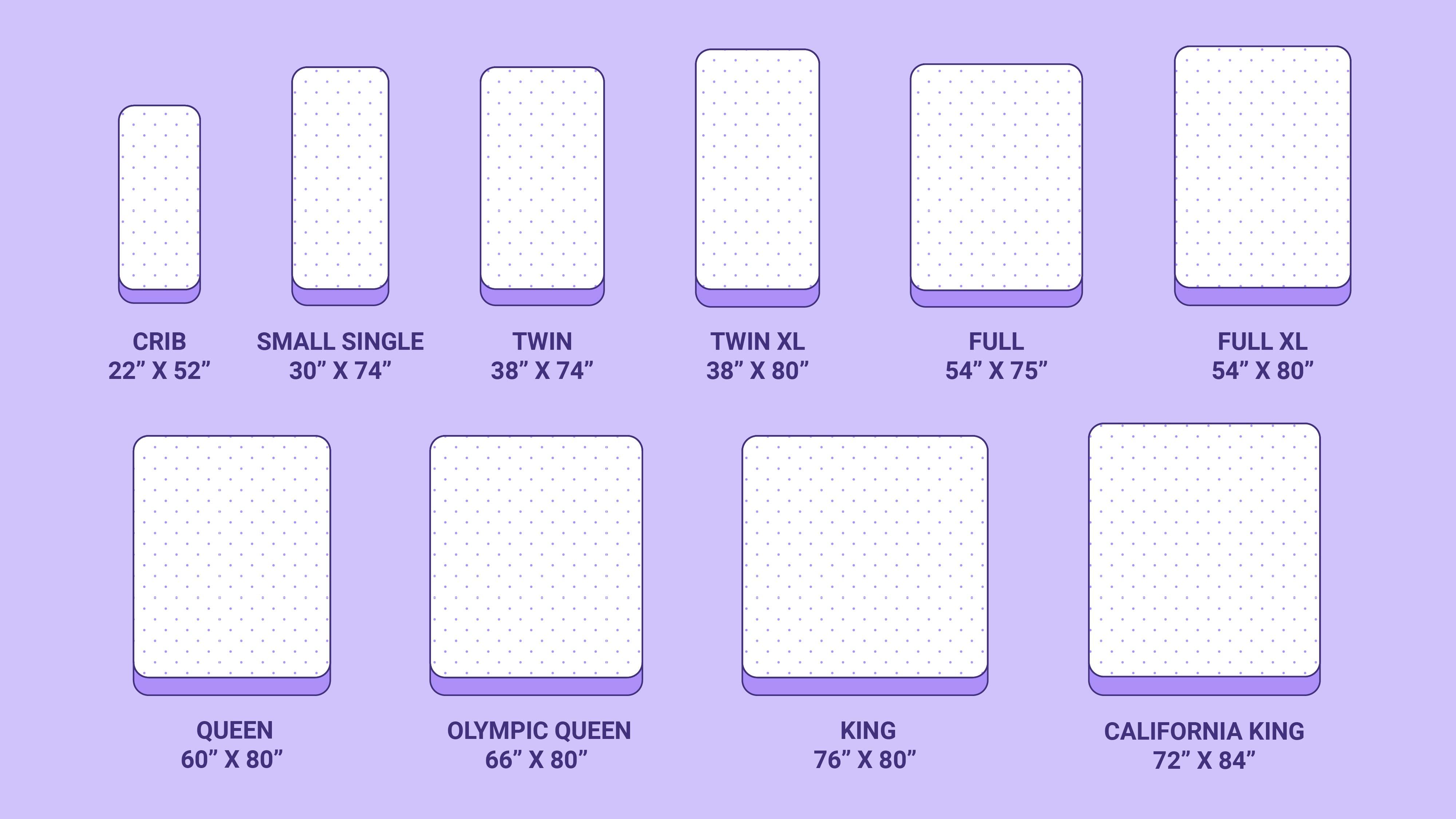 Mattress Sizes and Dimensions Guide
Updated November 22, 2023

Mattress Resources
Mattress Sizes and Dimensions Chart
Crib: 22″ x 52″ | 56 x 132cm
Small Single: 30″ x 74″ | 76 x 188cm
Twin: 38" x 75" | 96.5 X 190.5cm
Twin XL: 38" x 80" | 96.5 X 203cm
Full: 53" x 75" | 134.5 X 190.5cm
Full XL: 54″ x 80″ | 137 x 203cm
Queen: 60" x 80" | 152.5 X 203cm
Olympic Queen: 66″ x 80″ | 168 x 203cm
King: 76" x 80" | 193 X 203cm
California King: 72" x 84" | 183 X 213cm
Shop By Mattress Size
Eventually, there comes a time when you'll have to shop for and buy a new mattress. At first, this task may sound easy enough, but not many people realize there are several factors to consider when it's time to start shopping. Among the most important of those is understanding mattress sizes and knowing how to find the best one for you.
Your mattress' size can affect your quality of sleep just as much as other qualities of the bed, such as the firmness or materials used to make it. Come time to start shopping for a mattress you may begin to think:
"What size mattress is right for my bedroom?"
"What's the difference between a King and a California King?"
"Can I find a good mattress for my budget?"
To help you decide which size mattress is the best fitting for both your bedroom and your preferences, we've created this mattress size guide. For the sake of organization, we′ve broken this article into two sections:
An overview of the different mattress sizes, including dimensions and recommended room sizes for each.
Factors to consider when picking the best mattress size for you.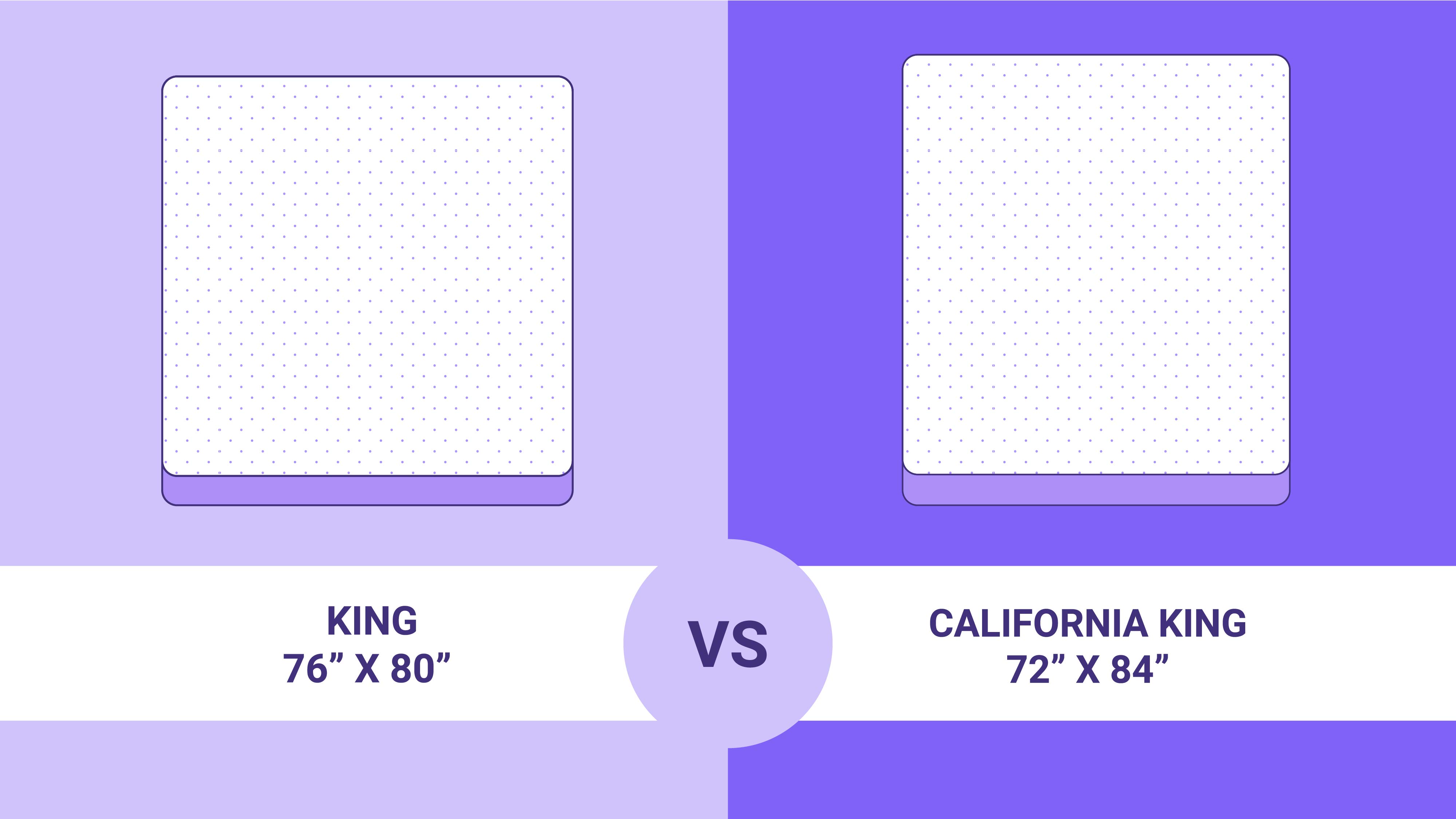 California King Size Mattress Dimensions
Dimensions: 72″ x 84″
Recommended Minimum Room Size: 12′ x 12′
The California king mattress is the longest mattress type available, having an additional 4″ of length compared to the standard King mattress. While the California King does have an extra 4 inches of legroom in comparison to the King, it is 4 inches narrower. What it gains in length, it loses in width. Cal Kings are ideal for taller people who need the extra sleeping room at the head or foot of their beds.
King Size Mattress Dimensions
Dimensions: 76″ x 80″
Recommended Minimum Room Size: 12′ x 12′
The size of a king mattress is equal to the dimensions of two twin XL mattresses pushed side by side, making king beds a good choice for couples who are wanting a little more sleeping room than what's offered by the queen.
Because the king dimensions are equal to that of two twin XLs, many mattress brands sell a split king bed, which is actually just two twin XL mattresses. Split king size mattresses are great for choice for couples who have an adjustable base and want to move each side independently, or for couples who have different sleep styles and prefer mattresses of varying firmness.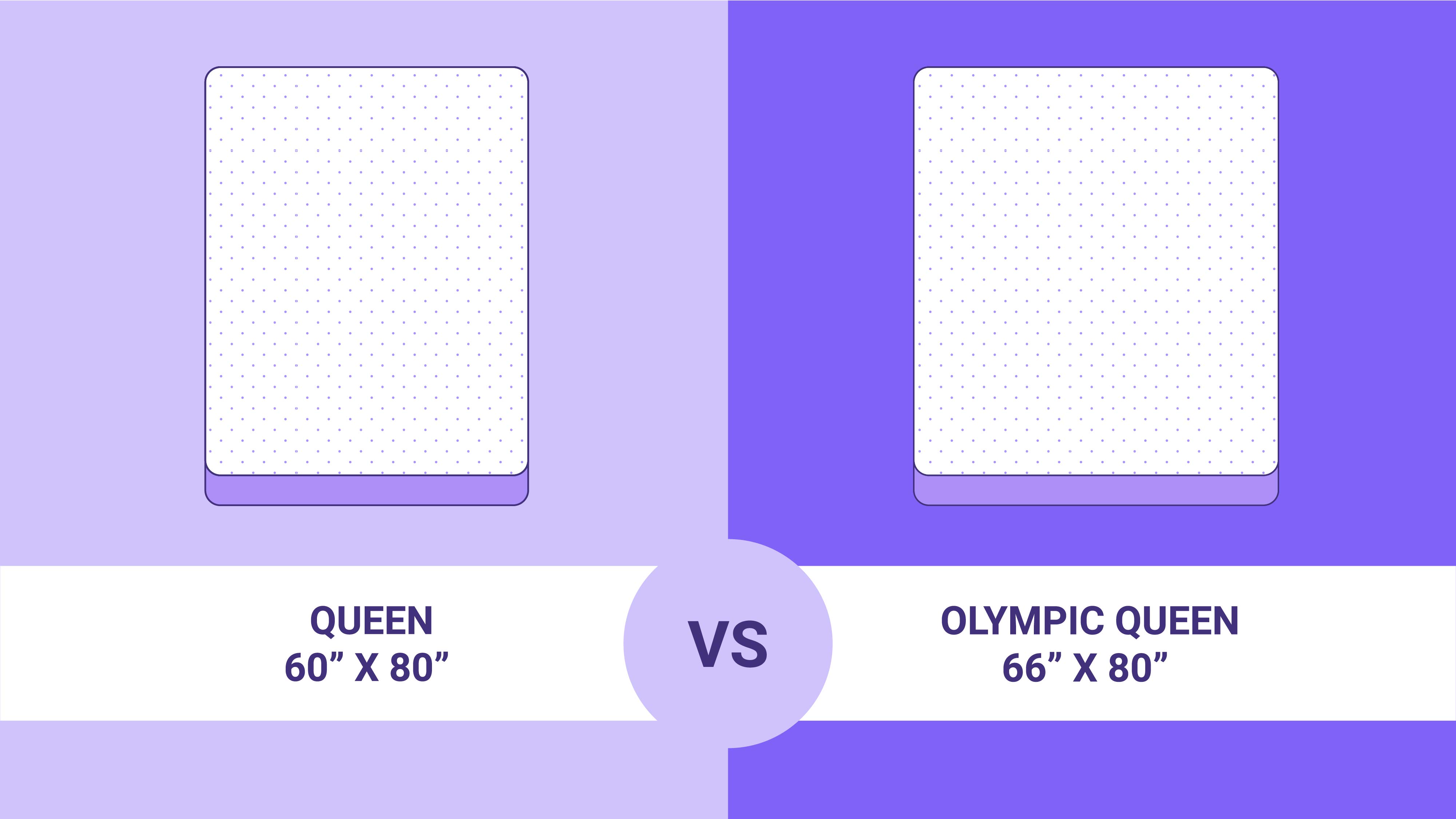 Olympic Queen Size Mattress Dimensions
Dimensions: 66″ x 80″
Recommended Minimum Room Size: 10′ x 10′
Olympic Queen Mattresses are a bit wider than Queen mattresses, which is perfect for couples, or individuals, who like to spread out during the night. Olympic Queen mattresses also are a good middle ground between a Queen and a King in regards to width, so if your room isn't accommodating of a King, you could still get a wider mattress by buying an Olympic Queen.
The one thing about Olympic Queens is that they can be hard to find because they're not considered to be a "standard size," and most mattress brands only carry standard sizes. To find an Olympic queen, you may need to shop around at mattress retailers in your area. Another thing to note is it may be harder to find accessories, such as sheets and mattress covers, for Olympic Queen mattresses.
All in all, these mattresses are ideal for taller couples or couples who would like a little more room without fully upgrading to a King size mattress.
Queen Size Mattress Dimensions
Dimensions: 60″ x 80″
Recommended Minimum Room Size: 10′ x 10′
Queen mattresses are among the most popular sizes for couples today. With dimensions of 60″ x 80″, Queen mattresses can fit in most any room, so many people don't think twice about buying a Queen bed. Queen size mattresses are also a go-to for guest rooms because they can be accommodating of both singles and couples and still leave plenty of extra space in the bedroom. These mattresses are ideal for couples who don't require too much sleeping space or individuals who crave extra space to sprawl out while they sleep.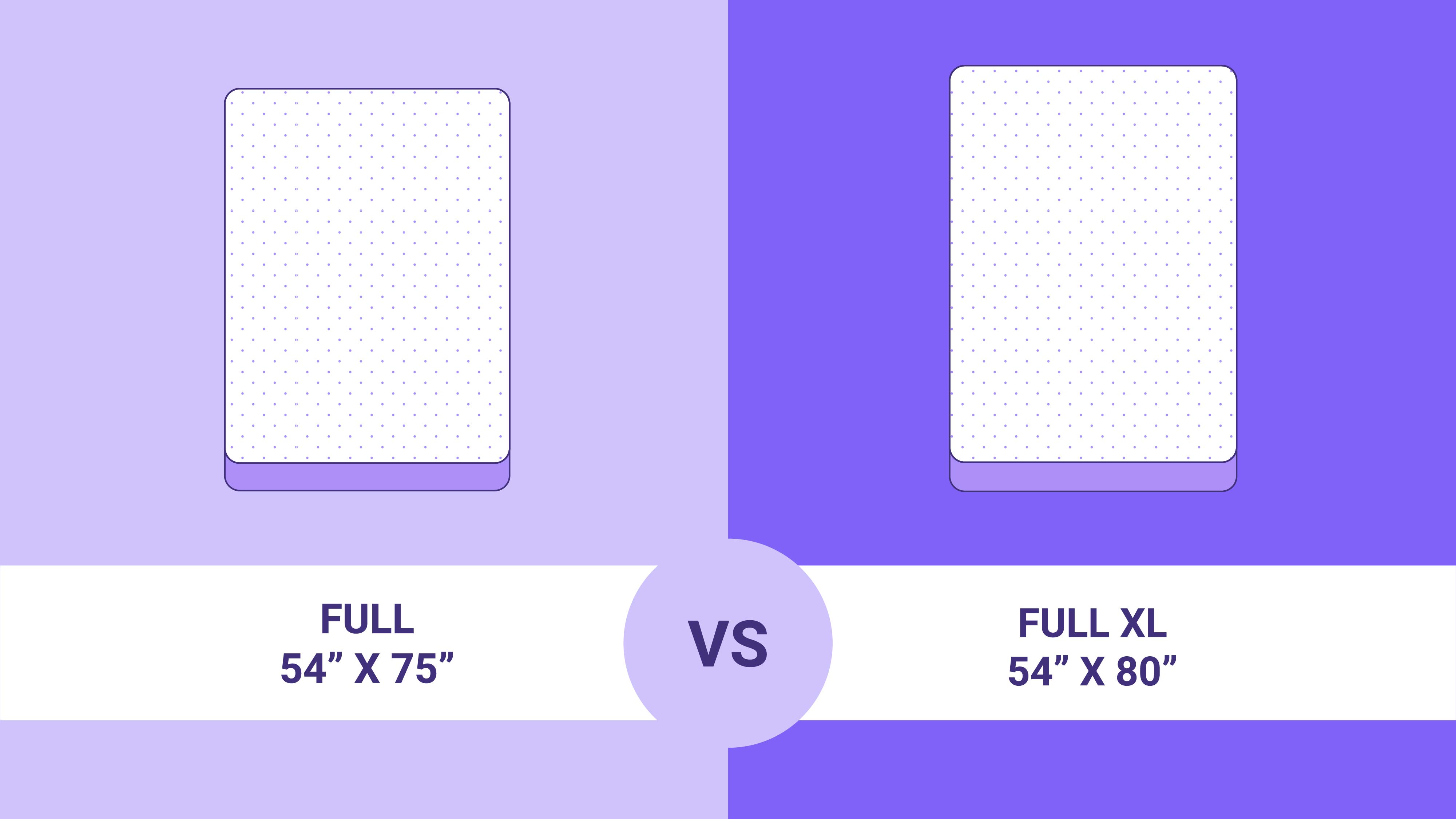 Full XL Size Mattress Dimensions
Dimensions: 54″ x 80″
Recommended Minimum Room Size: 9′6″ x 10′6″
The Full XL mattress has an additional 5 inches of length than the regular Full size, making it an ideal option for taller individuals.
Full Size Mattress (a.k.a Standard Double) Dimensions
Dimensions: 54″ x 75″
Recommended Minimum Room Size: 9′6″ x 10′6″
Full size mattresses are usually a go-to choice for most individuals— it offers more room than a twin, but it's not as large as a queen so that it can fit in smaller rooms. These beds are perfect for those who don't share their mattress and should provide enough space to sleep comfortably.
When it comes to couples, or even those who often find themselves sharing their bed with their pet, a full or double bed may not have enough space to allow you to sleep comfortably. If you share your bed, we would recommend looking for a larger size. Simply put, full mattresses are good for one person.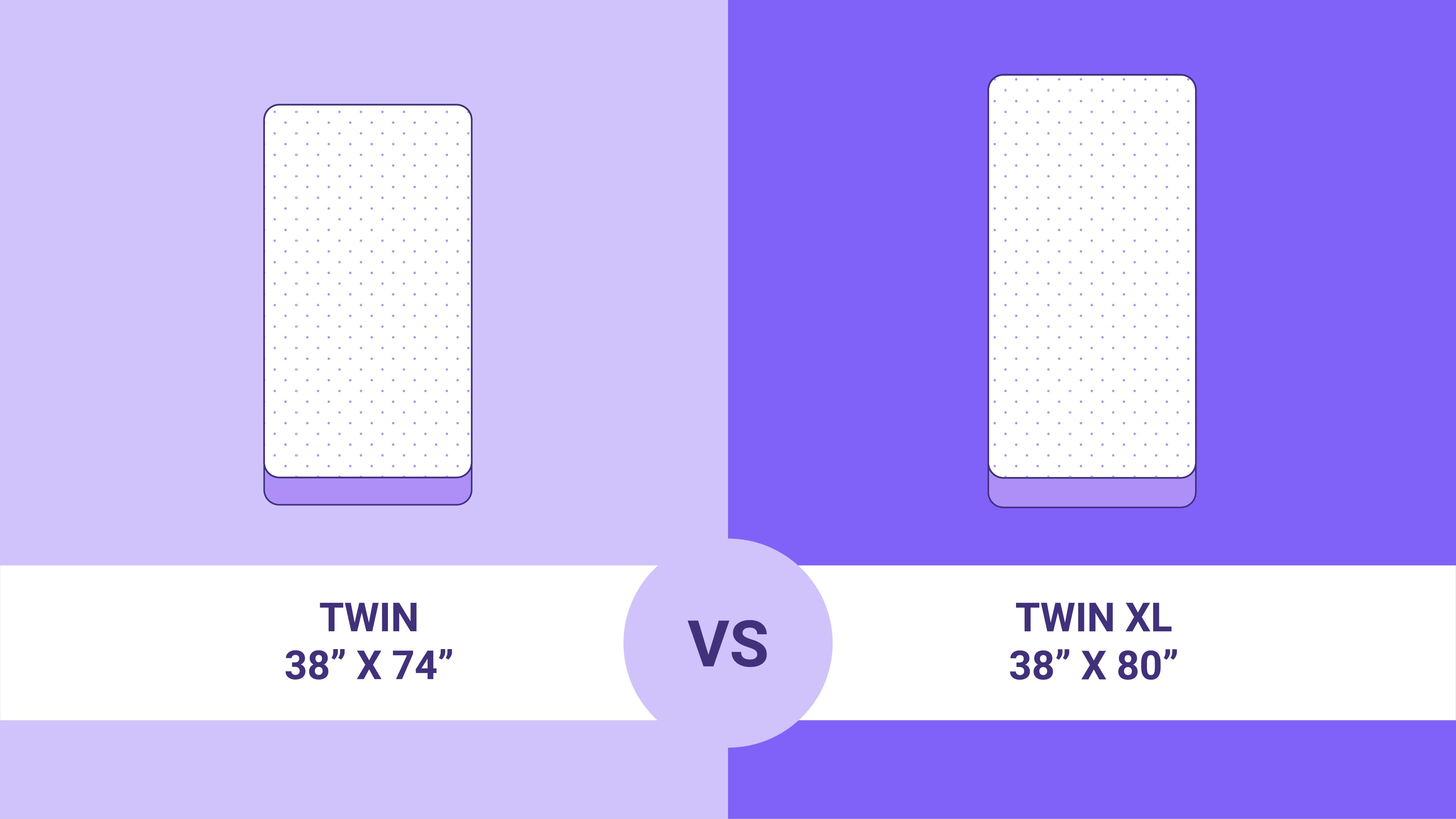 Twin XL Size Mattress Dimensions
Dimensions: 38″ x 80″
Recommended Minimum Room Size: 9′6″ x 10′6″
Twin XL mattresses are 5″ longer than twin mattresses, making them a good choice for those who want more legroom from their bed but do not have a room large enough to accommodate a bigger mattress.
As we mentioned earlier, this size is also popular for couples looking to buy a split king bed.
Twin Size Mattress Dimensions
Dimensions: 38″ x 74″
Recommended Minimum Room Size: 7′ x 10′. For bunk beds, we recommend a minimum 3′ ceiling clearance.
Twins are the smallest of standard sizes and are typically used by children who aren't yet grown enough for a Full size. Twin mattresses are suitable for guest rooms that have more than one bed, and they're also most compatible with bunk beds. If you have a tinier bedroom, this size should fit and still leave extra room for other furniture. For full-grown adults, this size may be too small, but it's great for children and teens alike.
Small Single Size Mattress Dimensions
Dimensions: 30″ x 74″
Recommended Minimum Room Size: 7′ x 10′
Small single mattresses are sometimes used for cribs, but they're more commonly reserved for toddler beds. They're ideal for babies and toddlers, so they could be a good option for parents who want a larger crib mattress their child will grow into.
That said, the small single mattress size is uncommon, and many parents who go for the traditional crib size usually opt to upgrade to the twin mattress, also known as a regular single size bed, after their child outgrows their crib. Investing in a small single over a traditional crib mattress may prevent you from having to upgrade mattress sizes as quickly.
Crib Size Mattress Dimensions
Dimensions: 27" x 52"
Recommended Minimum Room Size: 6' x 4'
Crib mattresses are one of the smallest mattress sizes available. The small, compact size is perfect for babies up until they reach the toddler stage. When your child is at least two years old, you may want to consider getting them a bigger bed, like a small single or even a twin. Until then, crib beds give plenty of comfort and support to the baby.
The mattress should be no more than 6 inches thick and have a firm surface. Softer mattresses have a higher risk of SIDS (Sudden Infant Death Syndrome), where the baby could be smothered by softer, conforming material.
Crib mattresses should fit snugly inside a crib frame. There shouldn't be any large gaps between the mattress and the frame, otherwise the baby could get trapped and possibly injured.
Finding the Best Size Mattress for Your Bedroom
Now that we've covered the standard sizes of mattresses available, it's time to talk about how to choose the best size for you. Because a mattress is an expensive purchase, it's important to make sure your investment will not only be worth it but that it will fit in your bedroom without causing issues. Being realistic about your room size, sleep preferences, and budget is critical when making a decision like so.
Below, we've provided more information about the factors to consider when choosing a new mattress size so you can buy the best mattress for the money.
Consider Your Bedroom Size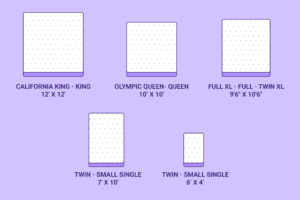 In addition to the size of your bedroom, remember to consider the shape. If your bedroom is not a perfect square and is perhaps more rectangular, it may be harder to fit a larger bed size.
That's not all. Think about the mattress you're currently sleeping on. Is there anything you would change about it? Some factors to consider would include your preference for walking space and the arrangement of your furniture.
If you want more walking space in your bedroom, choosing a smaller mattress than what you have is a solution to that problem. If you're planning on adding new furniture to your bedroom or rearranging the furniture that's already in there, it can affect the space you have designated for your bed. Carefully measure your bedroom and the furniture inside to get an accurate sense of how much room you have for your mattress.
Below is the recommended minimum bedroom measurements for each size.
| Size | Recommended Minimum Room Size |
| --- | --- |
| California King | 12′ x 12′ |
| King | 12′ x 12′ |
| Olympic Queen | 10′ x 10′ |
| Queen | 10′ x 10′ |
| Full XL | 9′6″ x 10′6″ |
| Full | 9′6″ x 10′6″ |
| Twin XL | 9′6″ x 10′6″ |
| Twin | 7′ x 10′ |
| Small Single | 7′ x 10′ |
| Crib | 6' x 4' |
Consider Your Home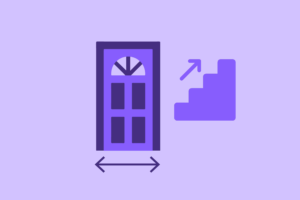 Bedroom dimensions aside, consider the location of your bedroom. Large mattresses, such as King or California King sizes, are harder to maneuver due to their size and weight. Before purchasing, take measurements of doorways and stairwells to make sure the mattress can reach your bedroom.
Additionally, it's important to think about the possibility of moving in the future. The average lifespan of a mattress is 7 to 10 years— if you plan on moving within the decade after purchasing your bed, remember the bed you buy today needs to be able to fit in your future home.
Consider Who Will Be Using The Bed
In general, we believe Full mattresses work for most individuals while Queen size mattresses are a suitable starting point for most couples. However, everyone's situation and preferences are different, so understanding who will be using the bed can help determine the proper size.
Of course, you must factor in your own preferences and sleeping habits. Do you typically like to sprawl out across your mattress when you're asleep? Alternatively, do you prefer to curl up and stay that way all night long? Your sleeping position could be enough to justify upgrading to a larger bed, or getting away with a slightly smaller one.
Understanding Your Budget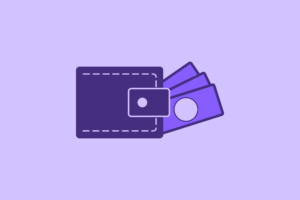 A good-quality mattress can be a worthwhile investment in your quality of sleep and overall health. Before you start your search, it's important to take a step back and set a realistic budget for yourself. With your budget in mind, you can then begin to look at specific brands, mattress reviews, models, materials, and sizes.
To help you narrow down your budget parameters, we've put together this table using data from Sleep Like The Dead to give you a general idea of the average cost for a mattress according to size:
| Size | Low Price Range | Medium Price Range | High Price Range |
| --- | --- | --- | --- |
| Twin | Starting at $85 | Starting at $290 | Starting at $400 |
| Queen | Up to $700 | $700 to $1800 | $1,800+ |
| King | Up to $1950 | Up to $5,700 | Up to $12,600 |
Even More Mattress Sizes
We've covered the standard sizes and a few of the less common ones, but this still isn't all the potential sizes that a shopper has to consider. It's possible to buy an oversized mattress or another bed with custom dimensions from a specialty mattress manufacturer. For example, some of the biggest bed sizes include the Texas king, Wyoming king, and Alaskan sizes, all of which are far larger than the standard king.
For most people, a custom mattress isn't a necessity. However, there are circumstances when one can come in handy. Still, the difficulty of ordering not only a custom mattress but also suitable bedding and other accessories keep many shoppers from purchasing one.
Other Size Guides
Frequently Asked Questions
How do you measure a mattress?
If you don't know what mattress size you have, you can try measuring it with a tape measure. You want to measure its length and its width. However, if you have a copy of the original mattress order, it should be a simple matter to double-check the bed size.
What is the most common mattress size?
More people choose a queen size mattress than any other size, and it's not difficult to unravel why. Many people can afford a good queen mattress on a budget, and most bedrooms can accommodate a queen bed. Couples can sleep on a queen bed without feeling cramped on the bed, while single sleepers can enjoy the sprawling space.
How big is a double mattress?
A double mattress is 54 inches wide and 75 inches long—yes, the same dimensions as a full size mattress. Despite the name, double mattresses aren't suitable for two people. Couples looking for a mattress to share should consider a queen size mattress.
What is the largest mattress size?
The largest standard size mattress is a king bed, measuring 76 inches wide and 80 inches long. The bed's surface area totals 6080 square inches, offering two people plenty of space. However, there are other nonstandard sizes that are far bigger than a traditional king, though they have to be special-ordered.
What's the best mattress size for couples?
We recommend queen or king size mattresses for couples; other mattress sizes are too small for two people. Whether a queen or king mattress is the better bed depends on your budget and room size. Queen mattresses are excellent for bargain hunters and people with average size bedrooms, while king mattresses fit best in master bedrooms.
Your Ideal Mattress Size Is Out There
Whether you're a single person looking for some extra legroom or more room on the sides, there's good news— no matter your situation, the most comfortable mattress is out there for you. Now, equipped with your new knowledge, you're ready to go find it!