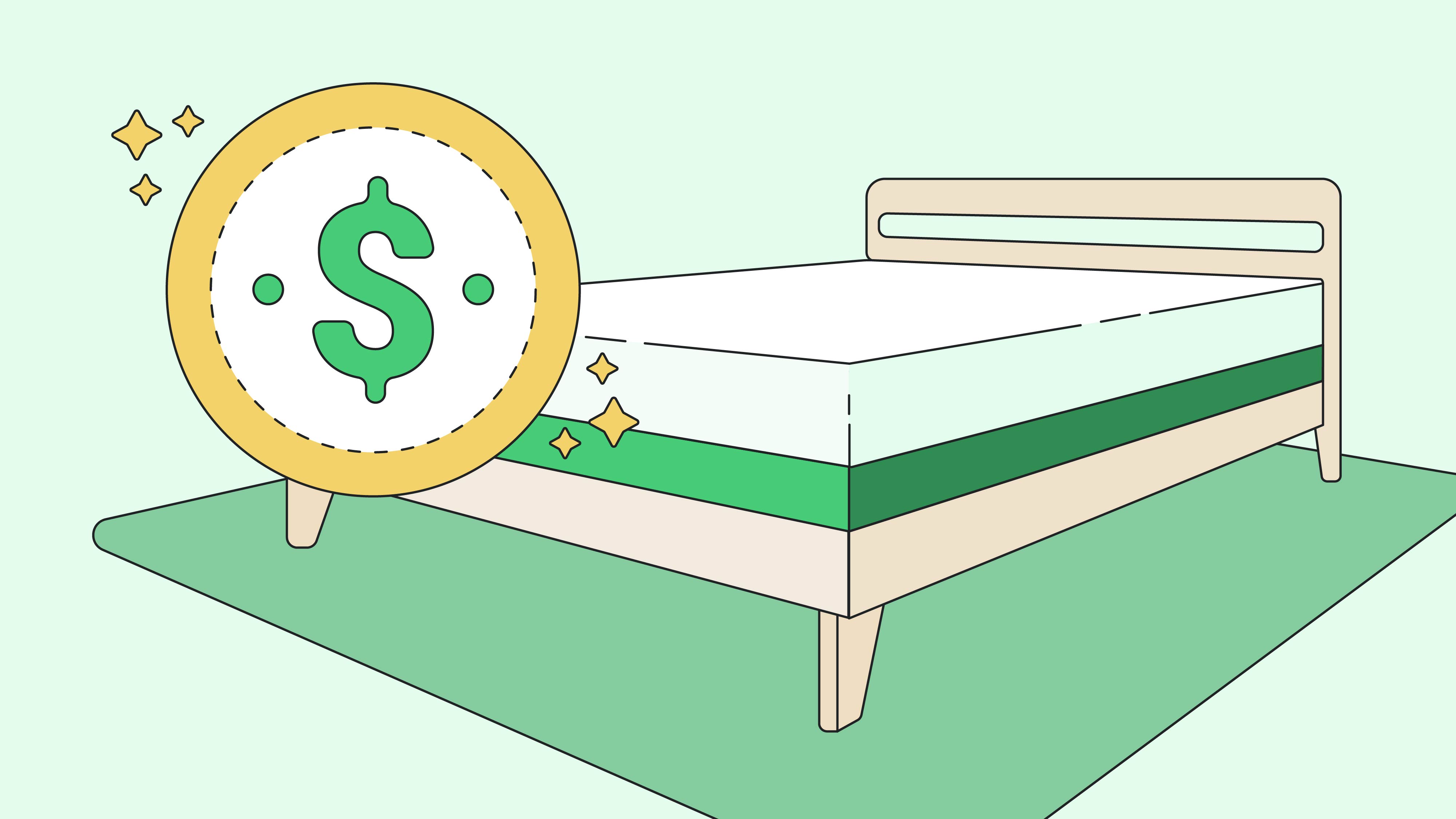 Best Budget Mattress

Mattress Guides
The average price of a quality queen-size mattress from an established company is about $1500. Some mattresses may cost more or less, depending on the type of materials a bed contains. You can find an even wider selection to choose from under $2000. It'll be worth your time to find a reliable mattress to provide an even blend of comfort and support.
When looking for a mattress in your budget, don't sacrifice quality. Consider the types of materials used (does the bed use just regular foam or pressure-relieving memory foam?), the sleep trial and length of warranty offered (a good company backs their product up with a trial and warranty) and how many third-party reviews you can find to help you vet your options.
Best Budget Mattress: 30 Second Summary
Zoma Mattress – We like the Zoma Mattress because it's designed to help you sleep deeper, recover faster, and perform better in your day-to-day. Originally engineered with athletes in mind, the Zoma was made to improve your sleep. Even if you don't lead an active lifestyle, the Zoma can upgrade your night's rest to help you feel refreshed and ready to take on the day.
Vaya Mattress — Another great, affordable option is the Vaya. The Vaya Mattress is built for all sleep styles, cradles the body for healthy spinal alignment, and features breathable foams to keep you cool.
Best Budget Mattresses
First on our list is the state-of-the-art Zoma Mattress, a memory foam mattress for athletes. The Zoma mattress is designed to help you sleep deeper, recover faster, and perform better during your day-to-day. Though it's originally engineered for athletes, the Zoma can help anybody get better sleep.
Zoma offers a 100-night sleep trial and a 10-year warranty with each of their beds.
How the Mattress Feels
Triangulex™ technology offers targeted support to promote a healthy spine and prevent pain points. Around your shoulders and hips, this technology contains triangle-shaped cutouts allowing for deeper compression and enhanced pressure relief. In the midsection, this technology offers reinforced support for your torso and prevents uncomfortable sinkage in the bed.
The Reactiv™ layer creates a more "on top of the bed" feel in terms of firmness and makes it easier to shift positions while you sleep. Primarily, this layer acts as a barrier between the cushioning memory foam above and sturdy base below.
What It's Made Of
The first layer of the mattress is gel-infused memory foam with Triangulex™ technology. When you lay down on the Zoma, this layer molds to your body to offer instant comfort and pressure relief. The gel within combats body heat and prevents heat retention, helping you sleep soundly all night long.
Next, is a layer of Reactiv™, a latex-like poly-foam. Reactiv™ is more responsive than memory foam, so it gives the bed a bit of bounce and prevents you from ever feeling "stuck" in the mattress.
The third and final layer of Zoma is Support+ foam, a durable poly-foam. The Support™ layer reinforces the two layers above and prevents sinkage throughout the mattress.
ZOMA MATTRESS
Most comfortable for side and back sleepers
Contains gel-infused memory foam to combat body heat and keep you comfortable
Triangulex™ technology nurtures a healthy spine
The Vaya is a budget-friendly mattress suited for all sleep styles. Designed with pressure-relieving, response foams, the Vaya can contour to your body while keeping you lifted in healthy alignment. Whether you toss or turn, or sleep on your stomach, back, or side, the Vaya can work for you.
There is also the Vaya Hybrid, a bouncy and affordable counterpart that offers responsive coils and durable edge support. While its prices are a little higher than the original Vaya Mattress, the Vaya Hybrid is still well within many shoppers' budget range.
The Vaya is sold online-only and comes with a 100-night sleep trial. To help you make the most of your investment, Vaya backs their beds with a 10-year warranty.
How the Mattress Feels
When you lay down on this bed, the comfort layer will contour to your body to create a weightless feeling. Many reviewers have noted there's an enjoyable touch of plushness, making this inexpensive mattress feel a touch more luxurious. And because the base foam is so durable, the Vaya provides a comfortable sleep for years.
What It's Made Of
The Vaya Mattress stands 12 inches tall and contains two layers: 3 inches of cushioning Vaya Foam and 9 inches of durable base foam.
Both of these layers are certified by CertiPUR-US®, a third-party organization that examines foam production for potentially harmful materials. CertiPUR-US® also certifies a foam as low VOCS, meaning it's unlikely to off-gas and produce that chemical "new mattress" smell.
VAYA MATTRESS
Fit for all sleepers
Contains breathable foams to prevent night sweats
CertiPUR-US® certified
Next on our list for the best budget mattress, the Amerisleep AS3, stands at 12 inches and is made with 3 inches of pressure-relieving memory foam, with underlying transition foam that provides targeted support and a sturdy base foam. All wrapped in a cover that cleverly transforms heat into healing infrared energy.
Overall, this mattress provides some great features for a small price tag. The AS3, like all Amerisleep mattresses, is backed by a 100-night sleep trial and a 20-year warranty.
How the Mattress Feels
The Amerisleep AS3 has received more than 6000 reviews on the company's website, and the most recurring phrases in consumer reviews are "comfortable," "good support," "holds shape," and "soft feel." All of these paint a picture of a mattress that cushions the body and provides spine support, while its structures withstands use for long-lasting comfort.
What It's Made Of
The Amerisleep AS3 starts off with a cover of Refresh fabric. This fabric relies on materials that not only wick heat away but convert it entirely. Releasing absorbed heat as infrared energy, this byproduct can penetrate the sleeper's body and boost local bloodflow.
Amerisleep features Bio-Pur®, plant-based memory foam, in their AS3. Bio-Pur® has an advanced open-cell structure, so it's more breathable and responsive than traditional memory foam—which is ideal for hot sleepers. Since this layer is only 3 inches thick, it'll allow for just enough sinkage to relieve pressure points.
The middle of the mattress is 2 inches of Affinity foam with HIVE® technology. This foam provides a touch of springiness to the surface, while hexagonal cutouts across its surface create five support zones. The bed is quicker to yield to the body under the shoulders and hips, while it resists sinkage more under the head, torso, and feet.
The base layer of the AS3 is 7 inches of Bio-Core®. Bio-Core® is durable to reinforce the layer (and sleeper) above and prevent sagging.
AMERISLEEP AS3
Features plant-based memory foam
Transition foam features five support zones
Cradles the joints to relieve pain
The Nolah Original 10 is still the brand's most budget-friendly model, offering a lot of comfort with a simple design. It has a medium feel capable of suiting most sleep styles and a design that lets it stay cool all night long.
Nolah offers a 120-night sleep trial for its customers, however, they require the mattress is kept for a mandatory 30-day break-in-period before authorizing returns. Budget shoppers can also save further by removing the sleep trial before purchasing the mattress.
How the Mattress Feels
The foam layers provide a "hug" sensation while the support foam provides a slight bounce, making the Nolah more responsive than traditional memory foam beds. It was specifically designed with side sleepers in mind, fostering contouring for great pressure relief in the shoulder and lumbar areas.
What's It's Made Of
The 10-inch, medium feel, Nolah mattress includes 2 inches of AirFoam™, 1 inch of support foam, 7 inches of high-density poly-foam, and a Tencel™ cover.
The cover fabric improves airflow while wicking away moisture. The fabric is made with plant-derived fibers and feels cool and crisp to the touch.
AirFoam™ reduces heat retention for a more restful sleep and optimal pressure relief. It's engineered to improve on traditional memory foam by providing more responsive cushion.
The transition foam adds a bit of bounce to the surface, while the base foam ensures the mattress will stand strong after years of use.
NOLAH ORIGINAL 10"
Cooling AirFoam™
Ideal for side sleepers
Contributions to Defenders of Wildlife
Budget shoppers interested in a latex mattress tend to have a difficult time finding an affordable model, due to the production costs attached to natural materials. The Spindle is one of the more budget-friendly all-latex mattresses on the market.
Not only is the Spindle an inexpensive latex bed, but it offers the unbeatable comfort of a personalized firmness. The latex layers inside are easily re-arranged to change the surface's feel.
The Spindle comes with a 365-night sleep trial and a 10-year warranty.
How the Mattress Feels
There's no one way for the Spindle mattress to feel, due to its customizable structure. While its firmness is variable, the latex foam consistently feels buoyant, gently contouring to curves for pressure relief. The organic cotton and wool top layers add a touch of cushion and stay cool and dry throughout the night.
What It's Made Of
The organic cotton cover primarily serves as a moisture and heat-wicking fabric, ensuring a cool and dry surface under the body. This fabric is also highly resilient and its natural production is light on the environmental impact and heavy on social responsibility.
Next is the layer of organic wool, providing a touch of cushion while boosting the cotton's temperature-neutral feel. However, while the wool increases the bed's comfort, it primarily serves as a natural flame barrier.
The cotton cover has a zipper that lets owners quickly get at the re-arrangeable layers of latex foam. Each latex foam layer is individually encased for protection, and changing up the order of the layers affects how soft or firm surface feels.
SPINDLE
Certified organic latex foam for comfort and support
Firmness can be customized by swapping order of latex layers
Organic cotton and wool form mattress surface
Firmer mattresses can be the ideal of comfort for certain sleepers, such as people with back pain or plus-sized sleepers who enjoy a supportive feel. The medium-firm GhostBed Classic is excellent for those who want a firm but not too firm experience.
Purchase of the GhostBed Classic includes a 101-night sleep trial and a 20-year warranty.
How the Mattress Feels
The mildly firm surface of the GhostBed Classic keeps a person from sinking too far into the mattress, yet it doesn't feel so hard that a sleeper could mistake it for a rock or a board. There's just enough gentle give to help sleepers relax at night.
The GhostBed Classic has more than 11000 reviews, with more than 8600 reviewers giving the bed five stars. Plus, more than 90 percent would recommend the mattress to a friend, which is quite a testament to how comfortable the bed feels.
What It's Made Of
The GhostBed Classic stands 11 inches tall and has three foam layers, all wrapped up in a soft cover of viscose/polyester fabric for a breathable, plush surface.
The first foam layer is non-allergenic latex, aerated for greater cooling as the material pulls heat away. The latex foam gives the surface a responsive feel, enabling it to quickly contour to the body.
The second foam layer is gel memory foam, providing another material that relieves pressure points and keeps heat moving away from the sleeper. The base foam is dense and forms the mattress's supportive core.
GHOSTBED CLASSIC
Non-allergenic latex maintains a cool, springy surface
Gel memory foam moves heat away
Base foam promotes spine alignment without feeling too hard
Tuft & Needle is a popular mattress brand, known for their model of a "basic" foam mattress and a "better" one with their original mattress and the upgraded Mint model. The Tuft & Needle Original is enough for many a shopper who just wants a simple foam mattress with affordable comfort.
The original Tuft & Needle mattress comes with a 100-night sleep trial period and a 10-year warranty.
How the Mattress Feels
The Tuft & Needle mattress contains a neutral-feel foam – a balance between sinking and floating. It offers good motion isolation, making it ideal for couples. The foam is also slightly bouncy, with a medium-firm feel.
While the Tuft & Needle is a great mattress choice for petite and average body types, it is not ideal for heavy sleepers. The edge support is okay, but not as sturdy as other memory foam brands.
What It's Made Of
The Original Tuft & Needle mattress contains only two layers; 3 inches of T&N Adaptive® foam and 7 inches of high-density poly-foam. The mattress is then encased in a polyester cover.
The T&N Adaptive® foam is infused with graphite and gel for wicking away moisture and temperature regulation. It resists permanent impressions for long-lasting, responsive cushion. The breathability of the foam's open-cell design also increases the bed's comfort.
TUFT & NEEDLE
Use of graphite and gel for cooling
Neutral feel foam
Ideal for most types of sleeper
The Allswell is backed by Walmart, but their mattresses are manufactured through Brooklyn Bedding. Shoppers seeking a hybrid mattress under $500 can appreciate the affordability of the Allswell mattress.
The Allswell comes with a 100-night sleep trial and a 10-year warranty.
How the Mattress Feels
With conforming memory foam and pocketed coils, the Allswell offers great comfort and support. The neutral cultivate minimal sinkage – but still feel as though you're on top of the mattress. It's compatible for any body type and ideal for any sleep position.
The Allswell is available in Twin, Twin XL, Full, Queen, King, and California King. While it performed well for back and stomach sleepers, those primarily on their sides felt less pressure relief in the hips and shoulders.
What It's Made Of
The Allswell 10-inch construction contains three layers including a 1-inch quilted cotton cover, 2 inches of graphite and copper-infused memory foam, and 7 inches of pocketed coils.
There is off-gassing odor potential. Little is known about the mattress material specifics, like the foam's ILD rating or coil gauge.
ALLSWELL
Graphite and copper-infused memory foam
Low-cost hybrid
Ideal for any body type
What to Expect from a Budget Mattress
First things first, you need to decide on your budget, because it  will dictate the mattress quality and its features.
You'll want to take advantage of sales or bundle deals to get the most for your money. Even without sales, you'll want to know the overall mattress quality within your budget .
Mattresses Below $100
These mattresses are either free or second-hand from thrift stores or Craigslist. We recommend this option only when you don't have any other choice.
Second-hand beds could contain pests such as bedbugs and dust mites, especially if the original owner didn't properly care for the mattress.
Cheap mattresses don't come with a warranty since as most companies only extend a warranty to the original purchaser.
Mattresses Between $100 and $800
Mattresses in this price range typically aren't very durable because they are made of cheap materials; however, they are a much better option compared to second-hand mattresses. Because of their shorter lifespans, these mattresses will usually only have 3 to 5-year warranties.
If you're in a pinch, getting a mattress in this budget range would hold you over until you can afford a high-quality mattress.
Mattresses Between $800 and $2000
In the $800 to $2000 range, you'll find mattresses with high-quality latex, both natural and synthetic, memory foam, and innerspring materials and construction. These mattresses are often infused with cooling materials like gel, copper, or graphite. You can expect moderate to great motion isolation and pressure relief, as well.
The best mattresses under $2000 last longer and come with warranties lasting ten years or longer.
Mattresses between $2000 and $5000
In this range, you'll find organic materials and possible built-in electronics. However, we caution against buying mattresses in this price range as they don't make your sleeping any better than those in the $800 to $2000 range. At this price, your but the mattress for the brand.
You should expect a warranty between 10 and 20 years.
Mattresses above $5000
These mattresses are often made with cooling technology, organic materials, and built-in electronics. You can order them in non-standard sizes and custom builds them to fit your individual needs.
What to Look For in a Budget Mattress
Before browsing what's available, know what to look for in a good quality mattress. Many don't know what to look for and end up purchasing a popular model.
This can be a mistake since there isn't one perfect bed for everyone. Each person has their own wants and needs and should look for a mattress based on their own preferences.
Regular Use or Guest Bed
One of the first things you should establish is who the bed will be for. Will it be regularly used by you, or will it be meant for a guest bed? A regularly used bed is worth paying extra for a higher-quality mattress with lasting durability. But, a guest room – or as a temporary sleep surface – it might be better to save yourself money by choosing a low-cost option.
Regular Use
For regular use, a higher-quality bed will be more comfortable and durable. Typically, this type of bed should last between 8 to 10 years at a $700 to $1000 price range and include longer warranties. We highly recommend a quality bed for plus-sized sleepers, couples, and those with health problems.
Guest/Temporary Bed
Guest beds won't have the same wear and tear like a regular bed. So, why pay extra for something you won't be using?
Second, if you're a single person who just moved into their first apartment or are attending college, you won't have space for a large, luxurious bed. All you need is a basic mattress with adequate support and comfort.
As a warning to our readers, never settle for the cheapest mattress option.
Cheap beds will have low-quality materials with a lifespan of five years if you're lucky. You may end up paying more by replacing that cheap mattress when it breaks down then if you had paid extra for a quality bed.
Quality Materials
Sorting through mattress components takes time; thankfully, most mattress companies provide transparency when their bed contains. Beware though – companies that don't give specifics on layer numbers and layer thickness, or who give vague specification on their materials should be avoided. Chances are that these companies are selling poor-quality beds.
Layers
Good mattresses will have between two to four layers. Each layer is designed for a specific function.
Comfort layer (top 1-2 layers) – responsible for cooling, motion isolation, and responsiveness. Consists of a cover, pillow top and/or memory foam for a plush feel. The comfort layer should be at least 2 inches thick.
Support layer (middle layer) – firmer feel to help align the spine. This also acts as a transitional layer between comfort and support layers.
Foundation layer (bottom layer) – provides compressive support for a more durable mattress. About 50% of the foundation layer should make up a good-quality bed; anything less may not last long.
Some companies may switch comfort and support layers for additional luxury. The bed thickness contributes to the overall comfort and support.
Thickness
Many don't realize the mattress thickness can contribute to a bed's level of comfort and support. A good quality mattress will be between 9 inches – for a firm mattress – to 14 inches – for a soft mattress. Some may prefer an even thicker mattress because of height, weight, or personal preference.
Ideally, a thicker mattress is better for plus-sized sleepers, who need extra support.
Coils
Knowing the difference between coil gauge and count can help determine quality in an innerspring or hybrid mattress.
Gauge – measures the thickness of a coil. The lower the number, the thicker the coil. An ideal coil should be between 12 to 15.
Count – the number of coils in a mattress. It determines the level of support and firmness. Innersprings and hybrids should have a coil count of 300 or more. Avoid mattresses with a lower count as they will lack proper support and wear down quicker.
Foam
When judging foam quality, pay attention to its ILD rating. ILD, or Indentation Load Deflection, rates how soft or firm a layer of foam is. A quality foam will have a rating between 13 to 15. Support foam will have a higher ILD rating reaffirming its ability in supporting a sleeper's weight. Avoid mattresses with an ILD rating lower than 10 – a low-density foam with an 8 ILD rating is more likely to sag and break down sooner.
Special Features
On top of everything, look to see if a prospective mattress includes special features. Perks like cooling technology or a lumbar support layer can appeal to someone's personal preferences.
Cooling Technology
The denser the material, the less airflow. Density can easily cause sleepers to wake in the night, hot and sweaty. Luckily, manufacturers have noticed and taken steps to keep customers cool at night through cooling technology.
Phase Change Technology – transforms body heat into infrared energy which is then absorbed into the body for aid rejuvenating rest.
Gel – gel beads infused with memory foam absorb body heat and disperses it throughout the rest of the material. There is a risk that the gel beads will reach a limit of heat absorption before bouncing the heat back to the body.
Copper – metal infusion with heat conductive properties. It pulls heat away from the body.
Ergonomic 5-Zone Support
Some companies add an ergonomic 5-zone support layer to offer a firmer feel to the head, back, and legs and a softer feel for the hips and shoulders. This special support layer aims to reduce pressure points and alleviate back pain. An ideal feature for those with back problems or chronic pain.
Companies may also include a lumbar support zoned layer. Lumbar refers to the lower back section of the spine. Some sleepers, especially those who suffer from chronic back pain, may find this an appealing option in a mattress.
Mattress Types
In today's world, innersprings are no longer the only type of mattress available. Memory foam, latex, and hybrid varieties are accessible from several companies. Materials have also evolved with better quality material and mattress technologies.
Each mattress type offers its own unique features that can benefit customers. Know to differentiate between each type and have a preference in mind before browsing.
Memory Foam
Memory foam is one of the most popular types of mattresses. It rose in popularity because of it's contouring properties. By cradling the body with a "hug" sensation, memory foam relieves pressure points and reduces pain. It also has excellent isolation.
In contrast, it's contouring abilities may also cause the body to retain heat. When looking for the best memory foam mattress, we suggest choosing one with some type of cooling properties, like open-cell or plant-based foam.
Innerspring
Known as the "traditional" choice, the innerspring mattress consists of steel spring coils assembled for support. These coils may be interlocked, stand-alone, or be individually wrapped. Most innerspring mattresses also include a comfort layer made of foam or cotton.
There are a few drawbacks to an innerspring. The coils may lend good support, but they can also create pressure points on the body. The thin comfort layer may not be effective in preventing this from happening.
Hybrid
Manufacturers combined the benefits of both memory foam and innersprings into one perfect mattress. In some ways, they nailed it. A hybrid mattress offers customers contouring pressure relief and coiled support. Yet, customers may also receive an increase in heat retention from the memory foam and more pressure points from the innersprings.
Latex
Extracted from the sap of rubber trees, latex mattresses are eco-friendly options for green sleepers. It conforms to the body, similar to memory foam, but more responsive. Latex is ideal for those who move around in their sleep or struggle getting out of bed.
Latex will undergo one of two processes; Dunlop or Talalay. Dunlop provides a firmer sleep surface, while Talalay is slightly softer with targeted support.
Sleeping Positions
Choosing a mattress is not solely based on what's comfortable. A lot of it rides on personal preference, particularly sleep position. Each sleep position may require a specific level of firmness for spine alignment and support.
Side Sleeping Position
Side sleeping is considered the most popular sleep position. It opens the airways and aligns the spine. Sleeping on the left side is healthier than the right – provides better blood circulation and reduces acid reflux. The right side puts pressure on vital organs, like the liver.
Back Sleeping Position
As the healthiest sleep position, back sleeping aligns the spine and encourages better posture. In this position there is a risk of air obstruction. Back sleepers may snore and run the risk of developing sleep apnea.
Stomach Sleeping Position
Those who sleep on their stomachs face the highest health risks. Stomach sleeping and twisting the neck to the side puts the neck at an unnatural angle for long periods of time, resulting in neck pain. Heavy pressure is also placed on the lower back – gravity pushes against the natural curve of the spine. To reduce this pressure, we recommend placing a thin pillow under the hips.
Combo Sleeping Position
If you find yourself changing sleep positions during the night, you may be a combo sleeper. Also known as "restless" sleepers, combo sleepers receive the same benefits from each sleep position. They also face the risk of the same health problems, like sleep apnea and neck pain. A mattress for combination sleeping should offer a responsive, balanced feel.
Sleep Trials, Warranties, and Return Policies
Before finalizing a mattress purchase, look to see what sleep trials and return policies are available and always read up on the warranty. These features ensure customers they chose the right product and services to protect your investment.
Sleep Trial
Many companies offer sleep trials with a mattress purchase. The main benefit is trying out a mattress within the comfort of your own home without the added pressure of a hovering sale person. A sleep trial should include at least 100 days – this will allow time for the body to adjust to a new mattress and let you decide if you like it or not.
Warranty
A warranty helps to protect your investment and reflects the quality of a mattress. You can expect at least a 10-year warranty with any standard mattress purchase. Warranties with less than 10 years could be a sign of a bad investment and should be avoided. Be sure to read the fine print before buying a new bed.
Return Policy
A return policy is definitely worth looking into, especially if a sleep trial isn't available. If you purchase a mattress and within a few days realize it's not for you, it's nice to have the ability to return it for a full refund.
Make That Mattress Last!
It's not enough to rely on that warranty to get your mattress to last. Damage, like water spills, may void the warranty. There are steps you can take that can better protect your mattress and extend its lifespan.
Mattress Protectors
Invest in a mattress protector to protect against liquid spills. Since most warranties become void after the mattress surface has been stained, a mattress protector can also protect the warranty.
Mattress protectors can shield a mattress from bed bugs, dust mites, dirt, and other allergens. It reduces allergy symptoms and ensures a restful night. Be sure to wash your protector every two weeks to maintain the mattress protector's effectiveness.
Many can be purchased under $50.
Right Foundation
Many don't realize the right mattress foundation can either extend or reduce the lifespan of a mattress. Box springs – while the traditional choice – may not be the right option for those with a memory foam or latex mattress.
A foundation helps reinforce a mattress's support. Speak with a customer service representative for recommendations based on the type of mattress you choose.
Cleaning & Care
While there's no way to fit a mattress into a washer, there is a better way to keep your mattress clean. Spot cleaning with warm water mixed with a mild detergent can help expand the life of your bed.
To eliminate odors and freshen up your bed, sprinkle baking soda over the sleep surface, then vacuum using the upholstery attachment.
Following these steps can help your mattress to last.
Risks of "Cheap" Mattresses
Regular use can cause a mattress to "age." If you think about it, your bed goes through a lot; it consistently holds and supports your weight. It's critical to spend the money on a quality mattress instead of sticking to the cheapest option.
Below are some warning signs to look out for that are commonly found in a low-quality bed.
Sagging
Sagging can result from low-density foams or broken coils. As previously stated, always look at a foam's ILD. If it's lower than the recommended number, or if a sales representative isn't giving a clear measurement, avoid that mattress. Low-density foam means less quality and less durability.
Regarding coils, pay attention to the gauge and coil count. Lower coil count and higher gauge ratings can be a sign of poor-quality coils – these types of coils will struggle to support any type of weight and are at risk of breaking and sagging. Also, read the full warranty before finalizing a purchase to know what the coverage is regarding sagging.
Wear & Tear
Cheaper mattresses show wear faster. While you can't see the inner materials, you can tell the quality of a mattress by looking at the cover. If the stitching looks like it's made of brittle or loose threads, you may want to avoid that bed.
Frequently Asked Questions
What is the best affordable mattress to buy?
It's difficult to beat what a well-made memory foam mattress can offer, and this mattress type is available at all price points. A quality memory foam mattress that's at least 10 inches thick can soothe aches that can develop into pains and support the spine in a neutral position. Shoppers just have to make sure they choose one with cooling abilities, as traditional memory foam can retain body heat.
Are certain mattress types less expensive than others?
Yes, not all mattress types fall into the same price range. When it comes to affordability, memory foam and innerspring mattresses are relatively low-priced, with many excellent models sold for under $1000 for a queen. Meanwhile, hybrids and latex mattresses tend to cost more, with many models falling into the $1000 to $2000 range for a queen size mattress.
Are cheap mattresses worth it?
An inexpensive mattress often lacks the support of a higher-quality bed, which can leave you waking up less than well-rested. You may also find that a thinner, less costly mattress is more likely to wear out within a few years. That said, there a number of quality mattresses you can find for less than $1,000 or even $500.
How much does a high-end mattress cost?
A higher-end mattress can still be relatively affordable, with many of the best mattresses under $2000 featuring a number of innovative comfort features. Some of them are even around $1000 or just a little over it, particularly if you're looking for a well-made memory foam mattress. High-end hybrid and latex mattresses cost more due to their material costs.
Is it better to buy a cheap mattress online or in store?
Online retailers usually offer their mattresses at a lower price because they have fewer costs to meet and can pass the savings onto the customer. However, many shoppers enjoy the security that comes from trying out a mattress in a store before they buy it. It's all a matter of what's important to you when you're choosing a new mattress.
Have You Found Your Budget Bed?
An expensive price tag doesn't always result in quality. A great mattress can be found as long as you know what to look for. An advantage to buying an online mattress in comparison to a brick-and-mortar shop is the reduced price for high-end materials. For this reason, many of our top picks for the best budget mattress were mattress-in-a-box type brands. Customers can expect better quality and durability at a lower cost.