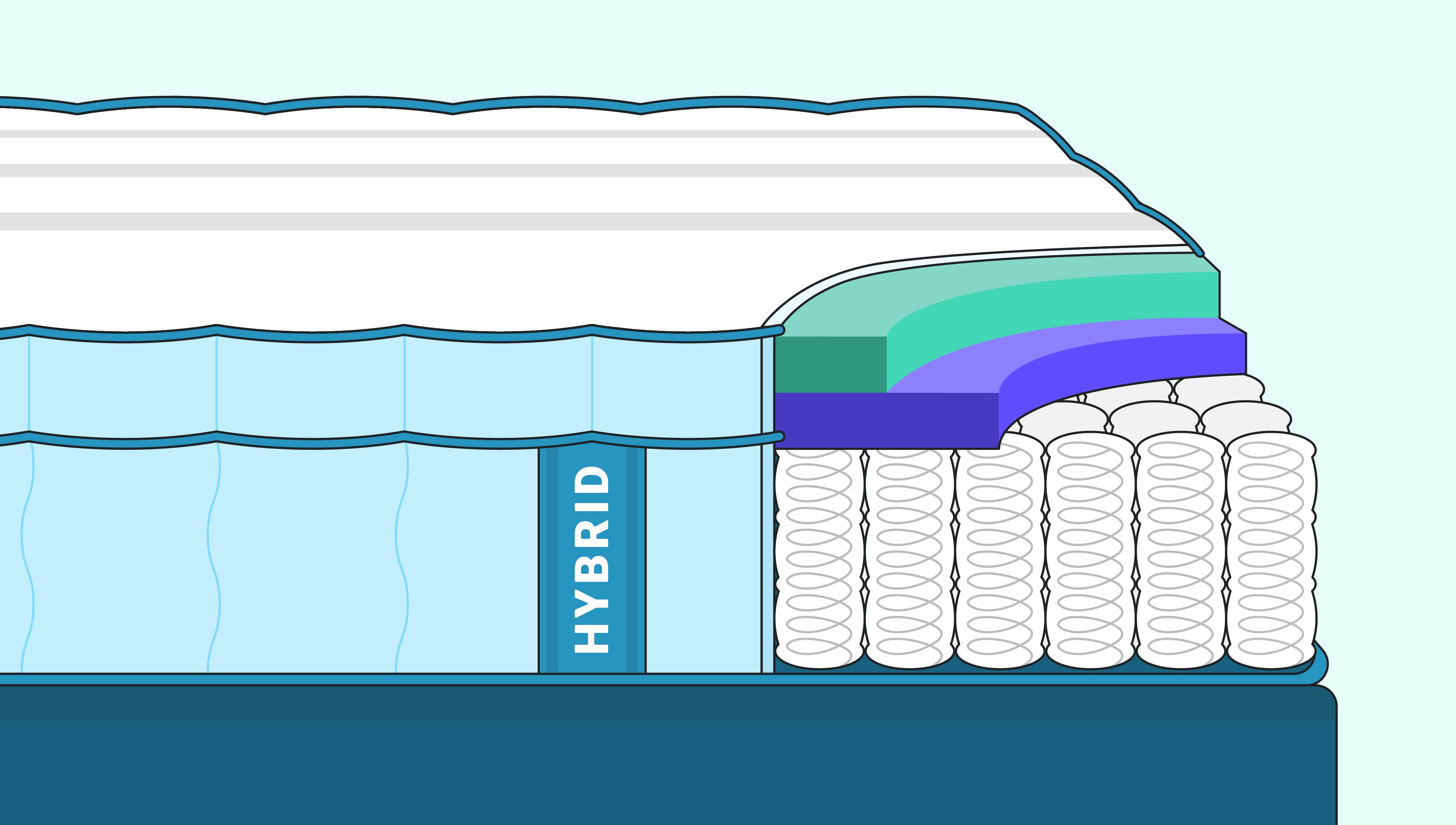 Best Hybrid Mattress in 2021: Reviews and Buyer's Guide
Updated on: February 19, 2021

Mattress Guides
Hybrid mattresses use a combination of latex or memory foam and innerspring coils to offer both cushioning comfort and responsive support. Hybrids are known to score well for motion isolation, pressure relief, and overall comfort since. Plus, hybrids can be a fit for almost any type of sleeper— it just comes down to finding the best hybrid mattress for your sleep needs.
In this guide, we discuss top-rated hybrid mattresses, different types of hybrids to consider, and tips for finding your most comfortable bed.
Best Hybrid Mattresses
| | Mattress | Highlights | Price |
| --- | --- | --- | --- |
| | Amerisleep AS3 Hybrid | Features plant-based memory foam and targeted innerspring coils for a good balance of comfort and support. | |
| | Zoma Hybrid | Gel memory foam absorbs body heat while zoned technology evenly relieves pressure points. | |
| | Vaya Hybrid | Responsive comfort layer reduces sinking and spinal misalightment | |
| | Alexander Signature Hybrid Medium | Offers customizable firmness for couples. | $1299 |
| | Avocado Green | Made with organic materials, ideal for eco-friendly shoppers. | $1189 |
| | Purple® Hybrid Premier | Features the innovative Purple Grid™ for superior pressure relief. | $2199 |
| | Bear Hybrid | Contains gel-infused foams to keep you cool. | $1390 |
| | Tuft & Needle | Features graphite and ceramic gels for temperature regulation. | $1495 |
Our recommended hybrid mattress Amerisleep's AS3 Hybrid—it contains plant-based, pressure-relieving memory foam and sturdy innerspring coils to offer sleepers a good mix of comfort and support. We also like the AS3 Hybrid because it is medium in firmness, meaning it's a good option for side, back, and combination sleepers alike.
Amerisleep makes both memory foam and hybrid mattresses, their AS3 Hybrid is an extension of the all-foam AS3. It has mostly the same construction but contains a coil core instead of durable base foam. Like every memory foam model, each Amerisleep hybrid mattress features a soft, breathable cover designed to promote better sleep.
The first layer of the AS3 Hybrid is 3 inches of Bio-Pur®. Bio-Pur® is a plant-based memory foam, because it's plant-based, it's more breathable and responsive than traditional memory foam—so you'll never overheat or feel "stuck" in this foam layer.
Below the layer of memory foam is an 8-inch pocketed coil system. Amerisleep designs this system to offer zoned support—the coils are firmer under your torso to keep your spine lifted in neutral alignment, and softer under your shoulders and hips to alleviate pressure points.
The last layer of the bed is a thin, 1-inch layer of base foam. The inclusion of this layer gives the coils a sturdy surface to rest on and respond to, and it also gives the bed added support.
Amerisleep's AS3 Hybrid offers great edge support, as well, because the pocketed coil system is encased in foam edging, preventing you from sliding off the edge of your bed.
The AS3 Hybrid comes with a 100-night sleep trial, free shipping, and a 20-year warranty.
Amerisleep AS3 Hybrid Highlights
Breathable, plant-based memory foam
Medium feel perfect for most sleeping positions
Zoned pocketed coils for even support
If you enjoy an active lifestyle, you'll love the Zoma Hybrid Mattress. The Zoma Hybrid is specifically designed for athletes. Cool and responsive foam layers relieve pressure points without trapping heat. You're less likely to wake up feeling hot. Plus, the innerspring coils evenly distribute weight and better support your body, preventing back pain.
The comfort layer of the Zoma Hybrid is gel memory foam. Cooling gel absorbs body heat, lessening the chance of sleep disruptions from night sweats. The gel memory foam also has zoned support to keep you sleeping comfortably throughout the night.
The gel memory foam comfort layer contains hundreds of triangular segments that form five zones. You'll experience softness under the head, shoulders, and legs, and firmness under the back and hips.
The Reactiv™ transition foam prevents your body from sinking too deep into the mattress and encourages spinal alignment. The elastic material makes it easier to switch sleeping positions and also enhances the contouring properties of the comfort layer.
The base layer contains pocketed coils. These coils provide targeted support and evenly distribute body weight. You won't have to worry about soft spots or sagging.
The Zoma Hybrid comes with a 100-night sleep trial and a 10-year warranty. If you don't like the mattress after breaking it in, Zoma will issue a full refund.
Zoma Hybrid Highlights
Cooling gel memory foam prevents night sweats
Responsive transition foam prevents you from feeling stuck
Pocketed coils provide targeted support
For an affordable, yet high-quality hybrid mattress, we suggest the Vaya Hybrid. With a plush comfort layer and a supportive spring coil base, this bed keeps body weight evenly distributed while protecting the joints from pressure points.
The Vaya Hybrid has a soft, ventilated cover to encourage airflow and prevent heat retention. Beneath this cover is 3 inches of Vaya's proprietary foam which has an elastic quality to keep the hips lifted and aligned with the shoulders. When the body is aligned, muscles can fully relax and heal during sleep.
The base of the Vaya Hybrid features 8-inch pocketed coils. Each coil is wrapped in a lightweight, durable material for added comfort and pressure relief. These coils also move independently of one another to reduce motion transfer and to contour to the body more effectively.
The Vaya Hybrid comes with a 10o-night sleep trial, giving you plenty of time to become accustomed to the mattress. Vaya also includes a 10-year warranty to help protect your investment and ensure you sleep supported for many years.
Vaya Hybrid Highlights
Soft, ventilated cover promotes air circulation
Responsive comfort foam reduces sinking and spinal misalignment
Pocketed coils base keep body weight evenly distributed
4. Nest Bedding's Alexander Signature Hybrid
Another top-rated hybrid mattress is Nest Bedding's popular Alexander Signature Hybrid. With five layers in total, this mattress has 3 layers of comfort foam, a pocketed coil system, and a supportive base. We recommend choosing Nest's hybrid in medium firmness because it's the most adaptable to varying sleeping positions.
The pillow top of this bed is .25 inches of gel-infused memory foam quilted in Nest's phase-changing fabric. This layer provides a bit of cushion when you first lay down on the bed, and it's cooling materials combat body heat to keep you at a cool temperature all night.
The first layer is 3 inches of Nest's TitanChill Endurance Foam®. This latex-like poly-foam is designed to be contouring like memory foam and responsive like latex. When you lay down on this mattress, this layer is pressure-relieving and supportive, so it alleviates pain points and prevents you from sinking too far. It's also infused with cooling gels to contribute to temperature regulation, too.
Next, is a 1-inch layer of SmartFlow support foam to act as a transition layer between the soft memory foam layers above and the pocketed coil system below. This airy foam layer gives the bed extra support and prevents any discomfort that could be caused by bottoming out on the pocket coils below.
The third layer of the Alexander Signature Hybrid is 8 inches of Quantum Edge Pocketed Support Coils to increase motion isolation and provide zoned support. These coils give the bed it's bouncy feel, too.
The last layer of this mattress is 1 inch of supportive poly-foam to give the layers above structural support and prevent premature deterioration.
If a medium mattress isn't for you, Nest also carries this bed in "Plush" and "Luxury Firm." Plus, Nest Bedding allows you to customize the firmness of each side of the bed, which is ideal for couples with different sleep styles or personal preferences.
Every Nest bedding mattress comes with a 100-night sleep trial and a Lifetime Warranty, protecting your investment forever.
Alexander Signature Highlights
Compatible with all sleep styles, even providing mattresses for couples
Extra cooling technologies combat heat retention
Cushioning pillow-top provides soft comfort
5. Avocado Green
The next mattress on our list is the Avocado Green mattress. Avocado combines organic cotton and wool, natural latex foam, and a pocketed coil system to deliver a truly "green" bed. They even offer a Vegan alternative, too.
The Avocado Green bed is GREENGUARD Gold Certified— meaning, it's made with natural materials and safe for sleepers of all ages. If you're looking for the best eco-friendly mattress, the Avocado fits the bill. Let's talk about the construction of this bed.
Every Avocado mattress comes with an optional pillow-top for extra cushioning. If you choose to include this with your bed, it contains 2 inches of all-natural latex encased in organic cotton and wool batting. If you select the Vegan mattress, the cover will only be made with cotton.
The first layer of the Avocado Green is 2 inches of Dunlop latex. If you add a pillow top to your mattress, that equals 4 inches of latex right off the bat.
Latex is cushioning like memory foam, but it is bouncier and more responsive, so it holds you more lifted on the mattress rather than cradled within it. If you like a cushioning but "on top of the bed" feel from your mattress, latex is perfect for you.
The next and last layer is a pocketed coil system engineered to offer zoned support and prevent motion from transferring across the mattress.
Because this bed only contains two layers (considering you skip the optional pillow top), we expect it to feel quite firm. Latex itself is responsive, and when you pair it with springy pocketed coils, it has a lot of bounce-back.
Every Avocado Green mattress comes with a 365-night sleep trial and a 25-year warranty.
Avocado Highlights
At a lower risk of off-gassing due to its organic materials
Offers a Vegan alternative
Comfortable for all sleep styles
6. Purple® Hybrid Premier
Another top-rated hybrid to consider is the Purple® Hybrid Premier. If you've done any research into a new mattress, chances are you stumbled upon the Purple® brand— as they're one of the leading bed in a box mattress brands.
Purple® made a name for themselves by offering a one-of-a-kind foam mattress comfortable for all sleepers. Since their debut, they've modified their original mattress and released two hybrid models: the Purple® Hybrid and the Purple Hybrid® Premier.
We suggest choosing their Purple® Hybrid Premier because it has a thicker Purple Grid™ layer than their standard hybrid, allowing for more pressure relief and superior comfort. When shopping the Hybrid Premier, you can choose between a 3 or 4-inch comfort layer— if you prefer a medium feel from your mattress, choose the 3-inch top layer, but if you want something softer, choose Purple's® 4-inch option, instead.
Purple® features their innovative Purple Grid™ in each of their mattresses. Their Purple Grid™ looks exactly how it sounds— it's a mattress-sized grid made with a hyper-elastic polymer to deliver No-Pressure® support. When you lay down on one of these mattresses, the Purple Grid™ molds to your body to alleviate pressure points and offer instant comfort. While contouring, the Purple Grid™ is designed to offer extra support under your torso to prevent your hips from sinking too far into the mattress. Plus, because this layer is a grid, it allows for plenty of airflow and prevents hot air from being trapped in the bed.
Below the Purple Grid™, Purple® includes a thin layer of poly-foam to serve as a cushion between the comfort layer above and the inner coil system below.
Next is this bed's innerspring system providing bounce and zoned support. Purple® includes a 7.5-inch layer of pocketed coils in their Hybrid Premier to not only enhance your night's sleep, but also to increase the bed's durability.
Purple® Hybrid Highlights
Features the Purple Grid™ for No-Pressure® support
Most comfortable for side and back sleepers— but too soft for stomach sleepers
Comes with a 10-year warranty and a 100-night sleep trial
7. Bear Hybrid
The last hybrid to consider is the Bear Hybrid. Bear makes mattresses for athletes, including two gel memory foam mattresses and one hybrid. We like this mattress because it features top-notch mattress materials, is GREENGUARD Gold certified, and comes with a 20-year warranty.
We recommend the Bear Hybrid to back, side, and stomach sleepers alike; however, it may feel too soft for some stomach sleepers and too firm for some side sleepers. Luckily, Bear offers a 100-night sleep trial to test their mattress and decide if it works for you.
The Bear Hybrid features five sleep-promoting layers— the upper foam layers offer dynamic pressure point relief while the lower pocketed coils minimize motion transfer, offer edge support, and provide zoned support. Let's talk more about its construction.
Bear covers each of their mattresses with a Celliant® cover. Celliant's® textile technology is FDA-determined to promote better sleep by regulating your temperature. It does this by recycling your body heat to infrared energy. Infrared energy creates an increase in local circulation, which prevents you from waking up overheated. They also quilt super-soft, gel-infused foam into their cover to offer you immediate cushioning comfort and combat body heat.
The first comfort layer is a thick layer of Premium Comfort Foam, a poly-foam designed to be contouring and pressure-relieving like memory foam. Plus, it has a slower response rate, so it allows for deep compression and pain relief.
Next is a thin layer of poly-foam acting as a transition between the softer foams above and the coil system below. The third layer of the Bear Hybrid is an 8-inch pocketed coil system. As we mentioned earlier, these coils offer dynamic support, isolate motion, and enhance the bed's durability.
The last layer in the Bear Hybrid is another thin layer of poly-foam for extra support. All in all, the Bear Hybrid stands 14 inches tall, so it has a bit of height.
Bear Hybrid Highlights
Suitable for all sleepers
Features cooling gels to combat body heat
Backed by a lengthy 20-year warranty
8. Tuft & Needle Hybrid
Tuft & Needle is a popular online mattress brand known for offering affordable all-foam mattresses. Recently, they added a hybrid mattress to their line-up featuring their proprietary T&N Adaptive® foam and pocketed coils. We like this hybrid because it's made with pressure-relieving, cooling foams and a plush pillow top for added comfort.
Tuft & Needle's hybrid is best suited for side and back sleepers, but may be too soft for some stomach sleepers. All in all, it has two layers and stands 12 inches tall, so it fits nicely within most bed frames. Plus, it's compatible with adjustable bed frames, too.
The cover of the Tuft & Needle Hybrid is soft but breathable, and it's quilted with an inch of poly-foam for an extra cushioning feel. Inside, is a 2-inch layer of T&N Adaptive® infused with graphite and ceramic gel to wick away heat and prevent night sweats. Tuft & Needle also fashions cooling channels into this top layer of foam to promote better airflow.
Below the comfort layer of foam is a thin layer of micro-coils for zoned support. Then, the last layer of the mattress are pocketed coils. These pocketed coils also provide zoned support, but they also limit motion transfer and prevent sagging.
Tuft & Needle's hybrid comes with a 100-night sleep trial and a 10-year warranty.
Tuft & Needle Highlights
Built with cooling channels and graphite gel for temperature regulation
Best for side and back sleepers
Contains micro coils for extra bounce and support
What is a Hybrid Mattress?
By definition, a hybrid mattress combines two or more support systems— at least 2 inches of foam followed by an innerspring coil system— to deliver pressure-relieving, responsive support. If you like the feel of a traditional bouncy mattress but want the benefits of a foam bed, a hybrid is likely the best mattress for you.
Hybrids closely resemble foam beds, rather than innersprings. Traditional innerspring mattresses have a tufted cover, leaving small indents across the surface of the bed. Foam mattresses, on the other hand, have a flat surface to conform to your body. Because hybrids contain foam comfort layers, these beds won't have a tufted cover.
Many hybrids do feature pillow or Euro tops, though (but they don't have to). These are commonly made with cotton, wool, fiberfill, and even sometimes extra poly-foam, memory foam, or latex foam. The difference between pillow and Euro tops lies in their construction and not so much their feel. Pillow tops are sewn with a small gap between it and the comfort layer below, so it looks like an add-on to your mattress, whereas euro tops are sewn directly to the comfort layer to give the bed a more uniform appearance.
It's important to note the term "hybrid" is largely a marketing gimmick. "Hybrid" literally means "a thing made by combining two different elements," so it's not uncommon for beds to be labeled as "hybrids" despite not having the minimum 2 inches of foam and required inner coil system.
Brands can get away with doing this because their beds technically do combine two or more materials; they're just not following the proper construction of a true hybrid. To make sure you're getting a true hybrid mattress, take a close look at the structure of the bed.
Different Types of Hybrids
The term "hybrid" is rather broad; however, remember a true hybrid must contain at least two inches of foam and a coil support core. Let's talk about the two main types of hybrids.
Memory Foam Hybrid Mattresses
As their name implies, memory foam hybrid mattresses are hybrids featuring memory foam layers. These beds typically contain a thick comfort layer of memory foam, a transition layer of poly-foam, and a base of innerspring coils. These beds offer the pressure relief of memory foam and the bouncy support of innersprings.
Latex Hybrid Mattresses
Latex hybrids contain a thick uppermost layer of latex and a sturdy coil core. Sometimes these beds contain a transition layer of poly-foam, and other times they feature another smaller layer of latex to act as the buffer between the comfort layer and coil system.
Also, it's not uncommon to find hybrid mattresses with both latex and memory foam above a layer of coils. Many times these beds are quite thick and use both memory foam and latex to offer the benefits of both materials while mitigating their downfalls. These beds also usually contain a thin transition layer of poly-foam below the comfort layers.
How Do Hybrid Mattresses Feel?
Because a true hybrid combines at least 2 inches of foam with a coil system, they offer a mix of cushioning comfort and bouncy support.
When you lay on these beds, you don't sink in as far as you would on a foam bed, but the top layers conform to your body to alleviate pressure. A hybrid will keep you more lifted "on top" of the mattress, making it easier to switch sleeping positions and climb in or out of bed.
These beds come in a variety of firmness options— finding one that's comfortable for your sleep style can upgrade your night's sleep.
Pros and Cons of Hybrid Mattresses
As with any mattress on the market today, hybrids have their pros and cons. In this section, we'll break those down to help you decide if one of these beds is for you.
Because hybrid beds combine a number of high-quality sleep-promoting materials, they have a truly unique feel. For those who are used to the classic innerspring mattress but need to upgrade their bed set due to aches and pains, these beds can help you get a better night's sleep.
Pros:
Pain-relieving
Responsive and better ease of movement
Completely different feel in comparison to other mattress types
While combining foams and innerspring coils creates a luxurious sleep experience, these top-notch materials come with a price tag. Hybrid mattresses are normally the most expensive options, and may not be within everybody's price range. Cheaper hybrid mattresses typically receive poor customer reviews— if you're going to get one of these beds, make sure you're picking something high-quality.
Cons:
Expensive
Not the best at preventing motion transfer
Cushioning but not contouring
Mattress Types
Hybrid mattresses offer a variety of sleep-enhancing benefits, but they're not for everybody. Apart from hybrids, there are three main types of mattresses sold today: memory foam, latex, and innerspring. In this section, we compare hybrids to other types of mattresses to help you choose what's best for your needs.
Hybrids vs. Memory Foam Mattresses
Memory foam mattresses are some of the best for pain relief because they mold closely to the body to relieve pressure points. Memory foam responds to heat and pressure, so when you lay on these beds they contour to your body for instant comfort. Then, once you get up, the memory foam bounces back to its original shape.
These beds tend to have a cradling or "hug-like" feel because of how closely they conform to your body. Plus, because these beds respond to heat and pressure, they adapt to sleepers individually, meaning couples who share a bed with a partner won't be disturbed by their partners movement throughout the night. If you need a mattress for back pain relief, memory foam is a great option. Same goes if you're looking for a mattress for two people to share.
The biggest complaints with memory foam mattresses are their tendency to trap heat and sometimes, uncomfortable sinkage. If a memory foam mattress is lacking in adequate support layers, they can feel like sleeping in quicksand. Fortunately, many modern mattress companies now design their memory foam beds with features to mitigate these concerns (e.g. zoned support layers, cooling gels).
Hybrids, as we've already discussed, can contain both memory foam and innerspring coils. While hybrids with memory foam offer all of the same cushioning and pressure relief, they're not as cradling as memory foam mattresses because the coils keep you lifted more in the bed. Inner coil systems are responsive, so they give a bed bounce, and the inclusion of these coils with memory foam makes for a cushioning yet bouncy bed.
Hybrids vs. Latex Mattresses
Eco-friendly shoppers tend to gravitate towards latex beds because all-natural latex mattresses are the only true organic mattresses you can buy. These beds are contouring like memory foam, but they don't offer a cradling feel; instead, latex beds offer more lifted support and have an "on top of the mattress" feel. Many people tend to feel latex mattresses are firmer than memory foam beds for that reason.
Another perk to latex is its natural cooling abilities. One of the more common complaints about memory foam mattresses are their tendency to trap heat, but latex mattresses can effectively dissipate heat to keep hot air out of the bed and cool air in.
The biggest downfall to buying a latex mattress is its price and weight. Latex is an expensive material, so these beds are sometimes priced quite high. Plus, they're heavy to pick up and carry. While you likely won't have to maneuver your mattress too much, these beds do require periodic rotating. If you live alone or don't have the physical strength to hoist up a latex mattress, maintaining one of these beds may be difficult.
Hybrids with latex are notably lifting and bouncy. Both coils and latex are notably bouncy mattress materials, plus latex isn't as cradling as memory foam, so hybrids with latex offer a distinct "on top of the bed" feel and should never feel too sinking or cushioning.
Hybrids vs. Innerspring Mattresses
Innerspring mattresses are what you think of when you hear the term "traditional mattress." Otherwise known as a "coil mattress," these beds are defined by coil layers. Innersprings do not contain layers of foam, so any cushion you receive from these beds comes from the cover or pillow top.
The biggest difference between innersprings and hybrids are innersprings lack of foam layers. Innersprings used to be the most popular type of mattress, but now they've lost their thunder to more comfortable, sleep-promoting mattresses such as memory foam and latex. Hybrids are commonly described as "offering the best of both worlds" because they combine the traditional bouncy mattress feel with more innovative, pain-relieving mattress materials.
If you experience chronic pains, an innerspring is not for you. Instead, choose a hybrid. Innersprings cannot conform closely to your body for pressure and pain relief, but hybrids can because of their foam layers. Also, unlike hybrids, innersprings often have the short lifespan and a budget-friendly price tag.
Things to Consider Before Buying a New Bed
Before buying your next bed, take a step back from the overwhelming amount of options and consider your sleep needs first. Every brand advertises their bed as the best, but your sleeping position, budget, and preference for firmness will steer you towards your most comfortable mattress.
Sleeping Position & Firmness Levels
Your preferred sleep style is the most significant factor in determining how firm your new bed should be. Different sleeping positions require different firmness levels for healthy support.
Side Sleepers
The most common sleep style is side sleeping. Side sleepers need a mattress that'll nurture healthy spinal alignment but have enough give to alleviate pressure in the hips and shoulders— that's why the best mattresses for side sleepers are medium in firmness. When you sleep on your side, your hips and shoulders take on all of your body weight. If your bed is too firm, it can cause pressure to build up in those areas, resulting in pain points.
Side sleepers are most comfortable on medium-soft, medium, and medium-firm beds. Typically, anything with "medium" in the name is suitable for side sleeping. Because this sleep style is most common, you'll find a lot of beds fall within this medium firmness range.
Stomach Sleepers
Stomach sleeping is the unhealthiest because it puts extra stress on your spine and can result in lower back pain later on down the line. When you sleep on your stomach, your center of gravity shifts to your torso; this shift in weight causes your midsection to sink into the mattress, resulting in an over-extended spine. The best mattresses for stomach sleepers are firm because they'll hold the spine in a neutral position and prevent uncomfortable sinkage.
Back Sleepers
The best mattresses for back sleepers can be medium-soft, medium, or medium-firm, depending on personal preference and body weight.  The only thing back sleepers should be cautious of is excessive sinkage. If you climb into bed and your hips sink below your thighs, your bed isn't giving you enough support. For the healthiest sleep, back sleepers should look for a mattress with zoned support to promote proper posture.
Budget
Before you get too deep in your search for a new mattress, consider your budget. Mattresses range in price, and while some are affordable, others can be quite expensive. Narrow down your selection by eliminating all of the beds outside of your price range.
Be careful with inexpensive mattresses, too. Though it may be nice to find a new mattress for close to nothing, many of these beds are cheaply made. Look for a mattress with high-quality materials and at least ten years of warranty coverage. A quality mattress will likely come with a sleep trial, too. It's usually a smart idea to avoid beds without trial periods.
Frequently Asked Questions
Are hybrid mattresses good?
Hybrid mattresses are great for a variety of sleepers. These bouncy, sleep-promoting beds can work for all sleep styles, and deciding whether or not a hybrid is right for you comes down to determining whether you want an all-foam bed or something with a little bounce. When it comes to cost and durability, hybrid mattresses are on the pricier side and are less durable than memory foam or latex mattresses, but they do tend to last six to seven years.
Are hybrid or innersprings better?
It's safe to say hybrid mattresses are a better version of innerspring mattresses because they have foam layers offering significantly more cushion and comfort. All innerspring mattresses contain some cushioning materials, but a true hybrid contains a comfort layer that's at least 2 inches thick. Plus, hybrids have a longer lifespan than innerspring mattresses, so they're a better value.
Are hybrid mattresses cool?
Hybrid mattresses are much cooler than all-foam beds, including naturally-cool latex mattresses, because they contain an open pocketed coil system to prevent hot air from being trapped within the bed. Some hybrid mattresses contain gel memory foam and other cooling technologies to further prevent night sweats, as well.
Can you flip a hybrid mattress?
No—if you flip a hybrid mattress, you'll be stuck sleeping on the inner coil system and not the cushioning comfort layers. Instead of flipping a hybrid, you should rotate these mattresses every so often instead.
Do hybrid mattresses need a box spring?
We advise against pairing hybrids with box springs since box springs can damage foam layers. Instead, we recommend investing in a solid or slatted foundation to prolong your hybrid's lifespan. These provide more solid support for your hybrid and won't cause any damage to your bed.
Did You Find Your Next Bed?
We hope our guide has brought you one step closer to your next hybrid mattress. Don't forget to read customer mattress reviews during your search to get the most honest feedback about your prospective new bed. Between brick and mortar retailers and online brands, you have plenty of high-quality options— and you can shop in confidence knowing your new bed comes with a generous sleep trial.
If you're not so sure a hybrid is the best mattress for your sleep needs, check out our other mattress guides to learn more about other brands and beds.