Best Bed Sheets of 2023: Reviews and Buyer's Guide
Updated November 22, 2023

Bedding Guides
If you've just invested in a new mattress for yourself, you're probably looking to get better sleep night after night. Before you can jump into your new bed, it's important to pair your mattress with the best sheets to create the most luxurious and comfortable sleeping set-up for you. When you curl up on your mattress at bedtime, your sheets are what envelops your body and provides the most direct comfort. However, choosing the best set of sheets in the mix of bedding sold today can be difficult. In this guide, we will cover what comes in a sheet set, the various fabrics sheets are made from, as well as how sheets are made to help you find your next set.
Our Recommendation: Amerisleep Cotton Sheets
We like Amerisleep's Cotton Sheets because they're breathable, soft, fit a majority of mattresses, are competively priced, and come with a 5-year warranty.
What Comes In a Sheet Set?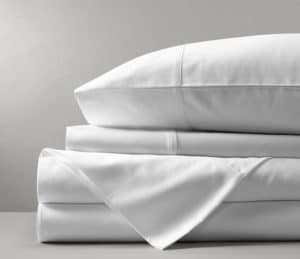 A standard set of sheets contains one fitted sheet, one flat sheet, and one or two pillowcases, depending on the size of the set. A fitted sheet has an elastic band around the corners to fit snugly and securely around your mattress. When making the bed, this sheet goes down first. A flat sheet lies on top of the fitted sheet and envelops you while you sleep; this is the barrier between you and your comforter. It's important to note when using a duvet instead of a comforter, you don't need a top sheet, and many duvet-owners choose not to use their flat sheet.
Best Sheets of 2023

Our recommended sheets of 2023 are Amerisleep Cotton Bed Sheets, made from 100% cotton. These sheets have a percale weave and 310 thread count, which means they're crisp and breathable.
We like these sheets because they're deep-pocketed and fit mattresses up to 18 inches tall, encompassing almost every single bed you could buy. Plus, they're easy to clean and maintain; you can throw these sheets in the washer and dryer as you would any other load of laundry.
These sheets usually come out of the dryer soft and ready to be slept on due to their wrinkle-resistant design. We're a fan of the Amerisleep brand because they offer a 5-year warranty with their sheet sets, protecting you from damage for almost a decade.
In this guide, we'll be listing prices based off of queen sizes; Amerisleep sheets will run you $140.
Nollapelli is a new player on the bedding scene and they have quickly become one of our favorites! After seeing innovations in athletic apparel that support the body while it's in motion, the founder of Nollapelli (a former chemical engineer) wanted to develop a new bedding fabric that supports the body while it's at rest.
Nollapelli's patent-pending fabric – made from an ideal blend of natural, eco-friendly fibers, silky polymers, and fine Pima cotton – creates an optimal environment for sleep, skin, and hair by balancing moisture, temperature, and friction. That's important because how well your bedsheets manage moisture, temperature, and friction plays a BIG role in how well you sleep, and with Nollapelli you can sleep cozy and cool all night long.
New innovation doesn't come cheap – a queen set of Nollapelli's signature sheets costs $300 – but they are extremely soft, so easy to care for, two times more breathable than 100% cotton and more durable too.
Nollapelli also offers free shipping and returns, and you can try them risk-free for 30 days (and nights).

Boll and Branch is another one of our favorite bedding brands; and though we're big fans of them, they rank second on our list because they do not have a warranty and are on the pricier side— a Queen set of Boll and Branch's linen sheets costs $365.
Boll and Branch sells a variety of different sheet sets, but we like their linen sheet the most. Their linen sheets are Standard 100 OEKO-TEX® certified, meaning they're free from harsh chemicals; plus, the linen used for these sheets is sourced from 100% natural European flax.
Boll and Branch is known for its eco-conscious business model and all-natural products— if you're looking to shop "green", Boll and Branch is the way to go. These sheets can fit mattresses up to 17 inches thick, and they come pre-washed, so you're able to make your bed and drift off to sleep as soon as they arrive in the mail.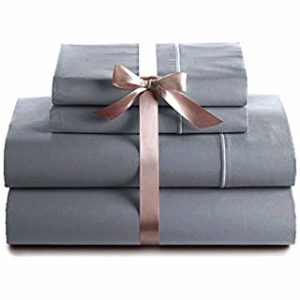 If you're shopping on a budget, Mellanni is an excellent bedding brand to consider because they sell luxury sheet sets at affordable prices. The microfiber they use in their sheets is hypoallergenic, making them great for people who suffer from allergies or sensitivities to dust and dirt.
Additionally, these sheets are designed to be wrinkle, fade, and stain-resistant, so caring for them is rather simple. Mellanni sheets are designed to be durable and long-lasting, but we're a fan of the Mellanni brand because they offer a Lifetime Satisfaction Guarantee backing their products.
With this guarantee, if you decide at any point while owning your sheets that you're not completely happy with them, Mellanni will issue you a full refund— and you get to keep the sheets!
The Mellanni microfiber sheets fit mattresses up to 16 inches thick and are sold in a variety of colors, but the average price for a Queen set of these sheets is $29.70. On Amazon, these sheets rank #1 in the "Best Sheet and Pillowcase Set" and "Best Fitted Bed Sheets" categories.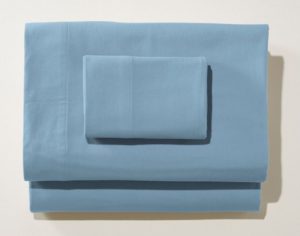 If you're looking for sheets to keep you cozy and warm, these sheets are your solution to your chilly nights. L.L. Bean uses 100% brushed cotton flannel that has a weight of 5 ounces, which they suggest is ideal for promoting a neutral body temperature.
Like our other mentions, these sheets are also Standard 100 OEKO-TEX® certified. We're fond of these sheets because they're resistant to shrinking, fading, and pilling, so they should last through years of use. Reviews of these sheets mention they're exceptionally soft and get softer and cozier with every wash.
A Queen set of these sheets cost $109, a competitive price for high-quality flannel sheets.

The last set of sheets on our list is SlumberCloud's Stratus Sheet Set. These sheets are designed to keep you cool while you sleep and feature innovative temperature-regulating Outlast® fibers. These fibers, in combination with cotton, create a soft and breathable bedding set. The Slumber Cloud Stratus Sheets have a sateen weave and 300 thread count, so they should feel silkier than other cotton sheets. This set is compatible with mattresses between 5-15 inches tall.
This sheet set is easy to maintain because it can be thrown in the washer and dryer with your other clothes. We like this brand because they offer a 60-night sleep trial with their sheets, so you have the chance to try them at home and decide if they're the best option. A Queen Stratus Sheet set costs $199 and comes with a flat sheet, fitted sheet, and two pillowcases.
Key Things to Consider
When shopping for sheets, there are a few things you need to take into account to find the best option for yourself. To start, it's important to consider how warm you want your sheets to keep you. If you live in a hotter climate or tend to overheat at night, you're going to want to look for breathable, moisture-wicking sheets to keep your temperature regulated. On the other hand, if you live in a colder climate or tend to wake up shivering at night, you're better suited for warmer, cozier sheets. Also, consider seasonal sheets— if you live in an area where you experience all four seasons, you may need to buy a set of sheets for summer time and different ones for the winter to keep you cool and warm, respectively.
Another crucial thing to consider before buying new sheets is how easy they are to wash. Though there's no rule about how often you're supposed to wash your sheets, doing so once a week is optimal for keeping your bed germ-free. Buying sheets that can simply be thrown in the washer and dryer are best for convenient cleaning. In general, materials such as cotton, linen, polyester, acrylic, and nylon can be washed at home; while materials such as silk, wool, and velvet need to be taken to the dry cleaners for proper washing, which can add up week after week. Also, take note of how your sheets come out of the dryer; some fabrics will become a wrinkled mess after coming out of the dryer, which can cause more work for you if you're stuck having to iron them.
Last but not least, establish a budget before you start your search and do your best to stay within the price range you allotted yourself. Just like a new mattress, sheets can be expensive, depending on the materials they're made from, and their thread count. For example, an average set of linen sheets can start at $250 for a Queen-size. If you're looking for budget-friendly sheets, choose sheets made from slightly less expensive fabrics, such as cotton.
In the next sections, we'll be breaking down the core components of sheet-buying and what factors are most important to look for, such as thread count, weaves, fabrics, and fit.
What Is Thread Count?
Thread count refers to the number of threads in 1 square inch of fabric. It's a common misconception that the higher the thread count, the softer the sheet; however, the material of the sheet plays a much more significant role in the feel of the fabric than the thread count. Ultimately, the thread count of a sheet is an indicator of how breathable it is. On average, a good thread count is anywhere between 200 and 800; however, it's not uncommon to see sheets with over 1,000 thread count being sold as more luxurious options. Don't get sucked down the idea that you need the highest thread count sheet.
Below, we provide a breakdown of the ideal thread counts for different fabrics.
Cotton: 200-400 count
Egyptian Cotton: 300-400 count
Supima Cotton: 200-400 count
Percale: 250-300 count
Sateen: 300-600 count
Bamboo:300+
Linen: 100-200 count
Not all sheets are measured by thread count, but instead, are gauged by weights. Fabrics compared by weights include silk, flannel, microfiber, and jersey. Let's discuss the ideal measurements of these materials. Microfiber and Flannel are measured by grams per square meter, GSM; Microfiber sheets should fall anywhere between 90-120 GSM while flannel sheets should be at least 170 GSM. To continue, high-quality silk sheets are 14-19 pounds, and jersey sheets are at least 10+ ounces per yard.
Weave
Weave refers to how the sheets are stitched together; it's an indicator of the sheet's feel, lifespan, and price. In addition to a basic, plain weave, there are two main types of weave: percale and sateen. Deciding which weave to look for depends on your personal preference, as one is not better than another— they're just different.
Percale sheets are made from the traditional over-under weaving method and contain an equal amount of surface threads on either side. These sheets are durable and breathable, often having a matte look. What defines percale sheets are their crisper feel, in comparison to sateen's smooth texture. For the most part, percale sheets are excellent for those who tend to sleep hot.
Sateen sheets have a soft, smooth texture. They're heavier than percale, so they're better suited for people looking for a warm, cozy sheet set. These sheets are made by placing more threads on the top of the weave, so the top of the sheets feel smoother than the underneath side.
Fit
When choosing your next set of sheets, it's necessary to find the size that is compatible with your bed. On top of considering size, you also have to think about the height of your mattress and the depth of the sheets.
Pillow-top mattresses, or mattresses taller than 14 inches, will likely require deep-pocketed sheets, instead of a plain, fitted sheet. Though fitted sheets usually work fine around most beds, they're less likely to fully encase the sides of the mattress thickness when it's beyond 12 or 13 inches in height.
Deep-pocketed sheets differ from fitted sheets because they have wider, deeper side pockets to tuck in the corners of your mattress. These sheets measure between 15-22 inches deep, accommodating a wider variety of beds. Before you buy, check the depth of the deep-pocketed sheets you're considering to make sure they'll be compatible with your mattress.
Fabrics
Probably the most prominent thing to consider before choosing your next set of sheets is their fabric. Regardless of your preferences, or what you're looking for in sheets, you have budget-friendly, eco-friendly, cooling, and cozy options.
Below, we'll provide a brief description of some of the more popular fabrics used in the bedding industry today, as well as how their care instructions so you can decide which fabric is best-suited for your preferences and lifestyle.
Bamboo
Bamboo sheets are known for being durable but silky soft. They're an excellent choice for all seasons because they wick away moisture and help regulate your temperature, keeping you cool in the summer and warm in the winter. Bamboo sheets are naturally antimicrobial and antibacterial, too, making them great for kids beds.
When shopping for bamboo sheets, look for those labeled as 100% Rayon from Bamboo because that means the rayon has been derived from the bamboo plant. When shopping for bamboo sheets, look for ones made with 100% bamboo fibers; unfortunately, many brands will advertise their sheets as being "bamboo sheets" when in reality, they contain only rayon and a chemically-treated material derived from bamboo stalks.
Bamboo sheets are a relatively easy fabric to maintain, as a bamboo sheet set can be thrown in the washer on cold and dried on low at home for quick, easy cleaning. When washing your bamboo sheets, avoid using bleach or fabric softeners because they can damage or wear out the fabric.
Blended Fabrics
Though "blended fabrics" sounds quite vague, this term commonly refers to a fabric made with a combination of cotton and another material, usually polyester. Because 100% cotton sheets can be on the pricier side, blended fabric sheets are popular amongst those shopping on a budget. Blended fabric sheets are known for being durable and wrinkle-resistant, which makes them easy to wash and maintain; their only downside is that they're not as soft as 100% cotton.
When it comes to washing instructions, check the tag to make sure you're following the proper care instructions. Typically, you can throw blended fabric sheets in the washer and dryer without a problem, but specific blends may require more delicate care.
Cotton
Cotton is by far the most popular textile used in sheets. Cotton is a go-to in the bedding industry because it's long-lasting, soft to the touch, and easy to clean. Plus, because cotton is an affordable textile, many bedding brands can sell their cotton sheets for a competitive price. Cotton sheets are easy to keep clean and maintain because they can be washed in the washer and dryer at home; however, they may need to be ironed after coming out of the dryer, unless you're okay with sleeping on wrinkly sheets.
There are a few variations of cotton: Egyptian, Pima, and Supima. Below, we'll describe their differences. Before buying a set of cotton sheets, read the label. Unfortunately, it's not uncommon for bedding companies to market their sheets as "Egyptian Cotton" when they really only contain a small portion of Egyptian Cotton threads. Specifically, check the materials and percentages used to make sure you're getting the best sheets for the money spent.
Egyptian Cotton
Egyptian cotton is one of the most luxurious fabrics used in sheets. Egyptian cotton threads are finer, softer, and more durable than regular cotton. The most significant defining feature of Egyptian cotton is its extra-long fibers. Longer fibers are more resistant to pilling, wrinkling, tearing, and fading than standard cotton sheets. As the name suggests, Egyptian cotton is hand-picked from the Nile River Valley. A set of these sheets can set you back a couple of hundred dollars.
Pima Cotton
Pima cotton is characterized by medium to long fibers, meant to last longer and resist damage even after years of use. Pima cotton sheets are notably softer and silkier than traditional cotton sheets, while also being more durable. A good way to think of Pima cotton is a step up from traditional cotton and a step below Egyptian cotton; that said, a set of Pima cotton sheets can cost around $200 to $300.
Upland Cotton
If you see sheets labeled as 100% cotton, chances are they're made from Upland cotton fabric. Upland cotton accounts for 90% of cotton products around the world, and 95% of cotton grown in the United States. This cotton is characterized by shorter strands, so they're more likely to show signs of deterioration with use.
Flannel
Flannel sheets are popular in colder climates because they keep you warm and cozy all night. Cotton, wool, and synthetic fibers are most often used to make flannel sheets. When it comes to caring for flannel sheets, they can be washed at home in your washer and dryer.
Just be sure to wash them on warm with a mild detergent, avoiding fabric softeners or other scent-boosting beads, and tumble dry on low. As we mentioned before, a high-quality flannel sheet will be a minimum of 170 GSM.
Jersey
Jersey sheets are softer and stretchy; as the name suggests, they feel a bit like your favorite t-shirt. Jersey is warmer than cotton but not as warm as flannel, so they're great for people who prefer a cozier sheet. These sheets are made from cotton or a combination of cotton and synthetic threads.
Unlike the other fabrics we've mentioned on this list, Jersey sheets are knitted instead of woven. Now you may be wondering the difference between knitted and woven sheets. Knitted fabrics are made with one singular yarn, continuously looped; whereas woven fabrics are made with more than one piece of yarn.
Care for jersey sheets is rather simple; a gentle wash on cold is best for preserving the color of the sheets and tumbling dry on medium heat helps prevent them from stretching.
Linen
Linen is a thick but breathable textile; this means that though they're sturdy and designed to last through years of use, they're also quite airy and allow for a cool sleeping environment. Linen sheets are popular amongst people who live in warmer climates due to their ability to regulate your temperature while you sleep. These sheets are also great for people who suffer from allergies or skin rashes such as eczema because they are naturally bacteria and dirt resistant and anti-allergic. Linen is derived from the flax seed, making them an eco-friendly option, too.
Linen can be washed at home, but it's a tad trickier than other fabrics. Some linen sheets will require you pre-wash them before throwing them straight in your washing machine. If pre-washing is necessary, instructions for how to do so should be clearly printed on your sheet's Care Tag. After you pre-wash your sheets, or if pre-washing is not needed, you can go ahead and put them in the washing machine in cold to lukewarm water for a gentle cycle. Make sure to use a milder, or preferably all-natural, detergent when washing these sheets and avoid bleach and fabric softeners. When it comes to drying your linen sheets, it's recommended you hang-dry them to help preserve their quality. Some linen sheets can be dried in the dryer, but only for a brief time, before it's necessary to take them out and hang-dry them. It's relevant to mention, linen is known for getting softer and softer with every wash.
Microfiber
Microfiber refers to finely woven synthetic fibers, created in a lab rather than found occurring in nature. Microfiber sheets are usually nylon or polyester, and because they're so finely woven, are incredibly durable. Also, due to their tight weave, are repellent to water and stains; if you catch a stain as it's made, you can often wipe it up without leaving a mark. Microfiber sheets are notably soft and comfortable, and due to their lower price, are a popular option for a lot of sleepers. These sheets hold their color well, so they're less likely to fade with washes; however, they wrinkle easily and should not be ironed, so they're not the best for people who are bothered by wrinkly sheets.
To clean these sheets, wash them on cold and tumble dry them on low. Avoid washing these sheets with other clothes as they tend to attract lint, and as always, avoid bleach and fabric softeners with this fabric, as well.
Modal
Modal sheets are similar to bamboo and Tencel sheets in the regard that they're made with plant cellulose— but Model sheets are made with cellulose from beech trees, specifically. Like bamboo, Modal is a form of rayon. Modal is most commonly used as an alternative to cotton; it's breathable like so, but over 50% more absorbent than cotton, so it should be better at regulating your temperature. Another perk to using Modal is it resists shrinkage, unlike cotton, so you don't have to worry about your sheet set not fitting after numerous washes.
Modal is relatively easy to maintain— wash it with warm water, avoiding bleach, chlorine, and other fabric softeners, and then tumble dry on low.
Polyester
Polyester is a synthetic fabric that feels softer than cotton. While polyester sheets are durable and cozy, they're not a good option for people trying to shop "green" or avoid chemicals in their products. Polyester is not a breathable material, so it's good at keeping you warm, ideal for people who live in colder climates. Polyester is inexpensive to produce and therefore, is a budget-friendly bedding option.
Polyester sheets are essentially effortless to clean, as they can be thrown in the washer and dryer with the rest of your laundry.
Silk
Silk is made from— you guessed it— silkworms. This luxurious fabric is known for being smooth and shiny but strong and durable. There are many benefits to using silk bedding; for starters, silk is naturally hypoallergenic, making it great for people who suffer from allergies. To continue, silk can help your hair and skin stay strong and healthy by preventing thinning of the hair and aging of skin cells. Lastly, silk helps regulate your temperature because it's breathable and cool to the touch.
It's not uncommon to see silk blends on the market, so buy 100% silk sheets to make sure you're reaping all the benefits of this fabric. Silk sheets are usually on the pricier side, but because they're durable, can be worth the investment. To clean your silk sheets, hand wash them the first few times to protect the quality of the fibers. After, you can gradually work your way up to washing your silk sheets on a delicate, cool cycle in the wash. Always hang dry your silk sheets and do not take the risk of attempting to machine-dry them.
Tencel
Tencel is a brand name that refers to rayon or lyocell— fabrics made out of cellulose from wood. Tencel, specifically, is made from eucalyptus trees; while similar fabrics Modal and Bamboo are made with fibers from beech and eucalyptus trees, respectively. Tencel sheets have become more prevalent in recent years because they're a better alternative than standard cotton sheets but not as expensive as Egyptian or Pima cotton sheets. These sheets are best characterized by their smooth, but stiffer texture.
Frequently Asked Questions
Why do hotel sheets feel so good?
Hotel sheets are often made with high-quality materials—for example, many hotels cover their beds with Egyptian cotton sheets. Perhaps more importantly, hotel sheets are also changed frequently.
If your sheets are changed every day, then you have the luxury experience of lying down on a set of fresh, clean sheets every night. You can further complete the experience by pairing high-quality sheets with a hotel mattress.
How often should I wash my sheets?
Your sheets, along with your blankets and pillowcases, should be washed at least once a week. Scientists found that washing your bedding this often significantly cuts down on dust mite allergens in your bedroom.
Using a mattress protector is another way to keep your mattress allergen-free. You can also buy pillows and mattresses with hypoallergenic materials.
What are the smoothest sheets?
If you want a smooth feeling bed, a set of silk sheets might be your first solution. But silk sheets can be expensive, although many find their durability worth the high price. A set of quality cotton sheets with a high thread count can still give your bed that smooth feel, even if you're shopping on a budget.
Are 1000 thread count sheets worth it?
Higher thread counts often create a softer feel, but that doesn't mean you need a thread count in the thousands. You can find perfectly comfortable sheets with a 200 to 800 thread count. Depending on the sheet's finish, it can feel luxuriously soft even if it has a lower thread count.
How do I choose sheets?
Think about what fabric you would find most comfortable, night after night. Breathable fabrics are important, especially if you live in a warm climate or tend to sleep hot. Some stores have sample sheets sets you can feel, so if you can, take advantage of them to find out what fabrics you prefer.
Once you know what kind of sheets you want, compare thread counts. A good thread count range is 200 to 800, and remember that a lower thread count can still feel comfortable depending on its finish.
Did You Find Your Next Sheet Set?
After investing in a new mattress, buying the most comfortable bedding is the next step in creating the most luxurious sleeping environment for yourself. For example, you want the best sheets for a memory foam mattress for cool, undisturbed sleep. Finding high-quality sheets isn't impossible, choosing your desired fabric and preferred weave can steer you towards your most fitting sleep set.
Before buying, always read the fine print and ensure you're getting high-quality fabrics. We hope this guide has helped simplify the key concepts to consider before settling on a new set of sheets; as always, please feel free to leave your thoughts, questions, and feedback in the comments section below.