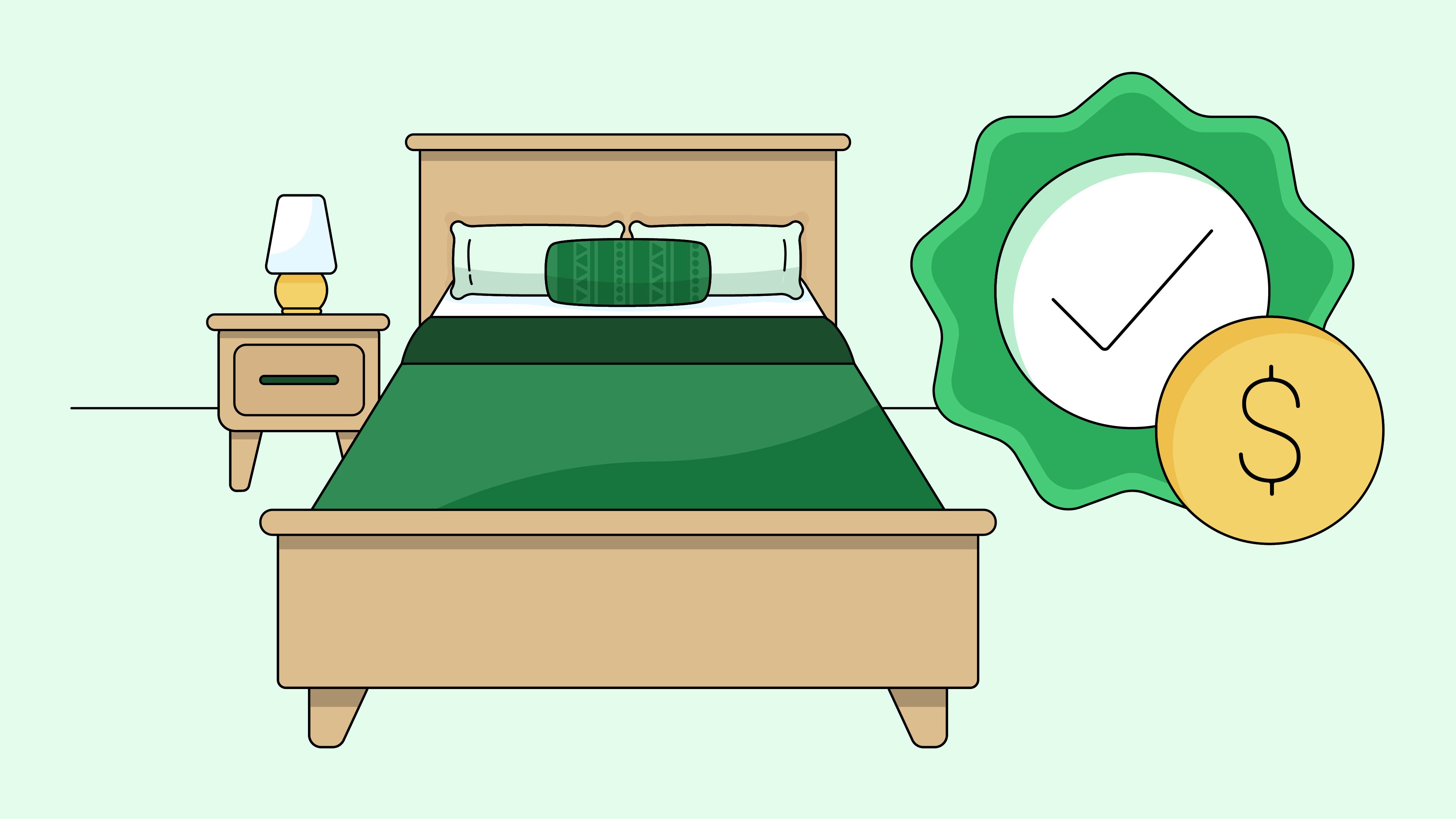 Best Mattresses Under $1,000
Updated November 22, 2023

Mattress Guides
A new mattress isn't always a cheap buy, but it doesn't have to break the bank. As you search for your new bed, you'll find there are a variety of mattresses to consider. However, if you're looking for the best mattress under $1,000 it can get a little more challenging to find a quality product. In this guide, we'll discuss the four things to consider before choosing your next mattress, as well as our Editors' affordable bed recommendations.
Best Mattress Under $1,000: 30 Second Summary
Zoma Mattress – The Zoma Mattress is the best mattress for under $1,000. Tailored to help you sleep better and recover faster, the Zoma Mattress contains sleep-enhancing technology to help you wake up every morning pain-free and ready to take on the day.
Top-Rated Beds Under $1000
The first mattress on our list is the state-of-the-art Zoma Mattress. With three different layers, this bed packs a lot of punch. It's designed to help you get deep, reparative rest to achieve peak performance during your day-to-day.
Every Zoma mattress comes with a 100-night sleep trial and a 10-year warranty.
How the Mattress Feels
The Zoma Mattress is a medium feel mattress with a responsive surface. The bed is pleasantly springy without relying on any coils, thanks to the transition foam that mimics the feel of latex and the surface's adaptable cushion.
Not only is the gel memory foam conforming without being unsupportive, gently molding to the body's curves while providing a pleasant lift. But the infused gels also ensure the mattress remains cool throughout the night.
What It's Made Of
The first layer of the Zoma is 2 inches of gel-infused memory foam. When you lay on this mattress, the top layer will contour to your body to alleviate pressure points and tension. The cooling gel infused in this layer combats body heat to keep you at a comfortable temperature all night long.
Zoma integrates its Triangulex™ technology, a zoned support system, within its top layer. Triangulex™ technology feels firmer around the midsection of the bed to offer extra support for your torso and prevent you from sinking uncomfortably far in the mattress. Around your shoulders and hips, this technology contains triangle-shaped cutouts to offer deeper compression and better pressure relief for those major joints.
The second layer of the Zoma Mattress is 2 inches of Reactiv™ foam, a latex-like polyfoam. The Reactiv™ layer is more responsive and thus increases this mattress' overall bounce— offering a more "on top of the bed" feel. If you like the cushioning comfort of memory foam but don't want to feel like you're sinking down into quicksand, the Zoma is a great choice.
Last but not least, the Zoma includes a 7-inch poly-foam base layer. The Support+ foam in the core of this bed offers extra shape and support for the layers above.
ZOMA MATTRESS
Includes gel-infused memory foam to prevent hot nights
Contains dynamic support technology to nurture a healthy spine
Designed for universal comfort, making it an option for all sleepers
Our runner-up recommendation for best mattress under $1000 would have to be the Vaya Mattress. The Vaya was designed to provide a night of pure comfort at an affordable cost.
A queen size Vaya Mattress is $599 with free shipping. The bed also comes with a 100-night sleep trial and a 10-year warranty.
How the Mattress Feels
The Vaya Mattress's medium feel is tilted toward the softer end of the spectrum, gently hugging the body in all positions. It's still supportive and keeps the spine aligned in a healthy, neutral position.Still, the touch of plushness is an unexpected luxury for some, it may not be to all sleepers' taste.
What It's Made Of
The bed contains two layers that feature a mix of bounce and pressure-relieving support. Let's take a closer look at the mattress's construction.
The top layer is 3 inches of plush Vaya Comfort Foam. This foam keeps cool even as it conforms to your entire body, thanks to its lightweight, airy design. Vaya Comfort Foam also has some bounce to it, which enables it to support all kinds of sleepers.
The bottom layer is 9 inches of dense Vaya Base Foam. This foam evenly distributes your body weight, limiting the pressure points that can build up in your body. Vaya Base Foam also resists premature sagging.
VAYA MATTRESS
Breathable design prevents sleeping hot
Supportive base extends mattress's likely lifespan
Made to accommodate all sleeping positions
Amerisleep is a top-rated memory foam mattress brand. They sell mattresses in varying firmnesses, with each recommended for specific sleep styles. Their AS2 is their most inexpensive model, costing $999 for a queen.
Amerisleep only has a select few showrooms across the country, so they sell their beds primarily online and offer a 100-night sleep trial with every purchase. Plus, they offer one of the longer warranties in the mattress industry, spanning 20 years and protecting your mattress with two decades of warranty coverage.
How the Mattress Feels
The AS2 is a medium-firm mattress and it's best suited for back and stomach sleepers. If you prefer something plusher or are a side sleeper, the AS2 will likely be too firm for your comfort.
However, for sleeping styles that the AS2 does support, they tend to find its feel quite pleasant. "Comfortable" is the second most recurring word in consumer reviews, second only to "good support."
What It's Made Of
The first layer is 2 inches of pressure-relieving plant-based memory foam with a 4-lb density; this molds to you body and alleviates stress in your joints, muscles, and spine.
The memory foam Amerisleep uses, called Bio-Pur®, is more breathable than traditional memory foam, too. So it should keep air flowing through the mattress and your temperature regulated.
The second layer is 3 inches of reactive Affinity foam with five zones of targeted support. The zoned support comes from hexagonal cutouts across the surface, creating a surface that's soft and firm as needed.
The next and last layer is 7 inches of supportive core foam with a 1.8-lb density to give the bed shape and structural support.
AMERISLEEP AS2
Plant-based memory foam for a budget-friendly, eco-friendly option
Compatible with back and stomach sleepers
HIVE® technology provides a perfect balance of cushioning and support
The Nolah Original 10 is one of our favorites when it comes to an affordable foam mattress. It has a simple, thin profile that packs a lot of punch with its cooling materials and pressure-relieving cushion.
Plus, it comes backed with the protection of a lifetime warranty and a 120-night sleep trial. If you want to save further, you can remove the sleep trial at checkout.
How the Mattress Feels
As Nolah puts it, the surface is "not too soft, not too firm," creating a balanced sleep area with pressure relief and spinal support. The top layer of AirFoam™ and the fabric of Tencel™ work together to promote temperature neutrality, ensuring the bed stays cool even as it presses against the body.
What It's Made Of
Tencel™ fabric covers the surface of the original Nolah mattress, giving it a pristine white look that feels cool and crisp to the touch.
AirFoam™ is engineered to relieve more pressure points than traditional memory foam, while also maintaining its structure and durability better. The comfort foam is also highly breathable, ensuring heat won't build up inside the mattress.
The transition foam is durable and supportive foam to increase the bed's overall resilience, ensuring that impressions won't linger on the surface. The dense foam that forms the base is also sturdy to help sleepers squeeze the most value from their mattress.
NOLAH ORIGINAL 10
Heat-wicking Tencel™ fabric is made with eco-friendly fibers
Innovative AirFoam™ maximizes pressure relief
Base and transition foam ensure a supportive, responsive surface
While not every size of the Helix Midnight mattress is under $1000, it offers plenty of options for single sleepers who want a touch of luxury in their mattress. The Midnight mattress is primarily designed for side and combination sleepers.
How the Mattress Feels
A few reviewers noted they had to try the Helix Midnight after they heard about it from someone else or after lying on a friend's mattress. A couple of reviewers also noted that there was an adjustment period of a few days, but overall they found the bed comfortable and supportive.
What It's Made Of
The mattress cover fabric is Soft Touch, which lives up to its name by adding a touch of plushness that's perfect for side sleepers. It's light and stretchy, woven to enable breathability. Sleepers who want more coolness can upgrade to the GlacioTex cover fabric.
The first layer is Memory Plus Foam, created to boost pressure relief. Underneath this memory foam layer is high-grade polyfoam to serve as transition, limiting sinkage.
The main support core is pocketed coils resting on DuraDense foam. The coils cradle the body, while the sturdy base foam creates a stable foundation for a strengthened structure.
HELIX MIDNIGHT
Soft Touch cover fabric or GlacioTex cooling cover
Memory Plus Foam rests on top of a transition foam
Pocketed coils on DuraDense for stable buoyancy
Our first recommendation for a hybrid under $1000 would have to be the Zoma Hybrid. It's uncommon to find such an affordable quality hybrid because of the mattress type's production costs. Because a hybrid mattress must contain a mix of high-quality materials, many hybrid mattresses cost more than $1000 for a queen size.
You can buy a queen Zoma Hybrid for $999 and try it out for 100 days at home. If you're not satisfied after breaking it in, Zoma will offer you a full refund.
How the Mattress Feels
The Zoma Hybrid is more buoyant than its purely foam counterpart, thanks to its pocketed coil core. Moving across the surface is easy, and as sleepers settle down on the surface they can enjoy how the weightless feeling of the coils creates the illusion of a personal cloud.
People with a condition that restricts movement, such as arthritis, enjoy the edge support mattresses like the Zoma Hybrid offer. The edge support creates firmer sides for easier movement, and you can even sit on the side of the bed.
What It's Made Of
A Zoma Hybrid has four layers, which we will examine one by one.
The first layer is 2 inches of gel-infused memory foam with zoned support to maintain firm support under your back, while increasing pressure relief under your head, shoulders, and legs.
The second layer is 2 inches of Reactiv™ foam. Reactiv™ pushes back against your body slightly for more support and comfort. The springy material limits sinkage, ensuring you don't wake up with morning back pain.
The third layer is 7 inches of pocketed coils. Companies like Zoma wrap every individual coil to limit motion transfer, which can disturb a partner's rest when you toss and turn. Plus, the wrappings muffle any squeaks or groans the coils might make.
The fourth and final layer is an inch of base foam. This foam base gives the mattress coils a sturdy surface to push off from, promoting a durable structure.
ZOMA HYBRID
Air channels in the comfort layer dissipate body heat
Springy and supportive Reactiv™ foam
Bouncy pocketed coils lift you for a good night's rest
Tuft and Needle carries three mattress models, the original T&N, the Mint™ and the T&N Hybrid. The Mint™ is built to be a more luxurious version of their original, top-rated bed; so if you're shopping on a budget, we recommend sticking with their flagship model.
The T&N bed has two layers of specially engineered poly-foam and a cover infused with cooling technologies, to prevent you from sleeping hot on their bed. When you buy the T&N, it comes with free shipping, a 100-night sleep trial, and a 10-year limited warranty. Tuft and Needle's warranty covers visible sags starting at only ¾ inch.
How the Mattress Feels
The T&N bed is only available in one firmness, which is rated an average of 6.5 out of 10 on the firmness scale. Because it feels to be a medium to medium-firm bed, depending on your body type and how much weight you're bringing to the mattress, it's a comfortable option for side and back sleepers. Stomach sleepers, however, may need a firmer mattress.
What It's Made Of
The top layer of their original mattress is 3 inches of Tuft and Needle's proprietary T&N Adaptive® foam. This foam is a poly-foam with a 2.8-lb density, and they infuse this layer with graphite cooling gel to combat heat within the mattress.
The core, or bottom, layer of the T&N is poly-foam with a density of 1.8-lbs. This firmer foam layer supports the softer T&N Adaptive® foam above and gives the bed structural support.
The cover of this bed is a micro polyamide and polyester blend. Tuft and Needle explains on their website that they chose to include micro polyamide instead of cotton in their cover because it dries 6 to 8 times quicker, which should keep you cooler at night.
TUFT & NEEDLE ORIGINAL MATTRESS
Graphite gel helps keep you cool
Compatible with back and side sleepers
Micro polyamide cover wicks away moisture and prevents you from overheating
The Bear Mattress is designed specifically for athletes to help them sleep better and recover quicker. It contains a number of sleep-promoting technologies, but is sold at a competitive price point—costing $998 for a queen.
Bear sells two other mattresses, an all-foam Bear bed and a hybrid version of it; their most cost-friendly option is their flagship all-foam model. When you buy the Bear it comes with a 120-night risk-free sleep trial and a lifetime warranty.
How the Mattress Feels
The Bear Original has a medium-firm feel with a graphite-gel-infused surface. The gels keep the surface cool to the touch, working with the heat-transforming cover fabric to help sleepers relax and get a full night's rest. The gentle firmness ensures sleepers feel comfortably on top of the mattress, instead of sinking too far into the cushion.
What It's Made Of
The cover is Celliant® fabric to help you get sounder sleep. Celliant® absorbs body heat and converts it into infrared energy.
First is a graphite-infused memory foam layer with a 4-lb density. When you lay on this mattress, the memory foam will mold to your body for instant cushioning and pressure relief, and the graphite works in conjunction with the Celliant® fabric to keep your body temperature cool.
Next, is a layer of poly-foam with a 3-lb density to act as a barrier between the soft memory foam above and the base of the mattress.
The base layer of the Bear is 1.8-lb density, supportive poly-foam to give the bed shape.
BEAR ORIGINAL MATTRESS
Designed to help athletes get better sleep
Compatible with back and plus-size sleepers
Infusion of graphite gel helps keep you cool and comfortable
Lull is the original mattress from the brand Lull. The Lull was created to be a budget-friendly memory foam mattress option for all kinds of sleepers. When designing this bed, the aim was to make a mattress that would be comfortable for all sleep styles.
The Lull is sold online only and costs $800 for a queen. Every Lull comes with a 100-night sleep trial and a 10-year warranty.
How the Mattress Feels
Reviews of the Lull mention is has a medium-firm firmness and isn't very cushy or cradling, so it's best for people who want a firmer bed. Though it's designed for universal comfort, it may not be a good option for plus-size sleepers and stomach sleepers because it may not offer enough support.
What It's Made Of
The Lull has 3 three layers and stands at only 10 inches tall. Lull discloses the materials they use in the layers of their bed, but not their densities. Let's take a closer look at its construction.
First, is a 1.5-inch layer of gel memory foam to cushion your body and keep your temperature cool.
Then, is a 1.5-inch layer of poly-foam to act as a transition layer between the memory foam and base.
The last layer is 7 inches of supportive poly-foam to give the rest of the mattress shape and support.
LULL
Designed for universal comfort
Best for back and side sleepers
Gel-infused memory foam helps relieve pain points while keeping your temperature regulated
Are you unsure if you would prefer a soft or firm mattress, or perhaps interested in keeping around a versatile mattress for guests? The Layla Mattress might be just the solution, with a unique construction that not only offers a soft and firm side but all the benefits of copper-infused foam.
The Layla Mattress ships free and comes with a 120-night trial and a lifetime warranty.
How the Mattress Feels
Copper not only maintains a cool sleeping surface but also eliminates potentially harmful microbes that might settle in the mattress. The copper gel also offers variable support, reacting to pressure by firming up to provide more support.
What It's Made Of
Let's examine the mattress's construction in full, from the soft side down.
The top layer is 3 inches of copper gel-infused memory foam, which we've discussed the benefits of. The thick cushion of memory foam is excellent for easing pressure in a side sleeper's body.
The transition layer is 2 inches of Max Airflow Support Foam with deep channels that promote greater airflow. The Max Airflow Support Foam also features Surface Modification Technology for variable support.
The support core is 4 inches of sturdy foam that maximizes motion isolation and durability, while minimizing unwanted bounce.
Next is the firm side. The reverse comfort layer is an inch of copper-infused memory foam.
The removable mattress cover is a luxurious fabric with a striking hexagon pattern. The fabric contains thermo-gel cooling technology that activates when exposed to body heat.
LAYLA MATTRESS
Copper infusion promotes a bacteria-free sleep surface
Reversible firmnesses for different styles
Transition foam boosts airflow and varied support
If you have a recreational vehicle or camper with an uncomfortable mattress, the Brooklyn Bedding Signature Hybrid might be the right mattress for you. Shoppers can choose a short full, short queen, short king, and RV king sizes. Naturally, you're not limited to RV mattress sizes, as the mattress comes in standard sizes, as well.
The Brooklyn Signature mattress comes with a 120-night sleep trial period and a 10-year warranty.
How the Mattress Feels
Consumer reviewers have called the Signature Hybrid "amazing" or "awesome" and even the "best mattress I've ever slept on." The range of available firmnesses have left many shoppers quite satisfied with their choice.
What It's Made Of
Let's review the mattress's construction, which can vary depending on whether you choose a soft, medium, or firm mattress.
The bed's quilted top helps the mattress resists indentations and permanent impressions. The top foam layer is 1.5 inches of TitanFlex™, an elastic material that adapts quickly to movements. The material's contouring mimics the responsiveness of latex, without costing as much as natural latex foam.
The second layer depends on your chosen firmness. In the soft and medium mattresses, it's a 1.5-inch layer of Energex™ transition foam for deeper compression. In the firm mattress, the layer is 2 inches of high-density memory foam for responsive support.
The support layer is 6 inches of Ascension X® coils for minimal motion transfer and deep compression. The coils are also arranged to provide edge support for an easier time getting out of bed. The bed's dense foam base reinforces the bed's coil support to structure the mattress.
BROOKLYN BEDDING SIGNATURE HYBRID
Available in nonstandard RV sizes
Quilted top promotes a durable, cooling surface
Choice of three firmness levels
5 Things to Consider Before Making a Purchase
Before you start researching online or heading to mattress stores, take a step back and consider these five things: who the mattress is for, the quality of the materials, the sleep trial it comes with, its warranty, and lastly, mattresses sold by home decor stores such as IKEA or At Home.
1. Sleeping Positions
When choosing a mattress, consider your sleep style and any recurring aches and pains.
Back and stomach sleepers usually find firmer beds more comfortable because they offer enough support to foster a healthy spine. Whereas the best mattresses for side sleepers are medium in firmness because they allow for the shoulders and hips to sink into the bed, relieving pressure and tension. If you tend to wake up in the morning plagued with pains, it's an indicator the firmness of your current mattress isn't a fit for you. Knowing what doesn't work for you can help steer you towards a more compatible fit.
Lastly, consider how firm you want your bed to be. Do you like a softer, hugging feel from your mattress; or do you prefer to feel as if you're sleeping on a stone? Your personal preferences may lead you towards different options than if you were to be considering your sleep style alone.
2. Different Mattress Types
Before you choose which bed is best for you, it's best to educate yourself on the different types of mattresses sold today. There are four main types of mattresses: memory foam, latex, hybrid, and innerspring.
Memory foam mattresses are best known for being contouring, cradling, and pain-relieving. In fact, memory foam is considered to be the best mattress material for alleviating and preventing aches and pains. Because memory foam molds to your body, it provides relief to pressure points and can prevent you from straining your spine.
Latex is bouncy and responsive, when you lay on these kinds of mattresses, the latex cushions you but also keeps you lifted in the bed. All-natural latex is hypoallergenic, free from harsh chemicals, and safe for children. Latex beds are popular amongst eco-friendly shoppers, too.
Hybrid mattresses combine an innerspring coil system with layers of foam to offer sleepers the best of both worlds. These beds feel more bouncy and responsive than their foam counterparts, but because they still incorporate foam layers, are cushioning, too. Hybrids are usually the most expensive kind of mattress you can buy because they incorporate a number of high-quality materials.
Innerspring mattresses are characterized by an innerspring coil system. These beds feel firmer and bouncier than any other type of mattress. Innersprings cannot cushion or conform to your body like other beds, but they're perfect for people looking for a firm, "on the bed" mattress feel.
3. What are the Quality of the Materials ?
The price of a mattress is usually a good indicator of the quality of materials used to make the bed, but not always. Different mattresses are made from different materials; all-foam beds can be a combination of poly-foam or memory foam. Latex beds can be a mixture of Dunlop latex, Talalay latex, or synthetic latex. Whereas hybrid mattresses and innerspring mattresses contain coil systems that can be made from a variety of different materials, but usually thin, non-tempered steel.
When judging the quality of foam beds, look at the density. Is it a high-density foam or a low-density foam? Density doesn't correlate to the firmness of the mattress, but rather how well the foam will support you. Higher-density foams offer more support, while lower-density foams provide less support.
A quality bed will often have their most dense layer on top because that's where it can absorb the majority of your weight and offer the most support. Layers below usually have lower densities because they are taking on less body weight and serve to support mostly the layers above.
If you're interested in a latex bed, choose one made from natural latex instead of synthetic blends. Natural latex has an average lifespan of around 15 years, while it can be hard to predict how long various synthetic blends are expected to last.
In hybrid mattresses, take note of what the comfort layers are made from, whether it be poly-foam, memory foam, or latex. Next, look at the coils. Are they steel continuous coils or are they pocketed coils? Pocketed coils are steel coils independently encased in fabric or foam pockets to move independently of one another, preventing motion transfer and increasing zoned support. If you want a bouncy innerspring or hybrid bed, choose a mattress with a pocketed coil system— which is thought to last longer than alternative coil systems.
4. What is the Sleep Trial?
Everybody knows laying on a bed for 10 minutes in a store is not the best way to tell if a mattress is right for you. Mattress retailers understand that, too. To help consumers feel more confident about their purchase, many mattress stores and online mattress brands offer a complimentary sleep trial with their beds.
During a sleep trial, you have the chance to test your new mattress in the comfort of your home (or on the road, if you choose an RV mattress).
Most brands offer sleep trials anywhere between 90-120 days, giving you a few months to decide if it's a good fit for you. If you feel your purchase is the most comfortable mattress for your needs, then you're set! However, if you're dissatisfied, you have the option to return for a full refund or, with some brands, exchange your bed for a different model.
Always be sure to read the fine print about the sleep trial before you buy. Most brands offer risk-free sleep trials, meaning, returns are free. While other brands will charge hidden fees such as return transportation fees and restocking fees. Sometimes restocking fees can total up to a couple of hundred dollars, making a return quite expensive.
5. What are the Details of the Warranty?
The warranty your bed comes with is one of the biggest things to consider before buying. A warranty can protect you from having to buy another mattress years down the road and can prolong your investment.
Most brands offer 10-year limited warranties, and with the average mattress lifespan being about a decade, this warranty should be sufficient. However, other brands will offer more extensive warranties, such as 20-years, 25-years, and even lifetime.
Check to see what the warning covers, and have a thorough understanding of what is considered a defect. Some mattress brands will cover sagging only after it's sagged at least an inch and a half. Other brands will replace your mattress if it's showing indentations of only ¾ inch. Choose a warranty that covers indentations of at least ¾ inch because allowing your bed to sag an inch and a half before replacing it can be uncomfortable and unhealthy for your spine.
Frequently Asked Questions
What's the best mattress under $1,000?
The best mattress under $1,000 will depend on your exact sleep needs. Hot sleepers are often better off with cooling features such as added air channels and heat-wicking gel infusions. Side sleepers need a mattress with a thick, pressure-relieving cushion, while back and stomach sleepers need a firmer surface for spine support.
What types of mattresses are available under $1,000?
Sleepers should be able to find quality memory foam, innerspring, and hybrid mattresses for less than $1,000. Shoppers may also find natural latex mattresses in smaller sizes, but it's unlikely they'll find a queen or king latex mattress that costs less than $1,000. This high price tag is because natural latex is a costly material to produce, and many companies also pay third-party certification fees to show that their latex is organically produced.
What's the best king size mattress under $1,000?
King mattresses under $1,000 are more difficult to find than affordable queen beds. Still, there are a few hidden gem king mattresses that cost less than $1,000.
King size memory foam mattresses under $1000 are the easiest to find, but high-quality, king size hybrid mattresses can also be found at bargain mattresses. However, you're unlikely to find a king size latex mattress for under $1,000 because of the materials' cost.
Do mattresses under $1,000 have a warranty?
Yes, any decent mattress under $1,000 should come with a warranty. While a budget mattress might not have a sleep trial or even a 30-day return policy and still provide a decent night's rest, we can't recommend a mattress that doesn't come with a warranty.
A mattress's warranty signifies the company's faith in their product by demonstrating what they will do in the event of a defect. If the company doesn't offer a warranty, it may be because they don't have faith in their product's quality and durability. Even mattresses in the lower end of the $300 to $500 price range should come with a warranty.
Does a mattress under $1,000 require a box spring?
Most mattresses under $1,000 don't need a box spring. Modern beds like memory foam mattresses aren't supported by box springs because the interior coils are too spread out to provide consistent support and prevent premature sagging. Only traditional innerspring mattresses are made more comfortable and supportive by a box spring.
Did You Find the B
est Affor
dable Mattress for You?
We hope this guide has provided insight on what to think about before investing in your next bed. Though mattresses can be quite expensive, a high-quality mattress can make a world of a difference when it comes to how well you sleep.
Buying a mattress that offers healthy support to your body and spine can prevent chronic pains and money spent at doctors or chiropractors later on down the road. Your quality of sleep isn't something that should be sacrificed to save money; but knowing how to find a high-quality, affordable bed can help you save hundreds.