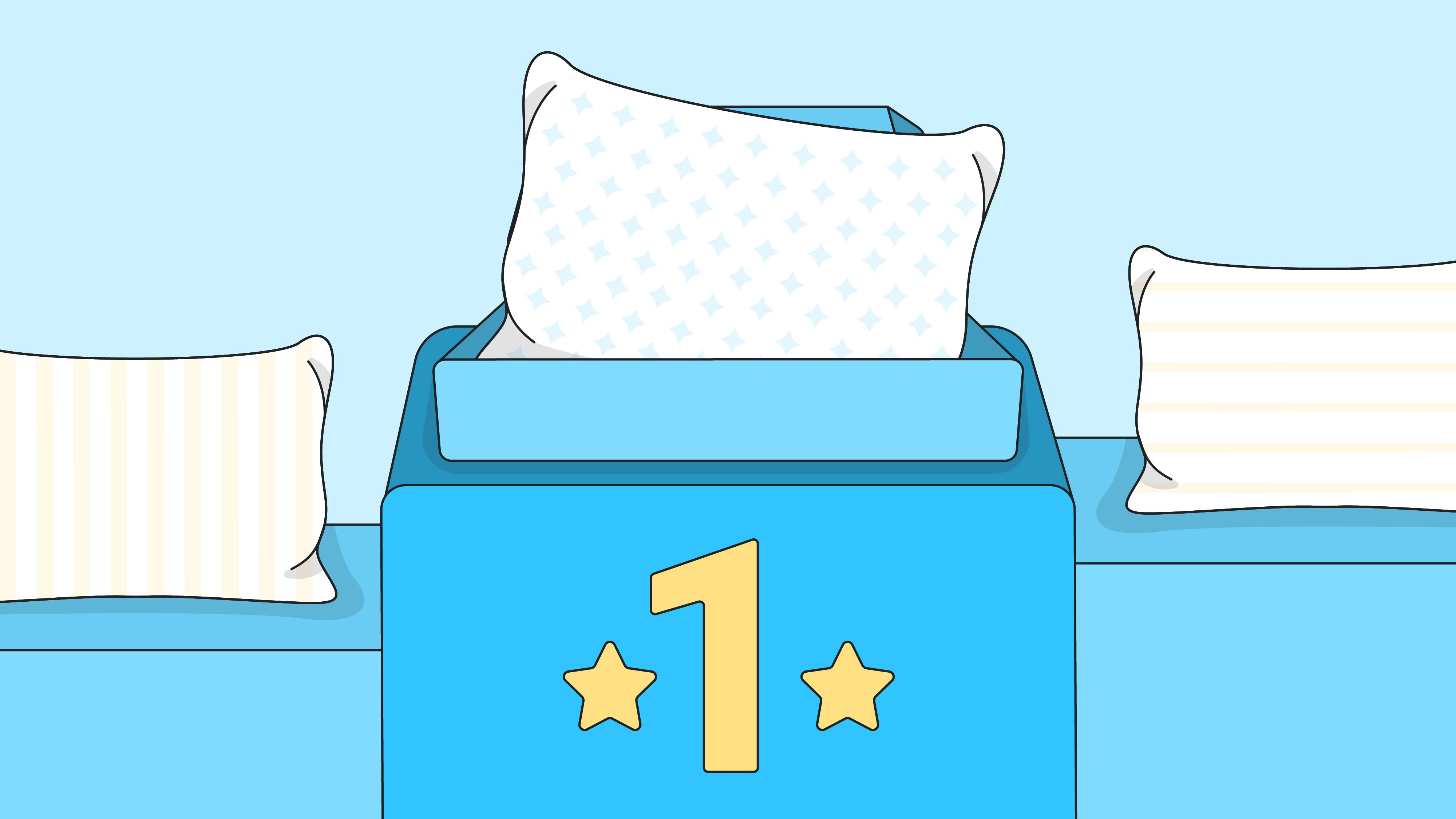 Best Pillows for Side Sleepers: Reviews and Buyer's Guide
Dr. Erson Religioso III, DPT, MS, MTC, CertMDT, CertCFC, CertMST, CNPT, FAAOMPT
Dr. Erson Religioso III, DPT, MS, MTC, CertMDT, CertCFC, CertMST, CNPT, FAAOMPT
Dr. Erson Religioso III is a fellowship-trained physical therapist with 25 years of experience, specializing in TMD, headaches, spinal care, runners, gymnasts, and chronic pain. As the owner of EDGE Rehab and Sport Science, a cash-based practice in Buffalo, NY, Dr. Religioso is committed to empowering patients with education, self-assessment, and treatment strategies that require […]
Updated November 22, 2023

Bedding Guides
We spend hours and hours trying to find the perfect mattress, and for good reason— we plan to spend at least one-third of our lives on it, so it should be comfortable!
Likewise, the pillow where you rest your head every night should be comfortable, durable, and supportive. While support does not have to be perfect alignment or a neutral spine, your side sleeping solution should put you into a close enough posture.
A universally perfect pillow hasn't been invented yet, but knowing your preferred sleep position can help you choose the best pillow for a good night's sleep. In this guide, we'll delve into the best pillows for side sleepers, how your sleeping position can affect your sleep quality, and what to look when buying a pillow.
30 Second Summary: Best Pillow for Side Sleepers
Our Recommendation: Amerisleep Comfort Classic — We recommend Amerisleep's Comfort Classic Pillow to side sleepers because it has an ideal 6-inch loft, supportive Bio-Pur® foam, ventilated airways to keep you sleeping cool, and is easy to clean! It also comes with a 10-year warranty.
Best Pillows for Side Sleepers
The Amerisleep Comfort Classic Pillow is our recommendation for side sleepers because it's the perfect medium loft at 6 inches thick. The pillow is filled with Amerisleep's Bio-Pur®—a plant-based memory foam with an open-cell structure for ultimate breathability.
Many reviews point to this pillow being great especially for side sleepers because it's thick and tall, so you won't have to constantly fluff it or fold it to properly support your head. A supportive pillow like the Comfort Classic should keep your neck level with your shoulders and promote healthy spinal alignment.
"Research has shown increased temperatures at night decreased quality of sleep and next day work performance," says Dr. Erson Religioso. "The Amerisleep Comfort Classic pillow keeps you cool and helps you maximize on sleep and recovery for the next day."
If you are a side sleeper, it might take more than a pillow to give you optimal comfort. When looking for your next mattress, consult our article on the best mattresses for side sleepers.
AMERISLEEP COMFORT CLASSIC PILLOW
Stuffed with eco-friendly, pressure-relieving foam.
Ventilated airways in the foam make the Comfort Classic breathable and cooling.
Designed especially for back and side sleepers.
2. Best Cooling Pillow for Side Sleepers: Zoma Pillow
The Zoma Pillow has a ventilated fabric cover and a shredded foam fill to maximize airflow. Side sleepers in hot climates or naturally high body temperatures might benefit from the cooling design of the Zoma Pillow. Plus, the Zoma Pillow is 6-inches thick, perfect for side sleepers who want the support of a high-loft pillow.
The pillow's fill is sag-resistant MicroCushions™ that provides customizable comfort. Side sleepers can fluff or flatten the pillow as they please, while the MicroCushions™ respond to the slightest change in movement to provide adaptable support. The MicroCushions™ fill is also certified by CertiPUR-US®, an independent organization.
"A study of over 100 side sleepers showed that the pillow subjects found most comfortable, plus their own pillow, had the best-perceived sleep quality," says Dr. Religioso. "Zoma is perfect for those looking for optimal comfort as it is adjustable."
Zoma also sells a body pillow, which can be a helpful accessory for side sleepers. Some side sleepers find it comforting to hold a body pillow as they drift off, while others like to slip the body pillow between their legs or use it for back support.
The Zoma Pillow ships free and comes with the protection of a 10-year warranty.
Zoma Pillow
Thick pillow adapts to a side sleeper's movements.
Hundreds of MicroCushions™ form the 6-inch fill.
Airy mesh fabric pillow cover for undisturbed sleep.
Like the Amerisleep Comfort Classic Pillow, the Dual Comfort Pillow is made with their advanced plant-based memory foam, Bio-Pur®. Instead of 100 percent petroleum oils, this foam is partially made with plant-based oils. Amerisleep's construction method makes Bio-Pur® eco-friendly, non-toxic, and highly responsive.
The Amerisleep Dual Comfort Pillow offers sleepers two firmness options. One side of the pillow is soft and compresses easily when pressure is applied. The other side is firmer.
Side sleepers typically prefer the firmer side because it is strong enough to prevent the head from sagging and forcing the spine into an irritating position. Back sleepers rest well on the softer side because it offers just the right amount of sinking to keep the head and neck in line with the shoulders.
"A systematic review concluded that different shaped pillows may help with comfort and temperature control," says Dr. Erson Religioso. "For those that prefer side and back sleeping, I highly recommend the Dual Comfort by Amerisleep."
This pillow has a soft, airy cover to prevent heat-trapping. The surface of the foam in the Dual Comfort Pillow is embedded with cooling channels that increase air circulation so the pillow is always cool and inviting. The Dual Comfort Pillow is available in two different lofts—a 5-inch loft and a 6-inch loft—and two different sizes—queen and king. 
AMERISLEEP DUAL COMFORT PILLOW
Dual-sided comfort offers sleepers a firm side or a soft side.
Cooling air channels allow heat to dissipate quickly.
Designed especially for back and side sleepers.
4. Best Budget Pillow for Side Sleepers: Vaya Pillow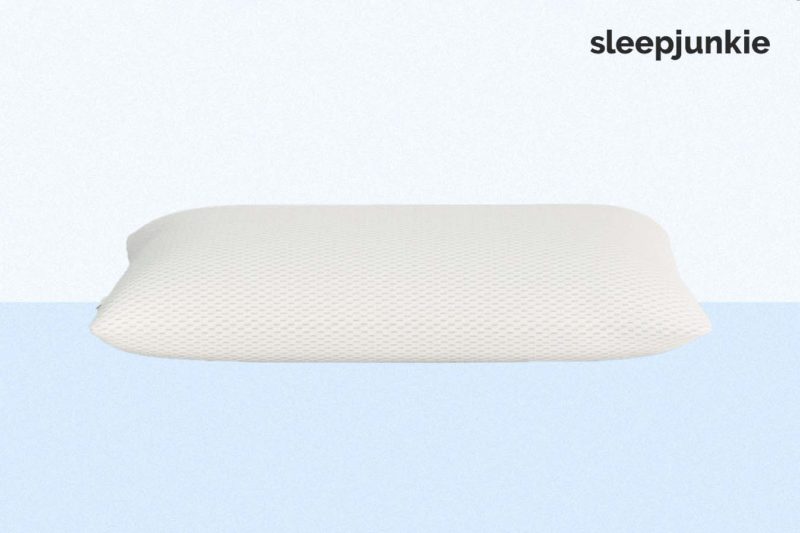 Some side sleepers can't afford a pillow that's close to $100, but still want to experience the increased sleep quality with a high-quality pillow. If you're shopping for the best pillow on a budget, we recommend the Vaya Pillow.
This plush pillow contains a shredded foam fill certified by CertiPUR-US®. The Vaya Foam Blend conforms to the body in any position and bounces back into shape quickly. The foam blend also wicks away heat, as does the pillow's fabric cover.
The Vaya Pillow is backed by a lengthy 10-year warranty. Shoppers can save 15 percent on their purchase if they buy two Vaya Pillows instead of just one, an excellent deal for couples who want to upgrade their bedroom.
Vaya Pillow
Added discount on two-pillow purchases.
CertiPUR-US® certified foam fill.
Generous 10-year warranty.
5. Best Adjustable Pillow for Side Sleepers: Amerisleep Flex Pillow
The filling of the Amerisleep Flex Pillow is specially designed to suit any sleep position, as it can be fluffed up or flattened to suit different tastes. Inside the pillow, hundreds of MicroFlex cushioned mold to the curves of the head and neck to keep you supported and resting in a safe sleep position. You can reshape this pillow night after night to fit your specific needs.
Since Amerisleep's MicroFlex cushions are shredded, warm air is able to escape quickly, preventing the pillow from becoming too warm and uncomfortable. The soft cover the Flex Pillows is also made with an airy, ventilated fabric that ensures proper air circulation, so you can sleep cooler and undisturbed throughout the night.
The Amerisleep Flex Pillow comes with a 10-year warranty. It is also available in two different sizes—queen and king. 
AMERISLEEP FLEX PILLOW
Hundreds of MicroFlex cushions allow you to change the shape of the pillow.
Highly responsive material moves with the body.
Designed to support most sleep positions, including back, side, and combination sleepers.
Coop Home Goods makes one of the top-selling bed pillows on the internet. This pillow is filled with an adjustable blend of gel-infused memory foam and microfiber. The foam is CertiPUR-US® and Greenguard Gold certified, ensuring the pillow is free from harmful chemicals and safe for sleepers of all ages.
Lots of customer reviews mentioned the convenient adjustable fill, a major selling point of this pillow. Adjustable pillows allow you to remove or add as much fill as you want (you need to purchase additional fill if you want to add more). Coop Home Goods markets this pillow for people who love a soft sleep experience.
You can buy this pillow on their website or Amazon. The Eden Pillow comes with a 100-night home trial period.
COOP HOME GOODS EDEN
The pillow comes with a 100-night sleep trial.
Features adjustable memory foam and microfiber fill.
Has a soft feel perfect for side sleepers.
7. Best Neck Support Pillow for Side Sleepers: Wamsutta® Pillow
The Wamsutta® pillow is made to be extra-firm for side sleepers who need additional support. It comes with 2" gussets sewn on either side. You can wash this pillow in your washing machine, making it a bit lower maintenance than others on our list.
An extra-firm pillow may seem counterintuitive for side sleepers, but numerous customer reviews stated the extra support was perfect for their neck pain. A firmer pillow can also withstand lots of use.
You can buy The Wamsutta® Side Sleeper Pillow on Amazon or at Bed, Bath, and Beyond.
WAMSUTTA®
Extra-firm pillow with 2" gussets makes it ideal for side sleepers.
100% cotton cover.
Machine-washable.
8. Best Memory Foam Pillow for Side Sleepers: Snuggle-Pedic Pillow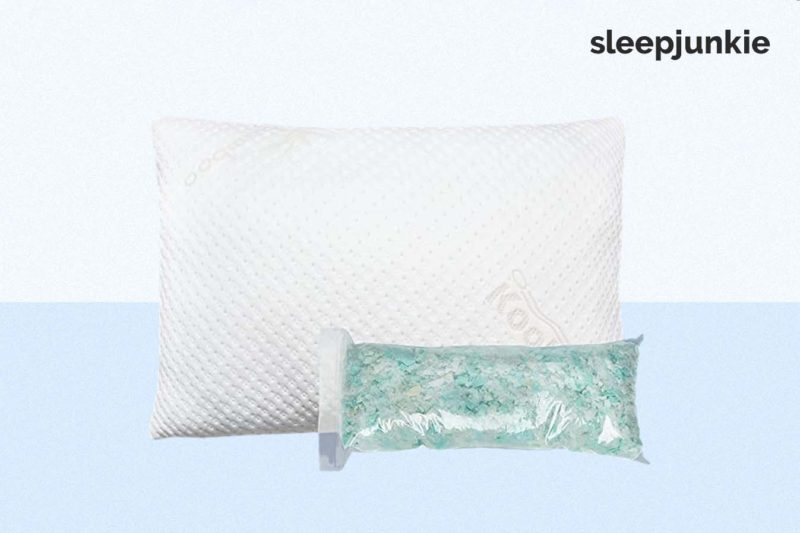 The original Snuggle-Pedic Bamboo Pillow is another adjustable option for side sleepers, filled with hypoallergenic shredded memory foam. The small pieces of foam make the pillow super soft and fluffy.
The pillow comes wrapped in a thick bamboo cover made with Kool-Flow®, a micro vented fabric that breathes and stretches easily. Snuggle-Pedic uses their Kool-Flow® material to prevent an uncomfortable night of sleep. Customer reviews commented on this pillow's durability and plentiful shoulder support.
SNUGGLE-PEDIC
Comes with a generous 120-night sleep trial.
Breathable KoolFlow® Organic Bamboo Cover keeps you cool.
Adjustable memory foam filling.
The Easy Breather gets its name from a breathable Tencel-blended fabric cover, letting you sleep comfortably with plenty of support. A lofty 8" of shredded memory foam supports the neck and head, but you can adjust the fill to make it lower or higher if needed.
Reviewers used words like "plush," "versatile," and "perfectly balanced" to describe the Easy Breather Pillow. It comes with a 30-night sleep trial and free shipping and you can get it directly from Nest's website.
NEST EASY BREATHER
CertiPUR-US® certified shredded memory foam fill.
30-night sleep trial.
Medium feel mimics a down pillow while cradling and supporting your neck.
10. Best Natural Pillow for Side Sleeper: Saatva Pillow
Some side sleepers might want a pillow with organic materials for a couple different reasons. They might have an allergy or sensitivity to synthetic materials and want a pillow free of potential allergens. Perhaps they simply want to make greener shopping choices to reduce their environmental impact. Whatever the reason, a pillow like the Saatva can provide a comfortable, eco-friendly night's rest.
The pillow's cover is 100 percent organic cotton sateen fabric. The material ensures a soft, cool, and dry sleeping surface, while the gusseted sides help promote a durable pillow shape. The cover can be unzipped and cleaned in a washing machine.
The fill is hypoallergenic, breathable, and plush down-like microdenier fiber. The pillow's core is durable, responsive Talalay latex. This shredded foam naturally resists dust mites and mildew, while promoting airflow.
The Saatva Latex Pillow ships free and comes with a 45-day free return and a 1-year limited warranty.
SAATVA LATEX PILLOW
45-day return policy
Organic cotton sateen cover for natural breathability
Down-like microdenier fiber and shredded latex fill
Now you have your pillow, are you ready to elevate your sleep?: Read our article on the best adjustable beds of 2023.
Special Concerns for Side Sleepers
When it comes to side-sleeping, flat pillows can be a pain in the neck— literally! Sleeping laterally with or without your arms under the pillow presents some potential issues.
Supporting your head and neck are the most important things your pillow does for you, whether you realize it or not. If your neck is in a position that irritates other joints, you may experience headaches, shoulder tension or pain, and back pain.
"A medium loft/height and firmness pillow that provides temperature control is highly recommended for side sleepers," says Dr. Religioso. "Head and neck support and maintaining a cool body temperature will improve sleep quality, recovery from injury/pain, and improve work performance."
Side-sleepers should take certain things into consideration when shopping for a pillow:
Loft
Pillow loft, or thickness, tells you how much space the pillow will put between you and your mattress. Stomach sleepers typically choose pillows with a low loft, and back sleepers prefer high lofts. It only makes sense that side sleepers find a medium loft pillow one of the most comfortable pillows.
Loft affects the way your neck and head feel as you sleep. If your pillow is too short and unsupportive, your head and neck will sink, forcing you to adjust the pillow, your sleep position, or both all night. Conversely, if your pillow is too firm or thin, you could wake up with aches and pains all over.
Medium loft pillows usually fall between 3 and 5 inches thick. Anything lower or higher than that may be troublesome for side-sleepers.
Some pillow models have gussets for extra loft, which are simply fabric panels sewn onto the sides of the pillow.
In addition to loft, neck support is often forgotten. While you don't need a pillow with a supportive roll built in, if changing the loft doesn't help, try finding a pillow that fills the space between your neck and shoulders.
Cover Fabric
Side and stomach sleepers are more likely to press their faces into their pillows and because of that, they will need to take special care in choosing a pillow with a breathable, soft cover.
If you suffer from allergies, consider a hypoallergenic pillow made using latex, memory foam, Kapok, Tencel, or bamboo.
Paresthesia (Pins and Needles)
That numb, tingly feeling you get when you've put too much pressure on a limb is known as paresthesia. It's harmless as long as you readjust and prompt circulation to flow again. Side sleepers are prone to pins and needles in their arms and sometimes legs, especially if they sleep with their arm or arms under the pillow.
This is when loft comes into play again— a medium loft pillow will keep the pressure the pressure from your head off your arm(s), thus avoiding waking up with sleeping, numb limbs.
Paraesthesia can also come from neck or spine issues. If you find waking in the morning or worse, the middle of the night with this feeling, a change in sleep position or pillow/mattress may be required.
Shoulder Pain
For side sleepers avoiding pain, choose a pillow made with supportive materials like foam, latex, or buckwheat. We only suggest side sleepers use down or down alternative pillows if they are marketed as medium or medium-firm, since this will feel a bit more comfortable and offer extra support.
Shoulder pain may also be referred from the neck, or could be the position of your arm. Side sleepers should sleep with the bottom arm in front of them, try hugging a pillow with your arm lower than 90 degrees at the shoulder. This minimizes strain on the shoulder joint. Also, find a pillow that keeps your neck close to neutral and supports the hollow between your head and shoulders.
Wrinkles
Nope, we're not talking about wrinkles on your pillowcase (although that might be a concern for you, too!). Side and stomach-sleepers are more prone to facial wrinkles than back sleepers, and while a pillow can't necessarily prevent this, the pillowcase can. Try using a silk pillowcase to potentially avoid premature wrinkling.
Advantages to Side Sleeping
Side-sleeping is one of the healthiest sleep positions for a multitude of reasons. If you sleep on your stomach or back, try teaching yourself to sleep on your side by practicing it a few times a week or when taking naps.
Sometimes knowing the benefits can convince us to break a habit more than anything else, so let's go over a few of them:
Reduces acid reflux: If you suffer from GERD (gastroesophageal reflux disease) or acid reflux, sleeping can stir up the symptoms because you're lying down. During the day, you've got gravity to keep the stomach acid at bay, but at night, it's much trickier. Sleep on your side to ensure your esophagus is higher than your stomach, keeping acid down where it belongs.
Reduces snoring: If you sleep on your back, this can cause the base of your tongue and the soft palate to collapse against the back wall of your throat, leading to snoring. Sleeping on your side can prevent this from happening.
More comfortable if you're pregnant: As we mentioned earlier, sleeping on the side is not only more comfortable for pregnant women, but it's also healthier for the baby, depending on which side you choose and how far along in the pregnancy you are.
Good for organs and heart health: Sleep Junkie recommends sleeping on the right side whenever possible because studies show it's the optimal position for heart health.
Optimal brain health: New studies have revealed that side-sleeping can allow your brain to more efficiently remove waste that contributes to diseases such as Alzheimer's and Parkinson's.
Best and Worst Pillow Types for Side Sleepers
Pillows these days are much more than a pillowcase stuffed with fluffy cotton. Different pillow types are best for different sleeping styles. Let's go over the best and worst for side sleepers:
Best
Buckwheat: Buckwheat pillows are filled with buckwheat hulls for substantial support and moldability. They're a good option for side sleepers thanks to their medium-high loft and support.
Down: Down pillows are filled with the soft inner plumage of ducks or geese. These pillows are typically ideal for stomach sleepers since they're very soft, moldable, and tend to flatten after some use. Side sleepers may be comfortable on down pillows depending on their construction.
Memory foam: Memory foam is an excellent option for side sleepers because it conforms closely and offers both softness and support. Some shredded memory foam pillows are even adjustable to make customizing easy.
Latex: Latex, made from the sap of rubber trees, is bouncy, supportive, and soft. It's a good option for side-sleepers, but usually not adjustable like some foam pillows.
Worst
Down alternatives: Down alternative feels similar to down but is made of polyester. It's a good alternative for those with feather allergies or people looking for a more affordable but equally soft option. However, it's not as supportive as down can be, so it's not the best choice for side-sleepers.
Polyester: Polyester pillows are a bit less common nowadays, but they are much cheaper than other pillow types. They do not usually keep their shape for long, so they likely won't be supportive enough for side sleepers.
Additional Pillow Components to Consider
There are a couple of other things to think about before buying the most supportive pillow for your sleeping position, such as pillow size and cost. While these things may not be the first thing that comes to mind when pillow-shopping, be sure to at least consider them before purchasing.
Size
Your pillow's size can definitely influence how comfortable you are while you sleep. It's a bit of a no-brainer, but the broader your shoulders, the bigger your pillow should be.
If you have neck pain, a cervical pillow may be best. Cervical pillows are typically smaller than standard-sized pillows and are made with ergonomic features to cradle the neck.
A standard or queen size is suitable for most sleeping positions, but again, if you have broad shoulders or just want a pillow to use as a headrest, you can consider other sizes. Euro pillows are square-shaped and typically used as throw pillows.

| Pillow Type | Dimensions | Good For... |
| --- | --- | --- |
| Small | 20W" x 12L" | Specific needs like neck pain or travel |
| Standard | 20W" x 26L" | Most sleepers except those who toss and turn |
| Super Standard | 20W" x 28L" | Those who toss and turn |
| Queen | 20W" x 30L" | Those who toss and turn |
| King | 20W" x 36L" | Back or headrest, broad-shouldered sleepers |
| Euro | Dimensions vary, always square | Back or headrest, throw pillows. |
Cost
Cost may not be an object for you when pillow-shopping, but for others, it's the deciding factor driving the pillow purchase.
Pillow price depends on a few different factors: the pillow type, adjustability, any additional features such as cooling technologies, as well as the return policy and warranty coverage.
Taking these things into consideration, have a look at the average cost for each pillow type as you continue your search:

| Material | Average Cost |
| --- | --- |
| Buckwheat | $50-75 |
| Down | $70-100 |
| Down Alternative | $20-30 |
| Latex | $40-60 |
| Memory Foam | $50-60 |
| Polyester | $10-15 |
Care
Before you buy a pillow, you might want to review its recommended care instructions. Some pillows are completely machine-washable, while others only have a removable cover you can clean. Other pillows might have replaceable fills, such as shredded foam or buckwheat pillows, allowing you to refill the pillow's cover when the material grows uncomfortable.
Some sleepers might prefer a pillow they don't have to wash. Pillows that are just a block of foam are easy to care for, requiring only an occasional sprinkling of baking soda to feel clean and fresh. However, other shoppers might prefer the durability that comes from a machine-washable pillow.
Sleep Trials, Returns, and Warranties
Sleep trials are a frequent perk with mattresses these days, but they are not as common when it comes to pillows. Depending on the brand, sleep trials for pillows last anywhere from 30-120 days.
Return policies will typically coincide with sleep trial— you can return the pillow within the sleep trial window for a full refund. However, if the company does not offer a sleep trial, you will need to do some research on their conditions for returns.
Pillow warranties can also vary, but the average length is 3-5 years, with some companies even offering lifetime warranties. Pillow warranties cover defects in the material or workmanship beyond normal use, such as seams coming apart, sagging, or changes in the shape.
Frequently Asked Questions
How thick should a side sleeper's pillow be?
Side sleepers usually prefer mid- and high-loft pillows, around 3 to 6 inches thick, because they fill the gap between the shoulder and the head. You'll want to consider your body type and shoulder breadth when choosing the best possible loft. Those with broader shoulders will need taller pillows, while those with smaller statures will require thinner pillows.
Are memory foam pillows comfortable for side sleepers?
Memory foam pillows are great for side sleepers because they offer cushion for the neck and head, relieving tension and preventing aches and pains in the morning. If you're somebody who wakes up with a stiff neck or headache, a memory foam pillow may be able to ease some of that discomfort.
How many pillows should a side sleeper use?
You should always sleep with only one pillow below your head, but side sleepers can also benefit by throwing a pillow between their thighs – so no gap between the thigh and knee is made. Sleeping with a knee pillow or memory foam body pillow between your thighs prevents your top leg from falling out of alignment and the lower back and hips from twisting.
Sleeping with a body pillow is also helpful if you're trying to transition from stomach to side sleeping.
What pillow types are best for side sleepers?
Side sleepers can enjoy all types of pillows, and the right pillow type is often a simple matter of personal preferences. Pillows with conforming fills such as shredded foam, down, feather, down alternative, and buckwheat hulls can mold to the head and neck well, offering the different support each needs. Memory foam and latex are well known for their pressure-relieving properties, though memory foam is usually the more affordable option.
What pillow types are best for side sleepers with neck pain?
Side sleepers with neck pain usually require a conforming pillow for pressure relief. Medium to firm feels are helpful to ensure the head and neck don't move into an irritating position.
Some side sleepers might want to try an orthopedic, cervical pillow with a dip for the head and raised sides for neck support. Such contour pillows can minimize neck strain.
What pillow firmness is best for side sleepers?
Side sleepers usually find medium pillows the most comfortable because they give the head some cushion without causing the neck to fall out of alignment. Too-firm pillows can lead to morning headaches, while too-soft pillows can lead to neck pains. Some pillows come with sleep trials or return policies, giving side sleepers time to gauge if the feel is right for them.
Did You Find Your Next Pillow?
When it comes to good sleep, your pillow can make all the difference. The best pillow for side sleepers has a medium loft, ample support for the neck and head, and softness. If your pillow doesn't seem to be giving you all the support you need, it might be time to reconsider your sleep set.