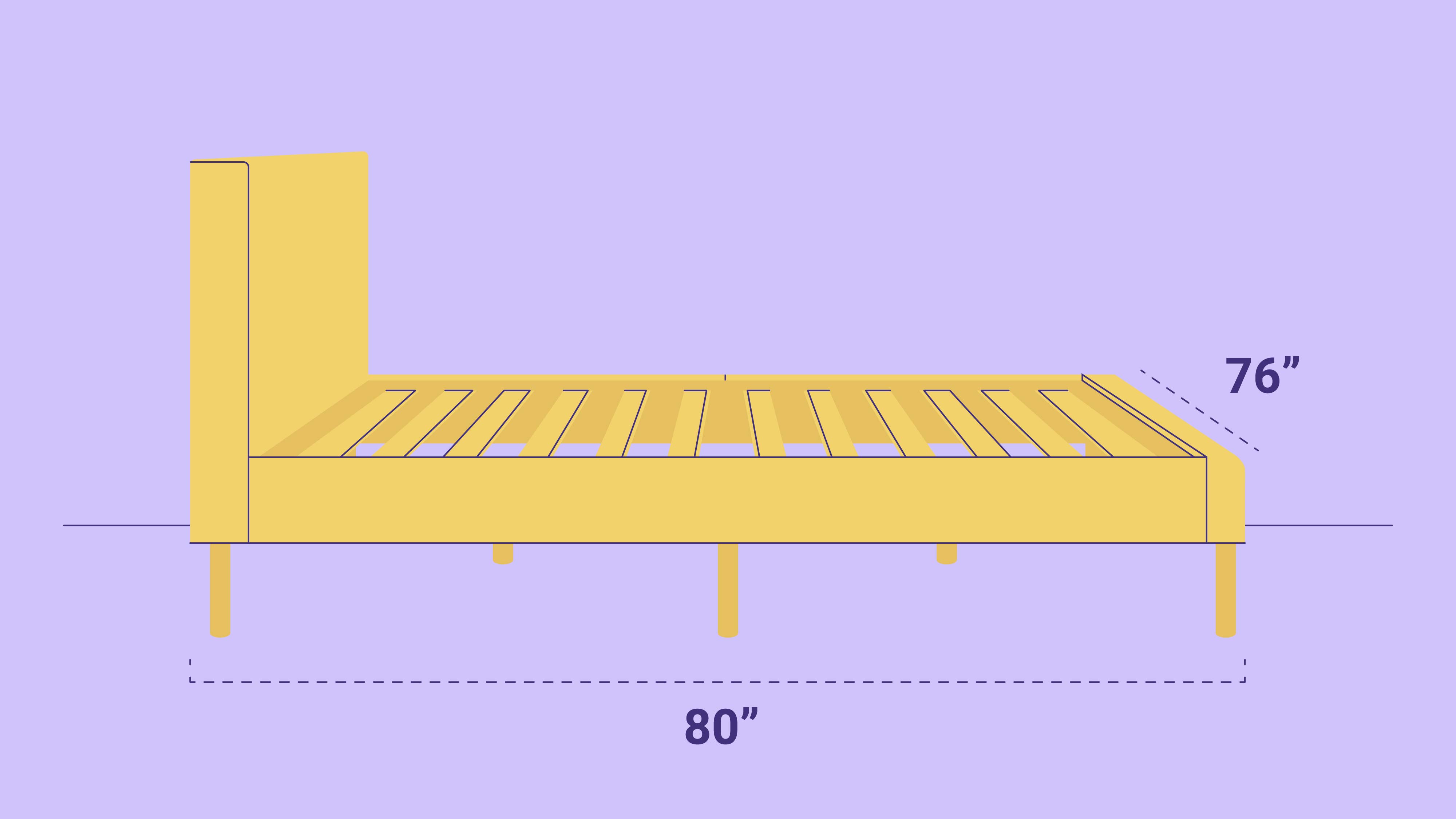 King Size Bed Frame Dimensions

Mattress Accessories
Queen beds can be a comfortable size for many couples. However, after a while, a queen mattress may start to feel inadequate. Maybe your children frequently climb into bed with you, or your partner is an active sleeper. Whatever the reason, upgrading to a king size bed can help you both find a good night's sleep.
Once you decide to purchase a king size mattress, you will likely need a new bed frame. A stable bed frame is essential since they support you and protect the mattress. Plus, a king frame can set the decorative tone for a larger room. We designed this king size bed frame size guide to help you find the right size and style of frame for your bedroom.
Dimensions of a King Size Bed Frame
A standard king size mattress, or an "eastern king," measures 76 inches wide and 80 inches long. This size gives each sleeper 38 inches of personal space.
A king size bed frame measures roughly a half-inch to 2 inches wider and longer than the mattress itself. Therefore, most king size bed frames will measure between 76.5 to 78 inches wide and 80.5 to 82 inches long. These dimensions may vary slightly depending on the type of bed frame.
A king size headboard will be a little wider than the bed frame, 79 to 81 inches wide. The height of the headboard can range between 48 inches to 64 inches.
Variations of a King Size Bed
In addition to their standard measurements, king size mattresses are available in several variations. You may be familiar with a California king, but what about a Wyoming or a Texas king? Read on to discover the dimensions of these king variations and the bed frame that will work best for each.
California King Bed
A California king mattress is the most popular variation and is readily available with most online brands. This size was first introduced in Los Angeles, California, in the 1960s. You may also find these beds labeled as a "Western king." A Cal king mattress measures 72 inches wide by 84 inches long—this is 4 inches narrower but 4 inches longer than a standard king mattress. This extra length makes Cal kings ideal for taller sleepers in need of more legroom.
If you opt for a California king size bed, be sure your bed frame can accommodate the longer size. In some cases, extension panels can be used to lengthen an existing king size bed frame.
Split King Bed
When it comes to mattress firmness, couples tend to have different preferences. To accommodate each sleeper's individual needs, many people opt for a split king size mattress. This size is also popular because it can be paired with a split adjustable base. A split base lets each sleeper adjust the head and leg portion of the bed to find the healthiest sleep position possible.
A split king is simply two twin XL mattresses (38 inches wide by 80 inches long) placed side by side to create a standard 76 inch by 80 inches king mattress. You can also use a split king mattress on most modern king size bed frames if you choose not to opt for an adjustable frame.
Oversized King Beds
Although California kings are the most common king variation, three other king mattresses are longer and wider than a standard king. These sizes are not readily available but can be found with some online specialty retailers. Bed frames for these sizes can be difficult to find but may be available to purchase with the mattress.
Wyoming King
A Wyoming king size mattress measures 84 inches wide by 84 inches long. These beds have the same length as a California king but are 12 inches wider than a Cal king and 8 inches wider than a standard king. A Wyoming king is perfect for families to co-sleep with 1 to 2 small children.
Texas King
A Texas king or a "grand king," measures 80 inches wide by 98 inches long. This size is 4 inches wider and 18 inches longer than a standard king mattress. When compared to a Wyoming king, Texas kings are 4 inches narrower but 14 inches longer.
Alaskan King
An Alaskan king bed is the largest mattress on the market—measuring 108 inches wide by 108 inches long. These beds are big enough for two adults and 3 to 4 small children to sleep comfortably. An Alaskan king is a great size for families who want to co-sleep without feeling cramped and uncomfortable.
King Size Bed Frame Dimensions
| Mattress | Mattress Dimensions (in inches) | Typical Bed Frame Dimensions |
| --- | --- | --- |
| Standard King (Eastern King) | 76 inches wide by 80 inches long | Between 76.5 and 78 inches wide by 80.5 to 82 inches long |
| California King (Western King) | 72 inches wide by 84 inches long | Between 72.5 and 74 inches wide by 84.5 and 86 inches long |
| Wyoming King | 84 inches wide by 84 inches long | Between 84.5 and 86 inches wide by 84.5 and 86 inches long |
| Texas King | 80 inches wide by 98 inches long | Between 80.5 and 82 inches wide by 98.5 and 100 inches long |
| Alaskan King | 108 inches wide by 108 inches long | Between 108.5 and 110 inches wide by 108.5 and 110 inches long |
Types of King Size Bed Frames
As you shop, you will come across several different types of bed frames. When deciding which is right for you, keep in mind the size of your room and decor.
Panel Frames
Panel frames are standard and easy to find. They consist of two side panels, a headboard, and a footboard. The foundation of a panel frame is made of wood or metal slats that support the mattress and a foundation if needed.
Platform Frames
Platform and panel frames are similar, but platform beds can have a solid wood or slatted foundation. These frames do not need an additional foundation to support the mattress. Instead, the mattress can be placed directly on the base of the bed frame.
Sleigh Beds
Sleigh beds are made of wood and have a headboard and footboard that resemble a horse-drawn sleigh. These frames often have decoratively curved or scrolled woodwork on the frame and a slatted foundation to support the mattress. In a master bedroom, a sleigh bed creates an exciting and dramatic centerpiece.
Four Poster Bed Frames
A four-poster bed frame has four large pillars at each corner. On a king size four-poster bed, these pillars will be roughly 80 inches tall. These frames are often made of metal or wood and have a decorative headboard and footboard.
Canopy Bed Frames
Similar to a four-poster bed frame, a canopy has four tall pillars, a headboard, and a footboard. However, a canopy bed has four additional slats that connect each pillar at the top. These slats create a square shape canopy at the top of the frame. Curtains or fabric can hang from the canopy for decorative purposes.
Mattress Foundations
Most modern mattresses can be placed directly on the base of the bed frame—they do not need to be paired with a box spring. For adequate support, slats should not be more than 2.75 inches apart. If your bed frame does not have a stable support base, you can add a mattress foundation.
Mattress Foundations
Mattress foundations may be solid or slatted and can be placed in the center of most bed frames. These bases consist of a wood or metal box that is upholstered or covered in a durable fabric. Slats are connected, wrapped in a similar material, and secured inside the box. Some foundations have legs that allow the base to be used as a stand-alone bed frame.
Adjustable Frames
Adjustable bed frames allow sleepers to raise their head and legs during sleep. By elevating the head, the airways open up, and breathing becomes easier—reducing snoring and symptoms of sleep apnea. Elevating the legs helps improve circulation and reduces swelling in the feet and legs.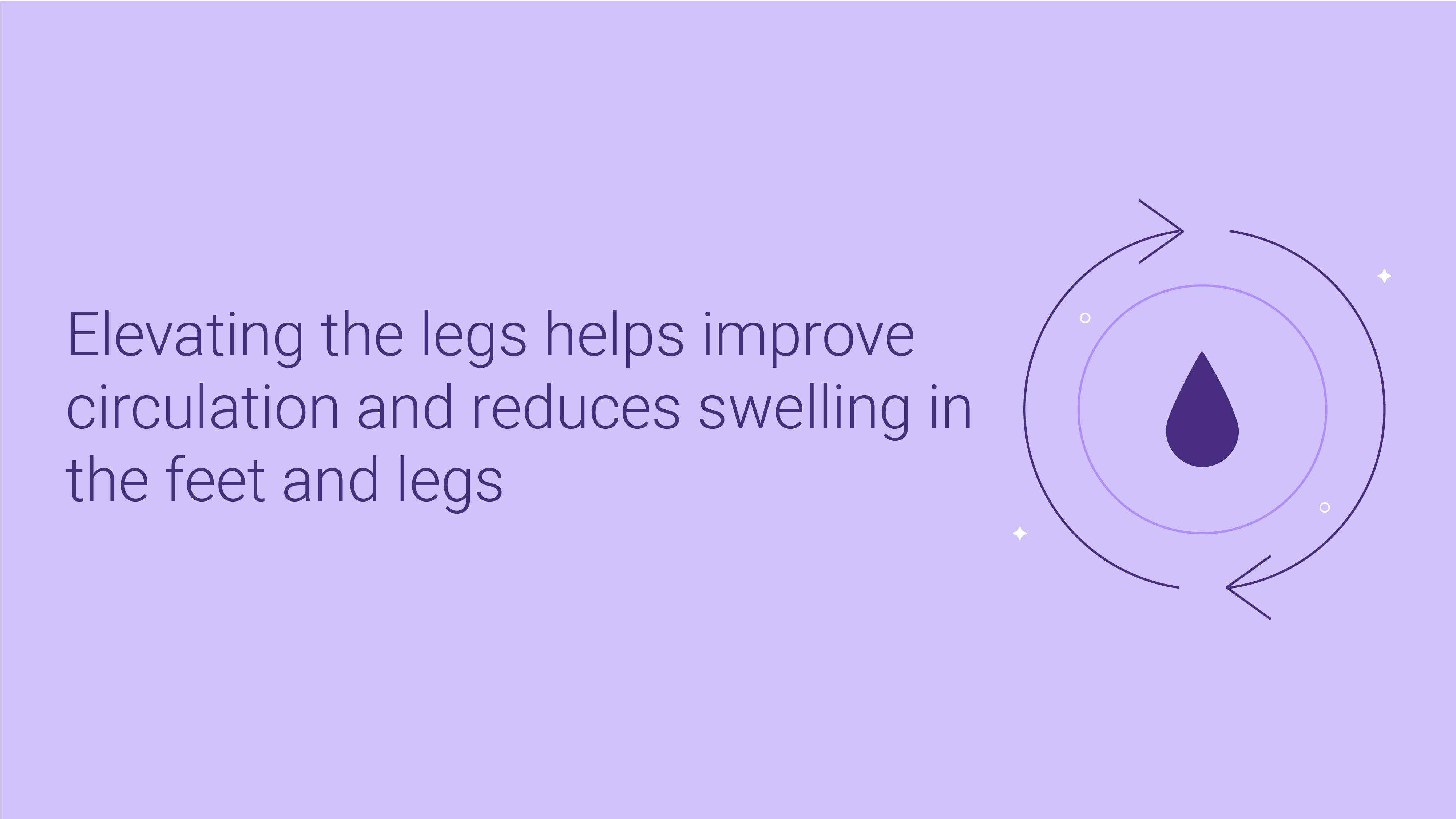 When the adjustable bed frame is split, each person can find a sleep position that fits their specific needs.
Frequently Asked Questions
What is the largest bed size?
The largest mattress available in the United States is an Alaskan king size. These mattresses measure 108 inches wide by 108 inches long. While they are the biggest bed size, Alaskan kings are often difficult to find and may not be available with most mattress brands. However, they can be purchased through some online specialty retailers.
Are two twin beds the same as a king?
Twin mattresses measure 38 inches wide by 75 inches tall. Therefore, two twin beds would not equal the size of a king bed. However, you can use two twin XL mattresses, which measure 38 inches wide by 80 inches long, to create a standard king bed. These extra-long twin beds are 5 inches longer than a standard twin. This option is often referred to as a split king.
Will a king size bed fit in a 10 by 10 room?
A king size bed will fit in a room that measures 10 feet by 10 feet. However, a king will feel cramped in this room size, making it difficult to move around the room. King beds fit more comfortably in a bedroom size that is at least 12 feet by 12 feet (144 square feet). A larger room will also leave plenty of space for other furniture such as nightstands and dressers.
What is the lifespan of a mattress?
Mattresses last anywhere from 7 to 10 years, depending on their materials and construction. Memory foam mattresses and hybrid mattresses tend to last between 8 and 10 years, while latex foam mattresses can last between 12 and 15 years. Innerspring mattresses have the shortest lifespan—these beds often last around 5 to 6 years.
What size bed should a 6-foot tall person get?
Those who are 6-feet tall will sleep most comfortably on a king mattress, which is 80 inches long. A California king measures 4 inches longer than a standard king and is another popular size for taller individuals. For even more legroom, sleepers can opt for a Texan king, which is 98 inches long. All three of these mattress sizes would be a good choice for someone over 6-feet tall.
For taller sleepers with a small room size, a full XL or a twin XL bed may also be a suitable option. Both of these standard mattress sizes are 80 inches long—giving tall individuals enough space to stretch out their legs.
Conclusion
Upgrading to a king size mattress may improve the quality of your sleep. You will feel less cramped and be able to relax more fully. To ensure that your new mattress is supporting you correctly, be sure to select the right size bed frame. If the frame is too big, the mattress may slide around, which can lead to sagging. If the frame is too small, the mattress may press too firmly to the sides of the frame, resulting in indentations. The best fit will leave no more than 2 inches of space between the mattress and the frame.
Once you find the perfect fitting frame, you can rest assured that your mattress is protected and will support you for many years.