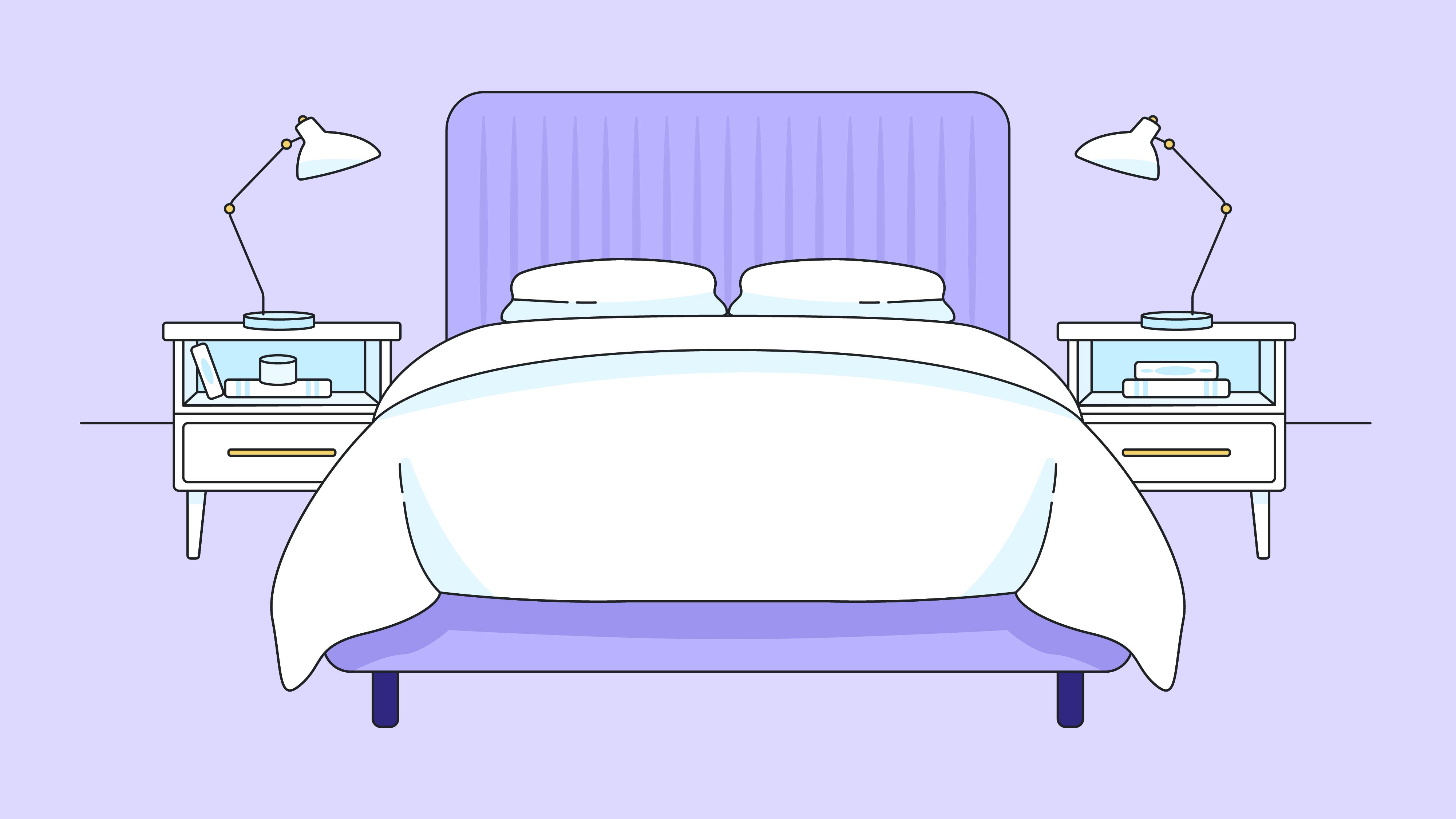 Most Comfortable Mattress of 2022: Reviews and Buyer's Guide

Mattress Guides
So you want to know what the most comfortable mattress is? The quick answer: The mattress that best suits your needs will prove to be the most comfortable. This isn't a cop-out, it's just the quick answer. The truth is, there is no magic mattress that is best for everyone.
To figure out where to start reading mattress reviews, you need to ask and answer a few questions about how your current sleep leaves you feeling every morning. If you ended up here, chances are you're experiencing some sort of restlessness or pain from your current mattress and you either want or need a better night's sleep. First, we'll introduce the most popular types of mattresses, then we'll help you determine which is right for you.
Most Comfortable Mattress of 2022
Amerisleep AS3 — The AS3 uses pressure-relieving memory foam and zoned support technology to make a contouring and sleep-enhancing mattress. Plus, they offer a 100-night sleep trial and a 20-year warranty.
Let's talk more about our recommendations.
Most Comfortable Mattresses
Our favorite mattress in our search for the most comfortable bed is Amerisleep's AS3 because it perfectly balances comfort and support. It has three inches of cushioning Bio-Pur® to contour to your body and HIVE® technology to support you in a healthy sleep position.
Its medium firmness makes it suitable for the majority of sleepers, but it's especially comfortable for side sleepers, combo sleepers, and back sleepers. The AS3 is also a nice choice for couples with different sleep needs since it works well for most sleeping positions.
The AS3 has three foam layers: the Bio-Pur® comfort layer, Affinity layer with HIVE®, and Bio-Core®. The mattress is wrapped in a breathable, cotton cover that's easy to remove for washing.
Amerisleep ditches regular memory foam and opts for a plant-based alternative, Bio-Pur®, in their beds. We like Bio-Pur® because it contains fewer petrochemicals than regular memory foam, so it's less likely to have that "new foam" smell. It's also more breathable and responsive than most foams, meaning it won't cause sleepers to sink.
The layer of Bio-Pur® in the AS3 is thick enough to relieve pressure under the shoulders and hips, which is why it works so well for side sleepers; stomach sleepers might want to avoid beds with a comfort layer this thick since the stomach can compress too deeply and strain the spine.
The Affinity layer in the AS3 serves as a transition between the Bio-Pur® and Bio-Core® foams. It contains cutouts throughout—HIVE® technology—to provide targeted support for the head, shoulders, lumbar, hips, and feet, maintaining healthy alignment. The combination of pressure-relieving Bio-Pur® and adaptive Affinity promote a better sleep posture and ease aches and pains.
At the base of the mattress is 7 inches of sturdy Bio-Core® to support the layers above and resist sagging. Amerisleep is so confident in their Bio-Core®, they even back their mattress with a 20-year warranty.
Amerisleep sells their beds both in stores and online. If you don't have an Amerisleep mattress store in your area, your best bet is to shop online and take advantage of their 100-night sleep trial. The risk-free sleep trial allows you to try their mattress in your home for 100 nights, and if you don't love it, you can trade it for a different model or request a refund.
AMERISLEEP AS3
Medium, "Goldilocks" feel
Eco-friendly and CertiPUR-US® certified
Comfortable for almost all sleepers
The next mattress on our list is made by the online mattress brand, Zoma Sleep, and receives great reviews both on their website and Amazon. Their flagship gel memory foam mattress, the Zoma, has a medium feel and three foam layers designed to optimize sleep and enhance recovery.
Zoma markets their mattress for athletes to help them sleep deeper and perform their best, but really, this bed can help anybody get better sleep and feel refreshed in the mornings.
The Zoma Mattress is most comfortable for side sleepers, combo sleepers, and back sleepers, and like the AS3 above, it's also a nice choice for couples. We also recommend the Zoma to hot sleepers because it contains cooling gels to fight night sweats.
The first layer of the Zoma Mattress is two inches of gel memory foam with Triangulex™ technology. As we mentioned, the gels in this layer work to keep you cool, but the Triangulex™ serves a different purpose: it consists of triangle-shaped cutouts to provide zoned support.
These triangle cutouts allow for compression under the shoulders and hips to ease pain and pressure, but this layer feels firmer under the lower back to prevent the torso from sinking.
Below the gel memory foam is a transition layer of Reactiv™ to allow for deeper contouring and keep you lifted in a comfy position. It evenly distributes weight, isolates motion, and improves the bed's bounciness.
The base of the Zoma is 7 inches of Support+ to reinforce the layers above. Support+ is durable, long-lasting, and backed by Zoma's 10-year warranty.
As an online brand, Zoma offers free shipping and a 100-night sleep trial with every mattress purchase.
ZOMA MATTRESS
Contains cooling gel infusions
Features pain-relieving zoned support technology
Designed for recovery
The most budget-friendly option on our list is the Vaya bed. We really like the Vaya because it contains the same high-quality foams you'd find in a thousand-dollar bed, but costs half the price. It even comes with a 10-year mattress warranty, which can be hard to find with a budget bed.
The Vaya is made and sold online by Vaya Sleep. It's medium in firmness and designed with resilient foams to accommodate all sleep styles and body types. Vaya engineers proprietary Vaya Foam to use in the comfort layer of all of their beds; it's designed to mimic the best qualities of memory foam and latex so sleepers can enjoy both contouring and lifting.
Most importantly? Vaya makes this foam using clean materials and processes, so it's safe for all sleepers and backed with a CertiPUR-US® certification.
Overall, the bed only has two layers: 3 inches of Vaya Foam and 9 inches of sturdy base foam. The comfort foam contours to the body, alleviates pressure, and adapts to movement, while the base foam keeps the mattress comfortable and sag-free.
Vaya Sleep sells their beds on their website and Amazon, they offer free shipping and a 100-night sleep trial with every bed.
VAYA MATTRESS
Clean, pure foams
Designed for "universal comfort"
Affordable
In addition to Zoma's all-foam mattress, we also like their hybrid bed because it's ultra-cooling and suitable for even the hottest of sleepers. It contains a comfort layer of cooling gel memory foam and a  pocketed coil system to make it Zoma's most breathable mattress yet. Like their all-foam model, Zoma's hybrid is also medium in firmness and comfy for side, back, and combo sleepers.
The Zoma Hybrid has a stretchy, soft cover and four layers:
2 inches of gel memory foam with zoned perforations
2 inches of responsive Reactiv™
7-inch pocketed coil system with targeted support
1-inch base layer of sturdy foam
The Zoma Hybrid has great edge support, and with its two targeted support technologies, it's a go-to option for sleepers who want to get rid of aches and pains. Zoma's hybrid model comes with the same 100-night sleep trial and 10-year mattress warranty as their original all-foam bed.
ZOMA HYBRID
Ultra-cool and breathable
Bouncy and lifting
Made using eco-friendly methods
Another comfortable bed by Amerisleep, the AS5 Hybrid, is our favorite mattress from Amerisleep's hybrid line-up because it contains a number of sleep-enhancing foam layers and a zoned pocketed coil system.  Its materials offer the best blend of bounce and cushion.
The AS5 Hybrid has a super plush feel, so it's a great choice for somebody wanting a luxuriously soft bed, and even though it's soft, it's still responsive enough to support sleepers of all body types. We recommend the AS5 for side, back, and combo sleepers, but stomach sleepers might want to look for something firmer.
Amerisleep's AS5 Hybrid contains a lot of the same materials as the AS3: three inches of eco-friendly Bio-Pur® and a layer of Affinity foam. But it's still different in many ways, for starters, the Affinity layer in the AS5 Hybrid doesn't contain cutouts, and the AS5 has an additional transition layer, Active Flex, between the Bio-Pur® and Affinity layers. And of course, the AS5 Hybrid has a support layer of zoned pocketed coils instead of Bio-Core®.
The Active Flex in the AS5 Hybrid sits right beneath the Bio-Pur® above to enhance the comfort layer's responsiveness. It feels a lot like latex and gives the AS5 a bit of lift—it's the reason the AS5 can work for sleepers of all body types.
The pocketed coils below the Affinity layer work like HIVE® cutouts to provide targeted support and encourage better spinal alignment. They're notably bouncy but still isolate motion, and they improve the bed's edge support and breathability.
At the very base of the AS5 Hybrid is a thin layer of foam for extra support. This foam sits right below the coils to improve their durability and keep the layers above sag-free. But you can rest easy on the AS5 Hybrid knowing it's backed by Amerisleep's 20-year mattress warranty. And like the AS3, it also comes with the 100-night sleep trial.
AMERISLEEP AS5 HYBRID
Plush but bouncy
Suitable for plus-size sleepers
Features innovative Active Flex
Mattress Types to Consider When Searching the Most Comfortable Mattress
Let's get started on what you'll need to know to help you get the best sleep possible. In the next section, we run through the common types of mattresses that can be found in stores or online. We note the good and the bad found in each, as well as what kind of sleeper may find the most comfort.
Memory Foam Mattresses
Ideal for: moderate to severe pain relief, arthritis sufferers, light sleepers, partners with different schedules
Inspired by NASA technology, memory foam is known for how well it responds to weight. It is unique in that weight is dispersed and the foam molds itself to the sleeper without resistance or pressure. This allows it to support the lower back and all areas of the body and relieve pressure points.
THE GOOD: Memory foam absorbs movement so even if you have a partner that tosses and turns all night, it won't affect your side of the bed. The individual body contouring of memory foam will reduce pressure throughout the body— the best mattresses for side sleepers are typically memory foam due to the dynamic pressure relief and support they offer.
While memory foam is known for the soft feel provided that can suit light or heavy sleepers, there are different levels of density available to help you find the desired firmness and support levels. This type of material is one of the best-rated mattresses, and is becoming popular online and in retail stores.
THE BAD: The foam used in most memory foam mattresses is heat activated, which can cause an uncomfortable feeling of overheating for sensitive sleepers. Since memory foam contours so well to a sleeper's body and has a slow recovery time, it can provide a bit of difficulty for older or heavier sleepers to physically get out of bed in the morning. Also, since the foam is created from chemicals an unpleasant odor has been observed by some.
It is important to note that not all memory foam mattresses are the same; manufacturers have been working to address the heat issue and even the chemical issue in order to provide a more comfortable mattress. For example, Amerisleep's plant-based memory foam mattresses cut harmful VOCs out and utilize plant-derived oils and extracts in manufacturing. They also have a faster recovery time and plant-based memory foam has been shown to be as much as 10 times more breathable than traditional foam and 25% cooler than gel foams.
Latex Mattresses
Ideal for: allergy relief, moderate to severe pain relief, heat regulation, eco-friendliness
Latex mattresses are constructed from either natural or synthetic rubber.  Natural or organic latex mattresses are the most earth-friendly mass-produced mattress. There are two processes by which the latex is created (Dunlop and Talalay) both of which have unique characteristics.
If you decide a latex mattress is right for you, spend some time learning the differences between the two varieties. Dunlop is the most common and uses less energy. Talalay latex requires a few more steps and more energy to make. They both offer a bouncy yet firm feel that is evenly distributed throughout the bed, but there are subtle differences.
THE GOOD: Since latex is a naturally-derived product, there are no harsh chemicals or petroleum products used during manufacturing (for 100% natural latex mattresses). This greatly reduces the chance of breathing and skin irritations, headaches, and nausea for even the most sensitive sleepers. Organic latex performs even better.  Latex is also hypoallergenic and one of the most resistant of all bedding materials to mites and mildew, thus providing a very clean sleeping environment.
Latex also usually ties or exceeds memory foam in satisfaction ratings for the top spot. Around 80-85% of owners report satisfaction, making it statistically one of the most comfortable mattress types. These mattresses offer a resilient support that relieves pressure points throughout the body to alleviate pain.
Since the latex is aerated during its creation, it allows for great airflow throughout the mattress which helps regulate body temperature all night long. Latex is structurally strong and durable, which increases longevity and won't create deep body impressions from long-term use like other mattresses.
THE BAD: Due to the dense nature of latex, these mattresses can tend to be somewhat on the firm side. However, there are brands of latex created specifically with a softer or plusher feel for use over cores for those who prefer plusher feels. It can also be difficult to compare the best mattress brands and types of latex, and all-latex mattresses may be difficult to find locally. 100% natural or organic latex may also be somewhat more expensive than other types of beds, but typically comes with longer warranties.
Innerspring Mattresses
Ideal for: moderate pain relief, budget, and local availability
Innerspring mattresses are still the most manufactured style by far and can accommodate any budget. If price is your biggest concern, it's good to know that you don't have to spend a lot of money to find decent results. However, when you reach the lower end of the price scale quality is questionable. Look for innerspring mattresses with a coil count of between 340 and 390. Anything below this may not support your body well enough any any count above this range provides insignificant advantages.
THE GOOD: A high coil count with sufficient padding can provide enough firmness to alleviate moderate pain to pressure points in the neck, shoulders, back, hips, and legs. Also, these mattresses can serve as a good base for an additional topper of your choice such as memory foam or latex and some come with these add-ons already attached. While not providing the full benefits of these new sleep materials, this is a good way to test drive an option for future purchases.
THE BAD: An innerspring is not typically customizable, and while a firm coil spring may provide some relief, their inability to contour to your body's shape can't provide enough specialized support for chronic pain. These mattresses also tend to have a shorter life span and the springs tend to lose strength and topper materials compress within couple years. Innerspring mattresses are also the lowest-rated mattress type overall, with an average of 65-70% reporting satisfaction.
How To Find The Most Comfortable Mattress for You
Comfort is a very subjective term, but most would probably agree that a comfortable mattress is one that doesn't cause any aches and pains and doesn't inconvenience the sleeper. The first step to finding nocturnal bliss is evaluating your current mattress.
A new mattress is likely to improve your sleep quality, especially if you have an older mattress. An Oklahoma University study showed that a news sleep system reduced back pain discomfort and increased sleep quality.
Answer the questions below about your mattress and see if you are in need of a new mattress.
Do You Have a Comfortable Mattress?
Are you getting a full night sleep?
Do you wake up with back and neck pain?
Do you wake with pain in a certain part of your body or all over your body?
Do you experience pressure points or limbs falling asleep?
Do you get so hot that you wake up in the middle of the night?
Is your mattress sagging?
The list of questions goes on and on, but the point is to take a few minutes to figure out what you want from your mattress and where it is currently falling short… or sinking in some circumstances. This can help you get an idea of your needs and what type of material might be the most comfortable mattress for you.  What do you need from a mattress that you aren't getting?
Are Bed-in-a-Box Mattresses Comfortable?
When they arrive at your doorstep rolled up in a box, these beds don't look too appealing. However, once you unroll a bed-in-a-box, it offers all the same comfort and support a bed you bought in-store would. The only real difference between a bed-in-a-box and a store-bought mattress is its method of delivery.
Online bed in a box brands use high-quality machinery crafted to roll-up your mattress without sacrificing its structural integrity. Because there's a method to their madness, your bed is not at risk of damage from being compressed. However, should you try to roll up your mattress on your own, you'll likely ruin the bed.
Frequently Asked Questions
What is the most comfortable mattress for side sleepers?
Side sleepers require a mattress with a conforming feel to ease pressure points across their bodies. Soft to medium feel mattresses provide this needed cushion while maintaining optimal spine support. Side sleepers can enjoy memory foam, latex, and hybrid mattresses; we do not recommend traditional innerspring mattresses for side sleepers because they lack the needed conformability.
What is the most comfortable mattress for people with back pain?
People with back pain often think a firm mattress or a soft bed is the solution, but science suggests the best option is a medium-firm mattress. The feel conforms to the back and lowers pressure, while maintaining a neutral spine alignment. Side sleepers experiencing a sore back may want to try a medium mattress instead, though.
What is the most comfortable mattress for back sleepers?
The best mattresses for back sleepers usually feature a medium-firm to firm surfaces. However, some back sleepers prefer more cushion than what either of these offers. We recommend medium mattresses for back sleepers interested in a plush bed.
What is the most comfortable mattress for combination sleepers?
Combination sleepers need a mattress that adapts to movements to ensure their comfort. We recommend medium feel mattresses to support all sleeping styles with minimal discomfort. Memory foam and hybrid mattresses are excellent mattresses for combination sleepers with partners because the surface limits motion transfer. Hybrid mattresses are also good because their coils promote a responsive surface.
What is the most comfortable mattress for stomach sleepers?
A mattress for stomach sleeping should have a firm, buoyant feel to minimize sinkage. Stomach sleepers tend to sink into soft mattresses, misaligning their spines and causing back pain and other discomforts. While foam mattresses are excellent for stomach sleepers, they may want to try a hybrid mattress for its bouncy responsiveness.
Winning, Mattress Style
The mattress marketplace is certainly not as simple as it once was. We have so many different types of materials and brands to choose from, each with different benefits. It is important not to feel intimidated by the shopping process or by the idea of trying a new mattress type, especially if your old standby has not delivered.
Finding the most comfortable mattress might involve research and learning, and maybe even some trial and error. Once you've researched the field and found the option for you, look for a retailer that offers a return period of at least 30 days. This will give you plenty of time to see if you actually like your mattress before completely committing.
Shop around and don't buy until you are comfortable. Get all your questions answered. Being a smart shopper and knowing what's out there will ultimately help you get the most comfortable mattress.