Best Blankets of 2022: Reviews and Buyer's Guide
Written By
Meg Riley
Certified Sleep Science Coach
Updated on: April 16, 2022

Bedding Guides
A comfortable blanket is a perfect addition to any bed set. While blankets can help you get cozy, they're also a great way to complement any room's decor. Today, there are hundreds of different blankets to choose from, each offering their own unique benefits. Whether you're looking for a breezy throw or a fuzzy weighted blanket, there are a multitude of different options out there.
In this guide, we break down everything you need to know before choosing the best blanket.
Best Blankets
Our favorite blanket of this year is the Allseasons blanket made by Amerisleep because it's designed with both a cooling and warming side. Whether you need to warm up or cool down, this blanket fits the bill.
The cooling side of the Allseasons blanket contains ultra-high molecular weight polyethylene to draw heat away from your body and lower your internal temperature by three degrees. If you're a hot sleeper, using this blanket in place of sheets can help you sleep more comfortably throughout the night. Or, if you live in a hotter climate, this blanket is perfect for keeping you cool as you lounge around.
The cool side of the blanket is designed to feel cool-to-the-touch. However, that cooling sensation only lasts around 15 minutes; as the blanket draws body heat away from you, it can't retain that cooling feeling for long, but it's still doing its job. The warm side of the blanket features Polar Fleece to keep you cozy and warm in the winter months, too.
The Allseasons blanket weighs about six pounds, so it is somewhat cumbersome, but it's not as heavy as a weighted blanket. The blanket is available online and in Amerisleep's showrooms.
AMERISLEEP ALLSEASONS BLANKET
Dual-sided design for warmth and coolness
Machine washable on a gentle wash cycle
Protected by a year-long warranty
A lightweight blanket perfect for hot sleepers is the CozyEarth Bamboo Blanket. It's moisture-wicking and keeps you sleeping 2 to 3 degrees cooler than your bedroom temperature. This way, you won't experience night sweats or hot flashes while sleeping.
The Bamboo Blanket is made out of bamboo-derived viscose. It's smooth with a slight fuzzy feel to be both comfortable and breathable. The viscose is thermo-regulating, which means you'll never feel too hot or cold while relaxing. It's also hypoallergenic, meaning it's less likely to trap allergens and trigger reactions.
The Bamboo Blanket comes in sizes twin, queen/full, and king. There's also a baby blanket option. Regardless of what size you choose, the blanket is oversized to stretch over your entire body at night.
The Bamboo Blanket includes free shipping, a 100-night sleep trial, and a 10-year warranty.
COZYEARTH BAMBOO BLANKET
Hypoallergenic and temperature-regulating
Viscose from bamboo wicks away moisture and keeps you cool when it's hot
A smooth, white blanket works well as a throw or on its own
Boll & Branch's Waffle blanket has an average five-star rating and receives glowing reviews. In reviews, customers mention their waffle blanket is perfect for all seasons and holds up after multiple washes.
The Boll & Branch Waffle blanket features GOTS-certified cotton and has a plush, texturized feel. Boll and Branch designs this blanket to be oversized so it'll shrink down to the size of your bed after the first wash.
This waffle blanket is available in four neutral colors and Twin, Queen, and King sizes. Boll & Branch offers free shipping and a 100-night sleep trial with all of their products, allowing you to buy online and try at home.
L.L. Bean's Maine-Made Cotton Twill blanket is perfect for any season. It's made with soft, pill-resistant cotton twill for durable comfort. This blanket is lightweight but also warm, so it can keep you cozy during cold nights and cool during hot nights.
L.L. Bean carries their Cotton Twill blanket in neutral colors including tan, cream, gray, dark blue, light blue, and teal, and it's available in Twin, Queen, and King sizes. Plus, it comes with a return policy allowing you to return your blanket within one year of purchase if you find yourself unhappy with it.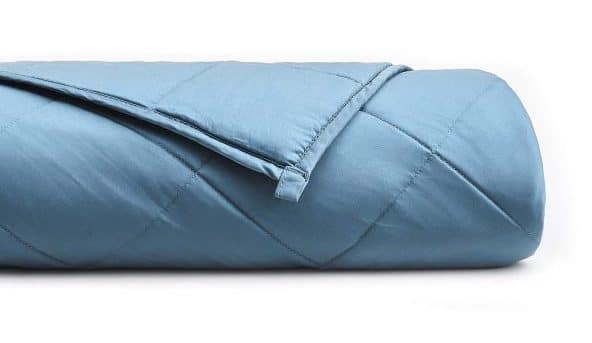 YnM Home sells several weighted blankets, but we like their cooling weighted blanket the best. Weighted blankets are designed to help you relax, but because they're so heavy, they can sometimes retain heat.
To prevent hot nights, YnM's cooling weighted blanket features breathable 300 thread count bamboo viscose. Inside the blanket, YnM uses premium glass beads and polyfill for even weight distribution. Their blanket has a silky, soft feel and is both hypoallergenic and naturally antibacterial.
YnM's weighted blanket is available in light blue or dark grey and 7lb, 10lb, 12lb, 15lb, 20lb, and 25lb weight options. YnM offers a 3-year warranty with each of their blankets.
If you're looking for a wool blanket, the Pendleton brand should be on your radar. Specializing in eco-friendly bedding, Pendleton's blankets are known for being cozy comfy and long-lasting. Unlike some wool blankets, customer reviews of Pendleton's blanket mention it feels exceptionally soft.
Their Eco-Wise Wool blanket features renewable wool and natural dyes and is shrink, fade, and pill-resistant. Pendleton carries its wool blanket in ten neutral colors to complement any bed set. Plus, they also give you the option to get the blanket embroidered or monogrammed.
The Pendleton Eco-Wise wool blanket is available in Twin, Queen, and King sizes and comes with a 90-day return policy. Pendleton also offers free exchanges should you want to swap for another one of their blankets.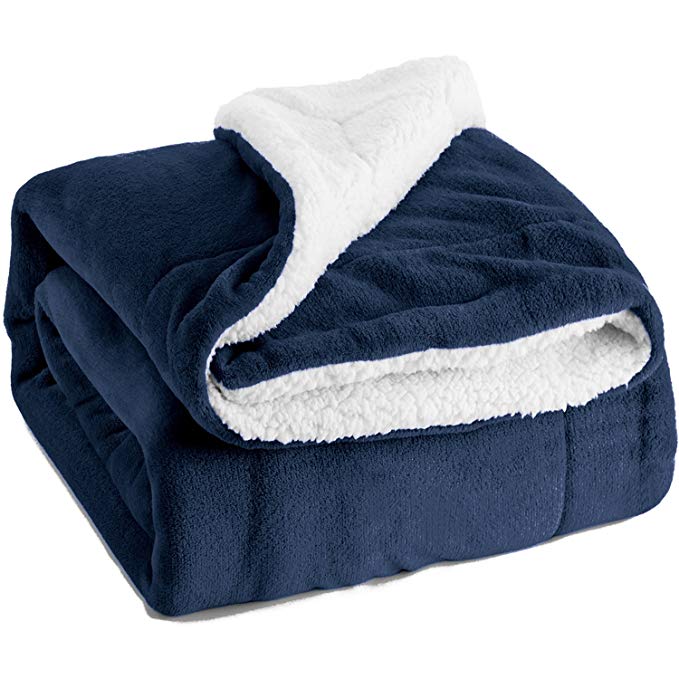 BedSure's Sherpa Fleece blanket is Amazon's Best Selling fleece blanket and has over 7,000 positive reviews. The BedSure Sherpa Fleece blanket is reversible, featuring a smooth fleece side as well as a plush, fluffy sherpa side to offer you different soft feels.
You can buy the BedSure Sherpa Fleece blanket in Throw (50"x60"), Twin (60"x80"), Queen (90"x90"), or King (108"x90") size. It's also carried in numerous different colors. Every BedSure blanket comes with a no questions asked 30-day return policy.
Chanasya's Faux Fur blanket is Amazon's Choice for the Soft Blanket category and has over 5,000 glowing reviews. Like the BedSure blanket, Chanasya's Faux Fur blanket is also reversible— one side is fuzzy faux fur, and the other is super-soft sherpa fabric.
Chanasya carries their faux fur blanket in a variety of different colors, from hot pink to beige, to match any room's decor. Size options include Twin, Queen, King, and alternative dimensions (50" x 60" or 60" x 70") . Plus, we're fans of this brand because they offer a Lifetime Warranty with each of their blankets.
Target's Threshold™ Sweater Knit blanket is perfect for keeping you warm during winter months. However, because it features 100% acrylic fabric, it's still light enough for year-round use. Its textured appearance makes it a great to throw over the couch as a decor accent, too.
Target's blanket is Standard 100 OEKO-TEX certified, meaning it's free from unsafe dyes and fabrics and safe for sleepers of all ages and sensitivities. It's available in coffee, coral, tan, speckled cream, and navy colors, as well as Twin, Queen, and King sizes.
Target offers a 365-night return policy with their Sweater Knit blanket, allowing you to buy online or in-store and test it out for a whole year.
Pacific Coast®'s Down blanket can complement your bedding to keep you warm during winter months or be used as a substitute for your comforter or duvet during summertime. It features fluffy, warm down feathers encased in a shiny, satiny cotton fabric. Pacific Coast® has added a 3-inch satin border to each of their blankets for a more elegant appearance.
Pacific Coast's blanket is available in four neutral colors and three size options. We're fans of this brand because they offer a 30-night sleep trial and a 3-year warranty with each of their blankets.
If you're a frequent flyer, you understand the pain of being on a cold airplane with no blanket in sight. Or you know the gross feeling that comes along with opting to use one of the airlines communal blankets that are likely rarely washed. A good travel blanket can make traveling more comfortable.
World's Best Cozy-Soft Microfleece travel blanket is one of the best travel blankets you can find, and at only $10, it's one of the most affordable options, too. It features super-soft 100% polyester to keep you comfy cozy. Also, like any good travel blanket, it's lightweight and fits easily in your carry-on.
You can buy World's Best's travel blankets in one or two-packs, and they're carried in a number of different colors and patterns.
Sunbeam's Heated blanket is Amazon's #1 New Release in the Electric Blankets category and has already racked up over 300 positive reviews. It's made with 100% micro plush polyester and has a soft, silky feel.
We like Sunbeam's Microplush Heated blanket because it has a pre-heat function to warm your sheets up before you climb into bed, along with ten different temperature settings. It's ComfortTec Controller makes it easy to adjust the temperature, and it has a 10-hour auto-off function, so you don't need to worry about turning the blanket off before falling asleep.
Sunbeam carries its heated blanket in a variety of colors and Full, Queen, and King sizes. It also comes with a lengthy 5-year warranty to ensure you get your money's worth.
Handicraft Mart's Himilayan Cashmere throws are imported from Nepal and get softer and softer the more you use them. The cashmere for these blankets comes from the belly of the Himilayan goat and has a luxuriously soft feel. Because cashmere is all-natural, these blankets are eco-friendly, too.
These blankets are suitable for any season and easy to travel with because they're so thin. They're available in a handful of neutral colors, and come in only one size— 54"x108". You can find these blankets exclusively on Amazon.
Types of Blankets
Blankets serve a variety of purposes, so as you can imagine, there are several different types. In this section, we describe the main differences in common blanket types to give you a better idea of what kind of blanket is right for you.
Standard
A standard blanket is what comes to mind when you hear the term "blanket." These are designed to be used as another layer of bedding and fit between your body and sheets. Standard blankets are sold in Twin, Queen, and King sizes, just like mattresses.
Throws
Throw blankets are primarily used as decoration but can be paired with bedding, as well. These can drape over a sofa or armchair to add a pop of color or texture to a room. Generally, throws are lightweight and feature fun design elements such as fringe or tucks.
Afghans
Afghans have become more and more popular in recent years. Years ago, they were viewed as a type of throw blanket, but now they've distinguished themselves as a fun alternative to a plain throw blanket.
Afghans are knitted or crocheted from yarn, so they're often quite breathable and airy. They usually can't provide much warmth, so they're primarily used for decoration.
Weighted
Weighted blankets are a newly popular bedding accessory designed to help you relax and provide relief from specific sleep and mental health disorders. These are heavy blankets, ranging in weight from 5 to 30 pounds, and filled with glass beads or plastic pellets.
Sleep specialists believe the weighted pressure these blankets offer can promote calm feelings to help you fall asleep faster and snooze sounder.
Electric
Electric, otherwise known as heated, blankets are layers of fabric with electrical wires inside to provide you with a steady level of warmth once turned on. These blankets contain an electric cord and thermostat, so you can plug them into an outlet and adjust the temperature to the level where you're most comfortable.
The stable thermoregulation these blankets offer helps keep your sleep-wake cycle in sync and thus can promote better sleep. Electric blankets are also great for fibromyalgia or arthritis-sufferers because the heat they provide can ease joint inflammation.
Quilts
Quilts are layered blankets with three different components: an insulating layer of batting, an inner layer of cotton, wool, or synthetic fibers, and a quilt top made by stitching small pieces of decorative fabric together. The term "quilting" refers to the stitching that holds these three layers in place.
Quilts are often used in place of comforters and can vary in breathability. Quilts with an inner wool layer will be warmer and less airy than ones with a cotton or synthetic inner lining.
Travel
Travel blankets are lightweight and compact so they can be easily taken on the go. They're commonly made with polyester, down, and fleece, and usually very warm. Travel blankets are perfect for plane rides or camping trips.
What to Look for When Choosing a Blanket
Blankets come in all shapes and sizes. Before you start into your search, ask yourself why you're buying a new blanket. Are you more interested in appearance or functionality? Are you decorating a room or addressing sleep concerns? How do you sleep at night— are you a hot sleeper or do you tend to find yourself struggling to get cozy?
In this section, we discuss the main characteristics to research before choosing your perfect blanket.
Material
Different fabrics have different feels. Arguably, the fabric you choose for your next blanket has the most significant impact on its overall feel. There is no one "best" fabric for blankets because each fabric serves different purposes.
To determine which fabric is right for you, think about what you want from a new blanket. Do you want something fuzzy and warm? Or do you prefer a crisp, airier blanket?
Below, we describe the most popular blanket fabrics to help you decide which is most appealing to you.
Cotton
Cotton is one of the most common textiles and is used in a variety of different bedding products. Cotton blankets are soft, smooth, airy, moisture-absorbent, and great for any season. During warmer nights, cotton's breathability helps keep you cool. Meanwhile, cotton works to keep you cozy and warm during the winter months.
Wool
Wool is sourced from sheep and is naturally antimicrobial and moisture-wicking. While wool isn't necessarily "soft," it offers a lot of warmth because it's thick. Despite being thick, wool blankets often have gaps in the stitching, allowing for air to flow freely in and out. Wool is an eco-friendly fabric that's suitable for all seasons.
Fleece
Fleece is the synthetic, man-made version of wool crafted with polyester microfibers. You can expect fleece to have a very similar feel to wool, as it offers a lot of warmth and is quite heavy. Fleece blankets aren't always as breathable as wool, so they may not be suitable to use year-round. However, it's a budget-friendly option for people seeking a wool-like feel from their next blanket.
Acrylic
Acrylic is another synthetic fabric often used as a substitute for wool or cashmere. As you can imagine, acrylic blankets are cheaper than wool or cashmere alternatives and are more susceptible to wear and tear like pilling. A perk to using this fabric is that it's hypoallergenic, so it's safe for people with allergies or sensitive skin.
Down
Down feathers are plucked from the underbellies of waterfowl including ducks and geese. Because this process is relatively cruel, many people prefer to use down alternatives, such as rayon, cotton, or polyester, instead of genuine down feathers. Down is very soft and warm, it's often used in winter jackets because of its insulating abilities. Down blankets are best for colder months and are usually quite expensive.
Cashmere
Cashmere wool, known simply as cashmere, is sourced from cashmere goats. This fabric is very similar to wool in terms of breathability and warmth. Cashmere is often more expensive than wool.
Polyester
Polyester is a synthetic fabric designed to be similar to cotton. It's a bit warmer and less breathable than cotton, so it isn't always the best for hot sleepers. Because it's a synthetic alternative, polyester is usually more affordable in comparison to cotton and thus better for people shopping on a tight budget.
Sherpa
Sherpa is a synthetic alternative to wool, known as "faux shearling." It's made with polyester, acrylic, or cotton and has a bumpy, wool-like appearance. Sherpa is commonly used to line winter coats because it's warm and insulating.
Faux Fur
Faux fur blankets are made from synthetic fibers such as acrylic and polyester and designed to resemble the appearance of different types of animal furs. These are usually thick and warm, so they're best for winter months. However, people most often buy faux fur to complement a piece of furniture, not to use as a blanket.
Weave
A blanket's weave directly influences its breathability. Blankets with looser weaves are airy, light, and don't offer a lot in terms of warmth. While these are great for summer months or to use as home decor, they're not ideal if you're looking for a blanket to keep you cozy.
On the other hand, tighter woven blankets are less breathable and retain heat. These blankets are great for the colder seasons or for people who tend to wake up chilly throughout the night.
The most common blanket weaves are as follows:
Flat: Creates a flat, even appearance. A flatweave can be tight or loose, impacting the breathability of the blanket. This weave is both heavy and durable, so it's used for carpets and rugs, too.
Percale: Commonly associated with sheets, a percale weave is tightly woven and soft. Percale weave has a matte appearance and a crisp feel. Often, percale sheets are recommended for hot sleepers because they're more airy than other bedding options.
Sateen: Another weave commonly associated with sheets, a sateen weave is looser and creates a silky appearance. Unlike percale, a sateen weave is best for sleepers looking for warmth because it's heavier and cozier.
Jacquard: A Jacquard weave is tight and characterized by patterns stitched in the fabric. Whether simple or complex, these patterns can give the blanket a textured appearance.
Waffle: A waffle weave resembles the appearance of waffles due to its textured grid pattern. Waffle blankets are breathable but also relatively cumbersome. During summer months they can serve as an airy substitute for your bedding while providing extra warmth during cold nights.
Thermal: A thermal weave has a honeycomb texture designed to trap body heat within the yarn. Thermal blankets are perfect for winter months and cold sleepers.
Size
Blankets come in numerous sizes. For the most part, blankets are sold following standard mattress sizes, but some blanket types stray from the norm.
When buying throw blankets such as afghans, double-check the dimensions to ensure they are big or small enough for your preferences.
Breathability
The breathability of your new blanket plays into its overall warmth. Thick, heavy blankets aren't very breathable and thus retain body heat. If you're using a blanket to get cozier, this is perfect. However, if you tend to sleep hot, you're better off finding a lightweight blanket.
The type of blanket you buy and its fabric will determine how breathable it is. If you want a warmer blanket, look for materials such as wool and down. Airy blankets will feature fabrics such as cotton or polyester. Don't forget to check the weave, too.
Durability
The fabric and weave of your next blanket are good indicators of how long it's expected to last. Make sure the blanket you're interested in is made with high-quality textiles to ensure it won't break down.
Plus, consider how you intend to use your new blanket. If you plan on throwing it over the sofa as decoration, it'll likely hold up for a while. However, if you are buying this blanket for nightly use, it'll be subjected to more wear and tear and will likely show signs of deterioration more quickly.
Care Instructions
A lot of blankets are safe to throw in the washing machine and dryer; however, some require special care such as spot or dry cleaning. If you're looking for the most convenient care for your new blanket, choose one that's machine washable.
Failing to follow proper care instructions for your new blanket can result in pilling— balled up loose fibers that form over the surface of the fabric. Pilling sometimes occurs after the first wash to prevent further breakdown; however, consistent pilling is a sign of a poor-quality blanket.
To play it safe, always avoid harsh detergents or fabric softeners when cleaning your blanket because they can damage fabric, causing it to wear out and look old after only a few washes. If you're going to throw your blanket in the dryer, use the tumble dry setting with low or no heat.
Color Options
Most blankets are sold in different colors and patterns, but not all of them. Often, online retailers allow you to sort by color when browsing, so if you're looking for a specific look from your next blanket, use that tool to narrow down your selection.
Return Policy
With a little research, you can likely find the perfect blanket for your needs. However, it's always safe to buy something with a return policy in the off-chance it doesn't turn out as you expected.
Because so many of us shop online now, sleep trials are nice to have because they allow you to test a product after you buy it to make sure it fits the bill.
Frequently Asked Questions
How do I choose a good blanket?
When selecting a blanket, consider its material, weave, size, durability, and breathability. The blanket should be strong enough to endure years of use, large enough to cover you and keep you warm, and breathable enough so that you don't overheat in the night.
You should also think about how much care you'll likely have to invest in your chosen blanket. Some blankets are machine washable, some must be professionally dry cleaned.
How many blankets do you sleep with?
The answer to this question largely comes down to your local climate and personal preference, and might even require a little bit of experimenting to find the magic number. A good rule of thumb is to sleep with two blankets, one thicker than the other. You can add on a third if needed for colder nights, or remove one on hot summer nights.
The important thing is to achieve the right temperature that enables you to sleep undisturbed throughout the night. As long as you aren't waking up sweating or shivering, you're probably sleeping with the right number.
What is a good blanket for winter?
The exact winter blanket you'll need will depend on your local climate; naturally, people in frigid conditions will need a heavier blanket than someone who lives someplace warm and experiences a milder winter. Cotton, fleece, and wool are all common materials in a winter blanket. You might even want to consider a comforter or a duvet for more warmth, instead of the more traditional blanket.
How long should you keep a blanket?
Blankets can last a few years, but they'll need to be replaced eventually. A blanket with holes or thinning fabric is ready to be tossed, as is a blanket with a smell that doesn't disappear in the wash. You might also want to try a new blanket if your allergy symptoms flare after you've wrapped yourself up in your current blanket.
How often should you wash your sheets?
We recommend washing sheets, blankets, and pillowcases once a week to best prevent allergens from accumulating in your bedroom. Mattress protectors and duvets inserts can be washed less often, about every few months. However, the duvet's cover should be thrown in with the weekly wash.
Did You Find Your Next Blanket?
We hope our guide has given you everything you need to know to buy your next blanket with confidence. When browsing different blanket types, look at the factors we discussed to find your most comfortable blanket with ease.
If you're in the market for other bedding or a new mattress, be sure to check out the rest of our guides to learn more about your available options.