Best Mattress Sales: When Is The Best Time To Buy A Mattress?

Best Mattress Sales
Are you looking for the best online mattress sales, including those on memory foam? Depending on the time of year, there are some incredible deals offered by various manufacturers that should help you narrow down your choices. If you plan on taking advantage of mattress deal prices, it's also important to consider the overall value of the offer.
30 Second Summary: Best Mattress Sale of 2023
Amerisleep AS3 — Amerisleep's most popular mattress, the Amerisleep AS3 is $300 off! The AS3 uses eco-friendly, pressure-relieving foam and clinically-proven back support technology to help you sleep better. Plus, the AS3 comes with a 100-night risk-free sleep trial and a 20-year warranty.
Zoma Mattress – Looking for a mattress to keep up with your active lifestyle? Zoma's state-of-the-art mattress is discounted by $150! Featuring cooling gel memory foam and Triangulex™ support technology, the Zoma is designed to help you get better sleep.
Below are some of the top offers on the best quality beds being sold today. Included is information pertaining to the various features that consumers rate as being the most important. Armed with this information, you should be able to get the best deal on a sleep surface that will have you looking forward to a great night's sleep–every night.
The Best Bed Sales Happening Now: Memory Foam Mattress Sales
Some of the leading brick and mortar retailers, as well as online mattress companies, offer rotating sales on products they're only featuring for a limited time. This makes sense because it's a great way to publicize their brand. And sometimes, a little extra savings is all it takes for a potential buyer to take the plunge.
Don't wait for a sale. Buy your new bed now.
Amerisleep is one of the leading mattress manufacturers offering amazing deals on their most popular models. Consumers with a conscience will especially like Amerisleep's eco-friendly foams, which are made right here in the United States. Those in search of top quality, unrivaled comfort will be equally impressed.
The Amerisleep AS3 Mattress is not only the most popular model they make, but it's also currently being offered on sale for $300 less than the retail price. With a total cost of $1599, the Amerisleep AS3 is almost half the price of big-name brand mattresses.
Amerisleep's AS3 makes the top of our list because even when it's not on sale, it's still an incredible value. Not only does this model come with a 100-night, no-risk sleep trial, it also boasts a 20-year guarantee. Even when you purchase the AS3 at its sale price, you can return the bed at no cost if you decide after a month that it's not the right fit for you.
Other features of the sale-priced AS3 are as follows:
Breathable cooling layer – Amerisleep is also unique because they design and manufacture their own eco-friendly foams. Their Bio-Pur® foam is used in the top layer of the AS3, and is significantly more breathable than traditional memory foam products, according to their product description. These properties help the surface wick away moisture when you sleep, helping you snooze cooler and more comfortably.
Another foam layer that makes you feel like you're floating – The perfect bed would be virtually undetectable to your body no matter what position you prefer to sleep. The AS3 boasts an affinity transition layer of foam that reacts to your body when you sleep, which is zoned to evenly distribute weight and relieve key pressure points.
A foam core layer that will never sag – The bane of every sleeper is sagging–an issue that affects even most high-quality beds over time. Amerisleep solved this problem by developing a foam that will not sag, even after decades of nightly use. They call this their Bio-Corer foam and, like the Bio-Pur® foam, it is made partially from plants instead of petroleum.
In short, it's easy to see why the Amerisleep AS3 was the best mattress of 2023.
Another excellent memory foam mattress by Amerisleep is the AS5. The AS5 mattress contains the same layers as the AS3, but as Amerisleep's softest model, the bed also has a special foam layer called Active Flex. Active Flex is a highly-responsive, super-soft foam layer. This transition foam gives the mattress a plush feel, so sleepers can enjoy optimal softness without loss of support.
The AS5 is perfect for potential customers on the lookout for a soft mattress. The mattress gives you the full plushness of a soft bed, but maintains even support. It's easier to switch sleeping positions, and climb in and out of bed.
AMERISLEEP AS3
Medium feel supports most sleeping styles
Plant-based memory foam stays cool while relieving pressure
Sturdy mattress foam core and hexagonal cutouts for adaptable support
Zoma is a mattress company geared towards creating mattresses, specifically for athletes and those with an active lifestyle. The responsive foam layers conform to the body's natural curves, relieving pressure points without causing a person to feel stuck inside the mattress. Professional athletes love the Zoma mattresses and highly recommend them to fellow active individuals, as mentioned on the Zoma website.
The Zoma Mattress is one of the best models for athletes looking to improve their sleep. With a medium feel, the bed is perfect for most sleeping positions. Right now, the Zoma Mattress is available for $799 for a queen size, $150 off the original price.
Another reason why the Zoma Mattress made our list, is not just because the bed is recommended by professional athletes, but because you can try out the Zoma Mattress for up to 100 nights in the comfort of your own home. If after breaking the bed in, you feel the mattress isn't a good fit, Zoma will process your return and give you a full refund. The Zoma Mattress is also covered by a 10-year warranty.
Other features of the sale-priced Zoma Mattress are as follows :
Zoned gel memory foam – The top layer contains gel memory foam incorporated with Triangulex™ technology. This zoned support system ensures a deeper compression in the shoulders with better support in the back and hips. The gel absorbs body heat, preventing night sweats.
Highly-responsive transition layer – Reactiv™ is an elastic foam that mimics the feel of latex. The foam automatically adjusts to your sleeping position, maintaining spinal alignment.
Long-lasting support base – Support+ is the support layer of the Zoma Mattress. Support+ evenly distributes body weight and consistently supports you night after night. You don't need to worry about soft spots or sagging.
ZOMA MATTRESS
Memory foam includes cutouts for specialty support
Reactiv™ foam layer makes it easy move across the surface
Support+ foam increases the mattress's structural integrity
Vaya's philosophy is to keep it simple when it comes to creating a comfortable mattress. You don't necessarily need high-tech materials or complicated technology to achieve a good night's sleep.
Their Vaya Mattress reflects this philosophy in its 2-layer construction. Both foam layers conform and support body weight for a long-lasting mattress. The breathable cover further wicks away moisture and feels soft to the touch, so you can more fully enjoy the plush surface.
Other features of the sale-priced Vaya Mattress are as follows:
Vaya Comfort Foam – The thick, 3-inch comfort layer molds to your body, relieving pressure, particularly in the shoulders and hips. The open-cell design ensures better breathability to prevent uncomfortable night sweats.
Vaya Support Foam – The support foam is 9 inches thick and boosts the contouring ability of the Vaya Comfort Foam. The durable material evenly supports body weight and reinforces the bed's structure.
VAYA MATTRESS
Minimal mattress design paired with high-quality materials
Cushioning comfort foam more lightweight than traditional memory foam
Vaya Base Foam keeps the spine supported in any position
The Best Bed Sales Happening Now: Hybrid Mattress Sales
Memory foam mattresses are beloved, but some sleepers prefer the feel of a hybrid mattress. As a general rule, hybrid mattresses cost more than foam mattresses due to production costs, which is why we felt it important to spotlight the best sales happening right now.
Get ready to save big on some of the best hybrid mattresses.
When it comes to plush comfort you can sink into after a long day, we have yet to find a mattress that beats the feel of the AS5 Hybrid. The soft top layer is bolstered by a responsive transition foam and pocketed coils, creating a luxurious bed that doesn't let a sleeper bow uncomfortably far into the mattress.
As a soft, tall mattress made with plenty of material, the AS5 Hybrid can seem like a significant investment. The current offer of $300 off, however, can help lessen the burden on your wallet and enable you to sleep in the comfort you deserve.
The thick top of Bio-Pur® foam establishes a plush yet responsive surface, perfect for sleepers who want a mattress that can embrace their entire body. The material is made with plant-derived oils and traditional ingredients to create a breathable and responsive foam.
Other features that set the Amerisleep AS5 Hybrid apart are:
Exclusive transition foam – The AS5 model is the only Amerisleep mattress to rely on a layer of Active Flex. This foam is designed to help the surface adapt to movements and buoy the body for support without compromising the top layer of cushion.
Edge support and responsive coils – The coils inside the AS5 Hybrid support the body to prevent spine misalignment.  The coils bob and retract as a sleeper moves across the mattress, though the wrappings prevent any movements from rippling and causing jarring discomfort.
Durable structure – Low-quality soft mattresses often lack support and can sag far too soon. The AS5 mattress relies on its supportive foams and coils to withstand years of wear and tear, establishing a plush mattress for restorative sleep.
AMERISLEEP AS5 HYBRID
Thick layer of soft memory foam promotes side sleepers' comfort
Active Flex layer offsets the soft top without negating its feel
Bouncy pocketed coils retract and adapt to movements
The Zoma Hybrid is another mattress made exclusively by Zoma. Like the Zoma Mattress, the Zoma Hybrid contains gel memory foam infused with zoned support. This comfort layer conforms to the body for pressure point relief without trapping heat. Reactiv™ makes it easier to change sleeping positions and encourages spinal alignment.
The Zoma Hybrid, however, contains a support layer filled with hundreds of pocketed coils. The innerspring coils give more stable edge support, a nice feature if you prefer to sleep on the edge of the bed. They also present targeted support to your lower back, preventing your hips from sinking too deep and lessening back pain.
Here's what sets the Zoma Hybrid apart from similar mattresses:
Mattress design maximizes cooling potential – The top layer of gel-infused memory foam and
Responsiveness comes from two layers – The bed owes its bounce to the Reactiv™ foam and pocketed coils, buoying the body and maintaining an ideal spine alignment for pain-free sleep.
Reinforced edge support with thicker coils – The coils are not only wrapped to isolated motion, but the ones along the sides create firmer edges to make it easier to move in and out of the bed.
Like the classic Zoma Mattress, the Zoma Hybrid comes with a 100-night sleep trial and a 10-year warranty.
ZOMA HYBRID
Gel memory foam cushions and cradles while staying cool
Latex-like middle layer buoy the body to minimize sinkage
Pocketed coils keep movements from spreading
The Vaya Hybrid is the affordable springy counterpart to the original Vaya Mattress. The mattress construction replaces the base foam of the classic Vaya, pairing the Vaya Comfort Foam with pocketed coils and a sturdy foam base.
Sleepers who are seeking a hybrid mattress but are shopping on a limited budget often struggle to find what they're looking for in a bed.
Here's what sets the Vaya Hybrid apart from other hybrid mattresses:
Budget-friendly prices – It's common for hybrid mattresses to cost more than $1000, but the Vaya Hybrid keeps its sizes under this threshold by arranging high-quality materials in a simple design. Whether you want a small size or a bed for two, the Vaya Hybrid is a highly affordable option to consider.
Supportive coils for a healthy spine – The pocketed coils of the Vaya Hybrid buoy the body in any position, ensuring sleepers wake up refreshed and pain-free. In other words, despite the low price, the hybrid doesn't skimp on the important essentials of a good mattress.
Minimal motion transfer – The Vaya Hybrid is perfectly suitable for couples sharing a bed thanks to its individually wrapped coils. If one partner moves out of bed, the other one should remain undisturbed.
VAYA HYBRID
Responsive surface adapts to all sleeping styles
Vaya's conforming comfort foam eases pressure points
Corner-to-corner edge support helps sleepers move in the morning
What to Look For When Shopping Mattress Deals
The most important thing to consider when buying a new bed is whether it will give you a restful, comfortable night's sleep. Ultimately, this holds true whether the bed is on sale or not. Getting the best deal on the internet won't matter if you toss and turn all night and sleep on something that causes you to have pain or soreness. So what should you look for?
First, consider how you sleep. Do you prefer to lay on your back, side, stomach, or a combination of these positions? (If you're unsure how you sleep at night, it's usually the position you wake up in.) Understanding your preferred sleeping position will help you determine the level of firmness or softness that's right for you.
Breaking these down into three categories will help you better understand the relation between sleep position and mattress firmness. So let's take a look.
Are you shopping for this year's best Black Friday Mattress Deals?
Soft Mattresses
If you sleep on your side, then a soft sleep surface will better support the contours of your body. It's also true that some sleepers simply prefer the plush comfort of a soft model. For people who need more support from their beds, softness may work against them and cause aches and soreness.
It's important to remember that not all soft options are made equal. When you wake up in the morning, you shouldn't ever feel like your mattress is sucking you in or creating a sinking feeling, which can make it difficult to pull yourself out of bed. If you love a soft mattress, make sure to find one that won't make you feel like getting up in the morning is any more difficult than necessary.
Firm Mattresses
If you prefer to sleep on your stomach or back, then a firm model is likely your best bet. A quality firm bed should support your joints and muscles, helping you get a good night's rest and wake up feeling rejuvenated.
Firm sleep surfaces are especially beneficial for people who suffer from chronic pain. In fact, some people are entirely unable to sleep on anything but the firmest of beds. If you suffer from back pain, neck pain, or pain along your spine, a firm option will likely help you sleep better while promoting overall wellness.
Medium or In-Between Mattresses
Some manufacturers make models that fall somewhere between soft and firm. These offerings are perfect for people who like to sleep in a variety of positions throughout the night and want to enjoy the best of both worlds.
Couples often prefer these beds for their versatility, as it allows for a compromise between divergent sleeping styles. If you and your partner are shopping for an in-between option, make sure it features technology that prevents movement from rocking the entire bed. Without this feature, it's easy for one partner to wake the other when if they change positions or get up in the middle of the night.
The Best Mattress Sales – It's All In The Materials
Once you have a grasp on the firmness level you prefer, it's important to identify the features that will help you maximize your overall comfort. The construction of your bed also plays a large role in determining its price and will likely have a major impact on your overall satisfaction.
The materials from which your mattress is made also help determine its overall value and performance level. Think about it: If you save a few dollars on the purchase price on a model with half the lifespan of a slightly more expensive brand, you'll ultimately end up paying more when you have to buy another new bed in just a few short years.
There are three major styles on the market today. Let's consider the options.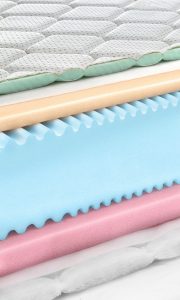 Memory Foam
This is undeniably the most popular material in today's market, and with good reason. Memory foam has a long lifespan, high durability, and is competitively priced. Best of all, most memory foam beds can conveniently be ordered online and be shipped directly to your door.
By eliminating showroom costs, online-based manufacturers are able to make the best deals available to customers. (Some are also offered in showrooms, so you can test one out to see what firmness level is right for you.) Often the best sales are offered during the holidays. But certain manufacturers, like Amerisleep, offer year-round bargains that are hard to pass up.
Memory foam is also the highest rated of all products, and warranties reflect this. If conservation is important to you, search for memory foam models that are made with environmentally-friendly materials.
Latex Foam
Beds made from latex are the second-highest rated on the market, and are predominantly sold online. Latex foam is either natural or synthetic, but natural latex (which is made from rubber) has both environmental and aesthetic advantages.
Some companies identified the benefits of both memory foam and latex, so they developed options that qualify as hybrids. In most cases, a poly foam base core is paired with a layer or two of latex for comfort. While this approach makes for a less costly product, it often negates the health benefits and durability of the bed.
Another consideration is price. While latex foam and memory foam are nearly even on many levels, latex beds tend to cost more. So if you're on the fence, the higher price point could end up being the deciding factor.
Innerspring
Also called coil mattresses, these are the most common models, often seen in showrooms across the country. They are built with metal springs that are covered with foam and fabric, which are arranged in a variety of ways to accomplish distinct goals.
Innerspring beds have the lowest customer approval ratings of all mattress varieties. Motion transfer is often a major complaint from users, a problem that is largely mitigated with memory foam.
Whenever you visit a showroom, you will have no problem finding deals on innerspring beds. Still, you have to wonder why these manufacturers are able to offer such massive discounts on their products. Remember, a bargain that seems too good to be true now isn't always the best deal in the long run.
The Definitive Breakdown of Holiday Bed Sales
Now that you're armed with the basics on all of your options, you're ready to find the best mattress deals. Holidays are often the best time to find stellar sales, especially on beds that are sold online. Some of the more common questions asked by consumers in regards to holiday deals include:
What is the best holiday for bed sales?
Is one holiday better than another for finding the best deal?
What should I look out for when shopping bed sales?
In the following section, we'll answer all these and more–so you know exactly when to shop to find a great deal.
Some of the best memory foam mattress deals are offered during major holidays
High-traffic shopping seasons are the best time to buy a mattress, as manufacturers know that these occasions often motivate consumers to make major purchases. Competition is high in the mattress making industry, especially with memory foam models, and many companies will engage in all-out price wars to attract new customers.
Here we break down the major holiday deals and explain why they may be the right time for you to find the bed you've always dreamed of owning.
Memorial Day Bed Sales
Memorial Day sales are some of the best throughout the year. Not only does Memorial Day signal the start of summer, but it also boasts a three-day weekend and is close proximity to Mother's Day. If mom is in the market for a new mattress, Memorial Day mattress deals offer the best bargains on beds from many major manufacturers.
Amerisleep is one online retailer known for their quality Memorial Day sales that feature significant savings.
July 4th Bed Sales
July 4th mattress sales are perfect for people who aren't able to find what they want on Memorial Day. The July 4th weekend is often spent with friends and family and offer off work to enjoy the holiday. There are a number of promotions offered by manufacturers designed to take advantage of consumer's spare time.
So, what brands offered the best deals last year?
Amerisleep offered a sale price of $1,599 on their industry-leading AS3 queen mattress. This July 4th sale was available to anyone who entered the promo code at checkout on their website. With a 100 day trial period and a 20-year guarantee, it's no surprise that this model has one of the highest customer satisfaction ratings of all brands.
Labor Day Mattress Sales
Labor Day mattress sales are also popular with consumers for obvious reasons. Manufacturers know that many consumers make major purchases on home items as the summer season draws to a close. If you're in the market for a new bed, you should definitely check out Labor Day sales from an assortment of brands.
Last year, some of the best Labor Day sales were offered by:
Amerisleep makes the cut yet again with their popular queen size AS3 model. While you may find some budget options for slightly less money, you will not find a better deal on a new bed than this $1,599 offer. Best of all, Amerisleep offers this model on sale during other holiday seasons. So if you miss one sale you can always wait for the next one.
Black Friday Bed Sales
Black Friday mattress sales are yet another major event where consumers can find a great deal on a new bed. Black Friday may not be the best time to wage war inside of a showroom because of the large crowds eager for a deal, but you can't beat this time of year for online shopping. The discounts tend to be some of the best offered all year because many people use the opportunity to fulfill a partner or family member's wish list.
By looking at previous or ongoing Black Friday sales, you will have a pretty good idea of what to expect this year.
The Amerisleep AS3 Bed is offered at a staggeringly low $1,599 during the company's 2023 Black Friday sale. With more than 600 stellar reviews (4.7 to 5.0), this mattress is a proven winner in the memory foam category and boasts a reputation than many other manufacturers envy.
Secondary holiday mattress deals – more great savings
While not as big as the holidays listed above, you can still find some great savings on beds offered during other holidays. It's always a good idea to be on the looking for deals during any holiday, especially if you're in the market, but pay special attention to the following.
President's Day Bed Sales
President's Day sales are far more popular than you may imagine, both in showrooms and online. President's Day sales are popular for the same reason many appliance sales are popular during the holiday: retailers start clearing out older merchandise to make room for newer models. This means you're often able to get amazing deals during the President's Day long weekend.
However, it's important to remember that President's Day sales are often difficult to navigate because many discounts aren't actually as steep as they may appear to be. If you're shopping for a new sleep surface on President's Day, be sure to check the sale price with the regular price to make sure you're getting a good deal. Trusted names like Amerisleep are a good place to start.
Boxing Day Bed Sales
Boxing Day (December 26) sales are also popular, and you can find good deals if you know where to look. Furniture showrooms that feature name-brand models often offer some good deals to help clear out inventory after the holiday season, so it's often worthwhile to check out newspaper ads that feature sales.
Online vendors are also highly motivated to clear out inventory on and after Boxing Day. As with brick and mortar stores, it's important to compare regular prices with the sale price to ensure the best value for your dollar.
New Year's Day Bed Sales
New Year's Day sales are also offered by leading manufacturers to further assist with clearing out old inventory by motivating consumers to act on their desire to buy a new bed. New Year's Day sales can be far better than you might expect, and it remains a mostly overlooked opportunity for buyers on the market for a new bed.
You may have to do some digging to find the best New Year's Day sales, but the rewards are often worth it.
Frequently Asked Questions
Who has the best sales on mattresses?
Brick and mortar stores advertise some pretty hard-to-beat deals during major mattress sales events; however, it's worth mentioning that these mattresses are priced higher than online mattresses, to begin with, because in-store retailers have more overhead costs to cover than online brands. So, while these deals may seem better, you usually end up paying what you would have if you had shopped online anyway.
Out of all of the online mattress brands, we recommend Amerisleep when looking for the best value. We love their beds because they feature plant-based memory foam, so they're eco-friendly and don't smell like chemicals, and they have options for all sleepers, as their mattresses range in firmness. Plus, their mattresses are designed to deliver zoned support and promote healthier sleep. This year, we've seen them offering some of their best deals ever, including $300 off all mattresses and up to $1500 off adjustable bed bundles.
What time of year are the best mattress sales?
Most online mattress brands run sales year-round, so you can always get a good price on a new bed. However, long weekends like Labor Day and Memorial Day and sale days like the 4th of July, Black Friday, and Cyber Monday are good times to save even more on mattresses. During these times, both online and brick-and-mortar retailers pull out all of the stops to offer the best value.
How much should I pay for a good mattress?
Most high-quality queen mattresses cost between $1,000 and $2,000—so it's safe to say most people spend about $1,500 on a comfortable new bed. Obviously, larger sizes will cost more and smaller sizes will cost less, but regardless of the mattress size you choose, you want to ensure you're getting a good deal.
Compare the features and materials of the mattress with the price, and if a brand is offering bundle deals or freebies—consider what you're getting for what you're spending. If you feel like a deal is too good to be true, it probably is; but if you feel like you might be getting overcharged, move onto the next bed. There are so many brands to consider, you'll surely find a great mattress for a good price.
What is the best month to buy a mattress?
When shopping at brick and mortar stores, you can usually find good deals around May, as retailers look to get rid of last year's inventory and make room for this year's new models. Waiting for the beginning of summer to buy a new bed can save you a couple of bucks. That said, this doesn't really apply when shopping online since most online brands make their mattresses to order. They don't keep large inventories of mattresses so they don't need to "get rid of old mattresses" like brick and mortar stores do.
If you want a new bed and don't want to think too much about the timing of purchasing, head online. As we mentioned previously, online brands offer deals all throughout the year, and some brands even offer continuous discounts so you can always score the lowest price on their products.
How do I choose the right mattress?
To find the right mattress, consider your personal sleep needs and preferences. There's no sense searching for the "best mattress" because there is no one best bed for everybody. Instead, we suggest finding something that'll feel comfortable for you by reflecting on your sleep needs. Think about your sleep style and body type to gauge how firm your mattress should be, and take some time to research different mattress types to find materials that suit you.
Don't fall for marketing gimmicks—take some time to do mattress research and read customer reviews, and you'll surely land on some great mattresses.
Why You Should Take Advantage of Mattress Sales
If you're looking to buy a new bed, it makes sense to spend less money. However, you should never sacrifice comfort or quality to save a few bucks. Fortunately, the most trusted manufacturers in the country all offer excellent deals on a routine basis, so it's easy to get exactly what you want and without breaking the bank.
Don't wait for a mattress sale. This is the best memory foam mattress sale we found right now!
If you can't wait until the next holiday to buy your next bed, we recommend taking a look at Amerisleep's large selection of mattresses. With hundreds of reviews to back up their claims and daily discounts on their most popular models, it's hard to find a better deal on the internet or in a showroom.
Whether you prefer a soft surface, hard surface, or something in between (think Goldilocks), Amerisleep has a product that will you will undoubtedly find attractive at a good price. While everyone's sleep needs are different, it's one of the best brands to start your shopping journey. We're confident that many consumers will find a model that fits their needs–and their budgets.