Best Wedge Pillows: Reviews and Buyer's Guide

Bedding Guides
Wedge pillows are meant to address specific health or comfort concerns beyond what a top-rated pillow can do. Those who suffer from GERD, acid reflux, poor circulation, or snoring may find some relief with a wedge pillow, but they take some getting used to. After all, their wedge-shape slightly elevates the head (or feet if you choose) a bit more than a lofty pillow would.
In this article, we'll discuss some of the top wedge pillows on the market today, as well as who can benefit most from using them, their pros and cons, and how much you can expect to spend on one.
Best Wedge Pillows
Choosing the Best Wedge Pillow
The most suitable wedge pillow for you should allow you to sleep pain-free without straining your neck or head in any unnatural positions. If you buy one specifically to alleviate symptoms from acid reflux, heartburn, poor blood flow, and other issues, the pillow should deliver on its promises to give you relief.
Always look for wedge pillows with some kind of return policy, warranty, or satisfaction guarantee. Some offer sleep trials, as well, if that's a priority for you.
Wedge pillows need relatively little maintenance. The best ones usually come with a soft, removable cover you can toss in the washing machine to clean your pillow with ease.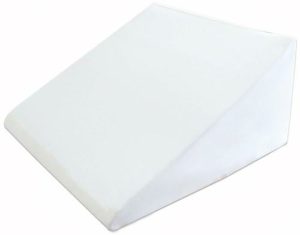 The first pillow on our list is the MedSlant Acid Reflux Wedge Pillow. This pillow is one of the more expensive models we suggest, but it's also one of the only pillows that uses CertiPUR-US® certified foam, meaning it's manufactured without flame retardants, mercury, lead, heavy metals, formaldehyde, and less than .5 parts per million VOCs, or Volatile Organic Compounds.
Inside of the pillow, you'll find 2 inches of memory foam atop a sturdy polyurethane foam base. It quickly responds and contours to your shoulders and neck, letting you sleep comfortably and easing gastroesophageal reflux disease (GERD), heartburn, and acid reflux.
It comes with a 1,000-night no-sag guarantee, protecting you from dips in the foam beyond a certain point (however, we couldn't find a specific inch requirement on their site). In order to take advantage of this guarantee, you'll need your order number, serial number, and date of purchase. You can buy this pillow on Amazon or directly from MedSlant's website.
Interested in the benefits of memory foam? Read our other guide on finding the best memory foam mattress for your sleep needs.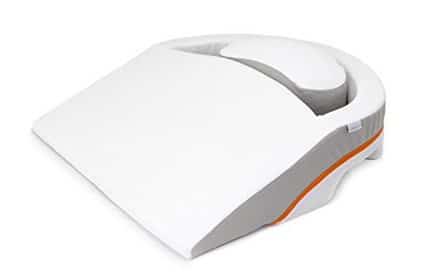 The MedCline wedge pillow is by far the priciest option we have listed here, but it also comes with ergonomic features the other pillows on the list do not. For example, MedCline's wedge pillow has a convenient arm pocket which prevents pressure build-up on the shoulders and lets side sleepers rest comfortably without sliding off.
The filling is made with four different types of foam to support your entire torso, not just your head and neck. The pillow has been validated in five clinical trials to be the most effective for relief from heartburn, regurgitation, coughing, choking, nausea, and other symptoms of reflux and GERD.
The pillow comes in two sizes, small and large, and both include a machine-washable cover. It also comes with a 60-day sleep trial, so you can invest your money with some peace of mind. You can buy the pillow from Amazon or directly from MedCline.
The Brentwood Zuma Wedge Pillow is a memory foam pillow made to posture the torso correctly or elevate the legs, improving blood circulation. Customers can use the Zuma pillow for back support while they're sitting up in bed as well.
The filling is made with 2 inches of soft memory foam, situated on top another layer of high-density poly-foam for additional support. You should feel comfortable on this pillow without feeling like you'll sink or slide off.
The Brentwood pillow comes with a 2-year warranty, a washable cover, and all pillow materials are made in the USA. You can purchase the Zuma wedge pillow from Brentwood's website or Amazon.
The Malouf Z® Gel-Infused Wedge Pillow is the only one on our list utilizing gel beads for amplified cooling. Malouf's special gel dough memory foam relieves pressure on the shoulders while regulating body temperature, so it's great for most sleeping styles and preferences. This pillow has a 10-inch incline, so it can also be used for a headrest or backrest.
The cover is made of ultra-soft rayon (derived from bamboo)— besides being incredibly breathable, it's also machine-washable, so you can easily keep it clean. Malouf backs up with their wedge pillow with a 5-year warranty, and you purchase it via their website or Amazon.
The InteVision Wedge Pillow comes in three different sizes, but their most popular and versatile model is the 25 x 24 x 12-inch size. All three pilows come with two layers of foam: the top layer is 2 inches of memory foam, and the support core layer uses higher-density foam. Both of these enhance better air circulation throughout the pillow.
The pillow comes with a washable case, but many customers prefer to buy extra cases for this pillow. To address this demand, InteVision has released their own 400-count, Egyptian cotton pillowcase in all the different wedge sizes.
InteVision backs up their pillow with a 30-day sleep trial, which you'll get whether you purchase it on Amazon or through their website.
Time to upgrade your entire bed set? Read our guide of the best mattress to find your next bed.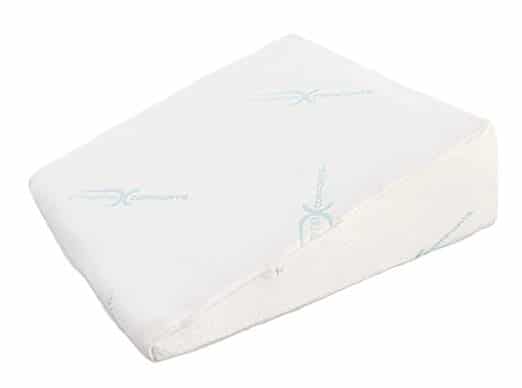 Xtreme Comforts makes many of the wedge pillows currently online, and their classic 7-inch memory foam wedge is the customer favorite. Its soft, hypoallergenic cover is removable, breathable, and machine-washable, making maintenance a breeze.
Stacking pillows on top of one another can help alleviate indigestion, but using a wedge pillow is better for your posture. The Xtreme Comforts wedge pillow is made with memory foam and bamboo, so it's naturally hypoallergenic, keeping allergy or nasal irritation far away.
This pillow is one of the smaller ones on our list, measuring at 17 x 7 x 7 inches and weighing about 3.6 pounds. Because of its compact size, it's a convenient pillow for travel. You can purchase it through Amazon where you'll get Xtreme Comfort's Lifetime Guarantee.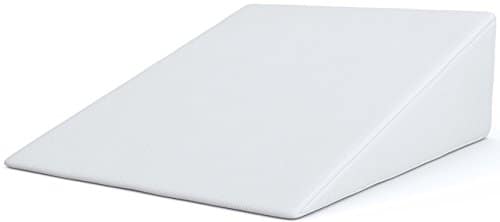 This multipurpose wedge pillow can be used to watch TV comfortably, read in bed, and sleep without disruptions from acid reflux, GERD, or other similar health issues. The top layer of memory foam provides the user with cushioning and relief, while the poly-foam base keeps them from sliding off or sinking down.
Like all the other pillows we've listed here, the Fit Plus Wedge Pillow's cover is machine-washable. You can purchase it through Amazon where you will also get the company's customer satisfaction guarantee, allowing you to return it should you have any issues with it.
While a good mattress can help alleviate pressure points, they offer only a fraction of the benefits best adjustable beds can provide. Read our guide to learn more.
What is a Wedge Pillow?
A wedge pillow is typically made using medium-firm or firm memory foam. Their primary purpose is support, not plush comfort. Wedge pillows are sometimes covered by insurance since they can be considered medical equipment.
Almost all wedge pillows slope upward in a triangle shape and are usually heavier and longer than traditional pillows. Lighter wedge pillows, like models made for children, are 2-4 pounds, while larger models can be up to 10 or 12 pounds. The hefty weight prevents the pillow from shifting during the night, consistently supporting the user in an upright position.
Most wedge pillows are made with a single piece of foam, but some of them have multiple foam layers for added customization and support. Sometimes the pillow surface is flat, but other models have a contoured divot to really cradle the user's head and neck. The one that works best for you will depend on your health concerns, sleeping style, and comfort preferences.
Benefits of Using a Wedge Pillow
Anyone may discover their sleep is elevated (literally and figuratively!) on a wedge pillow. Besides the obvious health benefits using one provides, a wedge pillow can make watching TV or reading in bed more convenient and comfortable.
The primary purpose of a wedge pillow is to give extra comfort and relief at bedtime when a regular pillow just won't suffice. Let's go over all the health benefits of using one.
Better Breathing
The gradual slope of a wedge pillow opens the airways, decreasing the risk of snoring and sleep apnea symptoms.  Back sleepers, in particular, are more prone to airway obstruction because the tongue can fall back onto the soft palate, obstructing the airway.
People with allergies, congestion or post-nasal dripping can find respite from using a wedge pillow. Breathing issues commonly flare up in conjunction with bad allergies or a cold, and sleeping on a wedge pillow can drain the sinuses, reducing inflammation.
Nighttime asthma sufferers can use wedge pillows to avoid decreased lung volume and inflamed airways.
Alleviate Back Pain
Wedge pillows, especially those made of memory foam, can ease pesky back pain. They stack the hips and vertebrae, aligning the spine and keeping pain at bay. Some users buy a second wedge pillow to place under their legs for even more support.
If you have chronic back pain, choose your wedge pillow carefully. The pillow needs to be long enough to support your torso without leaving a gap where the lower back is unsupported— essentially, a too-short pillow can make your back pain worse.
To get the most comfortable sleep and wake up every morning pain-free, read our guide on finding the best mattress for back pain.
Post-Surgery Care
Some users recovering from surgery find that placing a wedge pillow under their head or legs helps encourage better circulation and rehabilitation. The elevation may also prevent swelling and allay tension throughout the body.
Decreased Intraocular Pressure and Glaucoma Risk
A 2014 study found that users who elevated their heads 30 degrees or more, as opposed to laying flat or stacking pillows, experienced less intraocular pressure, which is sometimes a precursor to glaucoma. A wedge pillow inclines the head without straining the spine or neck, like stacking multiple pillows on top of each other can.
Relief from Indigestion, Acid Reflux, and GERD
Most indigestion problems are caused by stomach acid making its way back up the esophagus, causing extreme discomfort and disrupting sleep. While medication can help, your sleeping position on a wedge pillow can also work with gravity to keep the stomach acid down, letting you sleep in peace.
Pregnancy Support
Pregnant women should sleep on their sides since this position keeps the spine, hips, and pelvis neutral, decreasing the risk of painful sleep. While a lofty pillow can help with posture, it may not be enough to alleviate acid reflux or heartburn, common pregnancy symptoms. This is where a wedge pillow comes in. Pregnant women should choose one with a breathable cover since this can prevent any further discomfort.
Are Wedge Pillows Compatible with All Sleeping Positions?
Because wedge pillows are so different from traditional pillows, they are not recommended for all sleep positions. They only come in one basic shape and firmness, too, so if you are looking for a pillow with a down, plush feel or something you can snuggle with, a wedge pillow is probably not for you.
Side Sleepers
Some wedge pillows are contoured to allow for more comfortable placement of the head and neck, making them ideal for side sleepers. Side sleepers typically prefer a medium or medium-firm surface, and a "built-in" headrest provides pressure relief without you constantly having to adjust your position.
Back Sleepers
Back sleepers who struggle with snoring may discover that a wedge pillow is a great solution since they keep the head elevated and the airways unobstructed. However, back sleepers should choose a pillow with a lower incline (7-8 inches), since higher inclines might cause some back strain.
Stomach Sleepers
Stomach sleepers need to sleep on a flat, even surface in order to keep their spine and neck neutral. Throwing a wedge pillow into the mix will only arch the neck upward in an unnatural position, causing pain instead of relieving it.
Combination Sleepers
It's hard to say if combination sleepers will glean any benefits from wedge pillows— it all depends on how much they move around at night, what mattress for combination sleeping they're using, and if they prefer a pillow they can snuggle with.
Combo sleepers who suffer from any of the health conditions listed above may like wedge pillows, but they will need to consider the height, length, and weight of the pillows carefully.
Possible Downsides of Using Wedge Pillows
Because wedge pillows are usually made with foam, they can retain heat, putting sleepers who sleep hot at a disadvantage. If this describes you, choose a wedge pillow with a breathable cover or one that uses cooling foams as the comfort layers.
If you sleep on your stomach or move around a lot while you sleep, a wedge pillow may not be a good fit. Stomach sleepers should look for a low-loft pillow to keep their spine, neck, and head in a neutral position. Combination sleepers will need a heavier wedge pillow that doesn't move around with them during the night.
Characteristics of Wedge Pillows
Like their name implies, wedge pillows are almost always wedge-shaped. However, there are actually quite a few different types of wedge pillows— they come in different sizes, weights, materials, and prices to accommodate a plethora of user preferences.
Size
The standard wedge pillow size is 20 inches long and 20 inches wide, but many are larger. For context, a king-size pillow is 20 inches long and 36 inches wide.
Remember, your sleeping position and shoulder width will affect how high and wide you'll like your wedge pillow. Many companies sell wedge pillows in small, medium, and large sizes.
Shape
Wedge pillows are almost always triangle-shaped, but some have a slightly different sleeping surface. Many are flat, while others have a small dent or contoured divot for increased comfort.
Incline
The average wedge pillow's incline is 7 inches, but higher-incline models stretch up to 12 inches tall. Back sleepers should avoid higher incline wedges since these can strain the back too far upward.
Most use the higher incline models as headrests or backrests, and not as much for sleeping since they can strain the upper body. Some wedge pillows come with a detachable headrest so users can easily switch between using it as a headrest and using it for sleep.
Weight
Foam wedge pillows can be as light as 2-4 pounds, making them great for children or users who want to use the wedge under their legs or feet. Some bed wedge pillows are quite heavy, weighing in at 10-12 pounds. These models are best for combination sleepers or anyone who tosses and turns all night.
Materials and Composition
Almost all wedge pillows these days are made using foam— memory foam, polyurethane foam (poly-foam), or latex foam are the most popular types. Some use a single piece of foam while others assemble different layers inside, with the top layers usually consisting of softer, low-density foams.
Regardless, nearly all wedge pillows have a medium-firm or firm feel. If you're worried about the pillow having a firmer feel than what you're used to, try one with contouring features.
Wedge pillow covers are often made with breathable or hypoallergenic materials such as bamboo, Tencel, or microfiber. These textiles offset the heat retention that can be caused by the foam filling. While the pillows themselves are not machine-washable, the zippered covers almost always are.
Consider that some users like to use their regular pillow on top of a wedge pillow, which can affect the feel of both.
Maintenance and Care
Wedge pillows, because they are made of foam, should not be cleaned in a washing machine. Foam acts like a sponge when it comes in contact with water, so putting it in the washing machine can waterlog it or the agitator can even tear it up. Instead, spot-clean any stains on your wedge pillow using a 50/50 water and vinegar solution or a gentle laundry detergent.
If your pillow comes with a washable cover (and most do), you should be able to easily remove it and throw it in the washing machine. Air-dry the cover to avoid any possible shrinking.
Cost
Wedge pillows can be quite pricey, but smaller, lighter models with fewer features cost less than $50. Higher-end models that with detachable parts or specialty foams can cost upwards of $100. Your budget and needs will determine how much you'll want to invest.
Warranties, Returns, and Sleep Trials
A lot of wedge pillows come with sleep trials now, allowing you to test out the pillow for anywhere from 30-90 nights. You can then return the pillow within that time frame if it doesn't suit you.
If a brand doesn't offer a warranty with their wedge pillow, they'll mitigate that with a lifetime or satisfaction guarantee. This enables the user to return their pillow at any time for a refund, no questions asked. Furthermore, some brands do not offer any returns or warranties, even if the product is defective— we recommend staying away from these brands.
Frequently Asked Questions
Is it good to sleep with a wedge pillow?
Sleeping with a wedge pillow can offer relief from acid reflux, sleep apnea, and snoring, amongst other things. Side sleepers and back sleepers alike can get comfortable sleep on a wedge pillow. It's not great for stomach sleepers to use a wedge pillow since that'd be rather uncomfortable.
How high should a wedge pillow be?
Most wedge pillows are 10 to 12 inches tall, however, we suggest choosing a wedge pillow between 14 and 15 inches tall if you're looking for relief from acid reflux, sleep apnea, or snoring. Yes, 10 and 12-inch wedge pillows can keep your head elevated, but usually not elevated enough to keep the airways open all night. A taller wedge pillow is better for addressing certain medical conditions while a shorter wedge pillow is better if you're just looking to improve comfort.
Do you use a regular pillow with a wedge pillow?
No, you should not use a regular pillow with a wedge pillow. A wedge pillow takes the place of a standard head pillow to keep your upper body elevated as you rest. Using another pillow will likely be very uncomfortable.
Is it OK to sleep at an incline?
Yes! In fact, sleeping at an incline offers several benefits: it stops snoring, eases sleep apnea symptoms, reduces stress and alleviates back pain, keeps acid reflux at bay, and even helps with mental health conditions like depression and anxiety since it can facilitate a deeper, healthier sleep.
Are wedge pillows good for side sleepers?
Side sleepers can get better sleep with a wedge pillow since they ease pressure on the shoulders and neck. When you sleep on your side on a wedge pillow, you can easily rest in healthy alignment.
Did You Find the Best Wedge Pillow?
Wedge pillows are much different than your average sleeping pillow, but that's by design— they are meant to alleviate back and shoulder pain, acid reflux, heartburn, and GERD symptoms, improve circulation, and improve posture. Make sure you choose one that fits your sleeping position and size, as this can influence the efficacy of the pillow.