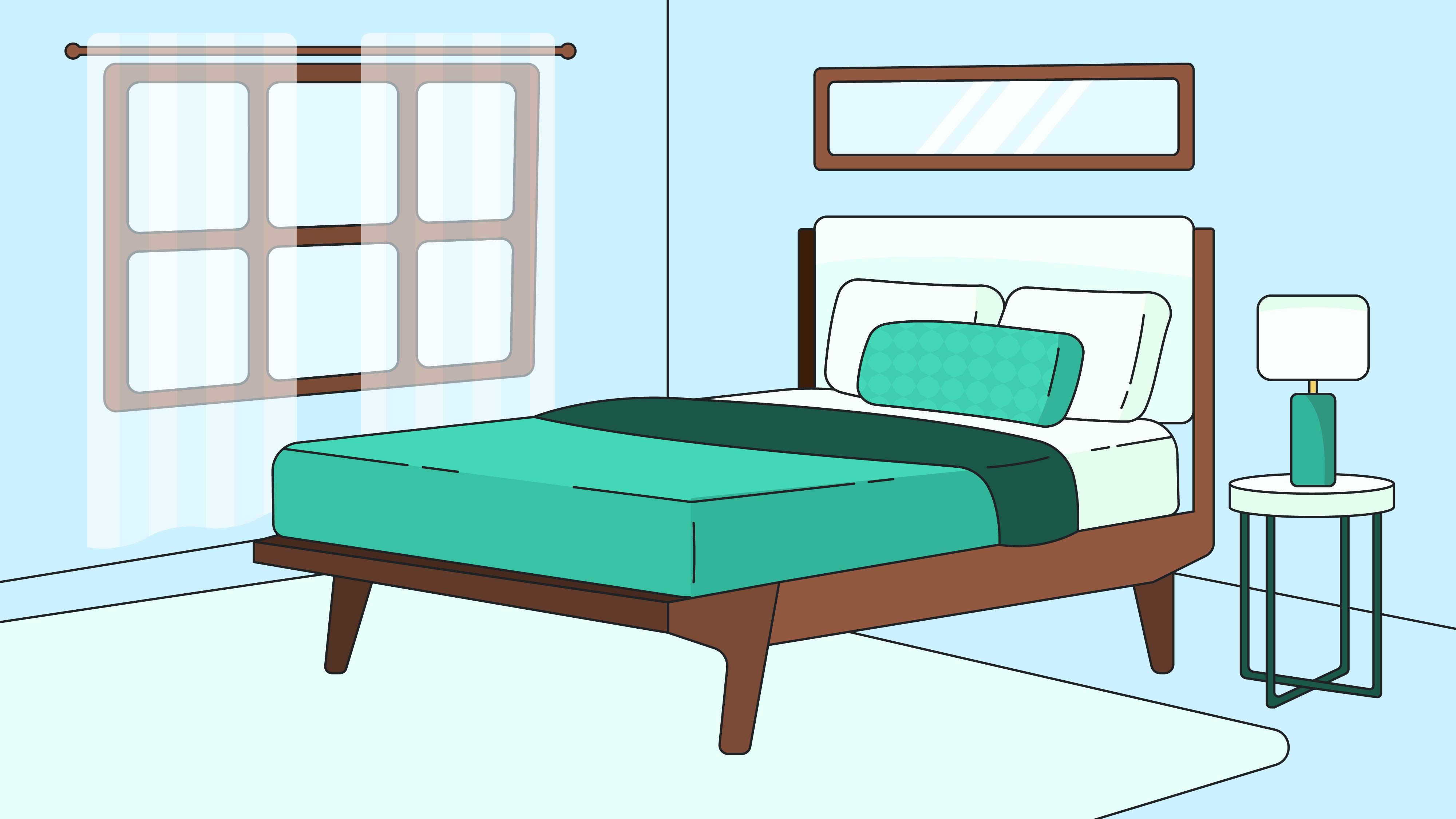 Best Firm Mattresses of 2023

Mattress Guides
When deciding how firm your mattress should be, consider your sleep style and recurring pain points. If you're a side sleeper, you may need a softer mattress than you're used to. Alternatively, if you experience lower back pain, you may be perfect for a firm mattress.
In this guide, we'll discuss the main things to consider when deciding how firm your bed should be and then touch upon our firm mattress recommendations.
30 Second Summary: Best Firm Mattress
Amerisleep AS2 — The Amerisleep AS2 is our Editors' Choice as the best firm mattress because it offers adequate support to hold your spine in a neutral position and support healthy sleep positions.
Best Firm Mattresses of 2023
Our favorite firm memory foam mattress is Amerisleep's AS2 because it is both supportive and contouring, so it has a nice firm feel but still offers some comfort and pressure relief. Not to mention, it contains a dynamic zoned support layer to promote healthy sleep positions and eliminate aches and pains.
Amerisleep's AS2 is ranked medium-firm on the firmness scale and is recommended for back and stomach sleepers, but side sleepers who need a little extra support can also get comfy sleep on this bed.
The medium-firm AS2 has three layers: 2 inches of Bio-Pur®, 3 inches of Affinity with HIVE® technology, and 7 inches of Bio-Core® base foam.
The comfort layer in this bed, Bio-Pur®, is plant-based memory foam, so it provides all the pressure-relieving benefits of regular memory foam but is made with plant-based oils instead of petroleum.
The layer below, Affinity, is a responsive transition foam with targeted cutouts. The HIVE® technology in this layer provides firmer support for the head, lumbar area, and legs while allowing for deeper compression under heavier parts of your body, such as the shoulders and hips. This technology is what makes this bed so great for eliminating back pain and encouraging healthier sleep positions.
The base layer of this bed, Bio-Core®, is durable and strong; so strong that Amerisleep is able to offer a 20-year warranty with their AS2 (and all of their mattress models).
Amerisleep is an online mattress brand, but they also have showrooms located throughout the country, so you can shop their beds online or in-store. No matter how you buy, Amerisleep offers a 20-year warranty, 100-night sleep trial, and free shipping with every bed.
AMERISLEEP AS2
Pressure-relieving, plant-based memory foam
HIVE® technology promotes healthy sleep styles
Recommended for lower back pain relief
If you're shopping for an inexpensive firm mattress, the Original Tuft & Needle Mattress is right up your alley.  Tuft & Needle's flagship model is 10 inches thick, medium-firm, and costs under $1000 for a queen size.
T&N designs their mattress as a "one-size-fits-all" sleep solution, but we only recommend this bed for back and stomach sleepers since it can feel a little too firm for most side sleepers.
Tuft & Needle makes their Original Mattress with two layers, including 3 inches of proprietary T&N Adaptive® Foam and a 7-inch core. T&N's Adaptive® Foam is a high-tech poly-foam meant to feel like a blend of memory foam and latex—it's contouring but also responsive and lifting.
Tuft & Needle even incorporates cooling gel and graphite in this layer to combat body heat and keep sleepers cool. If you tend to get night sweats during sleep, you may like the added cooling effect these infusions provide.
The base layer of this mattress is sturdy and long-lasting, it's meant to resist wear and tear and keep sleepers comfortable. Tuft & Needle also backs their beds with a 10-year warranty so you can feel confident in your purchase.
Tuft & Needle mattresses are sold in T&N showrooms, select Walmart locations, and at Lowe's Home Improvement stores. They can also be bought on the T&N website and Amazon. In addition to their 10-year mattress warranty, Tuft & Needle also offers free shipping and a 100-night sleep trial with every mattress purchase.
TUFT & NEEDLE MATTRESS
Contains cooling foams to prevent night sweats
Designed for universal comfort
Available in-stores and online
Firm mattresses tend to stay cool at night because they conform less to a sleeper's body than a softer mattress. Since a firm bed doesn't hug a sleeper's body, it absorbs less heat from a person. However, we've singled out the Helix Dawn Luxe for its numerous added cooling features. As the name suggests, the Dawn Luxe is an upgraded version of Helix's original Dawn model.
For added comfort, the Dawn Luxe features a quilted pillow top with a Tencel™ cover. Tencel™ promotes a breathable sleep surface with its natural materials. Next is a layer of gel foam to contour to the body for cushioned support. The contouring feel is bolstered by the underlying layer of Helix Dynamic Foam, a material that lofts back and stomach sleepers.
The Dawn Luxe's transition layer is ergonomic poly-foam, supported by over a thousand wrapped coils. The coils are arranged to feel more conforming under the shoulders and firmer under the hips to support a proper spine alignment. The coil layer also offers edge support, making it simple to move in and out of bed. A base layer of DuraDense foam structures the overall mattress.
Helix's mattresses are sold online and in select mattress showrooms. The Helix Dawn Luxe is backed by a 100-night sleep trial and a 15-year limited warranty.
HELIX DAWN LUXE
Cooling, airy Tencel™ fabric cover
Reactive and contouring Helix Dynamic Foam
Numerous pocketed coils with zoned support
Plenty of flippable mattresses offer a different feel on each side, but normally one side feels soft and the other side is firm. The Plank Mattress is a notable exception, with both sides offering an uncompromising firm feel.
One side is firmer than the other, allowing you the opportunity to experiment and decide which feel you prefer. Both sides can be covered with phase change fabric for a cool-to-the-touch surface.
From the firm side down, the bed possesses a 1.5-inch thick quilted top. Underneath the quilted top is 2 inches of TitanFlex™ comfort foam with a firm feel that nonetheless compresses under the body.
The support core is 7 inches of high-density base foam. The extra-firm side has a 0.75-inch quilted top for minimal loft.
The Plank Mattress includes a 120-night trial and a 10-year warranty.
PLANK BY BROOKLYN BEDDING
Firm and extra-firm side for different sleep styles
Cooling panels promote temperature-neutral surface
Flat sleep surface promotes ideal spine alignment
The last mattress on our list is the Original Purple®. Purple® is another popular online mattress brand that launched only a few years back. When they first debuted, they only sold their all-foam flagship model, Purple®. However, this year, they released three hybrid versions of their namesake model.
Their firmest bed, though, is their original Purple®. Let's talk about the design of this mattress.
The Purple® mattress was designed to be the world's first-ever "No-Pressure" bed. The founders of Purple® even patented a new material to use in their beds, hyper-elastic polymer. Purple® fashions this material into a mattress-sized grid to create their bed's Purple Grid™.
Every Purple® mattress contains the Purple Grid™ as its comfort layer. This grid promotes airflow through the mattress, minimizes motion transfer, and relieves pressure points for exceptional pain relief. Plus, because Purple® designs their beds for universal comfort, this grid can adapt to most sleep styles and body types.
The second layer of the Purple® mattress is a transition layer of cushioning poly-foam to act as a barrier between the Purple Grid™ and the core of the mattress. Last but not least, the base of the mattress is a solid, high-density poly-foam to give the bed added support and reinforce its shape.
Purple® mattresses can be bought online or at select Mattress Firm locations, and every bed comes with a 100-night sleep trial and a 10-year warranty.
PURPLE MATTRESS
Purple Grid™ offers a variety of sleep-promoting benefits
Designed to be a "No-Pressure" mattress
Compatible with all sleep styles
Things to Consider When Finding the Best Firm Mattress
If only finding the most comfortable mattress was as simple as declaring you want a firm bed, and choosing one out of the hundreds to try. Unfortunately, the process is a bit more complicated than so.
It's best to shop for your individual sleep needs, such as the right mattress for your sleeping position and body type. Firmer mattresses are usually the bed of choice for heavy people or those who like to sleep on their back or stomach. Side sleepers and petite people should shop for a softer mattress that can conform to their bodies.
How firm a bed feels varies greatly by who is laying on it. Meaning, what may feel firm to one person, may not feel the exact same to the next— this can make buying a mattress for a couple tricky. Below, we'll discuss what specifically to account for before choosing your next firm mattress.
You can also consider asking your doctor for mattress recommendations, particularly if you're looking to ease symptoms of an issue they're familiar with. For example, we have a guide to mattresses recommended by chiropractors.
Legacy Brands
If you prefer to shop in-store, you can find an assortment of firm mattresses sold by legacy brands. Most mattress retailers carry these big name brands and more, so you're bound to find quite a bit of variety.
A perk to buying with big name brands is that they make and carry most of their mattress models in a variety of firmness levels. Meaning, you can pinpoint the features you're looking for in a mattress, then choose the firm option of the model you like. This takes the focus away from finding a firm bed that meets your sleep needs and allows you to focus on the features of the bed itself.
Plus, most of these big name brands receive glowing reviews and come with a sleep trial period, allowing you to shop in confidence.
Mattress Types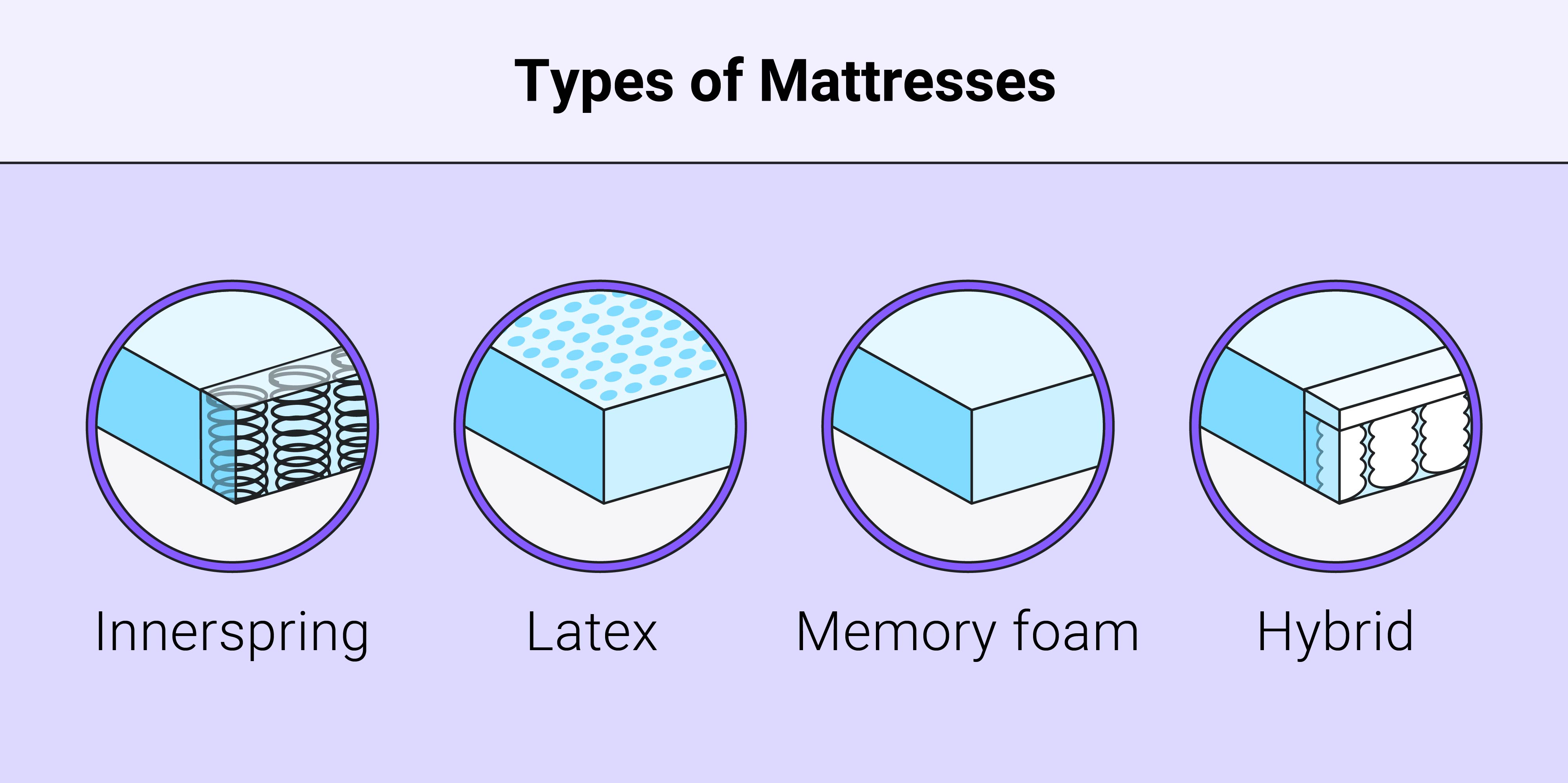 Before you can choose the best firm mattress for your particular needs, take a step back and consider different mattress types. There are four main types of mattresses: memory foam, latex, innerspring, and hybrid. All of these mattress types are made in a variety of firmness levels.
Memory Foam
Memory foam mattresses are some of the best for alleviating chronic pains. If you frequently suffer from neck or back pains, these beds are probably best for you. Memory foam contours to your body unlike any other material to relieve pressure and tension. These beds can adapt to almost any body type or sleep style, so they're an option for just about every kind of sleeper.
Latex
If you're looking for an eco-friendly or hypoallergenic bed, latex mattresses are great for you. Like memory foam, latex is cushioning and pressure-relieving; however, latex is more responsive than memory foam and creates a different feel from your mattress. Many regard latex as feeling firmer than memory foam due to it's increased responsiveness. These beds offer a more lifting, "on the bed" feel in comparison to other foam beds.
Innerspring
Innerspring mattresses are defined by their coil system. These beds don't contain layers of foam, so any cushioning comfort these beds provide come from their cover. Innerspring beds are bouncy and do not conform to your body. Often, these beds cannot isolate motion well. If you like a bouncy bed and don't want a mattress with conforming foam layers, an innerspring can be a fit for you.
Hybrid
Hybrid mattresses combine the comfort of foam layers with the responsiveness of a pocketed coil system. If you're a fan of the bounciness an innerspring mattress provides, but also need cushioning comfort, choose a hybrid. Because these beds combine multiple high-quality materials to create a dynamic sleep surface, they're usually a bit pricier.
Sleeping Position
How you sleep also influences how firm your mattress should be. Typically stomach and back sleepers are more comfortable on firmer mattresses because they hold your body in a neutral position and aid in maintaining a healthy spine.
On the other hand, firm mattresses are typically not the bed of choice for a side sleeper. Side sleepers need a bed that can relieve pressure in their joints, particularly in their hips and shoulders. The best mattresses for side sleepers have a soft to medium feel, allowing the hips and shoulders to compress in the bed. When side sleepers sleep on firmer mattresses, they don't always let the hips and shoulders to sink into the bed adequately, which can result in pressure points and chronic pains.
Body Type
Your height, weight, and build can impact how a bed molds to your body and supports you. If you don't bring much weight to the mattress, it may seem like many beds feel firm.
However, if you're on the heavier side, or have a weight above 250 pounds, you'll probably find most beds feel soft and unsupportive.
Zoned Support
Firm mattresses do well when it comes to fostering a healthy spine, but firm mattresses with built-in zoned support do much better. Zoned support reinforces proper spinal alignment, enhances support in the lumbar region of your body, and offers relief for pressure points.
What About Firm Pillows?
Some sleepers considering a firm mattress may also be wondering about their pillows. Is a firm pillow better than a soft pillow, despite a plush pillow often being touted as the ideal accessory? Like a firm mattress, a firm pillow isn't for everyone; it may improve one person's sleep but worsen another's, depending on their sleep style.
Side sleepers are one group that benefits from using a thick, firm pillow. A side sleeper's head must not dip too far into their pillow since the lack of support can misalign their cervical spine and cause neck pain. Pillows with a firm feel and high loft are well suited for side sleepers.
However, back sleepers often feel most comfortable on soft pillows that cradle their heads and support their necks. A too-firm pillow can raise their neck out of alignment, leaving the back sleeper with a sore neck or shoulder pain in the morning. Some back sleepers may even want to buy cervical pillows with hollows for their heads.
Stomach sleepers can benefit from using a thin, firm pillow under their heads. However, some stomach sleepers feel perfectly comfortable sleeping without a head pillow. Sleeping with a firm pillow under their abdomen can also minimize a stomach sleeper's chances of sinking too far into their bed and misaligning their spine.
Frequently Asked Questions
Is a firm mattress good for back pain?
A firm mattress can prevent or alleviate back pain by minimizing the body sinkage that misaligns the spine. However, a too-firm mattress can also cause pressure to build up in the lower back, causing or worsening back pain. Research suggests that a medium-firm feel strikes the right balance when it comes to back pain.
Do firm mattresses get softer?
Yes, a brand new mattress tends to soften up as you break it in. If you find after a few nights your mattress still feels uncomfortably firm, try walking across the bed for a few minutes every day.
Mattresses also tend to soften with age as the years pass. If your mattress no longer offers the support it once did, you can try firming up its feel with a mattress topper until you're ready to buy a new mattress.
How can you tell if your mattress is too firm?
Does your mattress feels like it's pressing hard up against you night after night? Then it might be too firm for you to sleep comfortably.  Even a firm bed should let you sink in a little bit for pressure and pain relief. If you find yourself waking up with a sore back or hips, the culprit might be a too-firm mattress.
Who should sleep on a firm mattress?
Not every sleeper benefits from lying on a firm bed. Back, stomach, and obese sleepers often rest better on a firm, supportive mattress. Side sleepers and lightweight people usually need a softer mattress to experience pressure relief.
What types of mattresses are the most firm?
Most mattress types are available in a variety of firmnesses, so it's difficult to label one as the "most firm." Innerspring mattresses tend to have a naturally firm feel because they usually possess a thin layer of cushion, but hybrids and foam mattresses can possess a similarly hard feel with the right foams and support layers. Often, the simplest way to narrow down your options is to ask yourself if you would prefer a bouncy or cradling feel.
Did You Find Your Next Bed?
We hope this guide has helped point you towards the most comfortable mattress for your own sleeping needs. Remember, consider your own body type and sleep style before taking a shot in the dark regarding how firm your bed should be. If you buy the wrong bed, it can result in uncomfortable nights, unhealthy sleep positions, and recurring pains. Choose the healthiest option for yourself by reading online mattress reviews and buying guides, and shop in confidence knowing most brands offer generous sleep trials with their beds— helping you make the best decision for yourself.