Best Cooling Mattress for Hot Sleepers

Mattress Guides
Maybe you're familiar with this scenario: you've had a long day at work and you're settling into your comfy bed. You pull the covers over you, turn out the lights, and fall asleep. But before you know it you're awake again, drenched in sweat. Now your sleep has been interrupted and you're not sure you can get back to that peaceful slumber anytime soon.
Your mattress may be the culprit. Foam mattresses are notorious for overheating, but you can find excellent models on the market that actually keep you cool by regulating your temperature, all while giving you the pressure-relief and cushioning you need to sleep well.
In this article, we'll discuss some of our top recommendations for the best cooling foam mattresses, materials that make a mattress cool, and everything else you need to know before you buy your next bed.
30 Second Summary: Best Cooling Mattress
Amerisleep AS3 —

Made with their Bio-Pur® comfort foam and a soft, breathable cover, this bed will keep you cool and comfortable all night.

Zoma Mattress – The mattress targeted towards athletes knows the value of a good night's sleep. To make sure you don't wake up hot, Zoma uses gel-infused memory foam in its top layer. Plus, the top layer has triangle-shaped cutouts for support. These cutouts create air channels and promote airflow and breathability.
Best Mattress for Hot Sleepers Overall: Amerisleep AS3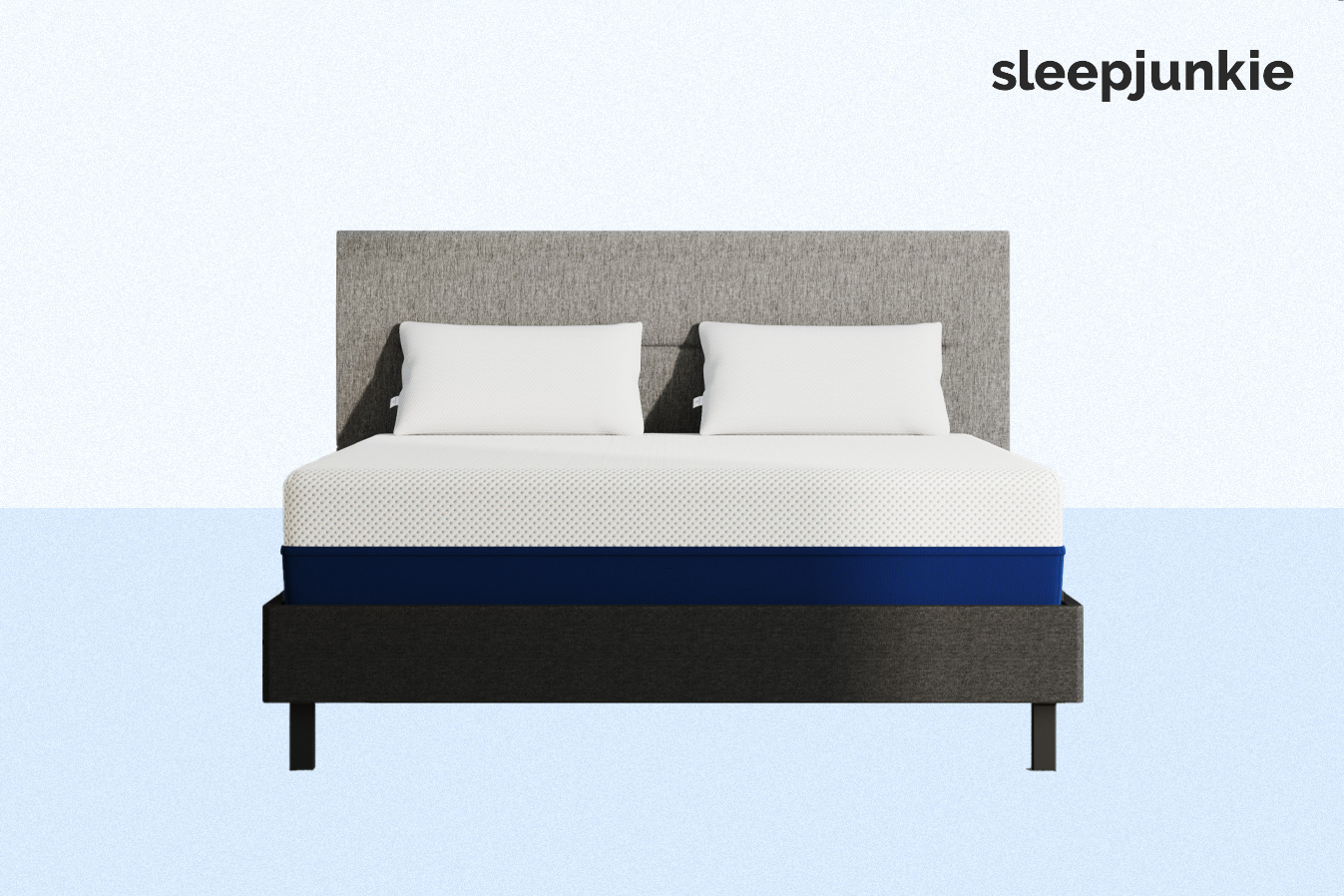 One of five mattress models offered by Amerisleep, the medium-feel AS3 works for most sleeping styles, especially side and combo sleepers. The breathable cover helps encourage airflow, helping you sleep without overheating.
Not only is it our favorite cooling memory foam mattress, it's also our recommended best mattress of the year because it's adaptable and contains clinically proven sleep-enhancing technologies.
Made with plant-based Bio-Pur® in its topmost layer, the AS3 offers just enough support and softness to keep you comfortable without sinking in too deeply. Instead of using closed-cell foam known for trapping heat, this layer has an open-cell construction, allowing air to flow freely through the mattress.
To ensure you sit comfortably atop your mattress, the AS3 contains a responsive transition foam layer to relieve pressure around your hips, back, pelvis, and other sensitive areas. Finally, the high-density Bio-Core® support layer creates a strong foundation, so you can put your worries about sagging to bed.
You can purchase the Amerisleep AS3 directly through their website, and it comes to your door with a 100-night sleep trial, free shipping, and a 20-year warranty.
AMERISLEEP AS3
Bio-Pur® foam promotes airflow to keep the user cool
Transition layer adds additional support for pressure points
100-night sleep trial and 20-year warranty
Best Gel Memory Foam Cooling Mattress: Zoma Mattress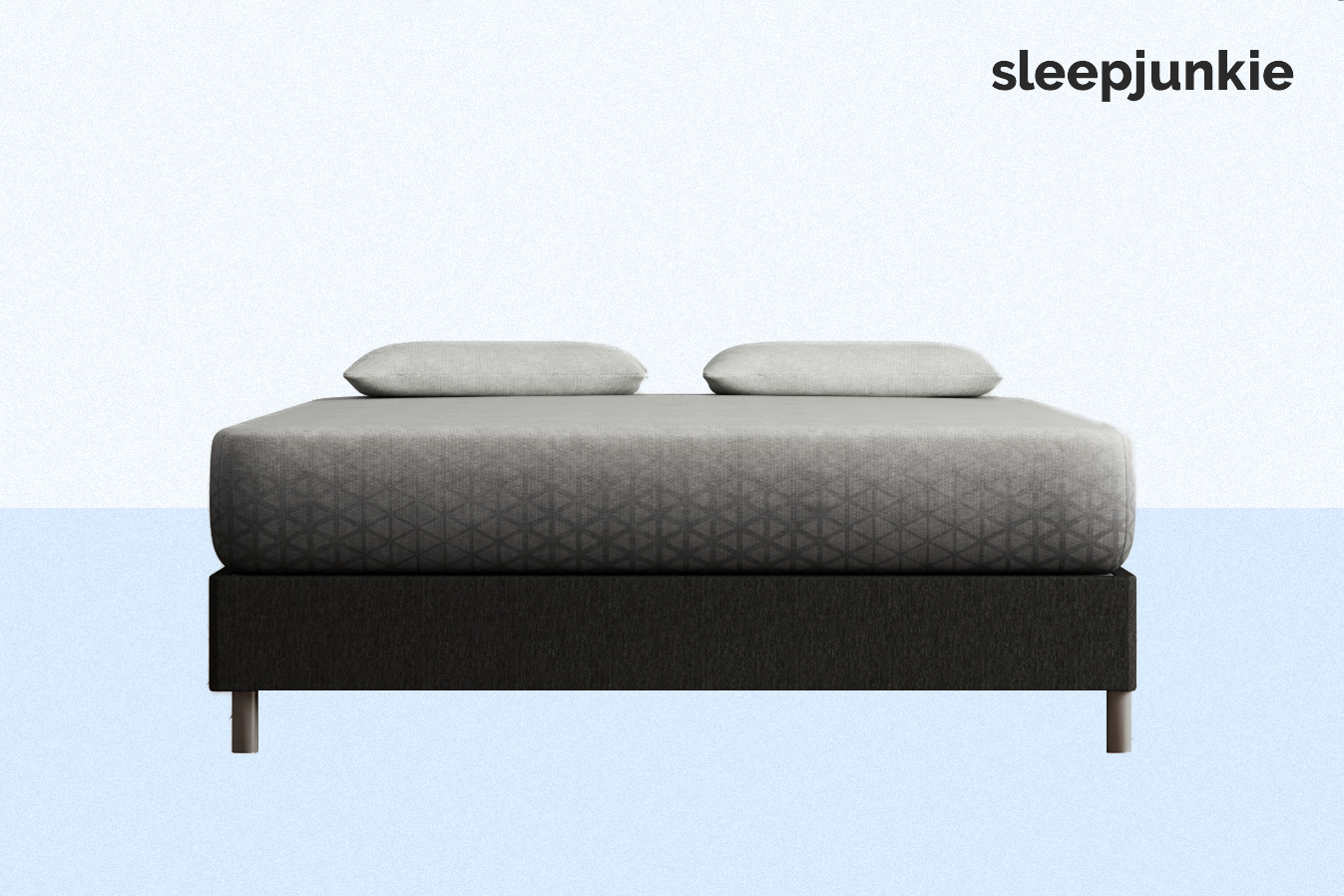 Zoma makes one of the best mattresses for athletes, or those with an active lifestyle, to get a better night's sleep so they can recover and do more with their day.
This also makes it a great mattress for most people. The Zoma Mattress uses 2-inches of gel-infused memory foam to provide pressure-relieving comfort without increasing the risk of sleeping on a heat trap. Sometimes we see companies put memory foam two or three layers deep in the mattress, so when we see a company, like Zoma, use it as a top layer, we are confident they know it won't sleep hot.
The top layer is made of Triangulex™ material which featured three zoned support segments. The part for the shoulders and the legs are made of hundreds of triangular-shaped cutouts, for promoting airflow and giving cushion to those prone-to-pressure areas. The midsection of the foam is solid, firmer, and made to help keep your spine properly curved.
Zoma backs its mattress with a 100-night trial and a 10-year warranty.
ZOMA MATTRESS
Gel-infused memory foam
Comfort layer zoned for support
7-inches of a strong, durable core
Best Budget Cooling Mattress: Vaya Mattress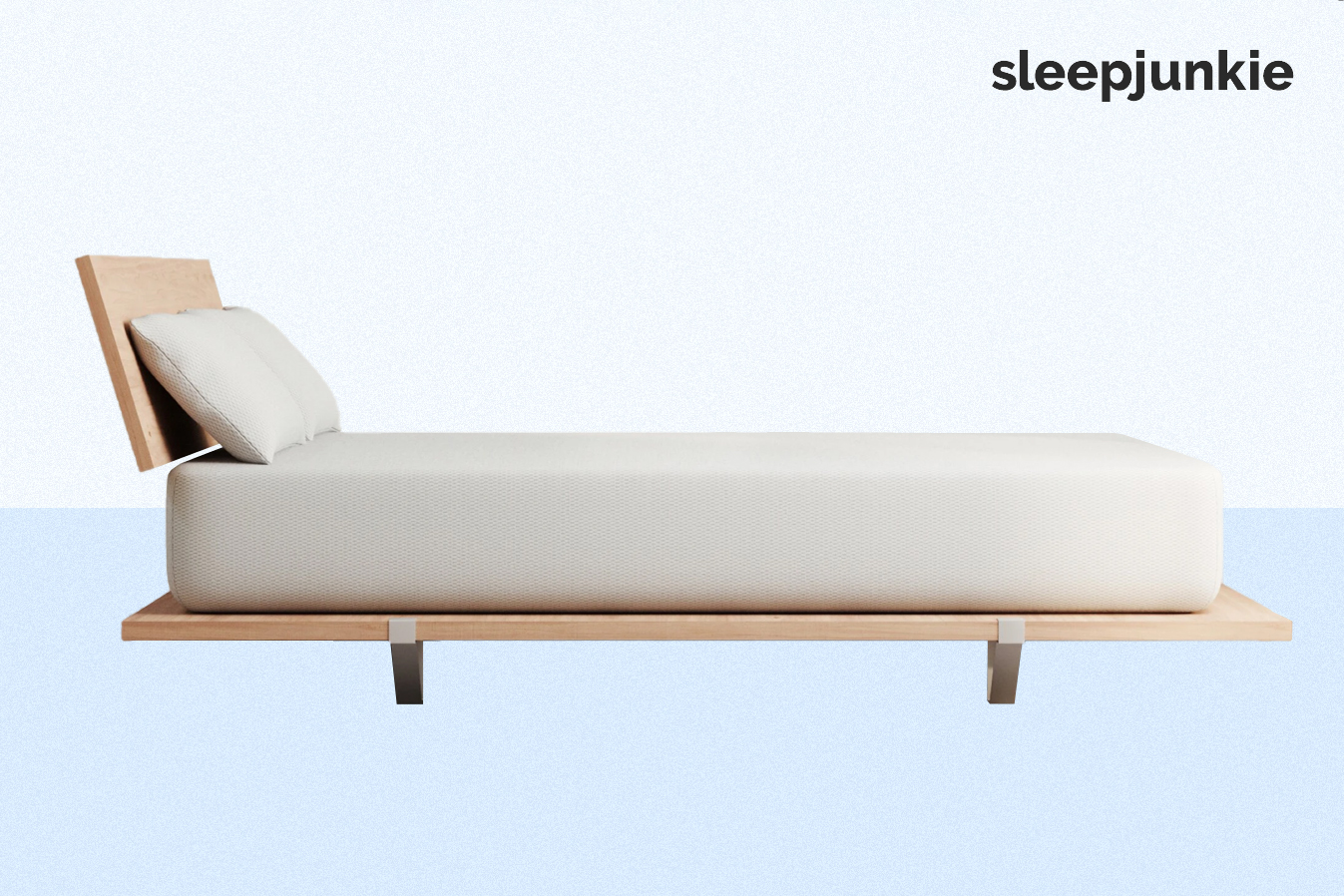 A mattress is often an expensive purchase, but isn't that just how it goes? Don't you have to pay a lot of money to sleep on a quality product? Not necessarily, as the Vaya Mattress proves.
The makers of the Vaya Mattress keep costs down with a simple two-layer design that still provides everything you need for a good night's rest—it has springy support, contouring pressure relief, motion isolation, and cooling materials. The bed is 12 inches of plush support that's excellent for all sleep styles.
The mattress's top layer is 3 inches of Vaya Comfort Foam, which is less dense and more breathable than traditional memory foam. The foam conforms to your body for pressure relief, yet keeps cool during the night to prevent sleep disturbances. The base foam is 9 inches thick and resists sagging for a stronger mattress.
All Vaya Mattresses include a 100-night sleep trial and a 10-year warranty.
VAYA MATTRESS
Budget-friendly foam mattress
Suitable for all sleepers
Two-layer construction provides cool pressure relief, support, motion isolation
Best Cooling Mattress for Side Sleepers: GhostBed Luxe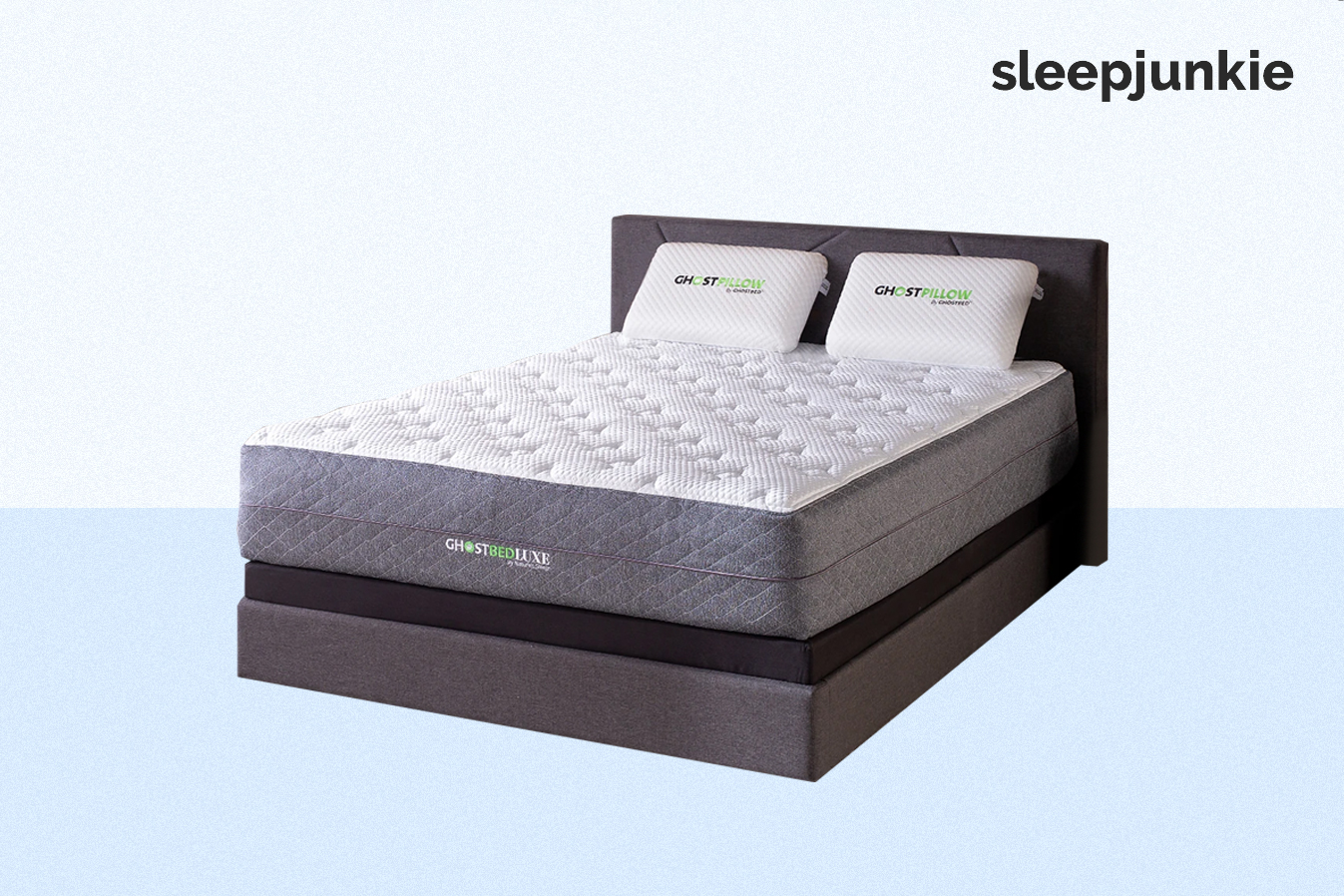 Side sleepers benefit from a softer mattress that hugs the heavier parts of the body, their shoulders and hips. If the mattress does not adequately cushion these areas, pressure points can build up and turn into pain. One of our top recommendations is the GhostBed Luxe, a medium-plush mattress with multiple layers of cooling comfort foams.
This 13-inch mattress features five foam layers underneath a mattress cover. The cover is made with Ghost Ice fabric with an inch of cooling, airy fiber sewn into the underside. These two materials help to establish a cool-to-the-touch feel.
The first foam layer is an inch of gel memory foam. The gel infusions increase the foam's heat-dispersing capabilities while also providing compressive pressure relief. The second foam layer is the unique Ghost Ice material, designed to move heat away and keep the mattress's core cool.
The third foam layer is 3 more inches of gel memory foam, followed by the fourth layer of Ghost Bounce. Designed to be buoyant like latex yet conforming like memory foam, Ghost Bounce keeps sleepers from sinking too far into their bed.
The mattress's support core is 7.5 inches of high-density sturdy foam. This material promotes greater mattress longevity.
GhostBed backs the mattress's quality with a 101-night sleep trial and a 25-year warranty.
GHOSTBED LUXE
Ghost Ice fabric and cooling fibers establish a cool-to-the-touch surface
Two layers of gel memory foam with Ghost Ice foam
Latex-like transition foam increases the surface's responsiveness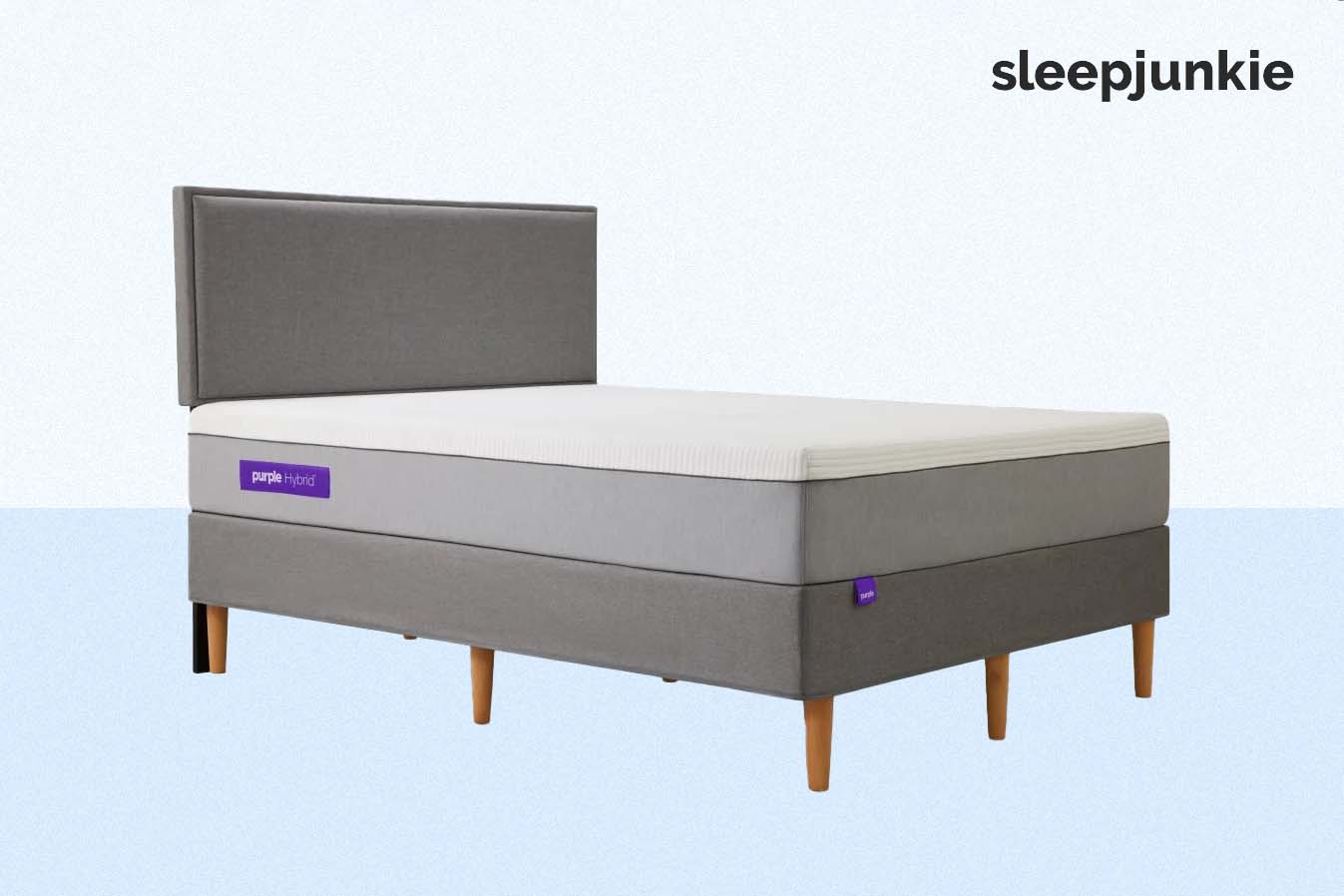 Purple mattresses are some of the most unique beds on the market today. That's because their Original and the hybrid models are made using Purple's patented Smart Comfort Grid™ which adapts to the user's body type and sleeping position.
The Purple Hybrid mattress has wrapped coils in the base layer, creating excellent airways and decreasing the risk of overheating. The open grid foam comfort layer is breathable thanks to the temperature-neutral polymer elastic.
This mattress is incredibly responsive and limits any motion transfer, making it great for couples or anyone that moves around a lot while they sleep. We particularly recommend it for shoppers seeking a mattress for combination sleeping.
You can purchase this mattress directly from Purple or at your nearest Mattress Firm store. It comes with a 100-night sleep trial and a 10-year warranty.
PURPLE HYBRID PREMIER
Smart Comfort Grid™ technology adapts to user's body shape
Wrapped coils in the base increase airflow
100-night sleep trial and 10-year warranty
Best Cooling Mattress for Athletes: Bear Mattress
The Bear Mattress was made with athletes and active individuals in mind. The top foam layers use graphite-infused gel foam— a study published in 2011 found that graphite foam is four times more thermally conductive than copper-foam, which makes the Bear Mattress a perfect option for anyone that sleeps hot and needs some pressure-relief at the end of a busy day.
Besides being infused with graphite, Bear's mattress uses open-cell foams to increase airflow, and the Celliant® cover rounds everything out by converting body heat to infrared energy, promoting faster recovery. Bear claims their mattress cools and conducts air up to 7x more than traditional foam mattresses, so it's worth a look.
The Bear Mattress uses CertiPUR-US® certified foams to ensure little to no off-gassing smell, so you can sleep on it worry-free. You can purchase the Bear mattress through their website and it ships to your door for free with a 100-night sleep trial and a 10-year warranty.
BEAR MATTRESS
Open-cell foam and Celliant® cover can prevent heat build-up
Graphite-infused foam conducts heat away from the body
100-night sleep trial and 10-year warranty
Best Cooling Mattress for Back Sleepers: The Muse Mattress
Muse claims their mattress is "the world's coolest mattress." Maybe that's because it's encased in a Diamond Breeze cover that absorbs the ambient temperature in the room to effectively cool down the mattress. Underneath the cover sits a gel-infused memory foam layer. The gel-infusion prevents the foam from trapping heat while still allowing you to experience the pressure-relief and comfort of memory foam.
Along with the gel foam layer, the Muse mattress also includes two inches of Custom Comfort Memory Foam— you get to customize this layer by choosing soft, medium, or firm when you purchase.
We recommend a medium feel mattress to fit most sleep-styles, but it's especially comfortable for side sleepers. If you're not sure which firmness to choose, you can take a quiz on their website that can help.
The Muse Mattress comes with a generous 120-night sleep trial, free shipping, and a 10-year warranty.
MUSE MATTRESS
Diamond Breeze cover absorbs heat
Gel-infused foam conforms to pressure points and dissipates heat
120-night sleep trial and 10-year warranty
The Zinus Mattress uses green tea in their foam to neutralize any off-gassing odor that may be released when unboxing. The foams in their mattresses are all CertiPUR-US® certified, meaning they're manufactured without harmful chemicals. In addition to leaving out harmful materials, Zinus has added special materials to the mattress to keep you cool.
First, the cooling, soft-knit cover wicks away moisture, while the gel-foam layer underneath cradles your body and lets you rest without overheating. Beneath the gel swirl foam is a layer of comfort foam that adjusts to your position(s) throughout the night, and then a thick layer of high-density foam for even, durable support.
We recommend the 10-inch thick mattress for the best firmness (a 5.9 on the scale). You can purchase the Zinus mattress directly through their website or on Amazon. It comes to your door with free shipping, a 100-night sleep trial, and a 10-year warranty.
ZINUS COOLING GEL 10-INCH MATTRESS
Soft-knit cover wicks away moisture
Gel-infused foam dissipates heat
100-night sleep trial and 10-year warranty
Pros and Cons of Memory Foam Mattresses
Memory foam has become more and more popular thanks to the mattress-in-a-box movement. Foam mattresses are the easiest to compress and roll into a box, so they're typically the top choice for mattress-in-a-box brands. Foam mattresses are excellent for pressure relief and motion isolation, but they are also known for being hot. Let's look at some of the major pros and cons of foam to help you decide which mattress type is best:
| Pros | Cons |
| --- | --- |
| Close-conforming— molds to your body shape | Retains body heat unless you invest in open-cell foams or gel-infused foams |
| Excellent for chronic pain sufferers; relieves pressure in highly sensitive areas like the hips, spine, back, and neck | Heavier sleepers may need more support than foam can provide (lots of sinkage) |
| Virtually noiseless (although this only applies to all-foam beds) | Off-gassing odor potential |
| Isolates movement, preventing a sunken-in, "trapped" feeling | Not for sleepers who prefer some bounce to their mattress |
| It can be compressed and shipped in a box directly to your door | Can be more expensive than innerspring beds |
Interested in the benefits of memory foam? Read our other guide on finding the best memory foam mattress for your sleep needs.
How Can a Mattress be "Cooling"?
A company may claim their foam mattresses are "cooling," but what does that really mean? And how can you tell the materials they use to cool down the foam are actually effective?
We've discussed gel foams quite a bit in this article, and it's the most popular foam type companies use in their "cooling" mattresses. However, gel-infused foams typically work better than foams that simply embed gel beads into the material. The gel infusion naturally takes on the temperature of objects around it, pulling heat away from your body.
The truth is that the efficacy of gel foam really depends on the brand, and you'll need to read customer reviews to get a good idea of how cooling a mattress really is. Additionally, gel-foam isn't the only cooling material companies use— many are infusing their foams with copper, graphite, and even charcoal.
The other part of the mattress you'll want to pay attention to in your research is the cover. It should wick away moisture and feel comfortable against your skin. Covers made with cooling fabrics are the best, such as cotton, Tencel, or proprietary fabrics such as Thermolite®.
If you're still wary of foam, look into hybrid mattresses– they combine the benefits of foam and innerspring without the downsides. Innerspring mattresses are known for being the most cooling because of their coil base. Unlike dense foams, the coils naturally allow air to move through them— in a hybrid mattress, users still get that airflow from the coils, but they also reap the pressure-relieving benefits of foam in the top layers.
Cooling Foam Types
Gel foam isn't the only cooling foam in the world, but it's certainly the most ubiquitous. Let's go over the different types of cooling foams you might find as you're searching for the most temperature-regulating mattress.
Latex foam is naturally cooling because it's almost always aerated, or it contains lots of pinholes in the surface to increase airflow and bounce. However, only 100% natural latex foam is almost always cool, while synthetic or blended latex foams don't come with the same guarantee.
Gel-infused foam absorbs body heat and holds it in. However, it can only retain so much heat before it starts to dissipate that heat back into the mattress. Again, not all gel-infused foams are effective— look to the brand and customer reviews for a more complete picture.
Copper-infused foams aren't just for cooling, although that is their main purpose when used in mattresses. Copper also acts as an antimicrobial agent, and some reviews have pointed to copper-infused mattresses promoting healing and pain relief. However, these benefits are also tied to plain old memory foam, so there is no proven link between copper and pain relief as of yet.
Graphite-infused foams work fairly well at dissipating heat. That's because graphite is one of the best heat conducting materials on the market.
Open-cell foam is made using small, open bubbles throughout the material. These air bubbles give the foam its responsive, cushioning feel and keep air moving through the mattress. Closed-cell foams are obviously denser and are typically only used in the core support layers of foam mattresses. You'll find that many plant-based foams use open-cell construction.
Other Factors Causing Heat Retention
It's easy to point the finger at your mattress and blame it for all your sleeping woes, but there could be other factors causing you to sleep hot.
Bedding
Maybe you've already invested in a cooling mattress, but you're still sleeping hot. It's time to look at your bedding as a potential cause of all that heat getting trapped in your bed. Look for cooling sheets made with bamboo, 100% cotton, linen, or Tencel:
Also, be aware that higher thread count sheets aren't necessarily better– they also trap heat more than lower thread count options. If you're using a mattress topper, make sure it's also made with cooling, moisture-wicking materials that won't trap additional heat between you and the mattress.
Room Temperature
The National Sleep Foundation recommends you keep your room at a brisk 60-67 degrees Fahrenheit for optimal sleep. Your body temperature needs to decrease in order to initiate sleep, and if it's doing the opposite, your sleep can be disrupted.
Mattress Foundation
In order for air to properly flow through your bed, you need to use it with a compatible mattress foundation. Memory foam mattresses should not be used with box springs, as this will disrupt any airflow and potentially damage the foam.
Use foam mattresses on platform bed frames with slats or even on the floor. Using your mattress on the incorrect foundation can void your warranty, so always read the company's website for the best foundations to use.
Sleeping Position and Mattress Type
The way you sleep greatly affects the best type of mattress you should buy. While memory foam mattresses are quite popular, they might not work for you. Thankfully, there are lots of other options available and we'll discuss those below.
Side Sleepers
Side sleepers generally need a good supportive base in their mattress as well as soft, contouring materials in the top layers. A medium mattress (typically a 5-7 on the firmness scale) is the most popular choice for side sleepers, especially if they share a bed.
Foam mattresses work well in this regard since they offer plenty of soft pressure-relief. However, if you sleep on your side and you need even more support, opt for a hybrid or a thicker all-foam mattress (at least 12 inches thick).
Back Sleepers
Back sleepers need a firmer bed than side sleepers in order to keep their spine, hips, and pelvis aligned. A bed that's too soft could cause them to sink down, leading to aches and pains and poor sleep. Back sleepers are usually comfortable on medium to medium-firm mattresses, although some prefer an even firmer feel. Hybrids or foam latex beds are both great options for back sleepers because they offer plenty of support and cushioning and they spring back to their original shape quickly.
If you sleep on your back and want to try out memory foam, just make sure the mattress has a sturdy support core in the form of high-density foam as well as low-density comfort foams in the top layers.
Stomach Sleepers
We do not recommend stomach sleeping here at Sleep Junkie because it comes with a high risk of misalignment and chronic back pain. However, if this is your favorite way to sleep, you can pick a mattress that helps keep your spine neutral and your neck straight.
Stomach sleepers will probably be most comfortable on a medium-firm or firm mattress— one that won't allow the hips and pelvis to bow down or arch upward. Stomach sleepers should also choose a low-loft pillow that keeps their neck from arching unnaturally.
Stomach sleepers will be most comfortable on a firm foam mattress, hybrid, or an innerspring with high-density foams in the comfort layers. Latex foam mattresses are another potential option for stomach sleepers as long as they don't mind the bounciness.
Warranties, Sleep Trials, and Returns
Beyond mattress materials and construction, you need to keep an eye out for company policies regarding returns, sleep trials, and warranties, as well as white glove delivery if they offer that.
Most online mattress companies include a sleep trial with their mattresses, but the time periods vary depending on the brand. The average sleep trial runs about 90 days, but some companies even offer a full year! You should expect to be able to try out your bed for at least 30 days since that's the normal break-in period for a new mattress. Even the most comfortable mattresses can come with an adjustment period.
If during your sleep trial, you realize the bed isn't right for you, you can contact the company about getting a refund. Most companies won't ask for you to physically ship the mattress back to them— rather, they will arrange for it to be picked up and you will use your donation or return receipt to get the refund.
We expect warranties with most of our products these days, and mattresses are no exception. A mattress is a pretty big investment and a warranty gives some peace of mind. What's covered in the warranty varies, but most will accept claims for the following defects:
Sagging in the mattress beyond 1" (the indent must be present without any weight on the mattress)
Rips or tears in the foam or cover beyond normal use
Burst springs or coils beyond normal use
Damaged cover, including a broken zipper or fabric
Cost
The price of memory foam varies quite a bit based on a few different components of the mattress. Polyfoam mattresses are usually cheaper, but they don't last as long as other types. Memory foam, or viscoelastic foam, can range in price from $300-$1200 for a queen-size, while mattresses with cooling gels or proprietary foams will land somewhere in the mid-to high-level price range.
The mattress industry doesn't really regulate the use of the word "luxury," and so you may find it attached to a fairly basic mattress without all the bells and whistles but with a hefty price tag. If you're willing to pay upwards of $3,000 for a mattress, it should come with extra back support, plenty of supportive foams, and sleep trial and substantial warranty.
If expense is a concern, you might want to save by looking at the best cooling mattress toppers. A topper is essentially an extra layer for your bed and is significantly cheaper than a new mattress.
Lifespan
It would be nice if everything lasted forever, but most things have an expiration date. A high-quality mattress should last you anywhere from 7-10 years, but the lifespan mainly depends on the mattress type and construction.
Memory foam mattresses made with high-density foam in the core should hold up against lots of use, but for even more support, opt for a thick mattress (at least 10-12 inches thick). The mattress industry's standard warranty length is 10 years. Companies offering more than 10 years will typically prorate the years after the first ten, meaning the customer will pay a portion of the mattress cost for repairs.
| Mattress Type | Average Lifespan |
| --- | --- |
| Latex | 15 Years |
| Memory Foam | 10 Years |
| Innerspring | 8 Years |
| Hybrid | 6 Years |
Frequently Asked Questions
How can I stop myself from overheating at night?
Aside from investing in a quality cooling mattress, you can prevent overheating by keeping your bedding light and your bedroom cool. Breathable bedding such as cotton lets air wick away excess heat and moisture. Setting your thermostat between 60 and 75° Fahrenheit can help you fall asleep and prevent sleep disturbances.
If you struggle with sleeping hot, try turning off all unnecessary electronics in your room—or even better, get them out of your bedroom entirely. Electronics produce heat, sometimes enough to affect a room's temperature. Plus, they're often a distraction from falling asleep, filling your mind with thoughts of work or social media.
Are there different kinds of memory foam?
Memory foam is also known as viscoelastic foam, meaning it takes on viscous and elastic properties when pressure and/or heat is applied to it. True memory foam springs back quickly, conforms closely to the user and is made using petroleum. Plant-based foams use a combination of petroleum and plant-based oils in their manufacturing processes.
Polyurethane foam, or polyfoam, is similar to memory foam in feel, but generally, it is lower quality and less durable.
How do I tell how firm a mattress is?
Most companies will use a firmness scale from 1-10 to rate their mattresses. One is the absolute softest and there are few mattresses made this soft. A ten is very firm, like a futon bed, and is also not very common. Most mattresses are made between a scale of 3-8, with a few exceptions. If you cannot find the firmness rating of a mattress on the company website or anywhere else online, contact the customer service team via chat, phone, or email.
Should I go for a hybrid, innerspring, or foam?
In general, innerspring beds are the most cooling thanks to their coils. However, they offer little in the way of pressure or pain-relief despite their quilted pillow-tops, and many users report sagging after just a few years of use. Innerspring mattresses are also very bouncy, so if you are worried about motion transfer, you may want a hybrid, which utilizes foam and wrapped coils for better motion isolation.
What if I struggle with pain and sleeping hot?
Lots of pain sufferers are looking to foam beds for a better night's sleep. But sleeping hot can only aggravate the pain and discomfort further, which is an issue with foam beds. First of all, make sure you opt for the cooling foam mattresses whenever possible. Additionally, look for mattresses with ample comfort layers (either in number or thickness or both). You'll also need a mattress with an excellent support system in the form of high-density foam, wrapped coils, or steel coils.
If you struggle with pain and other health issues while sleeping, such as snoring, acid reflux, or sciatica, consider an adjustable bed. Foam and latex mattresses work best with adjustable beds because they fold and compress easily. The firmer your mattress, the thinner it needs to be to work with an adjustable bed.
Did You Find the Most Cooling Mattress?
Sleeping hot is a common enough problem that you ended up here in this article looking for answers! Don't worry— the best cooling mattress is out there, no matter if you sleep on your side, your back, with a partner, with other sleeping concerns like pain or snoring, and even if you want a mattress that stands the test of time.