Best Mattress for Back Pain: Reviews & Buyer's Guide
Updated on: April 09, 2021

Mattress Guides
Chronic back pain plagues millions of people nationwide, and sleeping on an uncomfortable bed only makes matters worse. Many have found that chiropractic treatments, along with finding the best mattress for back pain, are the two most effective ways to put an end to pesky pains. Everybody's most comfortable mattress is going to be different, but there are a few key things to look for when searching specifically for a bed to ease your discomfort.
In this guide, we'll discuss our Editors' recommended mattresses for back pain relief and our tips for finding a high-quality, pain-relieving bed.
30 Second Summary: Best Mattresses for Back Pain
Amerisleep AS3 – The AS3 is our recommended mattress for back pain because it features zoned support technology to promote proper posture and alleviate discomfort.
Amerisleep AS2 Hybrid – Like the AS3, the AS2 Hybrid is great for relieving back pain, but due to its firmness, it's a better option for back and stomach sleepers. Its supportive, bouncy coils keep your body lifted as you sleep.
Zoma Mattress – Zoma cushions pressure points with gel memory foam and keeps your spine in healthy alignment with zoned support to prevent recurring backaches.
Best Mattresses for Back Pain
| | Mattress | Highlights | Price |
| --- | --- | --- | --- |
| | Amerisleep AS3 | Best mattress for side sleepers with back pain. | |
| | Amerisleep AS2 Hybrid | Features pressure-relieving, plant-based memory foam and advanced zoned support technologies to eliminate back pain. | |
| | Zoma Mattress | Designed to help athletes sleeper better and recover quicker; features state-of-the-art sleep-enhancing technologies. | |
| | Zoma Hybrid | Bouncy coils promote a supportive lift for more recovery. | |
| | Vaya | Features responsive, contouring, and breathable foams to promote peaceful, pain-free sleep. | |
| | Amerisleep Organica | Latex and wool cushions back muscles while bouncy coils support the spine. | |
Best Mattress for Back Pain Overall: Amerisleep AS3
The Amerisleep AS3 is the best mattress for side sleepers with back pain.
We like the AS3 for side sleepers with frequent pains because it contains 3 inches of pressure-relieving Bio-Pur® foam. The thickness of this layer is ideal for side sleepers because it allows for deep compression under the shoulders and hips but is still supportive enough to facilitate proper spinal alignment. Plus, the AS3 is equipped with HIVE® technology to offer even better support.
HIVE® is a zoned support technology. It's beneficial for side sleepers because it allows for extra cushion around major joints such as your hips and shoulders and extra support under your midsection, head, and feet—the combination of a plush Bio-Pur® comfort layer and a supportive transition layer with HIVE® technology makes Amerisleep's AS3 a wonderful mattress for back pain.
The Amerisleep AS3 comes with a 100-night sleep trial and a 20-year warranty.
AMERISLEEP AS3
Designed with an even balance of comfort and support to be compatible with many sleep styles
Features 3 inches of pressure-relieving, plant-based memory foam
One of the most comfortable mattresses for side sleepers seeking back pain relief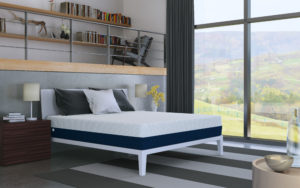 Amerisleep's AS2 Hybrid is another great mattress for back pain, but it's more comfortable for back and stomach sleepers than side sleepers. It contains only 2 inches of Bio-Pur® memory foam, so it's a little less cushioning than the AS3; but it's still equipped with the same HIVE® technology that makes the AS3 ideal for back pain relief.
The Amerisleep AS2 Hybrid contains four layers: 2 inches of Bio-Pur®, an inch of Affinity with HIVE® technology, and 8 inches of pocketed coils on an inch-thick foam base. Unlike the AS3, the thinness of the Bio-Pur® layer makes this model more comfortable for stomach and back sleepers because it allows for some sinking and cushioning, but not too much that your torso feels "stuck" in the mattress.
Like all Amerisleep mattresses, the AS2 Hybrid comes with a soft, lightweight cover that is completely washable.
The Amerisleep AS2 Hybrid also comes with a 100-night sleep trial and 20-year warranty.
AMERISLEEP AS2 HYBRID
Bio-Pur® relieves pressure points and promotes healthy sleep positions
Best for back and side sleepers
Uses plant-based memory foam
Best Mattress for Side Sleepers with Back Pain: Zoma Mattress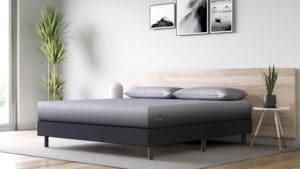 Next on our list is the state-of-the-art Zoma Mattress. Containing three layers, this memory foam bed is designed to foster neutral spinal alignment and prevent pain or pressure points from forming.
Let's talk about its construction.
The first layer of the Zoma is 2 inches of gel-infused memory foam. When you lay on this layer, it molds to your body to alleviate pressure build-up and offer instant comfort. The gel within the foam combats body heat and prevents you from getting uncomfortably warm while you sleep.
Zoma also includes its sleep-enhancing Triangulex™ technology in this top layer. Triangulex™ feels firmer under your midsection and softer under your hips and shoulders to promote proper posture. Its firm center prevents sinkage within the mattress and holds your spine in line with the rest of your body.
Next, is their Reactiv™ foam—a layer of latex-like poly-foam. Reactiv™ boosts this bed's bounciness and creates a more "on top of the bed" feel in regards to firmness. The responsiveness of this layer prevents you from sinking unhealthily far in the mattress, too. Primarily, Reactiv™ serves as a soft transition layer between the cushioning memory foam above and the sturdy base below.
The last and final layer of the Zoma is their Support+ foam, a durable poly-foam. The Support+ layer reinforces the two layers above and prevents premature deterioration and sagging throughout the mattress.
The Zoma Mattress comes with a 100-night sleep trial and a 10-year warranty.
ZOMA MATTRESS
Designed to be comfortable for the majority of sleepers
Gel-infused memory foam combats body heat, ideal for hot sleepers
Triangulex™ technology offers enhanced spinal support
Best Mattress for Lower Back Pain: Zoma Hybrid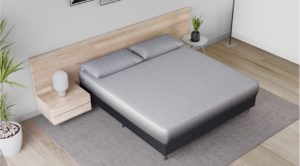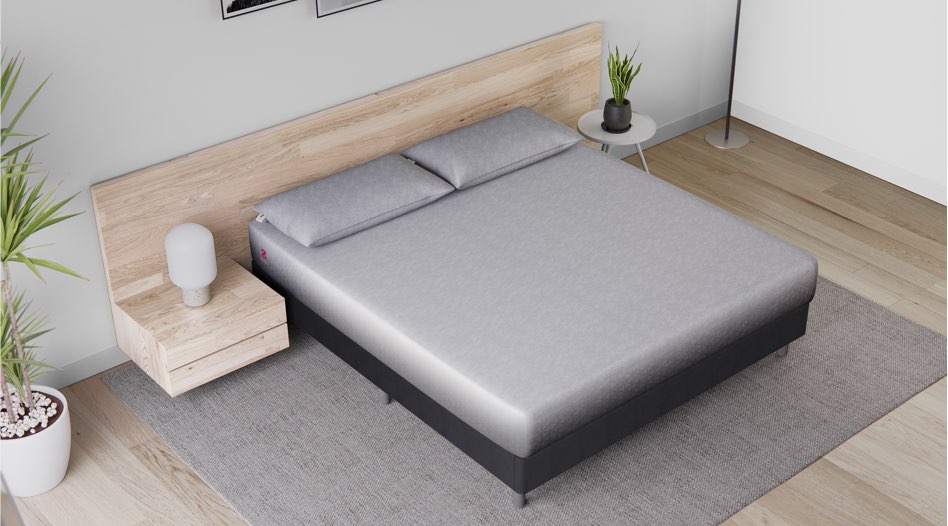 If you like the idea of a bed that boosts recovery but also want some bounce in your mattress, the Zoma Hybrid might be the perfect choice. The bed has four layers that work in tandem to provide an uninterrupted night of sleep for more rejuvenation.
The first layer is 2 inches of gel memory foam with zoned support. Cutouts across the surface of the foam relieve pressure in your shoulders and legs while supporting the lumbar spine and preventing back pain.
Next is the 2-inch transition layer of Reactiv™ foam. The pushback from Reactiv™ foam maintains a neutral spine alignment and keeps you from ever feeling trapped in your mattress.
The mattress is supported by 7 inches of pocketed coils. The coils are encased in fabric to limit motion transfer; as a bonus, the design also muffles any squeaks or groans the coils may make. An inch of stiff base foam gives the coils a sturdy surface to push off from, preventing sagging.
Like the classic Zoma Mattress, a Zoma Hybrid includes a 100-night sleep trial and a 10-year warranty.
ZOMA HYBRID
Gel memory foam contours to your body for pressure relief
Reactiv™ foam increases the bed's responsiveness for more support
Seven inches of pocketed coils add bounce while limiting motion transfer
Best Budget Mattress for Back Pain: Vaya Mattress
The Vaya Mattress is another great option for back pain sufferers because it is medium in firmness and features responsive foams, so it offers plenty of cushion while still keeping your spine lifted in healthy alignment. Even better? The Vaya costs only $599 for a queen, so it's one of the most inexpensive high-quality mattresses we can find.
Vaya Sleep is a rather new online mattress brand, so you can't find their products in stores. However, they offer a 100-night sleep trial, free shipping, and free returns with every purchase, so they take the risk out of buying online. They even offer a 10-year warranty with their budget bed!
The Vaya Mattress is 12 inches thick so it works nicely in most bed frames, and it has two layers: a 3-inch comfort layer and a 9-inch base.
The first layer of the Vaya Mattress is 3 inches of Vaya Comfort Foam to contour to your body. This layer acts like memory foam to ease pressure points and maintain neutral alignment; however, it differs from memory foam in its responsiveness. Instead of cradling you, Vaya Foam keeps you suspended "on top of" the mattress, so you never sink or feel "stuck" in the bed. Plus, this foam is super breathable so you'll never have to worry about night sweats.
The core of the Vaya is durable enough to resist sagging for at least a decade. The warranty with the mattress covers indentations greater than .75 inches thick, though.
VAYA MATTRESS
Budget-friendly all-foam mattress
Comfortable for side, back, and combination sleepers
Offers responsive support to maintain healthy alignment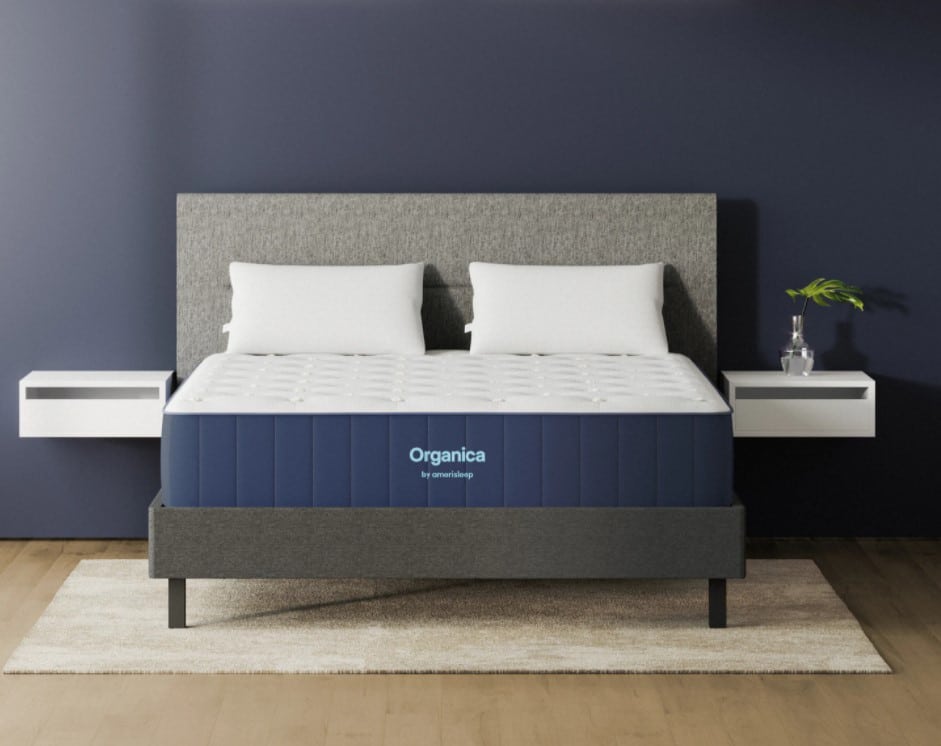 Amerisleep uses eco-friendly memory foam and upcycled steel coils in their numbered mattress line. However, these sustainable efforts pale next to the efforts that went into designing their latex mattress, the Amerisleep Organica. The Organica possesses certified organic cotton and wool, natural latex, and springy coils.
The Organica's cushioning top consists of 1 inch of wool and 3 inches of conforming Talalay latex, all under a soft, temperature-neutral cotton cover. The wool hugs the body while the latex contours to a person's curves for pressure and pain relief.
The supportive layer of pocketed coils buoy a sleeper's body and provide edge support. The coils retract and adapt as a person shifts throughout the night, leaving no part of the body unsupported.
The Amerisleep Organica comes with a 100-night sleep trial and a 20-year warranty.
AMERISLEEP ORGANICA
Heat-wicking cotton and wool limit discomfort
Natural Talalay latex molds to the back's curves
Pocketed coils and Dunlop latex support the spine
Best Mattress for Back Sleepers with Back Pain: Bear
Bear mattresses are designed specifically to help athletes get better and more reparative sleep so they can perform their best each day. On their website, they state their beds are designed to relieve back and muscle pains, which is exactly what sleepers who experience back pain are looking for! They use Celliant® in their cover to boost circulation and recovery time, so your body and mind should feel energized and ready to take on the day when you rise.
Bear sells two beds, a memory foam model and a hybrid alternative— we recommend choosing their memory foam bed. The first layer of this model is 1.5 inches of graphite-infused memory foam; memory foam is excellent for pressure relief, so it helps eliminate aches, and the graphite gel they infuse into this layer helps keep you at a cool temperature all night long.
We mentioned earlier memory foam can retain heat, so Bear uses this gel to offset that risk. Next, we want to mention the following layer, which is actually two 1-inch layers that act as one. The extra 2 inches of foam below the top layer allow for deeper compression in the mattress, which is important for those with back pain as it eases tension in the spine. Though these two layers allow for more compression, they're not memory foam, and are designed to be more responsive and ensure you don't sink unnaturally far in the mattress.
The combination of these top layers create a healthy balance of comfort and support so those with back pain can experience pressure relief without sacrificing spinal support.
The Bear Mattress comes with a 100-night sleep trial and a 10-year warranty.
BEAR MATTRESS
Designed to help athletes get better sleep
Best for side and back sleepers
Cooling design is ideal for hot sleepers
Best Mattress for Hot Sleepers with Back Pain: WinkBed
The WinkBed is a hybrid mattress with several cooling features, ensuring undisturbed sleep to help keep pain from developing. The buoyant pocketed coils promote adequate spine support, minimizing the chances of misalignment.
The key design feature is the Triple Layer Heat Disperse™ technology. As the name suggests, the mattress's three layers work together to establish a cool surface.
A Tencel™ cover, made from eucalyptus material, creates a breathable and natural surface. The Tencel™ fibers efficiently absorb moisture for a consistently dry feeling.
The Euro-pillow top is quilted and contains gel-infused Hypersoft Foam, a material distinct from memory foam. Unlike traditional memory foam, Hypersoft Foam does not let body heat build up around the body.
Pocketed coils support the WinkBed, maximizing airflow and responsiveness while minimizing motion isolation. The Extra-Edge™ support system can make it easier to move out of bed in the morning.
The WinkBed includes several innovative technologies to increase its comfort. For example, there's the SleepCalm™ technology for motion isolation, established by the mattress's gel foam and pocket springs. The Extra-Edge™ support along the sides resists sagging. High-density foams and heat-wicking technology promote durable, cool comfort.
The WinkBed includes a lengthy sleep trial and warranty: 120 nights to try the mattress at home risk free, and the protection of a lifetime warranty.
WINKBED
Tencel™ cover and gel-infused foam for a cool top
Pocketed coils with Extra-Edge™ support
Lifetime warranty and a roughly 4-month trial
The thickest mattress on our recommendation list is the Nolah Evolution 15. As the name implies, the Evolution stands 15 inches tall and it is filled with numerous technologies to create a luxurious sleeping surface.
The top layer is 2 inches of a quilted Euro top, with cooling ArcticTex™ fibers in the mattress cover to conduct heat away from the body. As Nolah puts it, these fibers "allows the Evolution to offer best in class cooling without harsh chemicals."
The second layer is 2 inches of graphite-infused AirFoamICE™, improving upon Nolah's original AirFoam™ that lacked a cooling graphite infusion. The third layer is 2 inches of resilient foam, designed to be more durable than latex and to increase the mattress's responsive support.
The main support layer is the 8-inch layer of tri-zoned, HDMax™ Eco Support coils. The way the coils are arranged maximizes back support and promotes pressure relief. The coils are ringed by Edge-Tech™ support foam to increase the mattress's edge support.
The bottom layer is an inch of high-density support foam to keep the coils straight and stable.
The Nolah Evolution 15 comes with a 120-night trial and a lifetime warranty. Shoppers can choose to remove the sleep trial for an additional discount, but we do not recommend doing so.
NOLAH EVOLUTION 15
Fifteen inches thick with different sleep technologies
Euro top for a clean, seamless look
Cooling technologies prevent sleeping hot
Waking up with upper back pain often has some roots in poor shoulder or neck support. The Helix Midnight LUXE is our top recommendation for easing upper back pain because of its targeted support, creating a cushioning area for the shoulders and relieving pressure points.
As the name implies, the Midnight LUXE is an upgraded model of Helix's original Midnight model, their medium option for side sleepers. The Helix Midnight LUXE model has a few features that the lower-cost Midnight model lacks, one being the previously mentioned targeted support.
Another added feature is the Tencel™ cover and a pillow top. The breathable fabric encourages airflow and moisture-wicking, while the quilted pillow top increases comfort.
Underneath the pillow top is a layer of Memory Plus Foam to establish the bed's medium feel. Next is a layer of gel visco foam designed to offer a supportive cushion, followed by polyfoam transition foam for added contouring ability to help the mattress take on the body's weight.
The Midnight LUXE has pocketed coils arranged in zones to offer a softer feel under the shoulders and support under the hips. These different zones of support help ensure a healthy spine alignment. The base of DuraDense foam helps the coils stand straight and provide years of support.
The Helix Midnight LUXE includes a 100-night sleep trial and a 15-year warranty. The standard Helix Midnight model comes with a shorter 10-year warranty, the final difference between the two models.
HELIX MIDNIGHT LUXE
Cooling and cushioning pillow top
Multiple foam layers for a conforming feel
Coils arranged for varying support across the body
Best Mattress for Combo Sleepers with Back Pain: Original Purple Mattress
The Purple mattress brand is innovative because they designed and use a whole new material for making mattresses— hyper-elastic polymer. The founders of Purple, one of which being an actual rocket scientist, decided to dabble in mattress making and designed this material into a grid shape to use as the top layer of their beds, the goal was to create the first-ever "No Pressure" mattress.
Purple's Smart Comfort Grid™ is a bit of a paradox; when you lay on this mattress, the grid collapses under your weight to offer instant comfort and release pressure in your joints, however, it still maintains a level of support, as it holds your body in line and promotes a neutral spine.
Purple's flagship mattress, the Original Purple, is excellent for those who suffer from back pain because of its ability to closely conform to your body's curves and relieve tension in your joints and pressure points. The dynamic support of the Smart Comfort Grid™ promotes your body's natural shape and ensures you're not sinking too far into the mattress and over-extending your spine, a contributor to back pain.
The Original Purple mattress includes a 100-night sleep trial and a 10-year warranty.
PURPLE MATTRESS
World's first "no-pressure" mattress for ultimate pain relief
Compatible with back, side, and stomach sleepers
Features pain-relieving Smart Comfort Grid™
What Causes Back Pain?
As back pain sufferers know, the pain can comes from many places, such as an injury, occupational strains, daily stress, sleeping on an uncomfortable mattress, or a combination of the above.
According to the Mayo Clinic's research, the conditions most commonly linked to back pain are muscle or ligament strain, bulging or ruptured discs, arthritis, skeletal irregularities, and osteoporosis. It's clear there is no singular cause, but there are common factors. Understanding these factors and using them to manage your discomfort is one of the most effective ways to alleviate back pain.
Many forms of back pain have one thing in common: they get worse after a bad night's sleep. Whether it's the result of a one-time injury, a chronic problem, or just the aches and pains of everyday life, back pain will only worsen on an uncomfortable mattress. Tossing and turning may aggravate the underlying cause. Too much pressure on the wrong part of the body can make you feel worse than when you went to bed.
While sleeping, pressure is gradually released from your vertebrae— because you're lying down, your upper body is no longer applying pressure to your spine. When a person wakes up, they can be up to one inch taller than when they went to bed. As the day progresses, pressure returns with gravity, and various factors (like poor posture) compress your spine throughout the day.
The effects of poor sleep can be even worse depending on your sleeping position. Stomach sleeping, for example, places extra pressure and strain on the neck and spine.
In many cases, managing a chronic back problem comes down to finding the best mattress for back pain. Getting a good night's sleep reduces stress, takes pressure off injured or strained areas of the body, and helps alleviate pain.
How Back Pain Impacts Sleep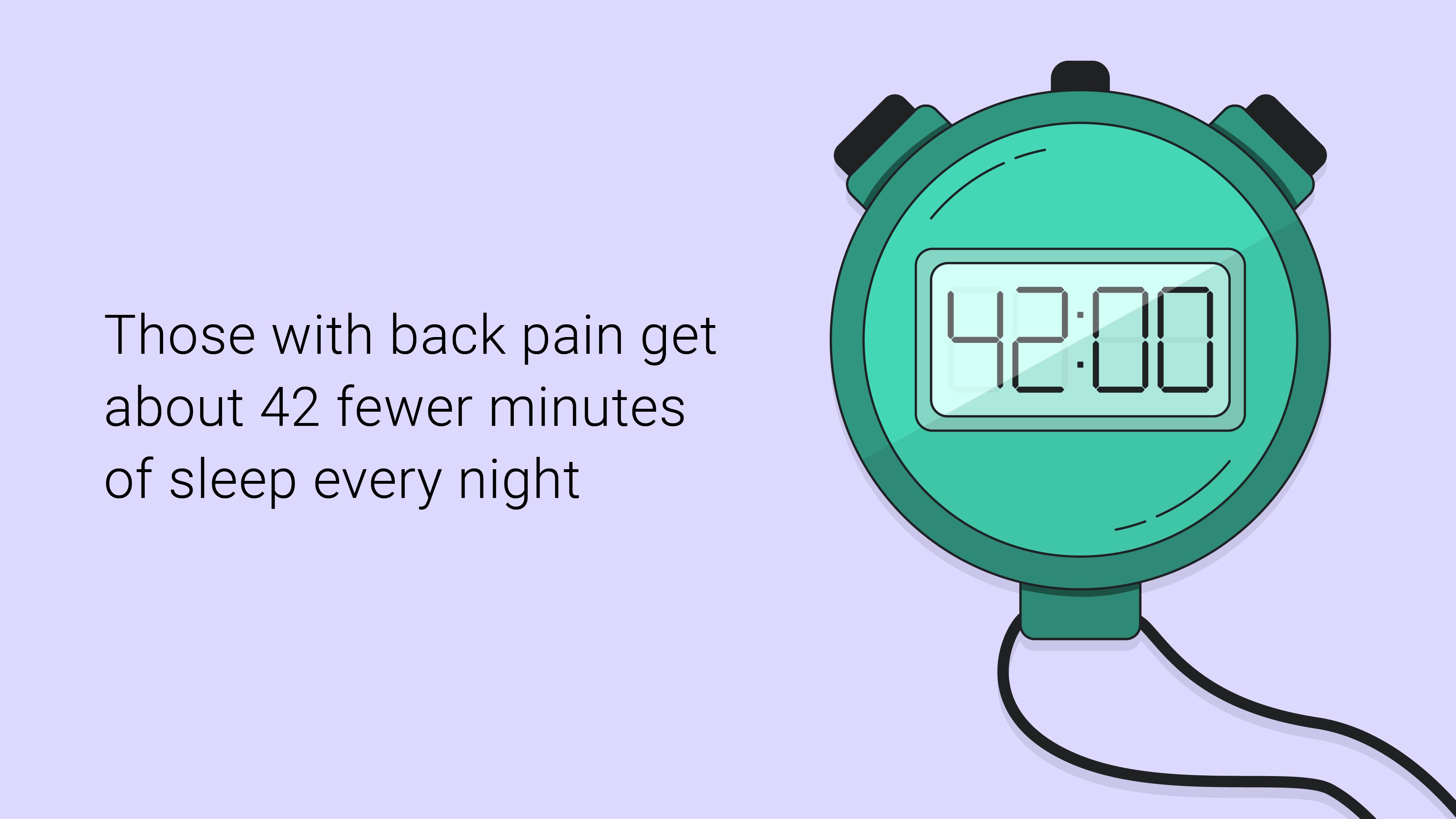 How much of an impact can back pain have on sleep? The facts might surprise you:
Lower back discomfort is the single leading cause of disability worldwide. It's one of the most common reasons for missed work. Up to 80% of us will experience it at some point in our lives, says the American Chiropractic Association.
Pain is a key factor keeping many Americans from getting the quality sleep they need. Sleep disturbance is a top complaint among patients dealing with a chronic back or joint problem.
It has been reported by the National Sleep Foundation that those suffering chronic pain in their back or joints get around 42 fewer minutes of sleep per night.
People with pain feel like they have less control over their sleep, and are more likely to worry about whether they're snoozing enough.
Ease Pain with Healthy Sleep
The good news is, you do have control over your sleep quality. If back discomfort is a chronic issue, investing in the right mattress can significantly improve the quality of your sleep—as well as your well-being while awake. Even if an injury or chronic condition causes back pain, getting a peaceful night's sleep with good support and alignment can be the difference between manageable pain and debilitating pain. Choosing a comfortable bed can lead to several significant improvements including reducing pain, facilitating better rest, and preventing new aches.
Sleeping on a lumpy or unsupportive surface can lead to discomfort. Sinking too deeply into a mattress can throw your joints out of alignment, causing them to twist and become uncomfortable as the night goes on. On the other hand, sleeping on a too-firm surface can interfere with the spinal cord's ability to reach its proper alignment. Years ago, doctors recommended a firm mattress for people with back pain. However, recent surveys suggest people who sleep on very hard mattresses (sometimes called orthopedic mattresses) have the poorest sleep quality.
Sleeping with a straight, natural alignment relieves the pressure points commonly associated with many back pains.
Finding a mattress with the right level of support, while also encouraging a comfortable and uninterrupted night's sleep, can take significant stress off those pressure points and help your spine relax.
Best Mattress Types for Back Pain
Memory foam and latex mattresses tend to rate the highest amongst customers with back pain, with innerspring beds performing poorly in reviews. In this section, we discuss memory foam, latex, hybrid, and innerspring beds, and how well they perform to reduce and prevent pains.
The ideal bed will be based on each person's sleep style and preferences. Some people have a preference for the feel of memory foam, while others prefer the feel of latex. Things like materials, layer thickness, and firmness will depend on your body weight, sleep style, and other factors.
Memory Foam
Memory foam is thought to be the best for back pain relief because it's the most contouring and cushioning. These mattresses mold and adapt to your body's shape, allowing the wider parts of your body, like your hips and shoulders, to sink in while the narrower areas of your body, such as your waist and feet, lay atop the mattress.
Sleeping with straight, natural alignment relieves the pressures commonly associated with many back pains. A mattress with poor conformity or support forces the body to rest at an unnatural angle and prevents tense muscles from fully relaxing.
Choose a memory foam mattress that is made with natural, plant-based material to avoid harmful chemicals and overheating.
Latex
Latex is also great for back pain relief because it's cushioning and contouring. While it's not as contouring as memory foam, it is adaptable and will mold to your body to some degree. Latex is more responsive than memory foam; instead of "cradling" you in the mattress, latex keeps you lifted and offers a more "on top of the bed" feeling in terms of firmness.
Because many sleepers report latex beds feeling firmer than they expected, we're weary to recommend them as the best for back pain relief— as you do need some softness and adequate contouring to eliminate and prevent discomfort.
Hybrid
High-quality hybrid mattresses are also great for pain relief because they combine pressure-relieving foam layers with zoned pocketed coils to create a responsive but cushioning bed. If you prefer the bounciness of an innerspring mattress, but need the comfort of foam layers for pain relief, hybrids are perfect or you.
When shopping for a hybrid, check for zoned support technologies and the thickness of the foam layers— you want to ensure there are enough cushioning technologies at play to relieve pain.
Innerspring
Traditional innerspring mattresses are often flat and plank-like, providing uneven support. These beds don't conform to your body, and aren't all that cushioning, either. For back sleepers, flat surfaces force the spine to arch and leave the inner knee unsupported; this prevents the lower back from decompressing, which can cause several types of strains and pains.
When comparing these mattress types, medium-firm memory foam, or even latex, mattresses are better choices. These sleep surfaces perform well because they don't force the spine to curve into unnatural positions while you sleep. Instead, they allow the parts of your body that need to sink to do so, while still giving support in the places that require it. Hips and shoulders are cushioned, while the lower back is fully supported and able to relax.
Concerns With Memory Foam
Memory foam is designed to fully conform to your body's natural curves, to provide support exactly where you need it. But does that benefit come with a downside?
As memory foam beds have become more popular, there has been a growing concern with their tendency to trap heat. Meaning, even if the bed is soft and comfortable, you'll still be uncomfortable at night because you're sleeping on a hot mattress. Though it is true some memory foam mattresses are made from synthetic materials and extremely dense foams can trap heat, many mattress brands are taking extra steps to ensure their beds won't trap heat. Mattress manufacturers have also found memory foam mattresses made from natural, plant-based materials tend to offer cooler and more comfortable sleep.
When it comes to getting a memory foam mattress, it's important to consider where the product is coming from and how it is made. This can be harder than you'd think. For example, Nectar mattresses settled FTC charges that claims of their product being 'assembled in the USA' were false. When looking at a company, read its reviews and read its website to find out as much as you can about the product quality.
Why Memory Foam is Our Recommended Option
Based on everything we've looked at, medium-firm memory foam mattresses like the Amerisleep AS2 are perfect for those suffering back pain. Memory foam contours the entire body without any gaps unlike innerspring mattresses. Most often, medium-firm mattresses let the spine to rest in a natural position.
Our research indicates Amerisleep's AS2 is a good choice for medium-firm memory foam. Amerisleep uses high-quality materials, ensuring pain-free sleep for many years.
A Quality Mattress Starts with Quality Materials
There's more. The memory foam used in the AS2 and other Amerisleep mattresses recovers its shape faster. With typical memory foam mattresses, you might wind up "stuck" when you switch positions while you wait for your memory foam to adapt—which can take up to 60 seconds. The AS2 bounces back in just four seconds. So your mattress keeps up with you while you move at night. That makes it one of the best mattresses on the market.
And when it comes to reducing back pain, the AS2 also has Amerisleep's HIVE®. It works by grouping hundreds of six-sided foam supports into five comfort zones to provide targeted pressure relief.
For places where you need an additional cushion, like the shoulders, the HIVE® layer has more space between the foam hexagons. That way those zones will compress more. And for zones where you need more support, like your head and feet, the HIVE® layer has less space between the hexagons to provide more reinforcement.
Amerisleep also offers a generous 100-night sleep trial. If you feel that your mattress isn't a good fit, Amerisleep will refund or exchange it during the trial period.
Choosing Your Ideal Mattress Firmness
Now that we've sorted through the different types of mattresses, it's time to answer another essential question for sufferers of back pain— how firm should my mattress be?
Is it better to go with a soft and cloud-like sleep, or should you take the old advice that the firmest bed is best? The answer may be neither, or possibly a combination of both options.
It has long been believed that a firm bed is the best choice for people who suffer from a bad back. But in reality, firm mattresses remain a hotly contested debate between orthopedic doctors and chiropractors. Recent surveys have shown hard mattresses might not be the best choice. The majority of chiropractors were probably right in recommending their patients sleep on medium-firm mattresses.
Picking the best mattress firmness usually comes down to a person's body type and their favorite sleep position, along with comfort preferences. For example, a heavyweight back sleeper likely needs a different mattress than a light side sleeper.
Sleep Position and Suitable Mattress Firmness
Often, the firmness that will feel most comfortable to you is dependant on your favorite sleeping position. Your sleeping position affects how your bodyweight is distributed and where pressure builds up in your body, which determines what areas might need extra support and cushion to avoid waking up in pain.
Side Sleeping
Side sleepers outnumber sleepers of other styles by a wide margin. To sleep comfortably, a good mattress for side sleeping should feature a soft to medium feel. Many side sleepers enjoy mattresses with extra cushion in the shoulders and hips, to prevent pressure build-up and misalignment.
Most mattress types are suitable for side sleepers, though we recommend staying away from traditional innerspring mattresses. Innerspring mattresses often cannot conform well enough to the shoulders and hips to relieve pressure, causing aches and possibly back pain.
Back Sleeping
Back sleepers require a mattress that can support their torsos, leaving minimal space for their spines to bow too far into the bed. Medium-firm to firm mattresses for back sleeping are recommended, though medium mattresses are acceptable if they feature responsive back support.
Stomach Sleeping
Stomach sleepers usually wake up with back pain because their bellies sink into a too-soft mattress, shifting their spine out of a healthy alignment. Firm mattresses for stomach sleeping limit this sinkage, although many stomach sleepers find greater pain relief by switching to another position.
Combination Sleeping
Combination sleepers switch between these positions in the night, so they need a mattress that can suit all three and that offers a responsive surface. Many combination sleepers enjoy a medium feel mattress that features some bounce, either from adaptable coils or buoyant foams.
Body Type
A person's body type determines how much pressure is placed on a mattress, which affects how the mattress feels to their body. If a plus-size person and a petite person lie down on the same mattress, it would feel very different to each person.
Often, plus-size people find a mattress on the firmer end of their recommended range more comfortable. For example, a medium mattress may feel more supportive to a larger side sleeper than a soft mattress.
Petite sleepers usually find softer mattresses in their recommended range more comfortable because they're quick to conform to the body and relieve pressure points.
Expert Opinions
In two separate studies, Oklahoma State University researchers found medium-firm mattresses are the most effective at reducing clinically diagnosed back pain, shoulder pain, and spine stiffness. Subjects who slept on medium-firm mattresses experienced better sleep quality overall and fewer sleep disturbances throughout the night.
A review of trial studies concluded that medium-firm mattresses are the best options for back pain. They are a good choice for many, especially for back sleepers. However, many side sleepers will find the feel too firm, so we can't make a blanket statement that medium-firm mattresses are suited for everyone.
People with pre-existing conditions sometimes require a moderately firm sleeping surface to heal properly from strains and other injuries. Side sleepers might prefer options in the medium range to better cushion their hips and shoulder.
Are you not convinced a medium-firm mattress is a better choice than one that's rock-hard? Here's an easy way to see how it might feel to sleep on a very firm mattress— place a plywood board under your mattress, or put your mattress on the floor for the night. Doing this will make your bed less cushy, giving you a good approximation of how a very firm mattress might feel.
Still want to do some more research? Check out other mattress reviews to learn about other types of mattresses, the materials they're made from, and their firmness.
In the end, it comes down to what works best for your body and the way you sleep. If back pain is a recurring issue, medium-firm mattresses are often a good way to alleviate some of that pain. You may need to try a few different options to find the best bed for your back pain, though; that's why it's a good idea to buy from a mattress brand that lets you try the mattress risk-free at home.
How Temperature Can Impact Pain
Cooler sleeping experiences often facilitate deeper sleep than hotter ones. A good night's sleep requires a 1°C loss of core body temperature. Deep sleep is synonymous with more restful sleep, so seeking ways to cool your sleeping experience makes sense. Think of it this way: even if the support is perfect and your spine's pressure points are alleviated, what happens if you're hot all night? You'll likely toss and turn because you're warm and sweaty, only making your pain worse.
Comfort is a complicated thing. Finding the best mattress for back pain means considering all the factors, from comfort and support to keeping cool. Gel infusions and added air channels are a couple of features that can increase a mattress's cooling abilities.
Consider an Adjustable Bed
Adjustable beds are no longer confined to the insides of hospital rooms. Today, they're found in homes across the world helping people improve their night's rest— and for sufferers of back pain, these sleep-promoting bed frames can be the key to sound, pain-free sleep.
The main feature in all adjustable beds is head and foot articulation; this allows you to adjust the angle of your head and feet to find the most comfortable position for sleep. These beds also allow you to sleep in the Zero-Gravity position. In this position, you're lying flat, but your feet are angled ever so slightly above your head, creating a weightless feel. The Zero-Gravity position is recommended for those with back pain because it virtually eliminates pressure.
Those with back pain may find relief from sleeping on an adjustable bed with their legs raised, too. Doing this takes pressure off the spine and alleviates discomfort in your lower back.
Many adjustable beds come with fun features such as body massagers, which are excellent for those with pain and discomfort. You can use these massagers to help you fall asleep at night, and you can also set them to turn on at a certain time in the morning to help you wake up. The bells and whistles are going to change from base to base, so double-check to ensure the one you're buying comes with the features you need.
Adjustable beds can be costly, and some sleepers with back pain may not be able to afford one. For similar results on a budget, we recommend wedge pillows. Wedge pillows can prop the knees up, relieving pressure on the lower back and preventing morning cases of back pain.
Fighting Back Pain on a Budget
Of course, buying a new mattress is a big investment. Even if you're not in the market to spend a lot of money, there are still budget-friendly ways to improve your night's sleep.
Consider Bed-in-a-box Mattresses
Everybody knows a mattress from a traditional retailer can cost hundreds, if not thousands, of dollars. However, you can save yourself quite a bit of money by shopping with an online or bed in a box mattress brand. By selling their beds direct-to-consumer, these brands are able to price their high-quality beds more affordably. Meaning, a bed you may pay over $1,500 for in a store can cost you less than $1,000 online.
If you need a new bed but have a tight budget, we recommend starting your search online. There are over 175 different online mattress brands, and many brands sell their beds through Amazon. Just be wary of cheap beds or beds sold through unauthorized sellers.
When shopping on a marketplace such as Amazon, always check to make sure you're buying through a brand's verified storefront, and not from a third-party seller. You can usually easily detect third-party sellers because they price their beds much cheaper than others. If it seems too good to be true, it likely is.
Before clicking purchase on any new mattress, make sure it comes with a sleep trial and warranty, too. These protect you from getting stuck with an uncomfortable or defective bed.
Mattress Toppers
Many chiropractors believe if the sleeper does not own a memory foam bed or if their current bed is too firm, the best thing to do is to lay a 1½ to 2½-inch thick mattress topper on their sleep surface.
It's best to think of a memory foam topper as a small step towards an improved sleeping experience. Even this small step can have a big impact on back pain, especially if you decide to invest in a high-quality memory foam topper.
High-quality toppers are considerably less expensive than a new mattress, and with proper care, they can last for years. By adding a topper, you can get more use out of the mattress you already have—while boosting your comfort level in bed and keeping your back pain at bay.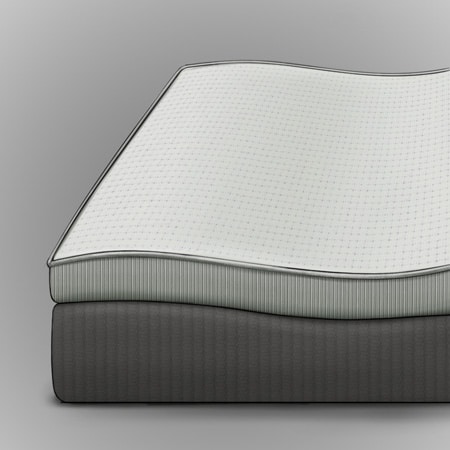 Make sure your mattress is free from visible sags or indentations, or your pain may not be alleviated with a topper.
Drawbacks to Mattress Toppers
Of course, foam toppers are not a foolproof solution. While a mattress pad aids comfort and can help with support, its thin profile doesn't give the sleeper the deep advantages a memory foam or latex mattress does.
Compared with foam toppers, foam mattresses offer more pressure relief, mold and dust mite resistance, and longevity. The breathability and advantages of memory foam make it an overall good choice for pain, and it's likely to be comfortable for most people.
In short, a mattress topper can help make your sleep surface more comfortable, but it won't be as effective as a new memory foam mattress.
If you're hesitant to purchase a new mattress outright, a memory foam mattress topper can be a good stepping stone. Knowing how your body responds to memory foam can inform your mattress decision when the time comes.
One thing to keep in mind— if you choose to use a mattress topper, make sure your current mattress isn't already sagging. If your current mattress bows inward, the topper will likely do the same, so it won't be able to provide you with the support to wake up pain-free.
Sleeping Positions and Back Pain
How you sleep at night greatly impacts your severity and frequency of pain; and simply changing your sleep position can make a huge difference in combating discomfort. People who sleep on their backs are less likely to experience these discomforts, while stomach sleepers are prone to nagging backaches. Below, we discuss these differences a bit further.
Side Sleepers
Side and back sleeping are both thought to be the "healthiest" sleep position. It's impossible to discern one singular "best," as everybody has unique sleep needs; but most doctors and sleep specialists can agree that stomach sleeping is quite unhealthy.
Side sleepers may experience pain in their lower backs if their mattress is not firm enough to reinforce healthy posture. The best mattresses for side sleepers are medium to medium-firm, as beds of medium firmness are soft enough to alleviate pressure points and supportive enough to maintain healthy spinal alignment.
To kick pesky pains, the Mayo Clinic recommends side sleepers draw up their legs slightly toward their chest, and place a pillow between their knees.
Back Sleepers
Back sleeping has many benefits— it keeps your spine aligned, reduces headaches, relieves sinus pressure, and reduces your risk of developing certain chronic conditions by easing pressure on your body.
Because sleeping this way keeps your spine in its natural alignment, back sleepers already have a leg up in the fight against back pain. However, though this position is very healthy, its rare— only 8% of people choose to sleep this way.
If you're currently a back sleeper, don't change sleeping positions! Instead, combat pain by placing a pillow beneath your knees and supporting your neck with a flat pillow (rather than a thick one).
Stomach Sleepers
Stomach sleepers have the hardest time fighting back pain because sleeping on the stomach naturally stresses the spine. However, placing a pillow beneath the lower abdomen and using a thin pillow (or none at all) under the head can help reduce the negative impact of sleeping on your stomach.
However, as we mentioned earlier, stomach sleeping is not healthy, especially for your back. If you're a stomach sleeper, we urge you to (at least) try to change your sleeping position. While it may feel unnatural or uncomfortable to sleep on your side or back, it's worth it in the long run to make the change.
Changing how you sleep can make a big difference in your aches and pains, especially when you combine these changes with a new, comfortable mattress. Making this change is easier said than done, though. During the adjustment period, you might naturally toss pillows away and roll back into your old position.
There is no single best position for back pain because there is no single source of back pain. It's up to you to assess your situation and determine what changes are the most effective towards getting pain-free sleep.
Common Questions
What mattress firmness is best for lower back pain?
Studies have found medium-firm mattresses are the best for alleviating back pain and promoting healthy sleeping positions. That said, medium mattresses are usually better for side sleepers with back pain because they offer better pressure relief for the shoulders and hips. Ultra-firm and too-soft mattresses may exacerbate pain.
What sleeping position is best for back pain?
Many people experience back pain relief by lying on their backs with their knees propped up. Raising the knees reduces on the lower back, alleviating pain. A wedge pillow is an inexpensive way to elevate your knees, although an adjustable bed offers greater freedom of elevation.
What's the best mattress for side sleepers with back pain?
Side sleepers often experience back pain because their mattress is too firm or too soft. When it's too firm, the hips and shoulders can't sink in far enough to relieve pressure on the joints. Too soft and the sleeper sinks in too far, misaligning their spine.
Medium mattresses are a good choice for side sleepers, particularly if they offer multiple support zones that focus on the shoulders and hips.
What mattress type is best for back pain?
This will ultimately depend upon your specific needs and how much you can afford to spend. The surface should balance conforming to the body's curves with supporting the spine's neutral position. Memory foam, latex, and hybrid mattresses are all good choices. Just as important as mattress type is choosing a mattress firmness that complements your sleeping style.
If you're struggling to find a comfortable bed, we suggest talking with your doctor about your current mattress and the frequency and severity of your pains. With that, they'll be able to recommend a mattress for you.
What is the best mattress for lower back and hip pain?
If you have hip pain in addition to your back pain, it may be a sign that your mattress is too firm. Mattresses of medium firmness are usually the best for cushioning the hips while preventing them from sinking too far, however, ideal firmness also depends on body weight. If you're experiencing hip pain, find a mattress that will hold your body in a neutral position while still offering cushion for the hips and shoulders.
Can a mattress cause back pain?
Yes, if your mattress does not hold you in a neutral position, it can cause you to sleep in wonky positions and lead to chronic back pain. Lumpy, worn down, and unsupportive mattresses just can't promote healthy sleep, and many wake up with back pains and discomfort as a result of sleeping on an uncomfortable bed. Give your spine the support it needs and invest in a mattress to facilitate healthy sleeping positions.
Research and Resources
In making this article, we:
Researched the leading contributors of back pain and how your mattress can play a part in the frequency of your aches and pains.
Compared over 25 different beds looking specifically for features that promote healthy spinal alignment and proper sleep positions.
Spent 20 hours writing and revising the article to deliver the most valuable information to those suffering from chronic back pain.
Did You Find Your Next Bed?
Pain and stress feed on each other. When sleep gets interrupted, especially if it's because the body is too hot, it can cause discomfort, making chronic back pain even worse. Pain causes your body to be stressed, which in turn can lead to even poorer sleep, which will worsen the pain. It's a vicious cycle, but it can be broken.
A healthy and comfortable night's sleep can be one of the best ways to reduce stress and combat chronic pain. Meaning, finding the best bed for back pain is critical.
Remember the key mattress features for back pain: comfort, pressure relief, and temperature control. A good night's sleep can be a hard thing to find, so take proper time to choose a solution that's right for you. The perfect mattress will have you sleeping soundly through the night, instead of tossing and turning or waking up in a sweat. Medium-firm memory foam mattresses assist vertebrae alignment, reduce muscle tension, as well as soothe and prevent aches. These factors, along with affordability, make memory foam the best mattress for a bad back.
You spend nearly a third of your life sleeping, so it's important you don't cut corners. Now that you have the facts about the type of mattress will help your back stay comfortable, it's time to make your pick. Of course, you should factor in your own preferences as well as your budget by doing research on the best mattress for your lifestyle. But our top pick is Amerisleep's AS2. It's made of high-quality medium-firm memory foam that conforms to your spine's natural curves to keep it properly aligned. So you'll sleep more soundly now—and for years to come.