Best Futon Mattress: Reviews and Buyer's Guide
Updated November 22, 2023

Mattress Guides
When moving into your first apartment or are hunting for a guest bed, a traditional mattress can seem like a heavy burden. There's no way you can fit a bed inside your tiny living space, or afford a mattress at those prices! Don't despair – have you considered a futon?
15 Best Futon Mattresses
Futons are a great solution to many bedding situations. They're easy to move and store when not in use. A futon sofa is especially ideal for those small studio apartments – a couch by day and a comfy mattress by night. Read on to learn about our top choices and how to choose the best futon mattress.
As our top choice for the best futon mattress, the Serta Sycamore futon contains two layers of foam with an innerspring core. It also features 4-inch padding made with Cottonique – a unique blend of cotton and polyester fibers for durable cushioning. It's proven more durable than regular cotton.
Its plush softness is also supportive, standing at a medium firmness. It's a high-quality futon available at a lower price. Made in the USA, it includes lace tufting for a tailored appearance. Customers find that it doesn't fold or flex easily, but it's still functions well as a bi-fold.
Serta Sycamore Highlights
High-quality, low-cost materials
Features Cottonique
Coming in next is the DHP 8-inch Independently-Encased Coil Premium futon mattress. It's built with 522 pocket coils made of 15-gauge steel for enforced back support, and CertiPUR-US® certified memory foam (no trace of hazardous chemicals like flame retardants and lead) with polyester layering between coils and mattress cover for comfort.
The DHP stands out with its exceptional durability, especially in its ability in handling heavier weight. This makes this model great for heavy sleepers. The DHP is only available in full size but comes in a variety of different colors.
A drawback that some customers encountered was the upper layer not staying in place when folded.
DHP 8" Highlights
Ideal for plus-sized individuals
The Royal Sleep Products New Replacement futon contains a combination of pocket-coils for support and two layers of foam for comfort.
The futon's coil support system offers a flat sleeping surface as well as air circulation. Sleeping hot will happen minimally on this mattress.
The comfort layer contours to foster correct spinal alignment and alleviates pressure points. No aches or pains from sleeping on a hard surface. For $267, you will still sleep well.
As a byproduct of the memory foam, the futon will have minimal off-gassing. However, the foam offers a noiseless performance and is easy to move around on.
The New Replacement is available in full and queen-size and comes in a variety of colors. Little is known about the mattress specifics, but it does have a somewhat bulky appearance. The futon is also not suitable for non-wooden frames.
Royal Sleep Highlights
High-quality materials
Range of colors available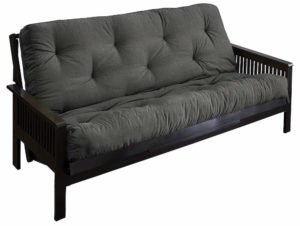 The Mozaic has a softer feel than other futon mattresses. With a core of gel memory foam and polyurethane foam inside a cotton blend mix, the Mozaic offers a cloud-like plush to its sleepers. It's poly-cotton fabric cover is easy to maintain through spot cleaning with a mild detergent.
The Mozaic is flippable and great for both sleeping and sitting, with its easy folding ability. Once removed from its packaging, it will take a few days to fully decompress, with potential for off-gassing due to the foam.
Mozaic Highlights
Flippable
Gel memory foam layer for softer feel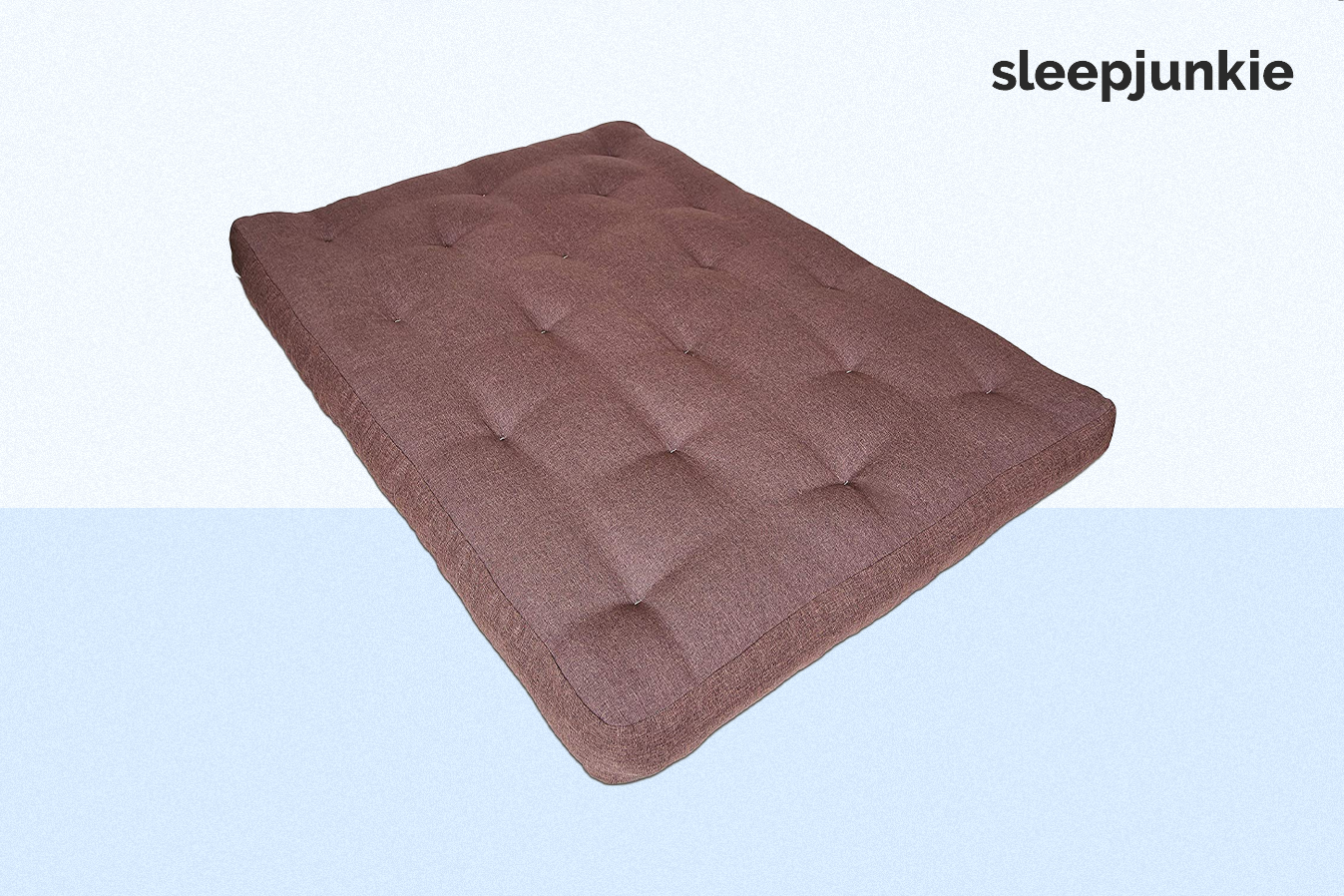 The Serta Cypress Double Sided Innerspring futon mattress stands at a plush thickness of 8-inches. Its construction contains 266 individually-wrapped Bonnel innerspring coils, CertiPUR-US® certified foam, three layers of Cottonique – a special cotton-poly mix for added durability and luxury – and a microfiber cover for breathability.
Other features that make the Serta Cypress stand out is its affordable price tag. It's also a good fit for any sized futon frame. Further, it offers medium back support to its sleepers. It's an excellent choice for a guest room, but may not be able to hold together if regularly used.
Serta Cypress Highlights
Affordable option
Features Cottonique
The D&D Futon Furniture Shikibuton may not be viewed as a traditional Japanese futon, but it does contain one out of three layers, which is the mattress. It's built with high-density, lightweight foam, and polyester fibers.
With its tri-fold set up, the D&D Futon Furniture Shikibuton is very portable. However, you can only sleep on it when stretched out. For the best comfort, it's better placed on carpet instead of hard flooring. Since it contains foam, it does have potential for off-gassing. Some customers found it to be too narrow and thin.
D&D Highlights
Lightweight mattress
Tri-fold design for better portability
The Classic Brands Classic futon is made of individually wrapped steel coils surrounded by polyester with a quilted microfiber topper. The cover is easy to clean by spot cleaning with a mild detergent. It stands at a thickness of 8-inches – an above-average height for a futon.
This bed fits any standard size futon frame. Additionally, the Classic Brands Classic futon bounces back to its original shape. It's only available in black or brown, at a medium firmness.
Classic Brands 8" Highlights
Quilted microfiber cover
Retains its shape
The EMOOR Japanese Traditional futon mattress follows after the traditional Japanese futon. It has a 3-inch thickness and contains polyester stuffing covered in hygroscopic cotton. The material is anti-ticked and anti-bacterial. Plus, it's deodorized, ensuring 2-3 years of no bad odors.
Just like the traditional style, the EMOOR Japanese Traditional futon is meant to be laid directly on the floor. It's made in Japan and reasonably priced. A few drawbacks to choosing this style, is that other than the floor, there is no extra support. Some customers felt it too firm, while others felt it was too thin for their tastes.
EMOOR Highlights
Traditional Japanese futon style
Deodorized material
The manufacturing process in constructing the Au Natural 8-inch All-Cotton futon is more personable. The cotton fiber batting is hand-stuffed for even distribution of material, and the edges are hand-wrapped to ensure edges have the same layers as the middle. It also produces straight, stable edges. The futon mattress is encased in a heavy, durable cotton-poly twill for protection and luxurious finish.
The Au Natural is an ideal choice for those who prefer a firm mattress. It has an above-average thickness of 8-inches with tufted layers to prevent shifting. A drawback to this futon is its non-removable cover. There have also been complaints of inner filling shifting after a few months of use.
Au Natural 8" Highlights
Hand-stuffed, hand-wrapped edges
Tufted layers to prevent shifting
As a tri-fold style, the Milliard Memory Foam futon simply folds for easy storage. It's meant to be placed on the floor, and doesn't need a frame. The ventilated foam is CertiPUR-US® certified. It also includes a base support layer of foam.
What stood out besides retaining its shape, was the removable jacquard ultra-soft bamboo cover with anti-slip bottom for added cooling. This futon mattress can be used indoors and outdoors. The Milliard Memory Foam is more ideal for guest use and runs the risk of retaining heat.
Milliard Tri-Fold Highlights
Includes removable bamboo cover with anti-slip bottom
Suitable for indoor and outdoor use
The Springaire 8-inch Loft bed is constructed with an outer layer of long-staple cotton batting, a layer of thermo-bonded polyester batting, 350, 13-gauge Bonnel coils, and covered with a heavy, durable polyester shell. Further, the edges are hand-wrapped to ensure even layering throughout the mattress.
The Springaire Loft is ideal for those who prefer medium to firm. It has the feel of a traditional mattress and sofa, with a full border box construction for an attractive look. Once removed from its packaging, it will need a few days to completely decompress. Some customers complain that it's not very comfortable, and when in sofa mode, it doesn't stay in place.
Springaire 8" Highlights
Hand-wrapped edges
Full border box construction
The Blazing Needles Renewal futon contains three layers of quality foam for both comfort and support. Surrounding these layers is a soft cotton batting, complete with a microsuede cover.
This futon bed is easy to flatten and fold. The Blazing Needles Renewal is comfortable as both a sofa and a bed. It's only available as a full size, but comes in a wide range of colors. There may also be a risk of off-gassing due to the foam layers.
Blazing Needles Highlights
All-foam futon mattress
Microsuede cover
As another bed that's more closely related to the traditional Japanese futon, the ColorfulMart Floor Futon is easily rolled up for convenient storage. It's made of three layers; a top layer of flannel, a microfiber filling, and a bottom layer of polyester.
Though very thin, the ColorfulMart Floor Futon is soft and comfortable. This type of futon is especially ideal for those with very limited space. It does take a few days to fully decompress before use.
ColorfulMart Highlights
Rolls up for easy storage
Ideal for indoor and outdoor use
At a 6-inch thickness, the Blazing Needles Vitality is an all-foam futon mattress. It's designed with polyfoam layers, cotton batting, and a poly-cotton twill fabric cover. It's both comfortable and supportive for any type of sleeper.
The Vitality futon bed can fit any full-size frame and is available in different colors. It's spot clean only, and may have potential off-gassing odor once removed from packaging.
Blazing Needles Highlights
Fits any full-size futon frame
All-foam futon mattress
The Artiva USA futon works well as a sofa, mattress, or guest bed. It stands at an 8-inch thickness and contains polyester fiber batting, cotton batting, polyfoam, innerspring coils, and a poly-cotton cover with tufting to prevent the layers from shifting.
Durable and comfortable, the Artiva USA can fit any standard full futon frame. It can lay flat or fold when not in use. Some customers stated that the springs punched upward after a few months of use.
Artiva USA Highlights
Durable and comfortable
Lay flat or fold for storage
What Does It Mean to Be A Futon Mattress?
A futon is the Japanese style of traditional bedding. It consists of three main parts – mattress, frame, and cover. The cost of a futon depends on how many layers are included on top of the material quality. Please note: a higher price tag may not result in better comfort.
There are two different styles of futons: Japanese/Traditional and American.
Japanese/Traditional
Traditional futons are a thin mattress, laid on the ground for sleep and folded to be put away. This style is largely preferred by Japan because the country's values of simplicity and minimalism. Further, the Japanese people believe sleeping on the floor brings health to the body and the spirit.
American
The American futon appears slightly thicker than the traditional futon. Made of foam, springs, cotton, or a combination of all three, American futons can be laid on the floor, on a foundation, or a frame. This style is more versatile and used as both a bed and a sofa.
Why Buy a Futon Mattress?
There could be a few reasons why you choose to buy a futon mattress. It could be you're a recent graduate moving into their first apartment. Maybe you're looking for a sofa that can double as a guest bed in a home office. Whatever the reason, here are the top reasons to buy a futon mattress.
Easy Storage
Futons can save a lot of space. During the day, they can act as a sofa or be put away. At night, it's easy to pull out and unfold for sleep. For those in studio apartments looking to save space, they are an excellent option.
Improved Health
As previously stated, futons allow a person to sleep on the floor. Experts claim it's healthier and more ideal for spinal alignment. Also, sleeping on the floor has been shown to reduce back pain and improve posture. Many find this sleep style improved chronic back pain like sciatica.
Interchangeability
Unlike a traditional mattress, futons are easy to personalize. Different covers are available in a wide array of styles and colors. Futon covers are easy to switch out, and have the added benefit of protecting the mattress from dirt and stains, helping it last longer. Futons can be an ideal option for college students or those in studio apartments, where switching out appearances won't come with a high price tag.
Better Comfort
Today with better technology, modern futon models offer more luxury and support with higher quality materials and overall structure. A great example is the use of memory foam for contouring, pressure relief.
Lower Price Tag
Compared to traditional mattresses, futons are less expensive options. They have the added benefit of offering better materials at a lower price compared to regular mattresses. No compromise on quality. This is mainly due to a smaller use of materials into a more compact mattress.
Versatility
The American futon has a dual purpose – it's both a sofa and a bed. It acts a comfortable place to sit and socialize during the day, and transforms into a convenient place to sleep at night.
Futons are also a better alternative to a sleeper sofa. Sleeper sofas tend to be heavy, ugly, and difficult to change appearance, while futons are lightweight and easily moved.
What to Consider in Buying a Futon Mattress
Before buying a futon mattress, keep in mind what features you want
A high-quality futon mattress will be comfortable and supportive, with breathable materials and a stylish design. Decide on a futon type: are you looking for a traditional Japanese floor futon, or are you leaning more towards the American sofa bed? No matter your decision, consider the following features before finalizing a purchase.
Purpose
Establish if a futon mattress will be used regularly or as a guest bed. For regular use, choose a futon with innerspring coils for support. For a guest bed, a foam and cotton futon offers sufficient comfort and durability. It's also lighter and easier to store than an innerspring futon.
Comfort
Luxury is an important feature. After all, if you do not have the most comfortable mattress, you're not going to sleep on it. When trying out a futon, pay attention to both support and comfort. Support will help encourage better posture, but without added comfort layers, the futon will feel useless.
A quality futon should be comfortable in bed and sofa form. You may not receive the same level of comfort that you would from a regular mattress, but some customers may prefer a futon over a mattress.
Thickness
Not all futons are little bits of cushion that serve as beds! Some futons can be as thick as 8 inches. That's almost as thick as a mattress. There are even futon mattress toppers if you want a thicker bed.
Mattress thickness depends on the futon type and its structure. Thickness and structure go hand in hand. For example, an 8-inch futon mattress is more comfortable than a 6-inch. An 8-inch futon is also good for a wooden frame.
Thickness can also depend on personal preference. Some individuals prefer a taller floor mattress, especially plus-sized sleepers, when they need a bed that can properly support their body without premature sagging.
Material
Futons contain a wide variety of materials with unique features. Depending on what you need, you could choose one futon over another. Ultimately, it comes down to personal preference. Some customers prefer the cradling sensation of foam, while others prefer to stick to the more traditional innerspring support.
Memory foam
A popular material found in a futon. One advantage of memory foam is that it regains its original shape after body weight is removed. Sometimes it can be too dense and tends to stay warm in humid and hot climates.
Frame
A bed frame adds extra support to the mattress. A futon frame can either add or take away the comfort of a futon mattress. However, it also adds a personal flair to a room.
Wood
As the most common frame, wood is solid, top quality, and lasts longer than other types of frames. They can include armrests and accessories like cup holders and magazine racks for extra convenience. However, you can expect to pay more for a wood frame because of its solid, durable structure and high demand.
Metal
Though less common than wood, metal frames are more reasonably priced and durable. They're more decorative than practical, and not as comfortable as wood frames. Metal frames are also less likely to come with more accessories. However, they're easier to move from place to place because of their easy setup.
Particle board/Wood Composite
As a cheap option, particle board frames are ideal if you're planning on using it no longer than five years, or you're on a very tight budget. It's not as durable or as sturdy as wood and metal, but still aesthetically pleasing. It'll include narrow armrests, but no extra accessories.
Size
Choose a size based on needs and working space. For example, a twin or full size is ideal for a single person, while a king or queen size is better for couples.
Fold Style
Futons can be stored in one of two ways – rolled up or folded. Most futons are folded before placed in storage. There are two types of folds: bi-fold and tri-fold.
Bi-fold is the most popular, straightforward design. Folds in two pieces, allowing for sitting and lying positions. Meanwhile, Tri-fold is less common, but allows for more expanded use. Folds in three pieces, allowing for sitting, lying, and reclining positions.
Choose the one that suits you best based on the frame.
Sleeping Positions
Choosing a futon can depend on your preferred sleep position. Some materials are better suited towards specific sleeping positions. For example, a person who sleeps on their side may prefer a memory foam mattress over an innerspring.
Side Sleep Position
Side sleeping is the most common and the second healthiest sleep position. It provides better breathing and healthy spine alignment. There's also less risk of snoring or developing sleep apnea. However, if you suffer from shoulder pain, we recommend switching to the back sleep position.
Back Sleep Position
Back sleeping is ideal in aligning the spine. Also, there's less risk in developing facial wrinkles because the face isn't touching the pillow. But, there is a significant risk in developing sleep apnea from tongue obstruction and the collapse of soft tissue at the back of the throat. To avoid this, switch to the side sleep position.
Stomach Sleep Position
Stomach sleeping poses the highest health risk. Twisting the head to the side can result in neck pain while lying on the stomach can put pressure on the lower back. Stomach sleepers can reduce this pressure by placing a thin pillow under the hips. We also recommend changing to the side sleeping position.
Combo Sleep Position
If you change sleep positions frequently during the night, you're a combination sleeper. Those who are combination sleepers receive health benefits from each sleep position, but also face the health risks of each as well. Mattresses for combination sleepers should offer a buoyant surface for easy movement.
Types of Futon Mattresses
Like with a regular bed, there are different types of futons. Each type offers customers their own level of comfort and support. Personal preference plays a key role in which type of futon you decide to purchase.
Memory Foam
A memory foam futon is a popular option because it's viewed by many as the most comfortable type. A foam mattress supports the body for any sleep position, providing all-over support, unlike an innerspring futon. It lasts longer than other futon types, but it gets expensive, especially if not regularly used. Keep on the lookout for quality foam material to avoid risk of premature sagging.
Innerspring
Coils are the old standard, traditional mattresses that many grew up with. Innerspring mattresses are made of metal coils combined with high-density polyfoam and covered with a quilted layer. They come at a reasonable price, but not as low as other futon types. Coils can be heavy and difficult to fold, making it tricky to transition to sofa form.
Cotton
Cotton futons are the most budget-friendly. They're easy to fold up and store because they're lightweight. This type of futon closely resembles the Japanese futon laid on the ground. A cotton futon mattress is not as solid as a foam or innerspring futon or offer the same quality and support. They tend to wear down quicker compared to other futon types.
Wool
Wool futons are rare. They are more ideal for individuals who live in a colder climate. Wool futons are very soft and tend to be warmer than cotton. This is because of its natural heat retention and moisture-wicking properties.
Cotton & Foam
Futons made with a combination of cotton and foam last longer compared to other mattress types. Manufacturers layer these two materials in different ways for better support and comfort to the sleeper. Cotton and foam futons are thinner than other mattress types, making them convenient for sitting and occasional sleeping. An ideal choice as a guest bed.
Common Questions
What mattress size is a futon?
Traditionally, a futon mattress is a full size bed. You can find other options, such as twin, queen, and king size futons. Make sure to double-check a mattress's dimensions to be certain it's the right one for you.
Are futon mattresses good to sleep on?
A futon mattress can provide a good night's rest. It's usually an easier-to-use alternative to a sleeper sofa, or you could follow the Japanese method and lay your futon mattress on the floor. However, futon mattresses aren't for everyone, particularly those who have trouble moving around. If you have a chronic condition that restricts movement, you might want to invest in a traditional frame to make getting in and out of bed easier.
Can you wash a futon mattress?
A futon mattress isn't any more machine washable than a traditional bed. However, you can clean your mattress and should rotate it regularly to even out wear.
To get rid of any surface stains on your futon, use a cloth dampened with warm water and a mild laundry detergent. Try not to get your bed any more wet than needed, since that can encourage mildew to grow. You can prevent smells by sprinkling baking soda on your futon, leaving it alone for a few hours, then vacuuming the baking soda up once you're done.
Can I put a memory foam mattress on a futon?
There are futon mattresses that contain memory foam for a good night's rest. Memory foam beds are a popular choice because they provide comfortable, full-body support. A memory foam mattress can cost more than other types of futon mattresses, but they also tend to last longer than other kinds.
How do you get mold out of a futon mattress?
If the mold is just on the surface, you can try dabbing the bed with a sponge soaked in white vinegar and water. Then dab the affected area with just water and leave the mattress out in the sun to dry.
However, if the mold is growing inside the mattress, there's no way to get rid of it without tearing apart the mattress. We suggest that even if you think the mold is only on the surface, it's better to err on the side of caution and buy a new mattress. Exposure to mold can trigger sneezing, watery or itchy eyes, a runny nose, and more.
Have You Found Your Futon?
Futon mattresses are a great option for those looking to save space, a budget-friendly mattress, or a stylish guest bed. They've come a long way since they first appeared in the United States in 1982. Since then, they've grown in production and advanced in luxury and convenience.
Futons offer what regular mattresses can't – versatility and mobility. They can either be rolled up and stored, or transformed into a living room sofa during the day. If you found this guide for finding the best futon mattress helpful, we also suggest that you check out our article on the best mattress size for you – it'll help you determine a good mattress size for your living space.