Best Pillows of 2021: Reviews and Buyer's Guide
Updated on: April 21, 2021

Bedding Guides
Like mattresses, pillows are not a one-size-fits-all sleep accessory. There are a variety of shapes and sizes to choose from, but to find the right one for you, you must first understand what exactly you need in a new pillow. Reflecting on your personal preferences and sleep style, in addition to doing a bit of research, can steer you towards the most comfortable option for yourself.
In this guide, we'll be discussing which pillows are best for each sleeping style, the different fills you can choose, our Editors' recommended pillows you can buy today, and more.
30 Second Summary: Best Pillows of 2021
Amerisleep's Comfort Classic — The Amerisleep Comfort Classic is our Editors' Choice as the best pillow of 2021 because it's eco-friendly, designed with enhanced cooling channels to prevent you from getting too hot, and has a loft perfect for side and back sleepers.
Zoma's Pillow — The Zoma Pillow is made with customizable MicroCushion™ foam technology, allowing you to find your ideal size and comfort. The Zoma Pillow comes with free shipping and a 10-year warranty.
Best Pillows of 2021
There are hundreds, if not thousands, of different pillows sold today. A simple search on Google will bring pages and pages of products to browse. To narrow down your selection, we'll be breaking down nine of our favorite pillows on the market right now.
Amerisleep's Comfort Classic is the best pillow you can buy. A memory foam option, the Comfort Classic is excellent at alleviating aches and pains in your neck. Amerisleep conveniently designs their products for types of sleepers and they state on their website who they're meant for; their Comfort Classic pillow has a 6-inch loft and is catered towards back and side sleepers, specifically.
While most pillows are either hard and heavy or soft as a cloud, Amerisleep designs theirs to be a perfect mix of comfort and neck support. When you lay on the Comfort Classic, it'll cushion and mold to your neck to alleviate pressure points and pain while still being supportive enough to hold your head in line with the rest of your body.
In this product, Amerisleep uses its proprietary Bio-Pur® foam, plant-based memory foam. Their foams are certified eco-friendly by CertiPUR-US®, meaning they're free from ozone depleters, PBDE flame retardants, formaldehyde, mercury, lead, harsh chemicals, and low in VOCs. Because they use plant-based foam, their Comfort Classic is five times more breathable than other solid memory foam pillows.
To reinforce their pillows' breathability, Amerisleep also includes cooling channels in their design that allows hot air to escape out and away from you while you sleep. The combination of their advanced open cell structure and cooling channels helps keep you cool all night long.
If you're wanting to shop "green" or are sensitive to chemicals, the Comfort Classic is a good selection for you. Plus, the cover is easily unzipped and machine washable.
A Queen Comfort Classic costs $90 and can be bought on Amerisleep's website or in one of their select showroom locations across the nation.
AMERISLEEP COMFORT CLASSIC
Memory foam ventilated for more breathability
CertiPUR-US® certified foam fill
Balance between support and comfort
2. Best Cooling Pillow: Zoma Pillow
For a pillow to be successful, it should not sleep hot (if you sleep hot, you'll usually wake up and turn your pillow over), it should not be so thick (or so thin) that it creates discomfort in your neck and spine and it needs to be comfortable. The Zoma Pillow does all of this and more.
First, the Zoma Pillow is customizable. We don't mean you need to worry about taking out shreds of foam and changing the shape of your pillow. We mean the pillow material – made of a material called MicroCushions™ – can be molded and adapted to your needs.
If you want a thicker pillow (usually a sign you're on your side) just fluff the pillow up to your desired loft. If you want a thinner pillow (for back and stomach sleepers), you can massage the pillow down and create a comfortable contouring spot for your head.
Second, the Zoma Pillow is breathable thanks to its mesh polyester and spandex cover. This helps keep you from sleeping hot throughout the night.
Finally, the ability to customize this pillow, to move and shift its foam to your desired shape makes the Zoma Pillow truly comfortable. This pillow is available on Zoma's website, comes with free shipping, and a 10-year warranty.
ZOMA PILLOW
Flatten and fluff the pillow as you please
Elastic, breathable pillow cover
Cooling fill of shredded foam to maximize airflow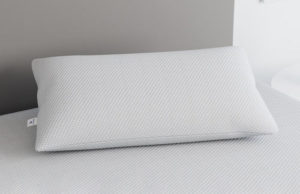 The Amerisleep Flex Pillow has a unique foam filling that allows sleepers to adjust the pillow to their preferred shape and size. The MicroFlex cushions inside the pillow are made with a propriety foam and polyester blend to make them soft and malleable. When you rest on the Flex Pillow, it will immediately foam to the shape of your head and neck. The conformity of this material will make it feel as if you are sleeping on a custom made pillow.
The open space between the flex cushions creates more airflow, so body heat doesn't become trapped in the pillow and lead to overheating. The cove features ventilated air channels to provide further protection against heat build-up. This cover is removable and washable so you can keep your pillow clean and germ-free.
As with all Amerisleep pillows, the Flex Pillow comes with a 10-year warranty to ensure you're happy with the comfort and support it provides.
AMERISLEEP FLEX PILLOW
Affordable, breathable pillow design
Air circulates throughout the pillow, limiting heat build-up
Mini cushions can be fluffed up to suit different styles
4. Best Budget Pillow: Vaya Pillow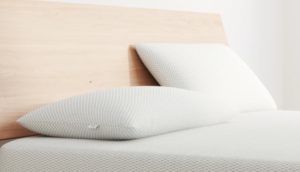 The Vaya Pillow is an affordable, hypoallergenic foam pillow with a soft, plush feel. The close contouring and responsiveness of this pillow are perfect for most sleep positions. It also has a 6-inch, mid-level loft that works well for most body types.
The filling in the Vaya is made with their proprietary foam that has more breathability than most foam pillows, thanks to its open cell structure. This material is also conforming and molds to the head and neck to relieve tension and pressure.
The cover of the Vaya is made with a stretch-knit fabric that moves with you as you change positions throughout the night. This material also features air channels to prevent heat retention and night sweats.
The best thing about the Vaya Pillow is its affordability. The queen-size pillow is $60, while the king-size is $85. This includes their 10-year warranty.
VAYA PILLOW
Additional discount on purchase of two pillows
Breathable cover and conforming foam fill
A pillow is bundled with every mattress purchase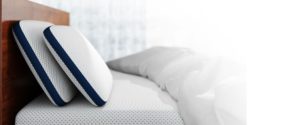 The Amerisleep Dual Comfort Pillow gives sleepers more control over the firmness of their pillow. With two different comfort levels on each side of the pillow, sleepers can choose the softer, plush side or the firmer, stable side. For side sleepers, we recommend the firm side, as this material will keep the head lifted and prevent spinal misalignment. For those who prefer to sleep on their back, we recommend the soft side since this firmness offers more compression and contouring to the head and neck.
The Dual Comfort Pillow has a removable and washable cover made with a lightweight and breathable fabric. Both sides of the pillow are embedded with open-air channels that allow warm air to dissipate quickly, so your face and neck always stay cool and dry.
When purchasing the Dual Comfort Pillow, you can choose between two different lofts, a 5-inch loft and a 6-inch loft. It is also available in two sizes, a queen and king size.
AMERISLEEP DUAL COMFORT PILLOW
Choice of loft for different sleeping style
Firm side supports side sleeper's neck and head
Soft side cradle a back sleeper's head and neck

The Coop Home Goods Premium Adjustable Memory Foam Pillow is the number-one best-selling pillow on Amazon, so it was an easy addition to our list. Featuring shredded memory foam, this option's adjustability makes it more flexible than other memory foam counterparts.
The memory foam in this pillow allows your head to sink in as it contours to your neck. People love this product because it's adjustable, so you're able to add or remove foam until you've found your preferred comfort level. Because the filling can be adjusted, the loft can be customized too, so this pillow can work for side, back, and stomach sleepers alike.
The Coop Home Goods Pillow is hypoallergenic, dust mite resistant, CertiPUR-US® certified, and comes with a washable cover. You can buy it in Queen-size on Amazon for $59.99.
COOP HOMEGOODS PREMIUM ADJUSTABLE LOFT SHREDDED FOAM
CertiPUR-US® certified pillow fill for cleaner sleep
Shredded foam can be adjusted to fit the head and neck
Customizable loft for all sleeping styles
7. Best Innovative Pillow: Leesa Hybrid

The term hybrid refers to the combination of different materials to create one product. For example, hybrid beds usually contain both foam layers and an innerspring coil system; and a hybrid pillow contains more than one type of filling. Leesa combines the benefits of both gel-foam and a down alternative filling, called polyester microfibers, in their innovative, alternative pillow.
Let's take a look at the construction of this pillow, as it's a bit different than the ones we've discussed already.
The cover is quilted with polyester microfibers, a material designed to feel similar to down feathers in regards to comfort and coziness. The down-alternative side is quite thick, so it's not the best for stomach sleepers.
The other side of the pillow is flat and contains a layer of gel-infused poly-foam. Because this side is flat, it has a lower profile and a more even loft, which could be comfortable for back and stomach sleepers. When you sleep on this side, the foam will contour to your neck and the cooling gel included will keep you cool. The poly-microfiber side will feel more plush and cloud-like than contouring.
Within this pillow is another smaller pillow. The Leesa Hybrid has a zipper on the side of it that allows you to remove the smaller insert inside if you like. This design only reinforces this product's cushioning feel; however, it can contribute to the height, too, so removing it could create a more comfortable thickness.
We like this pillow because it's quite customizable. You can sleep on the gel-foam side with the insert, or without it, and you can try the down-like side with and without the insert, too. Our only hesitation with it is its thickness; because it's on the taller side, it could be uncomfortable for back and stomach sleepers. However, with the right customization, it could be a fit for any type of sleeper— it's just up to the consumer to customize it properly to get the best sleep.
A Queen Leesa Hybrid pillow runs for $125 and can be bought on Leesa's website. It also comes with a 3-year warranty, as a bonus.
LEESA HYBRID PILLOW
Removable inserts for customizable loft
Contouring, cool foam side with chilling fibers
Quilted, pocket side resists flattening

Next up on our list is the eco-friendly Zen Chi Buckwheat Hull pillow, featuring 100% organically grown buckwheat and organic cotton. For people who tend to sleep hot, this pillow is a dream come true. The buckwheat hull fill of this bed allows for optimal breathability, ensuring heat won't be trapped within.
The Zen Chi is also adjustable, as you can remove as many of the buckwheat hulls as you want to make the pillow your desired firmness. Ultimately, that means this product can be an option for you regardless of your sleeping position. If you're wondering how a buckwheat fill would feel, it's similar to that of a beanbag— the fill can be easily shifted to be more supportive or softer, depending on what you prefer, and it molds to your neck because the buckwheats are small enough to adapt to your body's movements.
Unfortunately, like a beanbag, the filling inside can be quite noisy when you pick your pillow up to fluff it or flip it over to the "cool side."
You can purchase Zen Chi's pillow on Amazon for $69.95; however, Amazon frequently discounts this product, and prices have been as low as $39.95.
ZEN CHI BUCKWHEAT HULL PILLOW
Add or remove hulls to change pillow loft
Natural buckwheat hulls and organic cotton
Hulls can rustle, and may even rattle as you move the pillow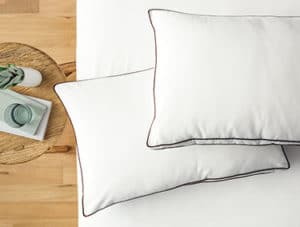 The next contender on our list is made by the well-known Saatva brand. Known for their high-end mattresses, it's safe to assume their bedding and sleep accessories do not fall short of luxurious. Saatva designs their pillow to have a medium-firm feel, so it's excellent for back sleepers, and because it has a higher loft, is also suitable for side sleepers.
Let's talk about what's inside this pillow. Similar to the Leesa, Saatva uses two different types of fill, 100% natural Talalay latex and down-like micro-denier fiberfill. The cover is 100% cotton; it feels soft on your skin but is also moisture-wicking and breathable, keeping your temperature regulated.
As you can expect, a luxurious product comes with a hefty price tag, but many customer reviews of this bed mention its been a worthy investment in their sleep; a Queen Saatva pillow will run you $145. A perk to buying with this brand is they do offer a 45-day trial period, so you have the opportunity to try it out and decide if you like it before committing to it.
SAATVA PILLOW
Pure cotton cover ensures a cool and dry surface
Talalay latex and down alternative microfiber fill
More than a month to try out the pillow
Many sleepers are drawn to the luxurious appeal of down pillows, and Parachute offers one of the highest quality down pillows. The pillows are filled with numerous clumps of European down that promote breathability while providing nightly comfort. While the materials are imported, Parachute assembles the pillow in the USA.
Shoppers can choose from a soft, medium, or firm feel. Parachute characterizes the soft pillow as "supremely soft with sunken plushness" and recommends it for stomach sleepers. Meanwhile, the medium pillow is recommended for back sleepers and the dense, supportive firm pillow is recommended for side sleepers.
The pillow's cover is 100 percent sateen cotton fabric with a double stitched piping seam. You can wash it in cool water on a washer's delicate setting.
The Parachute Down Pillow comes in standard and king sizes. The exact price of the pillow depends on your size and chosen firmness, ranging from $89 to $169. The pillow is also backed by a 3-year limited warranty.
Parachute Down Pillow
Choice of soft, medium, or firm feel
European down fill inside a cotton shell
Limited three-year warranty
Pillows by Sleep Styles
When it comes time to choose your next pillow, there are many factors to take into consideration, such as firmness, pressure relief, fill, responsiveness, loft, personal preference, and your budget. The loft refers to how thick it is— a high loft means a thicker pillow while something with a lower loft is thinner. The thickness of your pillow is important because it determines whether or not your spine is going to be in healthy alignment or contorted unnaturally. How you sleep will directly impact how tall your pillow should be.
Let's talk about the right pillow for type of sleeper:
Back Sleepers: Back sleeping is quite uncommon, and usually back sleepers find themselves sleeping in other positions, too. Because back sleepers sometimes toss and turn, they're best suited for a pillow that's a happy medium in regards to both loft and firmness. When back sleepers lay flat on their back, they want their neck to align with their shoulders, reinforcing the natural curvature of the spine. The most important thing when choosing a pillow for a back sleeper is making sure it's not too thick or too thin.
Side Sleepers: A recent survey conducted by WebMD showed that nearly 70% of people would categorize themselves as a side sleeper; with only 16% of people identifying as a stomach sleeper and 14% as back sleepers. Side sleepers require a firm pillow with a higher loft to keep their neck healthily in line with the rest of their body. Sleep specialists suggest the perfect loft for side sleeping is 4-6 inches. Contoured pillows are often recommended for side sleepers because they have two edges that allow you to pick which side fits your neck most comfortably. Side sleepers should avoid softer pillows because they prevent your neck from sinking down and resting at an uncomfortable angle.
Stomach Sleepers: It's crucial for stomach sleepers to find a low loft, soft pillow to prevent their neck from craning upwards when they sleep. Sleeping on your stomach isn't the best for your spine, because when you sleep on your stomach, you have to turn your head to the side to breathe, twisting your neck. The last thing you want is to have a pillow that's too tall, causing your neck to be both twisted sideways and tilted upwards. Finding a relatively flat pillow will allow your head to rest comfortably in line with the rest of your spine, reducing the chance of experiencing neck pain as a stomach sleeper.
Types of Pillows
When you think of a pillow, usually a fluffy, cloud-like rectangular shape comes to mind. However, these items are now sold in all shapes and sizes. From small travel pillows to lengthy body pillows, there's a variety to consider.
Standard
A standard size pillow is what you would imagine an everyday pillow looking like; they're the most commonly found in bedrooms and fit well in both standard and Queen sized pillowcases.
Bolster
Bolster pillows are a half-circle, meaning one side is flat and the other is rounded. These are most often used to combat pain; you can place a bolster pillow under your knees when you sleep on your back or side, and it'll boost circulation and relieve pressure. You can also set a bolster pillow in between your knees to alleviate back, leg, knee, ankle, hip, and joint pain, as a cushion between your knees reinforces natural spinal alignment.
Wedge

A wedge pillow resembles the shape of a block of cheese. When you lay down on one of these, it'll slightly elevate your shoulders, neck, and head, allowing you to snooze more upright. These are also convenient for in-bed reading or watching TV, as it lifts your head without the use of an adjustable base. If you're somebody who experiences chronic lower back pain, you can also place a wedge pillow below your knees to ease pressure on your tailbone.
European
European pillows are square in shape, instead of rectangular. For the most part, European pillows are used as decoration and not actually utilized for sleep. These are excellent to use to prop yourself up in bed for reading or watching TV, as they can be thrown behind your pillow for sleep to offer an extra cushion.
Lumbar
Lumbar pillows are similar to standard pillows with their rectangular shape; however, their differences lie in their height. A lumbar pillow is only about as tall as the small of your back, so it can fit snugly between your spine and the mattress without causing discomfort. If your mattress does not mold to your spine, it can cause a gap between your lower back and the bed, causing chronic back pain over time. Sliding a lumbar pillow underneath your lower back closes that gap and eliminates discomfort.
Contoured

Contoured pillows are considered to be orthopedic because they support the muscles in your neck and allow your neck to rest naturally without pressure or strain. These pillows are characterized by two slopes, one higher than the other. The two-slope design allows you to choose which side fits most comfortably under your neck. In the center, between the two slopes, there is a shallow plateau where your head lies. As we mentioned, contoured pillows are always a good idea for side sleepers and back sleepers to relieve neck pain, but should be avoided entirely by stomach sleepers. Because stomach sleepers require something with a lower loft, the slopes of this design could lead to knots in your neck if you use it while sleeping on your stomach.
Neck
Neck pillows fit snugly around your neck, supporting your neck muscles and keeping your head in a natural position. The standard "U" shaped neck pillow is most often used by people traveling for long hours who want to get some sleep; however, they can be used every day to help alleviate chronic neck pains.
Body
As the name suggests, body pillows are about the same size as your body. These long, slim pillows are great for both decoration and pain relief. It's recommended that side sleepers with joint or hip pain sleep with a body pillow between their knees and legs to reduce pressure points and promote a healthy spine.
Pregnancy

Pregnancy pillows are similar to body pillows regarding their ability to relieve pain and discomfort. These resemble an upside-down letter "U" and are almost double the size of a body pillow, as this wraps around your entire body. To properly use a pregnancy pillow, Sleep Specialists recommend you place it between your knees and rest your stomach atop of it. Your head will rest within the curve of the "U," while your back is cushioned with the other side. Pregnancy pillows help women find a comfortable sleep position and prevent tossing and turning, promoting undisturbed sleep.
Pillow Sizes
In this section, we'll break down the dimensions of the most common pillow sizes used for sleeping.
Standard: 20" x 26"
Super Standard: 20" x 28"
Queen Size: 20" x 30"
King Size: 20" x 36"
Body: 54" x 20" or 48" x 20"
Toddler or Crib-Sized: 14" x 20"
European: 26" x 26", 24" x 24", 22" x 22", 20" x 20", 18" x 18", or 16" x 16"
Standard, Super Standard, and Queen sizes fit on most mattresses, up to a Queen. King beds require a wider pillow to cover the entire surface of the mattress. European pillows can be used on your bed or in other rooms of the house as decoration.
Pillow Fills
After deciding on the shape and size of your next pillow, it's time to look at their different fills and choose which material best aligns with your sleep needs.
Memory Foam
First invented by NASA to use as seat cushions, memory foam is known for its ability to mold to your body's shape and relieve pressure. For those with neck pain, cushioning but pressure-relieving memory foam could be your key to a better, more comfortable night's sleep. You can usually find the best memory foam pillows carried in a variety of thicknesses, so they're an option regardless of your sleeping position.
Plus, if you're looking for cooling pillows, gel memory foam is perfect for easing pressure and keeping your temperature regulated and comfortable. Gel memory foam is different than traditional memory foam because it's infused with cooling gels for temperature regulation and additional support.
Shredded Memory Foam
These differ from traditional memory foam pillows because instead of containing one solid block of memory foam, the memory foam is shredded up– as the name suggests. Some people prefer shredded memory foam over standard memory foam because this option is more malleable— the shreds of memory foam can be moved around, you can adjust the foam inside to feel softer or firmer where you want more support or more comfort.
Down
Down, or goose down, is one of the most popular fillings and is known for its plushness. Down feathers are plucked from the underbellies of waterfowl, mostly geese, and differ from their other feathers because they're lighter, fluffier, and free from quills. You can buy feather pillows, too, but down pillows are known to hold their loft and resist sags for much longer. Because these pillows can be quite soft, they may not always be the best option for side sleepers.
Down Alternative
If you want all the comfort and plushness of a down pillow without the price tag, choose down alternative— otherwise known as, synthetic polyester microfibers. This material is soft and almost silky feeling, and offer plenty of benefits to you, the sleeper. Unlike down or feather filling, down alternative is always hypoallergenic and usually more breathable than their counterparts. Plus, they're usually a fraction of the cost.
Feather
Feather pillows feel a little firmer than down and are made with the feathers of waterfowl, too. A feather pillow is another budget-friendly alternative to a down pillow; they're light and fluffy, but don't usually hold their shape as long. Additionally, the quills on these feathers can poke through the cover, causing discomfort.
Polyester Fiberfill
Polyester Fiberfill, or Poly-Fil, is one of the most inexpensive fillings you can buy. These pillows are soft, lightweight, and moldable, but often develop lumps. You can find numerous Poly-Fil options at most Walmarts, Targets, and other big brand name stores' bedding sections because they're one of the most affordable options. Not that Poly-Fil is necessarily unhealthy, but the harsh chemicals used to make this material pose more risks to your health than say feather or wool. When buying a pillow for a small child, we recommend investing in something all-natural.
Latex
All-natural latex and synthetic latex are becoming popular filling options for pillows. You can find latex in a solid foam, or shredded, similar to how memory foam filling can differ. Latex is cushioning but more responsive than memory foam, so it offers a more lifting feeling rather than cradling. The production of synthetic latex requires various harsh chemicals, so as always, we recommend choosing a 100% natural latex pillow. Latex is a bit more expensive than memory foam, but it's also a more durable material, so it's less likely to sag with use.
Buckwheat Hulls
Buckwheat is a seed. When you break a buckwheat shell open and remove the seed inside, you're left with the outer shell, otherwise known as the buckwheat hull. This organic material is similar to memory foam in the regard that it's excellent at molding and contouring to your body's curves. When you lay on a pillow with Buckwheat hull filling, it should cradle your neck and head. These pillows are quite malleable, so you can easily fluff them up to feel softer or firmer in certain places. Unlike memory foam, buckwheat hulls are all natural and breathable, reducing the chance of heat retention. The only downfall to using this material is that it can be noisy as you change positions during the night.
Microbead
Microbeads are a synthetic alternative to buckwheat hulls. They're comfortable, breathable, contouring, and moldable; however, because several chemicals are needed to make this material, they often have an unpleasant stench. Microbeads don't have the lifespan of buckwheat hulls, either, and usually, flatten out rather quickly. If you're shopping on a budget and not looking to buy a long-lasting pillow, a microbead option will likely meet your needs but is not the best option when investing in better sleep.
Kapok
Kapok is another all-natural, popular filling. The Kapok tree, found in Mexico, produces hard pods and inside, lies fluffy fibers that feel similar to cotton— but softer. The fibers inside of these pods are often referred to as Silk Cotton or Java Cotton. Harvesting and breaking open Kapok pods is the only way to source this filling. Kapok is a cruelty-free, all-natural alternative to using down or other feathers in a pillow, but offers a very similar sleep experience. Additionally, these pillows are free from harmful chemicals used to make different fillings such as Poly-Fil or Microbeads.
Wool
Wool, sourced from sheep, has been used as a filling for pillows, mattresses, blankets, and other sleep accessories for thousands of years. In fact, some of the first mattresses contained segments of wool to create cushioning comfort. Wool is an all-natural material free from harsh chemicals but can clump up after a while, creating inconsistent support.
Cotton
Cotton is similar to wool in the aspect that it's all-natural, free from harsh chemicals, but can clump up with use. Cotton is a traditional textile that has been used in bedding for years; the advantages to using this material include breathability and no off-gassing. However, these pillows aren't always long-lasting because of their tendency to lose their loft and flatten out.
Water
Like a mini water bed, a water pillow is filled with, you guessed it, water. These are incredibly customizable because you can add as much water as you want until you find what's most comfortable for you. When you sleep with a water pillow, it should cushion your head and neck and alleviate tension in those muscles.
Combating Discomfort with a Good Pillow
Whether you suffer from a sleep disorder such as sleep apnea or you're plagued with aches and pains in the morning, you can find a high-quality pillow to help eliminate your discomfort. Below, we'll break down different medical conditions and how their symptoms can be alleviated with the proper pillow.
Sleep Apnea
Sleep apnea is a sleep disorder where your breathing repeatedly stops and restarts during the night. There are three different types of sleep apnea: obstructive, central, and complex. Obstructive sleep apnea, or OSA, is the most common form of sleep apnea and occurs when your throat muscles relax and block your airway. Central sleep apnea, or CSA, is when your brain fails to transmit signals to the proper muscles allowing you to breathe. Complex sleep apnea is a mix of both obstructive and central sleep apnea. OSA can be helped with a pillow that elevates your head and prevents your airways from closing; for example, a wedge pillow. If your sleep apnea is severe enough and you're required to use a CPAP machine to keep your airways open, they also make pillows designed to help keep your CPAP facemask on all night without discomfort.
Neck Pain
If you suffer from chronic neck pain, it's crucial to find a pillow that will relieve pressure; look for the best memory foam or latex option.
Headaches
If you frequently experience headaches, it could be caused by the misalignment of your neck as a result of sleeping in an incorrect or unhealthy position. Buying a pillow that will promote the proper alignment of your spine can release tension in your spine and neck, reducing headaches and migraines.
Allergies
Allergies affect many people, and your pillow could be contributing to allergic reactions. Some materials, such as latex, people are directly allergic to; while other fillings, such as feather, can collect dust mites over time, causing an allergic reaction. Finding a hypoallergenic pillow is the best way to ensure your allergies won't be bothering you when you sleep.
Snoring
Though mostly a nuisance, snoring is an actual condition where your breathing is impeded when you sleep. Blocked nasal and air passages create a loud snoring sound, that can cause disturbed sleep when you share a bed with a partner. To eliminate snoring, find a pillow that'll prop your shoulders, neck, and head up to open your airways. Many adjustable beds have a "Snore" feature that elevates your head to a certain angle to open the airways; but if you do not want to invest in a whole new bed frame, you can find a simple solution by modifying your pillow.
Pair the Right Pillow with the Right Mattress
Reading about pillow lofts and fills has probably got you thinking: am I using the right mattress?
A pillow should support you, keeping your spine properly aligned, while not making you hot or uncomfortable. The best mattresses do the same.
You can use the knowledge you learned above to help you evaluate your bed. If you need a pillow with a thicker loft, that probably means you should look for the best mattress for side sleepers.
Frequently Asked Questions
What's the best pillow for side sleepers?
Side sleepers need a thick pillow because they have the widest gap between their neck and the mattress. We recommend pillows up to 6 inches thick for side sleepers. Side sleepers may also prefer a pillow with firm feel since it minimizes sinkage.
What's the best pillow for sleepers with shoulder pain?
Shoulder pain can occur when the neck is misaligned, so it's crucial to find a pillow that leaves no gap between the neck and pillow surface. Some sleepers may even want to choose a contoured pillow for maximum neck support.
If you can, we recommend keeping your shoulders off your pillow. The point of a pillow is to support your head and neck, and placing your shoulders on the pillow can decrease the amount of support your neck receives. You may find yourself waking up with a sore neck and stiff shoulders, in other words.
What's the best pillow for sleepers with neck pain?
If a sleeper is waking up with neck pain, they might want to check if their pillow loft is suitable for their sleeping style. Side sleepers need a thick pillow, while back sleepers do better with a mid-loft pillow. Stomach sleepers require a thin pillow so their necks aren't lifted out of alignment.
Pillows with an adjustable fill are an excellent way to prevent neck pain, because they can be fluffed up or flattened to suit different sleeping styles.
What's the best pillow for sleepers with back pain?
A head pillow with the proper loft for your sleeping position minimizes the chances of upper back pain. Certain sleepers may also want to have a supplementary pillow to prevent misalignment. For example, side sleepers may want to slip a pillow between their knees to keep their hips aligned, while stomach sleepers can slide a pillow under their abdomen to minimize sinkage.
What's the best pillow for back sleepers?
Back sleepers need a mid-loft pillow that maintains the neutral spine alignment. A soft surface conforms to the head and neck, cradling both and relieving pressure. Some back sleepers may want to sleep with a wedge pillow propping their knees up to reduce pressure on the lower back.
Did You Find Your Next Pillow?
Choosing the perfect pillow comes down to a science. Understanding what you need from a pillow and how they are constructed can help you pinpoint exactly what options are right for you. We hope our guide has helped simplify the pillow-picking process. Always remember to use customer reviews to your advantage, and when shopping online, look for sales to make sure you're getting the best product for your money.