Best Mattress for Hip Pain
Dr. Jennifer Miller, PT, DPT: Expert Physical Therapist and Pelvic Health Specialist
Dr. Jennifer Miller, PT, DPT: Expert Physical Therapist and Pelvic Health Specialist
Dr. Jennifer Miller is a compassionate and skilled outpatient physical therapist with nine years of experience in the field. She earned her Doctor of Physical Therapy from Elon University and holds a Bachelor of Science in Health Science from Minnesota State University-Mankato. Dr. Miller specializes in Neurological, Geriatric, and Vestibular Physical Therapy and serves as […]
Updated November 22, 2023

Mattress Guides
Is hip pain keeping you up at night and leaving you feeling tired and groggy during the day? If so, you're not alone. If your pain feels worse when you roll out of bed in the morning, your mattress could be causing or contributing to the pain you're experiencing.
Because it can be overwhelming to sort through all the available information and find the right mattress for your body and sleeping style, we've summarized everything you need to know to make an informed decision on which mattress is best for hip pain. If you don't have time for this whole rundown, check out our recommended mattress choice below.
Best Mattresses for Hip Pain: 30 Second Summary
Amerisleep AS3 — The design of the Amerisleep AS3 integrates pressure-relieving technology and plant-based memory foam to offer an even mix of soft comfort and support. For those with hip pain, this bed should allow your hip joint to sink in enough to relieve any pressure buildup while Amerisleep's HIVE® technology promotes your spine's natural alignment.
Zoma Mattress — The Zoma mattress offers 2 inches of pressure-relieving, gel-infused memory foam with an extra supportive midsection to help reduce tossing and turning and pressure points. Plus, it also comes with free shipping, a 100-night trial, and a 10-year warranty.
Best Mattresses for Hip Pain
Joints throughout the body, specifically the hip sockets, are affected by the type of support your body receives when lying in bed. Traditionally, people believed the most supportive mattress was a firmer mattress. Recently, sleep scientists have realized a "one size fits all" approach doesn't necessarily apply to mattresses.
Not long ago, mattress shoppers had limited options when searching for a mattress to alleviate hip pain. Thanks to new mattress technologies and designs, there are a variety of mattress types and models out there that could very well be the most comfortable mattress for you.
The editors at Sleep Junkie recommend those who frequently experience hip pain choose a memory foam mattress because the softer foam should contour to your body while providing the support your body requires to reduce pain.
Sleep Junkie recommends the affordable AS3 by Amerisleep as the best mattress for hip pain. Amerisleep's AS3 memory foam mattress is already one of our top-rated beds in our mattress review guide due to its design, materials, and technology.
Bio-Pur® plant-based memory foam is the top layer on the AS3 mattress; this proprietary memory foam is designed to be soft to the touch and more breathable than other foams.
What's more, the AS3 is also designed with HIVE® Technology (Harnessing Intelligent Ventilation & Energy). Think of this like a beehive, where hundreds of hexagon-shaped cutouts cluster together to provide more support for the head, shoulder, back, hips, and feet. Where the hexagons are further spaced apart, the bed feels softer and offers more comfort than support.
Because the AS3 contains a layer of softer plant-based foam that should relieve pressure as your hips and shoulders sink into the bed, in conjunction with a layer of targeted support, it is our top mattress choice for those who suffer from hip pain.
AMERISLEEP AS3
Features plant-based memory foam for eco-conscious shoppers
HIVE® technology relieves pressure points and promotes healthy sleep positions
Compatible with the majority of sleep styles due to its increased versatility
The Zoma Mattress is a mattress aimed towards athletes. Why is that a good thing for people who are experiencing hip pain? There is quite a bit of overlap between those with an active lifestyle and those who are suffering from hip pain.
Zoma uses 2 inches of pressure-relieving, gel-infused memory foam in their mattress. This layer is also zoned with a technology called Triangulex™, which is made of hundreds of triangle-shaped cutouts.
These cutouts do a few things. First, they conform and adapt to your weight and shape. Second, they provide air channels so heat doesn't get trapped in your mattress.
Below this layer, Zoma puts 2 inches of a responsive, latex-like foam that offers a lot of bounce. This keeps you from feeling that "sunken in" feeling often associated with memory foam mattresses.
These two layers combined offer you around 4 inches of cushioning foam, which is ideal for relieving hip pain.
Plus, the Zoma Mattress comes to you with free shipping, a 100-night sleep trial, and a 10-year warranty.
ZOMA MATTRESS
Gel-infused, pressure-relieving foam
"Latex-like" transition layer for extra bounce
7 inches of a supportive, durable core layer
The Vaya Mattress is an affordable mattress option for those seeking a good value bed. Hip pain isn't always avoidable, so if you need to replace your mattress but haven't budgeted a grand for a new bed, the Vaya can help you achieve comfortable sleep at a good price.
Apart from its budget-friendly price, we recommend the Vaya for those with hip pain because it can actually promote a more comfortable night's rest. How does it do this? With innovative foams!
Instead of using memory foam or latex in their mattress, Vaya uses a carefully-engineered poly-foam designed to offer the benefits of both.
Now, the common misconception with poly-foam is that it's naturally inferior to memory foam. While yes, the two materials are different and memory foam offers benefits poly-foam does not, by no means is poly-foam "bad." In fact, it can even provide better comfort than memory foam when given some modifications and used strategically.
Vaya Sleep is a relatively new mattress brand, so they only offer one mattress, but this mattress is packed with unique sleep technology to suit virtually all sleepers. The Vaya Mattress has two layers and is 12 inches tall. The first layer is 3 inches of Vaya Comfort Foam and the core contains 9 inches of solid poly-foam to offer support.
Vaya Comfort Foam contours to your body like memory foam, but has bouncy responsiveness like latex. It's pressure-relieving to ease and prevent pains while buoyant enough to keep you lifted in a comfortable, neutral position. Plus, it's breathable like latex and hypoallergenic like memory foam to offer even more sleep-promoting benefits.
Reviewers have been enthusiastic about the bed's soft yet supportive feel, but one drawback has been noted. The bed lacks edge support. Edge support has its pros and cons—it establishes a firm side suitable for sitting and easier movment, but also shrinks the available sleeping surface. If edge support is something you seek in your next mattress, Vaya also offers a hybrid model with corner-to-corner support.
The support core of this base is sturdy enough to allow Vaya to offer a 10-year warranty. We also like the Vaya brand because their warranty covers sags as little as .75 inches deep, so you can feel confident your bed will remain comfortable or Vaya will make it right.
Vaya offers free shipping and a risk-free 100-night sleep trial with every mattress purchase. They also offer free returns if necessary.
VAYA MATTRESS
Comfortable for side, back, and combination sleepers
Maintains alignment and relieves pressure to eliminate hip pain
Costs only $599 for a queen size mattress
Another great mattress for hip pain relief is Amerisleep's AS5 Hybrid. While we recommend their AS3 for hip pain, their AS5 Hybrid is a better option for those specifically seeking a soft mattress— the AS3 model is a true medium and the AS5 is rated as soft. However, it has a system of pocketed coils inside to offer targeted support and extra bounce.
We love the AS5 Hybrid for sleepers with hip pain because it contains two pressure-relieving, cushioning layers and a targeted pocketed coil layer to deliver dynamic support. The targeted coil layer is where the hip pain relief really comes from—these coils offer more give under the hips to allow for deeper compression and pain relief. However, the Active Flex within this mattress prevents your hips from sinking out of alignment. When these two systems work together, you're bound to have a peaceful night's sleep.
Plus, Amerisleep's AS5 Hybrid has breathable Bio-Pur® for extra pressure relief and even weight distribution. And we can't forget, Bio-Pur® is also breathable to prevent sleep disturbances.
The Amerisleep AS5 Hybrid comes with a 100-night sleep trial and a 20-year warranty.
AMERISLEEP AS5 HYBRID
Features Active Flex for added bounce
Best for side, back, and combo sleepers
Offers targeted support to relieve pressure and maintain neutral alignment
If you need a mattress to relieve hip pain, why not choose one with stylish, luxurious comfort and support? One of our favorite mattresses that offers a plethora of features is the Nolah Evolution 15. It's available in soft, luxury firm, and firm feels, each one suited to a different range of sleeping styles.
As the name suggests, the mattress stands 15 inches tall. Let's review the Evolution's construction.
First is a 2-inch thick quilted Euro pillow top. The pillow top is filled with ArcticTex™ fibers designed to draw heat away without relying on harsh chemicals.
Next is a 2-inch layer of Nolah AirFoamICE™, an upgraded version of the original AirFoam™. Nolah's exclusive material is designed to be cooler and relieve more pressure than traditional memory foam, and AirFoamICE™ improves on its design with a graphite infusion.
Unerneath the AirFoamICE™ is a transition foam layer. This foam layer is engineered to be more durable than latex foam while offering a similar resilient bounce.
A combination of two layers provide the bed's primary support. First is the 8-inch coil layer, then an inch of high-density support foam for stability. The coils are arranged into three support zones, providing more back support and greater pressure relief. Stiff foam surrounds the coils for edge support, structuring the mattress and making it easy to move in and out of bed.
Nolah offers two other mattress models, the afforadable Original 10 and the flippable Signature 12.
The Nolah Evolution 15 comes with 120-night trial period and a lifetime warranty. Shoppers can choose to remove the sleep trial for an extra discount, and also add on mattress set-up and removal.
NOLAH EVOLUTION 15
HDMax™️ Tri-Zoned Coil System for back support and pressure relief
Graphite-infused AirFoamICE™️ quickly draws away heat
Quilted Euro top cradles and cushions the body
Purple is a unique mattress, but what makes its original Purple mattress especially good for those with hip pain is that it's designed to be the first ever "no-pressure" mattress, meaning it should eliminate pressure points and leave you feeling refreshed every morning.
Purple uses their proprietary hyper-elastic polymer to construct a Smart Comfort Grid™ they use as the top layer in each of their beds; this technology allows your hips and shoulders to compress in the mattress and cradles them, releasing tension and reducing your chance of experiencing pains. Their grid is also designed to offer sound support to the rest of your body, which should nurture healthy spinal alignment and help you get better sleep.
Purple offers three other mattresses outside of their original model. If you want to learn more, you can read our Purple mattress review.
Their beds even come with a 100-Night No Pressure™ Guarantee, so if you buy the bed and don't experience any pain relief, you can return it for a full refund. However, many customer reviews mention this bed being the cure to their chronic pain, so we're confident it could be a solution for you, too.
ORIGINAL PURPLE MATTRESS
First "No-Pressure" mattress
Comfortable for all sleep styles
Breathable design helps regulate your temperature while you sleep
The original Bear mattress designed specifically to help athletes get better, more restorative sleep, so it's a great contender for those who experience hip pain. In fact, they mention on their website that their beds are meant to offer relief for back and muscle pains.
This all-foam bed contains 4 layers and a Celliant® cover, which is FDA-determined to improve circulation and aid in recovery. The first layer of the mattress is 1.5 inches of graphite-infused memory foam, which cradles your shoulders and hips while also regulating your temperature.
Below this layer are two 1-inch layers of Bear's proprietary response foam, designed to feel bouncy but still be contouring. Together, these three layers equal 3.5 inches of foam for your shoulders and hips to compress into. Bear rates their bed a 6.4 out of 10 on the firmness scale, so it has a medium-firm feel and is better suited for those looking for a more supportive bed.
ORIGINAL BEAR MATTRESS
Designed to help athletes recover faster and perform better
Best for side and back sleepers
Cooling technologies are great for hot sleepers
What Causes Hip Pain?
Your hip has your body's largest ball-and-socket joint. This joint is incredibly durable considering it endures the constant wear and tear of daily life. When working properly, the leg bone can move freely in the hip socket, thanks to the support of the cartilage.
Unfortunately, over time the cartilage that cushions your hip bone can wear down, leading to general discomfort, limited range of motion, aches, inflammation, and pain. The tendons and muscles surrounding the hip can also become inflamed and irritated. As you age, your hip becomes more susceptible to injury.
When you're experiencing aches and pains, it's helpful to determine the cause of the pain so you can take the proper steps towards relieving discomfort. Medical doctors and physical therapists encourage low-impact exercise and stretching to improve mobility and decrease pain over time. Physical therapy is another option too. More serious damage to the hip requires injections or even surgery.
But before you pencil in your first physical therapy appointment or schedule a consultation for trigger point injections, know this: you may be able to make a big change without even leaving the house.
When did you buy your current mattress? Can't remember? If so, then it's probably time to invest in a new one. Experts advise that you should replace your mattress every seven to ten years, and more frequently if your mattress is showing signs of deep sagging or impressions.
Simply put, if you find it difficult to get comfortable on your current bed, or you experience pain upon waking, it's time to consider purchasing a new mattress.
The Importance of Pain-Free Sleep
There are countless studies explaining why sleep is so important to overall health and happiness. We learn more every day about the vital benefits of a proper sleep routine, and we're constantly reminded of the terrifying consequences of poor sleep.
Sleep is as integral to our health as proper nutrition and exercise. Hectic work and social schedules tempt people to sacrifice their sleep schedule to accommodate the demands of family, work, and activities. Experts recommend adults receive seven to nine hours of sleep every single night— yet so many people put sleep on the backburner and allow themselves to grow sleep deprived. Though life happens, and it may seem difficult to pencil in an adequate amount of time to rest, your waking hours can be greatly affected by sleep debt.
According to recent data, sleep deprivation is responsible for 100,000 traffic accidents, 76,000 injuries, and 1,500 deaths per year. When you consider the negative impact one night of sleep loss can have on the body, it's concerning to think about the influence months or years of sleep deprivation can have on your health.
Committing yourself to getting quality sleep consistently is critical to your well-being during your waking hours.
The Division of Sleep Medicine at Harvard Medical School states:
In the short term, a lack of adequate sleep can affect judgment, mood, ability to learn and retain information, and may increase the risk of serious accidents and injury. In the long-term, chronic sleep deprivation may lead to a host of health problems including obesity, diabetes, cardiovascular disease, and even early mortality.
At this point, you may be wondering what the quality of your sleep has to do with the frequency or severity of your hip pain; but, the relationship between sleep and pain is stronger than many realize.
How to Alleviate Pain with Healthy Sleep
The relationship between pain and sleep is directly correlated. Meaning, when your hip is aching, your quality of sleep is hindered; and when you're pain-free, your quality of sleep improves. Studies surrounding chronic pain and sleep by the Johns Hopkins University School of Medicine concluded pain disturbs sleep continuity and quality. Even worse, poor sleep further exacerbates pain; so when you're not getting enough rest, you're more prone to aches and pains.
When Dr. Jennifer Miller, physical therapist, advises her patients, she says, "I always ask my patients about their quality of sleep and their preferred sleeping position. We spend hours asleep and if our joints are not properly supported, it can lead to increased pain. I recommend that patients sleep on their backs or sides, if possible. If my patients sleep on their side, I recommend using a body pillow to decrease hip pain."
Sleep Quality Suffers
According to the American Pain Society:
In patients with osteoarthritis (OA), more than half experience pain during the night, resulting in sleep disruption, poor sleep quality, sleep fragmentation and frequent shifts between sleep stages. Recent studies have shown that sleep disruption can be a predictor of pain severity. Sleep disruption, therefore, could be associated with increased pain sensitivity and enhanced pain facilitation in addition to reduced pain inhibition in persons with chronic pain.
Some hip pain is related to pressure points, which are places that bear the weight of our body when we sleep. Unfortunately, the long-term consequences can be significant.
Long-Term Impact
Osteoarthritis is the most prevalent form of arthritis, afflicting millions of people worldwide. It is also the most common reason for total knee and total hip replacements each year. Of course, hip replacement surgery is a last-case scenario. But it's important to manage your hip pain appropriately to avoid more serious intervention like hip replacement surgery.
This issue isn't only painful to deal with each day, but also decreases your quality of life— so how can you break it?
For starters, you can invest in a quality mattress. The right mattress for you should eliminate the pressure points of your hip which should allow you to sleep more soundly, thus improving your quality of sleep. Secondly, you can incorporate low-impact exercise, such as walking or swimming, into your daily routine. This not only helps reduce pain but can aid in sleeping better at night.
Before buying your next mattress, you should first factor in your sleeping position.
Sleep Positions and Pressure Points
What kind of sleeper are you? If you're unsure, take a minute to think about how you tend to fall asleep and the position you're in when you wake up in the morning.
When reading about the positions below, keep in mind that body type also plays a big role in weight distribution and pressure points.
Back sleepers: If you're one of the 8% of people who sleeps on his/her back, good news: you're doing it right! Sleeping on your back is considered the healthiest position. This allows your body to rest in a neutral position and doesn't add any extra pressure to important areas like your neck, hips, or back.
Stomach sleepers: Bodyweight can play an especially big part in how pressure points accumulate with stomach sleeping. If someone carries significant weight in the stomach, then sleeping on the stomach can cause the body to sink too deeply, putting pressure on their spine. There should be an even distribution of body weight, reducing the amount of pressure concentrated in one area.
Side sleepers: Sleeping on your side can be gentle on the back and neck but it causes added pressure on the hips. That's why the best mattresses for side sleepers are memory foam, as they're the best for relieving pressure. The most popular side sleeping position, the fetal position, is very problematic for the joints. If this is how you sleep, try to make a conscious effort to stretch out your limbs to avoid too much pressure on your joints. Also, consider adding a body pillow between your knees and to support your arm while you sleep.
Mattress Types
There are different types of mattresses sold today, from latex to airbeds. If you're looking for a pain-relieving mattress, we recommend choosing a memory foam mattress. However, we know memory foam may not be for everybody. If you aren't so sure about memory foam, read about other kinds of mattresses to decide which is the best for your sleep needs.
Latex Mattresses
Latex mattresses offer good support for sufferers of hip pain. You can buy them in natural latex, synthetic, or blends. You may also find them with firmer or softer support under specific body areas. Side sleepers will appreciate the pressure relief and the possibility of improved circulation.
Natural latex comes from the sap of a renewable resource— rubber trees. Once tapped, the rubber continues to grow which creates a denser, heavier foam. Natural rubber allows for greater conforming properties, though it's not as remarkable as memory foam.
Latex provides air circulation and springy support in mattresses to create a cooler and more comfortable sleep experience.
Hybrid Mattresses
As its name suggests, hybrid mattresses use a combination of materials, including a pocketed coil system and layers of memory foam or latex.
The core of a hybrid mattress features the standard coil support of an innerspring mattress. The coil system is then topped with a comfort layer of memory foam or latex in an attempt to highlight the best of both materials. Because they commonly use pocketed coil systems, hybrid mattresses tend to isolate motion well, which means less disturbance for couples.
Though there are a variety of pluses to choosing a hybrid mattress, there are still drawbacks to these beds, particularly for those with hip pain. Because many of the hybrid options use low-density foam, it doesn't provide enough support to relieve pressure points. Hybrid mattresses are also a bit pricier due to the complexity of their design.
Airbed Mattresses
Not to be confused with the air mattresses used on camping trips, airbeds contain individual air filters that can be adjusted to modify the firmness of the bed. The more chambers in the airbed, the more customizable it becomes. In theory, this personalized support makes the airbed a suitable option for all: back, stomach, and side sleepers.
Unfortunately, many external factors—like temperature, air pressure, sleep position—can impact the air chambers, making airbeds unpredictable. Common complaints include noisiness due to the electric pump, a gap in the middle of the airbed, and costly repairs.
Innerspring
Innerspring mattresses have been around since the beginning of the mattress industry. Every innerspring bed has a coil system inside that gives the bed a little bit of bounce.
Traditional innerspring mattresses may offer a familiar, comfortable softness. But they simply aren't designed to provide the necessary support you need. Specifically, innerspring mattresses fail when it comes to hip and waist support.
Much of the body's weight transfers to the hip area when sleeping on an innerspring mattress. Over time, this uneven weight distribution can create dips in the exact spots where you need the support. When your hips dip into these soft spots, the result is curving in the spine.
Innerspring mattresses also don't provide optimal waist support. Some people attempt to correct this problem with a firm innerspring mattress. Unfortunately, firm mattresses create an opposite curve by holding the hips too high, causing the waist to dip. After a while, this can lead to hip pain, headaches, back pain, and other spinal injuries.
Why Memory Foam is The Best Choice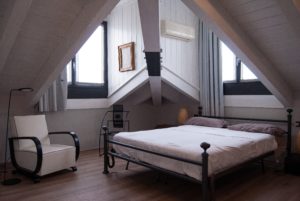 Memory foam, developed by NASA, is known for its ability to relieve pressure. Originally, it was used in seat cushions to keep the NASA astronauts comfortable during their long treks in space. Now, it's used in helmets of race car drivers and professional athletes to reduce the chance of injury and concussion. It's also commonly used in shoe insoles and bulletproof vests to absorb pressure and act as soft padding.
Memory foam is perfect for pain relief because it conforms to the body and evenly distributes body weight. Its cell structure condenses when compressed and relays the weight to the underlying structure. These beds cradle and cushion the body in luxurious comfort, which is why a memory foam mattress is considered the best option for pain and pressure relief.
Common Complaints of Memory Foam Mattresses
Memory foam mattresses have not always had the best reputation. Below, we'll touch on the biggest hesitations customers usually have before buying a memory foam bed.
"What if the memory foam traps heat?"
Memory foam mattress users have long complained that the foam traps body heat, leading to an uncomfortable night's sleep. If you live in warmer environments, this is even more concerning. The good news is, many memory foam mattress brands have taken this concern into consideration and modified their beds to reduce the chance of heat being trapped within. Now, by using open-cell foams, cooling channels, and plant-based materials, brands are able to virtually eliminate the chance of you heating up while sleeping on their bed.
"What if I sink too far into the mattress?"
Since its introduction in the 1990s, new types of memory foams have corrected this prominent problem of response time (the time it takes for a mattress to regain its shape). In fact, traditional memory foams had response times of up to a minute. Gel and open-cell memory foam, for example, have a response time of approximately 30 seconds. Plant-based memory foam is even better, with a response time of 5-8 seconds.
With the response times in today's memory foam options, you won't ever feel like you're stuck.
"Memory foam smells bad."
Traditionally, the scent of newly-purchased memory foam mattresses was compared to the infamous "new car smell." When you're trying to relax for bed, this chemical-like smell can be off-putting. While the odor does fade over time, many mattress companies have found a way to eliminate it altogether.
Newer memory foam mattresses are manufactured to minimize off-gassing, and mattress manufacturers have found plant-based memory foam emits virtually zero off-gassing. Before, traditional memory foam contained compounds that break down and release an unpleasant odor. Now, newer memory foams are made without the presence of these compounds, so you no longer have to wait weeks for this smell to fade. Additionally, buying a plant-based memory foam mattress reduces your chance of experiencing those unpleasant odors altogether.
"It won't fit in my stairwell or on my bed frame."
Memory foam mattresses are designed with standard dimensions to easily fit into your bedroom. Furthermore, memory foam mattresses have greater flexibility so you can maneuver them easily through tight stairwells and hallways.
If you have your mattress delivered, many companies package the mattress compressed and in a convenient, eco-friendly box. No need to bring your mattress up through the window!
"A mattress topper provides just as much support as a full mattress."
Not necessarily. For those with hip pain especially, you need to be able to sink far enough into your mattress to relieve pressure points. When you use a mattress topper, it does not allow you to sink into your mattress below much at all, and mattress toppers themselves are too thin to allow your body to sink adequately. It's best to consider mattress toppers as a short-term option until you're ready to invest in the real thing.
Can a Mattress in a Box Ease Hip Pain?
A mattress in a box is a great alternative to traditional beds for a few reasons. If you can't haul a mattress from a retailer to your home, or don't want to arrange a delivery time and wait around for your bed to be dropped off, mattress-in-a-boxes are for you. These often cost less than beds at retailers, too. Because mattress-in-a-box beds are sold direct-to-consumer, many brands can cut costs and price their mattresses more affordably.
However, for somebody with hip pain, a mattress-in-a-box may not be the best option. If your pain is to the point where it hinders your day-to-day functionality, you may find it hard to maneuver and set-up a mattress-in-a-box. You can save yourself a hassle by going directly to a retailer or buying from an online brand offering White Glove Delivery.
Watch for Mattress Sales
Most mattress brands and furniture retailers run sales and promotions on their mattresses. Waiting to buy when a deal is running could save you extra cash and even land you with some free accessories. Also, many mattress companies will offer discounts when you bundle products. If you're in the market for other sleep accessories such as sheets, pillows, or even an adjustable base, save money by bundling it with your mattress.
Consider the Warranty
Mattresses are supposed to last around seven to ten years, so it's important the company who you're purchasing from will back its product. Many retailers offer a substantial 10-year, non-prorated warranty which states they will repair or replace your mattress should it become defective. To be considered defective, most mattress companies require your bed to have a visible sag. The size of the visible sag will vary from brand to brand. Before you buy, ask about the specifics of the warranty including what is covered and if there are any fees that come with having a mattress repaired or replaced.
Final Tips & Tricks
Read the reviews
Mattress reviews are here to help and guide you. You can ask your family and friends how they like their mattresses, but remember: what suits them may not necessarily suit you.
You may question how reliable reviews are. To reduce skepticism, many retailers use a third-party vendor to verify their reviews are genuine, authentic, and written by real customers like you (not robots). These platforms also restrict brands from being able to alter the reviews, so you're viewing customers' full feedback.
These testimonials can also answer important questions or concerns you may not have realized earlier. For example, is the bed squeaky? Is it disruptive when one partner gets up in the middle of the night? Real customers can give you insights into what it's like to own and, hopefully, love your new mattress.
Risk-free trials
If you're still skeptical of mattress reviews, why not try the mattress risk-free?
You can certainly stick to tradition and visit a mattress retailer and showroom, which allows you to feel and test out the comfort and support of a mattress. However, resting on a bed for 5 minutes in a loud, crowded showroom is no replacement for testing the mattress in your home.
Many retailers allow customers to try mattresses for weeks, or even months, with liberal return policies and free returns.
Frequently Asked Questions
Are memory foam mattresses the best for hip pain?
Many sleepers feel memory foam mattresses are the best for pain relief, and side sleepers avoiding hip pain usually get the most comfortable sleep on these beds. Memory foam adapts to your body to distribute your weight and relieve pressure, so it's a naturally better pain reliever than springs and latex.
Is a firm or soft mattress better for hip pain?
Neither, medium mattresses are usually the best for hip pain because they offer a balance of cushion and support. Medium mattresses are soft enough to cushion the hips and relieve pressure, but they're also firm enough to keep you sleeping in a healthy position. Of course, body weight will influence the ideal firmness of your mattress.
Why do my hips hurt at night when I sleep on my side?
If you're experiencing hip pain while side sleeping, it's a good sign that your mattress is too firm. Hip and shoulder pain, as well as numb or tingling limbs, is common amongst side sleepers who have overly firm mattresses.
If you are a side sleeper experiencing hip pain, try adding a soft mattress topper or switching to a softer mattress.
What's the best mattress for shoulder and hip pain?
If you're suffering from shoulder and hip pain, you might want to shop with a mattress that features targeted support. You may also be a side sleeper with a too-firm mattress. If your current bed isn't relieving enough pressure for a good night's rest, we recommend switching to one with a soft to medium feel.
What kind of mattress is best for hip pain?
When it comes to mattress types for hip pain, we recommend ones with a conforming surface. Memory foam is a customer favorite for pain relief, but latex foam has a similar contouring feel that eases pressure. All-foam mattresses or hybrid models can successfully reduce hip pain.
We suggest staying away from classic innerspring mattresses, as their thin layers of padding often don't cushion the hips enough for pain relief.
Research and Resources
In making this article, we:
Researched the major contributors to hip pain and the science behind eliminating aches and pains with sleep.
Compared the pain-relieving features of different mattress types and considered over 20 beds.
Spent 17 hours writing and revising the article to deliver the most value-driven, accurate content possible.
Did You Find Your Next Bed?
Congratulations! Now that we've covered everything to consider before buying a new bed, you're ready to start your search for the best mattress of 2023 for your own sleep needs. Come time to shop, remember these key points:
Memory foam is our pick because it is designed to relieve pressure points and offer even support.
Do your research. Arm yourself with knowledge before you start shopping. Mattress reviews and buying guides can help you zone in on which mattress fits your needs.
Utilize risk-free trials. Test the mattress in your home for at least a month to see if it solves your pain.
Stay within your budget. Advanced, high-end mattresses can be affordable these days. If the price is too steep at the moment, wait for a sale.
Kick off your mattress shopping by checking out the Amerisleep AS3— our editor's recommended mattress for hip pain.