Best Queen Size Mattress: Reviews and Buyer's Guide
Updated on: February 20, 2021

Mattress Guides
When it comes to shopping for a queen size mattress, there's a lot to consider. Now there are virtually dozens of companies claiming to offer you the best, most restful sleep via their mattresses.
With advances in mattress technology, it's safe to say the sleep industry is taking your rest seriously— as should you. But sleep health has so many moving parts: mattress types, like innerspring or memory foam, your budget, your preferred sleep position, mattress size, preferred temperature— some new mattresses are cooler than others— even the sleep trials and warranties each mattress company offers are different.
Considering all these factors can be overwhelming, which is why we've done the heavy lifting for you. Here's our list of the best queen size mattresses on the market right now and a breakdown of each to help you decide what queen bed is best for you and your budget.
Best Queen Size Mattresses
| | Mattress | Highlights | Price |
| --- | --- | --- | --- |
| | Amerisleep AS3 | Features plant-based memory foam and clinically proven zoned support technologies to help you get more comfortable sleep. | |
| | Amerisleep AS5 Hybrid | Offers cushioning comfort and bouncy support for side, back, combo, and heavy sleepers. | |
| | Zoma | Features gel-infused memory foam to help hot sleepers keep cool. | |
| | Vaya Mattress | Budget-friendly option designed to suit most sleep styles and body types. | |
| | Purple® | Features Purple's® Purple Grid™ for No-Pressure® support. | $1099 |
| | Nest Bedding Alexander Hybrid | Combines foam layers and innerspring coils for cushioning bounce. | $1299 |
| | Perfect Cloud Hybrid | Contains cooling gels for superior temperature regulation. | $649.99 |
| | Nolah Original 10 | Features Nolah AirFoam™ for unbeatable pressure relief. | $1019 |
The best-selling and most versatile mattress by Amerisleep, the AS3, is perfect for side and combo sleepers. If you find yourself changing positions often throughout the night, the AS3's eco-friendly memory foam technology is an excellent option. The Amerisleep AS3 is a medium mattress in terms of firmness, which is part of what gives it wide appeal.
The Amerisleep AS3's layers of foam provide maximum comfort by combining softness with support. The first layer is Bio-Pur®, a breathable, partially plant-based memory foam that keeps you cooler while you sleep. What's more, the AS3 is covered in a soft, lightweight cover that wicks heat and moisture away from the body.
The second layer, the Affinity layer with HIVE® technology, offers both responsive support and pressure relief. Hexagonal-shaped cutouts are concentrated in areas where you need more support, such as the head, hips, and back, and then farther apart in areas where you need softer cushioning.
The final layer of Bio-Core® foam supports the layers above it for years— in fact, this sturdy foundation allows Amerisleep to offer a longer-than-average warranty (20 years).
The Amerisleep AS3 queen size mattress comes with free delivery and a 100-night sleep trial. If you find this mattress isn't for you after breaking it in, Amerisleep will refund you in full. Amerisleep offers a 20-year warranty that covers any sagging .75 inches or deeper.
Another sleep-promoting Amerisleep mattress to consider is their luxurious AS5 Hybrid, a soft mattress fit for side and combo sleepers, and even sleepers over 230 pounds. We love this mattress because despite its softness, it offers plenty of responsive support.
The AS5 Hybrid has four layers and stands 14 inches tall—but don't worry, it still pairs just fine with an adjustable bed frame.
The first layer of the AS5 Hybrid is pressure-relieving Bio-Pur® to offer responsive comfort. Below the first 3 inches of foam, lies a 2-inch layer of Active Flex, a latex-like transition foam designed to allow for deeper compression while also keeping you lifted in a comfortable position.
Next, is the 8-inch pocketed coil system designed to offer zoned support. These coils are firmer under your torso, head, and feet to keep you in a neutral position, and softer under the shoulders and hips to prevent pressure points. At the base of the bed, Amerisleep includes a 1-inch core layer of foam for additional support. Plus, they wrap the coil system in a foam perimeter to improve edge support.
Like the AS3, the AS5 Hybrid also comes with free shipping, a 100-night sleep trial, and a 20-year warranty.
If you're an athlete, you work hard for your rest. The Zoma Mattress was created to facilitate deeper sleep, faster recovery, and better performance. But it's not just for athletes; the Zoma mattress is an excellent choice for anyone with an active or demanding lifestyle, or anyone who needs a little extra recovery, be it from chronic pain or even the effects of aging.
The Zoma Mattress offers pain relief, active recovery, and comfort. The Triangulex™ technology within the 2-inch, gel-infused top layer targets pain relief, providing extra lumbar support through triangle-shaped cutouts contoured for your shoulders and hips to provide optimum joint relief.
The second layer is the Reactiv™, which both alleviates mattress sagging and provides better bounce to make changing sleeping positions at night easier. The final layer is 7 inches of Support+, designed to work in tandem with the top layers and extend the overall longevity of the mattress.
Not sure if the Zoma Mattress is for you? Give it a test run with the company's 100-night sleep trial. If you're not satisfied with your sleep after breaking the bed in, Zoma will work with you to provide a full refund. You can also sleep easy knowing that Zoma's 10-year warranty will protect you from sagging or indents .75 inches or deeper.
If you have a stricter budget and are looking for a more budget-friendly option, consider the Vaya Mattress. Even though it's priced affordably, the Vaya is made with durable, high-quality materials. And Vaya Sleep backs the mattress with a 10-year warranty.
We like the Vaya because it is designed to accommodate all sleep styles and body types. It's ultra-comfortable for side and back sleepers, but some stomach sleepers may prefer a firmer mattress.
The Vaya is medium in firmness, has two layers, and is 12 inches tall. In the comfort layer, the Vaya contains 3 inches of Vaya Foam, a breathable and responsive foam. This layer contours to your body to alleviate pressure and provide cool, cloud-like comfort. Unlike memory foam, though, Vaya Foam keeps you lifted (similar to latex). The base of the Vaya Mattress is durable poly-foam designed to resist sagging and prolong the bed's lifespan.
The Vaya Mattress is sold online-only and comes with a 100-night risk-free sleep trial and free shipping.
5. Purple® Mattress
You've probably seen ads for popular Purple® Mattress online. This mattress provides a soft yet supportive night's rest for all sorts of sleepers.
The Purple® Mattress is designed with every sleep style in mind. The mattress's Purple Grid™ technology naturally cradles various pressure points on your body like your shoulders and hips to create an illusion of zero gravity while you sleep, be it on your side, stomach or back. Yet it's still firm enough to support and properly align the spine, especially for side sleepers. The Purple Grid™ has over 2,800 air channels that neutralize your body heat so it's comfortable for both hot and cool sleepers.
The Purple® Mattress offers a 10-year warranty and a 100-night trial for you to decide if this popular mattress's unique features are for you. If it's not a perfect fit within those first three months, Purple® will pick up your mattress and extend a full refund.
4. Nest Bedding Alexander Signature Hybrid
This popular hybrid mattress fuses together both memory foam and pocket coils to create a durable, comfortable and firm-feeling mattress. What's more, this hybrid contains copper-infused foam to help draw heat away from the body for a cooler sleep.
If you're looking for great back support, the Alexander Signature Hybrid is a strong contender because of how it utilizes individually pocketed coils within the mattress and edge support coils along the perimeter. This creates a sleep surface that stays firm, yet comfortable, while fully supporting the spine and minimizing motion transfer, unlike some other hybrids.
The Alexander Hybrid uses high-quality materials like a copper-infused memory foam, which has both antimicrobial and conductive properties, making for a cool mattress. If you're still worried about keeping cool at night, the top layer is a 4-pound gel-infused memory foam that regulates your body temperature no matter the season.
Nest Bedding, which manufactures the Alexander Signature Hybrid, offers a 100-night sleep trial. If after 30 days you're unhappy with your mattress, you can exchange it for a different Nest Bedding mattress during the sleep trial. If Nest Bedding simply isn't for you, the company will work with you to return the mattress. Additionally, the Alexander Signature Hybrid comes with a lifetime warranty and a lifetime comfort guarantee.
5. Perfect Cloud Hybrid Mattress
If you've had to sacrifice comfort for support in the past, you don't need to worry about that anymore with the Perfect Cloud Hybrid. This mattress is another option that works for many sleeping styles and preferences. Both a memory foam and a pocket coil spring mattress, this bed does it all.
The Perfect Cloud Hybrid Mattress eliminates motion isolation with its careful design of plush memory foam and individually pocketed coils. The various layers of foam help to eliminate tension in areas like your head, neck, and shoulders. The top layer of gel memory foam is also infused with cooling gel for body temperature regulation throughout the night.
Additionally, the Perfect Cloud Hybrid Mattress—  which does not require a box spring—  has beaded nodes on the bottom of the mattress to prevent slipping on a bed frame with a slick surface. What's more, it's one of several bed-in-a-box mattress options that are available through online retailers like Amazon.
The Perfect Cloud Hybrid Mattress comes with a sleep trial as well, giving you 120 days to decide if this hybrid mattress is right for you. Additionally, the company offers a 10-year warranty from manufacturer defects as long as it is used properly.
6. Nolah Original 10
The Nolah Original 10 was created as an alternative to memory foam and latex. What you get is The Nolah AirFoam™ mattress, which has a different chemical makeup than traditional memory foam and boasts additional benefits.
Company tests of the Nolah Original 10 indicate users felt less pressure on their hips and back, so if these are historically painful areas for you when it comes to your sleep, this could be a great option. The Nolah AirFoam™ technology is also completely temperature neutral, eliminating any heat-trapping properties that some memory foam mattresses have.
The Nolah Original 10 is resilient, blocking out additional bouncing and motion transfer during the night. It also has a breathable cover that helps eliminate moisture, keeping you dry and cool.
Nolah's trial period is similar to many others and offers a 120-night sleep trial to ensure you are fully satisfied with the mattress. If you're not, the company will extend a full refund and send someone to pick up the mattress for you. The company recommends taking at least 30 days to break in the mattress, allowing your body to adjust.
Mattress Sizes Comparison
On the fence about which size mattress is right for you? To make your decision easier, we've put together a mattress size comparison guide, and in this section, we briefly touch on the differences between full, queen, and king size mattresses.
Full vs Queen
Full mattresses are 54 inches by 75 inches— queens are 6 inches wider and 5 inches longer than the standard full. Queens offer plenty of room for single sleepers and are sought after by those sharing the bed with a partner, as well. Some parents choose to get their children queen mattresses because they're large enough to accommodate their child as they grow and develop, but full mattresses and twin xl mattresses are popular for children, too. Queens do require a room that's at least 10 feet wide and 10 feet long, so if you have a smaller bedroom, you may want to choose a full mattress as it'll fit more comfortably than a queen.
King vs Queen
King and queen mattresses are usually the go-to for couples, as many single sleepers don't opt for king beds. King size mattresses are 76 inches by 80 inches, so they take up quite a bit of space, but they do offer plenty of room to sprawl out and get comfy. Kings are 16 inches wider than a queen, so they offer sleepers on either side of the bed adequate space. King mattresses have the dimensions of two twin XL mattresses placed side by side (twin XL mattresses are 38 inches wide), so many couples will choose split-king mattresses that allow them to modify each side of the mattress to meet individual sleep needs.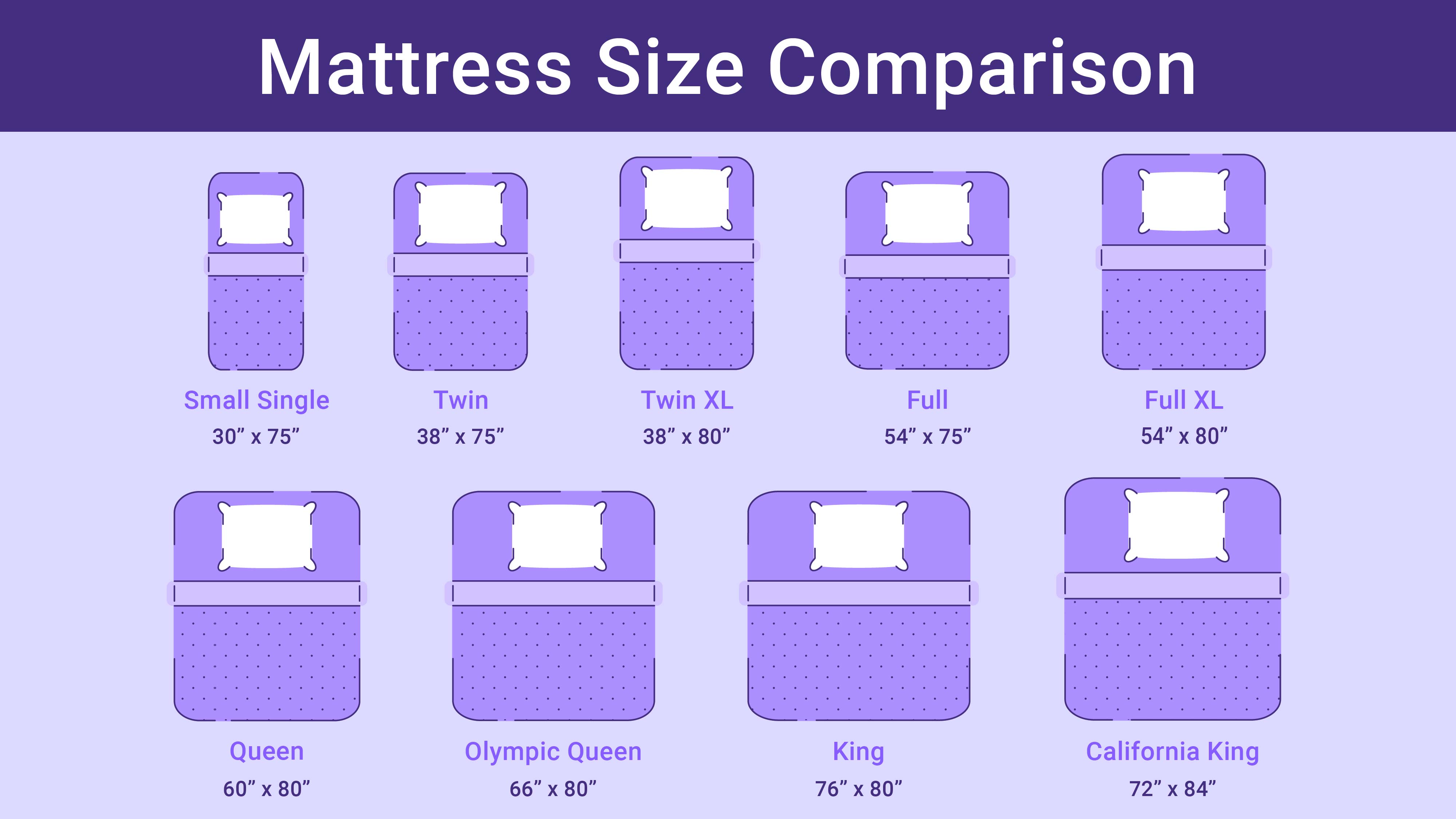 Different Queen Mattress Types
Not all mattresses are created equal. In fact, some are on opposite ends of the spectrum in terms of their makeup, materials, and firmness level.
Though some mattress companies have excellent brand recognition, it's more important to know the pros and cons of each mattress type. Once you've weighed these, you can choose the right mattress and the right brand. We've compiled the basics on the four most popular mattress types: memory foam, latex, innerspring and hybrid.
Memory Foam Queen Size Mattresses
Prices for a queen size memory foam mattress range from $200 on the low end to as high as $4,000, while the average price seems to be around $1,370. Compare that to the average longevity of a memory foam mattress— about 7 years if used every day— to determine if the price is worth the commitment.
Memory foam mattresses are less likely to sag compared to their counterparts, such as an innerspring or hybrid (which has pocket coils). If sleeping hot is an issue for you, consider a gel memory foam mattress. This means the top mattress layer includes cooling gel foam. Many sleepers report that the gel foam regulates body heat better.
In terms of body type, most memory foam mattresses are ideal for average-sized adults— think in terms of body mass index. If you're above average in weight, a memory foam mattresses is still a viable, comfortable option, but we recommend looking at mattresses 12 inches or thicker with at least 3 inches of memory foam.
Latex Queen Size Mattresses
On average, latex mattresses are on the higher end of the price spectrum, but a large majority of consumers report high overall satisfaction with their purchase, partly because latex is so durable. A latex queen mattress averages at $2,100.
All latex mattresses have a latex top layer and latex base layer— one is for comfort, the other its core. Latex mattresses are made of organic or synthetic latex, or a mix of the two. Natural latex foam is made from rubber tree sap, a renewable resource. Natural latex lasts quite a while, but it is more expensive than synthetic latex, so keep that in mind as you shop.
Latex beds boast a higher longevity (about 8 years) compared to other mattress types, the lifespan of which normally averages around 7 years. Many latex mattresses are customizable in terms of firmness, support, and thickness. Some mattresses also offer a quilted pillow-top for added comfort. Because of this, a latex queen size mattress can be suitable for all types of sleeping positions as well as people of all different body compositions.
Innerspring Queen Size Mattresses
An innerspring mattress is exactly as it sounds. Rather than using support foam to create the base layer, these mattresses utilize coils, often individually wrapped, which help cut down on motion transfer.
Some of the most recognizable mattresses among consumers, these beds are known for their affordability, accessibility, and variety. While an innerspring mattress might sound appealing for its low price point, many innerspring mattresses are not very durable, lasting only about 3 years before the sagging starts. An average queen size innerspring mattress is around $950.
Though firm and more bouncy than other mattress types, these mattresses do not offer the same comfort level found in memory foam, hybrid or latex mattresses. Because of their design, these mattresses generally do not conform to your body and can cause unequal weight distribution and joint pressure. However, their quick responsiveness does make changing positions throughout the night, as well as getting in and out of bed, much easier.
An innerspring mattress can be a good choice for people of all body compositions, depending on the model you purchase. Heavy people may want to consider a more durable innerspring queen mattress with a firm feel; a smaller person may consider a softer option for optimal comfort.
Some innerspring mattresses include what is called a Euro top, which is a layer of dense padding made of foam or fiberfill. A Euro top, also common on some hybrid mattresses, is sewn flush with the edges of the mattress so it gives a more uniform, stacked look while providing an extra layer of comfort.
Hybrid Queen Size Mattresses
A hybrid mattress combines the strengths of the quality materials from two popular mattress types into one great option, infusing the contouring comfort and pressure relief of memory foam with the support of an innerspring mattress.
Hybrid mattresses range in price from $360-$2,200 with the average price for a queen mattress coming in at $1,200. But keep in mind that according to some mattress reviews, some customers report higher satisfaction with a lower-priced hybrid mattress.
True hybrid mattresses have a 2-3 inch memory foam top. This ratio of memory foam to pocket coil spring provides the most comfort and support for a variety of sleepers.
A common, often customizable option on some hybrid mattresses is a pillow top. A pillow top layer is made of foam or fiber that feels ultra-plush and pillowy, hence the name. It is sewn to the top of the mattress, though there is often a small, almost unnoticeable gap between the original surface of the mattress, known as the comfort layer, and the pillow top.
Sleeping Position
A key component to choosing any mattress is you— specifically, your sleeping position. The support or firmness that side sleepers need will differ from back sleepers and stomach sleepers. Understanding how a mattress supports your sleep position will enable you to purchase the best mattress. Body type can also play an important factor in your decision, but in general, here are a few good rules of thumb when selecting a mattress.
Side Sleepers
Side sleeping— especially on your right side— is one of the healthiest ways to sleep, as it promotes proper alignment of the spine and can prevent problems associated with sleep apnea.  If you primarily sleep on your side, consider selecting a mattress that will naturally support your spine's alignment and provide relief for joint pressure, specifically your shoulders and hips.
Finding a good supportive pillow will also help because it will work in tandem with a quality mattress to properly align the spine. Ideally, mattresses for side sleepers will offer an equal blend of comfort and support.
Back Sleepers
Back sleepers experience many pros and cons to their sleeping position. While sleeping on your back can naturally place your frame into a neutral position, it can also lead to snoring, lower back pain, and poor sleep. To combat all this, back sleepers should look for a supportive, durable mattress.
If you're a back sleeper, be sure to take sagging into consideration as this can deeply impact your spinal alignment and cause sleepless nights and painful days. To combat this, consider something like a hybrid or latex mattress, which are generally firmer. If you prefer a memory foam mattress, be sure to find one that is firm or medium-firm. Whatever mattress type you decide, remember that a firmer option will help alleviate back pain.
Stomach Sleepers
First, it's important to note that sleeping on your stomach is the least recommended sleeping position. In fact, it's the most unhealthy as it goes against the natural curve of your spine and causes aches and pains. Similar to other sleeping positions, it's important to find your own appropriate mix of comfort and support.
Because the goal of healthy sleep positioning is to align your spine in a neutral position while you sleep, factors like mattress firmness will vary from person to person based on their body type. For stomach sleepers, most do well with a firm or medium-firm mattress.
Memory foam mattresses are a great option because of their pressure-relieving properties. This relief will help take the pressure off of your spine, leaving you better able to get a good night's sleep. Latex and hybrid queen size mattresses are also a great choice if they offer the right ratio of firmness to comfort.
Consider a Mattress Topper
If you're looking for a plush mattress, an economical option is to add a mattress topper to a new or existing mattress for extra cushion or softness. Toppers, keep in mind, are not the same as mattress pads, which are used to protect a mattress and only provide minimal softness.
Some of the different topper options include memory foam, feather, latex or wool toppers. Toppers are a good choice if you're looking to revitalize an aging bed while you search for a new one. Toppers are also a popular choice to adjust the firmness level of a new mattress that doesn't suit you.
Memory foam toppers are the most popular and are very good at improving the overall comfort of your mattress, though they can be hot and emit an off-gassing odor. To avoid this, choose a topper made of gel memory foam. Feather mattress toppers are very good for softening a firm mattress and are lightweight, but they require a lot of maintenance like fluffing or shaking.
Latex toppers, though more expensive, offer above-average pain relief. And wool toppers are cool and dry, but may not provide enough additional cushioning for some sleepers.
Which Base is Best?
Many mattresses available today do not require box springs, which are normally only used with innerspring beds. We recommend using a slatted mattress foundation with memory foam beds, making sure the slats are no more than 3 inches apart. A platform base works for memory foam beds as well, but consider how well air can circulate through a solid base.
If you choose to use a box spring with a memory foam mattress, be sure to include a piece of moisture-resistant plywood in between the mattress and the box spring. This will help eliminate potential sagging.
Most mattresses can be placed on a flat surface. Viable base options for a number of mattresses include: slats, platform beds, adjustable bases, and even the floor. Be sure to check the dimensions of all base options and headboards before purchasing to make sure they will be a perfect fit for your new queen mattress.
Sleeping Cool and Airflow
If you sleep hotter than most, finding a mattress with cooling technology will be invaluable for you. Today, there's a huge market for cooling mattresses, so here's a few tips to keep in mind before you make your purchase.
Airflow is critical to you getting a good night's sleep— if you're constantly waking due to discomfort, your sleep health can be seriously compromised. We recommend a cooling memory foam mattress made with advanced open-cell technology or infused foams, such as gel memory foam, copper-infused foam, or graphite foam.
Another good option is an innerspring bed for one simple reason: the airflow in the support layer. The individual coils that make up this base layer easily circulate air; however, keep in mind that innersprings also sag much faster than memory foam beds do and they offer less support.
Sleep Trials, Return Policies, and Warranties
In general, most mattress companies— especially online mattress companies— offer a sleep trial for you to bring the mattress home and give it a test run. On average, most companies offer around 100 nights or about 3 months. If you're not satisfied at the end of the sleep trial, most companies will offer a refund if you're not satisfied.
Most companies offer a defect or manufacturer-issue warranty on their mattresses. A majority of extended warranties are for 10 years, with some companies offering 20-year warranties, and even a lifetime warranty in some cases. Be sure to check the warranty on the mattress before purchasing to know how you're covered.
Keep in mind, however, that some 20-year warranties are prorated, meaning that for a portion of the warranty (normally the second 10 years) a percentage of any repairs or replacements will be coming out of your wallet.
Planning a Budget for a New Queen Mattress
Once you've narrowed down what type of mattress is best for your body type, sleep style, and even temperature regulation, it often comes down to dollars and cents. Fortunately, many mattress types have a broad spectrum of price points.
On average, plan to spend anywhere from $500-$2,000 on a good mattress. But remember, a higher cost doesn't always equate with quality. Thorough research, testing the mattress out in a showroom where possible, and utilizing a company's sleep trial are all great ways to ensure you are getting the queen size bed you want at a price that works for your budget.
FAQs
What is the top-rated mattress for 2021?
While many reviews vary on the subject, all of the mattresses listed above fall among the top rated mattresses of the year. We recommend customers review all of the features and then make their selections based on their own sleep needs. Keep in mind the sleep trials that come with most mattresses so you'll always have time to change your mind after a purchase.
When is the best time to buy a mattress?
The best time to pick out a new mattress is when your old one is doing more harm than good. If you're waking up in pain, or without feeling rested, consider making a switch to a newer model. To get a good deal, be sure to look out for deals on big shopping days like Black Friday, Memorial Day or Labor Day.
What mattresses do hotels use?
Most hotels use an innerspring coil mattress simply because they are some of the most affordable mattress options out there. Depending on the quality of the hotel, some companies are beginning to add foam toppers for extra comfort. Some high-end hotels are switching entirely to memory foam mattresses.
Is it better to sleep on a hard or soft mattress?
The answer to this question depends on your favorite sleeping position. Side sleepers should look for a medium to soft mattress to experience the most pressure relief. Back and stomach sleepers benefit from the support that a medium-firm to firm mattress provides.
Are box springs outdated?
A box spring is certainly no longer necessary for a comfortable night's rest. In fact, you can damage a foam mattress if you place it on top of a box spring. The inner coils are spaced far enough apart that the foam may sink between them, stretching the mattress out of shape.
Pick the Best Mattress
Choosing a new mattress is an overwhelming task to be sure, but we know with this newfound knowledge, you're up for it. Just remember to keep your personal preferences in mind when selecting a mattress, rather than shopping by brand or popularity alone. Just as no two people are the same, no two mattresses are exactly the same, which is why we want you to be prepared to make the final purchase.
And once you do, remember you can sleep soundly, knowing you have that sleep trial window to change your mind. We're sure one of these options could end up being the right one for you.