Best Mattress Foundation: Reviews and Buyer's Guide
Updated November 22, 2023

Bedding Guides
Recently upgrade your sleep set? Buying a quality mattress foundation prolongs the lifespan of your new bed. While many view a foundation as an accessory to their new mattress, they go hand-in-hand. Finding the best foundation to pair with your new bed helps you get the most out of your investment.
In this guide, we'll be discussing what a mattress foundation is, the benefits of using one, how it differs from a box spring, how to best support different mattress types, and finally, our recommended mattress foundations you can buy today.
30 Second Summary: Best Mattress Foundation
Our Recommendation: Amerisleep Upholstered Bed Frame — The Amerisleep Upholstered Bed Frame is our Editors' Choice as the best mattress foundation because it is easy to assemble, designed to support all mattress types, and competitively priced. Plus, it offers a classic look that makes a bedroom look more appealing.
Runner-Up: Zoma Mattress Foundation – We also love Zoma's foundation because it has sleek upholstery, comes with a perfectly-spaced slat pack, and works by itself or within your bed frame.
Best Mattress Foundations of 2023
A simple search on Google will give you hundreds of mattress foundation results, which can make choosing the best one a bit of a challenge. To make your search easier, we'll be discussing our eight recommended foundations. Let's dive in.
We like the Amerisleep Upholstered Bed Frame because it takes less than five minutes to set up, comes with a 1-year warranty, and is competitively priced. Plus, it's designed to be compatible with any kind of mattress, so you don't have to own an Amerisleep mattress to use one of their foundations.
Amerisleep's foundation stands 13 inches tall. This foundation has solid wood panels and a frame with grey upholstery. The design matches most decor, with a headboard giving it a classic look. To make sure your bed stays in place, Amerisleep designs this frame with side rails.
Amerisleep's foundation requires zero tools to set up. The price of this foundation is $779.40 for a Queen.
AMERISLEEP UPHOLSTERED BED FRAME
Muted grey design fits in most bedrooms
Underbed storage space for items
Easy-to-assemble design
The Amerisleep Mattress Foundation is simpler than their upholstered bed frame, designed to suit all types of mattresses from spring to all-foam beds. The slatted surface is reinforced by a center beam, preventing the development of "soft spots" in the frame's support. This keeps the mattress lifted, no matter how you toss and turn.
This mattress foundation can comfortably support up to 750 pounds, thanks to its sturdy design. With the elevated height and uncompromising support, this mattress foundation helps maximize your mattress's value at an affordable cost.
The Amerisleep Foundation ships free within the continental U.S. It also comes with the protection of a 1-year warranty.
AMERISLEEP MATTRESS FOUNDATION
All sizes under $500 for people on tight budgets
Sturdy wooden structure with reinforced center
Assembles quickly in minutes with no tools required
3. Best Cooling Mattress Foundation: Zoma Foundation
The Zoma Foundation is another great foundation to consider. Like the Amerisleep Foundation we discussed above, the Zoma Foundation works as a replacement for a box spring or as a stand-alone base. We like the Zoma Foundation because it features dark upholstery to match nearly any decor and contains a slat-pack system that offers superior support.
The Zoma Foundation is easy to assemble; with a corner-clip design, you can easily snap all four corners of the base into place. Then, the slat pack rolls out on top of the foundation to provide your mattress with even, sturdy support. The slats in the slat pack are only three inches apart, so they're fit to support almost any mattress type.
Always be sure to read the warranty your mattress comes with, as that will detail the support needed to meet warranty guidelines. (You can void a mattress' warranty by not using the proper foundation!)
Zoma uses 100% pine wood in this foundation as both the legs and the side rails. They also back their foundation with a 1-year warranty to ensure you get the most for your money.
Zoma sells its products online-only; if you're interested in purchasing or learning more about their foundation, visit the Zoma Sleep website. A Zoma Foundation is normally priced at $300 for a queen.
ZOMA MATTRESS FOUNDATION
Non-slip fabric-covered slat pack
Corner-clip design for easy assembly
Even spacing between slats for airflow
4. Best Budget-Friendly Mattress Foundation: Vaya Platform Bed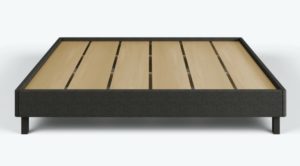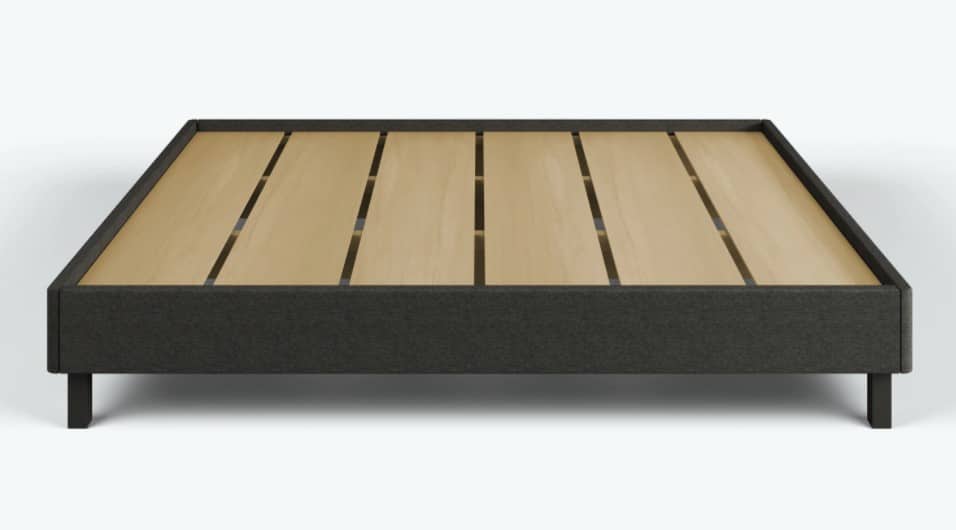 The Vaya Platform Bed is designed to be used instead of a traditional bed frame. While this does mean you can't pair it with an existing bed base that you love, this also means Vaya ensured their platform bed would look good and feel great on its own.
The platform bed has a simple design that makes it easy to put together. People can slide the bed's sides together, then add the center support and slats within the span of a few minutes. No tools are needed to put the frame together.
The Vaya Platform's base, support beams, and slats are hardwood, while the fabric covering along the sides is a light grey polyester. This fabric covering gives the bed a neutral look that allows you to seamlessly slip it into almost any bedroom, regardless of personal style.
The slats are oversized to create an almost flat surface with minimal spacing between the slats. This ensures consistent support to prevent sagging while still promoting airflow through the mattress's base to remove collected moisture and absorbed body heat.
A Vaya Foundation is $499 with free shipping for a queen size frame. Shoppers can also choose a twin, twin XL, full, king, or California king size frame. Regardless of what size they choose, their frame will be backed by a 1-year warranty.
VAYA PLATFORM BED
Hardwood slats resist sagging after years of use
Nearly flat surface for maximum support and breathability
Platform bed stands on its own and fits with most styles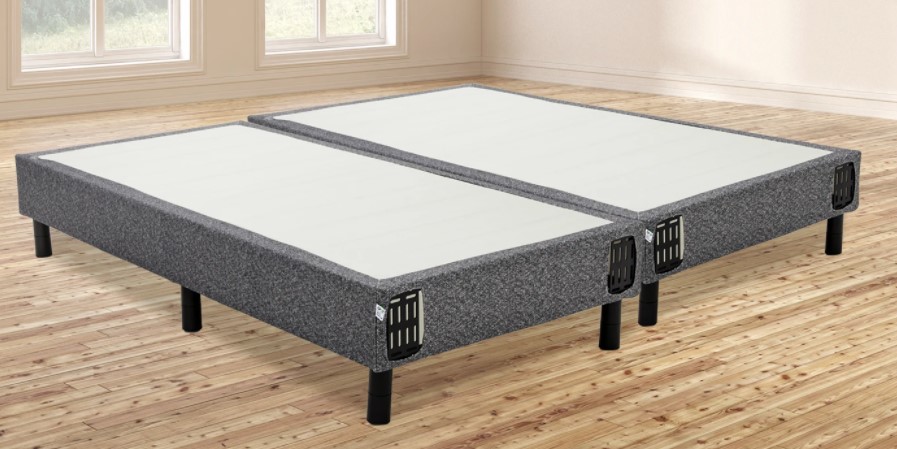 Mattress foundations come in more than just wood, with many manufacturers focusing on a metal framework instead. When it comes to metal mattress foundations, our top recommendation is the GhostBed All-in-One Foundation™.
GhostBed states that the foundation's all-metal construction allows it to hold up to 2000 pounds. We suggest plus-size sleepers pair it with a mattress for heavy sleepers for a good night's rest.
The two-piece legs of the foundation screw onto the metal frame, letting you remove a piece and lower the bed's overall height. Bed height can affect how easy you find it to slip in and out of bed, so many shoppers find adjustable bed height a nifty feature.
The GhostBed All-in-One Foundation™ comes with free shipping and a 20-year warranty.
GHOSTBED ALL-IN-ONE FOUNDATION
Durable metal frame can support hundreds of pounds
Neutral gray cover fabric complements simple or colorful styles
Can add on a headboard or footboard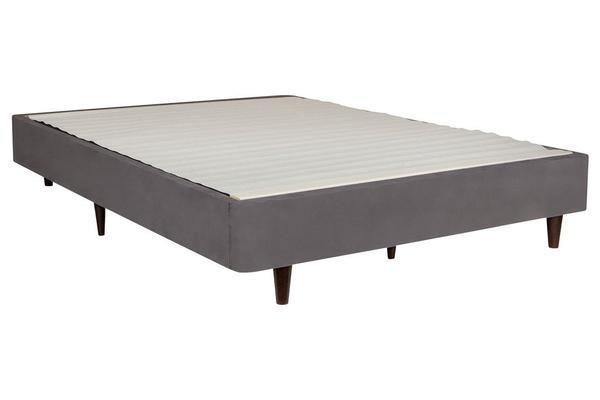 Up next on our list is Nest Bedding's mattress foundation, designed to be paired with their mattresses. We're fans of this foundation because it's entirely customizable and versatile. Nest Bedding's foundation comes with removable legs, so it works as a box spring or bed base, depending on how you plan on using it.
This foundation is sold as a low profile base or high profile base, being 5.5 or 8 inches tall, respectively. The detachable legs are 5 inches tall, so they add some height to the foundation, too. Plus, it's available in several colors, including black, tan, and gray.
Nest's foundation features wooden side panels and a slat pack with slats spaced 3 inches apart, so it's compatible with a lot of different mattresses sold.
A fun feature of this base is the USB ports built-in to either side, making charging convenient. Fortunately, like other foundations featured, Nest Bedding's foundation is easy to assemble, too and can be done without the use of any tools. A Queen-size Nest Mattress Foundation costs $399, making it the most expensive option on our list.
Nest Bedding Mattress Foundation
Useable as a foundation or platform bed
Pinewood and suede fabric upholstery
Put it together in about 10 minutes
Another one of our favorite mattress foundations is built and sold by PlushBeds. PlushBeds carries two different orthopedic mattress foundations— one low profile at 5 inches tall, and the other high profile at 8 inches thick. These foundations are excellent for heavier sleepers, as they support up to 1,200 pounds.
The PlushBeds mattress foundation is made with solid spruce wood, so it should be sturdy and long-lasting. We like this foundation because the slats are only 2.5 inches apart, so they offer adequate support for a variety of different mattresses. The only downfall to buying this foundation is that it has to be used within a bed frame, so it can't be used as a base on its own.
These bases do come with a warranty, but after reaching out to PlushBeds to learn more, we did not receive any answers regarding how long it is or what it covers. Before buying with this company, make sure you have an understanding of their warranty and return policies to ensure you're spending your money wisely.
The price of a Queen PlushBeds foundation is $300.
PlushBeds Mattress Foundation
Available in split queen, king, and Cal king
Organic cotton covering for clean, eco-friendly look
Heavy duty design supports 1200 pounds
What is a Mattress Foundation?
A foundation is a wooden or metal frame with a sturdy, flat board attached to the top, providing even support to a mattress above. In a bed set, the foundation is placed directly on the bed frame between the headboard and footboard so your mattress can rest on top.
Though many people use the terms "box spring" and "mattress foundation" interchangeably, they are actually two different things— while a foundation is compatible with most mattresses, standard box springs can cause damage to foam beds and are better suited for innerspring or hybrid mattresses.
What is the Difference Between a Box Spring & a Mattress Foundation?
A box spring is a wooden or metal frame with steel coils inside arranged in a grid. You set your mattress directly on top of this spring system, which adds an extra bounce to your bed.
While a foundation offers a flat surface to lay your mattress on, a box spring provides a bed of coils. The biggest issue with box springs is their tendency to damage the bottoms of mattresses, especially foam, which will void your warranty.
Benefits of Mattress Foundations
For the most part, many mattress and bedding brands have ditched the idea of using a box spring and instead design and sell mattress foundations. This transition began because these companies found foundations provide thicker, more durable support and are expected to hold up longer than the average box spring.
So, why do people buy a box spring or foundation?
Maintain your warranty. Many mattress warranties require the use of a mattess foundation to give your bed adequate support.
Give your new mattress best support. Provides sturdy, even support for your mattress so you can sleep comfortably.
Extend mattress' longevity. Helps prevent premature sags or indentations from occuring through your mattress' surface.
Adds extra height to your bedframe. Mattresses can range in height from 6 inches tall to over 14 inches thick, and a bed frame can easily swallow up a thinner mattresses. To add extra height to your bed set, include a foundation underneath of your mattress. A taller bedframe is easier to get in and out of, so you can roll out of bed in the mornings trouble-free.
Keeps your bed in place. A sturdy foundation will prevent your mattress from shifting as you get in and out of bed or toss and turn at night.
Absorb shock and reduce pressure. Foundations absorb shock and pressure to prevent you from experiencing backaches when you wake up.
Promotes airflow through bed. Slatted mattress foundations have a breathable design to keep hot air flowing out of the bed.
Helps keep your bed clean. Keeping your mattress up off of the ground prevents dirt, dust, and mold from accumulating on your bed. Plus, it helps keep your mattress free from moisture.
Usually, the warranty agreement your new mattress comes with explicitly states what kind of support your mattress needs to last its expected lifespan. In fact, a lot of the times more prominent mattress companies will sell a compatible box spring or foundation that's designed to be paired with their mattresses.
Risks with Cheap Mattress Foundations
There are certain risks you run if you buy a cheap or low-quality mattress foundation that does not support your bed correctly. For example, a mattress foundation that offers sub-par support can cause your mattress to feel uncomfortable.
If your mattress has poor support and begins to feel uneven, lumpy, or sagging, you're likely to point the finger at the mattress itself and not consider the base may be the source of your sleep issues. Make sure you're getting the most of your investment towards better sleep by pairing your new mattress with a well-crafted foundation.
While mattress foundations are an excellent addition to any bed set, it's important to mention, though, that not everybody needs a mattress foundation. Yes, all mattresses need a proper support system, but what if your bed frame alone fits the bill?
In the next section, we'll discuss the bed frames you can buy to avoid having to splurge on a mattress foundation, too.
Alternatives to Mattress Foundations
If you're replacing your entire bed set, you can buy a bed frame designed to give your mattress the right support, so you don't have to buy a mattress foundation, too. Alternatively, a lot of mattress foundations come with detachable legs, so you can use them within your bed frame, or place them directly on the floor to work as a "frame" itself.
If you do not want to replace your entire bed frame, or you have limited space, we recommend finding a mattress foundation with detachable legs, so you have the option to use it with a bed frame or on its own.
Bed frames that don't typically require extra foundation support include platform beds and adjustable bases. When replacing your bed set, we recommend buying an adjustable base to get the best sleep, if your situation permits.
Metal Bed Frame
Metal bed frames are a low maintenance, inexpensive way to support your new bed set. You cannot set your mattress directly on a metal bed frame as it could cause some serious damage, but these will hold your box spring or mattress foundation perfectly in place.
These beds have a metal frame with a bar across the middle for extra support. Plus, some metal bedframes are adjustable to fit different mattress sizes.
Platform Beds
Platform beds are relatively popular due to their ability to properly support almost every type of mattress you can buy. A platform bed has a relatively simple design. These beds have a rectangular frame, a sturdy, flat base where you set your mattress, and durable legs.
Most of the time, they have no head or foot board, but sometimes come with an option to attach one.
The base of a platform bed can be slatted or a solid surface depending on the model you buy. Either way, both slatted and solid surfaces are compatible with a large portion of mattresses.
Metal Platform Base
If you're somebody who needs under-bed storage, you should consider a metal platform base. These are sturdy, easy to set up, and simple to maintain.
Usually, they're a bit taller than other platform beds, so you can set your mattress right on top and have plenty of room for storage below.
These have the same design as any platform bed, except they're metal.
Adjustable Beds
Adjustable beds provide a variety of sleep-promoting benefits that help you achieve undisturbed sleep night after night.
First and foremost, adjustable bases work wonders to alleviate back pain. Because adjustable bases include head and foot articulation, it's easy to find the most comfortable position to ease pressure points and discomfort.
For people who suffer from sleep apnea, or share the bed with a partner who snores, an adjustable base can be your solution for a peaceful night. Propping your head up at an angle helps keep your airways open, preventing symptoms of obstructive sleep apnea and snoring.
Keeping your upper body propped at an angle also helps prevent acid reflux and heartburn.
Even though adjustable beds are ideal for improving your sleep, they can be pricey, and not everybody can squeeze one in their budget. In the next section, we'll discuss the best mattress foundations you can buy to give your new bed the best support.
What's the Best Support for Different Mattress Types?
All mattresses need proper support, but the best kind of support can change from bed to bed depending on the construction of the mattress.
When it comes to all-foam beds, especially memory foam mattresses, never use a box spring for support. Traditional box springs can damage the consistency and support of foam, drastically reducing your bed's lifespan. Instead, foam mattresses pair well with adjustable bed frames, foundations, and platform beds.
Hybrid and innerspring mattresses pair well with either a box spring or foundation; deciding between the two comes down to a matter of personal preference. Plus, these beds work well with most any bed frame— so you have options.
Frequently Asked Questions
Are beds without box springs comfortable?
Yes, many of the most comfortable mattresses manufactured today are made with the assumption that they will not be used with a box spring. Plus, foam mattresses shouldn't be used with a box spring because a box spring can't offer the consistent support a foam bed needs. The coils inside the box spring are spaced far enough apart that the mattress can dip between them, stretching the bed out of shape.
Can you put a mattress directly on slats?
Yes you can, if the slats are moisture-resistant and placed no more than 3 inches apart. Moisture-resistant wood prevents buildup that promote mold and mildew growth. And if the slats are more than 3 inches apart, parts of your mattress may sag between the slats, damaging the mattress's support and reducing its comfort.
Is it better to have your bed high or low?
The height of a bed, measured from the top of your mattress to your floor, is often 16 to 25 inches tall. Most people find their most comfortable bed height lets their feet rest on the floor, with their knees level with their hips when they sit on the edge of their bed. If your bed frame is too short, you can invest in a pair of bed risers and raise it by an inch or two.
Do mattresses need a foundation?
Not necessarily. There are plenty of alternatives, such as traditional wooden bed frames, modern metal frames, and platform beds. You can even pair a foundation with a traditional bed frame and get the best of both.
Can you use a piece of plywood instead of a box spring?
You can, as long as it's thick enough (at least 0.75 inches) and is moisture-resistant. A solid piece of plywood will provide uniform support, but it will also cut off air circulation, which can keep excess moisture from being wicked away. Moisture-resistant wood can prevent mold and mildew from growing underneath your mattress.
Research and Resources
In making this article, we:
Researched fifteen leading brands.
Referenced multiple review sites for the most comprehensive information.
Spent 12 hours writing and revising the article to deliver the most value-driven, accurate content possible.
Did You Find Your Compatible Mattress Foundation?
We hope this article has helped you determine the key differences in a box spring and mattress foundation and has guided you towards the best foundation for your new mattress. Before buying a foundation, always read the warranty requirements with your new bed to double-check what you're buying meets the mark.
Remember, during your search for the best bedding and sleep accessories, read reviews and online mattress guides to point you in the direction of your most comfortable bed set.