Best Smart Mattress: Reviews and Buyer's Guide

Mattress Guides
Smart technology has become more and more integrated into our homes and lifestyles—smart light bulbs let us turn our lights on and off after we've stepped out of the house; smart refrigerators keep track of the food we buy and let us know when we run out; smart cookware lets us prepare dinner while we're at work. With smart home devices making the rest of our lives easier, it only makes sense to use them to help us get better sleep.
Smart mattresses could improve sleep quality for those struggling to get a good night's rest, with specialty foams, adjustable firmnesses, and sensors to track sleep progress. Over 70 million Americans suffer from chronic sleep disorders, and 1 in 3 adults don't get enough sleep. A smart mattress could be the solution they are looking for.
In this article, we share our favorite smart mattress brands and provide a comprehensive guide on what to look for in the best smart mattress.
30 Second Summary: Best Smart Mattress
Amerisleep AS3 — We like Amerisleep's AS3 as the best smart mattress because it features zoned support HIVE® technology and eco-friendly Bio-Pur® foam to upgrade your night's sleep. Plus, it costs a little over a thousand for a queen.
Best Smart Mattresses
| | Mattress | Highlights | Price |
| --- | --- | --- | --- |
| | Amerisleep AS3 | Contains HIVE® technology and eco-friendly Bio-Pur® memory foam to improve your night's rest without breaking the bank. | |
| | Zoma Sports Mattress | Contains Triangulex™ technology to facilitate healthier sleep positions and promote faster recovery for athletes. | |
| | Vaya Hybrid Mattress | Contains pure Vaya Foams to accommodate most sleep styles and body types. | |
| | Eight Sleep Pod | Four layers of premium foam with Active Grid regulates temperature and tracks sleeper biometrics. | |
Best Smart Mattress Overall: Amerisleep AS3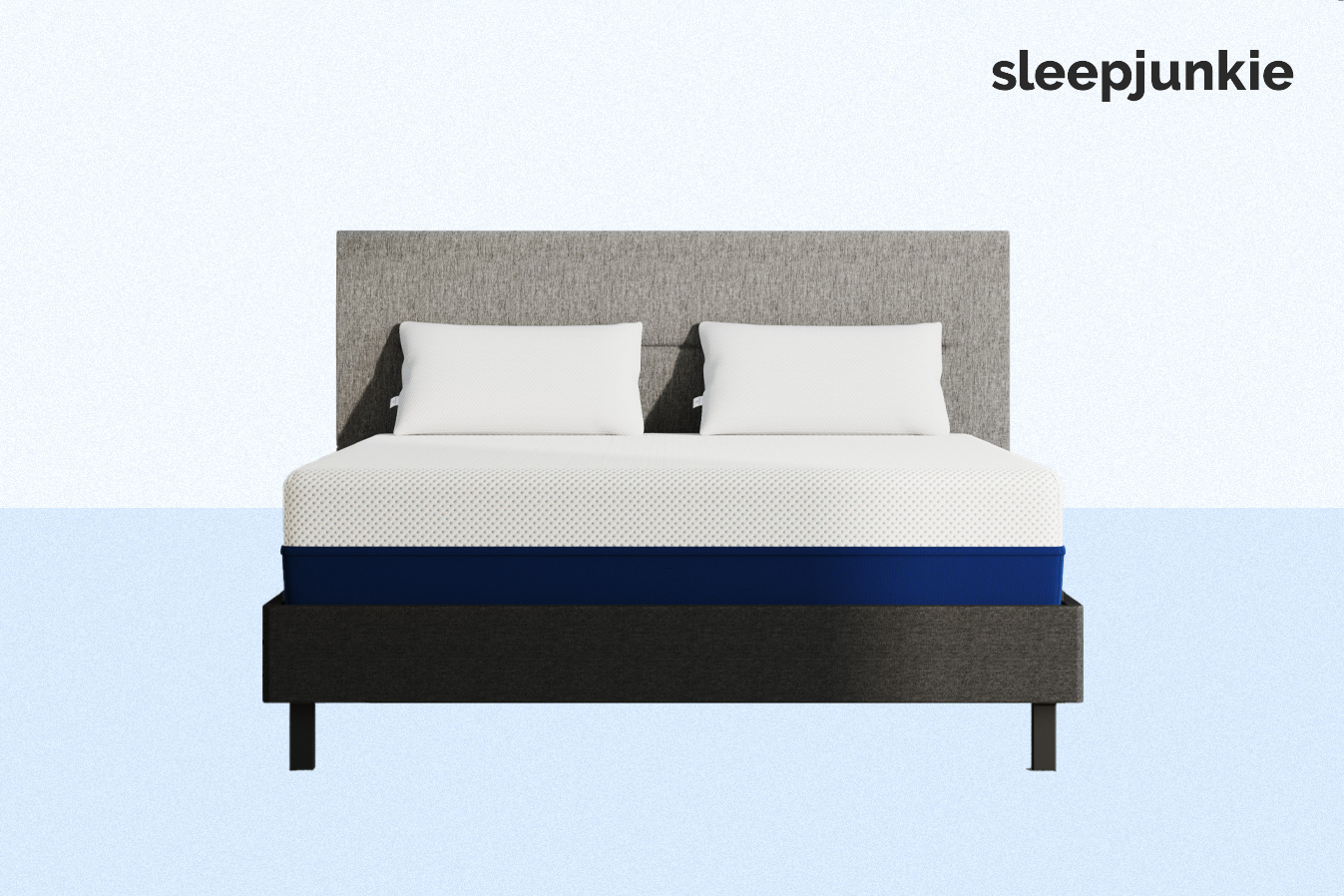 Amerisleep mattresses come in five different feels: firm, medium-firm, medium, medium-soft, and soft. These five firmness levels allow Amerisleep to accommodate all types of sleepers.
The comfort layer of the AS3 is Bio-Pur® memory foam, a more breathable and responsive alternative to traditional memory foam for a cooler night's sleep. Bio-Pur® molds to your body for pressure point relief, leaving you refreshed in the morning. The manufacturing process for Bio-Pur® replaces select petrochemicals with plant-based substitutes, to minimize any chance of "new memory foam smell."
The second layer contains HIVE® technology for targeted support. Hexagonal cutouts create a softer feel in the shoulders and hips areas while adding support to the head, back, and feet areas. In other words, HIVE® maintains spinal alignment while letting the heavier parts of your body sink into the mattress.
The base layer is Bio-Core® foam, which supports all the other layers for greater durability.
When paired with an Amerisleep adjustable base, you can experience a massage from head to toe, perfect for unwinding after a long day. You can set an alarm that vibrates to wake you up, eliminating any need for blaring beeps in the morning. Plus, you can elevate your upper body to watch TV or read, or sleep elevated to prevent snoring and acid reflux.
Amerisleep mattresses are available in twin, twin, full, queen, king, and California king sizes. Every Amerisleep mattress comes with a 100-night sleep trial and a 20-year warranty.
AMERISLEEP AS3
Breathable Bio-Pur® foam
HIVE® technology for zoned support
Bio-Core® promotes durability and longevity
Best Gel Memory Foam Smart Mattress: Zoma Mattress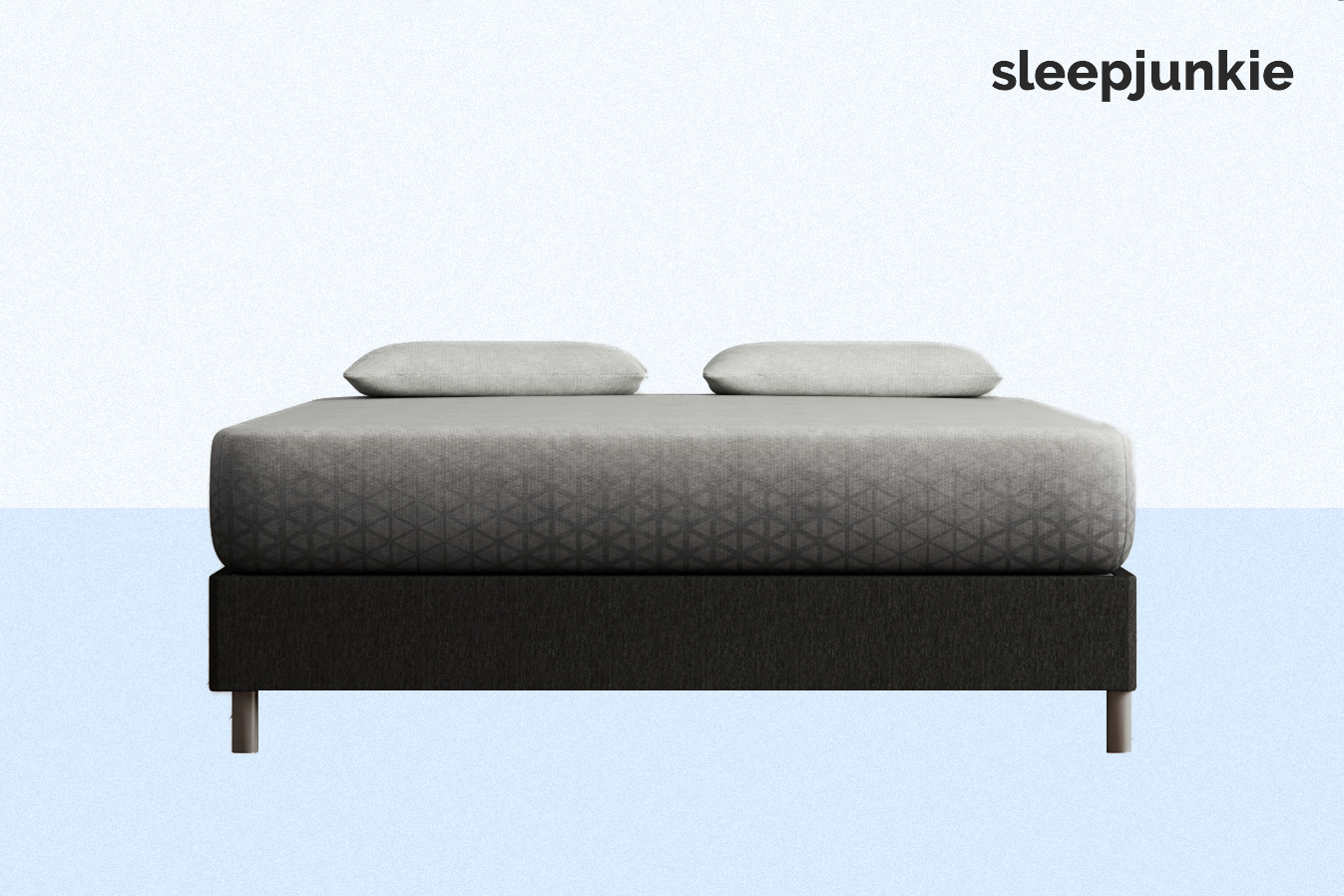 The Zoma Mattress uses unique sleep technologies to help athletes achieve a full night of deep sleep. The 11-inch mattress has three foam layers.
Cooling gels in the first memory foam layer regulate your mattress's temperature, preventing overheating. The first layer also contains Triangulex™— triangle-shaped cutouts in the shoulders and legs areas that promote airflow and improve contouring for a softer feel.
Reactiv™ is the latex-like second layer that adds some bounce to the mattress and transitions between the soft comfort layer and the supportive base. Support+ foam is the bed's durable base, deterring sags.
With its medium feel, the Zoma Mattress can comfortably accommodate side sleepers and combination sleepers. The bed's memory foam isolates movements, so you won't disturb your partner or vice versa.
The Zoma Mattress is available in twin, twin XL, full, queen, king, California king, and split king sizes. The mattress includes a 100-night trial period and a 10-year warranty that protects against sagging greater than 0.75 inches.
ZOMA MATTRESS
Triangulex™ softens areas under shoulders and legs
Reactiv™ adds support, comfort, and responsiveness
Support+ foam promotes mattress longevity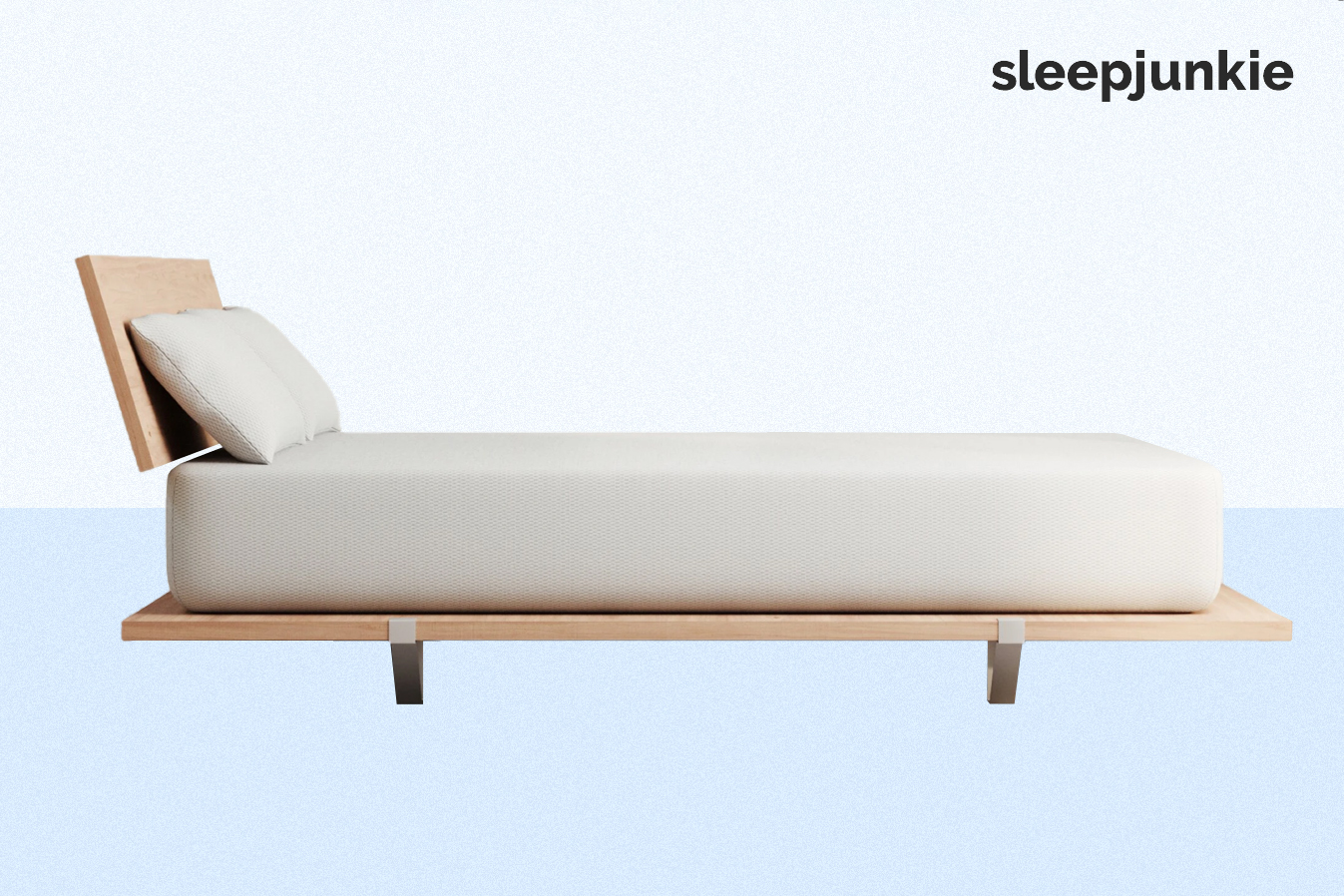 If you're seeking an inexpensive smart mattress, the Vaya Hybrid is perfect for you. This bed is engineered with proprietary foams and pocketed coils to suit virtually all sleep styles and body types, and it costs less than $1000 for a queen. So how does Vaya make a bed for all sleepers?
Vaya's high-tech foam blend is designed to blend the benefits of memory foam and latex to offer pressure relief and buoyant support; it cushions curves and adapts to movement to give sleepers a nice mix of comfort and lift. This allows it to cushion sleepers in the side sleeping position, and lift sleepers in neutral alignment while in the back or stomach sleeping position.
Overall, the Vaya bed contains three layers: a 2-inch comfort layer of Vaya Comfort Foam, an 8-inch pocketed coil system to improve responsiveness and promote airflow, and a 2-inch sturdy support layer to resist sagging. Vaya's foam is also cleaner than most other foams used in mattresses, as it's CertiPUR-US® certified to be free of harmful chemicals and low in VOCs.
Vaya's hybrid mattresses are available online only, on the Vaya Sleep website or Amazon. Regardless of how you buy, the bed comes with a 100-night sleep trial and a 10-year warranty.
VAYA HYBRID
Safe and comfy for all sleepers 
Less likely to off-gas, making it great for allergy sufferers
Pain-relieving and cooling
Best Smart Mattress for Athletes: Eight Sleep Pod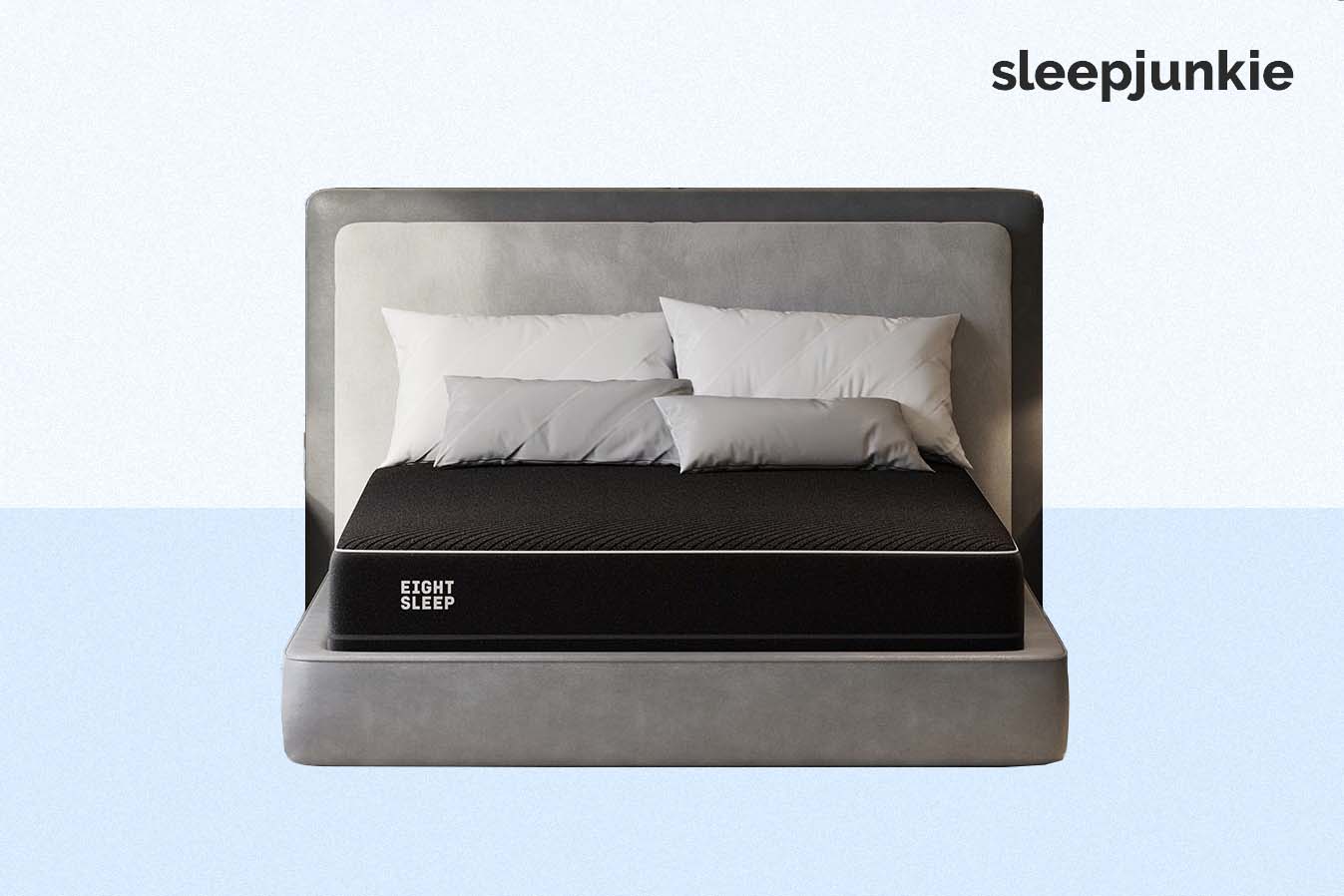 The Eight Sleep Pod mattress is 11 inches tall and contains four layers of premium, CertiPUR-US® certified high-density foam with an Active Grid fabric resting on top. Unfortunately, Eight Sleep hasn't released the details on the foam layers, including thickness. The mattress cover is a soft knit material.
The Active Grid is a thin polyester-cotton, tech-powered material. Active Grid regulates mattress temperature and tracks over 15 biometrics in the body, including heart rate, breathing patterns, and sleep cycles. Customers can review this report nightly, plus receive tips on how to sleep better through an app connected to their Eight Sleep Pod mattress.
The Eight Sleep Pod mattress is able to sync up with other smart devices in the home to help create a bedroom routine, including a smart alarm. This temperature-regulated smart alarm provides cooling to encourage deep sleep, and gradually warms up to wake you without the annoyance of a loud alarm.
The medium feel of the Eight Sleep Pod mattress makes it a great option for any type of sleeper and for all body types. The Eight Sleep Pod mattress also has different wiring for both sides of the bed, a great feature for couples. Separate wiring is designed to meet the different needs of each individual.
The Eight Sleep Pod mattress is available in full, queen, king, and California king sizes. The mattress comes with a 100-night sleep trial, a 2-year tech warranty, and a 10-year warranty.
EIGHT SLEEP MATTRESS
Active Grid tracks sleep patterns
Syncs with other smart devices to create ideal sleep environment
Meets individual sleep needs of couples
Best Cooling Smart Mattress: NordicTrack Sleep

The NordicTrack Sleep mattress contains three layers: a dual-sided layer of CoolSupport™ and NovuGel™, a layer of RightShape™, and a layer of pocketed coils. The cover is a 3D circular knit fabric to wick away moisture and offer better airflow.
CoolSupport™ and NovuGel™ memory foam is infused with gel beads for balanced temperature while providing support and pressure relief to the body. RightShape™ is a special interlocking, dual-density foam with CoilFlex™ pivoting microcoils in the middle that move left and right, and up and down to absorb movement and minimize motion transfer.
The support zone consists of pocketed coils, adapting support based on sleep position. This layer also includes a high-density foam encasement for consistent edge support without the risk of sagging.
The NordicTrack Sleep mattress is a mattress in a box mattress brand with tracking powered by iFit. The matching app tracks a sleeper's heart rate and breathing patterns while offering sleep coaching to help improve your sleep quality. The medium feel of the mattress has good motion isolation and is dust mite resistant.
The NordicTrack Sleep mattress is available in twin XL, queen, and king sizes. The mattress includes a 100-night sleep trial, a 1-year limited sensor warranty, and a standard 10-year warranty.
NORDICTRACK SLEEP
Sleep tracking powered by iFit
Pivoting microcoils minimize motion isolation
Gel memory foam absorbs and disperses heat
Best Smart Air Mattress: Kingsdown Sleep Smart Air®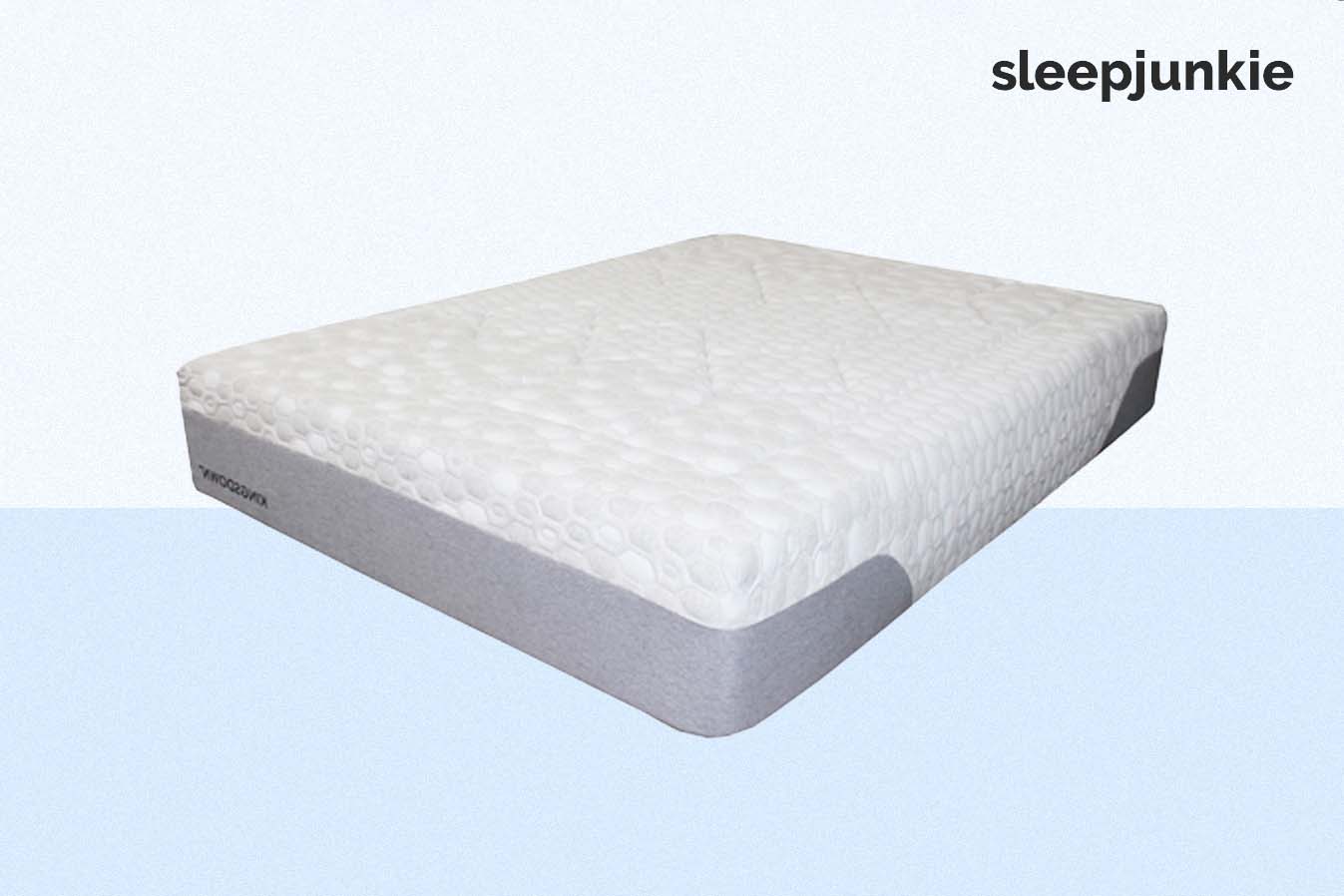 Kingsdown Sleep hasn't released the material specifications for their Smart Air® mattress, but they do use IntelliMax™ for the latest features in smart bed technology. The cover incorporates thermic technology to regulate temperature and wick away moisture.
The Kingsdown Sleep Smart Air® mattress includes a controller to customize three support zones for maximum core support. The power base is adjustable via Wi-Fi through the IntelliMax™ Smartphone app in elevating the head or legs to improve breathing and blood flow.
We were not able to get a price tag on the Kingsdown Sleep Smart Air® mattress because it's only available in-store. However, potential customers can take a bedMATCH® quiz to determine the right model and input their zip code to find the closest retailer.
The Kingsdown Sleep Smart Air® mattress includes a 5-year electronics warranty and a 10-year warranty. We were unable to confirm if a sleep trial is also offered or the available mattress sizes.
KINGSDOWN SLEEP SMART AIR®
IntelliMax™ technology
Thermic cover regulates temperature
Customizable three core support zones
Best Customizable Smart Mattress: ReST Bed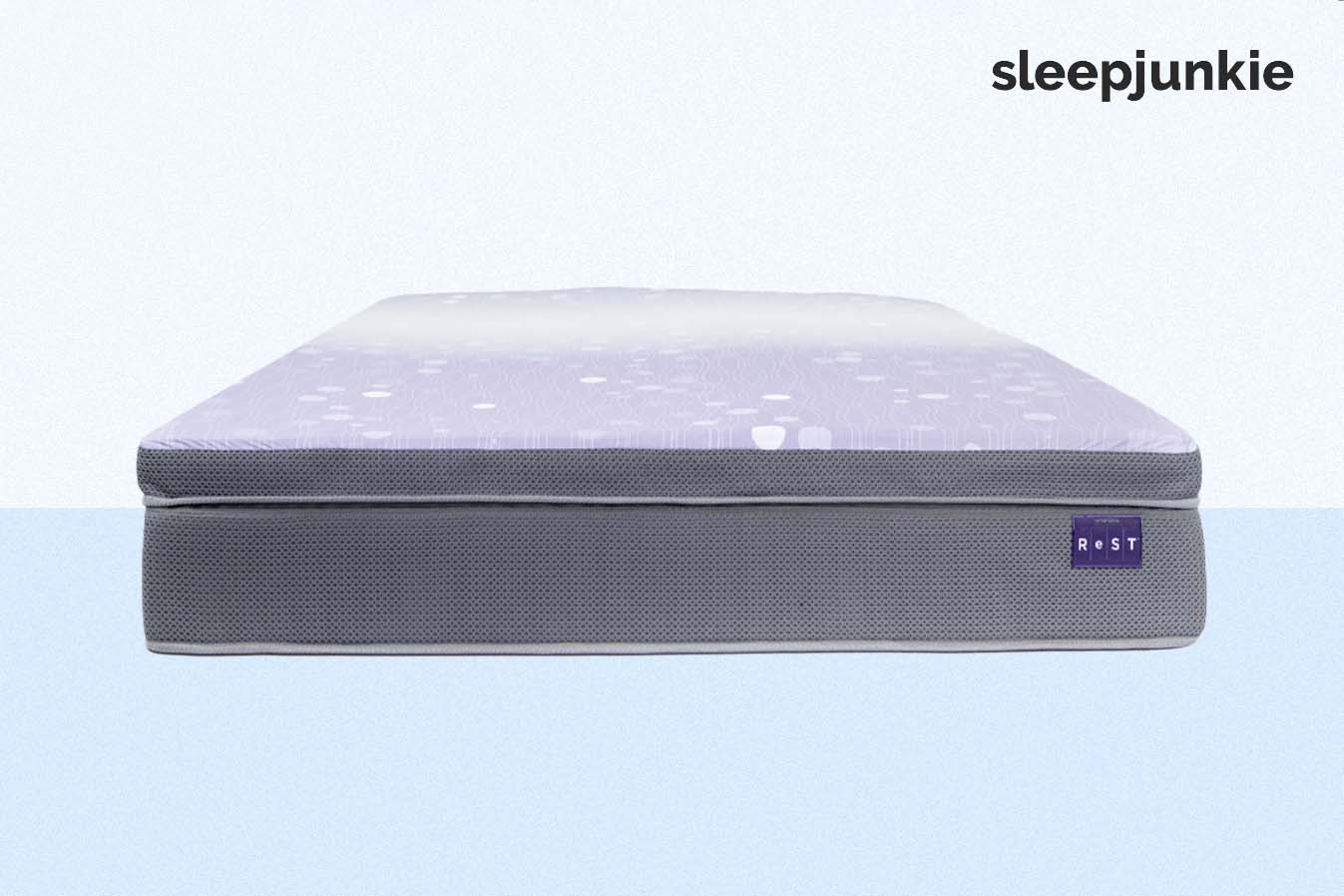 The ReST Bed is an air bed with medical-grade air chambers for support, topped with 3 inches of gel memory foam for comfort. The ReSt Bed offers three operation modes—manual for complete customization, auto position to adjust between presets as you shift positions in your sleep, and automatic to let the bed do all the work for you.
A ReST Bed offers five support zones—legs, hips, back, shoulders, and head. You can customize the feel of each section with the bed's pump, which generates its own WiFi signal so you can control it via the ReSt Bed app. The bed's sensor also collects your sleep data and sends it to the pump for your perusal.
The ReSt Bed's modular design gives it unique durability, as you can replace each part as it wears out rather than replace your entire mattress.
The ReSt Bed is available as a twin xl, queen, queen split top, king, king split top, Cal king, Cal king split top, a split king, and a split Cal king. A ReST Bed includes a 90-day sleep trial and a 10-year warranty.
REST BED
Medical-grade pump and air chambers
Three control modes for automatic position adjustments
Customizable zoned support
What is a Smart Mattress?
A smart mattress uses sleep technology to improve your rest and track how well you sleep.
Some mattresses include temperature regulation features such as cooling foams and built-in heaters. Many air beds let you adjust the bed's firmness, perfect for switching sleep positions or dealing with chronic pain issues. Sensor technology can monitor an individual's sleep patterns and routines, including how long a person sleeps, the length of each sleep cycle, and a person's body temperature, heart rate, and breathing patterns.
Smart mattresses are pricier than regular beds due to their technological properties and are hard to find.
Features of a Smart Mattress
The unique features not found in standard mattresses draw potential shoppers to smart mattresses. Their ability to track sleep patterns, body movements, and environment, and automatically adjust firmness make them an appealing option for sleepers.
Sleep Tracking
The main feature smart mattresses are known for is their sleep tracking abilities. Sleep tracking monitors the following:
The time you climb into bed
The time you fall asleep
The amount of time it takes to fall asleep
The time you wake up
The time you get out of bed
The amount of time spent in deep sleep compared to light sleep
The number of sleep disruptions
Time spent in your preferred sleeping position
How often you toss and turn at night
Based on the results, sleep trackers can offer suggestions on how to improve sleep, like going to bed at an earlier time or altering the temperature to encourage deep sleep. Sleep tracking can be monitored wirelessly or through electrical outlets.
Body & Environment Monitoring
Some smart mattresses use sensory technology to monitor your body's vital signs and the surrounding environment. These include:
Heart rate
Breathing cycle
Body temperature
Sleep surface temperature
Room temperature
Amount of light in the bedroom
You may not realize how each of these properties can affect sleep quality. Through body and environment monitoring, your smart mattress can accurately tell when you enter each sleep cycle and for how long. They can also suggest changes to improve sleep, like less lighting in the bedroom or turning down the thermostat at night.
Mattress Adjustments
Smart mattresses not only track your sleep patterns, but they can also adjust the mattress based on personal preference. Mattress adjustments include firmness level, climate control, electronic synchronization, and If This Then That (IFTTT)— these features allow you to craft the best mattress for your needs.
Firmness
Some smart mattresses use air chambers as their support layer. Sleepers can adjust the firmness level through an app or remote— less air for a softer sleep surface, and more air for a firmer sleep surface. Some smart mattresses include special technology that automatically adjusts the firmness when a sleeper switches sleeping positions— a great feature for combination sleepers. Smart beds are some of the best mattresses for side sleepers, too, since they can adjust to offer dynamic support for the spine as well as hip and shoulder joints.
Climate Control
Most smart mattresses offer climate control features— warming and cooling properties adjust themselves based on your personal preferences. Some sleep temperatures can be set for each side of the mattress.
Electronic Synchronization
By using the Internet of Things (IOT) system, sleepers can connect their smart devices to each other via Wi-Fi, including their smart mattress. This way sleepers can create the perfect sleep environment. For example, when falling asleep in bed, the smart mattress can detect you entering sleep and automatically dim and/or turn off the lights and adjust the thermostat. When the smart mattress senses you waking up, it can turn the coffeemaker on.
If This Then That (IFTTT)
If This Then That is a free online platform where sleepers can set automatic rules or software commands for their smart mattress. For instance, if the mattress temperature reaches a specific point, IFTTT will automatically lower the temperature of the mattress.
Is a Smart Mattress Right for You?
Smart mattresses are definitely a luxury option, but they come with several benefits which could be especially helpful for sleepers with medical conditions or athletes looking to improve their performance.
Health Benefits
The flexibility of a smart mattress could help those with medical conditions or those who constantly struggle to sleep to achieve a better night's rest. Elevation properties boost blood flow and improve breathing— great for those with sleep apnea, poor circulation, or those recovering from surgery or injury.
Temperature control also helps to minimize inflammation and induce sleep.
Active Lifestyle
Athletes and anyone who leads an active lifestyle can benefit from a smart mattress. Monitoring technology helps athletes optimize their sleep schedules and pinpoint areas of improvement. Temperature control can help improve muscle recovery by reducing inflammation from hard workouts.
Price Tag
Smart mattresses come at a higher cost than standard mattresses, largely due to the level of technology and features they contain. Customers can expect to pay between $1,000 to $5,600 for a smart bed.
Sleep Trials, Warranties, and Return Policies
With the expensive purchase of a smart bed, customers want reassurances they've made a sound purchase. This is why companies offer sleep trials, warranties, and return policies to their customers.
Sleep Trials
A sleep trial is a period of time companies give their customers to try out a new mattress within the comfort of their own home. Sleep trials last between 90 to 120 nights— it takes about 30 days for the body to adjust to a new bed. If the customer isn't satisfied with the mattress, companies will arrange to have the bed picked up and donated to a local charity.
Warranties
A standard mattress warranty lasts 10 years, and some extend up to 20 years. Manufacturer defects and sagging greater than 1 inch are usually covered under a mattress warranty, depending on the brand— some brands may cover less than 1 inch.
Smart mattresses may also include a separate warranty to cover the electronic aspect. These types of warranties usually last between 1 to 5 years, and they don't cover cosmetic damage.
Return Policies
Return policies are the next best thing if a company doesn't offer a sleep trial. Return policies last about 30 days— about the time it takes to adjust to a new bed. If the customer isn't happy with their new mattress, the company will issue a full refund as long as it's within the return policy.
Frequently Asked Questions
What does a smart bed do?
Smart beds are embedded with sensor technology that monitors your vital signs and sleep habits during the night. This technology then sends feedback to a smartphone app via WiFi connectivity. This feedback includes important information such as heart rate, breathing rate, and time spent in each sleep stage. Many smart beds also have the ability to adjust the temperature of the bed.
Do smart beds need a special foundation?
Smart beds can be placed on most modern mattress foundations—including solid, slatted, and adjustable frames. However, if there is an adjustable layer of air within the bed, it may not be compatible with an adjustable bed frame. Layers of air can become bent when the head or foot of the bed is raised.
Do adjustable beds damage mattresses?
Adjustable bed frames do not damage the mattress. However, when purchasing a smart bed, be sure the technical layers can be bent. Those with adjustable layers of air may become damaged when the head of the bed is raised.
How can I improve my circulation while sleeping?
The best way to improve circulation while sleeping is by resting on a pressure-relieving mattress. A bed that contours to the body, such as a memory foam mattress, will allow the muscles to fully relax, so healing can take place. Circulation can also improve by keeping the spine resting in a neutral position. The hips and shoulders should remain aligned during sleep to remove pressure on the spine.
Do smart beds need special sheets?
No. Most smart beds do not require special sheets. Standard sheets will fit these beds comfortably without disrupting the sensor technology.
Did You Find Your Smart Mattress?
While they come at a higher price tag, smart mattresses are an excellent choice to improve sleep quality through advanced technology for a luxury sleep experience. We hope this guide helped you find the best smart mattress.