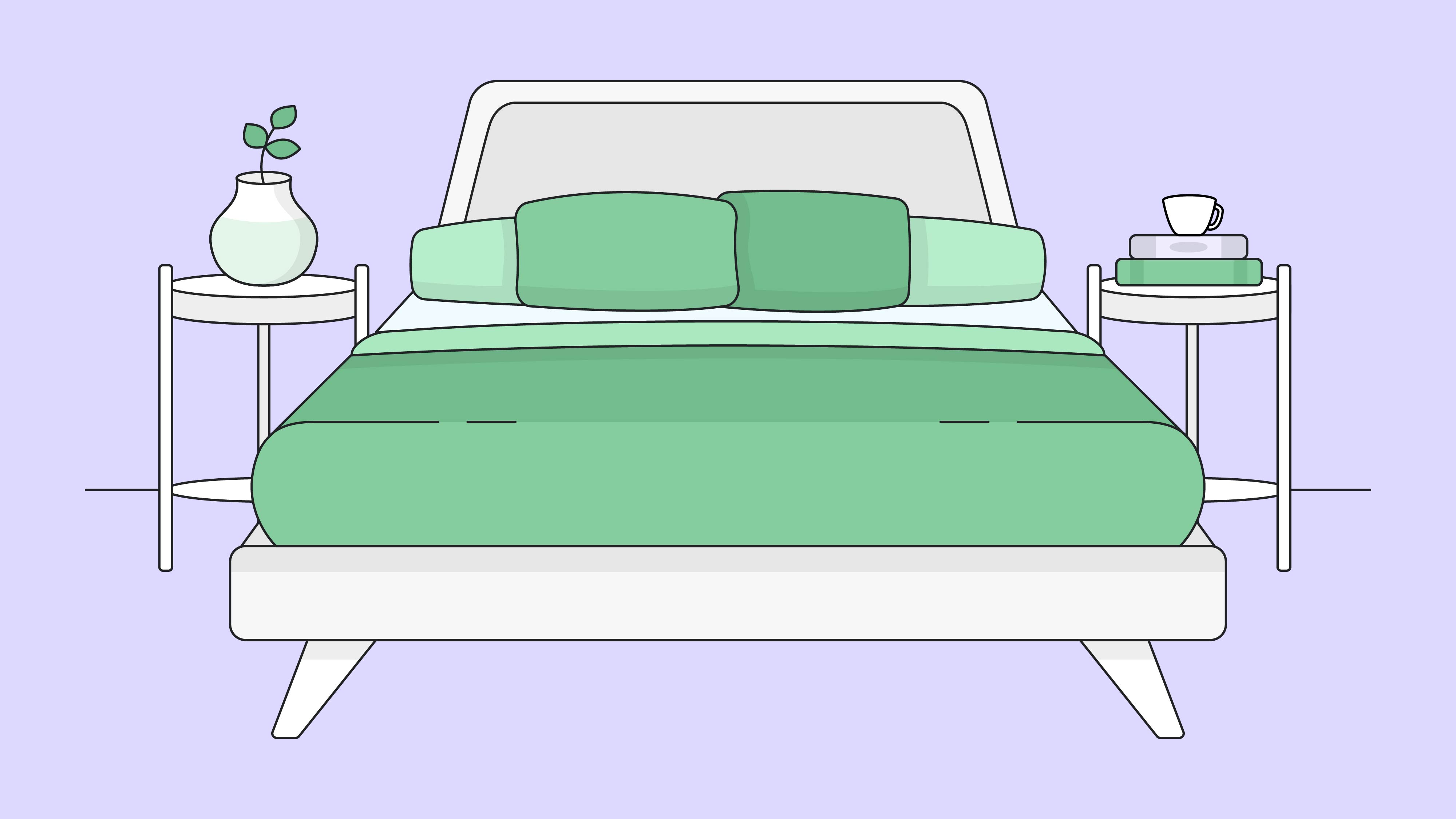 Best Mattress for Back Sleepers: Reviews and Buyer's Guide
Dr. Jennifer Miller, PT, DPT: Expert Physical Therapist and Pelvic Health Specialist
Dr. Jennifer Miller, PT, DPT: Expert Physical Therapist and Pelvic Health Specialist
Dr. Jennifer Miller is a compassionate and skilled outpatient physical therapist with nine years of experience in the field. She earned her Doctor of Physical Therapy from Elon University and holds a Bachelor of Science in Health Science from Minnesota State University-Mankato. Dr. Miller specializes in Neurological, Geriatric, and Vestibular Physical Therapy and serves as […]
Updated November 22, 2023

Mattress Guides
Sleeping on your back lets your spine, hips, and pelvis relax in a neutral position. Your weight is evenly distributed across the mattress, decreasing the risk for neck strain, paresthesia (pins and needles), and shoulder pain.
Back sleeping does not come without downsides, however. Those who sleep on their back report worse sleep than side sleepers. Back sleepers are also more prone to snoring, sleep apnea, or lower back pain, and if you already suffer from these conditions, sleeping on the back can make them worse. The key is a supportive, durable mattress.
In this article, we'll discuss our top mattress recommendations for back sleepers, how to maintain the healthiest posture while sleeping on the back, and everything else you need to know before purchasing a mattress.
Best Mattress for Back Sleepers: 30 Second Summary
Amerisleep AS2 — We recommend the Amerisleep AS2, Amerisleep's medium-firm model made with two inches of Bio-Pur® and HIVE® technology. It offers a balanced combination of support and contouring, keeping you cool and comfortable all night.
Zoma Mattress – Our second choice is the Zoma Mattress— created with athletes in mind, it's also ideal for back sleepers thanks to its Triangulex™ layer, which relieves pressure points while evenly supporting the shoulders, hips, and spine.
Best Mattresses for Back Sleepers
Amerisleep makes five different mattresses, each of them with a different firmness level to accommodate a wide variety of sleep preferences and needs. While their AS3 is our vote for the best mattress of 2023, it's their medium-firm AS2 that we recommend for back sleepers.
Layer by layer, it's slightly more cushioning than the firm AS1 model, thanks to the combination of Bio-Pur®, HIVE®, and Bio-Core®. Each of these work in tandem to provide even and steady support for any back sleeper.
The top layer is made of Amerisleep's proprietary Bio-Pur®, an open-cell layer that's 10x more responsive than traditional memory foam. That means it bounces back in seconds, while other memory foams can take up to a minute to spring back, resulting in the customer feeling "stuck" in the mattress.
Back sleepers need consistent support all across the surface of their mattress, and the AS2 ensures they won't feel trapped— instead, they should feel like they are "on top" of the bed.
The second layer, a transition layer, uses HIVE® technology to provide extra support to sensitive pressure points on the body. Ergonomic hexagon-shaped cut-outs are grouped into five zones to support the head, shoulders, back, hips, and feet— after all, each of these areas needs different levels of support, and this layer ensures every area gets exactly what they need.
Finally, the Bio-Core® support layer is made with high-density foam to deter sagging in the upper layers and extend the life of your mattress.
Like all of their mattresses, the Amerisleep AS2 ships free and comes with a 100-night sleep trial. It also has a 20-year warranty—one of the longest in the industry.
AMERISLEEP AS2
Bio-Pur® layer provides excellent cushioning and a fast response time
HIVE® technology in the transition layer relieves pressure and carries away heat
Bio-Core® support layer extends the life of the mattress beyond traditional memory foam beds
As its name suggests, the Zoma was created with athletes in mind. Each layer serves a different purpose, but they all combine to create a comfortable, sleep-enhancing mattress for athletes, back sleepers, and anyone seeking targeted support.
The Zoma's standout feature is the top layer, made using Triangulex™. This gel-infused memory foam has triangle-shaped cutouts that work to support the shoulders, neck, hips, and legs— all areas that need extra support if you sleep on your back.
Then, the Reactiv™ response layer automatically adjusts as you change positions— this way, you won't feel stuck, and if you share your mattress with a partner, you won't feel their movements either. The third layer, Support+, acts as a sturdy foundation for the other layers and for you. You probably won't feel this layer as you lie down, but it's the backbone of the mattress, ensuring you don't wake up in pain.
ZOMA MATTRESS
Triangulex™ layer creates a responsive, cushioning sleep surface
Reactiv™ transition layer ensures you won't feel stuck or trapped on the mattress
Support+ core base layer stabilizes other layers and enhances the bed's durability
The Avocado Green Mattress is a true eco-friendly mattress— it's made with GOLS certified latex, wool, and cotton, and without polyester, polyurethane foams, or toxic fire retardants. It's also a hybrid, making it perfect for back sleepers who are looking for a little give and robust support.
Avocado uses antimicrobial Dunlop latex in their mattress, which has a bouncier feel than memory foam. This bed has two different layers of latex foam in it— two inches in the comfort layer and one inch in the base.
The latex is 100% natural— not blended or synthetic, so it will last a long time.
As if the mattress wasn't durable enough already, Avocado added over 1,400 pocketed coils in the base of a king size mattress. Pocketed coils are individually wrapped in fabric to increase motion isolation. They refer to this layer as the Quantum Edge® Elite Combi-Zone®— the springs are arranged in five strategic zones to support the back, hips, and shoulders.
A reinforced steel perimeter rounds out this supportive mattress. Avocado rates their mattress at a 7 on the firmness scale, making it medium-firm. You have the option to purchase a latex pillow top if you'd like a softer feel.
The Avocado Mattress ships to your door for free, comes with a generous 1-year sleep trial, and a 25-year warranty.
AVOCADO GREEN
GOLS certified latex creates a soft but sturdy support surface
Medium-firm feel balances support and comfort
Individually-wrapped coils in the base promote airflow
The Sleep on Latex mattress is made of 100% natural latex harvested from rubber trees in Sri Lanka and Malaysia. You can purchase the mattress in three different firmnesses— soft, medium, and firm. We recommend the medium or firm for back sleepers.
The top layer of this mattress consists of 2 inches of aerated natural latex, which conforms closely without inflaming pressure points or trapping heat. Beneath that is 6 inches of a natural latex foam base— a strong and supportive layer to reinforce the comfort foam above it.
The entire mattress is encased in organic cotton and organic wool— the wool is naturally fire-resistant and regulates body temperature. It ships to your door for free and comes with a 100-night sleep trial and a 10-year warranty.
SLEEP ON LATEX PURE GREEN
Comes in three firmness options: soft, medium, and firm
Wool-cotton blend cover is fire-resistant and antimicrobial
Made using 100% natural latex, aerated for maximum comfort and air circulation
Nest Bedding makes lots of quality-mattresses, but the Owl, formerly known as their Natural Hybrid Latex, is our favorite for back sleepers. It's made of Dunlop latex and pocketed coils, and it rates as a 5-5.5 on the firmness scale, making it a perfect medium.
The top three layers of the Nest Owl mattress are as follows: 1.5 inches of Eco Flex Quilting Foam, 3 inches of Oeko-Tex Certified latex, and 1 inch of eco-friendly comfort foam. These three layers combine to create a durable but soft sleeping surface, comfortable enough for most sleeping positions.
Beneath the foam layers sit 6 inches of Caliber Edge Coil Support Pocketed Coils. These coils act as a solid base for the foam above them, and they give the user a nice amount of give and support. The extra edge support ensures you won't feel like you're falling off the bed.
The Nest Bedding Owl mattress ships to your door for free and comes with a 365-night sleep trial and lifetime warranty.
NEST BEDDING OWL
Firm mattress is great for back sleepers
Edge Coil Support pocketed coils limit motion transfer
Dunlop latex foam is equal parts soft and supportive
Pros of Back Sleeping
Even though a small portion of the population sleeps on their backs, it's still one of the healthiest of the three main sleeping positions. Those who sleep on their backs usually lay flat with their arms at their sides, or adopt the "starfish" position.
The starfish position appears as the name implies, you lay flat with your legs slightly apart and your arms above your head— like a starfish. Sleeping on the back is associated with less strain on the neck and shoulders since body weight is distributed evenly on the mattress surface, and the spine is not contorted or twisted in any way.
Back sleepers are less likely to develop wrinkles since their faces do not usually come in contact with their pillow (like side and stomach sleepers). If they choose a good pillow (one with a medium or high loft), they are also less likely to experience acid reflux.
Cons of Back Sleeping
Back sleeping is relatively healthy, but it does present some risks, especially if you already suffer from certain health conditions. One of the most common sleep disorders is obstructive sleep apnea, and sleeping on the back can worsen it.
When you sleep on your back, gravity pushes the base of the tongue down toward the throat, creating an obstruction. This either causes snoring or aggravates sleep apnea— the latter is related to other more serious health conditions, so if you think you're suffering from it, talk to a health care professional about further treatment.
You might also consider switching to side sleeping since this position opens up the airways and allows for better breathing during sleep.
If you suffer from lower back pain, back sleeping may aggravate your symptoms; the best mattresses for back pain contain comfortable equal amounts of support and cushioning. Physical Therapist Dr. Jennifer Miller explains, "One of the first questions I ask my patients with back pain is, what positions do you sleep in and what pillows do they use. We spend many hours asleep and sleep hygiene can be a critical factor in back pain. One suggestion I give patients who sleep on their backs is to place a pillow under their knees to help reduce back pain at night."
Pregnant women should also avoid back sleeping in their second and third trimesters since it can cause numbness and poor circulation to mother and baby.
What Should Back Sleepers Look for in a Mattress?
Regardless of your preferred sleeping position, your mattress should keep your posture in a neutral position and keep you from waking up with more aches and pains. While even the most comfortable mattress is not a cure-all, it can certainly improve your sleep hygiene and allow you more restorative rest. Back sleepers, in particular, should consider a few things before purchasing their mattresses.
Support and Firmness
The main purpose of a mattress is to give your body a place to rest after a long day— it shouldn't make you feel worse after sleeping on it. An unsupportive mattress is the fastest way to painful, disruptive sleep.
Back sleepers, because their weight is evenly distributed across the bed, usually prefer medium to medium-firm mattresses, while some even like firm beds (especially if the customer is lightweight). While sleeping position does affect the feel of the mattress, you also need to take into account your weight or the combined weight of you and your sleeping partner.
More weight compressing a mattress can lead to discomfort if the mattress is too soft— the customer might sink down too far, misaligning their hips or spine, or they might feel "stuck," like they can't move around. On the other hand, a lightweight sleeper on a too-firm mattress won't press down on the comfort layers, so they might wake up feeling achy or stiff.
A good rule of thumb is to stick with medium or medium-firm beds if you weigh between 130-230 pounds. If you need a good mattress for a plus-size sleeper, choose a bed on the firmer side of the scale.
Most brands measure their mattresses with a simple 1-10 firmness scale, with 1 being the softest and 10 being the firmest. Mattresses on the market today are usually between 3-7, with a few exceptions.
Your weight and your sleeping position determine how supportive the mattress will be, but so do the mattress materials.
Mattress Types and Construction
Innerspring mattresses used to be the only mattress type you could buy, but now with the emergence of mattress-in-a-box brands, other mattress types have become more popular. Each of them has their own basic construction, but of course, this will vary across brands.
Foam
A basic foam mattress will have 2-3 layers: the base support layer (always the thickest and most dense layer), followed by the comfort layer on top made with a lower-density, soft foam. This layer is usually memory foam, gel foam, latex foam, or poly-foam.
Sometimes there is another layer between the base layer and the comfort layer called the transition layer— often made of egg-crate foam or something similar. This layer is a buffer between the dense base and the soft top, so sleepers feel supported.
Memory foam and gel foam are popular choices for back sleepers because they conform closely to the body and relieve pressure points— something back sleepers need as their bodies lay evenly atop the mattress. Gel foam is similar to memory foam; the only difference is that it's infused with gel or embedded with gel beads to keep the foam from trapping heat (a common concern with memory foam mattresses).
Latex
Latex comes from the sap of a rubber tree, and mattresses using it are either 100% naturally derived or synthetic blends. Natural latex is much more durable, but both have a similar, bouncy feel. Latex contours closely to the body like memory foam and it relieves pressure points, but it's a little bit firmer than most memory foams.
Some back sleepers prefer latex over memory foam because it's aerated, meaning it circulates air easily, and it's less prone to sagging.
A latex foam bed's construction is similar to foam: there's a high-density foam base— if the bed is 100% natural latex, this layer will often be made of Dunlop latex, which has less air pumped into it than Talalay latex, making it more sturdy. If the bed is a latex blend, the bottom layer is often made of poly-foam.
The layers above the base core consist of more latex, usually a lower-density latex, like Talalay. You'll often find latex foam in hybrid beds, which use coils in their base layer instead of more foam. See our Talalay vs Dunlop latex foam guide for more information on the two's differences.
Hybrids
A hybrid mattress is 50% coils, 50% foam (foam type varies across brands). Back sleepers often use hybrids because they offer the best of both foam and coil beds— the airflow, support, and bounce from the springs, and the cushioning pressure-relief from the foam.
Most hybrids today use pocketed coils, also known as Marshall coils. Pocketed coils are individually wrapped in fabric to improve motion isolation— a huge plus for back sleepers who worry about feeling trapped or stuck on their mattress. Many hybrids have built-in lumbar support as well, which is nice for back sleepers who are prone to back pain.
Innersprings
Innerspring beds are still popular, making up a large percentage of mattress sales. However, they are also the lowest-rated in terms of customer satisfaction thanks to their low-durability. Some customers report sagging after only 5 years of normal use!
Back sleepers often choose innerspring beds because they are usually medium-firm mattresses, and the springs in the base provide consistent support. Innersprings are made with steel coils in the base and then some kind of pillow-top comfort layer made of memory or poly-foam.
An innerspring bed may feel comfortable at first, but over time, the top layers may sag, and then the user will feel the coils digging into their backs. If you sleep on your back and you want to try an innerspring, choose one with some kind of transition layer between the coils and the comfort layers, or opt for a hybrid.
Durability
A good quality mattress should last you around 7-10 years. A company's warranty will tell you how long they personally stand by their product— the industry standard-length warranty is 10 years, so if you're considering a bed with a shorter warranty than that, look elsewhere.
The life expectancy of a mattress, or how long you can expect the mattress to last, depends on its material and construction. Foam beds made with poly-foam generally break down faster than latex or memory foam. Additionally, beds with a poor support core will sag quickly, rendering your bed unsupportive and useless.
Look for mattresses with a height of at least 10 inches— if you weigh more or share your mattress, consider a bed that's 12 inches or taller.
How to Decide on a Mattress
You're almost ready to start shopping, but before you go out and buy the top-rated mattress on the internet, you'll need to think about a few more things. After all, the last thing you want is to buy a mattress based on marketing alone, not knowing if it will actually be suitable for you.
Read Customer Reviews
Always read mattress reviews from customers— even the negative ones. Many brands let you "filter" reviews by concern, including sleeping style, health problems, shipping, and more. If you can't seem to find any negative reviews, that's a red flag. Most companies rely on customer feedback to improve their products, so it shouldn't be hard to find these.
Keep in mind that not all customer reviews are based on the product— some relate to customer service or company policies. If the company sells their mattress on a third-party website, like Amazon, read the reviews there as well.
Set a Budget
Everyone has a set price in mind when they go to make a large purchase— a mattress is no different. Lots of companies selling so-called luxury beds mark up the price, making you think "you get what you pay for." However, most good-quality queen-size mattresses cost an average of $1000, and many cost even less than that.
Beds-in-a-box are cheaper than those you'll find in a brick and mortar store because there is no overhead or salesman making a commission. This way you can try premium materials for a fair price, and you usually get a sleep trial with your purchase.
Pay Attention to Sleep Trials, Warranties, and Return Policies
All of the beds on our list come with a sleep trial, allowing the customer to sleep on the bed in their own home for a minimum of 30 nights (the average sleep trial is 90 days). This trial gives you time to adjust to your new mattress and decide if it's supportive enough for you.
If you decide not to keep the bed during that sleep trial, you can return it for a refund. Most companies don't require you to physically box up the mattress and return it yourself— that would be a big hassle. Instead, they help you donate it or arrange a pickup. There's virtually no risk, and you don't have to worry about your investment going down the drain should you decide you want to try a different mattress.
Mattress warranties allow you to see how long the company backs their product for— the average warranty length for mattresses is 10 years, though some companies on our list offer much more. They can offer lengthy warranties based on the strength of their product, so read the terms and conditions carefully.
Lifetime warranties may seem ideal, but most mattresses, no matter how well-constructed, don't last a lifetime. Warranties should cover manufacture defects such as sagging below a certain depth (usually 1 inch), burst or broken coils, or rips in the cover. Warranties do not cover damages caused by the owner. 
Other Sleep Accessories for Back Sleepers
A mattress is the best place to start if you're dealing with poor sleep, but you can elevate your rest even more by choosing the best sleep accessories for your needs. Back sleepers will need a supportive pillow to prevent snoring or reflux, and some might find they like an added topper for extra cushioning.
All pillows have a certain "loft," or thickness, which can either support the neck or cause it to sink down uncomfortably. Back sleepers should opt for a medium or high-loft pillow with ample cushioning— they should feel supported without sinking down too far, causing neck or head pain.
If your chosen mattress still feels too firm, you can use a topper. Back sleepers with lower back pain may like this approach since it adds an extra layer of cushioning while maintaining the feel of the bed underneath. This way, you don't need to buy a new mattress if you're feeling unsupported.
However, if your bed is 7 years or older and you're sinking down, feeling stuck, or waking up in pain, it may be time for a new mattress after all.
Frequently Asked Questions
Is a firm mattress good for back sleepers?
Back sleepers typically find medium, medium-soft, and medium-firm mattresses most comfortable because they keep you lifted while providing some cushion for the shoulder blades. Overly-firm mattresses do a good job of maintaining healthy spinal alignment, but they can cause pain if they don't provide enough comfort.
What is the best type of mattress for back sleepers?
Back sleepers can get good sleep on really any type of mattress, it all depends on personal preference. While side sleepers are advised to avoid innersprings because they lack cushion, back sleepers can get comfy on spring or all-foam mattresses. Out of all of the mattress types, we suggest memory foam mattresses and hybrids for back sleepers because they relieve pressure and maintain a healthy spine.
Can memory foam hurt your back?
Memory foam is a pressure-relieving material, so it shouldn't cause aches and pains. That said, if you're sleeping on a memory foam mattress that isn't compatible with your sleep needs, it can cause discomfort. Whether the bed's too firm or too soft, memory foam can really only relieve pain when you're on a mattress designed for your sleep needs.
What is the best mattress for a person with back problems?
The best mattresses for back pain are usually medium-firm memory foam beds. Memory foam mattresses evenly distribute your weight and alleviate tension, and medium-firm mattresses are thought to be the best at keeping the spine in a healthy position.
What firmness is best for back sleepers?
This really depends on body weight. Petite back sleepers will like medium-soft mattresses, plus-size back sleepers will need something firm, and back sleepers between 130 and 230 pounds can get comfy sleep on either medium, soft, or firmer mattresses—depending on personal preference.
Did You Find Your Next Mattress?
Back sleepers are a rare breed, but they enjoy better spinal alignment than side sleepers while also facing the risk of snoring or obstructed airways. Choosing the right mattress can help them avoid these issues— one with an ample support system, pressure-relieving materials, and minimal sinkage.
Look for a mattress with a trial period of at least 30 days and a generous warranty (at least 10 years). You'll soon be on your way to sleeping peacefully and pain-free!