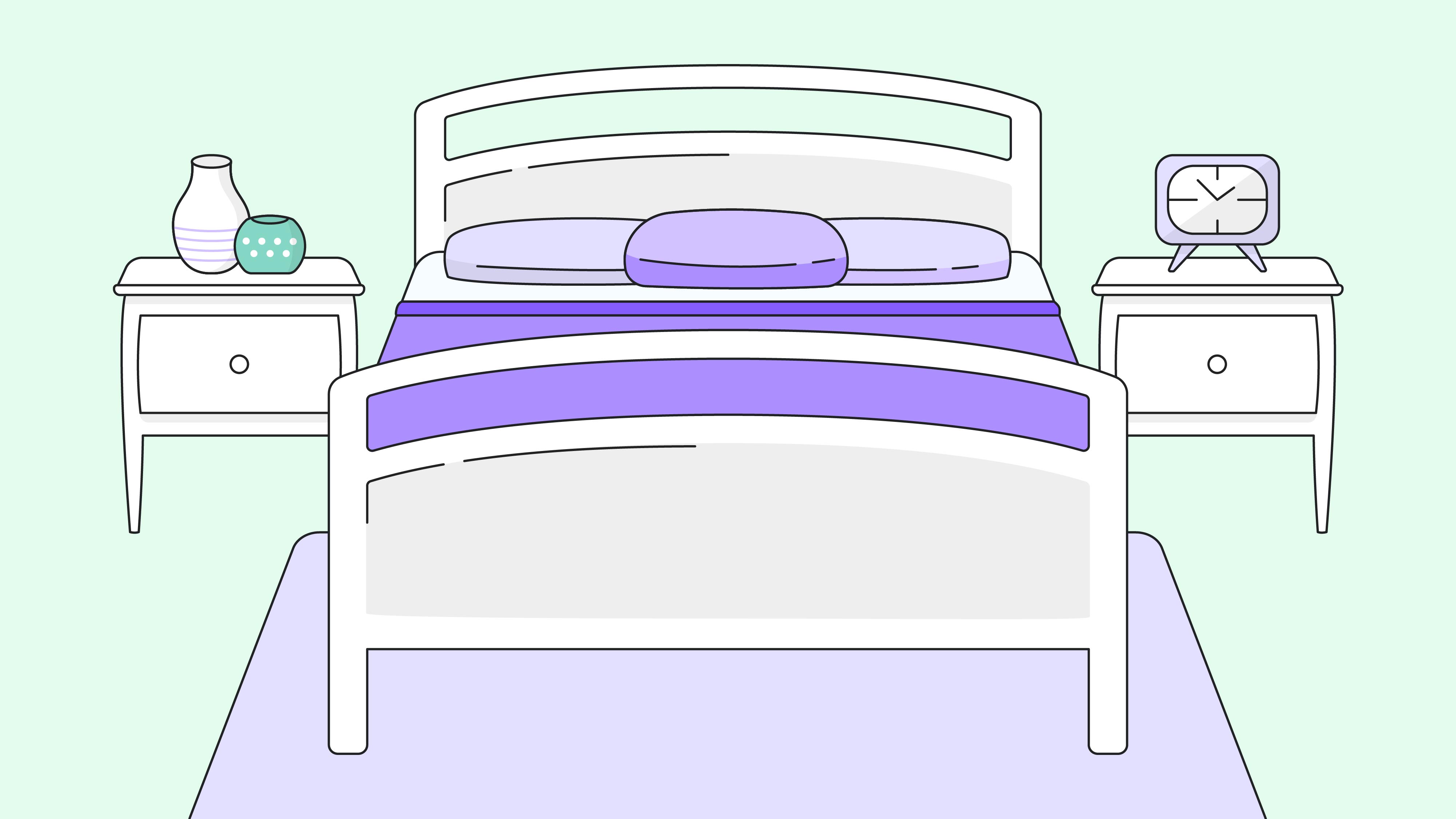 Best Mattress For Heavy People: Reviews and Buyer's Guide

Mattress Guides
There are a variety of "best" mattresses out there because different people have different sleep needs. What's best for one person may not be the most comfortable bed for you. When it comes to heavier individuals, there are specific things to look for in a mattress to ensure it'll be the most fitting option for you. In this guide, we'll talk about how to find the best mattress for heavy people as well as what to look for before deciding on a new bed.
30 Second Summary: Best Mattress for Heavy People
Amerisleep AS5 Hybrid — The Amerisleep AS5 is our Editors' Choice as the best mattress for heavy people because it offers adequate support to hold your spine in a neutral position and support healthy sleep positions
Best Mattresses for Heavy People
The Editors at Sleep Junkie recommend Amerisleep's AS5 Hybrid as the best mattress for heavy sleepers for a variety of reasons. Amerisleep is one of our favorite brands because they use state-of-the-art materials and technologies to make comfortable beds that promote healthier sleep.
This brand makes and sells nine mattresses of different types, each range in firmness and are recommended for types of sleepers. Their AS4 and AS5 models make up their "Soft" collection, but their AS5 is actually engineered to be a soft mattress for heavy sleepers. It can sometimes be hard for plus-size individuals to find a soft but supportive mattress, and the AS5 is Amerisleep's solution. Their AS5 Hybrid adds some extra bounce to their original memory foam mattress model.
Let's break down the layers of this bed to see how it can promote healthy sleep positions and alleviate aches and pains.
The first layer of their AS5 mattress is Bio-Pur®. Amerisleep's Bio-Pur® is a plant-based memory foam. It's five times more breathable than traditional memory foam to help you sleep cool, too. When you lay on this bed, the Bio-Pur® layer will conform to your body to cushion your curves and relieve tension and pressure.
Below, is a layer of Active Flex, a latex-like poly-foam. Active Flex is only found in Amerisleep's AS5 models, which is what makes it suitable for heavy sleepers seeking a soft mattress. This material has a bouncy responsiveness. While the memory foam molds to your body and offers a more "cradling" feel, the Active Flex below keeps you suspended in the mattress instead of sinking uncomfortably.
The support core of the AS5 Hybrid is a layer of pocketed coil on top of a firm foam base. The wrappings around the coils limit motion transfer, keeping you from feeling a jarring sensation when you or partner moves across the surface. Coil layers also promote airflow through the mattress, making it an excellent choice for hot sleepers.
When you shop with Amerisleep, your mattress comes with a 100-night sleep trial and a lengthy 20-year warranty.
AMERISLEEP AS5 HYBRID
Plush, cloud-like feel
Compatible with side, back, and combination sleepers
Pocketed coils and supportive foam base
Heavier sleepers may search out a bouncy mattress to better enable movements and limits sinkage when they lie down. Because traditional innerspring mattresses can have a mixed reputation when it comes to cushioning materials and full-body pressure relief, many choose to try a newer hybrid mattress.
While there are many excellent hybrid mattresses to choose from on the market, the Zoma Hybrid is one of our top recommendations for the way it incorporated buoyant materials with a heat-wicking, conforming foam top. The Zoma Hybrid is also one of the more affordable hybrids on the market, with a queen size costing under $1000.
We'll break down the four layers of the Zoma Hybrid, all of which are wrapped in a breathable, plush AirCloth cover.
The first layer is gel memory foam. The added gel infusions help heat escape the mattress, ensuring the bed feels good even as it hugs a sleeper's body throughout the night.
The next layer is a unique material known as Reactiv™ foam. This responsive foam was engineered to mimic the buoyancy of latex, increasing how fast the surface adapts to movements. By reacting quickly, the transition layer keeps heavier sleepers from bowing too far into the mattress and risking misalignment. It also makes movements easier when getting out of bed in the morning.
The main support layer is a set of pocketed coils, named for the way every coil is wrapped in fabric to isolate movement. In other words, while a traditional innerspring mattress has the problem of carrying movements across its surface, a hybrid mattress does not. The pocketed coils are also thicker along the sides to firm up the edges, creating more support and stability.
The last layer is a foam base, placed to help the coils stand strong even after years of use.
The Zoma Hybrid is backed by a 100-night sleep trial and a 10-year warranty.
ZOMA HYBRID
Gel memory foam promotes a cool feel while relieving pressure
Latex-like transition foam increases responsiveness and decreases sinkage
Pocketed coils enable easy movement and supports heavier bodies
Another notable mattress for plus-size sleepers is the WinkBeds Plus. We are fans of the WinkBeds brand because they offer free shipping, free returns, a 120-night sleep trial, and a Lifetime Durability Promise.
Durability is essential for heavier sleepers, and WinkBeds offers a Full Replacement Lifetime Warranty should your bed show visible signs of sagging. Additionally, they offer an "Any Reason" 50% Off Lifetime Replacement Guarantee. If you decide you want to replace your current WinkBed with a brand new one, for any reason, you can buy a new one for 50% off.
Let's talk about why we're fond of this bed.
All in all, this bed stands at 13.5 inches tall and has three layers of foam in addition to two coil systems. We mentioned earlier pocketed coil systems are great for enhancing the durability of a bed. The WinkBeds design, featuring not one, but two, coil systems, should mean unbeatable durability.
The first two layers of the WinkBed are gel-infused foam; these mold to your body and offer a cushion when you lay on this bed. Below these two layers lies the first coil system of Pocketed Micro Air-Springs™. Micro-coils work in conjunction with the foam layers above to contour to your body and evenly distribute your weight across the bed, reducing pressure points and easing aches and pains.
In between the first layer of micro-coils and the base layer of pocketed coils lies a transition layer of foam, mostly in place to be a barrier between the coil systems. The lumbar region of this material, as well as the lumbar region in the two foam layers and micro-coils above, are firmer and offer more support for your torso. The increased firmness in these four layers prevents you from sinking in the mattress and promotes healthy spinal alignment.
Below this transition layer lies the 8-inch pocketed coil system, in place to act as a strong support to the other layers and sleeper above. Finally, the last layer of the mattress is a layer of high-density poly-foam that gives the coils something to bounce off.
Though this bed does not feature any cooling technologies to keep your temperature regulated while you sleep, the two coil systems and the cover of the mattress allow for air to easily flow in and out of the bed. The overall design of the mattress should combat heat retention; however, if you're a hot sleeper, you may need more from a mattress in regards to extra cooling gels.
The WinkBed has phenomenal edge support; they place 4.5-inch thick high-density poly-foam around the perimeter of the mattress to create 15% more sleepable surface area in comparison to other beds.
The WinkBed is carried as "Softer," "Luxury Firm," "Firmer," and "Plus." For heavier sleepers, we recommend choosing the "Plus" option because they use latex foam instead of gel-infused foam as the first layer, creating more bounce and responsiveness. A Queen WinkBed Plus will run you $1,799.
WINKBED
Double-coil system creates extra bounce
Compatible with side and back sleepers
Added edge support creates 15% more sleepable surface area
Gel memory foam is one of the more common materials that keep a mattress cool. The GhostBed Flex contains two such layers of gel foam, along with other cooling features for undisturbed sleep.
Six layers make up the GhostBed Flex hybrid mattress, bringing the mattress to 13 inches tall. A quilted cover of cooling fabric surrounds the layers, completing the bed.
Woven directly into the cover is an inch of cool burst airflow technology fiber. Underneath this fiber layer is the first layer of gel memory foam to provide a cooling, hug-like feel. The second underlying layer of gel memory foam deepens the mattress's compression ability.
The fourth layer is the proprietary Ghost Bounce layer, a material that combines the bounce of latex with memory foam's conformability. Ghost notes the foam layer promotes a floating feeling.
The pocketed coils provides weightless support and minimizes motion transfer. The patented GhostFlex coil unit also features Spirited Edge™ support for an easier time getting in and out of bed, and even lets a person sit on the side comfortably.
The final layer is dense foam to promote durable support and overall mattress longevity.
The GhostBed Flex features a 101-night sleep trial and a 25-year warranty.
GHOSTBED FLEX
Gel memory foam and cooling fibers form the surface
Exclusive Ghost Bounce foam increases responsiveness
Reinforced pocketed coils on a firm foam base
Purple makes all of its mattresses in the USA, and also has partnered with numerous retailers to sell their products across the country. It's a popular mattress in a box brand, but if you like to try it before you buy, you can use the store locator to find a mattress showroom with their mattresses.
The Purple® mattress brand is renowned for its unique Purple Grid™ material that forms the comfort layer inside all of their mattresses. The gel grid flexes with the body, allowing it to feel soft and firm as needed. In other words, the grid layer adapts to pressure, a great feature if you're a plus-size sleeper.
The Purple Hybrid Premier model has the thickest layer of Purple Grid™, letting sleepers choose 3 or 4 inches of the material. Underneath this comfort layer are two support layers, bringing the mattress's height to 12 or 13 inches tall. Purple specifically recommends their 4-inch model for curvy, full-figured sleepers.
The transition layer is an inch of poly-foam to minimize sinkage, while the mattress's main support comes from the 7.5-inch layer of pocketed coils. The coils respond to movement individually, limiting motion transfer.
The Purple® Hybrid Premier is backed by a 100-night sleep trial and a 10-year warranty.
PURPLE® HYBRID PREMIER
Flexible and rubbery grid-like cushioning layer
Hundreds of air channels from the grid-like comfort layer
Buoyant, responsive coils support and react to the body
Brooklyn Bedding is a well-known mattress brand that carries several different beds. Just recently, they released the Titan, a mattress made to cater to heavier individuals. Their Titan bed is one of the most budget-friendly options on this list, coming in at $999 for a Queen.
When you buy with Brooklyn Bedding, your bed comes with a 120-night sleep trial and a 10-year warranty. They also offer free shipping and free returns, in the event your bed doesn't work out for you during your sleep trial.
They design this bed to be "Firm" so it offers enough relief for pressure points while still maintaining solid support for the rest of your body. The Titan stands at 11 inches tall, which meets our height requirement just barely, but works. Let's talk about what's inside of this bed.
The top layer of this mattress is gel-infused memory foam; the gel foam in this bed will contour to your body and regulate your temperature while you rest.
Next, is 2 inches of TitanFlex™ foam, designed to be more responsive than traditional memory foam or poly-foam, helping to suspend your body in the bed and prevent uncomfortable sinking.
The 6-inch pocketed coil system of this bed comes next, containing 1,024 individually pocketed coils. 1,024 coils are a lot, and beats the coil count in a lot of traditional innerspring mattresses, but still is lacking in comparison to our Big Fig option. These pocketed coils support your body in key places and also prevent motion transfer across the bed.
Last but not least, is a 2-inch high-density poly-foam base in place to give the pocketed coil system a surface to bounce off from, as well as increase the overall durability of the bed.
If you want to add additional cooling technologies to your bed, Brooklyn Bedding gives you the option to add a Cooling Top Panel to their bed for an extra cost.
TITAN MATTRESS
Most budget-friendly option featured
Compatible with back and side sleepers
Features added cooling technologies to keep your temperature regulated while you sleep
Helix is a popular mattress in a box brand that specializes in helping you find the most comfortable mattress for your sleep needs. Helix sells all of their beds online, but when you go to their website, they prompt you to fill out a sleep questionnaire.
The questionnaire essentially asks how you sleep and your preference for firmness. Once you've answered all of their questions, Helix pairs you with your perfect match.
All in all, Helix makes and sells seven hybrid mattresses. Like their beds are made to be compatible with certain sleep styles, they're also made to accommodate different body types. For heavy sleepers, they created the Plus mattress.
Another mattress from Helix is the Plus mattress, specifically designed to support heavier individuals. The medium feel of the Helix Plus mattress is established by the bed's memory foam and the company's exclusive Helix Dynamic Foam. Medium feels like the one offered by this mattress are great for side, combo, and select back sleepers.
The Helix Plus is 13 inches tall and consists of five layers. The mattress's cover contains Tencel technology to maintain a cool surface temperature and increase airflow.
Two comfort layers rest underneath the mattress's cover. The first is memory foam with an unusually high density of 4 pounds per cubic square foot. The high density promotes durability and helps the mattress buoy a sleeper while relieving pressure across the body.
Next is the company's exclusive Helix Dynamic Foam, a poly-foam designed to feel like latex. Helix Dynamic Foam is both super soft, but responsive, so it cushions your body but offers a bit of support. This foam has a medium feel so it's most comfortable for back and side sleepers, specifically.
The transition layer is firm memory foam for added ergonomic support and conformability.
The bed's support comes from its layer of XL pocketed coils—the taller height of the coils helps the mattress contour to and support plus-size sleepers. Every coil is encased to minimize motion transfer and ensure reactive support. The perimeter of the mattress around the coils is reinforced to provide edge support.
The mattress's base is DuraDense Foam, providing enduring support and structure. This thin layer of poly-foam gives the coils a solid surface to sit on and increase the bed's durability.
The Helix Plus comes with a 100-night sleep trial and a 10-year limited warranty.
HELIX PLUS
Dense memory foam resists impressions
Helix Dynamic Foam mimics the feel of latex
Tall pocketed coils ensure sufficient support
Another well-established mattress brand is Saatva. Saatva sells three different beds and operates under three brand names: Saatva, Loom & Leaf, and Zenhaven. Under their Saatva brand, they sell their namesake model and the Saatva HD— their newest bed, designed to accommodate sleepers between 300 and 500 pounds.
The original Saatva mattress receives glowing reviews and is commonly recommended by sleep specialists and online mattress blogs to sleepers for a variety of reasons. The Saatva HD is no different. Saatva modified the top-rated design of their original mattress to create a comfortable, supportive mattress suitable for plus-size sleepers to get healthy sleep.
Like their original mattress, the Saatva HD is sold online only. However, Saatva offers a lengthy 120-night sleep trial to test out their bed in the comfort of your home. If you decide it works for you and you want to keep it, it's backed by a 20-year warranty. Plus, their mattresses come with free White Glove Delivery and removal of your old mattress, making set-up a breeze.
Let's look at the makeup of this bed.
The organic cotton cover of the mattress is quilted with a thin layer of foam to offer instant cushioning and comfort. Their cover is treated with Guardin®, an antimicrobial fabric treatment, to keep your mattress germ-free.
The first layer of the mattress is pin-holed Talalay latex. Saatva pinholes this layer to increase airflow through the mattress and prevent heat from being trapped within. Latex is a responsive and somewhat bouncy material; it cushions your body while keeping you lifted in the mattress, preventing uncomfortable sinking.
Saatva also designs the latex layer to offer zoned support. In the center of the mattress, around your torso, this foam is firmer to promote your spine's natural alignment. On the other hand, this foam feels softer and more comfy around your shoulders and hips to prevent pressure points.
The second layer of the Saatva HD is memory foam; this allows for deep compression and pressure relief. If you're somebody who suffers from chronic pain, the inclusion of this memory foam layer can help alleviate your discomfort.
Next, is a transition layer of poly-foam to act as a barrier between the soft layers above and the hard coil system below. The base of this bed is 12.5 gauge tempered steel coils. These give the bed more bounce and also offer additional zoned support to promote healthy sleep positions.
Last but not least, Saatva encases their coil system in a layer of dense foam to give the bed increased edge support.
SAATVA HD
Enhanced lumbar support can alleviate chronic back pain
Compatible with side and back sleepers
Breathable design to help keep you cool while you sleep
Bear's mattress designs focus on promoting recovery in athletes and other active individuals. The mattress company offers two foam mattresses along with the Bear Hybrid. We recommend the Bear Hybrid for its buoyant support that's balanced with a pressure-relieving cushion, along with several cooling features.
The Bear Hybrid has five layers that establish its medium feel, suitable for most sleeping styles. The hybrid stands 14 inches tall.
The mattress is covered with Celliant® fabric that not only keeps heat from building up in the mattress but also converts the heat into infrared energy. When the infrared energy penetrates the body, it increases local blood flow for a more restorative rest.
The first layer is a plush gel foam that works with the Celliant® cover fabric to maintain a cool surface temperature. The foam also promotes a cloud-like cushion and relieves pressure across the body. The second layer is a premium comfort foam that contours to the body in every position, regardless of body type.
The third layer is a responsive transition foam that offers pressure relief and promotes air circulation. The fourth layer provides some bounce with its pocketed coils and features edge support, and the durable base layer of high-density foam promotes a long-lasting mattress structure.
The Bear Hybrid includes free shipping, 100-night sleep trial, and a 20-year warranty. The hybrid is also certified by GREENGUARD Gold for its low VOC emissions.
BEAR HYBRID
Celliant® ensures a cool surface by converting body heat
Three layers of foam for greater comfort
Bouncy coils with edge support
It's without a doubt that one of the best mattresses for a heavier sleeper is Big Fig. Big Fig, A Mattress for a Bigger Figure, is designed specifically for larger people. Their beds can hold up to 550 pounds on each side, 1100 pounds in total.
We appreciate this brand because they offer a 120-night sleep trial and a 20-year warranty with each of their beds. In the mattress industry, you more often than not see 120-night sleep trials and 10-year warranties offered as the standard.
Big Fig takes their customer service one step further by offering you more time to decide if their bed is best for you and providing a lengthy warranty covering your investment for two decades.
Standing at 13 inches tall, this bed contains four layers of foam and a pocketed coil system to provide you with superb support. This bed is rated as a medium-firm on their website, and should feel comfortable for stomach, back, and side sleepers alike. Plus, Big Fig integrates cooling technologies into this mattress to promote a cool sleeping environment and prevent you from overheating at night.
Let's look at why this bed is great for heavier sleepers, starting with the cooling technologies.
The cover of this mattress is blended with a cooling gel to dissipate body heat and contribute to temperature regulation. Then, they use .5 inches of aerated latex as the first layer of their mattress. Latex is known for being a breathable material; so it works in conjunction with the gel-infused cover to keep your temperature at a comfortable level.
Underneath the first layer of latex on this bed are three layers of high-density poly-foam. We mentioned high-density poly-foam earlier as a material to look for in a bed, and these three "no-sag" layers prevent you from sinking uncomfortably or unhealthily far in the mattress.
Below the layers of poly-foam lies 1,600 individually wrapped 15-gauge coils. Usually, innerspring coil systems contain half of the number of coils as what Big Fig provides. Including 50% more coils in their innerspring system create a much sturdier and more supportive bed.
The bottom layer of their bed is another layer of high-density poly-foam, adding to this bed's durability. In addition to including a bottom layer of poly-foam, Big Fig includes high-density foam on the sides of the bed, surrounding the pocketed coil system, to create enhanced edge support.
This bed meets all of our criteria when choosing a mattress for a heavy sleeper, and it comes with cooling technologies, which is a bonus. You can't find the Big Fig in-stores because they sell their beds exclusively on their website. When you order online, it ships free to your doorstep compressed in an easy-to-transport box. Big Fig frequently runs promotions on their bed, helping sleepers get the best mattress deals.
BIG FIG
Hybrid bed with bouncy feel
Compatible with stomach, back, and side sleepers
Infused with cooling gels to keep your temperature comfortable
Other Things to Consider
Durability of Materials
When it comes time to invest in better sleep, it's smart to buy a bed with durable materials to ensure your money goes a long way. Usually, the last thing people want is to have to replace a mattress only a few years down the line because their bed has already grown uncomfortable.
For heavier sleepers, the durability of the materials used in the mattress is especially important. When you bring more weight to the mattress, it can cause the materials to wear in and break down more quickly, reducing your bed's overall lifespan. A 12 inch mattress is often the minimum recommended thickness for heavier sleepers because the added material withstands weight well.
Before buying a bed, look to see if it incorporates an innerspring coil system or high-density foams, these materials do not compress as easily as other materials and can offer better support.
Firmness
The firmness level of a mattress all depends on who is laying on it. What feels firm or soft to one person, may feel different to the next. When you carry more bodyweight, it's likely mattresses rated as soft will not provide enough support for you to sleep comfortably.
When buying a mattress for a heavier sleeper, choose something firmer to ensure the bed is durable enough to support your weight for years to come. If you're a heavier sleeper and want a softer bed, choose something medium-firm because it will be solid enough to be supportive but still cushioning enough to offer you a plush sleep surface.
Height
Taller mattresses are usually better suited for heavier individuals because they have more material, and allow your body to sink in further without feeling as if you're bottoming out on the bed. Mattresses 10 inches thick or slimmer may cause you to sink down closer to your bedframe, or floor, depending on your set-up.
When looking at the most comfortable mattresses, take note of how thick the first layer of the bed is. Thicker comfort layers give your body more room to sink and still feel comfy in the bed.
Edge Support
Heavier sleepers should seek out a mattress built with enhanced edge support to ensure the entire surface of their mattress is sturdy. Edge support is how well a mattress holds you up when you're either laying near or sitting on the side of the bed.
Larger individuals are going to want as much surface area from their mattress as possible to give them more room to sprawl out and get comfy. Beds lacking in edge support could cause you to roll off the side or feel unsupported as you sleep near the sides of your mattress.
As always, we encourage you to buy a mattress that comes with a sleep trial and warranty, too. Sleep trials have changed how people shop for beds and allow people the chance to try their bed in their home and get a more telling feel for its overall comfort. Testing a bed for a short period of time is no way to tell if it's really best for you, and we don't want you to settle on a mattress if you're not entirely sure about it.
To continue, never buy a bed without a warranty. Mattresses aren't cheap, and a warranty helps protect your investment from defects as you sleep on it over the years.
Sleeping Positions
The way you sleep is arguably one of the most important factors to take into consideration before buying a new mattress. Do you sleep predominantly on your back, side, or stomach? For the most part, back sleepers are best suited on a firm mattress. Firm mattresses keep your spine properly aligned and help back sleepers get healthier sleep. The best mattresses for side sleepers are often medium to medium-firm, as beds of medium firmness are soft enough to relieve pressure below the hips and shoulders but firm enough to offer adequate spinal support.
Stomach sleeping is considered to be the unhealthiest sleep position. If you tend to snooze on your stomach, we recommend trying to switch to back or side sleeping. Though it's easier said than done, there are ways to modify your sleep style. The biggest problem with sleeping on your stomach is the damage it can do to your spine. When you sleep on your stomach, your center of gravity shifts to your stomach. If your bed isn't firm or supportive enough, this can cause your stomach to sink in the mattress, overextending your spine. Back pain is already a prevalent issue amongst adults, so it's best to not put any extra stress on your spine.
If you tend to sleep mostly on your side, you're not alone. In fact, 74% of people identify as a side sleeper. Side sleepers are best suited on medium or soft mattresses because they're cushioning enough to alleviate pressure points and prevent pain. When you sleep on your side, the most important thing to consider is your shoulders and hips. If your bed is too firm, your shoulders and hips will be smushed on top of the mattress and take on a lot of your body weight; this can cause numbness, pressure points, and long-term pains. Side sleepers should look for medium-soft to medium mattresses, specifically with zoned support, to get the best sleep.
Mattress Types
Before you can decide which mattress is best for you, it's important to compare the different mattress types to determine what interests you most. There are four main types of mattresses: memory foam, latex, hybrid, and innerspring.
Memory Foam
Memory foam mattresses are the best for pain relief and prevention. This material can mold to your body better than any other material, which results in increased pressure point relief. These beds sometimes feature variations of memory foam, like gel-infused or plant-based foams. Depending on what you're looking for in a mattress— whether it be more cooling technologies or green shopping alternatives— you can find a variety of options with foam beds.
Latex
Latex is another popular mattress material, but it's also the most expensive. Latex beds have some of the longest lifespans due to it's increased durability. Though it may be expensive up front, they're usually worth the investment. All-natural latex mattresses are a hit with eco-friendly shoppers, too. Latex is cushioning, kind of like memory foam, but it's more responsive and lifting, so it typically feels firmer. If you prefer a more "on the bed" feel from your mattress, latex is the way to go.
Hybrid
Hybrid beds combine the best of both worlds, foam layers and an innerspring coil system. Hybrids are great for people who want a cushioning bed like a latex or memory foam, but don't want to sacrifice the bounce of innersprings. Like latex, hybrid beds are usually a more expensive option because they use a combination of high-quality materials.
Innerspring
Innersprings were the first type of mattress invented, and they have stood the test of time! If you prefer a bouncier, firmer mattress, an innerspring is likely the best for you. Though these beds aren't the best for pain relief, they're still comfortable and quite durable.
Frequently Asked Questions
Do mattresses have a weight limit?
Mattresses often do have a recommended weight limit. This weight limit can be anywhere between 250 to 400 pounds for a single sleeper mattress, or up to 800 pounds for a queen or king size bed. If you're curious about a bed's weight limit and don't see it listed under a mattress's features, try reaching out to customer service.
What is the best mattress for a heavy side sleeper?
If you're a side sleeper on the heavier side, you should still be able to sleep comfortably on a medium feel mattress. Such a mattress should still be soft enough to conform to the body for pressure relief. You might also want to sleep with a knee pillow, to limit pressure on your legs and maintain neutral spine alignment.
What type of mattress is best for a heavy person?
Memory foam, latex, hybrid, and innerspring mattresses can all provide the support a plus-size individual needs.
We usually recommend mattresses at least 10 inches thick, but heavy sleepers might want to consider a 12-inch mattress to better withstand their weight. Heavier sleepers often prefer mattress in the firmer end of their sleeping range, but softer mattress with supportive transition and base layers are also acceptable.
What's the best king size mattress for a heavy person?
King size mattresses provide plenty of personal space while taking on large amounts of weight. This is why they're a popular choices with heavier people. We recommend all types of king size mattresses for heavy people, from foam to spring mattresses.
What is the best firm mattress for a heavy person?
The best firm mattresses are at least 10 inches thick to ensure they feel supportive and durable. Thinner mattresses may have a firm feel, but it's often due to inadequate amount of materials. Many heavy sleepers gravitate toward firm mattresses for their supportive, buoyant feel.
Research and Resources
In making this article, we:
Researched different support technologies and how beds can be designed to properly support plus-size sleepers.
Compared over 20 different beds looking at how it's designed to offer healthy support.
Spent 15 hours writing and revising the article to deliver the most value-driven information.
Did You Find Your Next Bed?
Finding your next bed doesn't have to be a headache. We hope our guide has simplified the key things to look for before deciding on a mattress. Always remember to read online mattress reviews before making a decision, the feedback of current owners of your potential new bed could sway your decision and possibly point you towards the most suitable option for your own individual needs. Also, use sleep trials to your advantage; shop in confidence knowing you have the opportunity to try out your new investment and make sure it's the best for you before committing to it. During your search, please feel free to ask any questions in the comment section below!