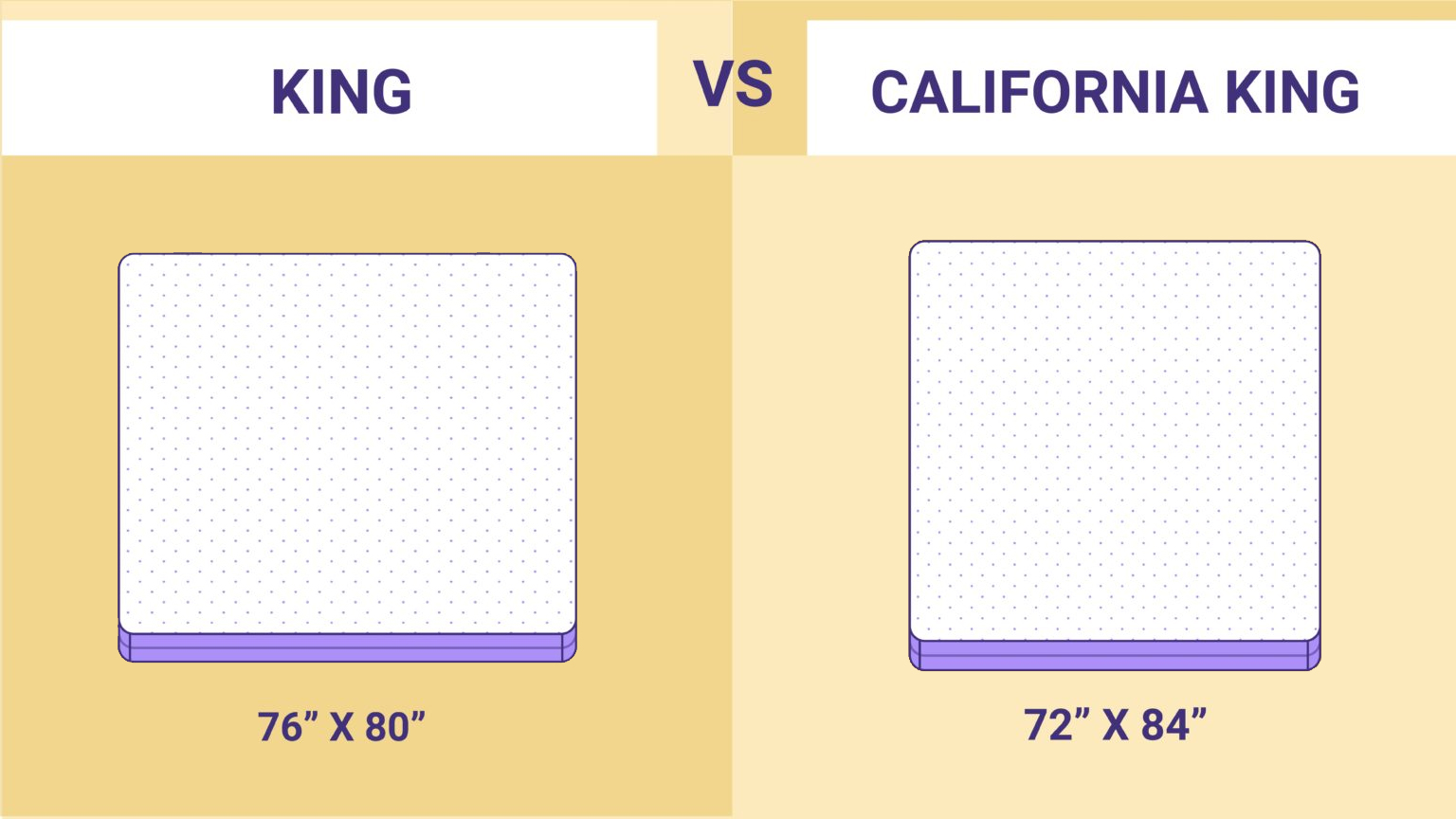 California King vs. King: Which Mattress Size is Right for You?
Updated November 22, 2023

Mattress Comparison
FAST FACTS
Consider Your Height: If you or your partner are over 6 feet tall, the California king's extra length might provide the necessary legroom for a more comfortable sleep.
Bedroom Space: If you have a standard-sized master bedroom and are concerned about the width of the mattress, the king mattress might be a more suitable choice. However, a California king may fit better in an odd-sized master bedroom.
Sleeping Arrangements: If you're sharing the bed with a partner and prioritize having enough space to spread out comfortably, the king mattress might be preferable due to its wider dimensions. However, if one or both partners are tall, the California king's extra length might be more beneficial.
For those looking for a big mattress, there are two options: the king and the California king. These standard mattress sizes are popular amongst couples, but many sleepers have a hard time deciding what king size mattress is right for them when the differences between sizes is unclear.
While the Cal king may be thought of as "bigger and better" than the king, the only difference between these two beds are their length and width—Cal king are four inches longer but four inches narrower than the standard king.
The king mattress is 76 inches wide, and 80 inches long, while the Cal king is 72 inches wide and 84 inches long. Four inches may not seem like a big difference. However, if you are over 6 feet tall, the Cal king's extra length is a game changer. And if your partner monopolizes a lot of mattress space every night, the king's extra width may save you from falling off the bed. Deciding between a king or Cal king mattress comes down to one question: Where do you want to invest those four inches?
If you're torn between a California king and king size bed, finding it hard to choose a mattress, consider your room size and need for legroom. In our post, we go over all of the main things to consider when deciding between mattress sizes to make your search easier.
The King Mattress
The king mattress (76 inches wide, 80 inches long), is a good choice for sleepers who like to spread out at night, and are under 6 feet tall. Here are some of the pros and cons of this mattress:
Pros:
Easily fits two sleepers, making the king a great mattress size for couples.
Fits comfortably in a standard sized master bedroom.
Available as a split mattress.
Cons:
Not long enough for tall sleepers.
Those who want a memory foam mattress that can adapt to their every need regardless of their sleep position or body type should consider the AS3. This incredible mattress boasts plant-based memory foam that smokes plain old memory foam in several key areas.
This foam is called Bio-Pur®  foam and is made using plant oils in lieu of some petroleum products. This means it has fewer synthetic ingredients and may be a better alternative to memory foam for people with chemical sensitivities because it experiences less off-gassing. This means you won't have to endure that strong chemical smell that many mattresses emit.
Hot sleepers will also appreciate the extreme breathability of the Bio-Pur®  foam. This foam works with the ventilated Refresh Cover to keep cool air moving in, pushing hot air out. So even the hottest sleepers stay cool.
The Refresh Cover has another trick up its sleeve to help keep you cool while you sleep. It converts your body heat to far infrared energy. This doesn't just help cool you down. It may also have other benefits, such as improved circulation.
The Bio-Pur®  foam will also surprise active sleepers with its pleasant responsiveness. Most memory foam takes forever to bounce back into place. But Bio-Pur®  foam pops right back into shape as soon as you move. So you won't be waiting around for your mattress to conform to your new sleep position.
Underneath the Bio-Pur®  memory foam, you'll find the HIVE®  transition layer. This layer has five different zones of pressure relief that correspond to five different body areas. You'll get different balances of cushioning and support in your head, shoulders, middle, knees, and feet. This means each area of your body gets exactly the support and cushioning it needs for optimum comfort.
Finally, the Bio-Core® base layer takes up the majority of the mattress to provide support and durability. The Bio-Core® support foam is ultra-dense. This ensures you stay on top of the sleep surface. It also means the AS3 is built to last. Expect to get at least 20 years of use out of this memory foam mattress.
AMERISLEEP AS3
Mattress design has cool responsiveness without sacrificing contouring
Bio-Pur® memory foam supports numerous body types and sleep positions
Targeted support and pressure relief across the body
The California King Mattress
For sleepers who are 6 feet tall or taller, the California king mattress (72 inches wide, 84 inches long) is the better option. That extra legroom makes all the difference! Here are some of the California king's pros and cons:
Pros:
Extra legroom for tall sleepers.
Fits in rooms that are a bit narrow.
Plenty of width for single sleepers.
Cons:
Not commonly available in split sizes.
If you have a physically demanding lifestyle, the Zoma Hybrid might just be your new mattress! This mattress was designed by and for athletes to increase performance and aid recovery. So anyone with an active lifestyle can enjoy this mattress, whether you hit the gym daily or work with your hands all day.
Don't let its focus on performance fool you, though. This medium-firm mattress is for anyone. That includes hot sleepers, active sleepers, and any sleeper who needs a firmer mattress (like back sleepers and heavier sleepers). It offers a balance of firmness and support that slightly favors support. This can help ease back pain without sacrificing pressure relief.
The Zoma Hybrid starts off with the ventilated AirCloth cover that circulates air around your body while you sleep. This breathable cover wicks away heat and moisture, so you get a cool and dry night's sleep.
The ventilated cover also helps the gel memory foam comfort layer pull warm air away from your body. The gel foam conducts this heat down into the mattress. And the breathable pocketed coils circulate the warm air out of the mattress to keep you even cooler.
Below the gel foam and cooling fabric cover sits the ReactivTM layer. This layer of responsive material adds even more bounce to the already bouncy coils to keep active sleepers satisfied while moving around during sleep. This transition layer also helps protect you from pressure from the coil core.
The coils in the Zoma Hybrid's support core aren't like anything you'll find in an innerspring mattress. Instead, pocketed coils move independently of one another. That allows them to adapt to your shape in a way that open coils just can't.
Pocketed coils are also much better at motion isolation than open coils. Open coils are wired together and transfer tons of motion when you move. But pocketed coils bounce back underneath you when you move while simultaneously isolating motion, so you don't disturb your partner while you sleep.
ZOMA HYBRID
Each layer of this mattress works with all the others to keep you cool all night
Transition and base foams help keep the coils sandwiched between two layers of stabilizing foam
Pocketed coils can move independently to offer bounce without sacrificing adaptability and motion isolation
What to Consider When Shopping for Mattresses
You can't get much bigger than the king or California king—or, as they are also known, the Eastern and Western kings. The clearest difference between these mattresses is the dimensions; basically, the California king is a king size mattress to suit taller sleepers. Below are some things to keep in mind when deciding between these two popular mattresses.
Mattress Size
How much room you and your partner have every night, and how much extra furniture you can fit in your bedroom, is all determined by the size of your mattress. Both the king size bed and the Cal king mattress are big, but they accommodate different sleeping styles and fill out a room differently. Two things to consider when deciding between the two sizes are your height and your bedroom dimensions.
People over 6 feet enjoy the Cal king because of the extra legroom. Being able to stretch your limbs out and keep them flat all night long is an important part of sleeping in a neutral position and getting a good night's rest.
The average bedroom is usually about 11 feet by 12 feet; both a Cal king and a king will fit in this size of room, but there won't be space for much else. The average master bedroom runs bigger, 14 feet by 16 feet, and fits the king mattress nicely. However, it's recommended you have a room at least 19 feet long for the Cal king.
Accessories
About ten years ago, California kings were not as popular as king mattresses, and buying accessories for them was a headache. Now, the Western king is just as popular as the Eastern king bed, and accessories like bed frames and sheets for the two mattresses are readily available and about the same price.
Sleeping Styles
Whether you are a back or side sleeper, both of these mattresses are plenty big enough for you and your partner to sleep comfortably. However, the king mattress is wider, easily allowing two people to sleep with their limbs straight and weight fully distributed. All without worrying about crowding each other. The California king is perfect for accommodating long legs, but there isn't as much room to fully stretch out.
FAQs
What is an Alaskan king bed?
The Alaskan king is the biggest mattress available—108 inches by 108 inches. Plenty of room to sprawl out! This giant mattress also has a giant price tag. Keep in mind bed frames, sheets, and blankets must be specially made for this mattress, so accessories will cost you a lot, too.
Why is it called a California king?
A Los Angeles furniture company started making these big beds for extravagant celebrity homes in the early 1960s. It caught on throughout the rest of the country, except other mattress makers decided to make a bed that was shorter and wider than the California king—by doing this, they could simply put two XL twin box springs together to support the mattress. They called it the king sized mattress, and because it was more practical and easier to make, it was the more popular of the two for a long time.
Will king bed sheets fit a California king mattress?
You won't be able to stretch king sheets over the California king mattress. The former is shorter and wider than the latter. Be sure you specify you have a California king mattress when shopping for bed frames, sheets, and blankets.
How big is a Super-King mattress?
A super-king mattress is 80 inches by 80 inches, a perfect square. This big bed requires a large room and specialized bed frames, sheets, and blankets. The price tag is steep, but for those who like to sprawl out and have lots of room, it might be worth it.
Is a split king mattress bigger than a king mattress?
The split king and the king have identical dimensions. The king was originally designed to be the same size as two XL twin mattresses to make producing box springs for it easier. Since the split king is just two twin XL mattresses, it is the same size as the king.
Should I Buy a California King or a King Sized Mattress?
The California king and the king mattresses have some of the same pros and many of the same cons. Choosing the best mattress comes down to three things: your height, your sleeping style, and the size of your bedroom.
The Cal king is best for people over 6 feet tall, and the king is best for people who need plenty of room when they sleep. The dimensions of your bedroom may make the decision for you—the Cal king requires a longer room, while a king is able to fit in a standard sized room. After taking these three factors into account, you should know which of these two big beds is best for you and your partner.