Best Full Size Mattress: Reviews and Buyer's Guide

Mattress Guides
Picking a new full size mattress shouldn't keep you up at night. With all the new mattress-in-a-box online mattress brands out there, the task can seem a bit daunting. But buying a new bed shouldn't have to be, which is why we've compiled a buying guide of some of the best full size mattresses on the market today.
We've done the hard work, analyzing the pros and cons of each mattress type, its price point, and the quality materials each uses. We've also kept the most important element in mind— you. We'll look at sleep position, your body type, and even average mattress cost to help you find the best full size mattress.
Best Full Size Mattresses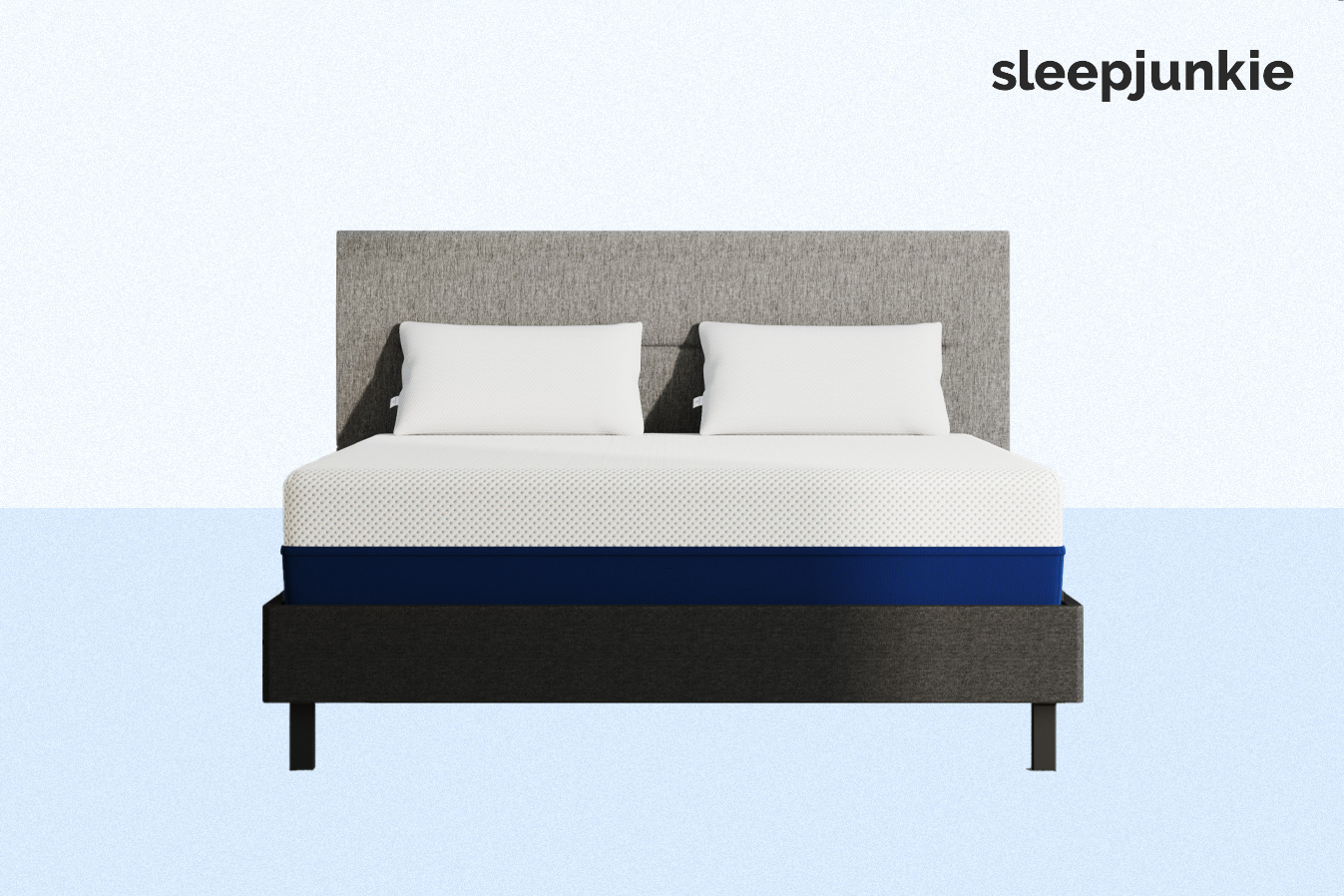 The Amerisleep AS3 is by far the most popular in the Amerisleep collection. The AS3 is ideal for side and combination sleepers, and its versatile, medium feel has made this eco-friendly mattress a best-selling full size bed.
The Amerisleep AS3's provides maximum comfort by combining both softness and firmness. All of Amerisleep's mattresses are encased with a soft, breathable cover, designed to keep you cool and promote deep sleep.
Beneath this cover lies the first layer, known as Bio-Pur®. Bio-Pur® is a breathable, partially plant-based memory foam that keeps you cooler while you sleep. Due to its construction, it's more breathable and responsive than traditional memory foam.
The second layer, The Affinity layer with HIVE® technology, is designed to offer both support and pressure relief.
Finally, the Bio-Core® is a supportive base layer that creates a durable and long-lasting mattress.  These three layers work together for optimal comfort, making this mattress a durable, comfortable choice for many.
The Amerisleep AS3 full mattress comes with free delivery and a 100-night sleep trial. If you're not satisfied at the end of your trial period, Amerisleep will refund you in full and help you donate your mattress. Amerisleep warranties their mattresses for 20 years and they cover sags .75 inches or deeper.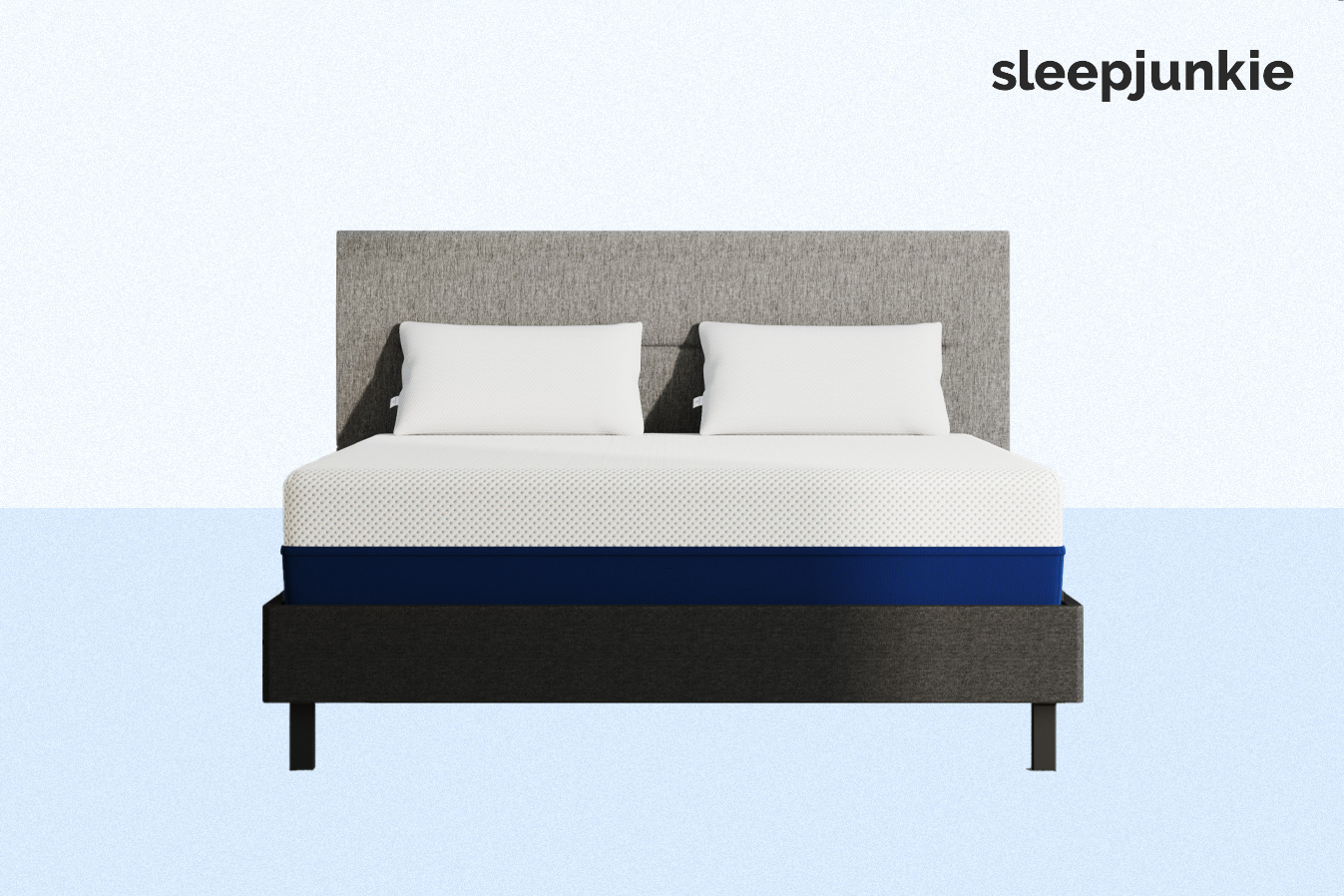 If you like a bouncier mattress, consider the AS3 in its hybrid version. Amerisleep offers hybrid counterparts of their AS2, AS3, and AS5 models, but we like the AS3 Hybrid the most because it's designed to accommodate the majority of body types and sleeping positions.
The AS3 Hybrid is medium in firmness and has 3 layers: a 3-inch Bio-Pur® comfort layer, an 8-inch pocketed coil system, and a 1-inch sturdy base layer.
The comfort layer of the AS3 Hybrid contours to your body to relieve pressure and help you feel weightless on the mattress. The AS3 Hybrid doesn't contain the Affinity layer or HIVE® technology, but the coil system beneath the layer of Bio-Pur® offers targeted support to alleviate aches and pains.
The base of the AS3 Hybrid is a thin layer of sturdy foam to offer extra structural support. Amerisleep also wraps the AS3 in foam edging to reinforce the sides of the bed. You won't have to worry about this bed sagging or becoming uncomfortable. Plus, Amerisleep even offers its 20-year warranty on their hybrids, too.
The Amerisleep AS3 Hybrid can be found in the Amerisleep showrooms and purchased online or in-stores. It comes with a 100-night sleep trial regardless of how you buy.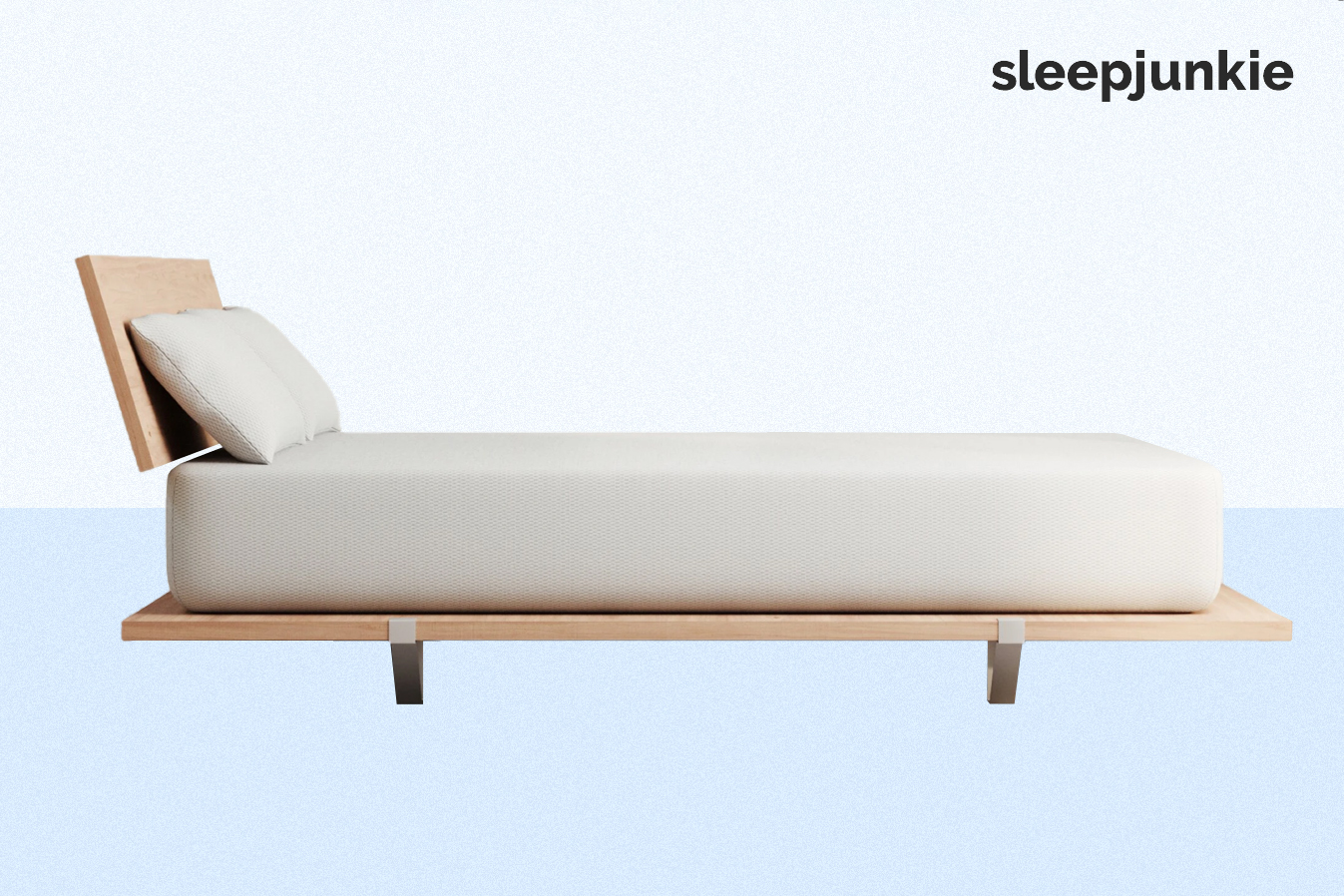 The Vaya Mattress is a more affordable option for those shopping on a tighter budget. We love the Vaya because it's designed to accommodate all sleep styles, so it's comfortable for most sleepers.
The Vaya Mattress is 12 inches tall, medium in firmness, and contains two layers. The first layer of the Vaya is 3 inches of Vaya Foam, a pressure-relieving, breathable alternative to memory foam. Vaya Foam offers many of the same benefits as memory foam, but it's more lifting, so you won't ever feel "stuck" in the mattress.
We recommend the Vaya because it's built with high-quality base foam, too, so it'll last you for years. The 9-inch core of the Vaya resists sagging and sinkage to ensure your mattress stays comfy.
Vaya sells their mattresses online-only, but they offer free shipping, a 100-night sleep trial, and a 10-year warranty with every mattress.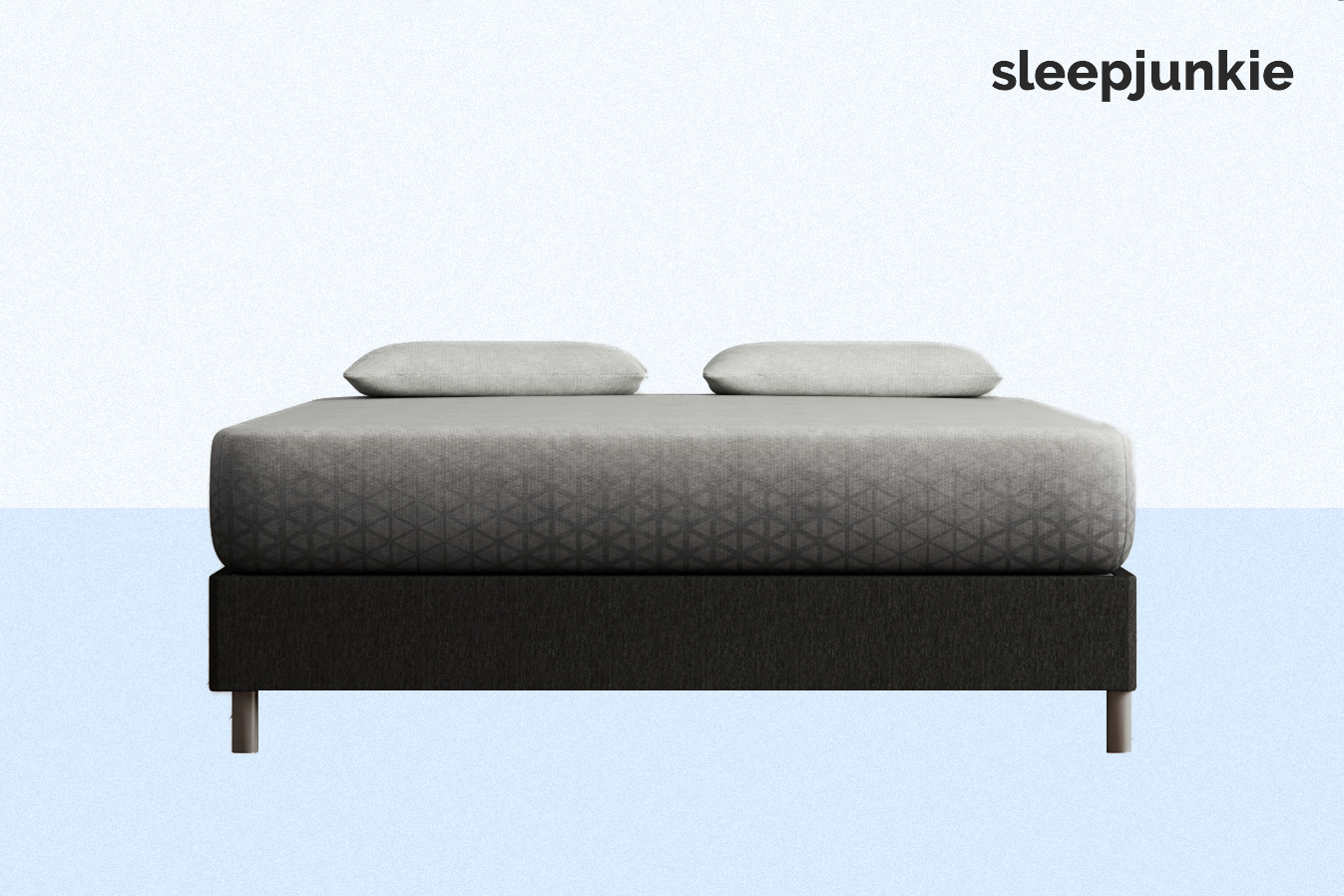 The Zoma Mattress is another top-rated memory foam mattress to have on your radar. Equipped with zoned support technologies and gel memory foam, the Zoma is built to help you sleep deeper and wake up feeling rested. All in all, the Zoma contains three layers and is medium in firmness.
The Zoma is most comfortable for side and back sleepers, we suggest stomach sleepers choose a firmer mattress for the best night's sleep.
The first layer of the Zoma is 2 inches of gel memory foam. When you lay on the Zoma, the memory foam contours to your body for cushioning comfort. The gel within this layer combats body heat to keep you sleeping cool and comfortably. Plus, Zoma includes Triangulex™ technology in this layer. Triangulex™ is a zoned support technology designed to keep your spine in neutral alignment while relieving pressure under your shoulders and hips.
Next is a 2-inch layer of Reactiv™, a latex-like poly-foam. Reactiv™ is more responsive than traditional memory foam and gives the bed a bit of bounce. Ultimately, Reactiv™ prevents you from feeling "stuck" in the mattress and reinforces the Triangulex™ above to keep your spine in neutral alignment.
The final layer of the Zoma is 7 inches of Support+, a durable poly-foam. As its name implies, the Support+ layer provides support to the layers and sleeper above.
Every Zoma mattress comes with a 100-night sleep trial and a 10-year warranty.
This eco-friendly memory foam mattress is a great option for hot sleepers who also want to do some good for the environment. The full size mattress uses CertiPUR-US® foam that doesn't have any harmful chemicals or ozone depleters.
This full size mattress is all about copper. The Bear Mattress Bear Pro promotes a cooler sleep environment by incorporating a few varieties of foam copper, gel and an open-cell structure to keep out unwanted body heat, helping you stay cool.
Thanks to the top two comfort layers, each infused with gel and copper, this full size mattress will help cradle and contour your body's pressure points while offering relief to even your most stressed out joints. A third layer of transition foam beneath the two comfort foams balances out the softer feel of the top layers.
The fourth layer is a thick, high-density support foam meant to give the bed added durability.
If you're still on the fence, Bear Mattress lets you try the mattress out in your home risk-free for 100 days as part of their sleep trial. If you don't fall in love with the mattress, you can get a full refund and the company will arrange for your mattress to be picked up. You'll also be able to rest easy with a 10-year limited warranty.
This USA-made mattress combines the technology of pocket coils and latex to provide comfort, stability, and durability. Pocket coils are springs that have been individually wrapped, making them more independently reactive to pressure rather than as a group, which minimizes mattress surface movement.
Eco-friendly through and through, the top layer of the Natural Hybrid Latex mattress is made from an organic cotton stretch knit fabric. This top layer is durable and breathable, keeping you cool at night. Underneath, this mattress boasts a 1.5-inch layer of certified natural wool, a 3-inch layer of porous latex, and 1 inch of comfort foam all working together to give you contouring comfort. This hybrid also includes 6 inches of pocketed coils all sitting on a 1.5-pound support foam base.
Nest Bedding offers a 100-night sleep trial. If after the initial 30 days you're unhappy with your mattress, you can exchange it for a different option from the Nest Bedding line-up. If Nest Bedding simply isn't for you, the company will work with you to return the mattress. Additionally, the Natural Hybrid Latex comes with a lifetime warranty and a lifetime comfort guarantee.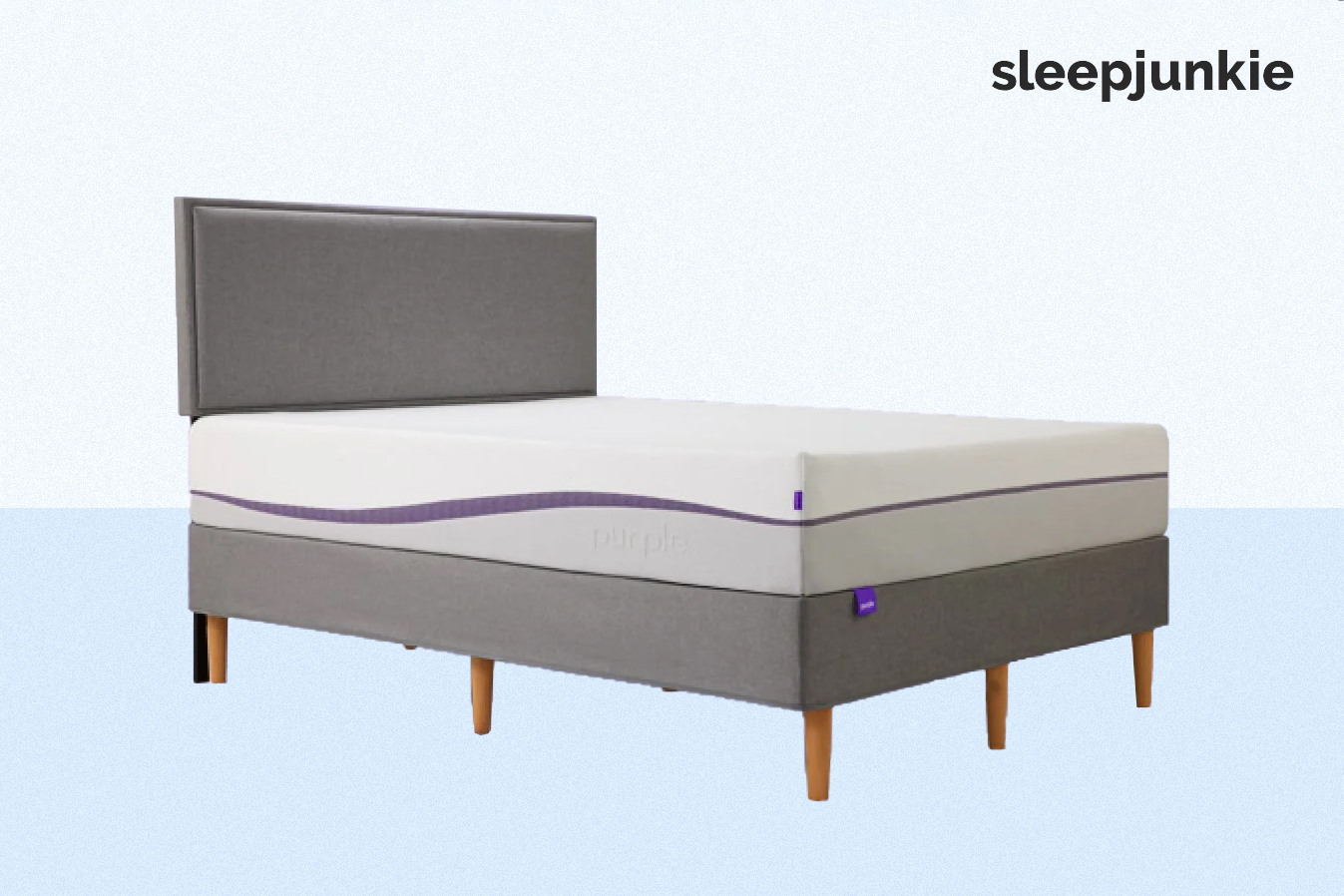 The Purple® Mattress, the original mattress from one of the most popular online mattress companies, is a memory foam alternative mattress designed for all different kinds of sleepers.
The Purple Grid™  technology used in all of Purple's mattresses was created to offer both softness and support, leaving you feeling comfortable and well-rested. The Purple Grid™  is a flexible material that cradles main pressure points on your body like your hips and shoulders, giving you both support and relief.
Spinal alignment is key to your overall sleep health— knowing this, Purple created a mattress that supports and cradles you effortlessly, keeping your spine straight no matter what position you favor. The Purple Grid® technology helps to neutralize your body temperature during the night so you're neither too hot nor too cold.
The Purple Mattress comes with a 100-night trial for you to decide if this popular mattress's unique features are for you. If it's not a perfect fit within those first three months, Purple® will pick up your mattress and extend a full refund, though if you've financed, accrued interest fees and shipping costs are non-refundable. The mattress also comes with a 10-year warranty.
This full size mattress hybrid option infuses the comfort of memory foam with the support of the individual pocket spring mattress to give you the best of both worlds if you're a tough customer. This mattress provides good pressure relief for nervous tension in the neck, head, and shoulders.
A highlight of this mattress is the individually pocketed spring coils that provide support and minimize surface movement, leaving you feeling weightless as you rest atop the 3.5 inch-memory foam comfort layer. This comfort foam, known as CoolTouch, is gel-infused to keep your body cooler throughout the night. It also comes with a breathable mattress cover that promotes airflow.
The Perfect Cloud Hybrid comes with a 120-night trial for you to fully commit to your new mattress. Additionally, the company offers a 10-year warranty from manufacturer defects as long as it is used properly.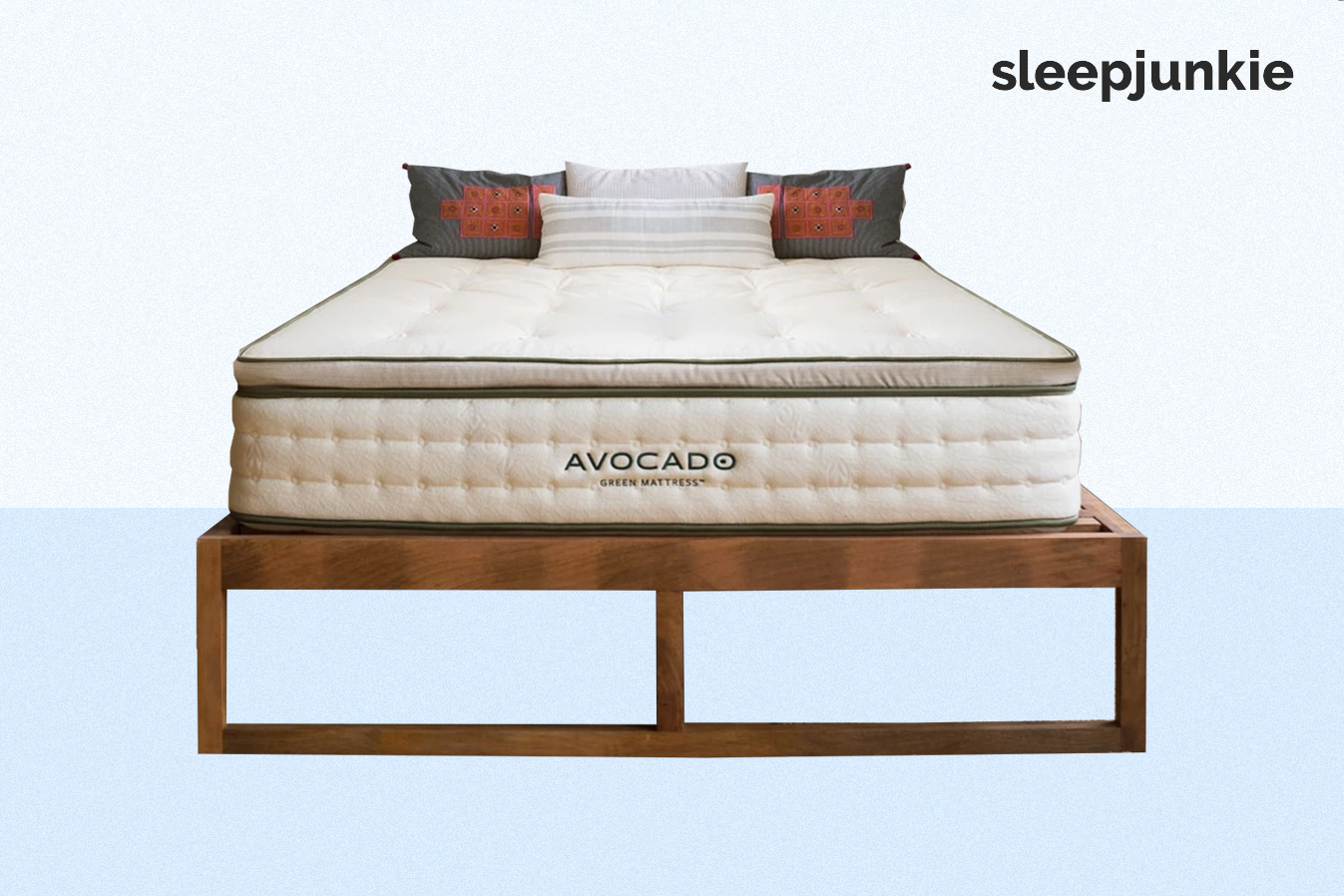 If you like going green, the Avocado Green Mattress is a non-toxic, organic latex option that won't hurt your bank account or the environment. This 11-inch mattress is firm, comfortable and supportive for both back and stomach sleepers.
Avocado mattresses use organic Dunlop foam, which is considered to be the longest-lasting mattress material. It's also naturally antimicrobial and cooler than traditional memory foam.
In addition to the eco-friendly latex, the mattress also incorporates organic wool that keeps your mattress feeling fresh, free of moisture and resistant to dust mites, and organic cotton on its breathable, plush mattress cover. The mattress boasts up to 1,414 pocketed support coils, depending on the mattress size.
The Avocado Green Mattress comes with a pillow top option, raising the height to 13 inches. If you choose this route, know this creates a mattress better suited for side and back sleepers because of the pillow top's prominent pressure relieving properties. Without the added pillow top layer, the Avocado Mattress rates as medium or medium-firm.
If you decide to go green with the Avocado mattress, you'll also take home a 25-year limited warranty. Additionally, you'll have a generous 1-year sleep trial to decide if the Avocado Green Mattress is the way to go.
If you're a hot sleeper, restorative sleep can be a nightmare. Enter the full size Tuft & Needle Mint Mattress, a cool-sleeping, triple-layered, all-foam mattress that can lead you to a better night's sleep. It's one of three mattresses from Tuft & Needle.
The Tuft & Needle Mint Mattress uses the T&N Adaptive® Foam that is both durable and breathable. It has the perfect amount of give so you can easily move on, off, on top of the bed. And did we mention it was cool?
The top layer of foam has the addition of graphite to draw body heat away from you more efficiently. These elements, combined with the cooling gel beads in the second layer, create one of the coolest and most supportive full size mattresses on the market.
If you're not sure about the Tuft & Needle Mint Mattress, sold in storefronts, online, and through authorized retailers like Amazon, the company encourages you to try it out with its 100-night risk-free sleep trial. Also, you can keep resting cool and easy with the guaranteed 10-Year warranty.
Mattress Size Comparisons
Not sure which mattress size is right for you? If you're considering a full or double bed, you may also be thinking about choosing a twin or a queen. Let's talk about their differences.
For a complete list of mattress size comparisons, check out our other guide.
Full vs Queen
Queen mattresses are a tad larger than the standard full size mattress. Queens measure 60 inches by 80 inches while fulls are 54 inches by 75 inches. By choosing a queen, you get 6 more inches of wiggle room and 5 more inches of leg space. If you value your room to sprawl out or sleep with a partner, you may want to choose a queen over a full. However, if your budget or room size cannot accommodate a queen, a full size mattress offers plenty of room for a single sleeper.
See our full vs. queen mattress guide for a full side-by-side comparison.
Full vs Twin
Twin mattresses are smaller than fulls and are the go-to for single sleepers without a lot of room space. Twins are typically your first "big kid bed," but they can accommodate sleepers of all ages. Commonly you'll find twins in college dorms, single apartments, and children's bedrooms. A twin size mattress has dimensions of 38 inches by 75 inches, so you lose a bit of wiggle room when choosing a twin over a full.
See our twin vs full mattress guide for an in-depth comparison.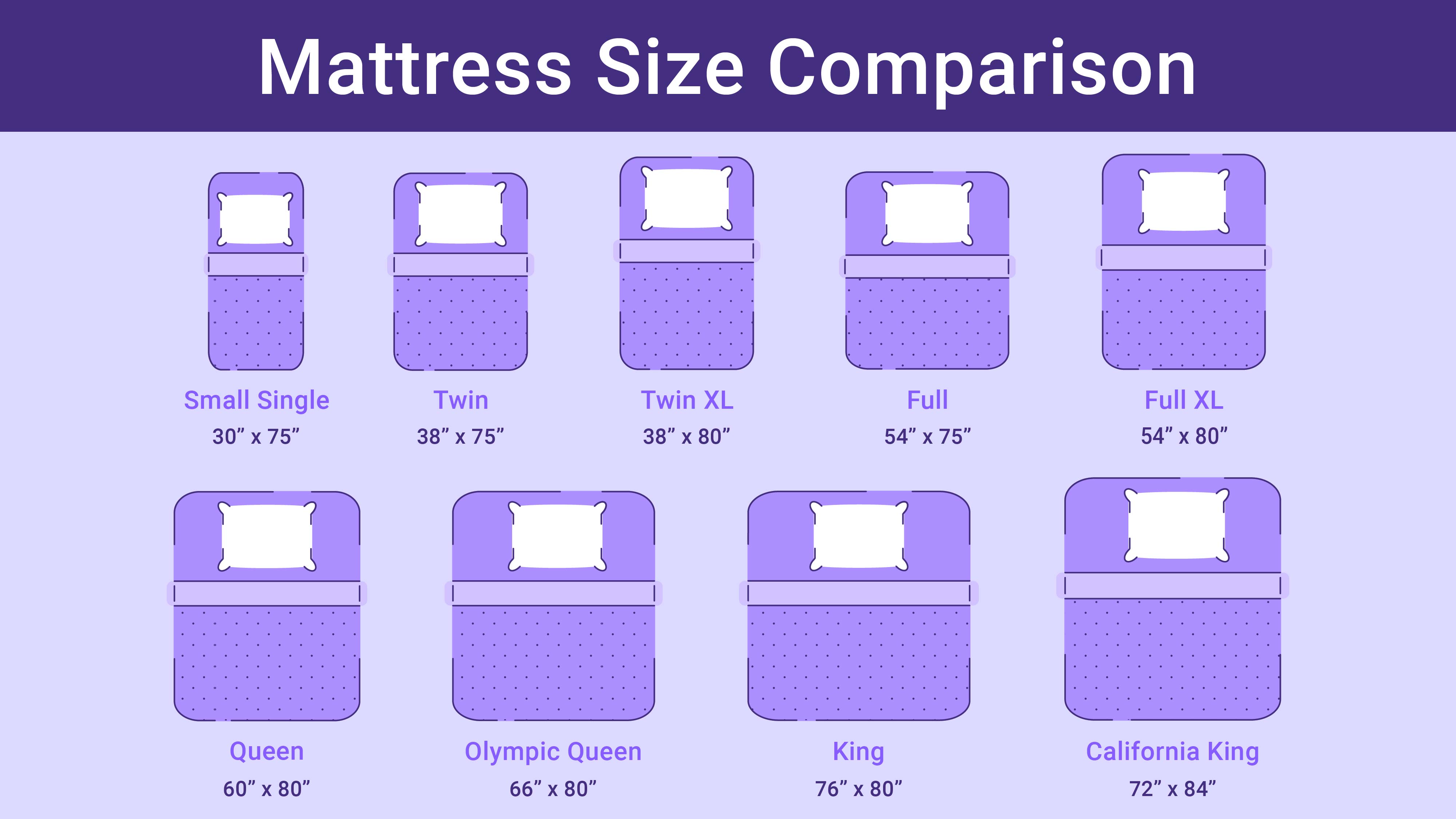 Mattress Types to Consider
Mattress options are seemingly endless: foam, flippable, coil, luxury firm or cushion firm, gel memory foam. When it comes to the actual manufacturing of one of the most comfortable mattresses, there's a lot to consider. So before you splurge on that new mattress set, keep a few more things in mind.
Though some mattress companies have excellent brand recognition, look first at specific mattress types, rather than the brand. Every mattress type offers pros and cons— what works well for one person might be vastly different for another. That's why we've compiled the basics on four of the most popular types of mattresses: memory foam, latex, innerspring and hybrid.
Memory Foam Full Size Mattresses
Memory foam mattresses are known primarily for their conforming properties, motion isolation, and ability to relieve tired joints. However, memory foam mattresses are known to have reduced breathability because of their construction.
There are two popular types of memory foam mattresses. A traditional memory foam mattress has layers of foam offering both comfort and support. A gel memory foam mattress is similar to a traditional memory foam mattress, but the top layer of foam is infused with cooling gel that helps to regulate your body temperature, keeping you cool at night.
If well-maintained, the average longevity of a good-quality memory foam mattress is about 7 years.
Latex Full Size Mattresses
On average, latex mattresses are on the higher end of the price spectrum, yet a large majority of consumers report a high overall satisfaction in their purchase.
This mattress is available in different forms: organic, synthetic or a blend of both. Each performs similarly, though their chemical makeup differs. Organic latex is made from the sap of rubber trees. There are also two types of natural latex, Talalay and Dunlop latex foam. Synthetic latex has chemical properties similar to its organic counterpart, but it is not as eco-friendly.
Latex mattresses are popular for their dense, high-quality materials and average lifespan of 8 years. However, note that only all-natural latex beds have the longest lifespans, and synthetic latex blend beds are not as durable.
Innerspring Full Size Mattresses
Innerspring mattresses contain a layer of steel coils in the base and then a thin layer of comfort foam on top. Usually, this foam is memory foam, poly-foam, latex foam, or a synthetic blend. Despite this comfort layer, innersprings are not known for being conforming or pressure-relieving. They do, however, have excellent bounce and responsiveness.
An innerspring mattress can be a good choice for the average person with no chronic pain or concerns regarding motion isolation. However, if you sleep with a restless partner, your sleep may be interrupted by the constant movement across an innerspring. Additionally, innersprings have been known to sag after only a few years.
Hybrid Full Size Mattresses
A hybrid mattress combines memory foam and innerspring coils in one bed. To be considered a true hybrid, a mattress must have at least 2-3 inches of foam in the top layers and a coil base. This option is great for most body types, depending on the specific model you choose, keeping durability and firmness level in mind.
A full hybrid mattress is contouring and pressure-relieving like a memory or gel memory foam mattress, and supportive and bouncy like an innerspring mattress. Because of its inner coil design, a hybrid mattress also has good motion isolation.
Some potential drawbacks for hybrid mattresses include their tendency to retain heat in their top memory foam layer and the risk of sagging due to the coil base. Hybrid mattresses are typically very heavy and they cost more than other mattress types due to the high volume of materials used to create them.
While a basic hybrid includes a 2-3 inch memory foam on the surface, some companies offer an additional comfort option like a pillow top or a Euro top. Though they accomplish the same goal of adding additional comfort, they differ in materials.
As the name suggests, a pillow top is a thin (an inch or two) plush, pillowy addition for extra softness. A Euro top is denser, made of foam or fiberfill. Often times, adding a top such as these is a customizable option for an additional price on either a hybrid or innerspring mattress.
The coils in a hybrid are often individually-wrapped for better motion transfer— if you're considering a hybrid, look for one with wrapped coils.
Mattress Budget
Mattress shopping can induce some serious sticker shock. But it doesn't have to. With a wide range of options ranging from affordable to luxury, what matters most is that you find a mattress that fits not only your budget, but your unique sleeping needs as well.
Once you determine what mattress type is the best for your body type and temperature preferences, don't forget to weigh your sleeping position into the equation before finding a mattress within your budget. Plan to spend anywhere from $500 to $1,200 for a quality, durable mattress.
Sleeping Position
Though it's important to analyze a variety of mattress brands for their pros and cons, make sure sure you factor your own preferences in as well—  specifically your sleeping position. The comfort and support you'll need as a side sleeper will differ greatly from what stomach or back sleepers need, so be sure to take your habits into consideration when selecting a mattress type and firmness.
Side Sleepers
If you sleep on your side, you sleep in one of the healthiest positions. Sleeping on your side has many health benefits including less back pain and snoring. But remember, to keep up healthy sleep habits, you'll need to select a mattress that supports neutral spinal alignment and pressure relief.
The most comfortable mattresses for side sleepers are typically medium in firmness, offering a good balance of both comfort and support. Finding the softness sweet spot is the most important, as an overly soft mattress can cause the spine to bow rather than align properly. And while you're searching for the optimum comfort level, try to avoid mattresses prone to sagging and excess sinking.
We recommend a medium mattress firmness, as this will give all the benefits listed above, helping you to maintain your healthy sleep patterns for years to come.
Back Sleepers
Back sleepers allow their body to relax in a neutral position every night, taking the pressure off the spine, hips, and pelvis. Sleeping on the back promotes neck and shoulder health because your weight is distributed evenly on the mattress surface.
Because back sleepers can still suffer from poor sleep due to snoring, sleep apnea, and lower back pain, we recommend a supportive, durable mattress for restorative sleep. In terms of firmness level, you should look for a firm to medium-firm mattress. Some lightweight back sleepers even prefer an extra firm mattress. Either way, you're looking for natural spinal alignment and an even distribution of your weight.
A foam mattress should be a strong contender for back sleepers because of its pressure relief and because it is less likely to sag. Back sleepers of average weight should also look for a mattress that's at least 10 inches high.
Stomach Sleepers
Many medical professionals discourage stomach sleeping because it puts excessive pressure on the natural curve of your spine. Just under 10 percent of adults sleep on their stomach every night.
Stomach sleeping can cause long term complications like chronic lower back pain, poor posture, and daytime fatigue. If you're trying to change your sleep position, consider an adjustable bed frame to adjust your posture.
If you still decide to sleep on your stomach, the best mattresses for stomach sleepers are medium-firm to firm. Ideally, choose a memory foam mattress for its pressure-relieving design that will help reduce stress on your spine.
Sleeping Cool and Airflow
Because so many of us require a cool environment to sleep, many mattress companies have made great strides in adding cooling technology to their mattresses, so you get a better, cooler night's sleep.
Gel Memory Foam
While they share the same basic composition, gel memory foam mattresses and traditional memory foam mattresses differ in their cooling properties.
Historically, traditional memory foam mattresses are known for their heat-trapping tendencies. Gel memory foam mattresses are a great solution to this, as the top layer of foam is infused with a cooling gel that helps regulate your body temperature. Other common cooling infusions include copper, graphite, or charcoal.
Airflow
All memory foam is open-cell, meaning it contains small pockets or bubbles; these give memory foam its soft, plush feel. However, warm air can become trapped in these cells. Some companies use plant-based foam or advanced open-cell foam to mitigate this issue and increase airflow through the mattress.
Consider a Mattress Topper
If you're not quite ready to purchase a new mattress but still want to improve the comfort level of your bed, you may consider a mattress topper. Toppers are removable additions to the surface of the mattress that help improve the overall softness of the bed.
Some options include memory foam toppers, feather toppers, latex toppers, and wool toppers. Each has its own merits and can improve your firmness level. However, they are not a substitute for a new mattress; if you keep waking up in pain, it might be time for a new bed. Sleeping on an old mattress for an extended period of time can cause long-lasting alignment issues and chronic pain.
Sleep Trials, Return Policies, and Warranties
Yes, all of this information is a lot to consider, and you want to be happy with your new mattress it's an investment in a healthier lifestyle.
With that being said, don't let fear be a factor in making your final purchase. Always remember that the majority of mattress companies offer a risk-free trial period for you to try out your new mattress.
You'll be able to bring the mattress home for an average of 100 nights to determine if the mattress type, your sleeping temperature, and the mattress firmness are the best fit for you. If you're not getting the sleep you want, most companies will issue you a full refund at the end of the sleep trial.
Because most mattress technology is aimed at helping your spine align naturally, it can take a while for your body to adjust to your new bed. We recommend taking at least 30 days on your new mattress before contacting the company for a refund.
If it's still not the right fit, many companies will coordinate for the mattress to be picked up and recycled or donated responsibly.
If you love your mattress, you can also have peace of mind knowing most mattresses come with an extended warranty. On average, most are about 10 years long, though be sure to check before you make your purchase.
Some warranties are prorated, which means that after a certain amount of time has elapsed from the original purchase date, you'll be required to pay for a portion of any repairs, if needed. Always be sure to read the fine print so there aren't any surprises down the road.
FAQs
How big is a full size mattress?
A full mattress, which is synonymous with a double mattress, is 15 inches wider than a twin or twin XL size mattress. This makes the full size mattress 53 inches wide, excellent for sprawling.
A full bed is a good option if you'd like just a bit more room but aren't ready to commit to a queen size bed.
How much is a good full size mattress?
Budget is always a big question when it comes to selecting the best mattress for you. On average, most mattresses range from $300 to $3,000, but most people on average spend about $1,000 for a quality full size mattress.
What is the top-rated mattress for 2023?
While many reviews vary on the subject, all of the mattress in a boxes listed above fall among the top-rated mattresses of the year. We recommend consumers review all of the features and make their selections based on their own sleep needs. Keep in mind the sleep trials that come with most mattresses so you'll always have time to change your mind after a purchase.
Do I need to use a box spring?
When you're ready to upgrade to a new mattress, keep in mind that foundation options are broader. Most mattresses can be placed on any flat surface including slats, platform beds, adjustable bases, even the floor.
If you're a creature of habit, you can still use a box spring, though we recommend placing a moisture-resistant piece of plywood between the box spring and the mattress. Make sure the plywood is .75 inches thick; this will help eliminate the possibility of sagging.
For best results, we recommend using a mattress foundation with slats. Be sure the slats are spaced 3 inches apart to maintain the longevity of your mattress.
What mattresses are used in 5 star hotels?
Innerspring mattresses are still the most common type of mattress in hotels. However, many upscale hotels now exclusively use foam mattresses for their rooms. This is likely because foam mattresses tend to receive better customer ratings than innerspring mattresses.
Pick the Best Full Size Mattress for You
While researching mattresses can feel like drinking from a water hose, we're sure one of the mattresses we've linked above can help you rest and recover from the daunting task. Just remember to keep your personal preferences in the forefront of your mind, rather than purchasing on brand recognition alone.
Once you have found the right mattress for you within your budget, don't let a fear of commitment get in your way. Remember you always have the sleep trial window to change your mind.