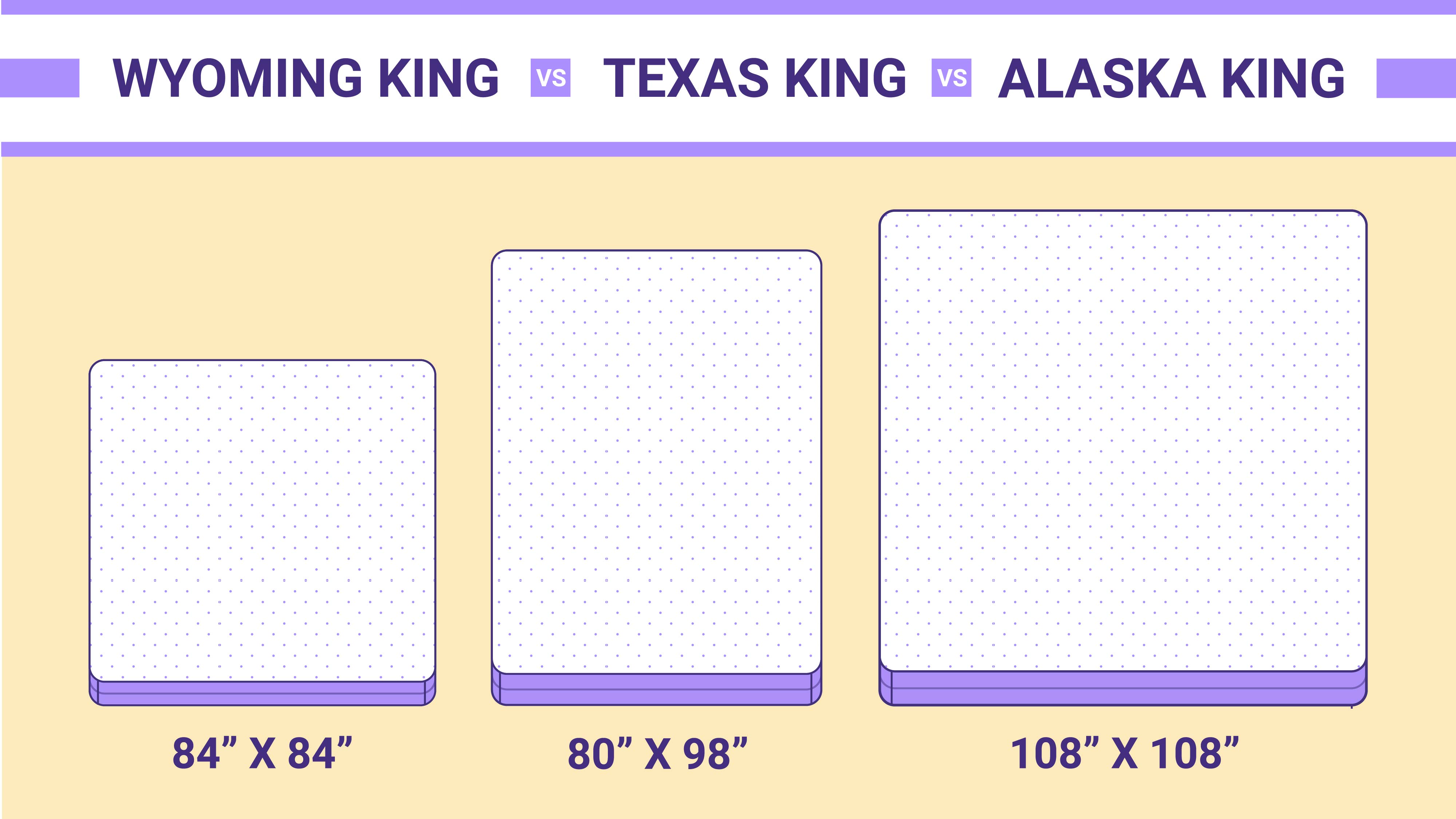 Alaskan King, Texas King, & Wyoming King: What's the Biggest Bed?
Updated September 01, 2022

Mattress Guides
Some of the largest mattress sizes on the market are named after some of the largest American states: Alaska, Texas, and Wyoming.
Oversized mattresses are bigger than all standard mattress sizes—meaning they aren't available through most mattress retailers—but are perfect for sleepers in need of more space, such as co-sleeping families, couples, or tall adults.
As we look through the biggest beds, remember that the largest standard size mattress is a king size mattress. For reference, the king size bed frame and mattress dimensions are 76 by 80 inches with a surface area of 6080 square inches. While a king bed is still large, it's nothing compared to an Alaskan, Texas, or Wyoming king.
Biggest Bed Dimensions
| | Width (inches) | Surface Area (square inches) | Recommended Room Size (feet) |
| --- | --- | --- | --- |
| Alaskan King | 274.32 | 11664 | 16 by 16 |
| Texas King | 203.2 | 7840 | 12 by 14 |
| Wyoming King | 213.36 | 7056 | 12 by 12 |
Alaskan King Size Mattress
An Alaskan king mattress is the biggest bed size sold. At 108 inches wide by 108 inches long, it's large enough to comfortably sleep three adults or a co-sleeping family with two or three small children. It's also a good option for couples who both starfish sleep or have entirely different sleep schedules so they won't disrupt each other when getting in and out of bed.
The Alaskan king has a surface area of 11664 square inches, almost double the standard king size mattress. It's 32 inches wider and 28 inches longer than your standard king bed as well.
Since Alaskan kings are both large and not readily available, they can get quite expensive, costing between $2500 to over $5000. Your bedroom should be at least 16 by 16 feet to fit an Alaskan king bed in it.
Texas King Size Mattress
The Texas king is a long, but narrow oversized mattress, similar to the California king bed. It's 80 inches wide and 98 inches long, so while it's not the widest bed, it's incredibly long—8 inches wider and 14 inches longer than a California king mattress.
A Texas king bed works for tall adults looking for extra legroom. It also works for tall families who want to co-sleep with one child.
Texas king mattresses cost between $2000 to $3500 depending on the materials used. Your master bedroom should be at least 12 feet wide by 14 feet long to fit a Texas king bed.
Wyoming King Size Mattress
The Wyoming king (also called emperor) is the smallest oversized mattress, but don't let that fool you. At 84 inches wide by 84 inches long, this mattress is still 8 inches wider and 4 inches longer than a standard king mattress. It's 7056 square feet, 976 square inches larger than a king mattress.
Some mattress companies might call 78 by 78-inch beds "emperor mattresses," but a 78 by 78-inch bed is a small emperor mattress, not an emperor or Wyoming king bed.
A Wyoming king is a good option for couples who just need a bit more space to spread out or who are both taller than 6 feet. It's also wide enough for parents to co-sleep comfortably with one child.
The Wyoming king bed costs between $1500 to $3000. Your room should be 12 by 12 feet to suit a Wyoming king mattress.
Who Needs an Oversized Mattress?
While oversized mattresses may seem luxurious, most people don't need one, especially single adults or petite couples. If anything, oversized mattresses aren't worth it for many since they're expensive, hard to find, and difficult to transport.
Regardless of this, oversized mattresses will work well for families who primarily co-sleep and couples who are larger or have different sleep schedules.
Co-Sleeping Families
If you enjoy sharing a bed with your child or multiple children, an oversized bed works well as a family bed since it'll give you all enough space to yourselves while also keeping you close together.
Oversized mattresses can be expensive due to their rarity, but you can potentially save money if you'll be using them to co-sleep versus buying individual beds for the people in your household.
Even if you don't necessarily sleep in the same bed as your children, if you all enjoy cozying up together to watch a movie at night, an oversized bed can give you enough space to do so comfortably.
Couples with Different Sleep Schedules
If you and your partner work entirely different sleep schedules and get in and out of bed at different times, an oversized mattress prevents you from disturbing each other. Lighter sleepers won't risk waking up as much in a large bed.
While an oversized mattress won't guarantee your partner will be quiet while getting ready in the mornings, it minimizes motion transfer from one side of the bed to the other.
Plus-Sized Couples
As a larger adult, you'll likely take up more space on a bed. A large standard size mattress, such as a king, would likely work for a single sleeper who's larger, but it might get cramped for couples. So, if you and your larger partner are looking for more space to stretch out, getting an oversized mattress is a smart choice.
Where to Get an Oversized Mattress and Accessories
Unlike standard sheet set and comforter sizes, oversized mattresses aren't usually available through most mattress retailers—otherwise, they'd be called standard mattresses. You'll have to find an oversized mattress retailer to get your bed, most of which are online.
Some mattress boutiques might custom-build an oversized mattress for you as well. With custom mattresses, you can choose its exact features and materials, such as choosing a hybrid bed or a memory foam mattress.
However, custom mattresses can get quite expensive on top of the mattresses already being pricey as is.
Similarly, finding oversized bedding, pillows, and a bed frame or foundation can be a task since they're uncommon. Most retailers who sell or customize oversized mattresses will also sell similarly sized bedding, pillows, and frames, so it's wisest to shop for mattress accessories through them.
FAQs
What is a super king size bed?
A super king bed, despite its name, is smaller than a king bed. It's 72 inches wide by 78 inches long. While it's not the largest bed size, it's considered an oversized mattress. You may not find many super king beds in the USA, but they're quite popular around Europe and the UK.
What is a Caesar size bed?
A Caesar size bed is 96 inches wide and 78-87 inches long. It has a wide and short, rectangular shape, but it is larger than all standard size mattresses. A Caesar bed is a good option for couples who need the space to stretch out, but who also aren't incredibly tall.
Is there a mattress smaller than a twin size mattress?
Just like there are oversized mattresses, there are petite mattresses smaller than standard mattress sizes.
Crib and toddler mattresses are 28 inches wide by 52 inches long, while twin mattresses—the smallest standard bed—are 38 inches wide and 75 inches long. Crib and toddler mattresses are, unsurprisingly, best for toddlers and infants.
A small single or cot mattress is 30 inches wide and 75 inches long, 8 inches thinner than a twin bed. It's suitable for some bunk beds and fits in dorm rooms and studio apartments.
What size bed do most couples have?
Most couples have a queen or king bed, both of which are standard mattress sizes. Queen bed frames and mattress dimensions are 60 by 80 inches, while king mattress dimensions are 76 by 80 inches.
A standard queen size mattress is the smallest mattress size we recommend for couples, so it might feel a bit tight for some couples. King beds provide lots more personal space for sleepers, but since they are more expensive, lots of couples opt for queen beds.
Not only do king and queen beds work well for couples, but they're suitable for guest rooms as well.
What size bed should I get for my height?
Your bed should be long enough to give you adequate foot and headroom. Here are our recommendations:
If you are over 6 feet tall, a twin XL bed, full XL bed, queen bed, Olympic queen bed, or king bed (80 inches long) will accommodate you.
If you are 6 feet 11 inches or taller, a California king bed, Wyoming king bed, Texas king bed, or Alaskan king bed will work for you.
Conclusion
Based on your living situation, sleep environment, and budget, an oversized mattress may be right for you. Standard bed sizes don't work for everyone, especially large couples, co-sleeping families, and couples with conflicting sleep schedules. For them,  an oversized mattress is best.
You'll need a hefty budget (between $1500 to over $5000) and a large master bedroom (12 by 12 to over 16 by 16 feet) to accommodate any oversized mattress.