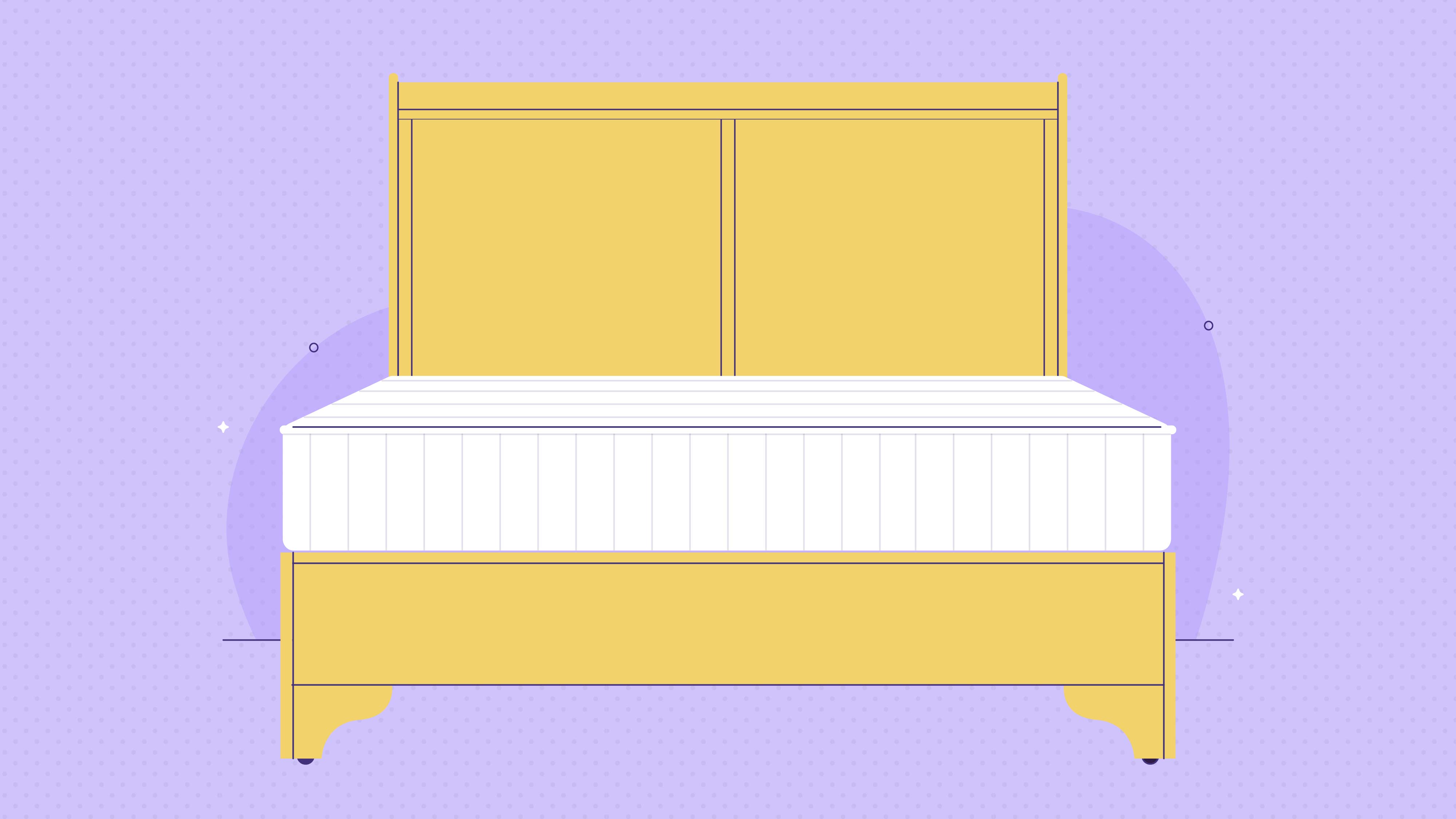 Queen Size Bed Frame Dimensions
Updated November 22, 2023

Mattress Accessories
FAST FACTS
Upgrading to a queen size mattress can improve sleep quality for couples by providing more space for comfortable sleeping positions, leading to reduced stiffness and soreness in the morning.
Understanding the dimensions and variations of queen size beds, such as Olympic queens, California queens, and split queens, is crucial in choosing the right bed frame to ensure a proper fit and comfortable sleeping space.
Selecting the appropriate type of bed frame, including panel frames, platform frames, sleigh beds, four-poster bed frames, and canopy bed frames, can enhance the overall appeal and functionality of the bedroom, aligning with personal preferences and room dimensions.
Whether you sleep alone or share your bed with a spouse, deciding to upgrade to a high-quality queen size mattress can dramatically improve your sleep. Couples who share a full size bed often end up sleeping right up against the mattress's edge, which leaves them sore and stiff in the morning. A bigger bed gives you more room to stretch out in a comfortable position, so your muscles can fully relax, and healing can take place.
Once you bring your new queen size mattress home, you will need to pair it with the perfect bed frame. Not only do bed frames add a decorative focal point to the bedroom, but they also support the mattress and prevent sagging. To help you find the best fit, we outline the dimensions of a queen size bed frame. Plus, we break down the different types of bed frames and size variations on the market today.
Dimensions of a Queen Size Bed Frame
A standard queen size mattress measures 60 inches wide by 80 inches long. Most bed frames measure a half-inch to 2 inches wider and longer than the mattress. This extra space creates room for bedding and ensures the mattress is not pressed too firmly against the sides of the frame.
Queen size bed frames typically measure between 60.5 to 62 inches wide and 80.5 to 82 inches long. However, these measurements may vary depending on the type of bed frame. Some platform beds will fit the exact dimensions of a queen mattress.
The headboard of a queen size bed frame can be between 0 to 3 inches wider than the bed frame. Most queen size headboards measure 60 to 63 inches wide and sit around 48 inches tall.
Variations of a Queen Size Bed
In addition to standard sizing, queen mattresses also come in three variations. Below, we outline these mattress dimensions and how to find a bed frame that will accommodate each.
Olympic Queen Bed
Also called an "extended queen," an Olympic queen size mattress measures 66 inches wide by 80 inches long. This size is 6 inches wider than a standard queen size bed, giving each sleeper 33 inches of personal space. The extra width of an extended queen is ideal for couples who have a smaller size room but prefer more space to stretch out. Couples with children who frequently climb into bed with them may also prefer an Olympic queen.
When shopping for a bed frame that will fit an Olympic queen mattress, be sure the frame is at least 66.5 to 68 inches wide. Since extended queens are a fairly popular mattress size, this larger queen size frame should not be difficult to find.
California Queen Bed
California queen size beds measure 60 inches wide by 84 inches long. This size is 4 inches longer than a standard queen mattress. If you or your spouse are 6 feet tall or more, a Cal queen bed may help you sleep more comfortably. This size helps tall individuals avoid waking up with their feet hanging off the end of the bed.
The right bed frame for a California queen size mattress will measure at least 60.5 inches wide and 84.5 to 86 inches long. In some cases, you may be able to place side panel extensions onto an existing queen size bed frame. These extensions give the structure extra length to accommodate a California queen mattress.
Split Queen Bed
Many couples prefer a split queen mattress. This option allows each sleeper to select a comfort level that is right for them. Split queens are also a popular mattress size for a split adjustable base. With a split base, each person can adjust the head and leg articulation to suit their individual needs.
Although a split queen is not as widely available as a split king, some online brands offer this option. A split queen is two 30-inch by 80-inch mattresses placed side by side to create a full 60-inch by 80-inch queen size bed. Most queen size bed frames can accommodate a split queen option.
Types of Queen Size Bed Frames
Whether you prefer your bed to have a sleek, low profile design or a more dramatic look, there is a bed frame out there for you. Depending on the size of your room and desired look, you can choose one of the five queen size bed frames outlined below.
Panel Frames
Panel bed frames are a common and relatively basic design. These frames have two side panels, a headboard, and a footboard. Panel bed frames generally have a foundation made of wood or metal slats where the mattress is placed. These frames are designed to support the mattress and foundation if one is needed.
Platform Frames
Platform bed frames can have either a slatted or solid wood foundation to support the mattress. If the frames have a slatted base, slats are typically no more than 2.75 inches apart to keep weight evenly distributed and to prevent sagging.
These frames typically do not require an additional foundation, such as a box spring. A modern memory foam mattress or hybrid mattress can be placed directly on the base of the frame.
Sleigh Beds
Sleigh bed frames are designed to resemble a sleigh and feature a decorative curved headboard and footboard. These frames are often made of wood and have elaborate embellishments or a more sleek, simplistic design. Sleigh beds can be used to create a dramatic focal point in any room.
Four Poster Bed Frames
Four-poster bed frames have four large pillars on each corner of the bed. These pillars are typically as tall as the bed is long. On a queen size four-poster, the pillars will be between 80 to 83 inches tall. The frames are made of wood or metal and also have decorative headboards and footboards as well.
Canopy Bed Frames
Queen size canopy beds have the same design and measurements as a four-poster bed with one addition. Connected at the top of each pillar are beams that run horizontally. These beams create a square shape frame above the mattress. Fabric can be draped from the top of the canopy to add privacy or decoration.
Bunk Bed Frames
While uncommon, there are queen size bunk bed frames available. Normally the bunk bed dimensions have a smaller bed on top of the queen mattress, instead of two queen size bunks.
Mattress Foundations
Most of the frames listed above have a base that will support the mattress. However, if the structure does not have a stable base, whether slatted or solid, you can pair it with a mattress foundation.
Most high-quality mattresses do need a box spring. Memory foam, latex foam, and hybrid mattresses can be placed directly on a solid or slatted base, as long as the slats sit no more than 2.75 inches apart.
Mattress Foundations
A mattress foundation consists of a wood or metal box covered with a durable cloth. Wooden or metal slats are attached together and covered in a similar material. These slats are then placed inside the box and attached to sides. The mattress rests on top of the slats and is kept stable and supported. The best mattress foundations also have detachable legs that can be placed on the base of the foundation. These legs allow the base to be used as a stand-alone frame without a headboard or footboard.
Adjustable Frames
An adjustable bed frame is typically made of metal and has a motor that allows users to raise and lower the head and foot portion of the bed. These adjustments can help sleepers find a healthier sleeping position. Head articulation can alleviate symptoms of snoring and sleep apnea. Lifting the legs during sleep can improve blood circulation and reduce pressure on the lumbar region.
Benefits of a Queen Size Bed Frame
If you are considering a queen size bed, you will be happy to know that these beds have several benefits. Below, we outline why a queen size bed might be the best mattress for you.
Suitable for Couples
Many couples are comfortable on a queen size mattress. These beds offer 30 inches per side, allowing sleepers plenty of room to stretch out. King size mattresses provide 38 inches per side, but these beds often require a larger room size. A queen is a good mattress for couples with limited space who need a comfortable new mattress.
More Legroom
Queen size beds are also a popular choice for single adults in need of more legroom. On a full-size bed that measures 75 inches long, taller sleepers may find their feet dangling off the bed in the morning. Combination sleepers or those who frequently toss and turn during sleep may also roll to the edge of a full bed. A queen size mattress will offer these sleepers more support and more room to move around.
Versatility
Queen beds fit comfortably in most standard size bedrooms measuring 10 feet by 12 feet (120 square feet). Even in a smaller room, a queen bed will leave plenty of living space and room for other bedroom furniture. Queen beds are also large enough to be the centerpiece of a master bedroom, which measures 14 feet by 16 feet.
The versatility of queen beds makes them ideal for guest rooms and vacation homes.
Longer Lifespan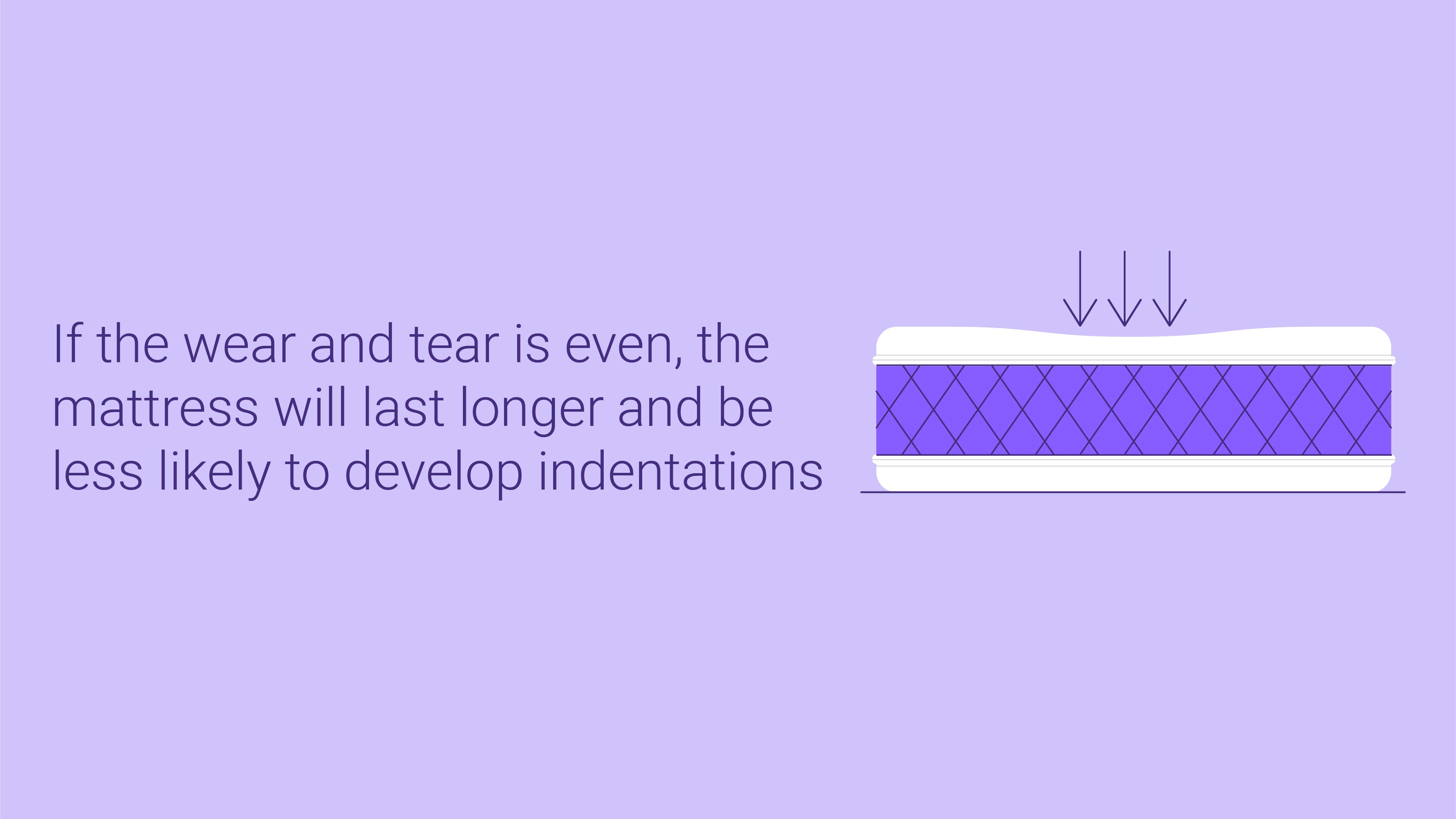 A larger mattress will naturally wear more evenly than a twin bed. When we have more room to spread out, we won't sleep in the same spot each night. If the wear and tear is even, the mattress will last longer and be less likely to develop indentations.
Easy to Find Accessories
Due to the popularity of queen size beds, manufacturers offer a large selection of accessories to accommodate these beds. Foundations, bed frames, duvets, and sheets can all be found in several different styles to fit a queen bed.
Frequently Asked Questions
What size rug should go under a queen bed?
A rug should be between 5 and 8 feet wide to fit beneath a queen size bed. This width will allow the rug to sit at least 18 inches beyond the sides of the bed. If you have an Olympic queen, the rug should be 9 feet wide.
The length of the rug should be at least 8 feet long. If you opt for a California queen, it is best to go with a rug that measures 9 feet long.
Is a queen bed bigger than a double bed in the UK?
Different countries have mattress dimensions that differ from those in the United States. In the United Kingdom, there is no standard size mattress labeled as a "queen size." They have two doubles—a small double and a regular double. Small doubles measure 47 inches wide by 74.5 inches long. A regular double mattress measures 53 inches wide by 74.5 inches long.
The UK mattress size that comes closest to a US queen size is their king size. Their king mattresses measure 59 inches wide by 78.5 inches long. A UK super king is similar to a US California king. Their super king measures 72 inches wide by 80 inches long, while a California king mattress measures 72 inches wide by 84 inches long.
What is the size of a queen bed in centimeters?
In centimeters, a queen size bed measures 152.5 cm long by 203.5 cm long. This measurement is equal to 60 inches wide by 80 inches long.
What size bed do most couples have?
Most couples sleep comfortably on a queen size bed since this size offers each sleeper 30 inches of space. However, families who co-sleep may prefer a king size bed. A king bed will allow two adults and 1 to 2 small children enough space to rest comfortably.
Is a queen size bed smaller than double?
A queen size bed is larger than a double bed. A double, also known as a full bed, measures 54 inches wide by 75 inches long. A queen size mattress measures 60 inches wide and 80 inches long. Queen beds are 6 inches wide and 5 inches longer than a double bed.
Conclusion
A queen size mattress offers a versatile and comfortable sleep space for both couples and single sleepers. Pairing your mattress with the right size bed frame will ensure it supports you throughout many years of use. Plus, a new frame is a great way to change the look and feel of your bedroom. From platform beds to four posters, the possibilities for your new queen size bed are endless.