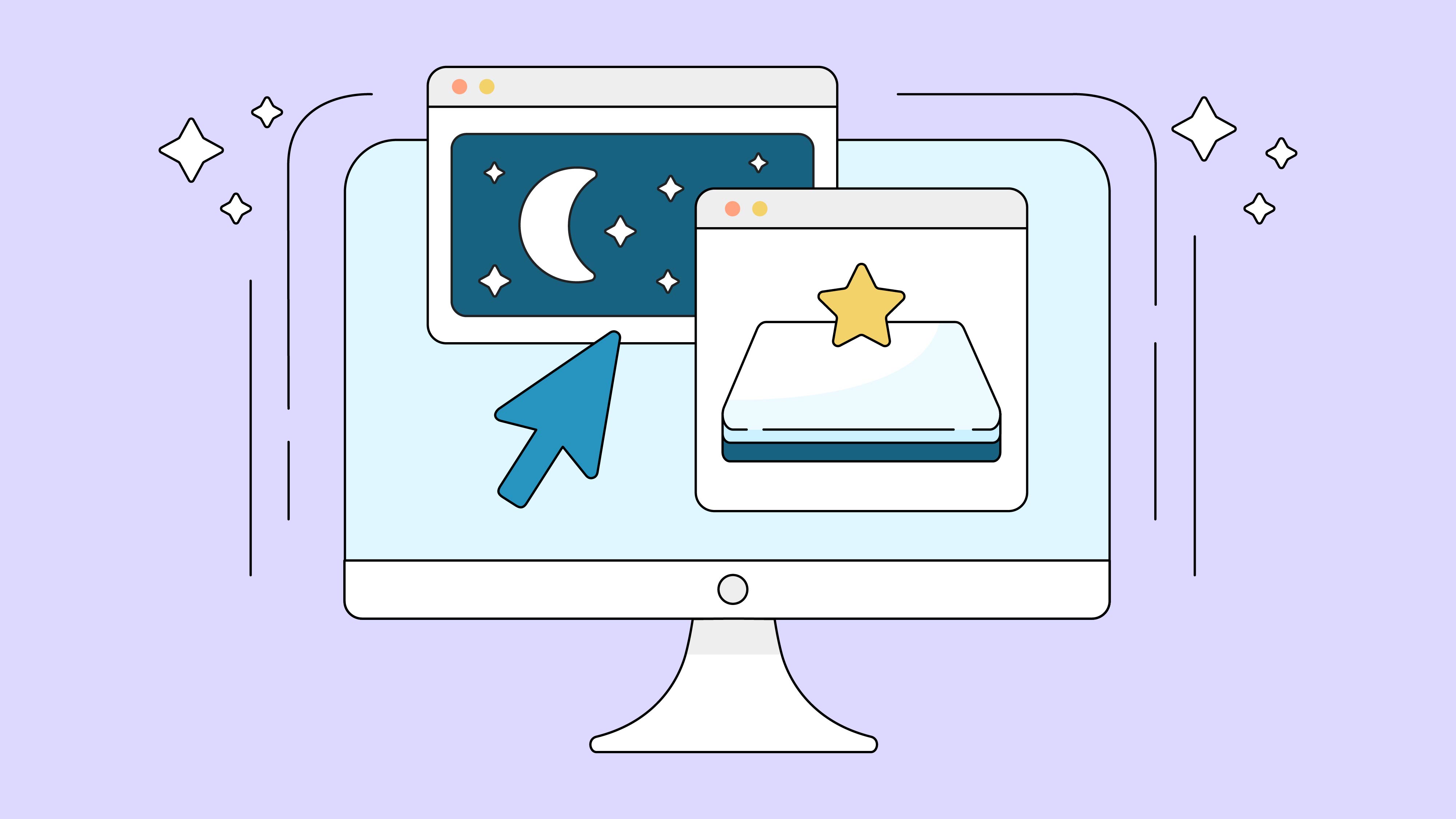 Best Online Mattress: Reviews and Buyer's Guide
Updated on: March 03, 2021

Mattress Guides
Online mattress brands have changed the way people learn about and shop for beds. Before, mattress shopping consisted of driving store to store, testing beds, and dodging salesmen pushing to sell you the "most comfortable mattress on the market today." Now, people can shop pressure-free from the comfort of their couch.
However, online shopping for mattresses does have its pros and cons. When you do a Google search for "best online mattress" it brings up dozens of mattress brands and models to read about and consider— so how can you tell which bed is the best for you without trying it first? In this guide, we'll discuss how to find the best online mattress and what to consider before clicking purchase.
30 Second Summary: Best Online Mattress
Amerisleep AS3 — The Editors' at Sleep Junkie recommend Amerisleep's AS3 as the best online mattress. The AS3 features plant-based memory foam and state-of-the-art zoned support technology to deliver healthier, more restorative sleep. Plus, they offer one of the most generous warranties in the industry, protecting your mattress from damage for 20 years.
Zoma Mattress — The Zoma Mattress is designed to help you get deeper sleep to recover faster and perform better. Originally engineered for athletes, Zoma is ideal for those who live an active lifestyle or people who experience frequent pains.
Best Online Mattresses
| | Mattress | Highlights | Price |
| --- | --- | --- | --- |
| | Amerisleep AS3 | Features pressure-relieving, plant-based memory foam and advanced zoned support technologies to eliminate back pain. | |
| | Amerisleep AS5 | Plush comfort layer cushions joints to prevent pressure points. | |
| | Zoma Mattress | Designed to help athletes sleeper better and recover quicker; features state-of-the-art sleep-enhancing technologies. | |
| | Zoma Hybrid | Pocketed spring coil base the prevents sinking and reduces motions transfer. | |
| | Vaya Mattress | Two hypoallergenic foam layers available at an affordable price. | |
| | Purple Mattress | Features innovative "No-Pressure" Smart Comfort Grid™ to combat pain. | $999 |
| | Bear Mattress | Contains graphite-infused memory foam to help you sleep cool and comfortable. | $840 |
| | Allswell Luxe | Budget-friendly hybrid containing copper-infused foam and pocketed coils. | $645 |
| | Aviya® | Eco-friendly innerspring featuring a premium cotton pillow top. | $1099 |
Best Online Mattress Overall: Amerisleep AS3
Amerisleep's AS3 is our Editors' favorite online mattress. Amerisleep makes and sells five different beds; their AS3 is designed to be a true medium and offers an even balance of comfort and support.
Due to this bed's enhanced versatility, it can contour to a variety of body types in many different sleep positions. For that reason, Amerisleep recommends this mattress to back, side, and combination sleepers alike. The Amerisleep AS3 is also the best mattress for couples with differing sleep styles because it's so adaptable. Furthermore, it's excellent for those who share the bed with a restless sleeper, as the AS3 is excellent at isolating motion.
Below, we'll look at the layers of this bed.
The cover of every

Amerisleep mattress

is soft and breathable to prevent night sweats and promote comfortable sleep.

The first layer of the AS3 is Amerisleep's proprietary Bio-Pur®, a plant-based memory foam. Bio-Pur® is soft to the touch and contours to your body to offer instant pressure relief. Because this foam is plant-based, it's more breathable than traditional memory foam, and it shouldn't emit any unpleasant off-gassing odors, either.  The breathability of Bio-Pur® works in conjunction with the lightweight cover to create a cooling sleeping environment.
Next is the Affinity layer with HIVE®. HIVE® technology has five support zones— the feet, hips, shoulders, neck, and head — to relieve pressure points and foster your spine's natural curvature.
The last layer of the AS3 is Amerisleep's Bio-Core®. The base of the mattress should offer structural and edge support as well as prevent premature deterioration, and Bio-Core® is designed to do just that. This high-density foam helps prolong the lifespan of the mattress and maintain its comfort by offering exceptional support.
Every Amerisleep mattress comes with a 100-night sleep trial and an extensive 20-year warranty. During your sleep trial, you have the opportunity to test the mattress at home and decide if it's the best mattress for your needs. If you don't think it's a good match, you can exchange it for a different model or return it for a full refund.
AMERISLEEP AS3
Perfect balance of comfort and support works for most sleepers
Plant-based Bio-Pur® is breathable and responsive
HIVE® technology eases aches and pains and promotes deeper sleep
Each Amerisleep mattress is designed to suit a different sleep position. The AS3 is their most versatile mattress because of its medium comfort level. However, the Amerisleep AS5 is their softest model and has a luxurious, plush feel. If you are a side sleeper in need of more cushioning around the hips and shoulders, this mattress is ideal. Since the AS5 has so much give, this mattress is also perfect for lightweight sleepers who need more contouring.
The AS5 consists of the following layers:
The cover of the AS5 is made with a lightweight, airy material that keeps you cool and relaxed throughout the night.
The comfort layer of this mattress features Amerisleep's unique plant-based memory foam, Bio-Pur

®. In this model, the Bio-Pur® layer hugs the curves of the body for pressure-free support. This material is so conforming that it gives you the sensation of being truly weightless. Bio-Pur® is also non-toxic, eco-friendly, and more breathable than traditional memory foams. 

Since many soft mattresses cause excessive sinking, which can force the spine out of alignment, Amerisleep includes a transition layer with an elastic quality. This foam layer is called Active Flex and it responds to the body within seconds. The buoyancy of this material keeps even the heaviest parts of the body lifted and in alignment with the hips and shoulders. With this feature, you will be less likely to end up in awkward sleep positions that put pressure on the spine, leading to aches and pains.
Next, Amerisleep includes their zoned support foam, HIVE

®. The surface of this foam features hundreds of hexagonal cutouts that respond to each area of the body differently. Near the lumbar region, cutouts are closer together and provide firm support. Near the joints, cutouts are further apart and compress more easily to prevent pressure points. 

Beneath these advanced foam layers is a base of Bio-Core

®, a durable support foam that guards against sagging and indentations. 
As with all their mattresses, Amerisleep backs the quality and construction of the AS5 with a 20-year warranty. You can also test out the comfort and support of this bed with their 100-night, risk-free sleep trial period.
AMERISLEEP AS5
Luxuriously soft and supportive
Active Flex accommodates all body types
Eco-friendly Bio-Pur® contours to the body for all-over comfort
Best Gel Memory Foam Online Mattress: Zoma Mattress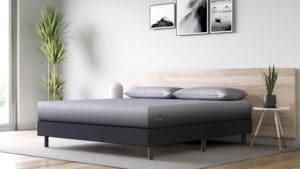 The next mattress on our list is the Zoma Mattress, a memory foam mattress built for athletes. Designed to help you get deeper, better sleep, and recover faster, Zoma is perfect for athletes or those who suffer from recurring aches and pains. Containing sleep-enhancing technologies, this bed can help you wake up feeling refreshed and ready to take on the day.
Let's talk about its design.
The first layer of Zoma is 2 inches of gel-infused memory foam with Triangulex™ technology. When you lay down on the Zoma, this pain-relieving layer molds to your body to alleviate pressure points and offer cushioning comfort. The gel within combats body heat to keep you at a comfortable temperature.
The Triangulex™ technology within the first layer offers dynamic support. Under your shoulders and hips, this technology contains triangle-shaped cutouts allowing for deeper compression and enhanced pressure relief. In your midsection, this layer has a firm feel to offer better spinal support, promoting a healthy spine, and preventing uncomfortable sinkage.
Next, is a layer of Reactiv™ foam, a latex-like poly-foam in place to boost the bed's responsiveness. The Reactiv™ layer creates a more "on the bed" feel in terms of firmness and gives the Zoma a bit of bounce. Primarily, it functions as a transition layer between the cushioning memory foam above and the sturdy core below.
The core of the Zoma is dense Support+ foam to reinforce the layers above and prevent sagging.
Every Zoma comes with a 100-night sleep trial and a 10-year warranty.
ZOMA MATTRESS
Medium firmness is comfortable for side and back sleeping
Triangulex™ technology promotes healthier sleeping positions
Cooling foams prevent hot nights
Best Cooling Online Mattress: Zoma Hybrid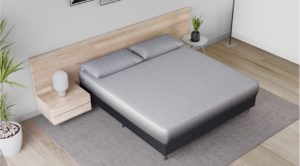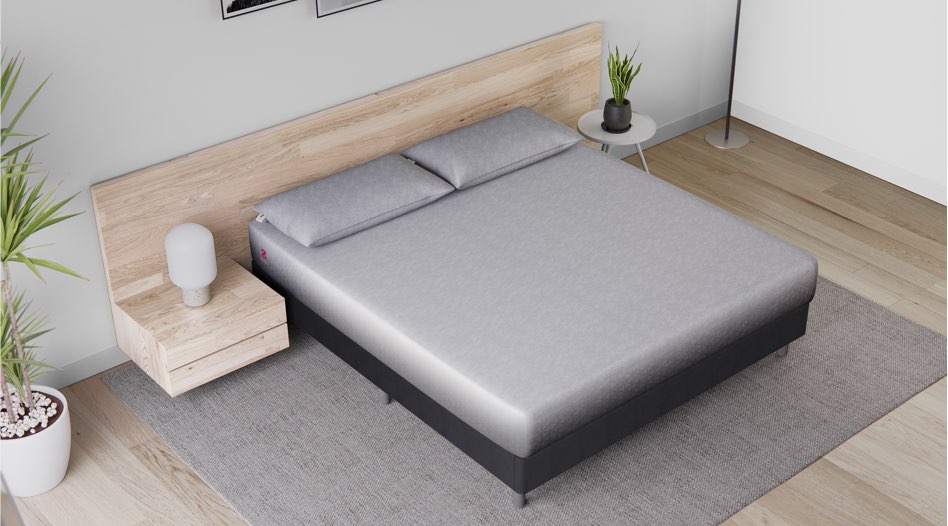 Zoma has also recently launched a hybrid mattress. This model is similar to their memory foam model; however, the base of the hybrid features a spring coil support system. Like their original mattress, the Zoma Hybrid has a medium comfort level that works well for most body types and sleep positions. Plus, due to its spring coil base, this mattress has a slight bounce that helps reduce excessive sinking.
Let's take a closer look at the layers of the Zoma Hybrid.
This mattress is covered in a soft, stretchy fabric that molds to the body without trapping heat. It also wicks away heat and moisture so you stay cool and dry.
The comfort layer of the Zoma Hybrid features their proprietary gel memory foam with zoned support. This material conforms to the body with the perfect balance of compression and support to prevent painful pressure points from forming near the joints.
Beneath this layer is Zoma's Reactiv™ foam, a highly responsive foam that guards against sinking, ensuring that you never feel "stuck" in the mattress. Too much sinking can cause sleepers to feel trapped, making it difficult for them to change positions throughout the night. Sinkage can also force the spine to bow, leading to stiff, sore muscles in the morning. The slight bounce of the Reactiv™ layer keeps the body resting in a neutral position that reduces pressure on the spine.
The Base of the Zoma Hybrid features pocketed spring coils that are zoned to provide adequate contouring and pressure relief. Near areas that need more stability, such as the lumbar region, coils are thicker and more supportive. Near sensitive joints, such as the hips and shoulders, they are thinner and compress easily. Since each spring is individually wrapped, this bed also has very little motion transfer, which is great for couples with different sleep schedules.
As with their original mattress, the Zoma Hybrid comes with a 100-night sleep trial that allows you to try out the mattress risk-free. Zoma also includes a 10-year warranty that covers manufacturing defects, so you can be sure this mattress will support you for many years.
ZOMA HYBRID
Contains multiple cooling technologies for ultimate airflow
Gel memory foams wick away body heat for extra coolness
Bouncy but supportive
Best Budget Online Mattress: Vaya Mattress
For a high-quality and affordable online option, the Vaya Mattress is a great choice. This bed is made with two hypoallergenic foam layers that are each backed by a CertiPUR-US® certification, guaranteeing it is free from any harmful contaminants. Both foams work together to create a medium comfort level that keeps sleepers lifted and resting in a safe, comfortable position throughout the night. The Vaya is suitable for most sleep positions, including side, back, and combination sleepers. 
Below, we breakdown the layers of this budget-friendly, yet advanced mattress.
The cover of the Vaya is made of a soft, stretch-knit fabric that moves with the body as you change positions. This fabric is also ventilated to encourage air circulation, so the surface of the bed always stays cool and inviting.
The comfort layer of this mattress features Vaya's proprietary memory foam, which has more natural breathability than traditional memory foam varieties. What makes this foam even more comfortable is its slight elasticity. The bounce of this material reduces excessive sinking so the hips and shoulders remain in alignment throughout the night, allowing the muscles to completely relax and rebuild.
Supporting the comfort layer is a base of high-density foam that is sturdy and durable. This base provides further protection against sinking and helps maintain the structure and integrity of the mattress.
The Vaya Mattress comes with a 100-night sleep trial that allows you to test out the mattress in the comfort of your own home. Plus, they include a 10-year warranty that covers manufacturing defects such as sagging and indentations.
VAYA MATTRESS
Designed for universal comfort
CertiPUR-US® certified safe for all sleepers
Budget-friendly but still high-quality
Best Online Mattress for Side & Combo Sleepers: Purple Mattress
Purple beds are unlike any other in the market because they're designed to be the world's first no-pressure mattress. When creating the Purple mattress, founders Tony and Terry Pearce chose to use their unique cushioning material, hyper-elastic polymer.
The Pearce brothers fashioned this hyper-elastic polymer into a large grid shape and named it their Smart Comfort Grid™. Every Purple mattress uses this grid as the top layer, giving it a distinctive feeling in comparison to most any other mattress sold today.
Below, we'll discuss the layers of this bed.
The cover of the Purple mattress is a blend of polyester, viscose, and lycra, designed to feel thin, breathable, and soft. Lycra has stretchy properties, giving this cover a latex-like feel. It also helps wick moisture away and keeps you cool while you sleep.
The first layer of the Purple mattress is their Smart Comfort Grid™, made with the hyper-elastic polymer. When you lay on this bed, the Smart Comfort Grid™ should offer a springy or responsive feel, while also collapsing under the weight of your body to relieve tension. This balance of comfort and support prevents you from feeling as if you're sinking into the mattress. The grid-shape of this layer allows for enhanced airflow throughout the bed, too, preventing you from waking up hot.
Below the Smart Comfort Grid™ is poly-foam, acting as a transitionary layer between the grid above and the dense core of the mattress. Including this softer transition layer prevents you from sinking all the way through the grid above and bottoming out on the solid core.
The final layer of the Purple mattress is strong poly-foam, in place to offer support to the rest of the bed. This layer gives the bed its overall structure and shape.
Every Purple mattress comes with a 100-night sleep trial and a 10-year warranty. If you decide the Purple mattress isn't a fit, you have the option to return it for a full refund or exchange it for a different model. However, Purple only allows one exchange, so before you swap, make sure you're confident in your next choice.
PURPLE MATTRESS
Smart Comfort Grid™ cushions and supports all sleep styles
Airy design prevents night sweats
Made with unique hyper-elastic polymer material
Best Online Mattress for Back Sleepers: Bear Mattress
Like Zoma, Bear makes mattresses with athletes in mind and designs their beds to help you get deeper, more restful sleep. This brand sells two mattresses, a hybrid model and an all-foam bed. When buying from Bear, we recommend choosing their all-foam mattress made with graphite gel-infused memory foam.
Below, we'll discuss the layers of this mattress.
The cover of the Bear mattress is Celliant® fabric to aid in quick muscle recovery and facilitate deeper sleep.
The first layer is cooling graphite-gel memory foam. Graphite gel is a newer cooling technology used in beds to help move heat away from your body while you sleep. When laying down on this layer, it should contour to your body and relieve pressure points as memory foam does; however, the graphite in this layer should prevent you from waking up hot.
Next, are two layers of poly-foam, in place to act as one transition layer between the soft memory foam above and the dense core foam below. The poly-foam in this layer is designed to be responsive and offer a bouncy feeling. It should prevent you from feeling as if you're sinking too far down into memory foam.
The bottom support layer of the Bear mattress is dense poly-foam to give the bed structure and shape.
When you buy a Bear mattress, it comes with a 100-night sleep trial and a 10-year warranty.
BEAR MATTRESS
Designed with a temperature-regulating Celliant® cover
Features gel- and graphite-infused hypoallergenic foams
Responsive and cushioning to promote healthy back or side sleeping
Best Online Hybrid Mattress: Allswell Luxe
If you're looking for a hybrid mattress, consider the Allswell brand. A subsidiary of Walmart, Allswell specializes in making and selling high-quality hybrids at budget-friendly prices. All in all, they sell three beds, but we recommend their flagship Allswell Luxe model because it's packed with sleep-enhancing features and costs less than $700 for a queen size.
Let's talk about the design of this top-rated mattress.
Allswell prides themselves on being a design-centric brand, so they quilt each of their mattresses in a branded Allswell cover woven with their signature "A." Within this cover, they quilt an inch of plush SwirlFoam with cooling gel to offer instant comfort and prevent you from overheating.
The first layer of this hybrid is 2 inches of copper-infused memory foam. Copper is naturally antimicrobial and highly conductive, so it fights both germs and body heat to keep you sleeping clean and comfortably. When you lay on this bed, the memory foam conforms to your body and relieves pressure.
Next, is a 1-inch layer of high-density poly-foam to offer extra cushioning between the memory foam above and the pocketed coils below.
The third and final layer of the Allswell Luxe is an 8-inch pocketed coil system to offer zoned support and give the bed a bit of bounce. Because these coils are pocketed, they prevent motion transfer, too.
The Allswell Luxe is designed to feel medium to medium-firm, so it's comfortable for side and back sleepers but likely too soft for stomach sleeping. Allswell offers free ground shipping or White Glove Delivery for a $99 fee. Every Allswell comes with a 100-night trial and a 10-year limited warranty.
ALLSWELL LUXE
Budget-friendly hybrid mattress
Works for back sleepers and heavy side sleepers
Made with copper-infused memory foam to keep you clean and cool
Best Online Innerspring Mattress: Aviya®
The last mattress on our list is the luxurious Aviya®, a hand-crafted innerspring bed. The Aviya® features a cotton pillow top, natural fire barrier, and pocketed coil system— so it's ideal for those seeking an eco-friendly mattress. Plus, it's CertiPUR-US® certified and built to last. The Aviya® is carried as plush, luxury firm, and firm— so there's firmness options for all sleepers.
Let's go over this bed's construction.
The Aviya's® soft, cotton cover is quilted with 1 inch of cooling comfort foam to offer instant cushioning and dissipate body heat.
The first layer of the Aviya® is high-density poly-foam to cushion pressure points and offer all-over comfort. It's designed to be highly responsive so it should not sag or show signs of body indentations.
Next is another layer of poly-foam to offer lumbar support and pressure point relief.
Below is this bed's pocketed coil system. These coils isolate motion and offer zoned back support to keep you sleeping comfortably.
Lastly, Aviya® encases these layers in a foam edging to increase this bed's durability. This foam encasement offers superb edge support and makes the bed feel bigger.
Every Aviya® mattress comes with a 100-night sleep trial and a 10-year warranty.
AVIYA® MATTRESS
Cooling foams keep hot sleepers comfy
Available in a variety of firmness options
Cushioning yet bouncy
Things to Consider When Choosing an Online Mattress
Buying a mattress online can be tricky because you don't have an opportunity to test your bed. To make your decision easier, consider these seven factors.
White Glove Delivery vs. Bed-in-a-box
Many confuse online mattresses with bed in a box mattresses, but they aren't one and the same. While bed in a box mattresses are convenient and usually bought online, not every online mattress is a bed in a box. Instead, many online brands offer complimentary White Glove Delivery with their beds, and will even sometimes provide free old mattress removal services, too.
White Glove Delivery includes the set up of your new bed and removal of any packaging, making buying online even more hassle-free. Plus, this service is very useful to those who may not be able to maneuver and unpackage a cumbersome bed in a box.
It's important to note, many bed in a box brands do offer alternate White Glove Delivery, but for an extra fee. Before clicking purchase, check to see how your bed will be delivered so you can adequately prepare.
Sleeping Positions & Firmness Levels
Deciding the firmness of your next bed goes beyond personal preferences. To gauge how firm your mattress should be, reflect on how you tend to sleep.
Side Sleepers
Side sleepers are most comfortable on medium mattresses because they have enough give to allow your hips and shoulders to compress and relax.
When you sleep on your side, your hips and shoulders bear all of your weight. If your bed is too firm, this will cause pressure to build up within those major joints, resulting in pain points. However, if your mattress is too soft, it'll throw your back out of alignment.
The best mattress for side sleepers offers the perfect balance between comfort and support, allowing you to wake up every day feeling pain-free and refreshed.
Back Sleepers
Back sleepers have a bit of wiggle room when choosing the firmness of their bed. A comfortable mattress for back sleepers maintains neutral spinal alignment and offers zoned support.
Depending on your body weight and personal preferences, this could look like a medium-soft, medium, medium-firm, or firm bed.  You just have to make sure your mattress is not too firm where it results in pressure points, or too soft where it causes your spine to sink too far into the bed.
Stomach Sleepers
Stomach sleeping is both unhealthy and unrecommended, but if you choose to sleep this way, you need a firm mattress. When you sleep on your stomach, your center of gravity shifts to your torso and if your bed is too soft, it'll allow your midsection to sink into the mattress— resulting in an overarched spine.
Stomach sleeping can easily lead to chronic lower back pain, and considering how common back pain is, we suggest changing sleeping positions to ease the stress on your spine. While it may seem uncomfortable or unnatural to switch to side or back sleeping, it pays off in the long run.
To change up your sleeping style, we recommend trying body pillows to keep you in place, or investing in an adjustable bed that allows you to find your most comfortable position for sleep.
Combination Sleepers
Combination sleepers can switch between 2-3 sleep positions several times a night. Also known as "restless sleepers," combination sleepers receive all the benefits of each sleep position: reduced acid reflux from side sleeping, neutral alignment from back sleeping, and better breathing from stomach sleeping.
However, combination sleepers also face the health risks of each sleep position too. More pressure buildup in the shoulders and hips from side sleeping, risk of snoring and developing sleep apnea through back sleeping, and lower back pain and neck strain from stomach sleeping.
The best type of mattress for combination sleepers is a medium to medium-firm feel. This allows easy movement without deep sinkage but relieves pressure points to reduce aches and pains.
Mattress Types
One of the first things you should do when researching a new bed is determine what type of mattress you want to buy. Whether you're browsing in-store or online, there are four main mattress types: memory foam, latex, hybrid, and innerspring. Let's talk about their differences.
Memory Foam
Memory foam mattresses are regarded as the best for pain relief. They're conforming, cushioning, and pressure-relieving. When you lay on these beds, the foam molds to your body to offer instant comfort. Plus, because they're contouring, they're very adaptable and versatile.
The biggest concern with memory foam is its tendency to trap heat. If you're a particularly hot sleeper, these beds may make it harder to get good rest. However, many memory foam brands are utilizing open-cell and plant-based foams in an effort to combat heat retention.
Latex
Latex beds are another all-foam option. Unlike memory foam, these beds are naturally cooling, so they're better for hot sleepers. Latex is cushioning and a bit contouring, but it won't mold to your body as memory foam will. Because it's not as contouring, it offers a more "lifted" feeling, and many sleepers report latex beds feeling firmer than memory foam mattresses.
When shopping for a latex mattress, be sure to choose something all-natural instead of a synthetic blend. Natural latex is extremely durable, and it's resistant to mold, mildew, dust mites, and other allergens. While synthetic blends are usually cheaper, they don't last as long and often have chemical-like scents that can impede sleep.
Hybrid
Hybrid beds combine layers of foam and an inner coil system to create a cushioning yet bouncy mattress. If you prefer the responsive, "on top of the bed" feeling of an innerspring, but need the comfort of foam layers, these beds are the perfect middle ground.
One of the only concerns about hybrids is their price. Because they combine a number of quality materials and have more intricate designs than other beds, they usually come with a higher price tag.
Innerspring
Innersprings, as the name implies, are mattresses with an inner coil system. These beds do not contain foam layers, but many of them have cushioning pillow tops to offer some comfort. Because they have responsive coils inside, these beds are the bounciest in comparison to hybrid or all-foam alternatives.
Innerspring mattresses usually have the worst customer satisfaction ratings and break down rather quickly, but they're generally the most inexpensive options. If you're shopping on a tight budget and aren't necessarily looking for a long-lasting bed, these are a fit for you.
Cooling Features
Cooling features vary depending on the mattress material; for instance, memory foam is known to retain heat, but replacing part of the petroleum with castor oil turns it into a plant-based product with open-cell technology. Cooling features in memory foam also include infusions of copper and gel— copper is a natural heat conductor, effective in drawing heat away from the body while improving blood circulation, and gel absorbs and disperses body heat to regulate temperature.
Innersprings and latex are naturally cool— innersprings through their open structure for air circulation, and latex through its natural material.
Where to Shop
The online mattress industry is vast; today, there are over 175 different online mattress brands— so it can be hard to determine where to start your shopping. If you're interested in learning about a wide variety of beds, visit an online marketplace such as Amazon. Just make sure to always shop with a brand's verified storefront on Amazon and not a third-party seller.
However, if you have a brand in mind, go straight to their website. Most online brands have a chat feature that allows you to talk with customer service and address any questions or concerns. This way, you can shop in confidence and make a more informed decision.
Mattress Size
If you're replacing an old bed, you may not think twice about the size of your new mattress. But if you're upgrading or downgrading, the size of your bed matters. Most online beds are carried in standard sizes, including twin, twin xl, full, queen, king, and California king.
If you're buying a bed for a kid, you're probably okay to choose a twin, twin xl, or full. These provide plenty of sleeping room but aren't overly large. These beds are also great for people who have a smaller living area as they don't take up too much space.
If you share your mattress with a pet, kid, or partner, you may want to choose a queen, king, or California king size mattresses, instead. These mattress sizes allow room for more than one sleeper without feeling crowded.
Sleep Trial
This probably goes without being said, but you should not buy a mattress online if it does not come with a sleep trial. You can read all the online mattress reviews in the world, but you won't know if a bed is right for you until you try it, and risk-free trial periods allow you to do just that.
If your bed does not come with a sleep trial, you very well could end up stuck with a mattress that's uncomfortable or not suitable for your sleep needs. Even if you feel a bed is perfect, you should not buy it unless it comes with a return policy.
Now, that may leave you wondering, "but why?" Beyond the possibility of the bed not working out for you, online mattress companies that don't offer a sleep trial should be avoided as they're likely not reputable or reliable.
Return Policy
A return policy is a good substitute if a sleep trial isn't offered. Return policies last 30 days, about the same amount of time it takes for the body to adjust to a new bed. If the customer isn't happy with the mattress, they can return it for a full refund or exchange it, with the customer paying the difference or the company refunding the difference.
Warranty Coverage
Typically, a good mattress comes with warranty coverage. If you see a mattress does not come with a warranty, pass on it. Beds with no warranties usually aren't well-built or long-lasting.
A mattress's lifespan varies, but most hold up for around a decade. For that reason, many brands offer a standard 10-year warranty. However, some brands are more generous and offer 15, 20, and even lifetime warranty policies.
Frequently Asked Questions
Is it better to sleep on a hard or soft bed?
Every sleeping position has a firmness range best suited for it, which is important to keep in mind since sleeping on the wrong firmness can misalign your spine. Side sleepers do best on softer mattresses, while back and stomach sleepers need a medium-firm to firm mattress to prevent sinkage. We always recommend buying a mattress with a sleep trial so that you're never stuck with a bed that feels too soft or too firm.
How do I make my bed feel like a luxury mattress?
If you want the feel of a luxury mattress without buying one, you might want to try a memory foam topper. Memory foam mattress toppers add a few extra inches to change a bed's feel, usually for the softer, though firm toppers do exist. You can also invest in high-class sheets and pillows, so you truly feel like you're sleeping on a cloud.
What is the best mattress to relieve pressure points?
When resting on your side, you are more likely to develop pressure points near the hips and shoulders if the mattress is too firm. To cushion and protect these sensitive areas, it is best to sleep on a mattress with a soft to medium comfort level. When resting on your back sleeper, pressure points can develop near the hips if the torso sinks too far into the bed. To prevent this, opt for a mattress that is medium to medium-firm. This comfort level will cushion the joints and ensure the spine remains in a safe, neutral position.
Combination sleep can avoid developing pressure points by sleeping on a bed with a medium comfort level. This firmness provides a balance of compression and stability to prevent excessive sinking and guard tension build-up. We recommend avoiding stomach sleeping whenever possible as if it puts stress on the back and neck. However, if you can't avoid stomach sleeping, a firm mattress is the best option. This firmness will keep the hips lifted and aligned with the shoulders.
What should I put under my mattress?
Most modern mattresses do not require a box spring. A high-quality memory foam, latex foam, or hybrid mattress can be placed directly on the base of most bed frames and stand-alone foundations, whether slatted or solid. To protect against sagging and indentations, the slats should not be more than 3 inches apart.
How do I protect my bed from dust mites?
The best way to protect your bed against dust mites is to keep it clean by using a waterproof mattress protector. A high-quality protector will keep body oils, sweat, and dandruff from collecting in the mattress. When the interior of the bed is clean, it will be less likely to attract dust mites.
Did You Find Your Next Online Mattress?
Before clicking purchase, there are a few things to consider to make sure you find a comfortable mattress for yourself. These factors include the aches and pains you frequently experience, your favored sleep style if you share the bed with someone, as well as your budget.
Having an idea of what you're looking for before you buy can drastically narrow down your options and prevent buying and returning. Though sleep trials are helpful, it's disappointing when the mattress you thought would fix your sleep needs doesn't work out, putting you back at square one. During your search, reference mattress reviews, and other online guides to help you make the most educated decision.