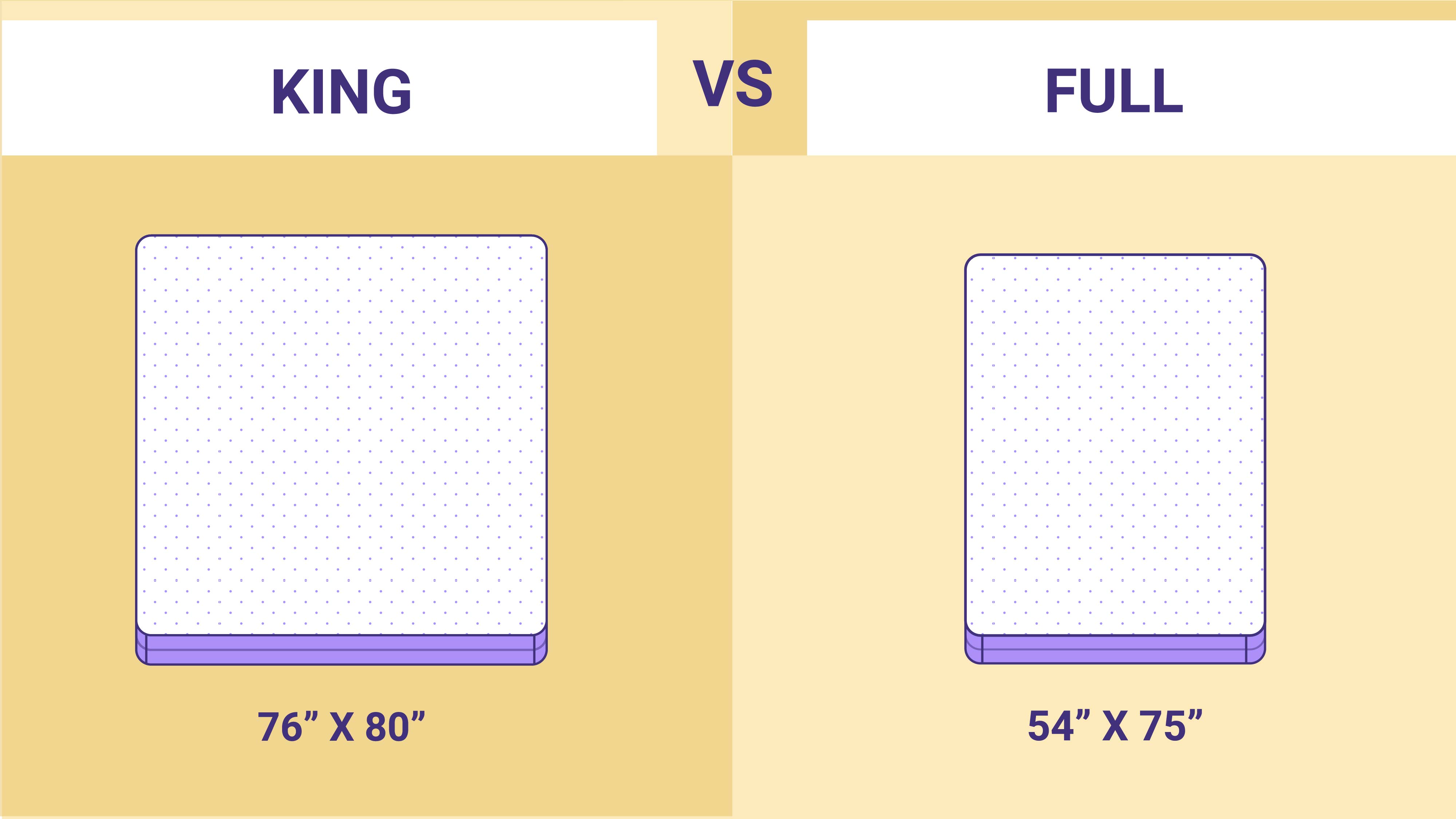 King vs. Full Size Mattress: Which Mattress Size is Right for You?

Mattress Guides
Most people don't confuse a full mattress with a king size bed. A full mattress is significantly smaller than a king, offering 2030 fewer square inches of sleeping space. The king size bed is typically the largest mattress size most companies offer, while a full mattress falls in the middle of the mattress size range.
Neither size is necessarily worse or better than the other. A king mattress is often expensive and heavy, but it provides two people with a wide amount of space and is a great way to upgrade a master bedroom. A full mattress is good for single sleepers who want a spacious mattress without dominating the bedroom, leaving room for other furniture.
What is a King Mattress?
A king size mattress is the largest size most mattress brands offer, measuring 76 inches wide and 80 inches long. They're an excellent way to complete a master bedroom at least 12 feet by 12 feet. Couples often choose a king size mattress to share, but single adults can enjoy the luxurious amount of space a king bed offers.
Variations on a King
Because the traditional king mattress is a popular size, it's not surprising that there are numerous variations with different dimensions.
There's the California king size mattress, which is 4 inches longer and 4 inches narrower than a standard king. The Cal king mattress is sometimes referred to as the Western king, and in turn, a standard king is sometimes called an Eastern king. The extra length of a California king bed can offer tall people greater comfort than a traditional king mattress.
A split king has the same dimensions as a traditional king mattress. The mattress is cut in half, with each side equal to a twin XL size mattress. This design choice allows each side to move independently on an adjustable bed or choose their preferred sleeping position on an adjustable bed.
Many mattress companies allow you to choose a different firmness on each side, making it easier for couples with different sleeping styles to share a mattress comfortably. You can read our split king vs. king mattress guide for more information.
There are also split California king beds, although these are harder to find than a standard split king size mattress. Split California king beds require specialized bedding, as do regular split king beds.
Although uncommon, there's also oversized king mattresses. Most mattress companies do not carry these sizes, so if you want one, you may have to special order it from a custom mattress maker.
| Oversized Mattress Name | Dimension |
| --- | --- |
| Super king/Grand king/Athletic king/Texas king | 80 inches by 98 inches |
| Wyoming king | 84 inches by 84 inches |
| Alberta king | 96 inches by 96 inches |
| Alaskan king | 108 inches by 108 inches |
What is a Full Mattress?
A full size mattress usually measures 54 inches wide and 75 inches long. This makes the size an expansive option for single sleepers with smaller rooms.
Full size mattresses are sometimes called double beds, which name came from the time when they were popular for couples. Once queen and king size mattresses were introduced in the 1950s, full beds grew less popular with people who wanted to share a mattress.
Variations on a Full
A full size mattress doesn't have as many variations as a king mattress. There's the full XL mattress, which features 5 more inches of legroom than a traditional full bed. A full XL mattress is great for single sleepers over 6 feet and 2 inches tall, but it's not a standard size and may need to be custom ordered from a mattress manufacturer.
While not a variation, a full bed is often compared to a queen size mattress, which is 6 inches wider and 5 inches longer than a full mattress. They're fairly close in size, and many loose bedding items like comforters are sold with the "Full/Queen" label. Half a foot may not seem like much, but the extra width is enough to make a queen bed the better mattress for couples.
Difference Between King and Full Mattresses
Three main things differentiate a king mattress from a full bed:
Mattress dimensions and suggested room size
Price
Who should sleep on one?
You should also consider these three factors when asking yourself which is the best mattress for you.
A full size mattress is 22 inches narrower and 5 inches shorter than a standard king mattress. These dimensions allow a full bed to fit into smaller bedrooms, leaving room for a dresser and other bedroom furniture. The smaller size also makes it easier to lift, helpful when moving the mattress and changing sheets.
While a full mattress is a great way to complete a bedroom roughly 10 feet by 10 feet (or about 100 feet of space), we can't recommend a king mattress for anything smaller than 12 feet by 12 feet. If you have a large master bedroom, a standard king size mattress is an excellent choice. Otherwise, you're probably better off with a full mattress.
Because of its smaller size, a full mattress typically costs less than a king mattress. Size isn't the only factor, as thickness and material also determine a mattress's price tag.
King mattresses can suit a broader range of sleepers than a full mattress because of their size. Two people can comfortably share a king mattress, and usually, there's even space for a small child to co-sleep with their parents. We recommend full size mattresses for single sleepers only, as two people are liable to feel cramped and uncomfortable on one.
Other Mattress Sizes
| Mattress Size | Dimensions (IN) |
| --- | --- |
| Twin | 38 inches by 75 inches |
| Twin XL | 38 inches by 80 inches |
| Full | 54 inches by 75 inches |
| Queen | 60 inches by 80 inches |
| King | 76 inches by 80 inches |
| California King | 72 inches by 84 inches |
Most mattress brands carry the six standard mattress sizes. Twin and twin XL size mattresses are the only bed sizes we haven't discussed yet.
Both of these mattress sizes are excellent options for single sleepers who want to make the most of a smaller bedroom.  Many parents choose a twin size mattress for a toddler that's outgrown their crib, while other parents choose a twin XL mattress for a young child to accommodate a teenager's last growth spurt.
A small guest room may also contain a twin bed, while many college dorm rooms contain a twin XL mattress to accommodate most students. However, some colleges use full mattresses instead of twin beds, so it's a good idea to double-check with the administration before buying any bedding.
Mattress Types to Consider
Most types of mattresses come in full and king sizes, so it's not as if you'll have more options if you choose one size over the other. Once you've decided what size you're looking for, you should consider the best type of mattress for your needs. For example, people with a chronic pain condition may want a mattress focused on pressure relief.
Memory foam mattresses conform to a sleeper, cushioning joints and providing full-body support and pressure relief. Traditional memory foam tends to retain body heat, letting it build up and disturb a sleeper's rest. Many manufacturers have improved the traditional recipe for better heat dispersion, such as mixing in cooling gels to create gel foam.
People hunting for a budget mattress that doesn't skimp on quality often gravitate toward memory foam beds. They're usually quite affordable, with many quality memory foam mattresses costing under $1000.
Latex foam is a contouring material similar to memory foam, though it may feel slightly firmer and cooler. Many eco-conscious shoppers choose a natural latex mattress over a memory foam bed, although budget shoppers may have to pick another mattress type.
A traditional innerspring mattress is inexpensive and bouncy, with thin comfort layers sandwiching a coil support system. Many people have moved away from sleeping on an innerspring mattress because they enjoy the pressure relief a more cushioning mattress provides.
Hybrid mattresses mix innerspring coils with a conforming foam top. The design relieves more pressure on the body than a traditional innerspring mattress while also feeling more buoyant than a foam mattress.
However, some sleepers choose another mattress type because hybrids tend to have high price tags.
Frequently Asked Questions
Do two full size mattresses make a king?
No, pushing two full size mattresses together won't add up to another mattress size. It would create a sleeping space about 108 inches wide and 75 inches long.
You can create a king mattress by pushing two twin XL beds together. This is called a split king, and it may be done to give couples more customization choices when it comes to mattress firmness and adjustable bed positions.
Are there longer full size beds?
The full XL size mattress is designed to offer 5 more inches of sleeping space than a standard double bed. This makes the mattress a good fit for any single sleeper over 6 feet and 2 inches tall.
However, since full XL beds aren't considered a standard mattress size, it might be better to shop for a queen size mattress, which is the same length as a full XL with 6 extra inches of width.
Should I get a Cal king or a king?
While similar, king and California king mattresses often suit different kinds of sleepers. A king mattress is good for couples who want to share a bed without overcrowding their partner. A California king mattress is also good for that, but its narrower and longer dimensions make it an excellent fit for taller sleepers.
To learn more about which is the best mattress for you, check out our California king vs. king mattress guide.
Is there a bed bigger than a California king?
Yes, a traditional king size bed is technically larger than a California king. Though they share the same perimeter, a king mattress has 6080 square inches of space, while a California king only offers 6048 square inches.
There are also oversized king mattresses, such as the Texas king, Wyoming king, and Alaska king. These extra-large mattresses usually must be special ordered from a manufacturer.
What size bed do most couples have?
Most couples share a queen size mattress because it's more affordable and fits in smaller bedrooms than a king mattress. That's not the same thing as a queen mattress being the best mattress for couples. Many sleepers love the amount of personal space a king size mattress offers.
Do you want to share a mattress with someone? We strongly recommend against buying a full size mattress. While the bed is also known as a double, two people often feel cramped and confined on a full mattress.
Conclusion
King mattresses and full beds usually suit different types of sleepers, so it shouldn't be hard to decide which is the better mattress for you. A king mattress is well-suited for anyone with a large budget and bedroom who wants to share with a partner, while a full mattress is excellent for single sleepers who want to stretch out in a smaller bedroom.
Of course, if neither of these options is what you're looking for, you can consider other mattress sizes like a queen size bed.