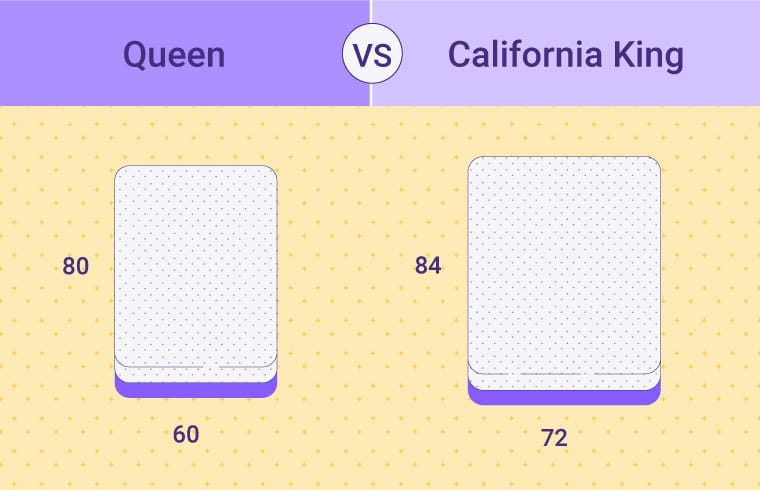 Queen vs. California King: What's the Difference?

Mattress Comparison
Queen mattresses and California king mattresses are two very different sizes made with different purposes in mind. Sometimes, people can go into their shopping experience knowing exactly which size they need. However, other times things aren't as straightforward.
Many shoppers have tons of questions about the differences between these two mattress sizes. They might wonder which is better if they're sleeping with a partner. They might not know which size is better for their height. They might even need help deciding which bed fits best in their current bedroom.
Below, we answer all these burning questions and more. We discuss the differences between queen and California king bed sizes and talk about which one of these mattresses could be best for you.
Queen Mattress
Queen mattresses are the most popular mattress size on the market. The main reason for this popularity is the queen's unbeatable versatility. You can use a queen bed for everything from a guest room to a kid's bedroom to a master, and it will do just fine in all of them!
Queen Mattress Dimensions
The queen size mattress is 60 by 80 inches or five feet wide by just over six and a half feet long. That gives almost all sleepers plenty of room to rest comfortably. So while the tallest sleepers or couples who like to toss and turn might not find the queen large enough, this bed size can accommodate almost everyone else.
Who Should Sleep on a Queen Bed
Just about anyone can sleep on a queen size mattress. They offer 30 inches of space apiece to each partner, so most couples can sleep comfortably on them. They're wide enough to accommodate active sleepers and long enough to take sleepers of all but the tallest heights.
For this reason, queens make the best guest room mattresses. They can keep just about everyone comfortable while still being small enough to fit into smaller bedrooms. Don't let their compactness in comparison to the king fool you. Queens are still large enough for couples to use them in the average-sized master bedroom without leaving it looking empty.
Ideal Spaces for a Queen Bed
You need about two feet of space around three sides of your bed to have enough clearance to move around the bedroom. That means you'll have to have a bedroom at least eight and a half by nine feet.
However, though you can fit a queen into a room that small, most people want to include bedroom furnishings like nightstands and dressers in their room. That means it's usually best for queens to go into a room of at least 10 by 10 feet.
Average Cost of a Queen Bed
Another of the many reasons for the queen's popularity is its price. It's typically the most affordable mattress for couples and taller sleepers, as kings and California kings are much more expensive sizes. Depending on the material, expect to pay anywhere from $600 to $2,000 for a queen size mattress.
One of the best queen mattresses on the market right now is the AS5 Hybrid. This mattress boasts a plush feel that doesn't sacrifice durability, coolness, or support. On top, you'll find a layer of Bio-Pur® plant-based memory foam. This foam is ultra-breathable, meaning it helps keep this soft mattress cool all night long.
The Bio-Pur® foam also works together with the lower layers of the mattress to make this bed spring right back into place when you move. That means even active sleepers can enjoy this soft mattress.
Underneath the comfort layer, a layer of Active Flex helps to relieve pressure from the coil support core and fight sinkage at the same time. This helps keep you lifted onto the sleeping surface without sacrificing the soft feel.
Finally, a layer of individually wrapped coils helps keep this bed adaptable and responsive. Pocketed coils can move independently of one another. These flexible coils work with the foam layers above to create an ultra-contouring and pressure-relieving mattress.
While you may worry that the soft feel will compromise durability, that isn't the case with this soft mattress. The AS5 Hybrid still boasts Amerisleep's generous 20-year warranty. That means it will fight sagging and soft spot development for a full two decades.
AMERISLEEP AS5 HYBRID
Soft, conforming feel for increased sleep luxury
Active Flex limits unwanted and uncomfortable sinkage
Buoyant, responsive coils adapt to movements
California King Mattress
The California king mattress is the longest mattress in the standard bed size run. The Cal king bed is not as versatile as the queen size bed, but it does have its uses.
California King Mattress Dimensions
The California king mattress is 72 by 84 inches. That takes away four inches from the standard king's width and adds them to its length. Most couples won't notice the loss of width between a standard king and a California king. But if you're super tall, you'll definitely notice the extra legroom offered by the Cal king.
Who Should Sleep on a California King Bed
California kings were originally designed to fill out the huge master bedrooms in the opulent mansions common in Southern California. They are a good option for people with large or long master bedrooms.
They're also a great choice for the ultra-tall. Those who are several inches taller than six feet may find that the 84-inch Cal king bed is the only bed in the standard size run that doesn't let their feet dangle.
Ideal Spaces for a California King Bed
The California king bed is a full six feet wide by a full seven feet long. That means it cannot fit into a room smaller than 10 by nine feet. However, that bare minimum is not going to be sufficient for any furniture at all. It's better to have a room at least 10 by 12 or even 12 by 12 feet in size.
Average Cost of a California King Bed
California king beds are not cheap. They're typically around $100 to $200 more than a standard king, though some manufacturers do charge the same price for both standard and Cal king options.
However, you can expect to pay a steep premium for this bed size: between $1,000 and $3,500 for a good quality mattress.
If you're looking for an affordable California king size bed that doesn't skimp on quality, the Vaya Mattress is an excellent option. This medium-feel mattress keeps things affordable by keeping them simple. It uses only two layers to create a contouring and supportive mattress that's a joy to sleep on night after night.
In the comfort layer, you'll find cooling and contouring Vaya Comfort Foam. This open-cell memory foam is ultra-breathable and also ultra-flexible. It keeps air flowing around your body while still contouring to each curve to relieve pressure and encourage proper spinal alignment.
Underneath the Vaya Comfort Foam rests a support layer of highly durable Vaya Base Foam. This high-density foam offers tons of spine-aligning support and lift. It also helps the Vaya Mattress fight aging for a full decade, which is why this mattress comes with a 10-year warranty as well as a 100-night sleep trial.
The Vaya Mattress offers all this comfort and durability for under $1,000. It's not easy to find a California king mattress for less than $1,000, much less one of this quality. But the Vaya Mattress pulls it off without a hitch.
VAYA MATTRESS
CertiPUR-US® certified foams for clean and comfy sleep
Conforming, lightweight cushioning top layer
Base foam promotes a durable, stable support structure
Other Bed Sizes
In addition to the queen and California king size mattresses, the standard mattress size run includes four other offerings:
Twin
The twin size mattress is the smallest adult bed size at 38 by 75 inches. The twin bed is perfect for compact spaces like studio apartments and dorm rooms. It also makes an excellent bed for children sharing a room. You can easily have twin mattresses side by side or in bunk beds.
Twin XL
The twin XL mattress is a good option for taller sleepers who still need a compact bed. It's 38 inches wide and 80 inches long. So the twin XL bed can still fit into smaller sleeping spaces without letting your feet dangle over the edge.
Unsure whether a twin or twin XL mattress suits your needs better? Our twin vs twin XL guide can help streamline your shopping.
Full
The full or double bed is 54 by 75 inches. Despite the name "double mattress," the full mattress is still not wide enough to accommodate most couples nowadays. The full bed is better suited to single adults who need extra wiggle room to spread out or toss and turn.
Full mattresses have similar dimensions to a queen bed, as we discuss in our full vs queen mattress guide.
Standard King
The standard or eastern king size bed is the largest bed size by total surface area. At 76 by 80 inches, it's also the widest mattress in the standard size run. The king size mattress is the perfect bed for couples who need the most space to spread out while they sleep.
See our king vs queen mattress guide to better compare those two sizes.
FAQs
How much bigger is a California king than a queen size mattress?
A California king mattress is four inches longer and a full 12 inches wider than a queen mattress. This means the queen size bed can fit into more bedrooms than a California king mattress, but it won't be as accommodating to couples or taller sleepers.
While most couples can sleep comfortably on a queen, those who like to spread out or toss and turn may need to upgrade to a standard king or Cal king. Those who are several inches taller than six feet may find they only feel comfortable on a Cal king bed.
Which is bigger, the California king or eastern king?
That depends on what you mean by "bigger." In terms of pure surface area, the standard king is slightly larger than the Cal king. The eastern king provides 6,080 square inches of sleeping space, while the California king provides 6,048.
The eastern king is also four inches wider than the California king. However, the California king is four inches longer than the eastern king. To the naked eye, that extra length can make the California king look larger overall than the eastern king, though the opposite is actually the case.
Is a queen long enough for taller sleepers?
A queen is long enough for sleepers of most heights. Even if you're a couple of inches taller than six feet, you will likely be comfortable on a queen size bed because this bed is more than six and a half feet tall. However, if you're more than around six foot two inches tall, you will likely be more comfortable on a longer bed.
If you don't have the space for a king size bed but are tired of your feet dangling, you do have another option. The California queen is not part of the standard size run, but it isn't tough to get online. This bed size is 60 by 84 inches, which is the perfect size for big and tall sleepers who don't have a bedroom large enough for a Cal king.
How big should my bedroom be for a California king bed?
You can stuff a California king in a room as small as 10 by nine feet, technically. However, that's a big "technically," since you won't have enough space for any other furniture besides a bed in a room this small.
The oversize California king bed belongs in an oversize bedroom. 10 by 12 or 12 by 12 feet is usually recommended if you want to furnish your bedroom with nightstands, dressers, and the like.
Can couples sleep on a queen?
Most couples can sleep comfortably on a queen. The queen size bed offers 30 inches of sleeping space per partner. Most adults find that adequate. However, those who like to spread out or toss and turn likely won't find the queen big enough.
If you want the same amount of width per person that you'd get sleeping on a twin, you'll need a standard king. At 76 inches wide, the regular king size bed gives each partner 38 inches of width apiece.
Bottom Line
Both the California king and queen size beds have their pros and cons. If you want a versatile bed that will work for just about anyone at a great price, go for the queen. If you need to fill out a large master bedroom or accommodate an extra-tall sleeper, the California king is your best bet.