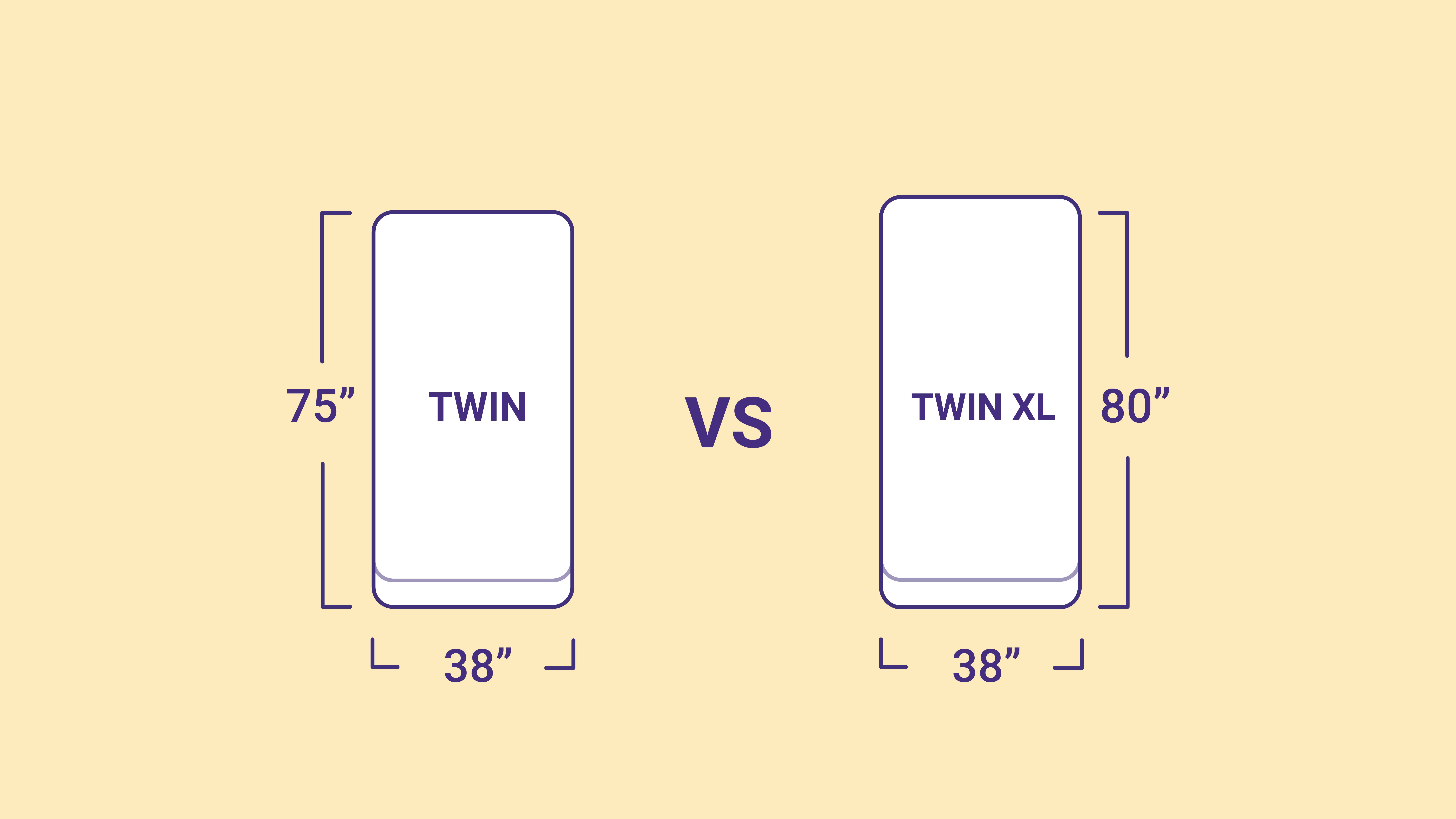 Twin VS. Twin XL Size Mattresses: What's the Difference?

Mattress Comparison
Many people don't know there are actually two different twin variations in the standard bed size lineup: the twin and the twin XL. While they're both the same width, the difference in their lengths could mean the difference between a terrible and a good night's sleep.
The different lengths also impact everything from ease of relocation to the size of the room you can use. Let's take a look at the differences between a twin and twin XL mattress and talk about which could be right for you.
Twin Size Bed
The twin bed is the smallest adult bed size on the market. Also called a single bed, this size is a staple of dorm rooms, studio apartments, multi-bed guest rooms, and more. It's also an excellent option for parents who don't want to spend money on a toddler bed that's going to see a couple of years' use at best.
Dimensions
Twin size mattresses are 38 by 75 inches long. This translates into just over three feet wide by just over six feet long. That means this bed size is a good fit for most single adult sleepers. It also means twins are easy to move and small enough to fit in just about any room — no matter how tiny.
Ideal Room Size
As with every bed, you need around two feet of space on three sides to have enough clearance to walk around the bedroom. Twin size beds were made to go in small rooms, so if you're only going to have a single twin size bed, you need a room of at least 7 by 8 feet.
To include furniture, you may need to increase the room size to 8 by 10 feet. The great thing about twin beds is you can fit more than one of them in a room. For a room with two twin beds, you'll need to go up to an 8 by 12 or 10 by 12-foot room.
Pros
Compact size: twin size beds can fit just about anywhere you need them
Easy to move: twin mattresses are a boon to people who relocate a lot
Affordable: twin size mattresses are typically everyone's cheapest option
Great for multi-bed setups: two or more beds can fit in a guest room
Cons
Not suitable for couples: two adults just won't fit in a twin size bed
Too short for some: sleepers over six feet tall may find they don't have enough legroom
Too narrow for some: active sleepers may find they don't have enough wiggle room
Won't look right in larger rooms: twins can leave big bedrooms looking empty
The best twin mattress is the Amerisleep AS3, a memory foam mattress with a balanced, medium firmness. At 12 inches thick, the AS3 is a great choice for side sleepers and combination sleepers.
Inside the Amerisleep AS3 is Bio-Pur®, a plant-based memory foam made out of castor oil. Compared to standard memory foam, Bio-Pur® is more breathable, responsive, and doesn't off-gas. It's still just as pressure-relieving and cushiony as any other memory foam, if not more.
Next is Affinity foam with HIVE® zoned technology. This layer is split into five ergonomic zones under your head, shoulders, back, hips, and legs. The goal is to evenly distribute your body weight—thus reducing pressure point pain—and ensuring you don't sink into your bed.
At the base of the Amerisleep AS3 is Bio-Core® support foam. It ensures the mattress can last for years without sinking or going soft. 
If an all-foam mattress doesn't pique your interest, the AS3 also comes in a hybrid model. Rather than Bio-Core®, the AS3 Hybrid contains pocketed coils and a thin foam base for maximum bounce and air circulation.
The Amerisleep AS3 comes with free shipping and returns, a 100-night sleep trial, and a 20-year warranty. 
AMERISLEEP AS3
Plant-based memory foam works great for eco-conscious shoppers and allergy sufferers
Balanced, medium feel suits all types of sleepers, especially side and combo
Zoned technology maximizes pressure relief and support
Twin XL Size Bed
If you're over six feet tall, you may find the twin's 75 inches isn't enough legroom to keep your feet from dangling over the edge of the bed. So the longer twin XL bed is a better option for taller sleepers.
Dimensions
Twin XL size mattresses add five extra inches to the standard twin size mattress for a total of 38 by 80 inches. This means the twin XL mattress can fit just about anywhere the twin size mattress can while accommodating those who find the twin too short.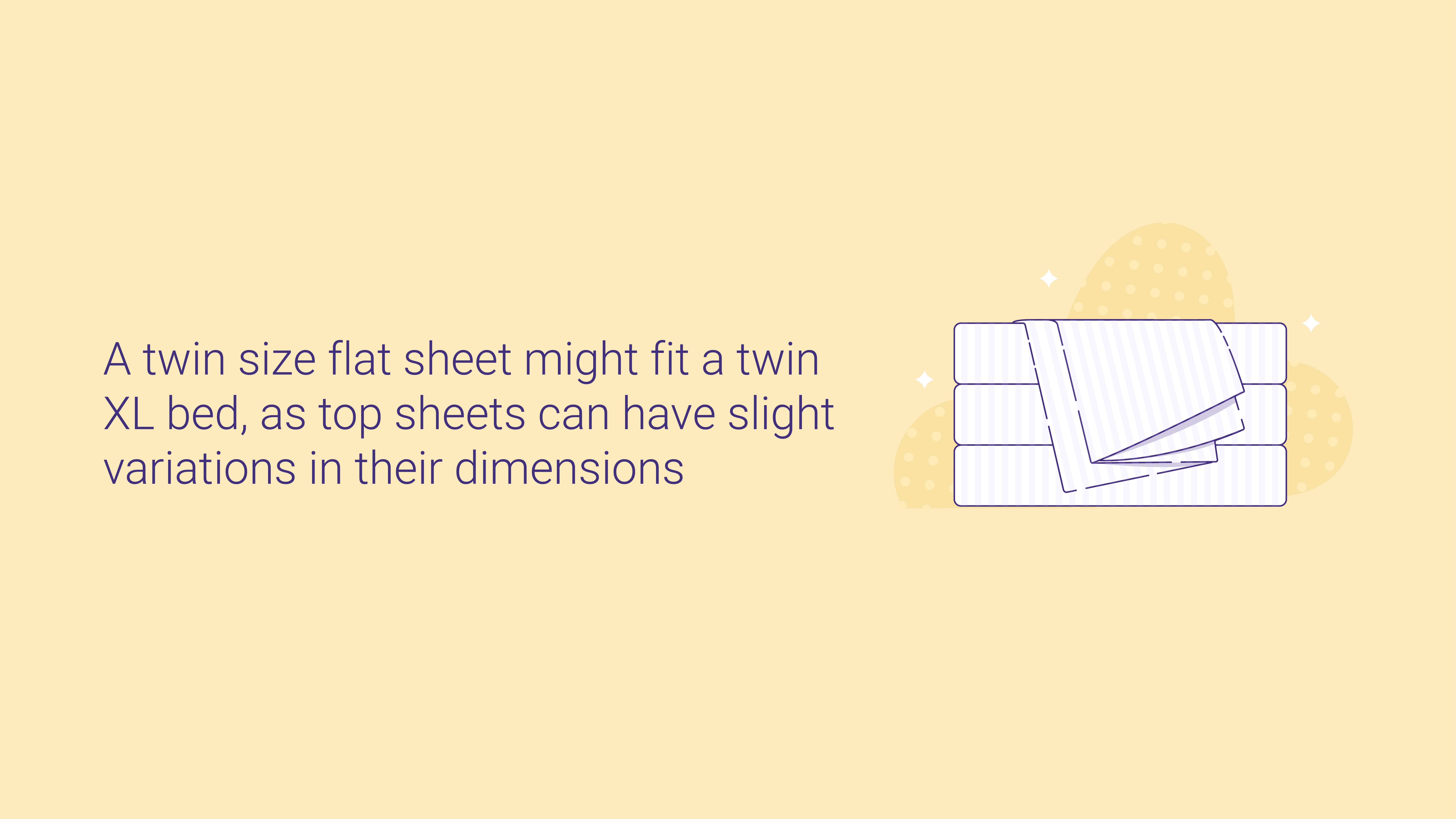 Ideal Room Size
Twin XL beds are longer than standard twins. They might be as narrow as a twin, but they're the same length as king and queen beds. That means you will need a room that's a minimum of 7 by 9 feet if you want to have nothing in the room but the bed and 7 by 10 feet if you want bedroom furniture.
Most modern bedrooms aren't this small, but a room that size is a possibility in an older home. It's also possible to have a smaller room if you're converting a maid's room or large closet into a spare bedroom. Like with the twin size mattress, you'll need to have a couple of extra feet in your room if you're planning to have bedroom furniture.
Pros
Compact size: twin XL beds are still the same width as a twin
Good for taller sleepers: the extra length usually provides enough legroom.
Affordable: twin XLs are generally only a little pricier than twin beds
Still ideal for multi-bed setups: two or more twin XL beds can fit in a room
Cons
Still suitable for couples: only kids and single adults can use any twin size
Not as easy to move as a twin: the extra length makes turning corners harder
Not great for active sleepers: it's still the same width as a twin
Won't look right in larger rooms: the extra length doesn't make it look much bigger
An excellent mattress that's easy on your wallet is the Vaya Mattress. This foam mattress has a simple, yet effective design. At 12 inches thick, it's only made up of two layers of foam. The Vaya Mattress's medium feel is effective for a majority of sleepers and is great for people of all ages.
The top layer of the Vaya Mattress features Vaya Comfort Foam. Similar to latex, Vaya Comfort Foam is buoyant and supportive, yet still pressure-relieving and cooling. 
The foundational layer is made from Vaya Base Foam. This foam lifts your body, aligns the spine, and prevents you from sinking into your bed and feeling "stuck." Another critical role the Vaya Base Foam plays is keeping your bed from sagging, growing lumps, or going soft over the years.
You receive a 100-night sleep trial, a 10-year warranty, free shipping, and free returns with the Vaya Mattress.
VAYA MATTRESS
Made with high-quality forms at an affordable price
Made in the USA and CertiPUR-US® certified to prevent off-gassing
Available in both foam and hybrid models
Other Mattress Sizes
The two twin variations are the smallest bed sizes. However, there are plenty of larger options for couples and single sleepers who want more width, such as shoppers seeking a roomy mattress for combination sleeping.
Most mattress brands carry six or seven mattress sizes. Other non-standard sizes do exist, but these are the main sizes that most brands offer.
Full
Full size beds are 54 inches wide by 75 inches long. Full size mattresses are often referred to as double beds because they're technically wide enough for two people to sleep in them. However, full beds only offer the same amount of space to each partner as a baby crib (27 inches). This means they're not a comfortable option for couples.
Full size mattresses are better for single active or combo sleepers who need extra width to toss and turn. They're also another option for children's rooms or bunk beds.
Queen
Queen size mattresses are the actual first bed size that can accommodate couples. At 60 by 80 inches, most couples find they have sufficient length and width to get a good night's sleep. Queen beds aren't just great for couples. They're also a good choice for tall active sleepers who find a full is wide enough but not long enough.
The queen mattress is typically the best mattress for guest rooms as well. It's versatile enough to sleep most guests, and it's small enough to fit in most guest bedrooms, which are usually smaller than master bedrooms.
King
Couples who find they can't get comfortable on a queen might consider a king size mattress. Eastern or standard king mattresses are 76 by 80 inches. This makes them the largest standard bed size by total surface area. The regular king size bed offers tons of comfort and sleeping space to every couple, no matter how much they toss and turn.
King size beds are also a good fit for couples who co-sleep with small children. Alternatively, they are for couples with large master bedrooms that a smaller queen bed may not fill out.
California King
The longest standard size, the California king mattress is four inches narrower and four inches longer than the standard king. That brings its dimensions to 72 by 84 inches.
The California king bed is an excellent option for couples with an extra-tall partner. They're also a perfect choice for longer, narrower master bedrooms.
Split King
Split king beds are actually two twin XL size mattresses laid in the same bed frame. This creates a bed the same size as a standard king. However, couples can select mattresses of different materials and different firmness levels. It also lets couples use distinct adjustable bed settings, making the split king a wonderful choice for couples with conflicting preferences.
FAQs
Which are better for bunk beds, twins or twin XLs?
That depends on who's sleeping in them. If your bunk beds are for little kids, and you're planning to replace them when the kids are older, twin mattresses are probably a fine choice. If your bunk beds are for a guest room, twin XLs might be a better option. That way, you'll have a set of beds that can accommodate taller guests.
Will my kids grow out of their twin XL?
Many parents worry their kids will outgrow their beds when they hit their teens. However, unless you're dealing with an exceptionally tall teenager, you won't have to worry about that with a twin XL mattress.
Twin XL size beds are over six and a half feet long. That means teenagers will have to grow to several inches over six feet tall to need a longer bed than a twin XL. Most people in the world are under six feet. So chances are, you will never have to worry about this problem.
Can twin sheets fit on a twin XL?
A twin size flat sheet might fit a twin XL bed, as top sheets can have slight variations in their dimensions. The worst case is you have a top sheet that is slightly short and leaves parts of the upper body exposed.
However, a twin size fitted sheet may not slip over a twin XL bed. Twin XL beds are five inches longer than twin beds. So unless the sheet set specifically says it's designed to fit both twin and twin XL beds or you're trying to use deep pocket sheets with a thin mattress, the fitted sheet from a twin sheet set will likely be too short for a twin XL mattress.
Is a twin or twin XL best for an adult?
Most adults on Earth are under six feet tall, which means they can sleep comfortably on a twin mattress. Adults over six feet tall will be more comfortable on a twin XL. That means if you have a teenager who's likely to grow to over six feet or a guest room that may host multiple different people, a twin XL is probably a better option.
How much should I expect to pay for a twin mattress or twin XL?
That depends on a lot of factors like material, brand, and quality. Expect to pay a lot more for hybrid and latex mattresses than innerspring and memory foam ones. Of course, higher-quality mattresses that feature lots of sleep technologies will also cost more. All this means the cost for a twin or twin XL mattress can range anywhere from a couple of hundred dollars to over a thousand.
Bottom Line
Twin and twin XL mattresses are both excellent options for smaller bedrooms, college dorm rooms, studio apartments, and guest rooms alike. If you're under six feet tall, a twin will probably be of sufficient length to accommodate you. If you're a taller sleeper, however, you'll be better off with a twin XL.