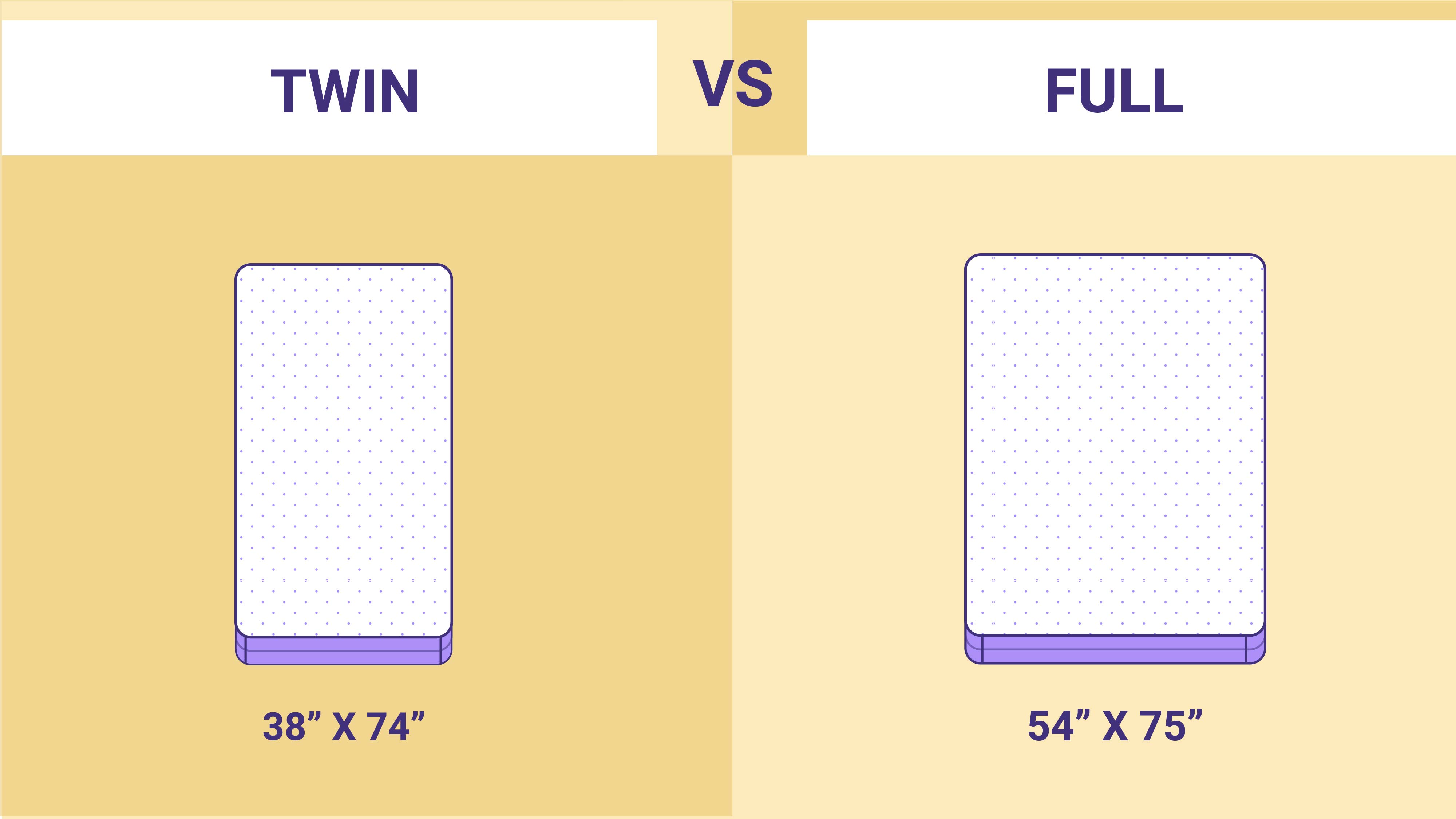 Twin vs. Full Size Mattress: Which Mattress Size is Right for You?

Mattress Comparison
Twin and full size mattresses are fairly close in size and price and often recommended for single sleepers, so it's natural that some shoppers will feel indecisive when choosing which is the better one for their needs. Both options fit well in a small living space, leaving plenty of room for other necessities.
What is a Twin Mattress?
A twin size mattress is the smallest standard size after a crib mattress, measuring 38 inches wide and 74 to 75 inches long. Parents often buy a twin bed for a young child after they graduate from a crib or toddler bed, which usually happens by age 2.
However, just because a twin mattress is a common feature in a children's room does not mean they're reserved for kids and teens. Many adults under 6 feet tall still find a twin mattress comfortable for sleeping.
Sometimes mattress brands refer to a twin mattress as a "single," though this term is less common now. Originally, "twin" referred to a mattress that was part of a pair, often used as mattresses for bunk beds or placed side by side, while "single" referred to one mattress used on its own.
Still, you may see mentions of single bed size instead of twin on some websites.
Twin Mattress Variations
A twin mattress has only one size variation, the twin XL size mattress. As the name suggests, a twin XL mattress is longer than a traditional twin, measuring 38 inches wide and 80 inches long.
Twin XL mattresses are often chosen over a regular twin bed because they accommodate taller people better. Parents may pick a twin XL bed so their child won't outgrow the mattress during their last growth spurt as a teenager. A mattress for a teenager can be taken with them when they move out or repurposed as a guestroom mattress.
A small guest room may contain a twin XL mattress to suit the varying heights of visitors. Many college dorm rooms contain twin XL size bed frames to suit different students.
Those looking for an amazing sleeping experience in a compact size should consider the AS3 by Amerisleep. This memory foam offering provides the perfect balance between stellar support and cradling pressure relief, making it perfect for a wide variety of different sleepers.
The AS3 begins with the Refresh Cover. The minerals in the fabric of this cover help to convert your body heat to far-infrared energy. This not only helps diffuse body heat but also may help to improve blood circulation and offer other health benefits.
Underneath the cooling fabric cover, you'll find the main event of the AS3: Bio-Pur® foam. This special type of plant-based memory foam offers several advantages over traditional memory foam.
The first thing you'll notice when you touch this Bio-Pur® memory foam mattress is its cool-to-the-touch feel. Traditional memory foam tends to retain heat. But Bio-Pur® foam's breathability allows it to wick heat and moisture away from your body so you can stay cool all night long.
The next thing you'll notice about Bio-Pur® foam is its responsiveness. Unlike regular memory foam, which can take forever to recover its original shape, Bio-Pur® foam springs back into shape as soon as you move. This makes it perfect for those who like to toss and turn all night.
Finally, you'll also notice Bio-Pur® foam doesn't emit the same intense chemical smell that many mattresses do when they're fresh out of the box. This is because it's made using plant oils. So it doesn't have as many synthetic ingredients to off-gas.
Underneath this amazing foam, you'll find the HIVE® transition layer. This layer offers targeted support to each zone of the body. Every section of the HIVE® transition layer is created for a specific area.
For instance, you'll get more lift under your head and feet and more cushion for hips and shoulders. This allows your body to compress the bed where it needs to in order to achieve maximum pressure relief and spinal alignment.
Finally, we come to the base layer of the AS3. This layer is made of ultra-dense support foam. This firm foam has two jobs. First, it has to offer you the lift you need to stay on top of the sleeping surface and maintain natural alignment in your spine.
The Bio-Core® support foam also extends the life of the AS3. Most memory foam mattresses last between 10 and 15 years. But you can expect to get a full two decades out of this sturdy and resilient mattress.
AMERISLEEP AS3
Plant-based memory foam that's responsive and contouring
An ultra-dense core for an extended life expectancy
Targeted pressure relief for ideal spinal alignment and cradling
What is a Full Mattress?
A full size mattress is larger than a twin, measuring 54 inches across and 75 inches lengthwise. If a college dorm room doesn't have a twin XL mattress, it's likely to contain a full size bed.
Full mattresses are sometimes known as double beds, a lingering nickname from when they were used as a mattress for couples. Despite this, we only recommend full mattresses to single sleepers. When two people squeeze onto a full size mattress, each has a sleeping area roughly the size of a crib mattress.
Full Mattress Variations
Like the traditional twin, a full size mattress also has a longer variation known as the full XL. The bed size is 5 inches longer than a standard full mattress, bringing the mattress's total length to 80 inches. A full XL mattress is a good choice for anyone over 6 feet and 2 inches tall, ensuring they don't have to scrunch up their body to sleep on the bed.
While the majority of mattress brands carry twin XL mattresses, full XL mattresses are less common. You may have to reach out to a custom mattress maker to obtain a full XL bed. Alternatively, you could buy a queen size mattress, which is the same length as a full XL and offers 6 more inches of width.
Those looking for an amazing night of sleep without breaking the bank should consider the Vaya Mattress. This mattress uses a simple, two-layer design to keep costs low and quality high. On top, the breathable cover helps keep air flowing around your body. The air circulation wicks away sweat and heat for better temperature regulation.
The open cell Vaya Comfort Foam helps the fabric cover keep air moving due to its thousands of microscopic air pockets. These air pockets increase circulation, so you always have fresh air next to your skin.
The Vaya Comfort Foam is also highly contouring. It follows the curve of your body to compress under pressure points and fill in gaps at your waist. This is a huge advantage for side sleepers and others who need the best pressure relief on the market.
Underneath the Vaya Comfort Foam, you'll find the Vaya Base Foam. This high-density support foam counters the highly contouring comfort foam above to give you lift and support. This fights sinkage and keeps your spine optimally aligned.
The Vaya Base Foam also has the added advantage of being highly durable. It will resist sagging and soft spot development for a full 10 years.
While many mattresses at this price point offer short or bare-bones warranties, the Vaya Mattress boasts an industry-standard 100-night sleep trial and 10-year manufacturer warranty. That means you won't be replacing it after a few years of use as you would with many mattresses in the same price range.
All in all, this is one of the best full size mattresses on the market in any price range. It just has the added benefit of costing less than a lot of twins on the market nowadays. That makes it perfect for an amazing and affordable night's sleep!
VAYA MATTRESS
Two layers of foam create a comfortable and quality mattress at a reasonable price
Highly contouring Vaya Comfort Foam cradles pressure points and offers superior relief to sore joints and muscles
Vaya Base Foam will outlast most other mattresses at this price point
Choosing Between Twin and Full Mattresses
Both twin and full mattresses are excellent for single sleepers. The best mattress for you depends on your:
Budget
Room size
Comfort preferences
Budget is often the deciding factor between a twin and full size mattress. As the smaller size, a twin mattress usually costs less. Matching accessories like sheet sets, blankets, and bed frames also cost less for a twin than a full mattress.
Room size can be a significant consideration if you have a small bedroom. A full mattress can slip into a room roughly 10 feet by 10 feet, so if your living space is much smaller than that, a twin mattress is the better option.
Lastly, there are comfort preferences to consider when debating between a twin and full mattress. Even if some people have space and money for a full mattress, they might prefer a twin mattress because it frees up more bedroom space. Conversely, some people choose a full bed over a twin because the extra space lets them sprawl and stretch out their arms.
If you're a taller person and need a mattress at least 80 inches long, a twin XL mattress is usually easier to find and costs less than a full XL mattress.
There's also the impact a mattress's weight has on maintenance. Naturally, a full size mattress weighs more than a twin bed because of its larger size. This can make setting up a full bed and changing and washing the sheets more laborious than doing the same for a twin bed.
Other Standard Mattress Sizes
We've discussed the standard mattresses suitable for single adults—twin, twin XL, and full beds. However, if you plan on sharing the mattress with a partner, you need to consider a larger bed. Queen and king beds are excellent choices when it comes to mattresses for couples.
| Mattress Size | Dimensions (IN) |
| --- | --- |
| Twin | 38 inches by 75 inches |
| Twin XL | 38 inches by 80 inches |
| Full | 54 inches by 75 inches |
| Full XL | 54 inches by 80 inches |
| Queen | 60 inches by 80 inches |
| California Queen | 60 inches by 84 inches |
| Olympic Queen | 66 inches by 80 inches |
| Split Queen | Two mattresses, each 30 inches by 80 inches |
| King | 76 inches by 80 inches |
| California King | 72 inches by 84 inches |
| Split King | Two mattresses, each 38 inches by 80 inches |
Queen
A queen size mattress measures 60 inches wide and 80 inches long. It's typically considered the most popular bed size because it's affordable, fits in the average bedroom, and can accommodate one or two sleepers.
Naturally, the standard queen mattress's popularity has led to a few different size variations. Many of them are difficult to track down and might require a custom order. It's also difficult to find bedding and other accessories for a specially ordered mattress.
A split queen mattress has the same dimensions as a queen bed, just cut in half. Dividing the mattress often allows customers to pick a different firmness on each side, making it more comfortable to share the mattress with a partner. Split queen mattresses also pair well with adjustable beds, letting each partner set their side at the angle and elevation they prefer.
A California queen mattress is 4 inches longer than a regular queen bed, offering taller sleepers needed legroom. A California queen is helpful if you're over 6 feet tall and don't have space in your bedroom for a Cal king mattress.
An Olympic queen mattress is 6 inches wider than a typical queen, bringing the bed's dimensions to 66 inches by 80 inches.
King
A king size mattress measures 76 inches wide and 80 inches long. It's the largest size most mattress companies carry, featuring more personal space for couples than a queen size bed.
Like the queen mattress, a king mattress has numerous size variations. Perhaps the most common is the California king size mattress, measuring 72 inches wide and 84 inches long. The extra four inches of legroom keep a person's feet from hanging over the edge.
Our king vs. California king mattress guide dives deep into the differences between the two, helping shoppers decide which is right for them.
Less common than a California king mattress but usually considered a standard size is the split king mattress. A split king is just as wide and long as a standard king. However, it consists of two twin XL mattresses pushed together. Separating a king mattress into halves also promotes greater freedom of movement on an adjustable bed frame.
Split California king mattresses are another option, though it may take some hunting to find one. It's also more difficult to find bedding for a split California king bed than a regular split king mattress.
Frequently Asked Questions
Should I get a queen or full bed?
When it comes to a queen vs. full mattress, the easiest way to decide is to ask yourself how many people will use the bed. If you plan on sharing with a partner, the wider queen mattress is a better option. Two people often find themselves too cramped to move on a full size mattress.
If you're a single sleeper, the question of which mattress is better for you will probably come down to budget and room space. A full bed costs less than a queen mattress and takes up less floor space.
Can I put queen sheets on a full bed?
Yes, you can usually slip a sheet of queen sheets over a full size mattress. Since a queen is a larger size, you may have to tighten the fitted sheet with elastic sheet straps. Many companies sell items like comforter sets with a "full/queen" label, considering them suitable for either size.
Are two twin beds a queen?
No, if you push two twin beds together, they would measure 76 inches by 74 inches, wider and shorter than a regular queen mattress. Nor do two twin mattresses equal a standard king size bed, which is 76 inches wide and 80 inches long. Two twin XL mattresses do equal a king size bed.
What age is a twin bed for?
While they're often bought to serve as a mattress for kids, a twin size mattress is perfectly acceptable for adults with limited means. Twin beds are inexpensive and can be squeezed into tiny bedrooms and studio apartments. Twins are too small for two people to comfortably share, so we only recommend them for people who plan on sleeping alone.
What size bed is smaller than a twin?
There are only a few beds smaller than a traditional twin mattress.
A crib mattress is about 27 inches by 52 inches, providing too little space for the average adult sleeper.
A small single measures 30 inches by 74 inches. It's often used as a toddler bed, though an adult under 6 feet may be able to comfortably sleep on a small single.
The dimensions of an RV bunk mattress vary widely, but often they're narrower and slightly shorter than a standard twin mattress.
What is the Right Mattress Size for You?
Both twin and full mattresses are excellent for single sleepers who don't have a lot of room space. The twin mattress size is better for budget shoppers, while a full mattress is an excellent choice for sleepers who want to stretch out and move around the bed.
No matter what mattress size you get, remember that a sleep trial offers security and the freedom to return the bed if it's not right for you.