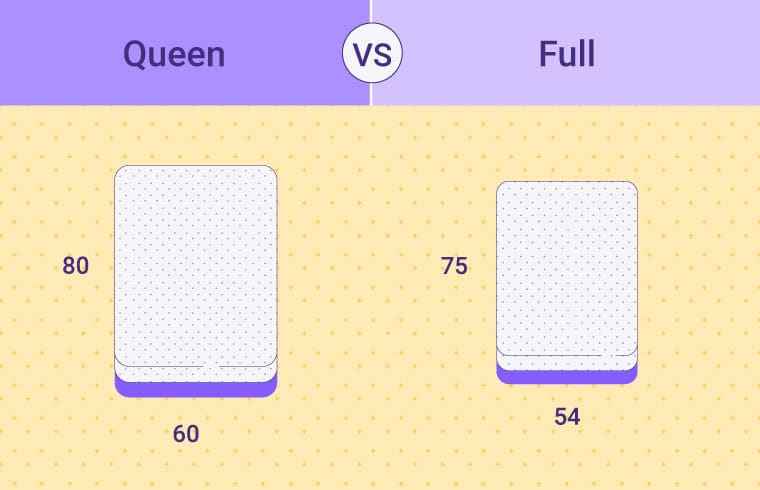 Queen vs. Full: What's the Difference?

Mattress Comparison
At first glance, the queen size bed and full size bed may look very similar. It can be hard to tell them apart if you're just looking at them sitting in a bedroom. However, sleeping on them is a different story. If you're tall or sleeping with a partner, you will definitely notice the difference between a queen and a full size bed.
This is because their dimensions are actually quite distinct. Though they look close to the same size, the queen size bed is six inches wider and five inches longer than the full. That makes it a better choice for anyone who needs some extra wiggle room. But that's not to say the full doesn't have its advantages. Let's take a look.
Queen Mattress
The queen size mattress is the most popular mattress size on the market. This is due to the queen's amazing versatility. It can accommodate couples and single adults alike. It's a great bed for a master bedroom as well as a guest room. It is long enough for all but the tallest sleepers. Best of all, you can get a high-quality queen bed for a reasonable price.
Queen Mattress Dimensions
The queen size bed is 60 by 80 inches or five by a little over six and a half feet. This translates into 4,800 inches of sleeping surface. This middle-of-the-road size is what makes the queen so versatile and popular. It's big enough for couples and small enough to fit into most room sizes.
Who Should Sleep on a Queen Bed
Almost anyone can sleep on a queen bed. Single adults will find it offers enough width for them to toss and turn to their heart's content. Sleepers over six feet tall will also find the queen is a significant upgrade over a full or twin size mattress.
Couples can get 30 inches of sleeping space apiece from a queen, which is sufficient width to keep most partners satisfied in the same bed. The queen is also an excellent size for kids to grow into over the years. Best of all, it's versatile enough to make a guest room that everyone can sleep in comfortably.
Ideal Spaces for a Queen Bed
The general rule is you need around two feet of space on three sides of the queen size bed frame to have enough clearance to move around your bedroom. That means you'll need a bedroom that's at least eight and a half feet long and nine feet wide. However, you'll likely need more space than that if you want to include other furniture in your bedroom. A room of 10 by 10 feet should do the job.
Average Cost of a Queen Bed
The average cost of a queen really depends on the material used to construct it. For instance, a queen size latex mattress will be around $2,000 on average. Meanwhile, the average price for a queen size innerspring mattress is $950. Average prices for memory foam and hybrid mattresses are around $1,100 and $1,700, respectively.
As you can see, the material has a huge impact on price. However, if you do your research, you can get a quality queen size of any material (except latex) as a mattress under $1,000.
This is not true of larger mattress sizes like king and California king. Although, couples who do need the extra space can still find some of the best king beds when browsing mattresses under $2000.
The most versatile bed size deserves the most versatile mattress. The AS3 by Amerisleep fits that bill, offering comfort to almost every sleep position as well as hot sleepers and even active sleepers. This is one of the most responsive and cooling memory foam mattresses out there.
The AS3 is so cooling and bouncy because it features Amerisleep's proprietary plant-based Bio-Pur® memory foam. This foam is much more breathable than traditional memory foam to keep hot sleepers cool. It's also bouncier than regular polyurethane foam, so active sleepers can rest assured this mattress will spring right back into place when they move.
Another great feature of this mattress is its extreme durability. Combined with the ultra-dense Bio-Core® support base, this Bio-Pur® memory foam bed will outlast just about every other memory foam mattress on the market. That's why it boasts a 20-year manufacturer warranty.
AMERISLEEP AS3
Pressure-relieving, responsive, eco-friendly memory foam
Targeted zones support five different areas of the body
Mattress's durability strengthened by base foam
Full Mattress
A full size mattress is the next size down from a queen in the standard bed size run. It's wider than a twin or twin XL, but it's shorter than all but the regular twin mattress.
Full Mattress Dimensions
The dimensions of a full size bed are 54 by 75 inches. That's both shorter and narrower than a queen size bed. But don't let the size fool you. Even though it's not as popular or as versatile as the queen bed, the full is still a great option for certain situations.
Who Should Sleep on a Full Bed
The full size bed also goes by the name "double bed." This can give the impression that it's large enough for couples to use. However, this might've been true 100 years ago, but as both people and homes have gotten larger, it's no longer the case.
The full size mattress only offers couples 27 inches of sleeping space apiece. That's the same amount of width as a baby crib. That means the full bed is actually better for single adults who need more wiggle room to toss and turn. It's also a wonderful option to give children some extra space because they're under six feet tall.
Ideal Spaces for a Full Bed
One of the advantages of full size beds comes in when you live in a smaller or older house. When your bedrooms are smaller, you might not be able to fit a queen in them. That means a full size bed may be your only option if you have a smaller space. Fulls can fit in bedrooms as small as eight by eight and a half feet.
Average Cost of a Full Bed
The other major advantage that fulls have over queens is they're easier on your wallet. No matter what material your full size bed is made of, you can expect to pay anywhere from $100 to $300 less for it than for a queen mattress of the same brand and model.
Those looking to shave a few bucks off the price of their queen by purchasing a full can get double savings with the full size Vaya Hybrid. This mattress features three layers of hybrid comfort at a very "non-hybrid" price.
The ultra-contouring memory foam in the top layer offers lots of pressure relief to protect side sleepers' hips and shoulders from pain. The breathable open-cell foam will also help wick away moisture and body heat for all-night coolness.
Back sleepers will appreciate the adaptable pocketed coil support core. Each individually wrapped coil can move independently of the others. This lets the springs compress underneath the heavier parts of your body while rising to meet your lumbar curve.
Best of all, you don't have to sacrifice durability for the Vaya's great price any more than you have to sacrifice comfort. The Vaya still comes with an industry-standard 10-year warranty and a 100-night sleep trial.
VAYA HYBRID
Budget-friendly design with edge support
Cushioning and lightweight Vaya Comfort Foam
Motion-isolating pocketed coils respond quickly
Other Bed Sizes
In addition to the full and queen size mattresses, you'll find four more mattress sizes in the standard size run.
Twin
The twin size mattress is 38 by 75 inches. The twin bed is the best size for compact spaces like college dorm rooms and studio apartments. It also makes a great choice for children's bunk beds or beds that small kids can grow into over the years.
Twin XL
The twin XL mattress adds five inches to the standard twin size bed for a total of 38 by 80 inches. The twin XL bed retains the compactness of the twin size mattress while still being long enough for tall sleepers. This makes it a good option for multi-purpose or even multi-bed guest rooms. It's also excellent for tall people who need a compact bed.
Our twin vs twin XL mattress guide compares the two, making it easier for shoppers to choose what works for them.
Standard King
The standard or eastern king size bed is 76 by 80 inches. This makes the king size mattress a fantastic choice for couples because each partner gets the same space they would if they were each sleeping on a twin XL. The king size bed is also a good choice to fill out larger master bedrooms that look empty with a queen in them.
We have also compared the king mattress to both full and queen size mattresses:
California King
The California king bed is 72 by 84 inches. The Cal king size mattress is a wonderful option for those who are several inches over six feet tall. If you find your feet dangling even in a queen or king, you might want to check out this bed size.
See our California king vs king mattress guide for a thorough comparison of the two.
FAQs
Are there variations of a queen bed?
Yes. Aside from the standard queen, you'll find two common variants. The Olympic queen is 66 by 80 inches. The Olympic queen is a good bed size for couples who don't feel comfortable in the narrower regular queen but don't have the space in their bedrooms for a regular or California king.
Just like the California king mattress, the California queen adds four inches to the length of the standard queen mattress for a total of 60 by 84 inches. This bed is a fantastic option for extra-tall sleepers who don't have the space for a California king bed.
Is the full size bed a good option for taller sleepers?
The full size bed is too short for sleepers over six feet tall. However, if you need a narrower and longer bed, you have a couple of options. Those who want to stick to the standard size run could consider a twin XL. This bed size is perfect for compact spaces and those who find their feet dangling off of a full.
Taller sleepers who want a bed that's the same width as the full should consider the full XL mattress. Just like the twin XL, the full XL bed retains the width of the regular full size bed while adding five inches to the length. This means its total dimensions are 54 by 80 inches—a fantastic option for taller single sleepers who don't have the space for a queen.
Which is better for couples, the full or the queen?
The queen size bed is a better size for couples than the full size bed. The queen offers 30 inches of sleeping space per person, which is the bare minimum most couples need to sleep comfortably.
Meanwhile, the full only offers 27 inches of sleeping space per person. This is the same amount of sleeping space as a toddler bed or baby crib. Most average-sized adults cannot sleep comfortably with that little room.
Do two twin mattresses make a queen?
Two twin size mattresses don't really make anything in the standard size run. Two regular twins would make a bed that's almost a perfect square: 76 by 75 inches. This is not even the right size to be a short or RV king because the RV king is 75 inches long but 72 inches wide.
If you want a regular split king, you'll need two twin XL mattresses in the same bed frame. If you want a split queen, you'll need two 30 by 60-inch mattresses. You can get two twin XLs for a split king just about anywhere, but split queen mattresses almost always need to be specifically designed to be a split queen.
Will my queen bed work with an adjustable base?
Whether your mattress will work with an adjustable base depends on the material it's made of, not its size. Mattresses require a lot of flexibility to be able to move with your adjustable base without breaking. Memory foam, hybrid, and latex mattresses all fit this bill.
The mattress you want to watch out for with an adjustable bed is the innerspring mattress. The open coil networks in innerspring beds are too stiff for an adjustable base. They will either "float" over the base rather than moving with it or outright break when you change your base's position.
Bottom Line
Both full and queen size mattresses have their pros and cons, making them the best mattress for different kinds of sleepers. If you need extra legroom or more versatility, a queen is your best bet. However, if you need a more affordable or more compact bed, a full could be your new best friend.