Best Sleep Awareness Week Mattress Sales and Bedding Deals

Best Mattress Sales
Why you can trust SleepJunkie
National Sleep Awareness Week is an annual event that aims to do just what it describes, and raise awareness about the importance of sleep health and the impact that sleep has on overall well-being. It's typically observed during the first full week of March (though in 2023 it is from March 12 to 18) and is organized by the National Sleep Foundation (NSF) in the United States.
The goal of National Sleep Awareness Week is to draw attention to the fact that sleep is a critical component of health and well-being. Getting enough quality sleep is essential for maintaining physical and mental health. Conversely, chronic sleep deprivation can lead to a range of negative outcomes, including increased risk of accidents, decreased productivity, and impaired cognitive function.
By raising awareness about the importance of sleep, National Sleep Awareness Week aims to inspire individuals to prioritize sleep as an essential aspect of self-care and overall health. In the spirit of that aim, we've strived to examine some of the top mattress brands and choose the best of the best from their mattress and bedding line-ups.
Amerisleep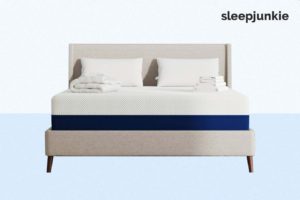 Many mattress brands follow a tier system of good, better, and best mattresses. However, Amerisleep takes a different approach and strives to ensure that every one of their mattresses could be the best mattress for a particular type of sleeper.
Their numbered line-up also innovates typical memory foam mattresses with eco-friendly, plant-based memory foam. Every Amerisleep mattress is backed with a 100-night trial and a 20-year warranty.
The Amerisleep mattress line-up includes:
For National Sleep Awareness week, you can take $450 off Amerisleep mattresses. We also can't overlook the other specialized bedding Amerisleep offers:
Zoma
Zoma is a mattress brand that specializes in creating mattresses designed to help people achieve restful and restorative sleep. Their mattresses are constructed using a combination of gel-infused memory foam that is designed to provide pressure relief and help regulate body temperature, with underlying Reactiv™ transition foam, and supportive coils or foams.
All their mattresses are made in the USA and come with a risk-free 100-night sleep trial and a 10-year warranty. The Zoma mattress line-up includes:
Every Zoma mattress is discounted by $150 for Sleep Awareness Week. In addition to their mattresses, Zoma also offers pillows, sheets, and other bedding products designed to promote better sleep:
Vaya
Vaya is a mattress brand that offers high-quality foam mattresses at an affordable price. Their mattresses are designed with a top layer of proprietary Vaya Comfort Foam that provides pressure relief and contouring support, while the base layer offers durable support and prevents sagging. Vaya mattresses come with a 100-night sleep trial and a 10-year warranty. Additionally, Vaya offers free shipping and returns within the contiguous United States.
There are two mattresses in the Vaya line-up:
All Vaya mattresses are discounted by $300 for Sleep Awareness Week. We also recommend the Vaya Pillow is an affordable way to replace an old pillow with a new, comfy shredded foam-filled one.
Nolah
Nolah is a mattress brand that specializes in producing eco-friendly and high-quality foam mattresses. Their mattresses are made largely using their proprietary AirFoam™ technology, which is designed to offer superior pressure relief, cooling, and comfort, along with other CertiPUR-US® certified foams. However, Nolah also carries natural latex mattresses, too.
Nolah's mattress line-up includes:
Their mattresses come with a 120-night sleep trial and a lifetime warranty. For a deeper discount this Sleep Awareness Week, you can remove the sleep trial before checkout.
We also have to give a shout-out to some of Nolah's top bedding products:
Spindle
Spindle is a mattress brand that prides itself on creating high-quality latex mattresses that are made with all-natural materials. Spindle mattresses come with a 365-night trial period and a 10-year warranty.
If you want to enjoy one of the most eco-friendly mattresses on the market, try one of their beds:
Spindle also has a number of natural, breathable bedding options:
Saatva
Saatva is a luxury mattress brand that offers a range of high-quality mattresses at affordable prices. They use premium materials such as organic cotton, Talalay latex, sturdy steel coils, and high-density memory foam to create top-shelf mattresses.
Many of Saatva's mattresses are also available in multiple firmness levels and come with a range of features such as adjustable firmness, cooling technology, and motion isolation. Additionally, Saatva offers free white-glove delivery, a 365-night sleep trial, and a lifetime warranty on their mattresses.
Here is a quick look at Saatva's most prominent mattresses:
Choosing the Right Mattress
Shoppers have a range of mattress types to consider, with many deciding between the main four types:
When it comes to the right mattress firmness, it's helpful to consider your sleeping position:
Frequently Asked Questions
What is National Sleep Awareness Week?
National Sleep Awareness Week is an annual event that takes place in March. It's intended to promote the importance of getting enough sleep and raise awareness about sleep disorders and their impact on our health. The overall month of March is also considered National Sleep Awareness Month.
How much sleep should adults be getting each night?
Adults should aim to get between 7 to 9 hours of sleep per night, although individual needs can vary. Some very athletic individuals may need more sleep than others, and there are rare individuals known as 'long sleepers' who sleep more than 9 hours per night.
If you feel alert, focused, and energized, and can easily complete your daily tasks without feeling excessively sleepy, then you likely got enough sleep.
How important is a good mattress for a good night's sleep?
A good mattress is essential for a good night's sleep. It should provide adequate support and cushion for your body to help you fall asleep faster and stay asleep longer. Ideally, you wake up feeling better in the morning than when you went to bed.
What kind of bedding should I use for a comfortable sleep environment?
Soft, breathable bedding made of natural materials like cotton, linen, or bamboo can help create a comfortable sleep environment. These materials are good at regulating temperature, so you should never feel too hot or too cold. Additionally, choosing the right pillow and blanket for your sleeping position and temperature preferences can also help improve your quality of sleep.
How can I improve my sleep hygiene?
Improving your sleep hygiene involves developing healthy habits and behaviors that promote quality sleep. This includes sticking to a consistent sleep schedule, avoiding caffeine and overeating before bed, and creating a relaxing sleep environment free of distractions.
Many sleepers also find they benefit from switching off electronics an hour or two before bed, unwinding instead with a small craft, a traditional book, or a warm bath.
Conclusion
Sleep deprivation can have a range of consequences, from minor inconveniences to drastically severe and life-changing effects. So it's important to make sure bad sleep habits aren't left unchanged and unchallenged. That's why the National Sleep Foundation's aim is to teach others how to better their sleep habits and hygiene with National Sleep Awareness Week.