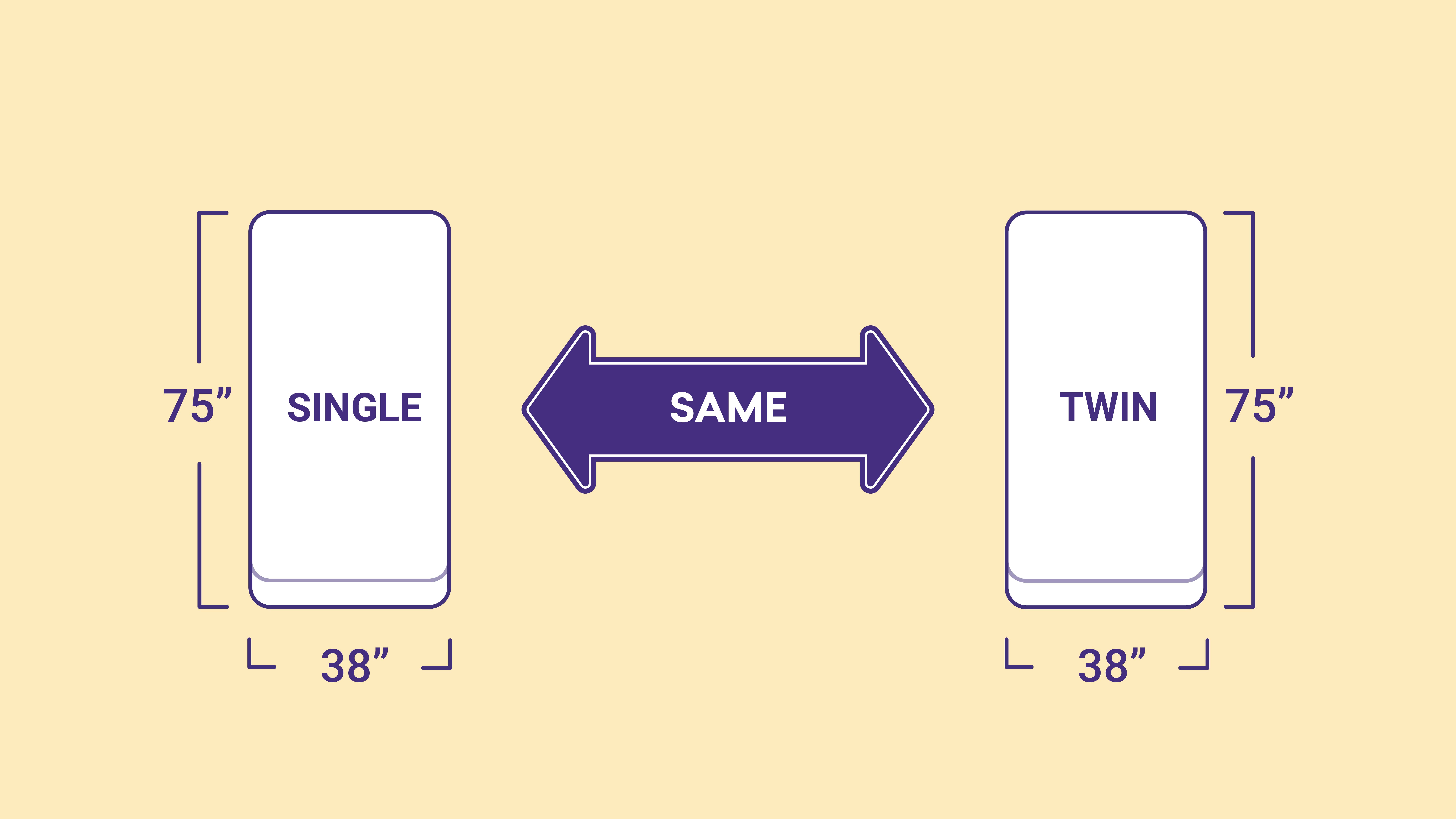 Single vs. Twin Bed Size: What's the Difference?

Mattress Comparison
The smallest of the bed sizes, the twin mattress might not be the most glamorous or luxurious bed on the planet, but it still has its place. From college dorm rooms to multi-kid bedrooms to studio apartments, the twin bed is the king of small spaces.
However, you might've heard the term "single bed" or "single mattress" and wondered if there was a difference between the single and the twin. Below, we'll talk about what those terms both mean and which bed size could be right for you.
Twin Mattress vs. Single Bed
Twin mattresses are actually the same thing as single mattresses. The two terms are interchangeable, though twin is the more commonly used term for a mattress that's 38 inches wide by 75 inches long.
For instance, most of the time you'll see twin size mattresses listed on mattress store websites rather than single size mattresses.
Best Room Size
Twin mattresses are best for either very small rooms or shared rooms with multiple beds. Generally speaking, it's best to have about two feet of space around three sides of the bed.
Twins are only a little over three feet wide by a little over six feet long. That means you could stuff them in a room as small as seven by eight feet. If you want a chest of drawers or vanity to go along with the bed, eight by ten would be better.
You can squeeze a twin mattress into a tiny room. However, if you want to have two twin beds in the room, you'll need a lot more square feet.
If you push both beds against a wall, you could have the same size room as you would with a king (10 by 10 feet). Those who want both the beds away from the wall will need to add an extra two feet on top of that (12 by 10).
Of course, you can accommodate two beds in a small space by using a bunk bed frame. Just be careful when choosing mattresses for a bunk bed that their weight won't overload the frame.
Cost Range
Twin size beds are the cheapest standard size option. If size is no problem, budget shoppers can get a very high-quality mattress for as little as a few hundred dollars. Twin and twin XL sizes can put even hybrid and latex mattresses in reach for sleepers on a budget.
Ideal Sleepers
This is a great bed for kids or adults who don't have a lot of space. A twin is one of the best mattresses for kids, providing an excellent alternative for a toddler bed because it allows tots to grow into their mattresses and won't need to be upgraded for a long time (if at all). It's also a good option for multi-kid rooms, either with both beds on the floor or bunk beds.
A twin mattress is also a good choice for single adult sleepers with limited space. If you're sharing a room or living in a tiny apartment, a twin might not just be your best option for good sleep. It could be your only option.
Size Variations
The twin XL is the same width as the twin, but it adds five inches of length. That makes it 38 by 80 inches. A small or narrow twin bed is 30 inches wide by 75 inches long. This size is too narrow to be comfortable for many adults. But it could be a good option for you if you have a teeny tiny space.
Other Standard Bed Sizes
In addition to the twin/single bed, there are five other standard mattress sizes to choose from. Your ideal choice depends on a combination of your individual needs, your room size, and how many people are sleeping in the bed.
Twin XL
Taller sleepers with smaller rooms will appreciate the 38 by 80-inch twin XL size mattress. Twin XL beds don't take up that much extra space, but they're more accommodating to sleepers over six feet tall.
If you want an in-depth comparison of twin and twin XL sizes, see our guide Twin VS. Twin XL Size Mattresses: What's the Difference?
Full
The full or double bed is the perfect choice for single sleepers who need more personal space. At 54 by 75 inches, it will offer active sleepers under six feet tall extra room to roll around.
Full size mattresses also fill out larger rooms than twin and twin XL mattresses.  Despite their relatively expansive size, we only recommend full beds for single sleepers and not couples.
Queen
A staple of the guest room, the queen size mattress comes in at 60 by 80 inches. The queen bed is the most popular mattress size because it's large enough to accommodate most couples but easier on the budget than king or California king mattresses. Plus, a queen mattress fits in most bedrooms while leaving space for other furniture.
King
The king size mattress (also called the standard or eastern king) is 76 by 80 inches. The standard king mattress is the perfect size for couples who need the most space.
An Eastern king bed offers each partner the exact same amount of sleeping space as a twin XL mattress. King size beds also fills out large rooms like masters.
California King
The California king size mattress is a longer, narrower mattress than the king size mattress, coming in at 72 by 84 inches. The California king bed is the longest of the standard mattress sizes and is a better option for extra-tall sleepers or those with large master bedrooms.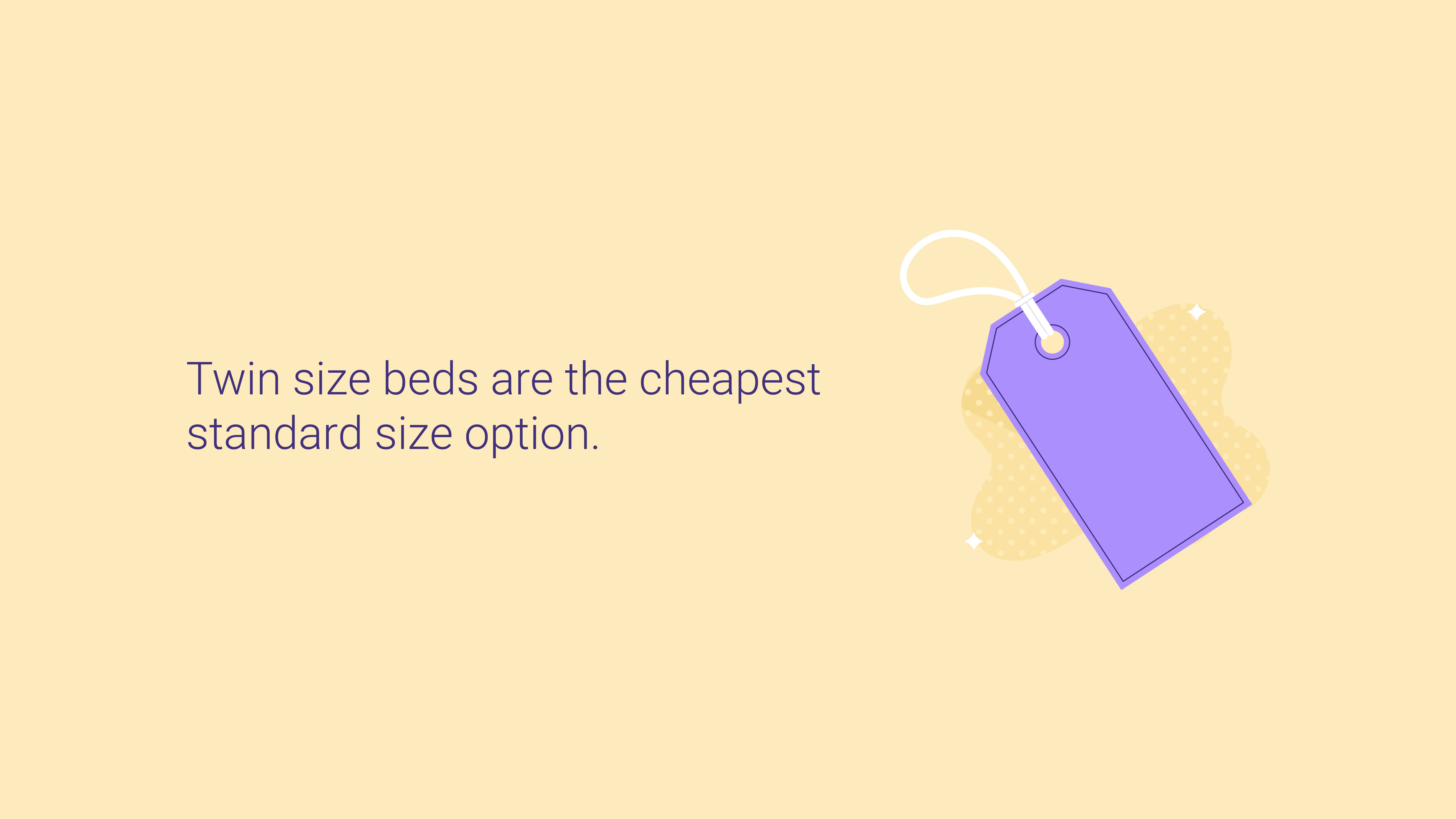 FAQs
Is a twin size mattress suitable for an adult?
That depends on the adult. If you're under six feet tall, an average 38 by 75-inch twin will probably work for you. If you're over six feet tall, you'll likely need to upgrade to the 80-inch long twin XL mattress to have enough legroom.
Single adults who are active or combo sleepers might find this mattress size doesn't have enough width to accommodate their tossing and turning. Active single sleepers may want to consider an upgrade to either a full size bed (for those under six feet) or a queen size bed (those over six feet).
What if I'm too tall for a twin size mattress?
If you find your feet dangling over the edge of a twin, you'll need an 80-inch mattress. Twin XL beds are the narrowest 80-inch bed. If you have a small space but need extra length, this may be the size for you.
Tall active sleepers may want to consider a queen bed if they have the space. The queen's extra width will accommodate more tossing and turning. The tallest sleepers may need to go even longer, either with the 60 by 84-inch California queen or the 72 by 84-inch California king.
Can I use two twin mattresses to make a split king?
No. Standard twin mattresses are 38 by 75 inches long, while a traditional king mattress is 76 by 80 inches long. That means two twin mattresses will be wide enough to make a split king, but they won't be long enough. A split king size mattress requires two twin XL mattresses and two twin XL bed bases for adequate width and length.
There are lots of reasons why you might want to make a split king. Partners who want to sleep in the same bed but need different firmness levels could both get the mattress firmness they want. Those with different adjustable base settings may also consider two twin XL bases and mattresses. Split king beds are also much easier to move than standard kings.
Will my kids grow out of their single beds?
It's possible. Tall, lanky teenagers' feet might start dangling over the bed sometime in high school, unless they have a longer mattress for teenagers. However, the height of the average human is under six feet. That means, statistically speaking, your kids may never need a bed longer than a twin.
Your own height is another good indicator of whether your child will outgrow their bed. If one or both parents are tall, you may be springing for a twin XL. If both parents are short, a twin XL likely won't be necessary. It's just a matter of genetics.
Is a twin or twin XL best?
That depends on your height and your room size. Taller people may not be comfortable on a standard twin, meaning they'll need a twin XL no matter what. Shorter people can get away with a regular twin size mattress. And they may have no other option if their rooms are not long enough to take a twin XL.
One area where twin mattresses objectively beat twin XL mattresses is relocation. Twin mattress dimensions make moving them a little easier than moving a twin XL. The additional length of a twin XL can sometimes make getting around corners or up and down stairs more difficult. This is something you should consider if you move a lot.
Bottom Line
The twin is an excellent bed for a variety of situations. From multipurpose guestrooms to studios to children's rooms, these beds provide full comfort to most sleepers without taking up a ton of space.
Maybe the best part of a twin size mattress is it puts luxury mattresses in reach for shoppers on even the tightest budget constraints. Not bad for the humble little twin!