Headboard Sizes Chart

Mattress Accessories
Many sleepers consider purchasing headboards to provide them with extra support and comfort. Headboards come in several styles and designs, making them the perfect item to decorate your room.
Before you pick your new headboard, you'll want to make sure the size is compatible with not only your mattress size but your room as well. Some headboards are tall and bulky, so finding the right size will keep your room from feeling cluttered.
In our guide, we'll teach you how to choose a headboard by looking at headboard dimensions, and we'll also discuss the different types of headboards available for purchase.
Headboard Width
The width of a standard headboard is 2 to 4 inches wider than the size of your bed frame. In most cases, you need two inches of space on the sides of your bed to properly attach a headboard, so, you'll want to consider your room size before making your purchase.
It's best to factor in how much space additional bedroom items, like dressers, footboards and bedside tables will take up to avoid overcrowding. In the chart below, we provide the approximate headboard widths with their compatible mattress dimensions and the recommended room sizes.
| Mattress Size | Headboard Width | Mattress Dimensions (IN) | Recommended Room Size (ft) |
| --- | --- | --- | --- |
| Twin | 41 inches | 38 inches by 74 inches | 7 feet by 10 feet |
| Full | 56 inches | 54 inches by 74 inches | 10 feet by 10 feet |
| Queen | 62 inches | 60 inches by 80 inches | 10 feet by 10 feet |
| King | 80 inches | 76 inches by 80 inches | 12 feet by 12 feet |
| California King | 74 inches | 72 inches by 84 inches | 12 feet by 12 feet |
Using Extra-Wide Headboards
Extra-wide headboards are twice as wide as your bed, ranging from 25 to 30 inches. These headboards are usually mounted to a wall instead of attached to your bed. If you need a headboard for wall protection, an extra-wide one may be a good choice.
If you purchase an extra-wide headboard, you should place them in a large room at least 10 feet by 10 feet to keep your space from feeling crowded. It's also best to use extra-wide headboards with Cal king or king beds.
Headboard Height
The standard headboard height ranges from 14 inches above the top of the mattress (for a short, twin-sized headboard) to 29 inches or more (for a tall, king- or queen-sized headboard). While there are no height requirements for a headboard, a good rule of thumb is to ensure the headboard is shorter than the length of your bed. Headboards that are too tall may affect the sturdiness of the bed, causing it to break or collapse.
Tall Headboards
Tall headboards keep your head from leaning against the wall while you're sitting in bed. These headboards are 65 to 70 inches tall. They are best used with California king or standard king and some queen bed frames since they accommodate the extra length.
Low Profile Headboards
Short or low-profile headboards are commonly paired with smaller beds for children, teens, and guests. These headboards are a good fit for a twin, twin xl, or full-size bed and are 10 to 12 inches above the top of your bed. They are an excellent option for a guest bedroom and keep your room looking spacious.
Adjustable Headboards
Adjustable headboards usually include legs that you can move up or down to adjust the height. They are a great option for sleepers who are unsure of the proper headboard height for the beds. Not to mention, they are extremely convenient if you are purchasing a new mattress and do not want to buy a new headboard.
Types of Headboards
Before you choose a headboard, you should consider the type of material that will look best with your bedroom decor. Some headboards may be larger than others, so it may be better to opt for a sleek headboard if you have limited space. In this next section, we look at some of the most popular types of headboards.
Upholstered Headboards
Upholstered headboards have soft padding covered with plush fabrics like velvet or linen. These soft materials provide sleepers comfort and support while they are sitting in bed.
Some upholstered headboards may include buttons, nailhead trim, or welding to create a more eye-catching and elegant style. Additionally, these headboards come in an endless amount of colors and patterns to match with your sheets and bedroom furniture.
Types of Upholstered Headboards
Upholstered headboards come in various designs and styles to add to the overall aesthetic of your bedroom. Below, we outline the most common upholstered headboards available for purchase.
Freestanding: Freestanding headboards are sold separately from the bed frame. You can attach them to the bed frame, mattress foundations, or the wall. However, these headboards can also stand alone without mounting them to a wall or bed frame.
Straight: Straight headboards are usually rectangular. These headboards have a simple structure but also feature unique prints or fabric.
Wood-framed: These are upholstered headboards framed with wood. The fabric doesn't cover the entire headboard, and the wooden frame is added around the perimeter for decorative purposes.
Tufted: Tufted headboards have buttons sewn or stapled in rows over the upholstery to create a plush and elegant look.
Metal Headboards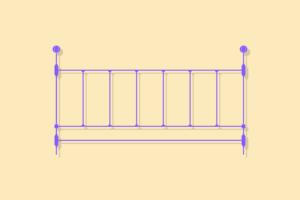 Metal headboards are made with brass metal, wrought iron, brushed aluminum, and stainless steel. They are an affordable option and are favored by sleepers for their sleek designs.
Since metal headboards are a more minimalistic choice, they are a better choice for people with smaller rooms. Some people choose metal headboards to match their bedroom design scheme, but they're best left in their natural state to prevent chipping.
Wooden Headboards
Wooden headboards are one of the most popular bedroom items as they have a versatile and classic look. These headboards cater to various design styles, such as modern, traditional, and rustic. Many people choose headboards with a natural wood finish, while others prefer to paint their headboards to match their design styles and other furnishings.
Typically, wooden headboards are made from pine, oak, and maple. More budget-friendly headboards are manufactured with plywood, but this material is not as durable as others.
Storage Headboards
Storage headboards are usually chosen by people who need extra room for their items. These headboards may be purchased with platform beds and have drawers built-in, so you can put books, photos, clocks, and bedroom décor on the shelves. It's worth noting that storage headboards are bulky items, so you need plenty of space to accommodate them.
FAQS
How do you fix a gap between a mattress and a headboard?
One of the best ways to fix the gap between a mattress and a headboard is to block it by using mattress wedges. These products are made with foam and should be placed between the headboard and mattress/box spring to eliminate the gap. Repositioning your headboard and frame may also help fill the extra space.
Adjust the frame to be wider than the headboard by unhooking it in the middle and widening it. Then push the frame back against the headboard. Lastly, add the box spring and mattress and push them against the headboard as well. Sometimes making these small adjustments to your items keeps your headboard in alignment.
Can you put a headboard on an adjustable base?
A headboard can easily be attached to an adjustable bed base. Purchase high-quality headboards specifically designed for adjustable bed frames to ensure these items are compatible. However, if you choose to buy a headboard that is not intended for an adjustable frame, you'll also want to purchase brackets, bolts, and hooks to match your base.
Is it necessary to use a headboard?
Deciding whether or not you need a headboard depends on your personal preference. Some sleepers like to use headboards to keep their pillows on their beds or give their bedrooms a more luxurious look. Others may prefer not to use headboards to save space since they are pretty bulky. Additionally, headboards are expensive, so individuals may forgo this purchase to save money.
What is the average price for a good headboard?
Headboard attachment prices range from $150 to $1000. Basic headboards are usually more affordable for shoppers, while headboards with luxurious designs or technologies like lighting come with a higher price tag. When looking at budget-friendly items, it's best to steer clear of items built with cheap or flimsy material. These items are prone to becoming worn down or easily damaged.
Can you use a headboard without a bed frame?
Most headboards require you to attach them to the wall behind your bed frame or the bed itself. However, some free-standing headboards will stand on their own and rest between the bed and the wall, without a need to mount them, like bookcases or storage headboards. Free-standing headboards do not come with hardware or pre-drilled holes, so setting them up tends to be easier.
Conclusion
Finding the right headboard size is essential to your comfort at bedtime. If your headboard is too big or too tall, your bedroom may feel cluttered. Furthermore, headboards that are not compatible with your bed dimensions may cause damage to your mattress and even your bedroom walls.
It's important to remember headboards come with a pretty high price tag. There are affordable options, but it's a good idea to steer clear of flimsy ones as they may break easily. By choosing the correct headboard board size initially, you'll avoid any bedroom inconveniences and save money in the long run.