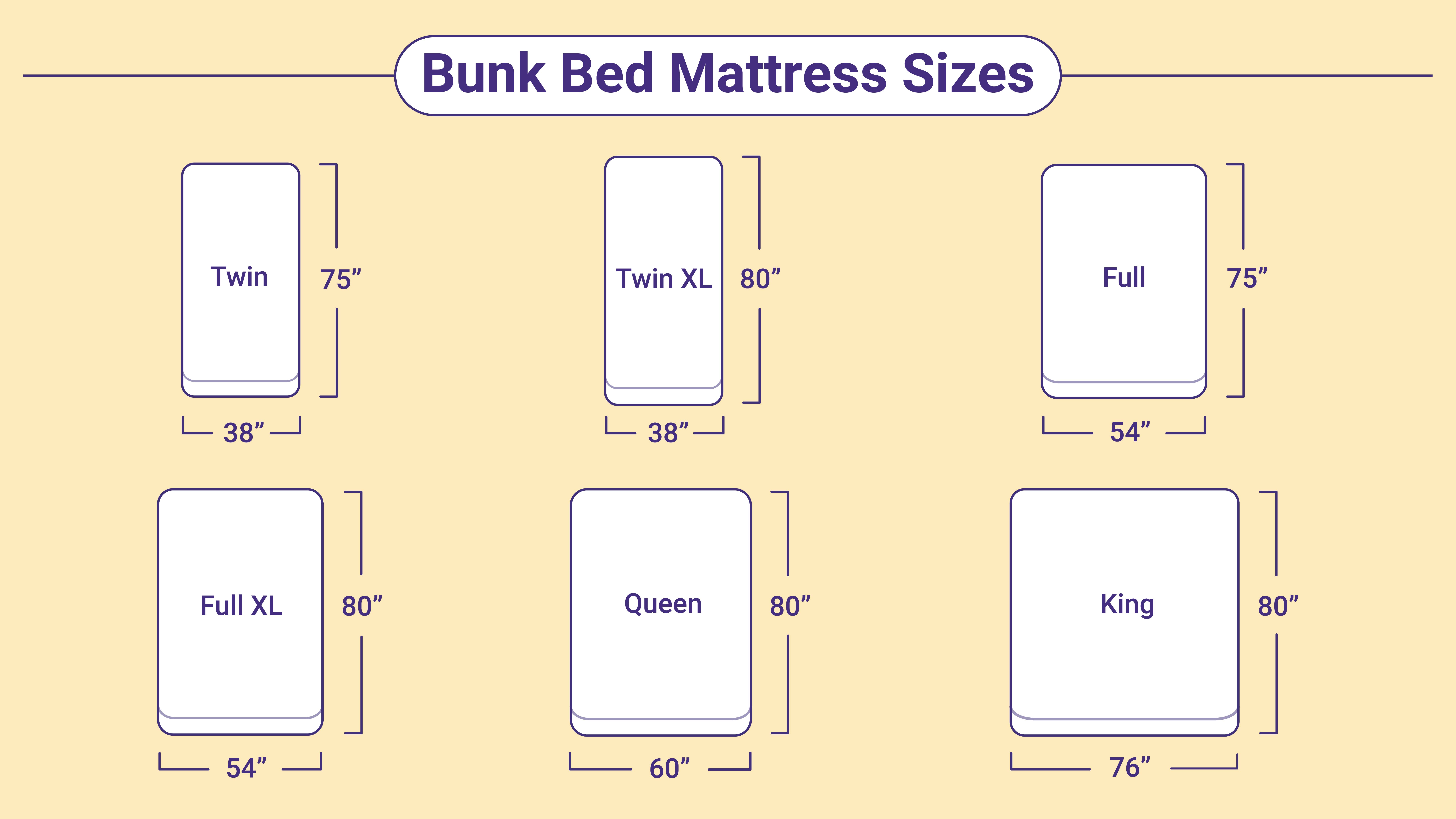 Bunk Bed Mattress Sizes

Mattress Guides
Bunk beds are lofted beds with one bed directly above the other. The purpose of bunk beds is to sleep multiple people and maximize space. This style of bed setup is commonly associated with children's rooms and college dorms.
The top bunk in the bunk bed should be no more than 6 inches thick. A mattress thicker than that is too tall for the guardrail and increases the risk of rolling out of bed. Bottom bunks should be 8 to 12 inches thick, and children's mattresses should be firmer to reduce the risk of sinking or suffocation while sleeping.
In this article, we'll explore the different bunk bed mattress sizes and types available. We'll help you determine whether a bunk bed makes sense for your needs, space, and budget.
Bunk Bed Sizes and Dimensions
Measuring your bedroom space is important before purchasing and setting up your bunk beds. To avoid mobility issues when getting in and out of bed, make sure you have at least 2 feet of open space around the perimeter of your bed. Below, we outline the standard mattress dimensions available.
| | | |
| --- | --- | --- |
| Mattress Size | Dimensions in Inches | Dimensions in Centimeters |
| Twin | 38 inches X 75 inches | 96.5 X 188.0 cm |
| Twin XL | 38 inches  X 80 inches | 96.5 X 203.5 cm |
| Full | 54 inches X 75 inches | 134.5 X 190.5 cm |
| Full XL | 54 inches  X 80 inches | 137 X 203.5 cm |
| Queen | 60 inches  X 80 inches | 152 X 203.5 cm |
| King | 76 inches X 80 inches | 193 X 203.5 cm |
Twin Bunk Bed Mattress
Twin size mattresses are great for small children or shorter adult single sleepers. Twin size mattress dimensions are 38 inches by 75 inches. You'll want to place a twin bed in a room that measures at least 7 feet by 10 feet.
SEE ALSO: Best Mattresses for Kids
Twin XL Bunk Bed Mattress
Taller adults or teens are better off going with a twin XL mattress. This mattress measures 38 inches by 80 inches. Place your twin XL bunk bed in a room that measures 9 feet 6 inches by 10 feet 6 inches.
Debating between a twin or twin XL? Our twin vs twin XL mattress guide compares the two in-depth.
SEE ALSO: Best Mattresses for Teenagers
Full Bunk Bed Mattress
Full beds are great for sleeping one single adult or two small children. A full bunk bed measures 54 inches by 75 inches. For best results, place a full size mattress in a room that measures 9 feet 6 inches by 10 feet 6 inches.
Full XL Bunk Bed Mattress
Full XL mattresses are suitable for sleeping taller sleepers and teenagers. This mattress measures 54 inches by 80 inches. A full XL bed should be put in a room that measures at least 9 feet 6 inches by 10 feet 6 inches.
Queen Bunk Bed Mattress
Queen beds can comfortably accommodate two adults. A queen bunk bed mattress measures 60 inches by 80 inches. Place this bunk bed in a room that measures 10 feet by 10 feet.
King Bunk Bed Mattress
King bunk beds are great for taller or larger framed couples. These larger mattresses can fit 2 adults with one child, or sleep three children. King size mattresses measure 76 inches by 80 inches. Set up your king bunk bed in a room that measures 12 feet by 12 feet.
Benefits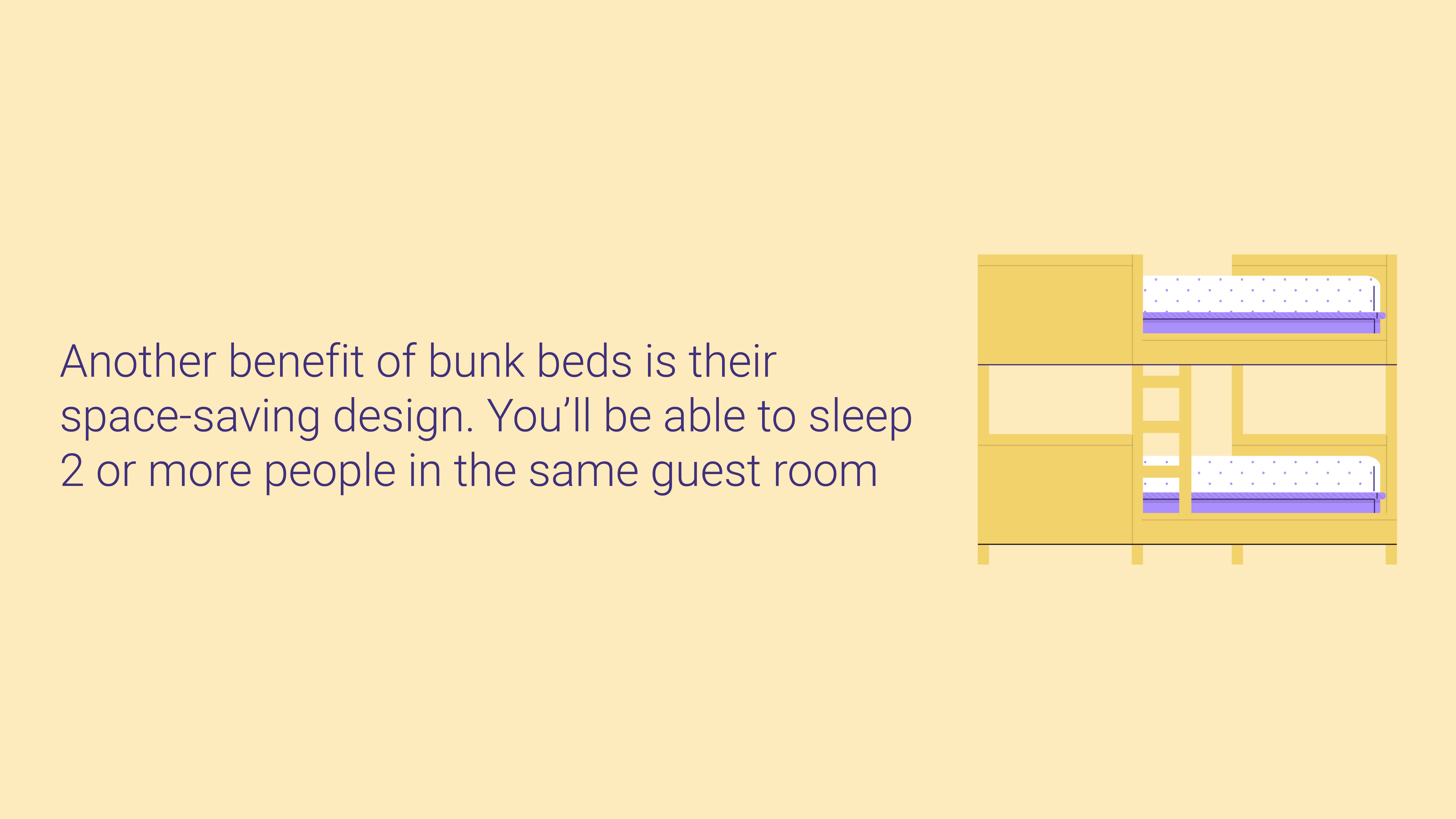 Bunk beds are optimal for those shopping on a budget. You'll only have to buy one bed frame. In addition, you won't have to worry about buying a box spring or foundation to go with your mattress.
Another benefit of bunk beds is their space-saving design. You'll be able to sleep 2 or more people in the same guest room. This eliminates the need for a cot, futon, rollaway bed, or air mattress when you have overnight guests. This setup also allows for under bed storage.
Because bunk beds come in a range of sizes, you can use them to accommodate your children as they grow. They can also sleep adult visitors as well. The versatility of bunk beds expands to storage, too. Some beds and bed frames come with storage areas built into them.
Drawbacks
One noticeable drawback to bunk beds is their poor motion and noise isolation. Light sleepers may want to steer clear of bunk beds. Those sleeping on the bottom bunk may hear those sleeping above them as they toss and turn in bed.
Choosing the Right Bunk Bed Mattress
The type of mattress you want to use for your bunk bed is important. The type of mattress you choose impacts comfort, support, and price.
Innerspring
Innerspring mattresses are the best option for those shopping on a budget. This type of mattress is also good for those who have issues with overheating or night sweats. The coiled support system of innerspring beds aids in breathability and mild joint support.
Those who need a higher level of joint support may want to opt for a higher quality mattress. Likewise, those who are light sleepers may not like the creaking or squeaking that is commonly associated with innerspring mattresses.
Hybrid
Hybrid mattresses are ideal for light sleepers and those who have sensitive pressure points. The comfort layers in this mattress provide you with support, moderate contouring, and a responsive feeling. The only downside to hybrid mattresses is their higher price tag.
Latex
Latex mattresses are known for their durability and responsive, bouncy support. When you lie down on a latex mattress, there is no sinking feeling or indentation left from your body the next morning. Those who suffer from joint pain or stiffness enjoy plenty of support from a latex mattress.
The natural and environmentally friendly design of a latex mattress makes it good for those with allergies. The lack of synthetic materials and chemicals eliminates skin or allergen problems. However, this design factor does raise the cost of latex mattresses.
Memory Foam
Memory foam mattresses provide sleepers with an intense amount of contouring support. This makes them ideal for smaller-framed sleepers or those with joint and muscle pain. Sleepers prone to night sweats should opt for a gel memory foam mattress. Memory foam beds are long-lasting and made of high-quality materials.
Bed Bunk Frame Types
Bunk beds come in a variety of different types and configurations. Which one you choose depends on your space and how many people you need to accommodate.
Standard/Standard Loft
Standard bunk bed frames fit smaller beds like a standard twin mattress. In a standard bunk bed setup, one bunk bed is situated directly above the other. Standard loft beds have just one bed that is raised into the air. This allows for storage under the bed or a desk area.
Triple/Triple Loft
Triple bunk bed frames only work if your bedroom has high ceilings. These bunk beds feature three beds stacked one on top of the other. In some bed frames, the second bed may be situated horizontally at a 90-degree angle.
Triple lofts feature two top bunk beds at a 90-degree angle facing horizontally. The bottom bed is situated vertically.
L-Shaped
An L-shaped frame has two bunk beds that are connected to form a 90-degree angle or L-shape. This setup usually offers storage space beneath the beds or storage drawers built into the bed frame.
Trundle
A trundle bed frame includes two standard bunk beds. The bottom bunk has a trundle drawer that contains a third bed. This bed can be slid out of its drawer and raised to the same height as the bottom bunk.
What Size Bunk Bed Do I Need?
Which size bunk bed you need depends on your bedroom space and necessary sleeping space. Larger and taller bedrooms have the room to accommodate a triple, triple loft, L-shaped, or trundle bunk bed setup. Smaller bedrooms are better off with a standard or standard loft bedroom.
The number of people you need your bunk bed to accommodate impacts frame choice. Those looking to sleep more than two people should go with either a larger mattress or a larger frame setup. Triple bunk beds, triple lofts, L-shaped bunk beds, and trundle bunk beds are all viable options. You can also try to find a standard bunk bed or standard loft to accommodate a queen or king mattress.
FAQs
Are bunk beds safe?
Bunk beds are safe for individuals of all ages when properly assembled. A typical bunk bed includes a guard rail and steps or ladder to get into the bed. Top bunks shouldn't be taller than the guard rail. Paying attention to weight limits is key for bunk bed safety. Kids' bunk beds have a weight limit of 150 to 220 lbs.
How many kids can a bunk bed sleep?
A bunk bed can sleep anywhere from 2 to 3 kids depending on the mattress size and frame type. Larger mattresses like queens or kings can each sleep 2 to 3 children respectfully. Those wishing to sleep more than 2 children, should go with a triple bunk bed, triple loft, L-shaped bunk bed, or trundle bunk bed. The size of the children also matters.
Can an adult comfortably sleep in a bunk bed?
Adults can comfortably sleep in a bunk bed. Bigger framed sleepers may be more comfortable sleeping on the bottom bunk. Instead of a twin mattress, you may want to use a larger full, queen, or king mattress. Adult bunk beds typically have a weight limit of 250 to 800 pounds.
When selecting a bunk bed ladder, should I choose a straight ladder, angled ladder, or a staircase?
Whether you choose a ladder or staircase for your bunk bed depends on your space and storage needs. Straight ladders take up the least amount of space. Staircases take up more space but often come with built-in storage drawers.
Do bunk beds separate?
Some bunk beds can be separated into individual lofted beds. This allows you to still have some room for storage under the bed, without having the bed raised as high above the ground. Buying bunk beds that separate is a good option if you have kids that may want their own rooms in the future.
Conclusion
Bunk beds are an affordable and convenient way to sleep multiple people. Both adults and children alike can sleep in bunk beds. Bunk bed mattresses come in a wide range of sizes and types. Which mattress you choose depends on your needs and budget. Bunk bed frames come in standard, lofted, L-shaped, and trundle variation. Keep bedroom size and height in mind when choosing a frame for your bunk bed.