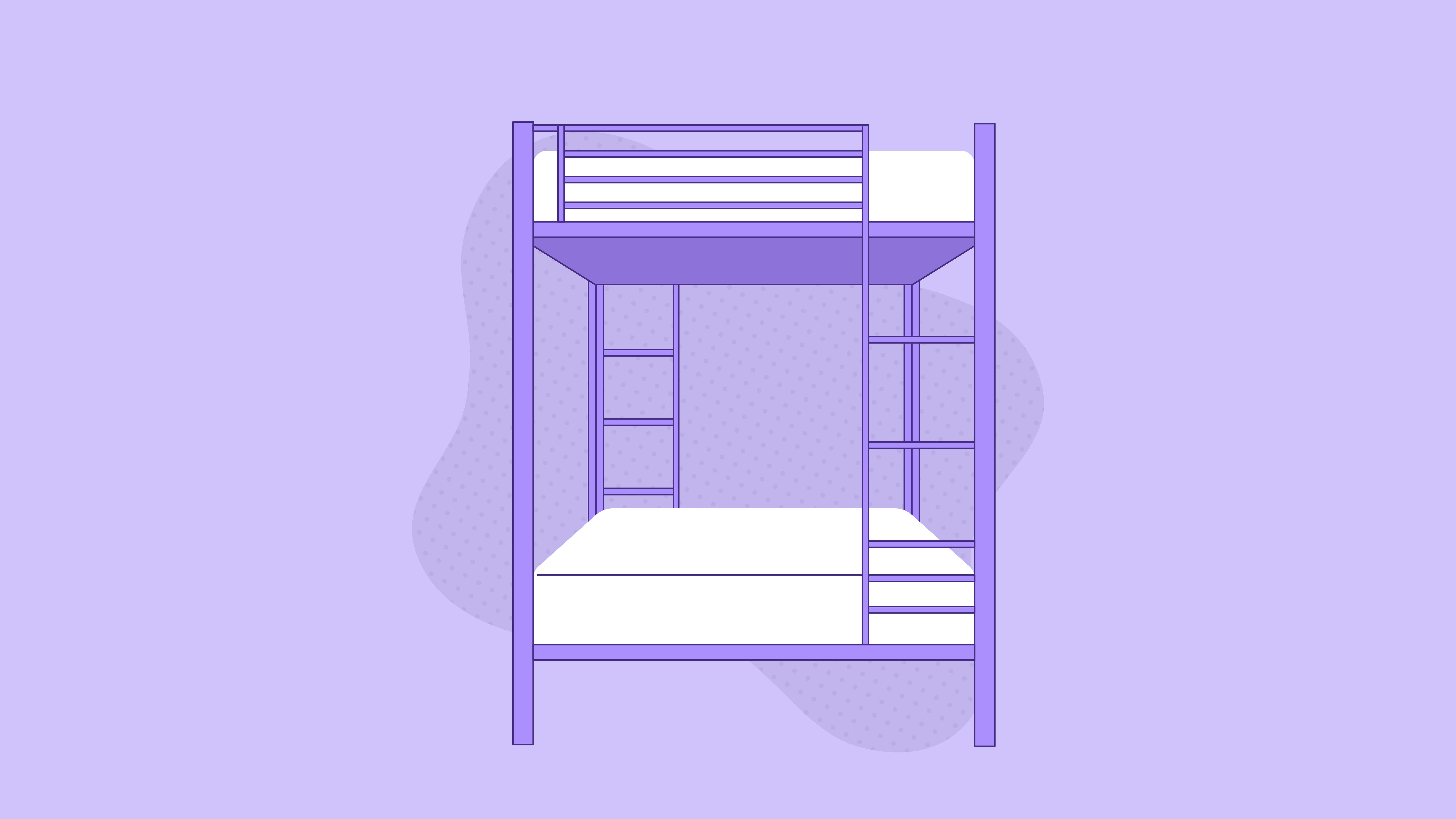 Bunk Bed Dimensions and Sizes Guide
Updated November 22, 2023

Bedding Resources
FAST FACTS
Bunk beds come in various sizes, from standard twin and full beds to queen and novel shorty dimensions to accommodate various sleepers, ranging from children to adults.
Bunk beds are not limited to the classic twin-over-twin model; there are several unique designs such as triple bunks and L-shaped bunks that can accommodate multiple sleepers while optimizing space.
Proper assembly, the presence of guardrails, sturdy slats, and well-secured ladders are essential elements to consider to ensure the safety of bunk beds. Regular maintenance, such as tightening bolts and checking for any damage, can help ensure the long-term durability and safety of the bunk bed.
Bunk beds are efficient space-savers, especially for families with multiple kids. When most of us think about bunk beds, we imagine two twin-sized beds stacked on top of each other—but bunk beds come in various sizes, heights, and styles. In this article, we take a closer look at the different kinds of bunk beds and their uses.
Standard Bunk Bed Sizes
Typical bunk beds are about 5½ to 6 feet tall and are compatible with standard mattress sizes. These dimensions are convenient because it makes it possible to use your existing mattress after you buy your frame.
No specific type of mattress is better suited for bunk beds than others: hybrid, latex, and memory foam mattresses are all excellent options.
Here are the most common standard bunk bed mattress sizes:
Twin Bunk Beds
A twin size mattress is 38 inches wide and 75 inches long. A standard twin bunk bed has two twin beds stacked on top of each other. These are popular for children's bedrooms and are a great space-saving solution.
Bunk beds designed for twin XL mattresses (38 inches wide and 80 inches long) are perfect for college dorms. The longer mattresses make twin XL bunk beds comfortable for full-grown adults.
SEE ALSO: Best Mattresses for Kids
Full Bunk Beds
Full bunk beds are similar to twin bunk beds, except they are designed for full mattresses. Full size mattresses are 53 inches wide and 75 inches tall; they are popular for single sleepers, like teenagers or college students. These frames often have a full size bed as the bottom bunk and a standard twin mattress as the top bunk.
SEE ALSO: Best Mattresses for Teenagers
Queen Bunk Beds
Queen size beds are 60 inches wide and 80 inches tall. These bunk bed mattresses are great for two sleepers sharing a bed or one adult who wants plenty of room to move around. Typically, these bunks have a queen size mattress on the bottom bed, while the top bunk is a twin mattress.
SEE ALSO: Queen Size Bed Frame Dimensions
Novel Bunk Bed Sizes
A bunk bed is a great way to save space inside a bedroom. To this end, there are some imaginative bunk bed designs available with unique bed frame dimensions.
Some of these frames double as dressers, desk spaces, or seating areas. Others have pull-out trundle beds, extra storage space, or built-in drawers.
Shorty Bunk Beds
A shorty bunk bed is almost like a standard twin bunk, except it's shorter (hence the name). A typical shorty bunk is about 4½ feet tall. Parents choose these frames for their younger children because the top bunk isn't as far off the ground, making it less dangerous if a child falls off the side of the bed.
See our Best Mattress for Kids guide for ideas on what mattresses to pair with a shorty bunk bed in a children's room.
Triple Bunk Beds
Triple bunk beds have three levels of beds instead of two. These bunks can be up to 7½ feet tall, making it vital to have a high ceiling so that the person on the top bunk has plenty of overhead space. While probably not very safe for young children, these bunk beds are great space-savers for teenage or young adult bedrooms.
L-Shaped Bunk Beds
These unique bunk beds are a creative solution for fitting up to three people in one bedroom. The L-shaped top bunk is designed for two sleepers. There is usually only one bottom bunk, leaving plenty of space for a desk or seating area.
The top bunk is most often designed for two twin mattresses, and the bottom bunk can be either a twin, full, or queen mattress. L-shaped bunks are a mix between a bunk bed and a loft bed. These frames are usually 5½ to 6 feet tall.
Other Frames and Accessories to Consider
People who want to save space or have a higher bed frame may find that a bunk bed doesn't quite suit their needs. Other options to consider include:
Trundle beds
Lofted bed frames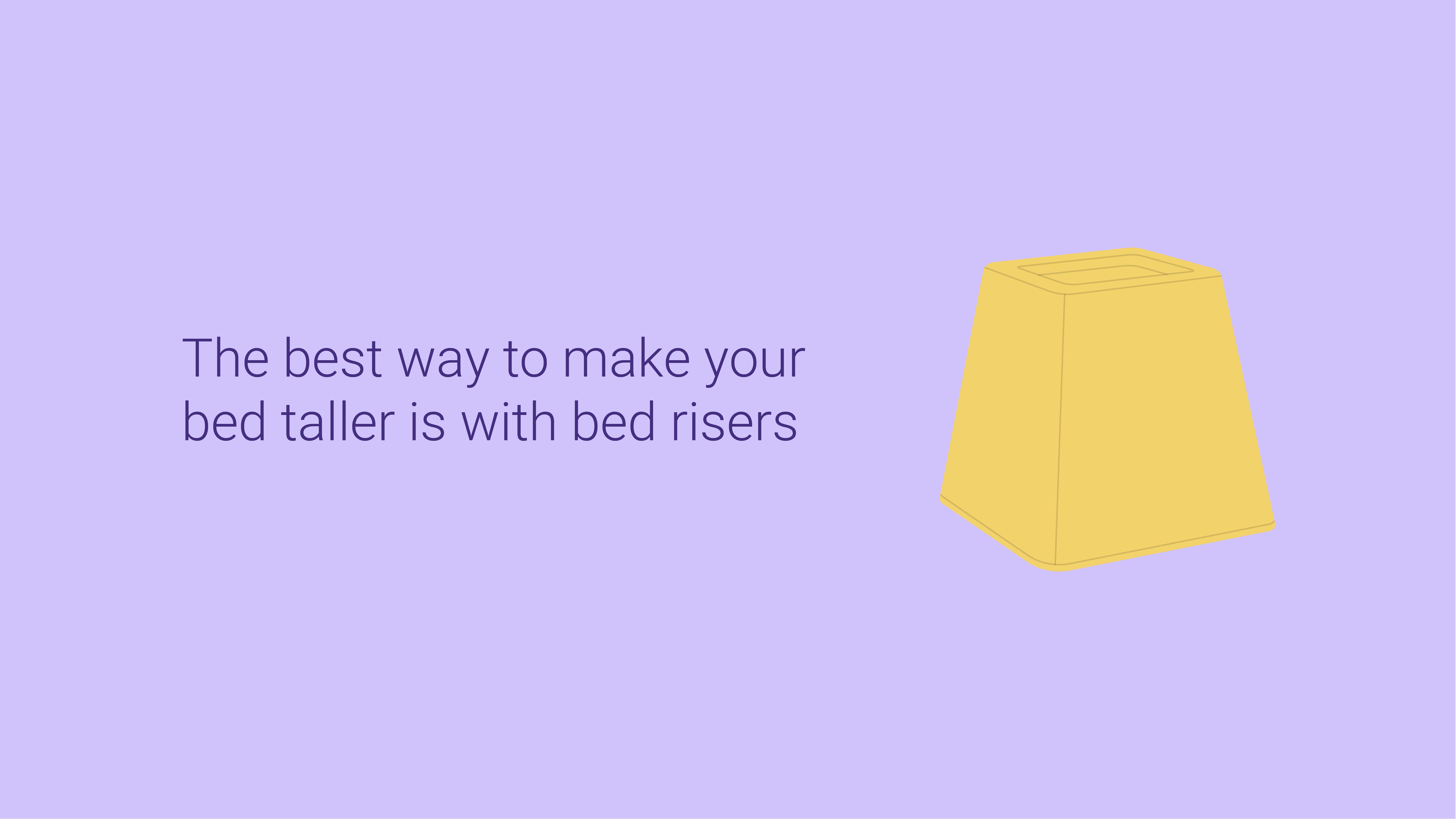 FAQs
How can I make my bed taller?
The best way to make your bed taller is with bed risers. Risers come in sets of four (one for each leg of your bed) and are available in a variety of heights, widths, and materials.
Are you looking for risers to increase the height of your bunk bed? Be sure to invest in a set that is wide enough to accommodate this tall bed frame securely and is made out of sturdy materials, like metal or wood.
Can bunk beds collapse?
There should be no risk of a bunk bed collapsing if it is of high quality, assembled correctly, and not bearing more weight than its recommended limit. It is essential to research the bunk bed and the manufacturer before deciding on a frame.
Reading customer reviews can give you a clearer picture of a bunk bed's dependability. Once you are confident in the product's value and the manufacturer's competence, you can have peace of mind about your decision.
How high do ceilings need to be for bunk beds?
If you are considering a bunk bed, your ceiling height should be at least 8 feet tall. There should be about 33 to 36 inches between the top bunk's mattress and the ceiling. Most bunk beds are 5½ to 6 feet tall, so ceilings that are over 8 feet tall are ideal.
Do bunk beds have special bedding?
Bunk bed comforters are designed to exactly match your mattress' measurements and take away some of the challenges of making your bed every morning. The two bottom corners of this special comforter are tailored to fit the bottom corners of your mattress.
This helps the comforter stay on the bed, with no tucking necessary. As for sheets, as long as your mattress has standard dimensions, most sheets designed for your mattress size should fit just fine.
How do you reinforce a bunk bed?
The biggest way to ensure your bunk bed is sturdy is to add a guardrail around the perimeter of the top bunk. A railing reinforces the frame and makes the bed less likely to sway and jostle as the sleepers move. It also prevents children from falling out of the top bunk during the night.
It would help if you also made a habit of maintaining your bunk bed. Two important ways to do this are regularly tightening the bolts and screws holding the bed together and making sure the frame is free of damage, like cracks or warping.
Bunk Bed Considerations
Before buying a bunk bed, it's important to measure your room and make sure the ceiling is high enough for this frame and that you have enough open space to fit the structure comfortably. Also, take a moment to consider who the bunk bed is for: if it's for a kid's room, twin bunks should suffice. Meanwhile, if it's meant for teenagers or adults, consider queen or full bunk beds—these are the best choice for guest rooms.
Safety is also something to consider when looking for a bunk bed. With the right precautions, these frames are quite safe. Here are a few of the most important bunk bed safety tips:
Make sure the top bunk has a guardrail, especially if a young child sleeps up there.
Confirm that the bunk bed slats and foundation are sturdy and well-designed.
Keep the top bunk well away from ceiling fans.
Be sure the ladder is attached securely.
Once you've made your decision, simply assemble your new bunk bed and enjoy the stylish and space-efficient frame.