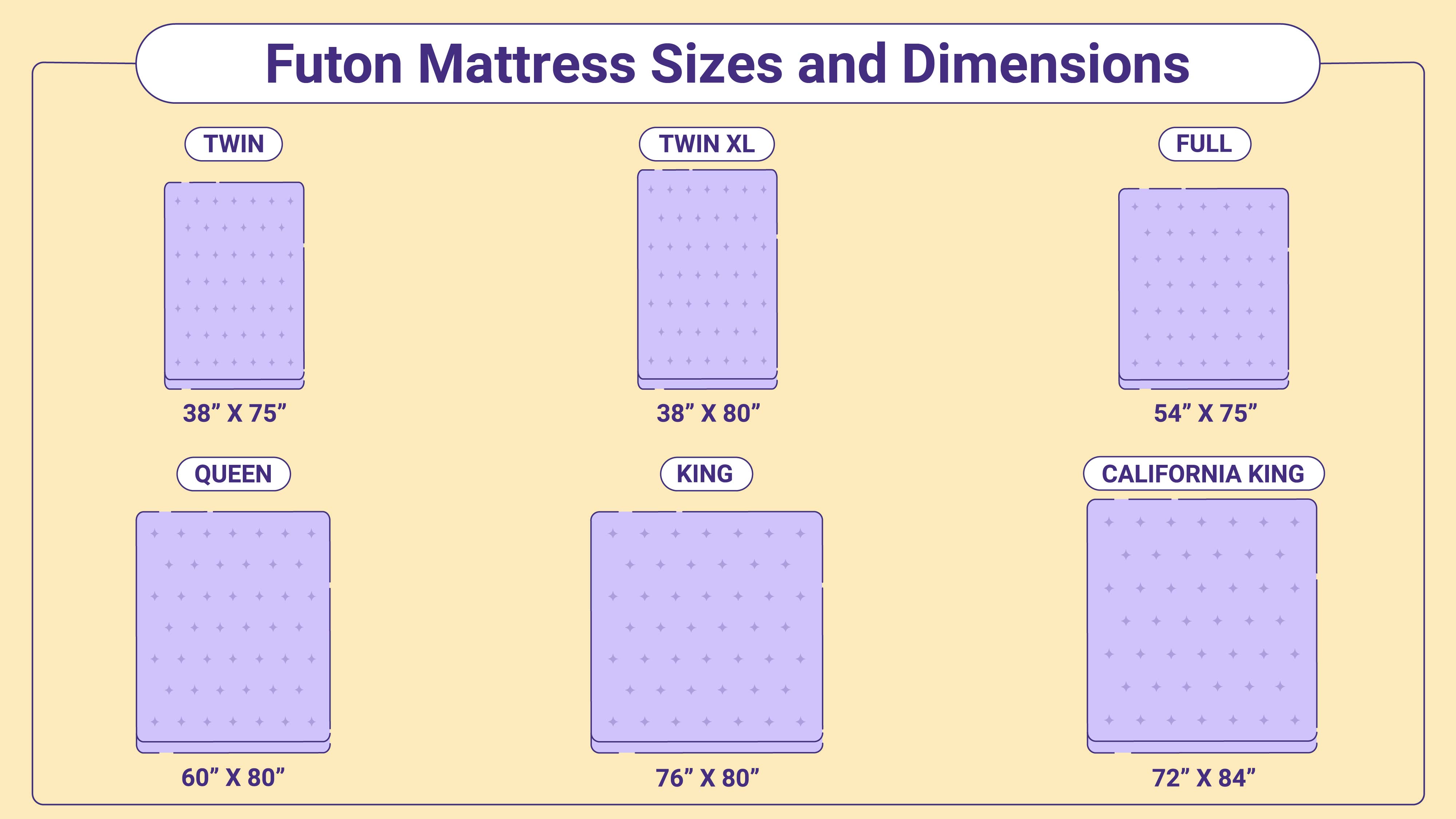 Futon Mattress Sizes and Dimensions
Updated November 22, 2023

Mattress Guides
A futon mattress is a sofa or couch that can be folded out into a bed. You can use a futon mattress in your spare bedroom for guests or set it up in your living room when you have unexpected visitors. Your family and friends are sure to prefer sleeping on your futon in a guest room over a worn-out sofa.
When you invest in a high-quality futon mattress and pair it with a durable frame, you'll get the perfect level of comfort and support. Like ordinary mattresses, futon mattresses sizes come in a large variety and firmness levels.
In this post, we will explore the different standard futon mattress sizes and benefits that come with sleeping on futon beds. Then, we'll look over the different types of futon layouts and frames. Finally, we'll answer some of your questions about futons.
Futon Mattress Dimensions
| Mattress Size | Dimensions (IN) | Dimensions (CM) |
| --- | --- | --- |
| Twin | 38 inches by 75 inches | 96.5 cm by 190.5 cm |
| Twin XL | 38 inches by 80 inches | 96.5 cm by 203.2 cm |
| Full | 54 inches by 75 inches | 137.2 cm by 190.5 cm |
| Queen | 60 inches by 80 inches | 152.4 cm by 203.2 cm |
| King | 76 inches by 80 inches | 193 cm by 203.2 cm |
| California King | 72 inches by 84 inches | 182.8 cm by 213.4 cm |
Twin Size Futon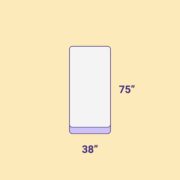 You can use a twin size futon mattress to sleep shorter or younger individuals. Futon mattress sizes like this would be ideal for smaller guest bedrooms and a living room set-up. Twin size mattresses will measure 38 inches by 74 inches. It is best to place this size futon in a room that measures 7 feet by 10 feet.
Twin XL Size Futon
For taller sleepers, it's best to step up to a twin XL mattress. It offers the extra legroom that some may need for a comfortable night's sleep. A twin XL size mattress measures 38 inches by 80 inches. You should place this futon in a room that measures 8 feet by 10 feet.
Full Size Futon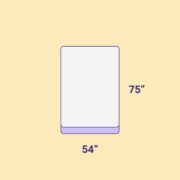 A full size futon is an excellent choice for large spare bedrooms or sleepers who need extra room. Depending on the size of you or your guests, a couple may be able to sleep comfortably on this size futon. Full mattresses will measure 54 inches by 75 inches. Place this size futon mattress in a room that measures at least 10 by 12 feet.
Queen Size Futon Mattresses
If you have a large space or roomy bedroom available for your futon, consider a queen size mattress. This size futon will be able to sleep two adults without any issues. Queen size futon mattresses measure 60 inches by 80 inches. You can place queen futon mattresses in a room that measures 10 feet by 14 feet.
King Size Futon
Only go with a king size futon if you know you have the space available and a need for a futon of this size. If you frequently have guests staying over at your home, you may want a king size futon to provide them with a more luxurious visit. King size mattresses measure 76 inches by 80 inches. Place your king size futon in a room that measures 13 feet by 13 feet.
Benefits of Futons
There are many reasons why you may want to invest in a futon for your home. For those who frequently have guests or family visiting, a futon gives your visitors a comfortable place to sleep. Because futons don't take up a lot of space, you don't have to stress about having enough room or sleeping space to accommodate your guests.
The lightweight design of futon beds makes them easy to transport or move when rearranging your furniture and quick to assemble. Purchasing a futon mattress may also be easier and more convenient than buying an additional mattress, foundation, and bed frame for your spare room.
However, keep in mind that you get what you pay for when it comes to futons and futon frames. Don't be surprised if you or your guests are uncomfortable sleeping on a cheap or low-quality futon bed. If you plan to get a lot of use out of your futon bed, invest in a high-quality and supportive one, or just buy a mattress instead.
Types of Futons
There are three different types of futons you can choose from. Each type of futon functions slightly differently as a sofa and has a different way of converting into a bed. Here's a brief overview of each type of futon:
Bi-Fold: When you use a bi-fold futon as a sofa, you'll be able to seat 3-4 people. To use it as a bed, simply recline it back to a flat position.
Tri-Fold: In contrast, a tri-fold futon frame can only seat 2-3 people when used as a couch. Some tri-fold futons come in two pieces, a main seating or bench part, and an ottoman style footrest section. For nighttime use, recline back to a horizontal position.
Loveseat: Loveseat futons can be used for lounging, watching TV, and sleeping. This style futon can seat 3 people without an issue. When you're ready for bed, unfold your loveseat and recline the top.
Types of Futon Frames
Futon frames are typically made of wood or metal. The material that your frame is made of has a significant impact on its durability and how much support it provides to your futon bed.
Metal: Metal futon frames are typically black or silver. However, they can be painted to better fit in with your existing decor. This type of futon frame is known for its durability and affordable price.
Wood: When purchasing a wooden frame for your futon mattress, make sure it is made of hardwood and not softwood. Softwood is not durable or supportive enough for most beds. A wooden frame gives your room a more rustic and natural appearance.
Plywood: This is a cheaper futon frame alternative for those who don't want to pay the higher cost that sometimes comes with a wooden futon frame. Keep in mind that plywood is a lower quality and less durable futon frame option.
Different Types of Futon Mattresses
You can't pair just any mattress type with your futon bed. You need a mattress that is both durable and flexible. While cotton mattresses are commonly paired with futons, they are oftentimes too thin and unsupportive for a restful night's sleep. Instead, we recommend going with a memory foam or innerspring mattress.
Memory Foam: Memory foam mattresses are durable and flexible enough to pair perfectly with your futon bed and frame. This type of mattress provides sleepers with body-hugging support. Memory foam mattresses are also ideal for those with sensitive skin or allergies.
Innerspring: The springs and coils of innerspring mattresses provide you with a bouncy feeling. The higher the spring count, the more comfortable your mattress will be. When possible, opt for stress-relief springs, which provide your body with tension relief and help with sore muscles.
Sheets for Your Futon Mattress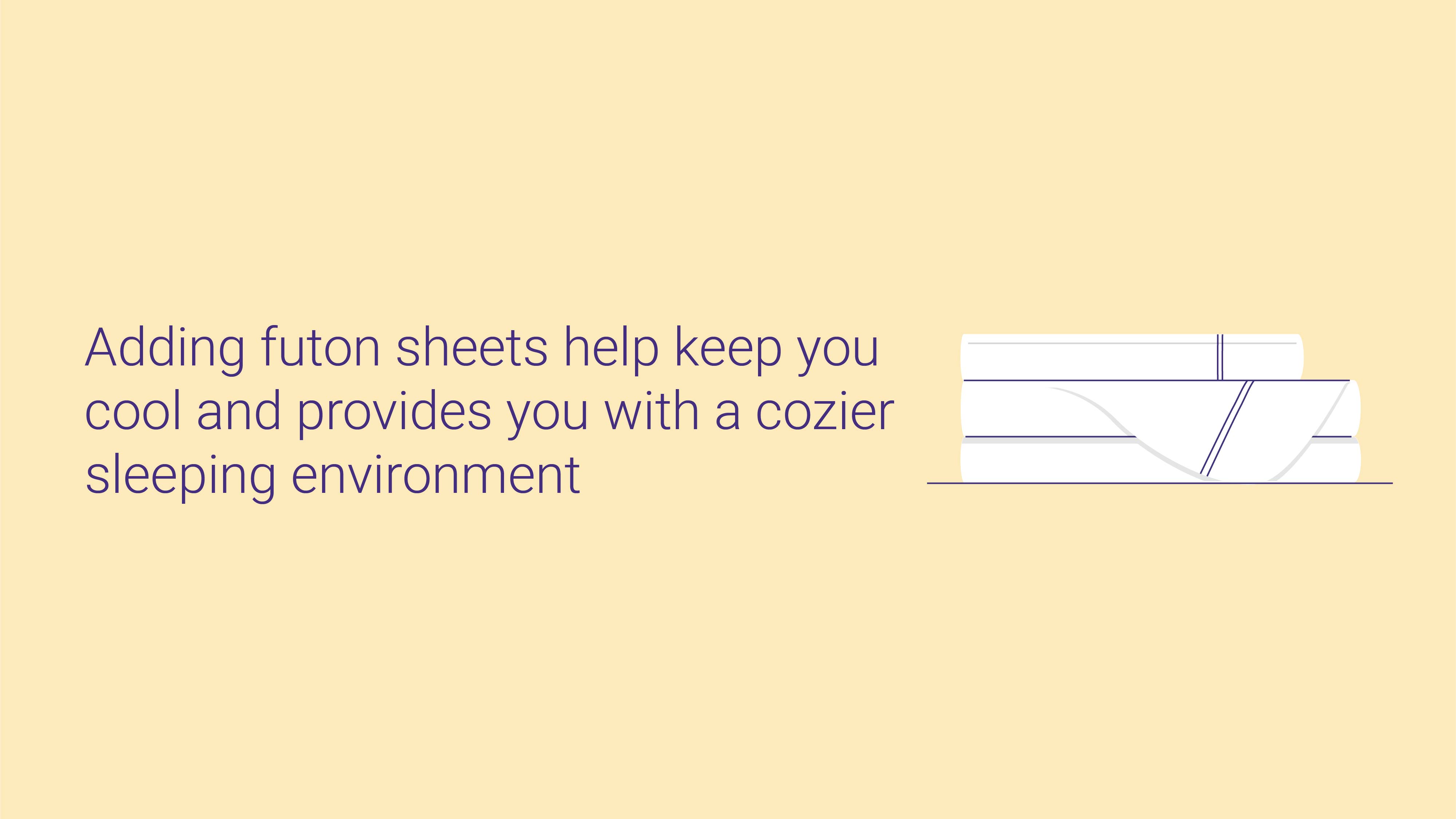 The primary goal of having sheets on any mattress is comfort while sleeping. The same is true for your futon mattress. Adding futon sheets help keep you cool and provides you with a cozier sleeping environment. As a bonus, sheets also keep your mattress protected and clean.
When choosing sheets for your futon mattress, keep the size of your mattress in mind. You'll need to purchase the correct size of sheets for a perfect fit. Getting fitted sheets with deep or extra-deep pockets ensures you don't have to deal with sheet slipping or bunching.
FAQs
Can anyone sleep on a futon mattress?
Sleepers of all ages, body types and sleep needs can enjoy a futon mattress. Mattress quality and size do matter when it comes to how comfortable and supported people feel on your futon bed. For the best possible night's sleep, opt for a higher quality memory foam mattress paired with a strong wooden base.
How much weight can a futon bed hold?
The amount of weight a futon bed can safely hold depends on its size and frame. Check the packaging materials of your bed and frame for weight limits or restrictions. A typical futon bed should be able to hold anywhere from 500 to 650 pounds.
What size futon bed do I need?
The first step towards determining what size futon bed you need is measuring your room. You need at least 2 feet of open space on either side of your bed to avoid mobility issues. Then, consider how many people will be sleeping on your futon bed.
If you plan to have just single sleepers or occasional overnight guests, you can opt for a smaller futon. On the flip side, if you're unsure or know you'll have multiple visitors, you should opt for a queen futon mattress or even a king size futon.
Can you sleep on a futon bed every night?
You can absolutely sleep on a futon bed every night without any issues or joint pain. The key to getting a good, restful night's sleep on a futon bed is choosing a quality mattress and frame. The right futon mattress features high-quality materials that provide you with the right level of comfort and support.
Why are futons so low to the ground?
Futons are low to the ground for two reasons. When they were invented, futons were meant to be placed on the ground without a frame. Because they double as a sofa or couch, they need to be at a comfortable sitting height.
If you are concerned about your futon being too low to the ground, you can purchase wooden legs to add some height to your futon bed. This will also allow for storage space underneath your bed.
What is a California king futon mattress?
A California king mattress is narrower than a standard king-size futon mattress, but it compensates for the shorter length by adding four inches to the bottom.
Conclusion
Frame quality is key in finding a futon that will last and keep you supported. When determining the best futon mattress, be sure to consider thickness and pressure relief to provide you or your guests with a comfortable sleeping environment. For the right futon side, make sure you have a room that is big enough to accommodate your bed plus the frame. Futon beds are the perfect sleeping solution for guest beds in compact spaces or small apartments.