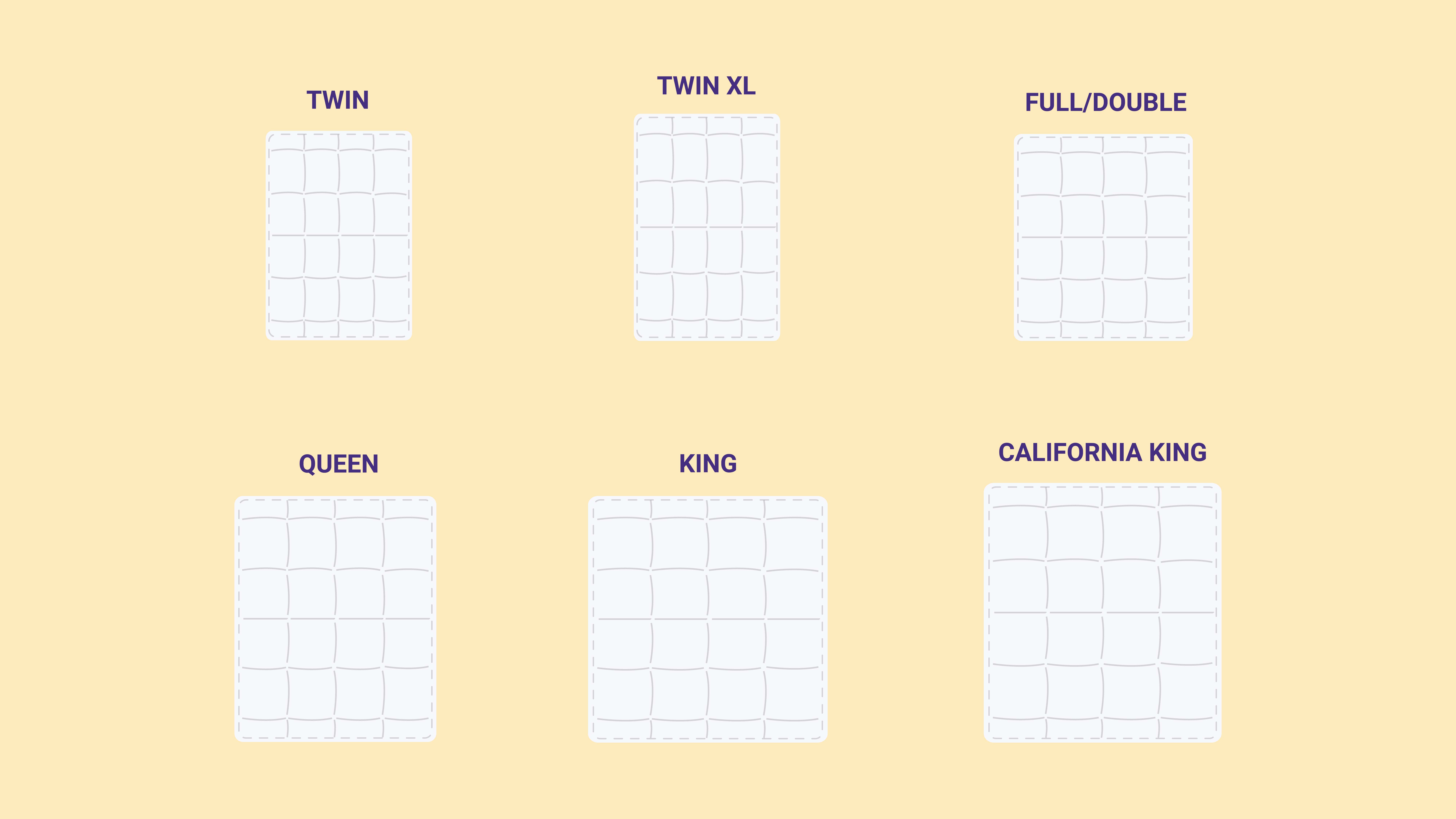 Duvet Sizes and Dimensions Guide

Bedding Guides
A duvet cover is a great way to add effortless elegance and comfort to your bed. They also make it easy to adapt your bedding style over the years—just buy a new duvet cover! The key to having a duvet that looks its best is making sure it fits your bed correctly.
Duvets may be sold as "queens" or "kings," but their sizing differs from brand to brand. The most dependable way to find the right size duvet cover is to measure the length and width of your mattress. Once you know your mattress' measurements, use the guide below to find the best duvet size for your bed.
Duvet Sizes and Dimensions
| Mattress Size | Mattress Dimensions (in.) | Duvet Dimensions (in.) |
| --- | --- | --- |
| Twin | 38 by 75 | 64-68 by 86-88 |
| Twin XL | 38 by 80 | 66-68 by 88-90 |
| Full/Double | 54 by 75 | 80-90 by 89-94 |
| Queen | 60 by 80 | 88-90 by 90-94 |
| King | 76 by 80 | 104-90 to 94 |
| California King | 72 by 84 | 104 by 100 |
Twin Size Duvet cover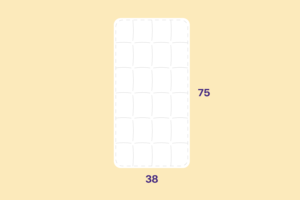 A twin duvet is 64-68 by 86-88 inches and fits twin mattresses. Twin beds are nice if you have kids who share a room because you can fit more than one in a bedroom—they're also great for bunk beds, loft beds, and trundle beds. The average twin mattress measures 38 by 75 inches.
Twin XL Size Duvet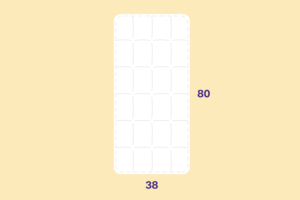 The twin XL duvet cover sizes are 66-68 by 88-90 inches and fits a twin XL mattress bed sizes. Thanks to its extra length and width, the twin XL mattress is popular with teenagers, college students, and adults with small bedrooms. The average twin XL mattress measures 38 by 80 inches.
SEE ALSO: Best Mattresses for Teenagers
Full/Double Size Duvet
Full duvets are 80-90 by 89-94 inches and fit full/double beds. Full beds are popular with single people because there's plenty of room for one person to spread out and fulls can fit in smaller bedrooms. Couples can also fit on this mattress, but there won't be much room to spare. The standard full mattress measures 54 by 75 inches.
Queen Duvet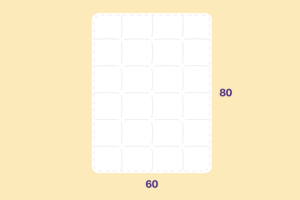 Queen duvets are 88-90 by 90-94 inches and fit queen mattresses. The queen mattress is the most popular bed for both couples and singles; its size makes it big enough for two people to sleep comfortably, but not so big that you need a huge bedroom. The average queen mattress measures 60 by 80 inches.
King Duvet
King duvets are 104-90 to 94 inches and fit king mattresses. The king mattress or king beds is very popular with couples because it gives both sleepers plenty of room for themselves. The standard king mattress measures 76 by 80 inches.
California King Duvet or Jumbo King Duvet
California king duvets are 104 by 100 inches and fit Cal king mattresses. The Cal king mattress is great for tall sleepers because it's 4 inches longer than the king beds. The average Cal king mattress measures 72 by 84 inches.
What is a Duvet?
A duvet is a bag of fluff that's quilted to keep stuffing evenly distributed. Thanks to its extra stuff and fluff, the duvet is quite cozy. Many sleepers are comfortable with a duvet as their only blanket.
"Duvet" is french for "down" and traditionally duvets were only filled with these fluffy geese and duck feathers. Nowadays, duvets are filled with all kinds of natural and synthetic materials. Common duvet stuffings are wool, silk, and hollow fiber.
It's difficult to clean all of the dust out of a down duvet, and this gives some sleepers allergy-like symptoms. These alternative materials create a cozy duvet that's hypoallergenic. Many synthetic duvets are machine washable, while down can only be dry-cleaned.
How Should a Duvet Fit?
The sides and foot of your bed should have the same amount of the duvet hanging over the edge. It should be long enough to cover the seam where the mattress meets the bed's foundation but shouldn't hang all the way to the floor. The general recommendation for a duvet is to find one 12 inches longer and 16 inches wider than the mattress.
There are exceptions to this rule—deeper mattresses need larger duvets to make sure there's full coverage. When you measure the length and width of your mattress, we recommend you measure the depth too. The best way to do this is to take off all your bedding and measure just the mattress. If you have a pillow top on your bed, keep it on while you measure.
Duvet Covers
Duvets and duvet covers are like pillows and pillowcases. Like pillows, duvets are not designed to be washed regularly. A cover keeps the duvet clean, and when necessary just take it off and wash it like you would your sheets. For those who have feather-filled duvets, we recommend a sturdier cover to keep the quills from poking you during the night.
Duvet covers are easy ways to customize a duvet. Bedrooms sometimes need makeovers, and when that time comes there's no need to buy a whole new duvet. Just get a new cover!
FAQs
What's the difference between duvets and comforters?
Duvets and comforters are similar. However, duvets are fluffier and one color while comforters are flatter and usually colorful. Also, while a comforter should be paired with a top sheet a duvet is designed to be your only bed covering. The removable cover acts as the top sheet.
Can my duvet go in the washer and the dryer?
A duvet isn't designed to take regular trips through the washer and dryer; that's why it has a cover that's easy to take off and wash. You should clean your duvet every 3 to 6 months and how you clean it depends on what it's made of. Down duvets should only be dry cleaned, while many synthetic-filled duvets are machine washable. We recommend you always read and follow the care instructions carefully.
How much bigger should a duvet cover be than the duvet?
Your duvet cover should be close to the same size as the duvet but just a bit bigger. Many covers are made of materials like cotton and shrink a bit in the first wash. The extra size makes sure you have a cover that's a snug fit for your duvet.
What kind of duvet is best for all seasons?
Duvets filled with wool or down are good choices for all seasons. Wool is a natural thermoregulator, keeping you warm in the winter and cool in the summer. It also wicks away moisture, helping sleepers who sweat at night stay nice and dry. Wool is hypoallergenic.
Down is also a natural thermoregulator; it is cozy in the cold and breathable in the summer. It is difficult to clean, however, and gives some sleepers allergy-like symptoms. A down duvet is a good all-season choice as long as it is dry cleaned every 3 or 6 months, and the sleeper isn't sensitive to dust particles.
Can I put a duvet cover over my comforter?
A duvet cover is an easy way to add variety if you're bored of your comforter. Most comforters are flatter than duvets, and won't fit well inside the cover. For those who don't mind the looser fit, this is still an easy way to change the look of your room. You should buy a cover with the same dimensions as your comforter.
Summing it Up
The right-sized duvet depends on the length, width, and depth of your mattress. Finding these measurements is the best way to get the right fit. Each brand's sizing is a little different, so be sure to check the duvet's dimensions in the product description before you make your purchase.
With a duvet, redecorating your bedroom is as easy as buying a new cover! It's also a low-maintenance choice; just take off the cover and wash it with your sheets. Once you know what size to buy, duvets are a cozy and customizable bedding choice.