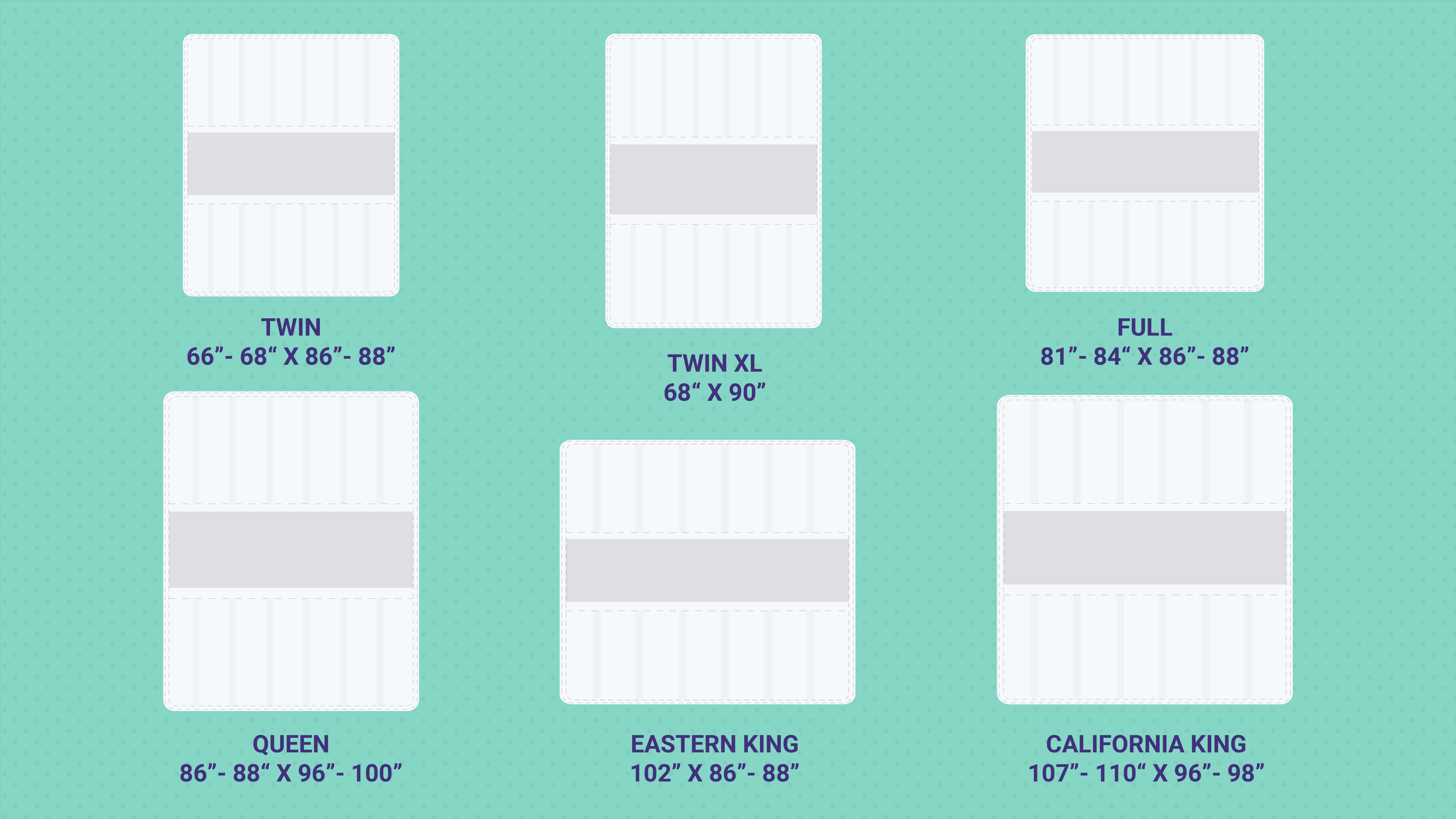 Comforter Sizes Chart

Bedding Guides
As a thick, quilted blanket, a comforter can provide warmth through the night. Choosing the correct one, however, can be tricky. While mattresses come in standard sizes, comforter sizes can vary from brand to brand, featuring differing lengths and widths. For this reason, it's important to rely on the actual dimensions of a comforter to guide you, not just the labeled size.
In this post, we're sharing common comforter sizes, how to choose the best size for your mattress, and tips for properly measuring your bed.
Comforter Sizes
There aren't set standard sizes for comforters, but they are usually available in common lengths and widths. The below size chart shows typical comforter measurements you may come across when shopping for bedding.
| Bed Size | Mattress Dimensions | Ideal Comforter Width | Ideal Comforter Length |
| --- | --- | --- | --- |
| Twin | 38 inches by 75 inches | 66 to 68 inches | 86 to 88 inches |
| Twin XL | 38 inches by 80 inches | 68 inches | 90 inches |
| Full | 54 inches by 75 inches | 81 to 84 inches | 86 to 88 inches |
| Queen | 60 inches by 80 inches | 86 to 88 inches | 96 to 100 inches |
| Eastern King | 76 inches by 80 inches | 102 inches | 86 to 88 inches |
| California King | 72 inches by 84 inches | 107 to 110 inches | 96 to 98 inches |
How to Choose the Right Size Comforter
Choosing the right comforter doesn't have to be confusing, even with all the sizing variations. A few simple steps like measuring your mattress and considering bed frame height will help you to find the perfect size comforter for you.
How to Measure Your Mattress
The first step in determining a proper comforter size for your bed is to measure your mattress. While mattress sizes are standard in terms of length and width, the thickness can vary. Pillow top mattresses and those with extra comfort layers can create much thicker mattresses. These will require comforters with extra width in order to hang down long enough on the sides.
To measure your mattress, simply add the width and mattress thickness on each side together. Let's say you have a queen size mattress that's 60 inches wide and 12 inches tall. A properly fitting comforter will need to be at least 84 inches wide.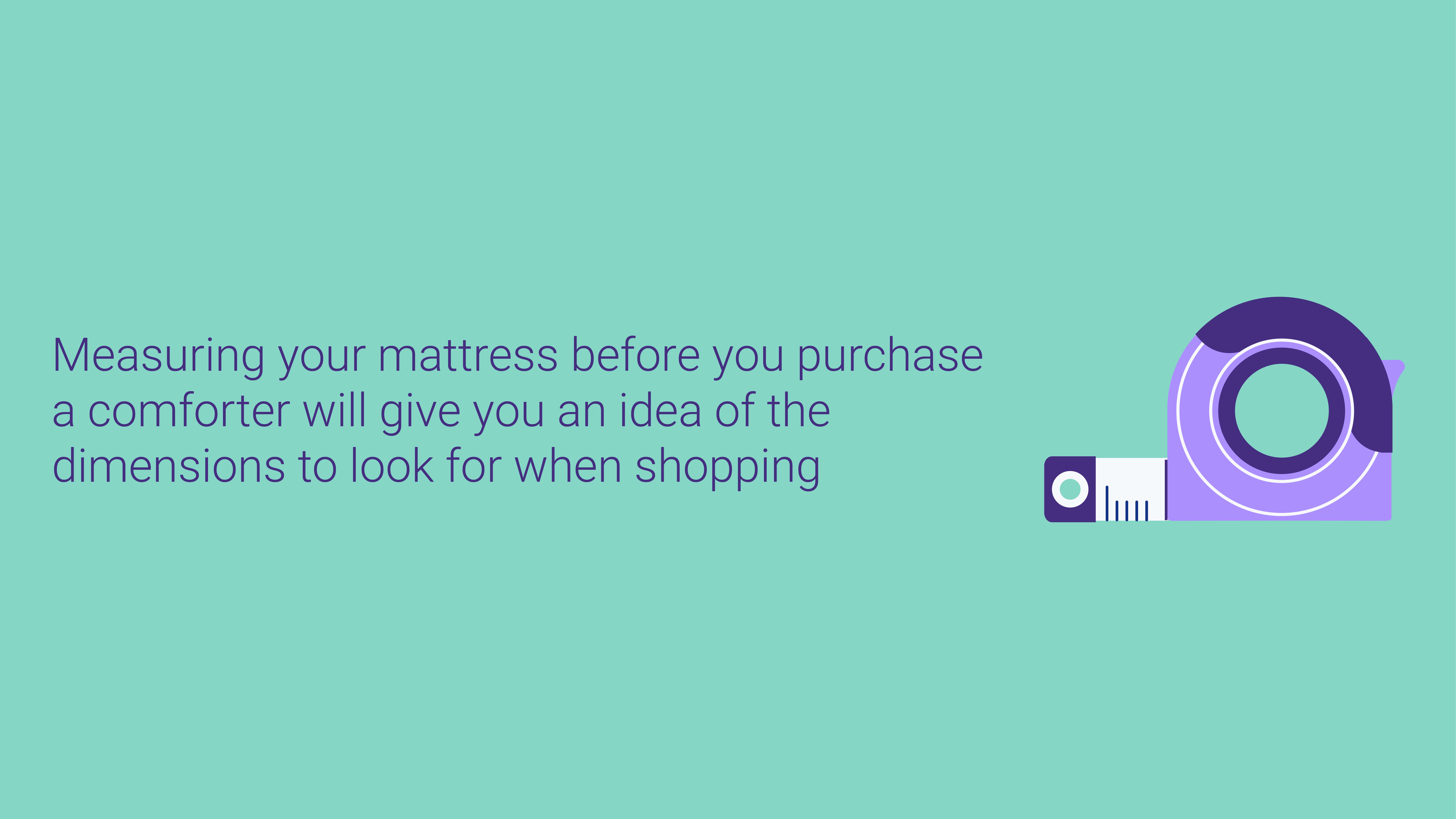 Measuring your mattress before you purchase a comforter will give you an idea of the dimensions to look for when shopping. A simple step like this will make sure you choose one that's not too short or too long for your bed.
Consider Bed Frame Height
Like the thickness of your mattress, the frame's height and the overall bed height can also affect how a comforter drapes over the sides. If you have a very tall or short bed frame, it's best to take this into consideration when measuring your mattress and choosing the right comforter size.
Extra-high bed frames require wider comforters, otherwise, they may fall too short on the sides. And with shorter bed frames, you may find your comforter is far too long and droops onto the floor, looking too much like a bed skirt for some sleepers.
Drape Length
How low you like your comforter to sit is primarily determined by personal preference; however, most people prefer their comforter be long enough to fully cover their bed frame but short enough to not drag along the floor. If you have a box spring or mattress foundation with a bed skirt, try to keep one-third to one-half of the skirt visible for the cleanest look.
FAQs
What is an oversized comforter?
An oversized comforter offers more width without any extra length. These comforters are ideal for anyone with a particularly thick mattress, especially those with pillow tops or additional comfort layers.
Mattresses like these require more material width-wise because they are so thick. A queen comforter will usually measure 86 to 88 inches in width, while an oversized queen comforter will measure roughly 115 inches wide.
What's the difference between duvet covers and a comforter?
Duvets and comforters are both filled with down, feathers, or synthetic fibers, making them fluffy and plush. Comforters typically aren't filled as much as duvets are, making them less fluffy and insulating. Since they're not as "full" or puffy, they're typically larger and lighter and hang over the bed's edge more. Moreover, comforters are commonly used with other blankets and top sheets, while duvets and duvet covers are designed to be used alone.
Most people find using a comforter to be much easier than using a duvet because it doesn't require a cover. Duvets are actually designed to fit inside a duvet cover. While these covers can be easily removed and thrown into the washing machine, putting them back on can be challenging—the process is similar to putting a pillowcase back on a pillow, except on a much larger scale. To ensure the duvet stays in place within the cover, clips or ties in the cover's corners are attached to the duvet itself. Since a duvet and the cover can be quite big, finding and attaching these ties may require extra patience, and can be a hassle to some.
Are full and queen comforters the same size?
Some brands sell comforters in a full/queen size, even though the two are very different sizes; a full size mattress measures 54 by 75 inches and a queen bed measures 60 by 80 inches. These full/queen comforters can range anywhere from 81 to 88 inches in width and 86 to 100 inches in length. The wide range in sizing can lead to a poorly fitting comforter for either size mattress.
If you have a full size bed, look for a comforter between 81 and 84 inches wide, and 86 to 88 inches long. For queen size mattresses, a comforter ranging from 86 to 88 inches in width and 96 to 100 inches in length will fit the best.
What size king comforter should I get for a California king?
A king comforter that will properly fit a California king bed will measure somewhere between 107 to 110 inches wide, and 96 to 98 inches long. A king comforter this size will provide enough coverage for a Cal king size mattress which measures 72 inches wide and 84 inches long.
You can always measure your mattress to make sure you purchase the correct size comforter. To determine the best width of an oversized comforter, measure how wide your mattress is, and how thick it is on both sides. These measurements added together will determine the necessary minimum width of a comforter.
How should a comforter fit on a bed?
A comforter should drape over the edges of your bed, but it shouldn't touch the floor, or else the bottom of the comforter will get dirty. How far you'd like your comforter to drape is entirely based on personal preference, but generally, most people want their comforter to at least cover their bed frame. If your mattress is on a box spring with a bed skirt, you'll want to keep one-third to one-half of the bedskirt still visible.
Conclusion
Comforter sizes, unlike standard mattress sizes, can differ greatly depending on the brand or manufacturer. Even though a comforter label may state it fits a certain mattress size, that may not be the case. And remember, mattress size and thickness are important to keep in mind as both these factors will affect how wide a comforter you'll need
Simply measuring your mattress before shopping will help you determine the best comforter dimensions to fit your bed. Then, when it comes time to make a purchase, all you have to do to find the perfect size comforter is compare your numbers with the specs of various comforters. Doing this will ensure you choose one with enough length and width to fit your mattress. Properly fitted bedding can not only make your bed visually appealing but also provide maximum comfort for a good night's sleep.