Best Mattress Protector: Reviews and Buyer's Guide

Mattress Accessories
If you've just bought a new mattress, the next best step is to protect it from damage with the best mattress protector. A new bed is a big purchase, so you want it to last for a long time. Protecting it from spills, sweat, dirt, germs, and pests like dust mites and bed bugs is the best way to prolong your investment. In this guide, we'll talk about the different types of protectors on the market and what to consider before choosing one. In the end, we'll discuss our favorite mattress protectors you can buy today.
30 Second Summary: Best Mattress Protectors
Sleep Junkie's Recommendation: Amerisleep's Waterproof Mattress Protector & Cover. We like Amerisleep's Waterproof Mattress Protector & Cover because it protects against spills, stains, dust mites, dirt, and bacteria. Plus, it's breathable, easily washed, and backed by a 5-year warranty.
Runner-Up: Zoma Recover+ Protector. Zoma's Recover+ Protector is another notable option because it features sleep-enhancing, temperature-regulating technology and a waterproof barrier to enhance sleep and keep your bed clean.
One of the main reasons people buy a mattress protector is to keep their mattress warranty intact. Most of the time, the warranty that comes with your new mattress is voided if the bed is stained; so even if you're okay with sleeping on a mattress with a stain, you'll be losing out on the benefits of having warranty coverage. Plus, a mattress protector can prolong the lifespan of your mattress up to a few years— saving you the hassle of having to replace your bed sooner.
Best Mattress Protectors
| | Brand | Highlights | Price |
| --- | --- | --- | --- |
| | Amerisleep Mattress Protectors | Waterproof, Dirt, & Dust-Mite Resistant | |
| | Zoma Recover+ Protector | Recover+ Tech deters night sweats and promotes deeper sleep cycles. | |
| | Saatva Waterproof Mattress Protector | Organic cotton with a thin, perforated polyurethane moisture barrier. | |
| | SafeRest | Waterproof, Dust-Mite, & Bacteria Resistant | |
| | Sureguard | Waterproof, Dust-Mite, Dander, Mold, Mildew, Bed-Bug Resistant | |
| | Utopia Bedding | Waterproof, Dust-Mite, & Bed-Bug Resistant | |
| | Avocado Green | Sweat & Skin Oils | |
| | Holy Lamb Organics | Sweat & Skin Oils | |
| | LUCID | Waterproof, Dust-Mite, & Allergen Resistant | |
In this next section, we'll be breaking down our favorite mattress protectors on the market discussing their benefits, sizes, pricing, and warranty information.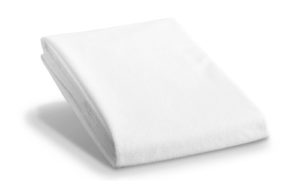 After weighing our options, we landed on Amerisleep's Waterproof Mattress Protector & Cover as the best for your new bed. Instead of encasing your entire mattress, Amerisleep's cover fits like a fitted sheet and can be easily removed when it comes time to throw it in the wash. It accommodates beds with a depth of 8 to 18 inches, encompassing a majority of mattresses. In addition to being waterproof, this cover is dirt and dust mite resistant and breathable enough to prevent bacteria from accumulating in your bed.
Amerisleep's cover is Oeko-Tex Standard 100 certified, meaning it's free from harsh chemicals. The materials in this cover include cotton, polyester jersey fabric, and polyurethane— a food-grade plastic that is more durable than latex. We should note, though polyurethane is not organic and is made using some chemicals, it's still non-toxic and free from VOCs, PVC, and harmful chemicals. The use of polyurethane is what makes the mattress protector 100% waterproof, and unfortunately, there's no all-natural way to waterproof a mattress protector without the use of either harsh chemicals or polyurethane.
When you buy a mattress protector with Amerisleep, it comes with a 5-year warranty against defects in the materials. It's important to note, your warranty is voided if you don't follow proper washing instructions. If your mattress protector does become stained, your warranty is not immediately voided; however, if you try to get the stain out yourself without seeking directions from the warranty department first, it would be voided. The price of a Queen Amerisleep mattress protector is $90.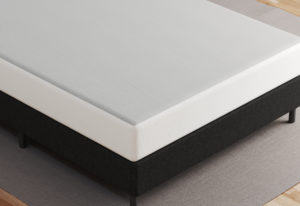 The Zoma Recover+ Protector is our runner-up for the best overall mattress protector because it's actually sleep-promoting, waterproof, and easy to maintain. This protector contains a waterproof barrier and proprietary textile technology to shield your bed from liquid spills and help you sleep deeper. Let's talk more about its materials.
The Recover+ Protector is made with polyester fabric with TPU lamination and printing to ensure no liquid ever seeps through the cover and damages your bed. This material is strong but still lightweight and breathable, so it doesn't trap heat or alter the feel of your mattress.
The Recover+ Technology is the most game-changing aspect of this protector. It works by absorbing the body heat you emit and recycling it to infrared energy—virtually eliminating heat from the bed. Your body then absorbs this infrared energy, and as a result, local blood flow increases, sleep quality improves, and you're less likely to experience night sweats.
Zoma's waterproof mattress protector fits around your bed like a fitted sheet, and it has a durable elastic edging to keep it secure around your bed. It's machine-washable and comes with head/foot labels so cleaning the protector and making the bed is simple.
Zoma sells their protector on their website and offers free shipping with every purchase. Zoma mattress protectors also come with a 1-year warranty.
Next on our list is the waterproof protector from Saatva, combining the comfort of cotton with a waterproof barrier. It's soft enough that you could comfortably lie directly on the topper, though we still recommend using a fitted sheet with the protector.
Instead of a rubbery surface, the Fair Trade Certified™ organic cotton maintains a cool, dry feel. The waterproof barrier is extremely thin polyurethane with micro-perforations that allow air to slip through, ensuring your mattress can still breathe.
The protector stays in place thanks to its silicon elastic band, though it's easy enough to pull off when you need to. The protector is also easy to care for, as all you have to do is strip it off the mattress and toss it in the washer on a gentle cycle with cold water. You don't have to wash a protector every week like you do with your regular bedding, but we do suggest washing it every once in a while to refresh its feel.
Saatva's mattress protector includes a 45-day return policy and a 1-year warranty.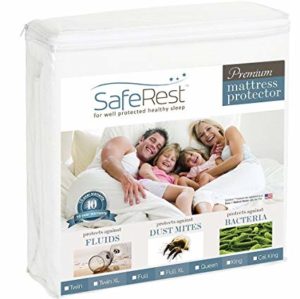 Next on our list is SafeRest's Premium Hypoallergenic Waterproof Mattress Protector. As the name describes, SafeRest's cover is both waterproof and hypoallergenic; plus, it's Oeko-Tex Standard 100 certified. Additionally, SafeRest's products are registered as a Class 1 medical device with the FDA, meaning they're safe even for babies.
This mattress protector fits like a fitted sheet and protects against dust mites, allergens, fluids, and bacteria. The surface of this protector is cotton terry designed to be ultra-absorbent, while the underneath side is a polyurethane membrane, preventing any liquids from leaking onto the mattress. Because this cover slips on your bed like a fitted sheet, it can be easily removed for washing. Also, SafeRest offers a generous 10-year warranty with their protectors. However, be sure to follow all washing instructions carefully, because if your protector becomes damaged as a result of incorrect care, your warranty is voided.
The SafeRest mattress protector is compatible with mattresses between 6 and 18 inches in height and costs $69.95 for a Queen.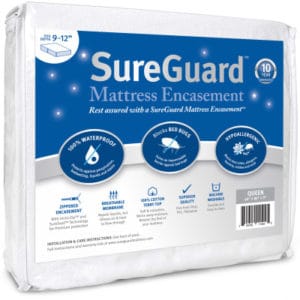 If you're looking for a protector that will shield you from bed bugs, you need a mattress encasement. These differ from mattress protectors that fit like fitted sheets because they envelop your entire bed and zip shut. Though these are a bit hard to get on and off, making them tricky to wash, they're the only kind of mattress cover that offers full coverage against bed bugs.
We liked the Sureguard Mattress Encasement because it is waterproof and hypoallergenic in addition to being bed bug-proof. It's also dust mite, dander, dirt, mold, and mildew resistant. Just like the SafeRest cover we just talked about, the Sureguard Mattress Encasement has a cotton terry top and polyurethane inner membrane.
Two perks to shopping with Sureguard are that you receive a 30-day risk-free sleep trial and 10-year full-replacement warranty with your new mattress protector. They also offer a variety of sizes for their mattress encasements, so you can find one that'll fit snug around your bed. After choosing the standard size of the cover, you're then prompted to select the depth of your protector— the options are 6-8", 9-12", 13-16", and 17-20".
Sureguard only sells their products on Amazon, and the price for a Queen cover ranges from $49.97-$59.97 depending on the depth of the bed. However, Sureguard frequently runs promotions on their protectors, so you can sometimes find a better price by waiting to buy.

Another notable mattress encasement is made by Utopia Bedding and sold on Amazon for only $21.99. Utopia's mattress protector zips up for ultimate protection, and keeps your bed free from bed bugs, dust mites, and safe from spills.
Utopia's mattress encasement fits mattresses up to 15 inches thick, so it should be compatible with most beds. Plus, this mattress protector is machine washable and can be tumble dried for the most convenient cleaning. We like this mattress protector because it's both thick and breathable; the knitted polyester fabric is durable and should be resistant to long-term wear and tear, but it's quite airy so heat does not get trapped down within the protector.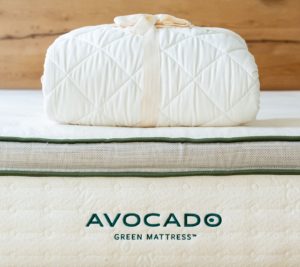 Next on this list is an eco-friendly option for our green readers, the Avocado Green protector— which is also vegan! We want to mention first and foremost this mattress protector is not waterproof. Should you spill a drink, or have an accident on the mattress, this protector would not help. Remember, there's no way to make a mattress protector truly waterproof without using chemicals or a polyurethane backing. An eco-friendly mattress protector will protect against sweat and oils from your skin damaging or staining the mattress, but that's just about it. Unfortunately, these covers are not dust mite or bed bug resistant, either.
On the plus side, when it comes to buying eco-friendly, Avocado is the way to go. They use GOTS organic cotton, and the cover is free from polyurethane, TPUs, VOCs, formaldehyde, vinyl, adhesives, and chemical finishes. Just to note, GOTS certification ensures the materials Avocado uses— in this case, their cotton— meets the highest environmental and social standards for manufacturing.
When you buy with Avocado, you're protected by a 1-year warranty. This cover costs $249 for a Queen and fits mattresses up to 17 inches tall.

A more luxurious eco-friendly mattress protector is Holy Lamb Organic's Wool Moisture Barrier. All in all, this protector prevents sweat and body oils from building up on your mattress over long-term use. Besides sweat though, this protector doesn't shield your mattress from much. We're fans of this cover because its 100% premium eco-friendly wool, so it's warm, cozy, thick, and durable.
With a luxury cover, comes a more expensive price tag; a Queen Holy Lamb Organics Moisture Barrier will cost you $295. When reading customer reviews, we noticed they mentioned that this mattress protector does not fit like either a fitted sheet or an encasement; rather, it has the same dimensions as your mattress and sits on the surface of your bed underneath of your sheets. A few negative reviews of the cover were complaining that there is nothing to hold the moisture barrier in place, so it can be a hassle when it bunches below your bedding.
It seems the only downfall of using this protector is that it sometimes doesn't stay in place, so if you're looking for a wool mattress protector, you can't go wrong by investing in the Holy Lamb Organics brand.

The last mattress protector on our list is LUCID's ultra-soft, waterproof, dust-mite proof, and hypoallergenic mattress protector, sold on Amazon for only $18.98. LUCID's protector is 70% rayon from bamboo and 30% cotton, so it's breathable, soft to the touch, and moisture-wicking, so it should help keep you comfy and cool all night long. They use their proprietary STRATOSMART barrier in this cover, which prevents liquids, dust mites, or allergens from getting through to the surface of your mattress while still being quite airy.
You can wash this cover with the rest of your bedding because it's machine washable and tumble dryable, so it's easy to keep clean. LUCID's cover is compatible with mattesses up to 18 inches thick. When you buy this cover, it comes with a 15-year warranty, so LUCID's cover is compatible with mattesses up to 18 inches thick.
Types of Mattress Protectors
Whether you're looking to prevent normal wear and tear on a new bed and prefer to shop eco-friendly, or you're protecting a new crib mattress from a little one's bed-wetting, there's a mattress protector to fit your needs. The main types of mattress protectors include:
Bed-bug protectors
Hypoallergenic covers
Eco-friendly covers
Cooling covers
Sometimes, a mattress cover will have two significant benefits. For example, many bed bug mattress covers are also waterproof, so you get more bang for your buck if you buy a cover with more than one functionality.

Let's talk about the key things to consider before choosing your best mattress protector.
Size
Beyond looking at the standard size of your mattress—whether or not it's a King, Queen, Full, or so on— you also have to measure the height of your bed. Most mattress protectors have a maximum depth, and you don't want to buy a protector that's too short. Before deciding on a protector, grab a tape measure and measure your mattress from top to bottom. Usually, it'll clearly say on the protector's packaging what size mattresses it's compatible with; but if you don't see it, read the fine print to make sure you're making the right choice.
Warranty
Just like your new bed comes with a warranty, so should your mattress protector. Many bedding companies sell their mattress protectors with warranties, so if you see a cover that does not come with a warranty, it's probably safe to pass on. With a little more research, you can find a protector that'll meet your needs and be backed with warranty coverage.
Breathability
Apart from the technical considerations such as depth and warranty, it's essential to ensure the mattress protector you choose is breathable and airy. If you buy a protector that doesn't allow the mattress to breathe, dirt and dust mites can quickly accumulate, and your mattress can develop an unpleasant smell from the harboring of germs. A breathable mattress protector allows for air to flow in and out of the bed, which prevents against dust mites turning your new bed into their new home.
Frequently Asked Questions
Why do you need a mattress protector?
Mattress protectors keep out liquids, dirt, dust, and other debris that can damage your mattress, or at least change its feel. Protectors can also prevent pests, such as dust mites and bed bugs, from making their home in and around your mattress. This is why encasing your mattress in a protector helps you get the most possible use out of your mattress.
Are mattress protectors comfortable?
They can be. Many mattress protectors that slip over your mattress like a fitted sheet have a fleecy top that feels comfortable to lie on, even without any additional bedding. But it's okay if your mattress protector doesn't feel soft. Remember, you'll be covering it with your choice of sheets and blankets to create a comfortable bed.
How often should you change your bed sheets?
Your sheets, blankets, and pillowcase should be washed once a week to prevent dust mites from multiplying. Mattress protectors don't need to be washed as often. Toss it in your washing machine once a month on a gentle wash cycle. Let it air dry instead of putting it through the dryer; the heat of the dryer can crack the protector's plastic lining.
What is the difference between a pad and a protector?
You use a mattress protector to encase your mattress and protect it from fluids, dirt, and pests. Mattress pads slip over your mattress like a fitted sheet and are designed to make your bed feel more comfortable. That said, you can find mattress pads with protective qualities, such as waterproof mattress pads.
How much is a mattress protector?
Mattress protectors may cost between $20 to $100, depending on the protector's materials and size. Buying one for a new mattress can save you from having to replace your mattress before you're ready to. Try not to just buy the cheapest protector, since you want a well-constructed cover that can keep out pests and liquids.
Did You Find Your New Mattress Protector?
Though there are numerous mattress protectors sold today, protecting your new bed from damage doesn't have to be overwhelming. We hope this guide has helped you learn about what to consider before deciding on the best coverage for your mattress. Regardless of what type of mattress, you have, it's important to protect to extend its likely lifespan.
Don't forget, always read online reviews before buying any new bedding, as it helps give you insight into real customer experiences with the product and brand.